The Historic National Road: A Delightful Maryland Drive

The Historic National Road is a 200-year-old road that stretches from Baltimore, Maryland to Vandalia, Illinois. It was initially designed to connect the Potomac and Ohio Rivers and provide a gateway to the West. Now, it's a destination for travelers who want to see the Road That Built America. 
The 174-mile Maryland portion of the Historic National Road runs from Baltimore to Western Maryland. It's the perfect road trip for anyone wanting to see Main Street Maryland.

Baltimore
The Baltimore Visitor Center in the Inner Harbor area is the place to start if you cross Maryland from east to west on the Historic National Road. They offer one-on-one informational services, reservations, and tickets for city events. 
If you want delicious food and unique gifts, try the 60,000-square-foot Lexington Market, a city-owned market that has been operating for over 200 years.
Other great stops in the city include the George Peabody Library, widely considered to be one of the most beautiful libraries in the world, and Oriole Park at Camden Yards, where you can watch Baltimore's Major League Baseball team and munch on ballpark foods with a distinct maritime flair, like Stuggy's Crab Mac n' Cheese Dog (a hot dog topped with macaroni and cheese, fresh lump crab meat, and Old Bay).
Before you leave Baltimore, you'll want to stop by the B&O Railroad Museum for a road trip through time and a fascinating look at the birthplace of American railroading.
Howard County
The Historic National Road takes you through Ellicott City's Main Street district, which has 80+ shops, nearly two dozen places to dine, and many historic buildings and museums to explore. Ellicott City is also home to the country's oldest railroad station. The station has been transformed into the B&O Ellicott City Station Museum, a free museum with many exhibits, including an HO-scale model of the B&O Railroad and a restored caboose. 
Carroll County
Mount Airy in Carroll County also has a historic main street with interesting shops and architecture. One stop on this street you don't want to miss is the Mount Airy Museum, a tribute to the area's rich history. It helps visitors learn how Mount Airy went from a rural countryside to a booming industrial center.
Frederick County
The Historic National Road goes straight through the hub of Historic Downtown Frederick, which has 250+ businesses, scenic parks, and a growing craft brewery scene. Two breweries to explore on the road (known as East Patrick Street in Downtown Frederick) are Idiom Brewing Co. and Steinhardt Brewing Company.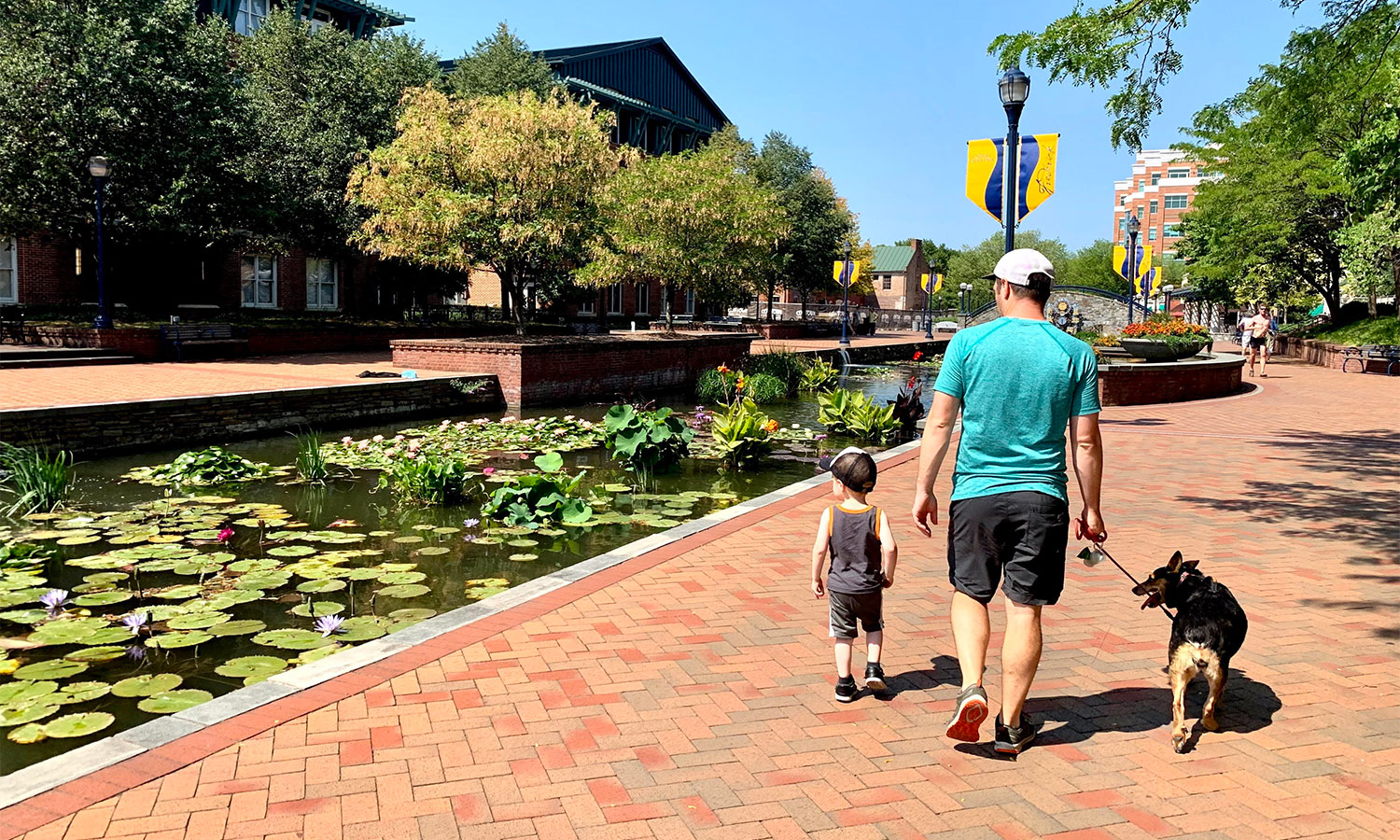 After a drink, you may want to stroll through Carroll Creek Linear Park, which has water gardens, fountains, public art installations, and other attractions, and the adjacent Baker Park, which has a walking path, scenic lake, carillon, and playground.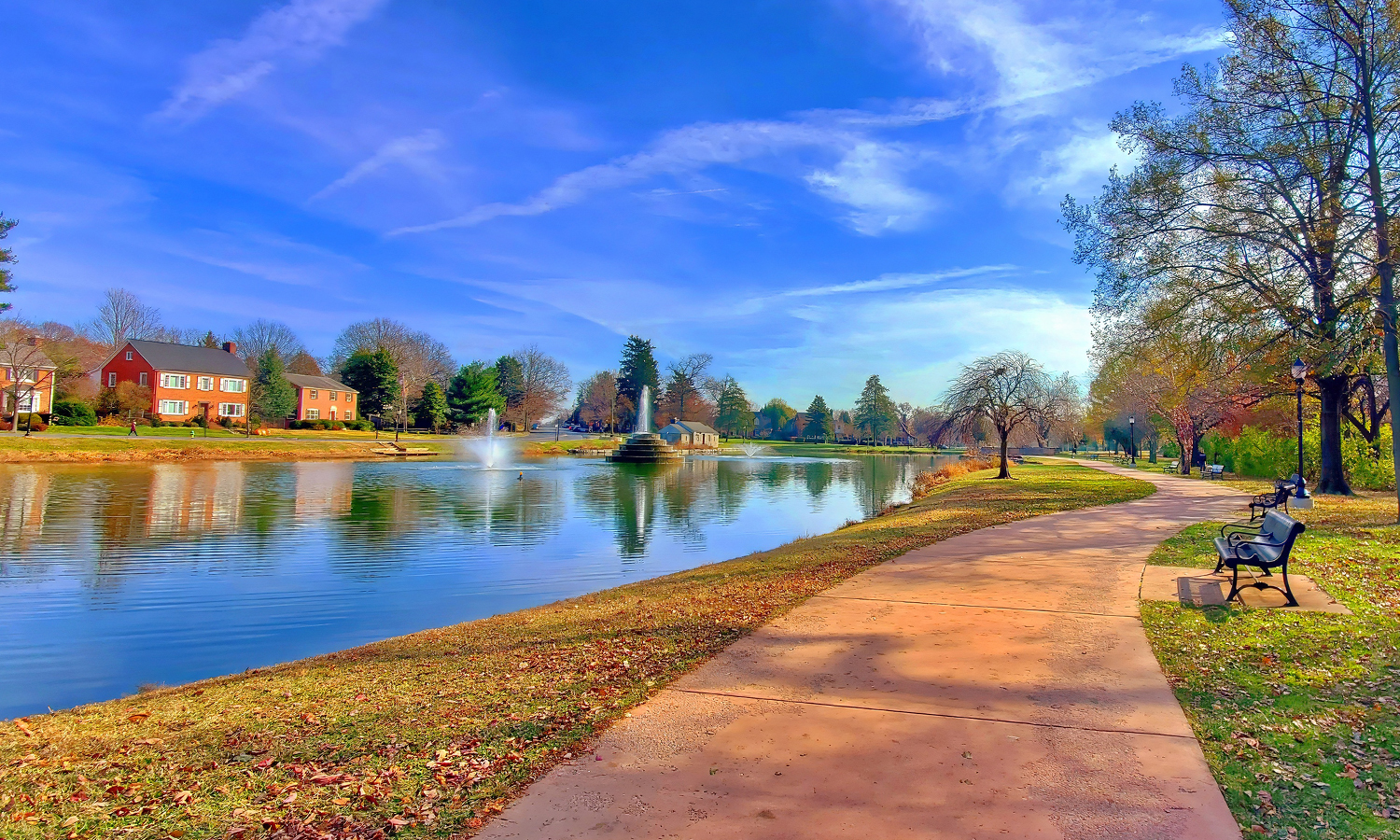 Near the end of the path, you'll find the Schifferstadt Architectural Museum, one of the oldest houses in Frederick. 
Before leaving Frederick County, you may enjoy some outdoor recreation at South Mountain State Park, where the original Washington Monument is located. The Appalachian Trail crosses the National Road at the top of the mountain, where you'll also find the border for Washington County. 
Washington County
The town of Boonsboro in Washington County provides two terrific stops on Main Street for history buffs: Boonsboro Trolley Museum, the last remaining trolley station in Washington County, and the National Road Museum, an interactive museum (tentatively scheduled to open in 2024) that uses murals, maps, artifacts, artwork, and more to tell the story of the National Road.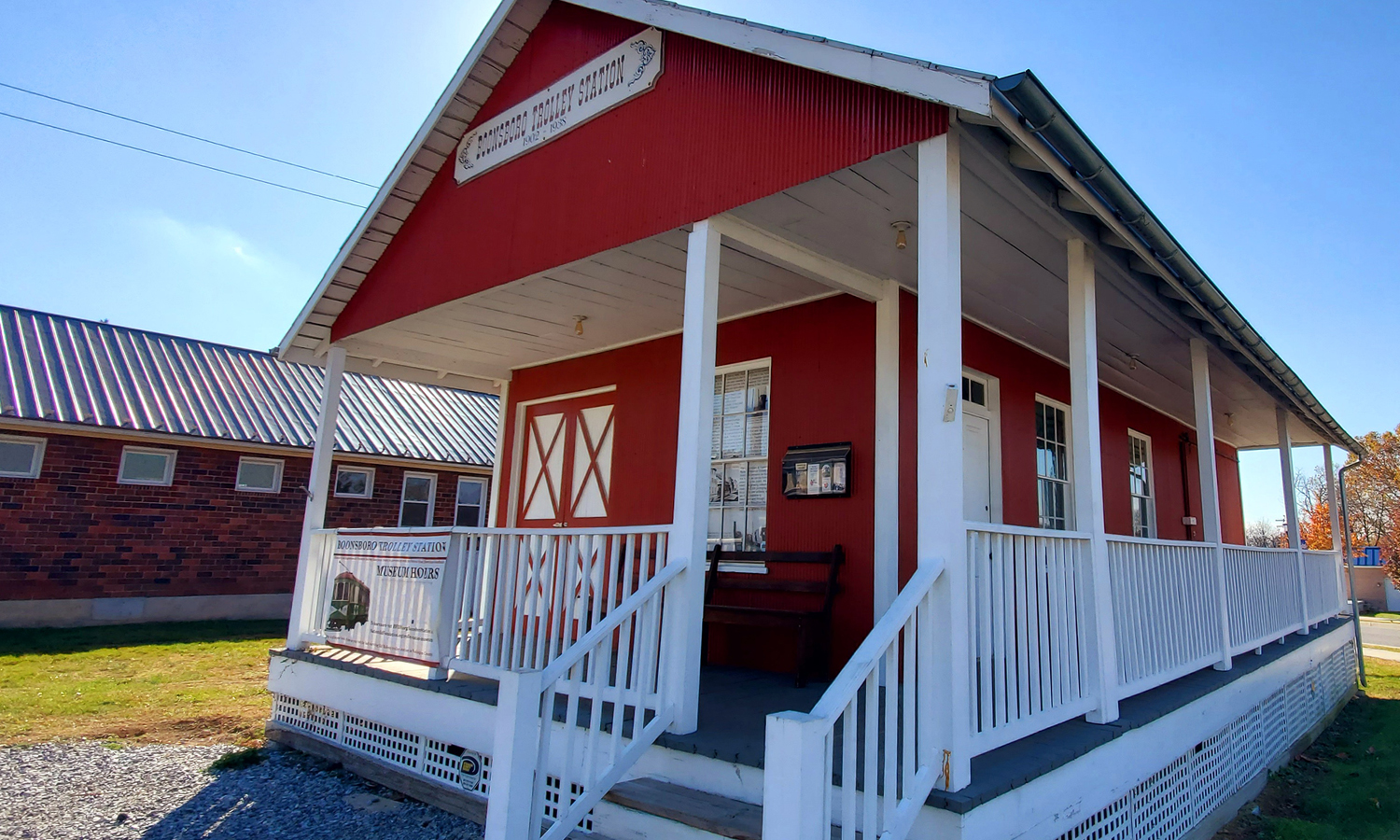 Another unique Maryland stop in Boonsboro is Turn the Page Bookstore, owned and operated by the husband of New York Times bestselling author Nora Roberts. In addition to books, you can find special book signing events and unique gift items.
From there, you'll go through Hagerstown. Popular stops include Schmankerl Stube, where you can eat traditional Bavarian food and drink classic German beers, and Washington County Playhouse, which pairs dinner with live stage productions. 
Allegany County
When you reach Cumberland, the county seat of Allegany County, you'll want to visit the Allegany Museum to see exhibits related to regional history and the evolution of transportation.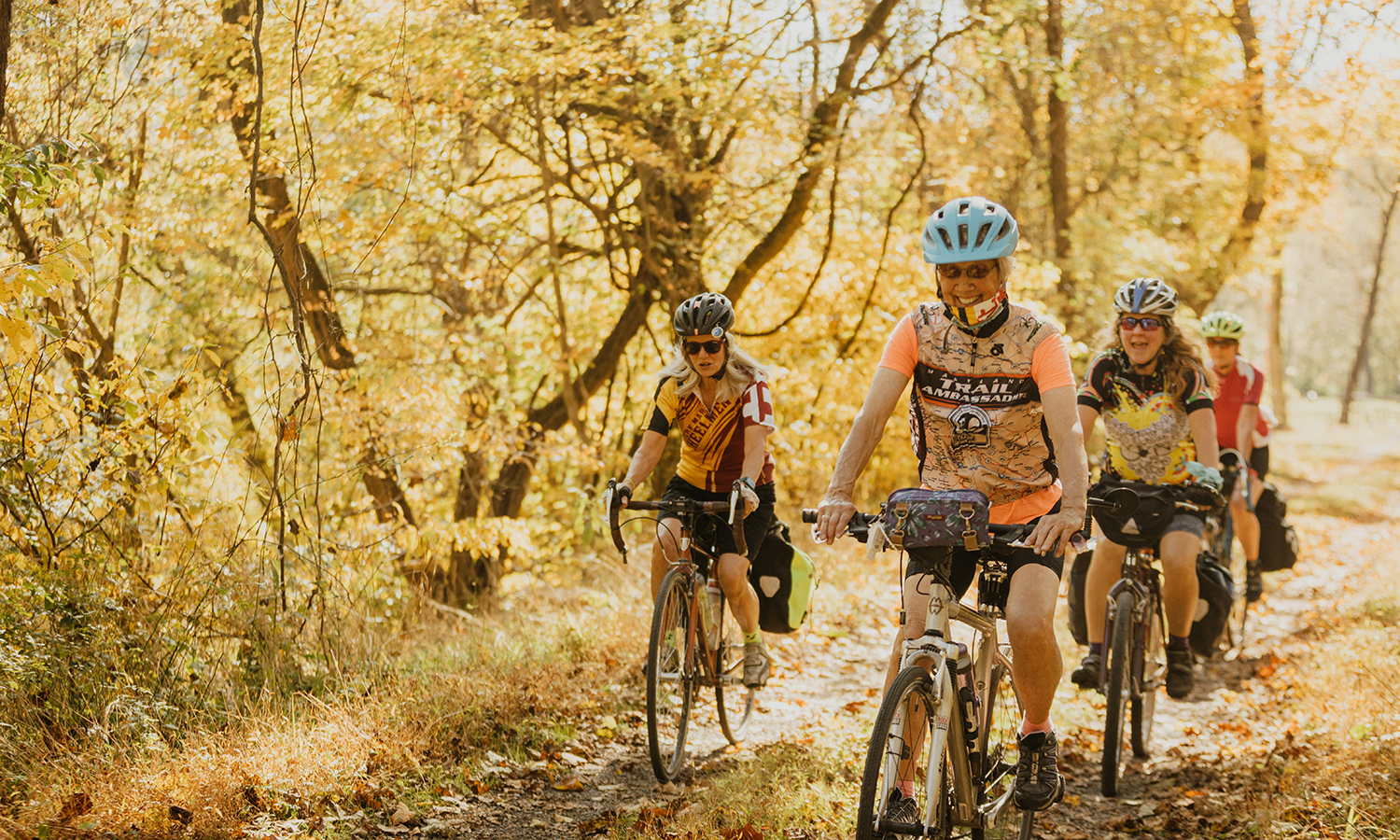 Another great stop is the C&O Canal National Historic Park, which stretches across four Maryland counties and ten canal towns. In Allegany County, the Park offers many recreational opportunities (hiking, fishing, camping, etc.) and includes the C&O Canal Museum, the Cumberland Visitor Center, and the Western Maryland Scenic Railroad, which runs between Cumberland and Frostburg.
A stone's throw from the railroad station, you'll find Mile Marker Zero, where the original federally funded road began. Attractions include a National Road monument and flags from the six National Road states.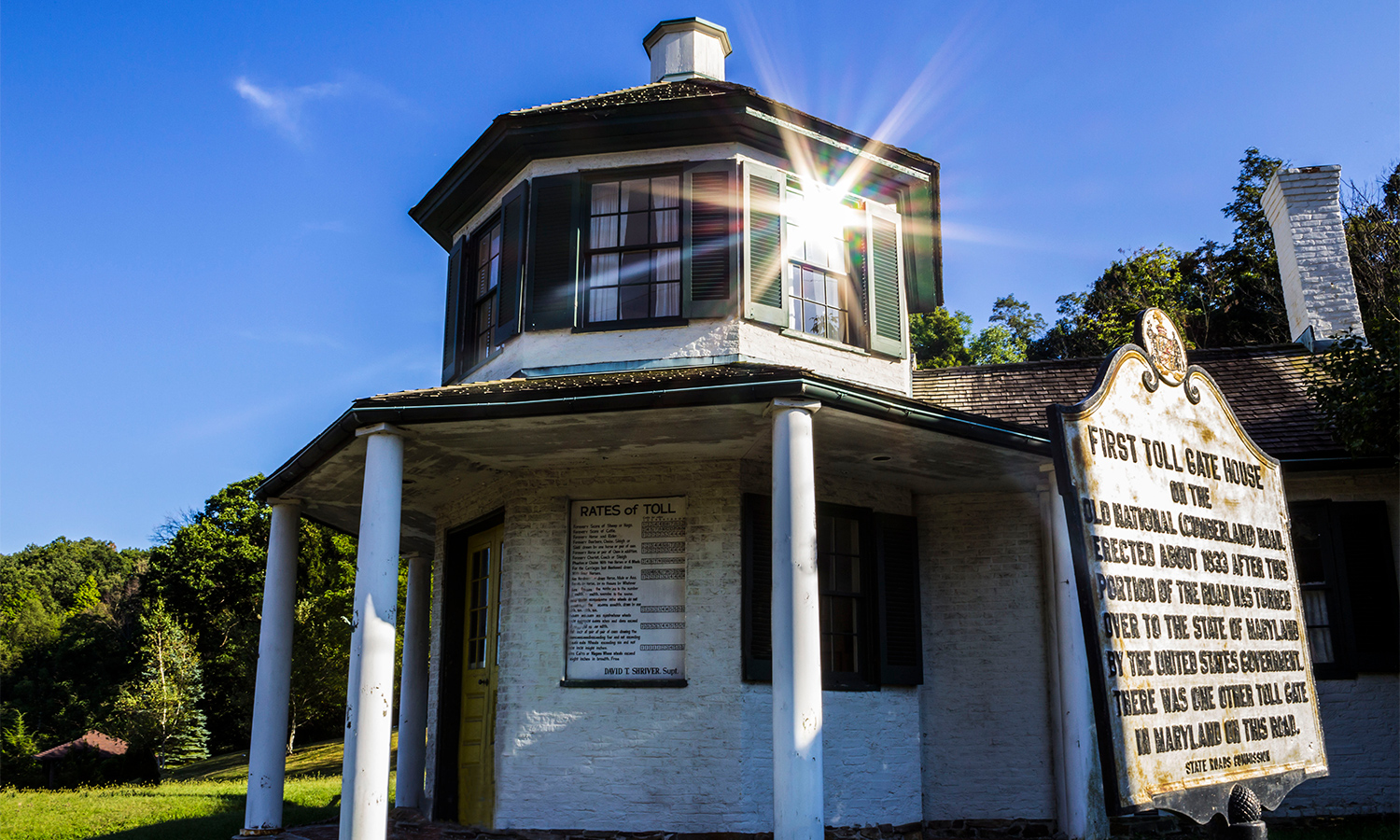 Continue through the Narrows in LaVale (one of Maryland's prettiest areas), and you'll find LaVale's seven-sided Toll Gate House, the first toll gate on the National Road.
Garrett County
About three miles east of Grantsville is the Tomlinson Inn, one of the first hotels built along the National Road. It is privately owned but can be seen from the byway. The 80-foot, single-span, stone-arch bridge built for the National Road is not far from there. It goes over the Casselman River, one of the better trout streams in Maryland.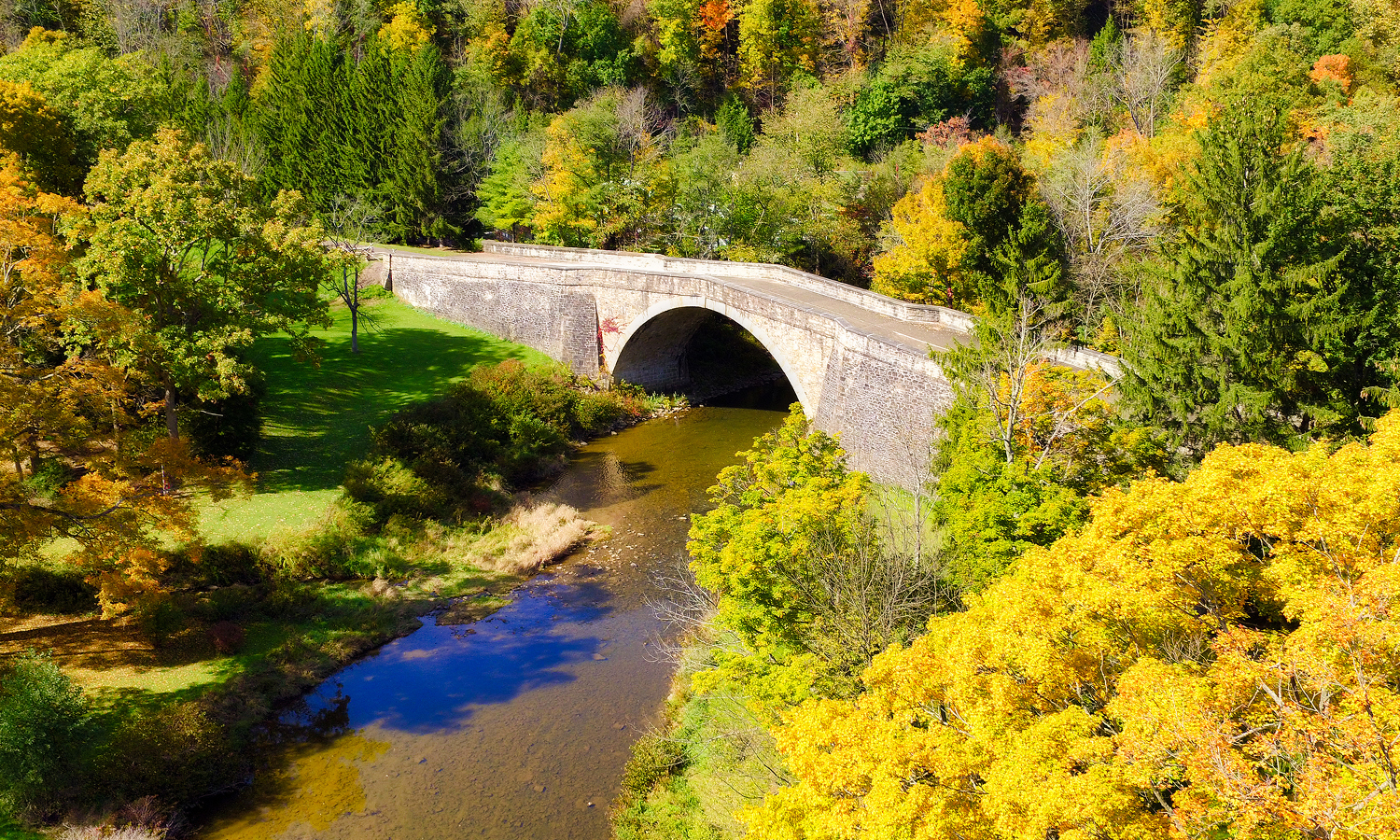 In Grantsville, you'll find the Casselman Inn, a historic bed and breakfast built in 1840 to serve travelers on the National Road. Modern travelers can book one of the rooms with antique furnishings to take a step back in time. From there, the road takes you through a portion of the Savage River State Forest to the state line.
Other Historic National Road Highlights
Other things to look for while crossing Maryland on the Historic National Road include:
Wayside signs and exhibits

with information about the people who constructed, traveled, and lived along the Historic National Road.

Districts, buildings, structures, objects, and sites recognized by the National Register of Historic Places. There are more than 1,500

registered listings in Maryland

!

The architectural styles used in the nearly four centuries of building since English settlers first colonized Maryland in 1634. 
Driving Directions
To cross Maryland from east to west on the Historic National Road, start on Baltimore on MD 144. Drive through Catonsville, cross the Patapsco River, pass through Ellicott City and Mount Airy, and continue onto Frederick. Take US 40 Alt through Middletown, Boonsboro, Funkstown, and Hagerstown. Head toward Cumberland, following US 40 Scenic most of the way, and then take US 40 Alternate from Cumberland to Grantsville to the state line. 
Navigation Tip
Maryland Scenic Byways Historic National Road signs are on local routes to guide your road trip. There are two styles: one for the Old National Pike (Baltimore to Cumberland) and another for the federally-funded portion from Cumberland, Maryland to Wheeling, West Virginia. Look for the Historic National Road and Byways signs on the right side of the road to help you navigate the route.
---
Lead Photo Credit: Shutterstock.com
Anna Champagne is an outdoor writer, photographer, and traveler. She can often be found gardening and birdwatching in her backyard and exploring creeks, trails, marshes, and parks with her husband. Anna lives in Frederick County, Maryland. You can learn more about her on her website www.champagneoutdoors.com.