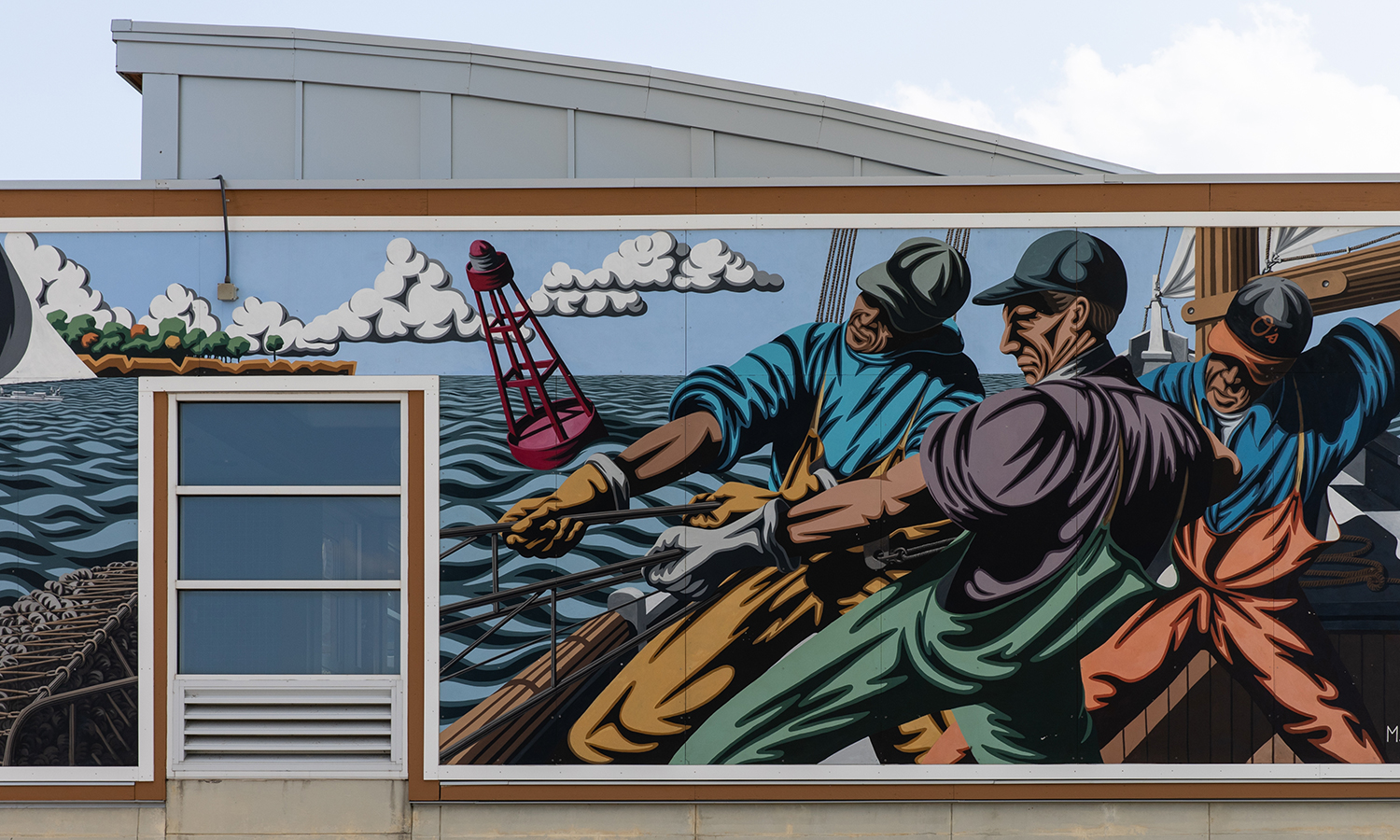 Take a road trip to see murals that capture the Chesapeake's culture and history.
Start: Cambridge
Finish: Vienna
Distance: 1 day, 5 stops, 22.6 miles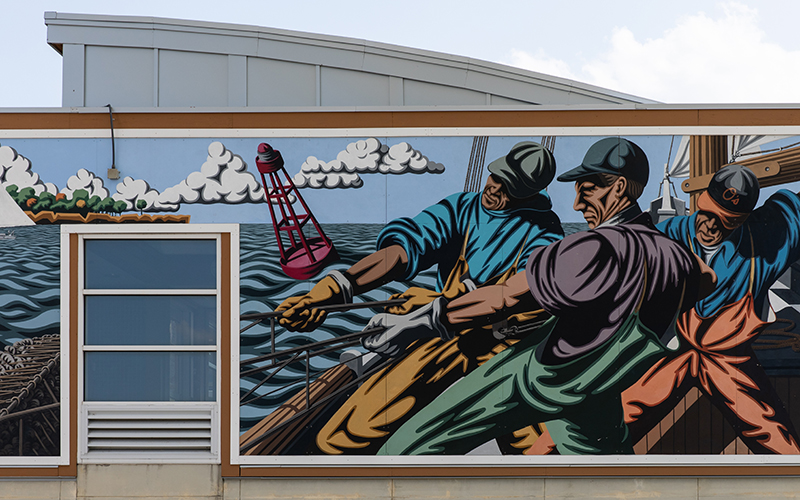 STOP 1
Ode to Watermen Mural
Dorchester County Visitor Center, 2 Rose Hill Pl, Cambridge MD 21613
This 33-foot by 11-foot mural shows three watermen harvesting oysters. See it while driving over the Malkus Bridge or get a close-up view from the walkway near the entrance of the Dorchester Visitor Center. Like all the other murals on the Mural Trail, it was created by nationally-known muralist Michael Rosato, who lives in Dorchester County. Also, don't miss the Audio Guide for the stories about these murals!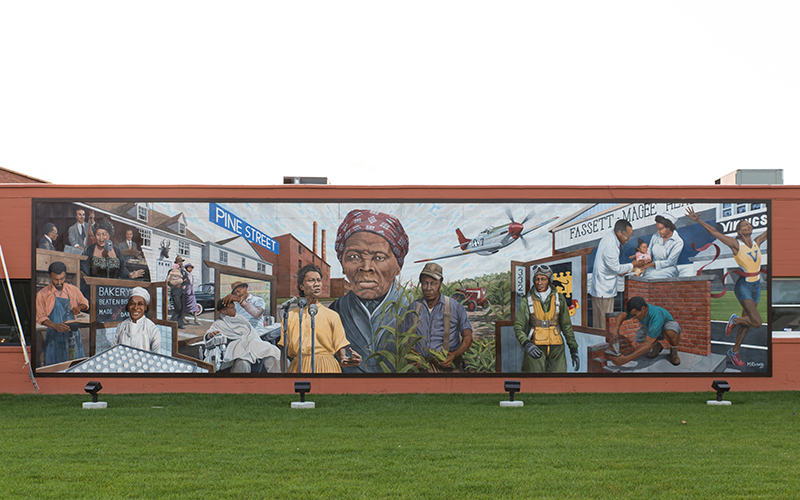 STOP 2
African-American Heritage Mural
Corner of Maryland Avenue and Route 50, Cambridge, MD
This mural highlights Cambridge's rich African-American history, culture, and heritage, particularly in the community around Pine Street. The community is one of the oldest African-American communities in the country, dating back to the mid-1800s. The 11-foot by 48-foot mural was created by artist Michael Rosato. The self-guided Pine Street Walking Tour brochure shares more stories of the historic Pine Street community.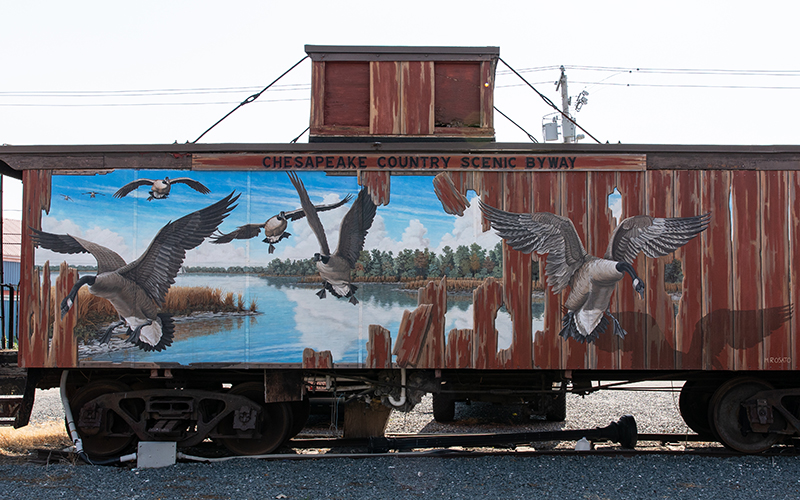 STOP 3
Goose on the Caboose Mural
Powell Real Estate, 200 Trenton St, Cambridge, MD 21613
An unused train caboose became the canvas for a richly textured depiction of Canada geese, seeming to break out of the caboose, with a view of the marsh behind them. Canada geese are a frequent sight in Dorchester County. Stroll a few dozen yards to the drawbridge and you'll see the Big Bird Mural on a wall at J.M. Clayton Company, one of the oldest crab companies in the world.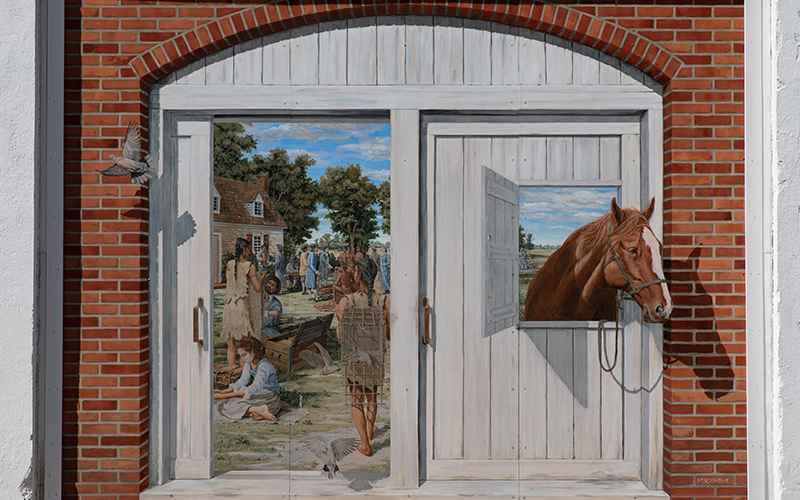 STOP 4
East New Market Murals
Main Street (Route 16) and Railroad Avenue (Route 14), East New Market, MD 21631
Historic East New Market is home to two murals across the street from one another at the small town's main intersection. Both murals capture a sense of the business and commerce of the area. One shows trading between Native Americans and settlers; the other shows a train, a nod to the important role railroading played in this area. Both murals were created by Michael Rosato.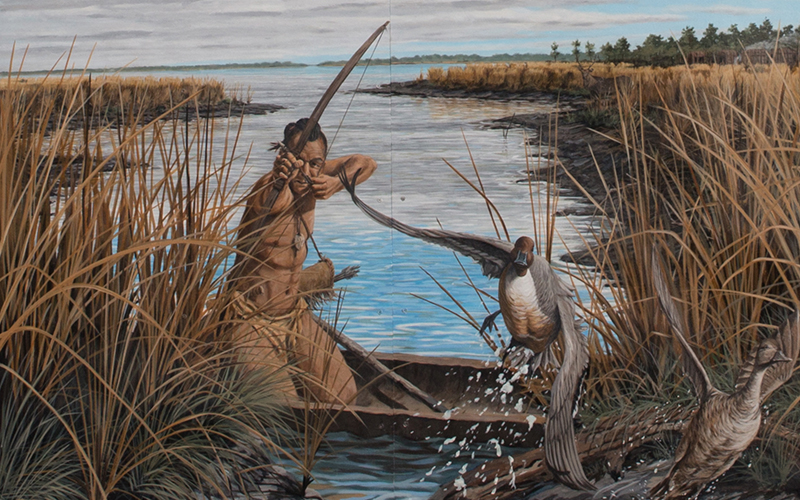 STOP 5
Native American Life Mural
Murphy Community Hall, 104 Race St., Vienna, MD 21869
The side of this community center was transformed into something of a timeline of local history, from Native American culture to the time of colonial settlers. Vienna is a town that was established more than 300 years ago on the banks of the Nanticoke River. The river and a waterfront park are a quick walk from the mural. Captain John Smith explored waterways in this area in the early 1600s.
Visit Dorchester County is the destination marketing office for Dorchester, Maryland. For more information on road tripping to Dorchester, Maryland visit: visitdorchester.org