Wagging Tails and Wondrous Trails: Tips for Happy Hiking with Your Dog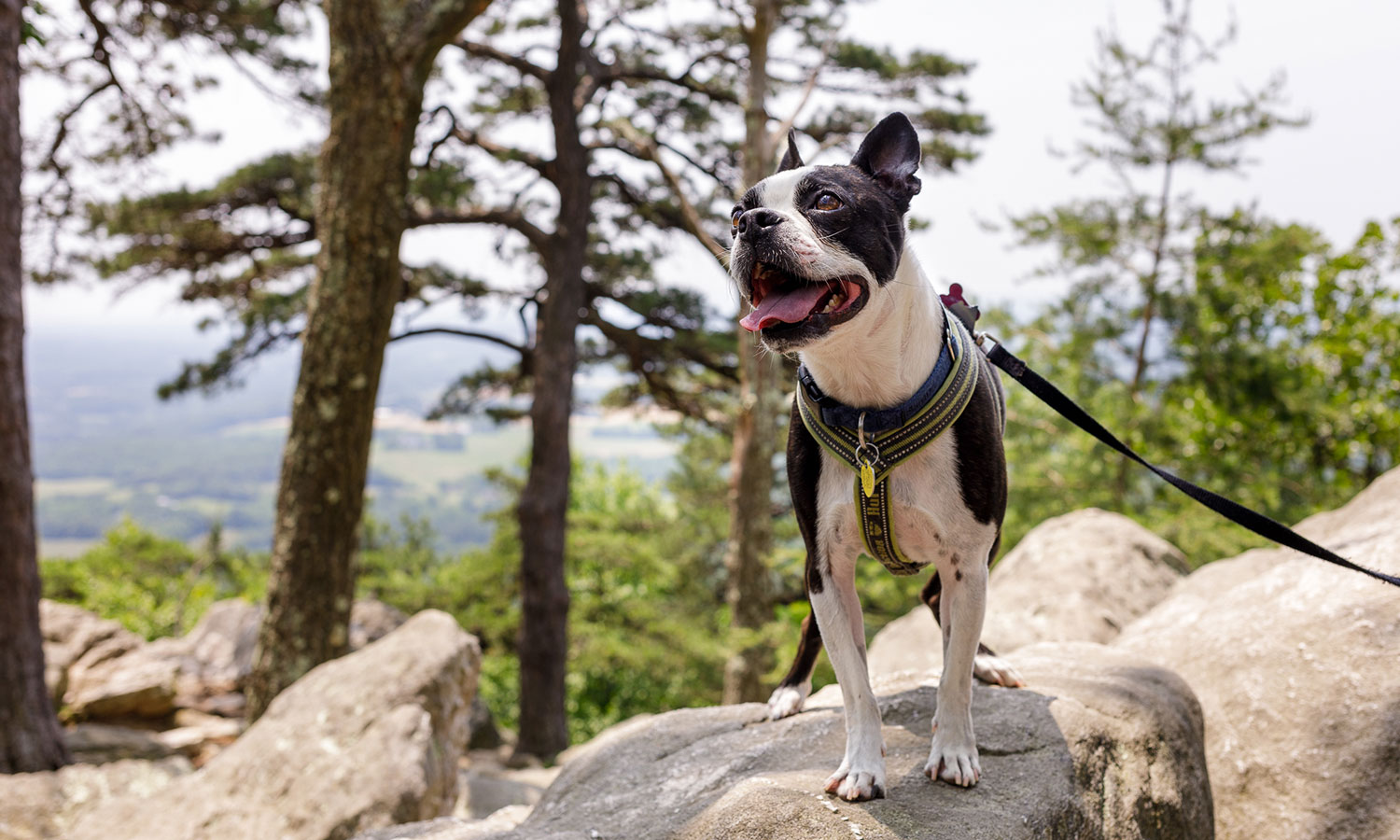 Growing up in the wilds of Maine gave me an appreciation for the great outdoors that I brought with me to the mid-Atlantic. In my work as a photographer, specializing in nature and dogs, I've explored many of the wonderful trails in Maryland. Ollie, my Boston terrier, often joins me on these adventures and even inspired me to begin leading dog-friendly hikes for other busy professionals in the area. 
The last year has been tough for so many reasons. I've found that spending quality time in nature has been a wonderful way to relieve stress and sharing the experience with my dogs has made it that much sweeter. Lucky for us, Maryland has a plethora of dog-friendly natural areas to explore, so let's get out there! 
Preparation is key.
Before setting out, it's important to research the trail you are planning to hike. Visit the park's website or use an app such as AllTrails, to download and print out a map. Some things to consider:
Are dogs allowed on the trail and are there any restrictions? 

Where is the trailhead? Is there parking?

How difficult is the trail and how much time should you set aside to hike it? 

What is the weather forecast and sunrise/sunset times for the day you plan to hike? 
The information you find during this research will help inform the next step — packing.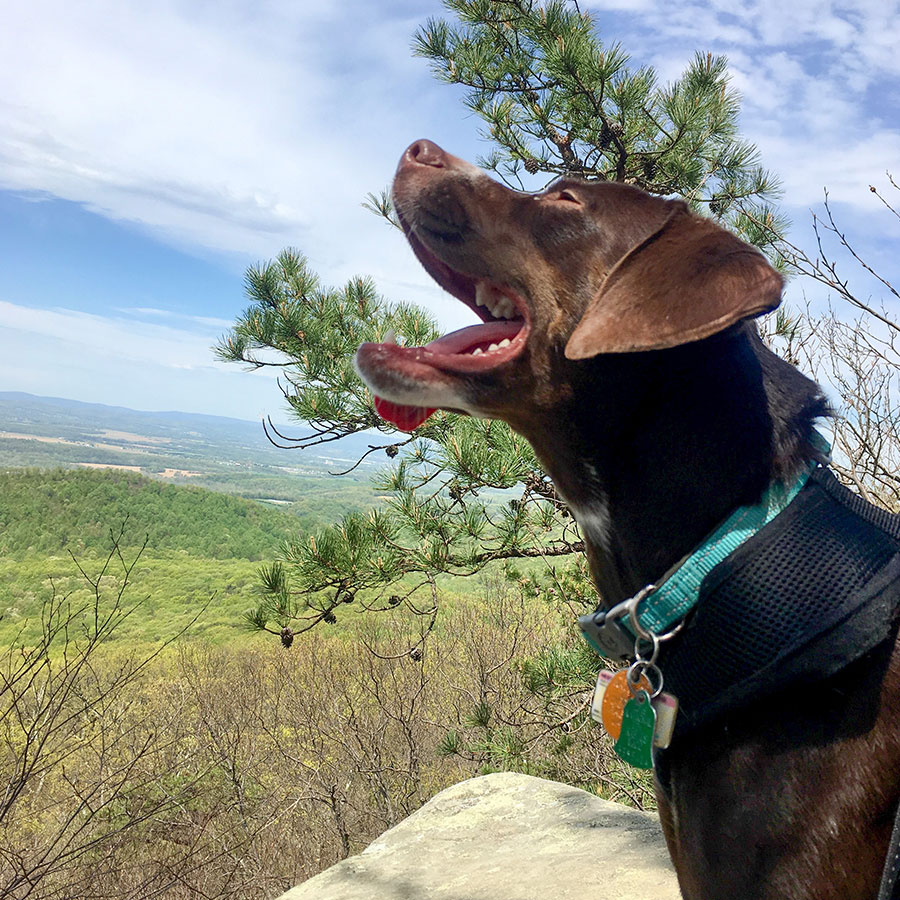 When hiking with your dog, you will need to pack a few extra items. Most importantly, bring more water than you think you need for yourself and your dog. Pack your backpack with the following: snacks for you and dog, collapsible water bowl, first aid kit, poop bags, hand sanitizer, trail maps, compass, an extra shirt for layering, and a light raincoat. Wear comfortable, non-cotton clothing and sturdy hiking boots or sneakers. 
In the summer months, it is important to watch your dog for signs of heat exhaustion. It can come on quickly and looks like rapid panting, bright red gums, or stumbling. If you see signs of this, wet your dog down, rest in the shade and get them into some air-conditioning. To avoid heat exhaustion, start early in the morning and choose shorter, less challenging trails. 
Driving to the trailhead
Dogs who are unsecured in your car are distracting and can be seriously injured if you have to brake suddenly or are in an accident. When I travel, Ollie is confined to the backseat with a car hammock and buckled in using his harness and seat belt converter.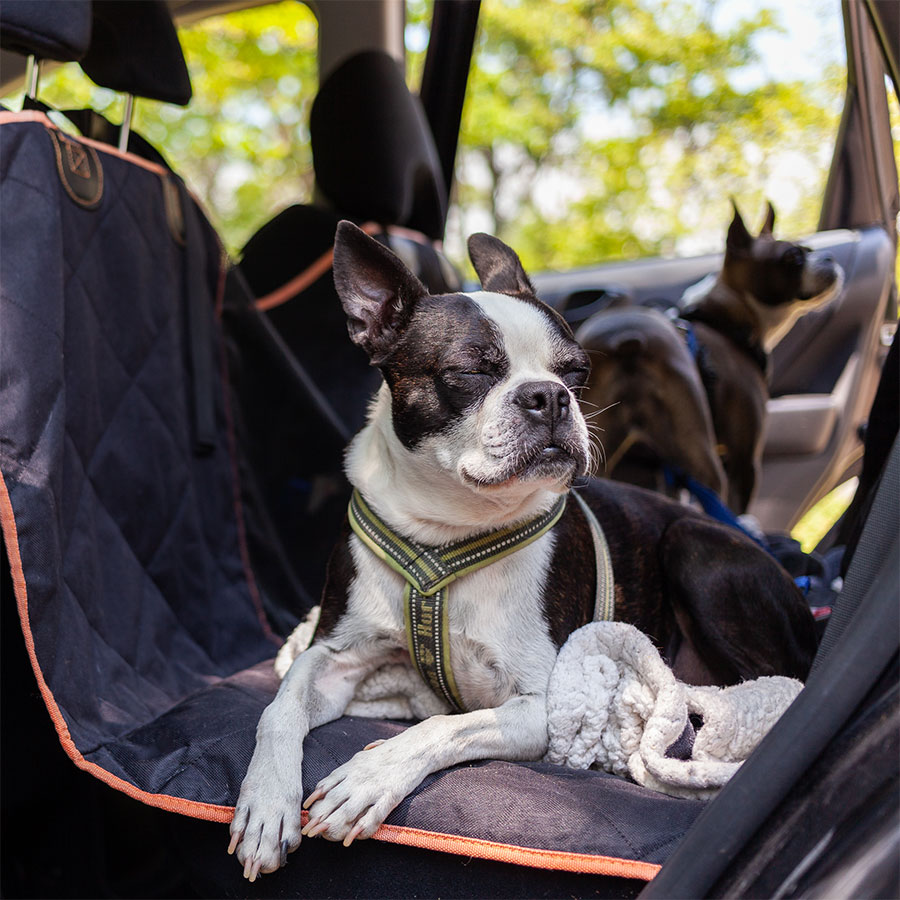 There are several products available based on size and weight so you can find one that works for your dog. 
Trail Etiquette:
Most dog-friendly trails in Maryland require you to keep your dog on a leash. These rules are not just for keeping your dog and other hikers safe, they also protect the park's fragile ecosystem.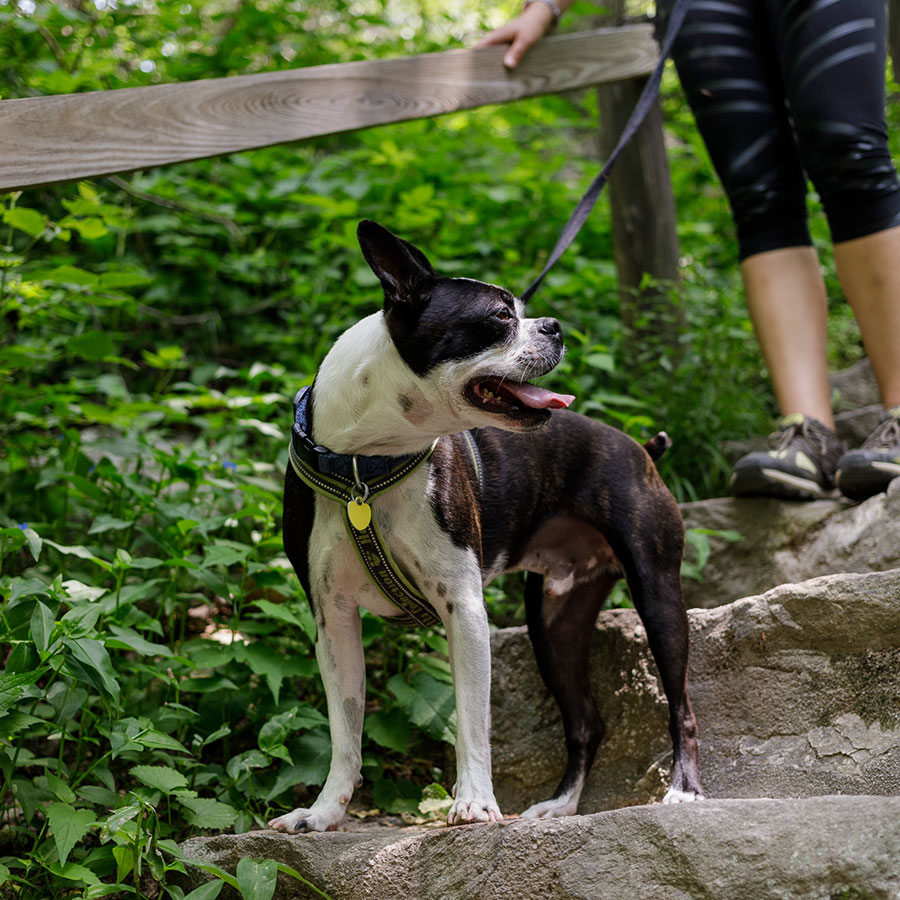 Did you know that it's proper trail etiquette to pick up dog poop?  You may think that leaving it in the wilderness is fine because wild animals poop in the woods. However, dogs are not wild animals and their leave-behinds introduce foreign pathogens into the natural order of the ecosystem. I know picking up poop and carrying it with you for miles is not fun, but make a plan for how to carry or dispose of your dog's waste.
Keep your distance from wildlife and stay on the marked trail. When meeting other hikers on the trail, pull over to the side so they can pass safely, and remember, not everyone feels comfortable around dogs.
Now that I've gone over some ground rules, here are a few dog-friendly trails to visit in the great state of Maryland: 
Calvert Cliffs State Park | Red Trail
Trail details: 3.6 miles out and back, easy
Timing: 1-2 hours⠀
Fee: $5/car MD residents; $7 non-MD residents
Trailhead: 10540 H. G. Trueman Road  Lusby, Maryland ⠀
Website
This is a great family-friendly hike leading you through forests and marshlands to a beach on the Chesapeake Bay. If you plan your hike for low tide, you can search for shark's teeth and other fossils along the beach. Please note: Climbing on the cliffs is not allowed.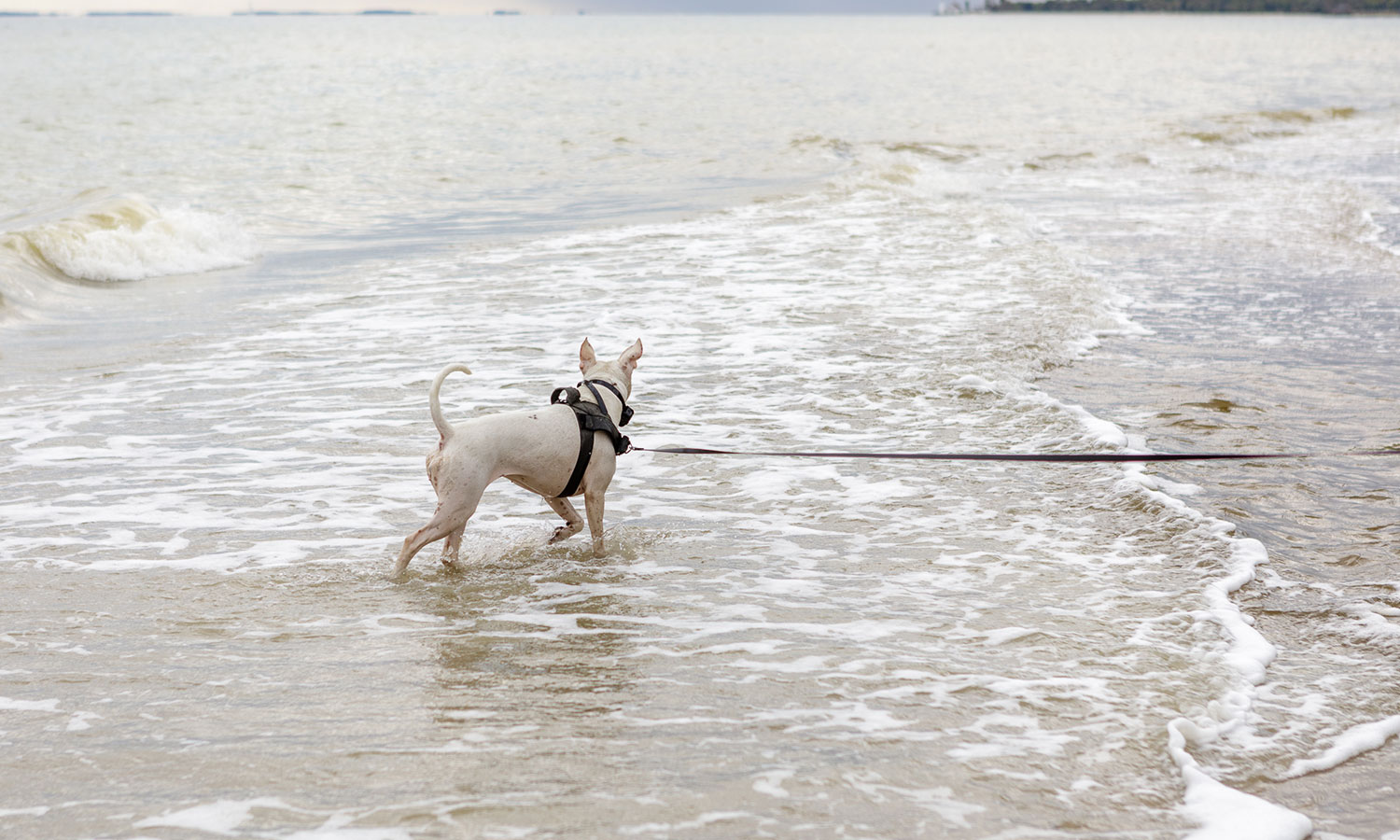 Post-hike, head south to Solomons, MD to enjoy lunch at the Lighthouse Restaurant & Dock Bar and check out the Annmarie Sculpture Garden, which is dog-friendly.
Sugarloaf Mountain | Northern Peaks Trail
Trail details: 6.25-mile loop, moderately challenging
Timing: 3-4 hours ⠀
Fee: Free
Trailhead: 7901 Comus Rd, Dickerson, MD—West View parking lot
Website
The Northern Peaks trail gives you a challenging hike with forest views, streams, and beautiful overlooks. (The views are especially stunning in the fall.) I usually pack a lunch to enjoy at the White Rocks overlook. If you're not too tired at the end, I highly recommend adding a 1/4mile hike on the Red trail to Sugarloaf's summit. It's steep but worth it.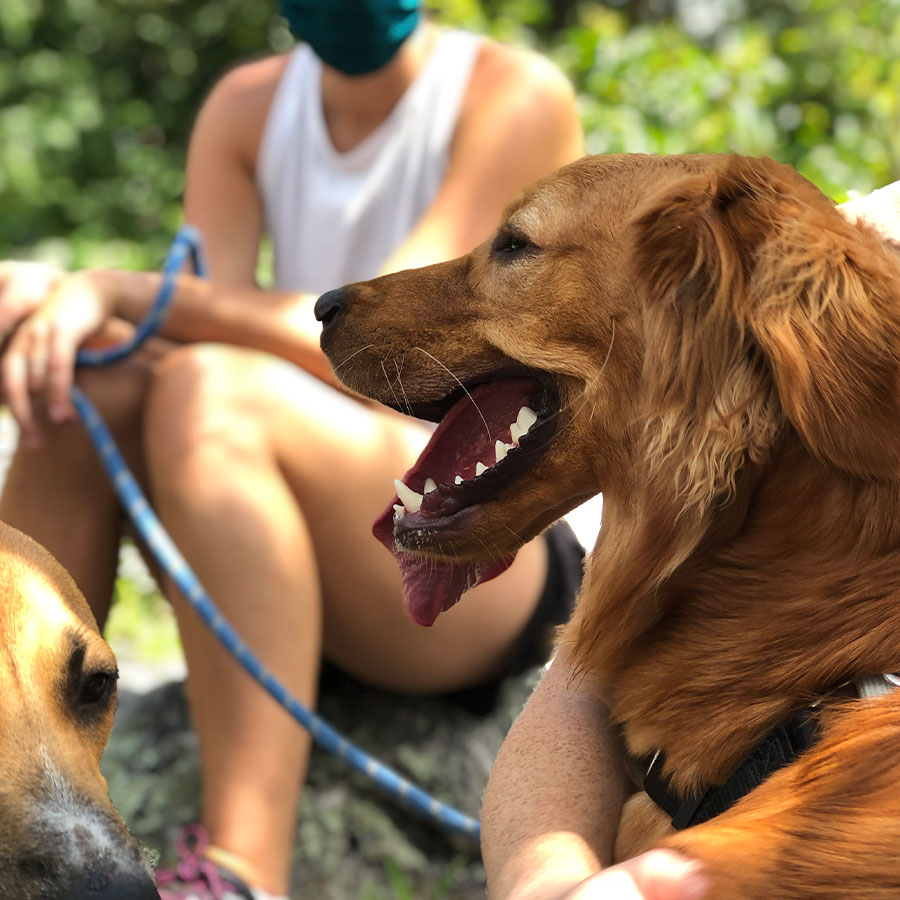 Post-hike, visit dog-friendly Sugarloaf Mountain Vineyard for a wine tasting and snacks. Most weekends they also have a food truck and live music on site. Note: if you go on a weekday, wine tastings and sales are done inside, so have a plan for your pup (who cannot go indoors).
C&O Canal National Historic Park | Billy Goat C Trail
Trail details: 2.6-mile loop, easy-moderate
Timing: 1-2 hours
Fee: Free
Trailhead: Park at Carderock Recreation Area, 9500 MacArthur Blvd Bethesda, MD
Website
The C&O Canal was built in the 19th century to connect western Maryland to Washington, DC. This hike starts along the Potomac River and loops you back to your car via the canal towpath. Be advised that the towpath is shared with bicyclists. Leave room for them to pass safely.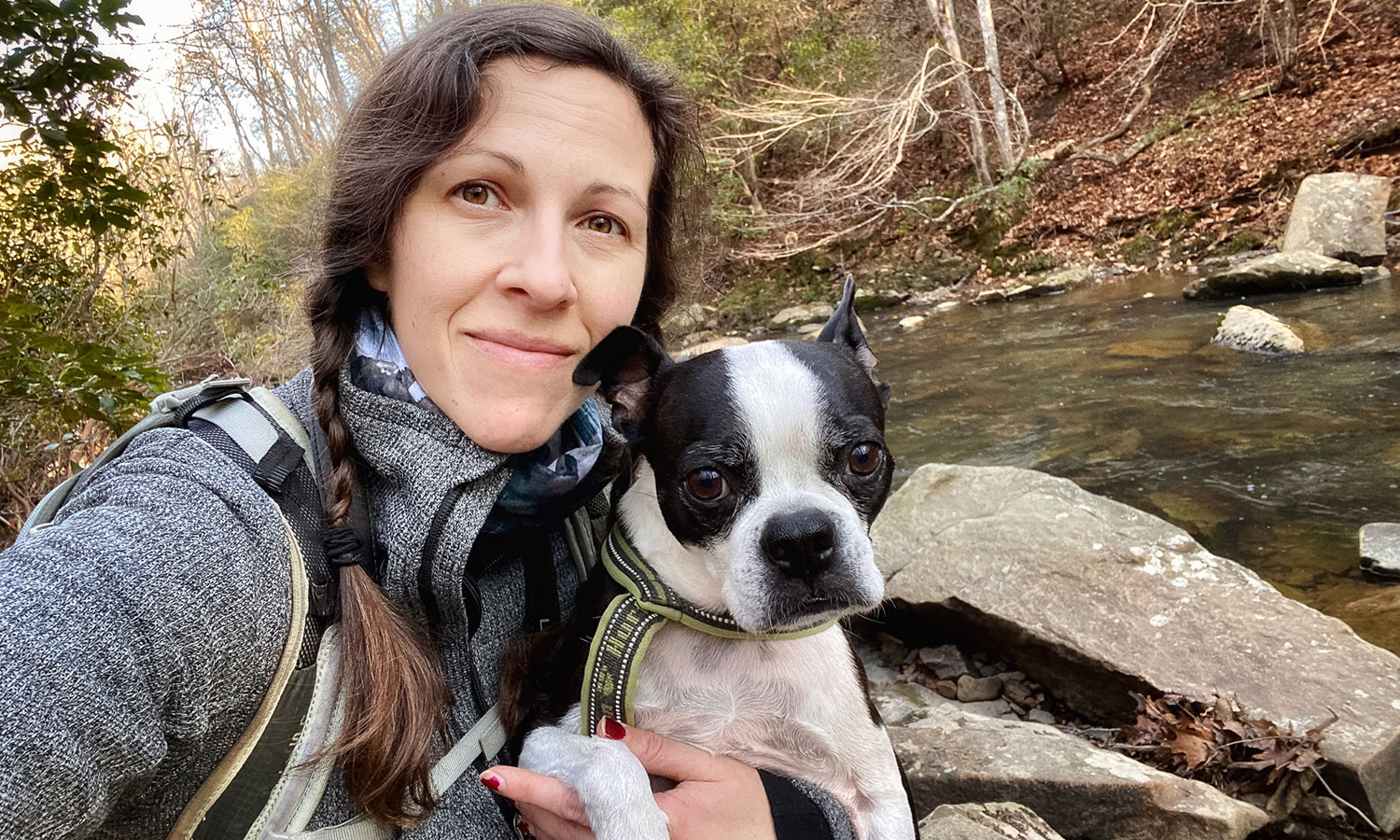 You can extend this hike by continuing past the parking lot for 1.25 miles on the towpath to enjoy lunch at the Old Angler's Inn Beer Garden. 
No matter where you end up on your Maryland hiking adventure, be prepared, leave no trace, and have fun exploring with your best friend!
---
Lead Photo: Ollie, the author's dog, on Sugarloaf Mountain. Photo Credit: Hannele Lahti
Hannele Lahti is equally obsessed with dogs, nature, and photography. She has built a long career photographing dogs and the natural world for clients such as National Geographic, the Smithsonian Institution, and pet lovers like you. Her dog-friendly hikes will start up again in the Summer of 2021. Follow her @adogphotographer and visit her website at www.adogphotographer.com