An Epicurean's Delight in Downtown Frederick, Maryland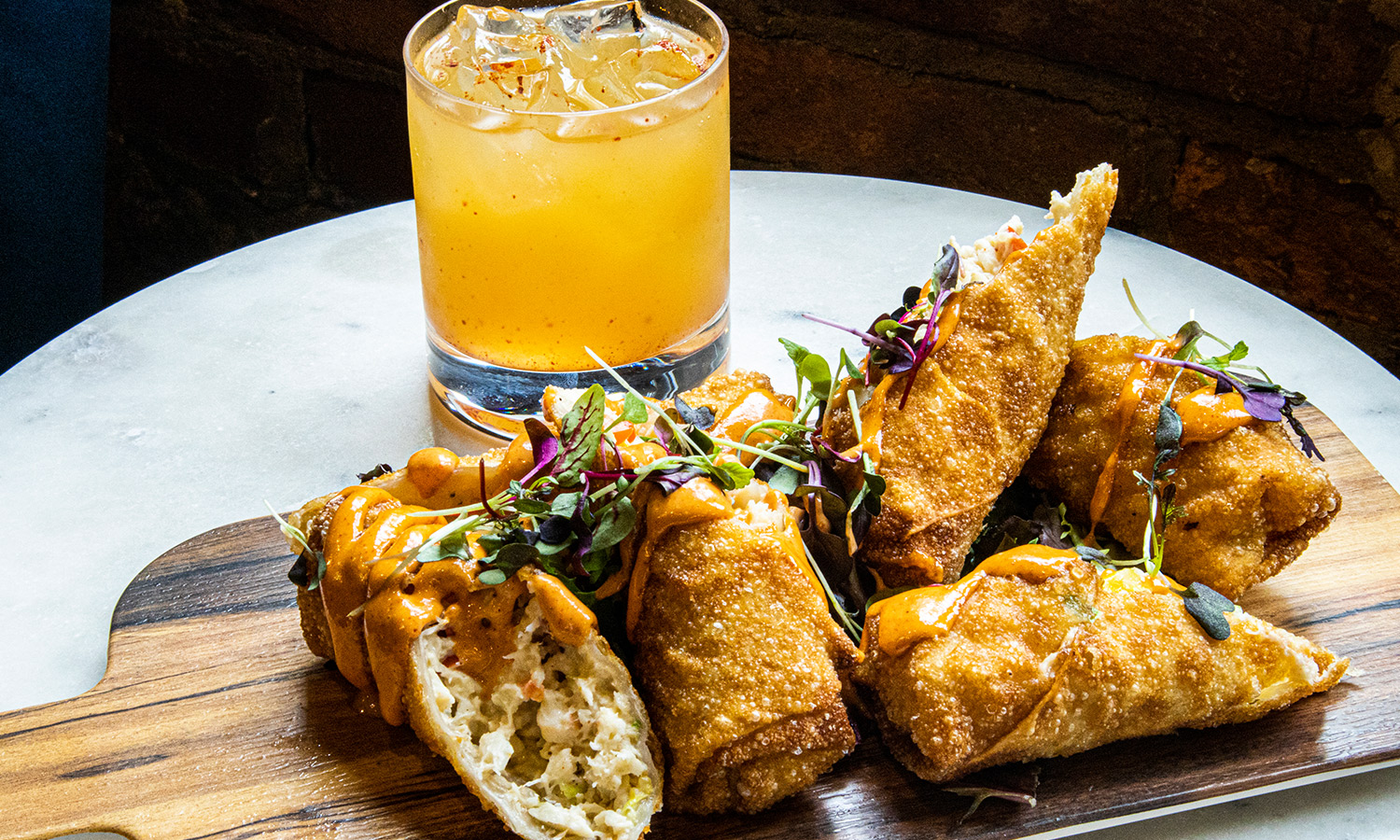 It's Friday afternoon. You can feel it creeping up your back, like a bit of cracked glass sliding up your spine. You have to get the hell out of town. You're hungering for adventure — and what would an adventure be without some damn good food? 
Clock out, my friend. Grab a friend or partner. Get in the car. It's time to hit up downtown Frederick, Maryland, and discover what those of us who live here have always known: Frederick's foodie scene never gets old. 
Friday Evening: dinner at Hootch & Banter
Pull into Frederick just as the sun starts to set. Turn the prow of that proud jalopy down Market Street, and you'll see your first stop of the weekend — Hootch & Banter. 
You're going to want to try and nab a couple of seats in the sleek but unpretentious Lounge. Located on the second floor, the Hootch & Banter Lounge offers the same impeccable service, outstanding cuisine, and world-class cocktails as the main-floor restaurant, but in an environment that's absolutely dripping with old-school cool.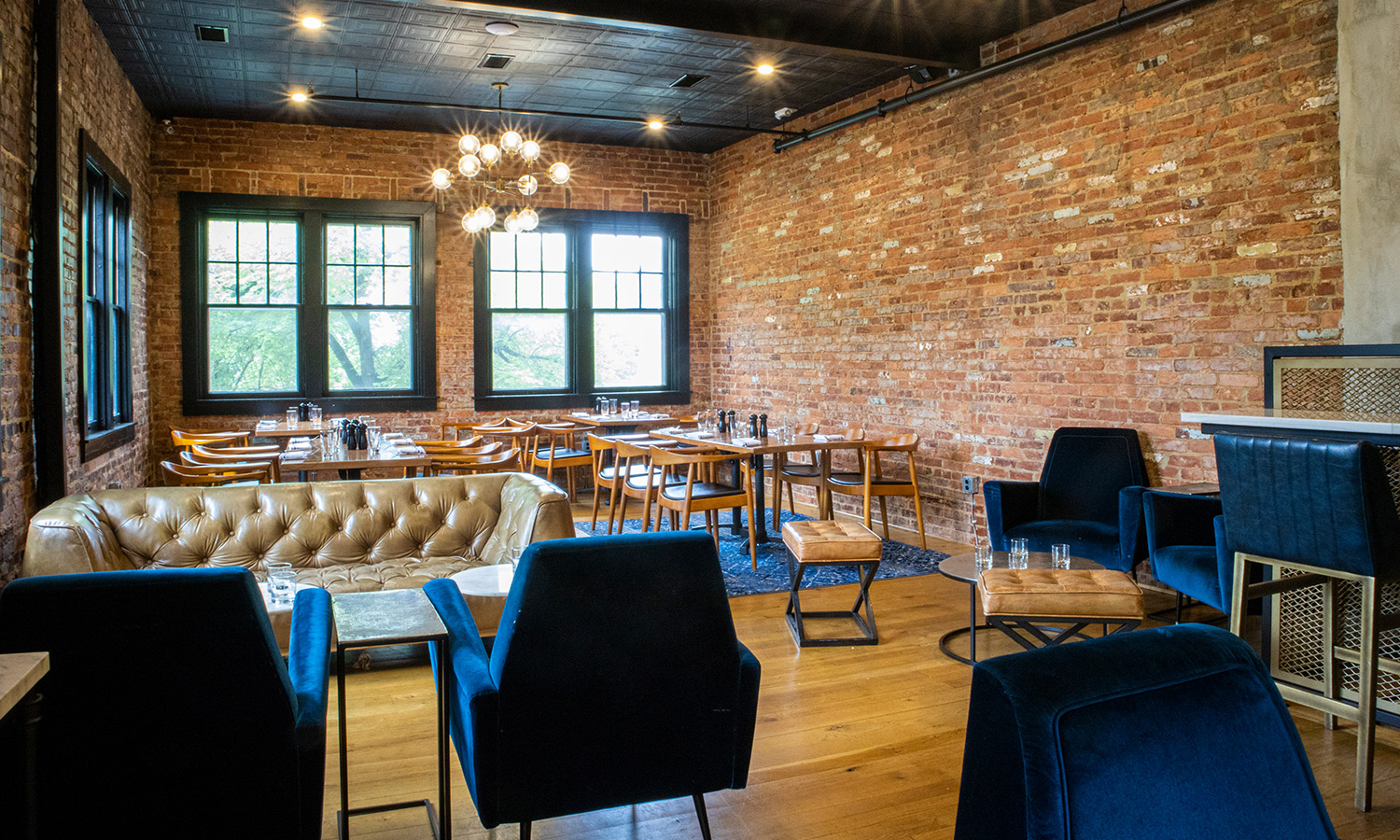 Kick things off right with an order of the Charm City Egg Rolls — they're stuffed full of lump crab, imperial sauce, bell peppers, charred corn, leeks and served with spicy remoulade, malt vinegar aioli, and homemade Thai chili sauce. The mix of crunch, acidity, and spice blends together perfectly. 
Once you've destroyed the egg rolls you can tuck into the Marinated Hanger, a melt-in-your-mouth 8 oz marinated hanger steak served with roasted broccolini, house-cured pork belly, smoked demi-glaze, and tobacco onions.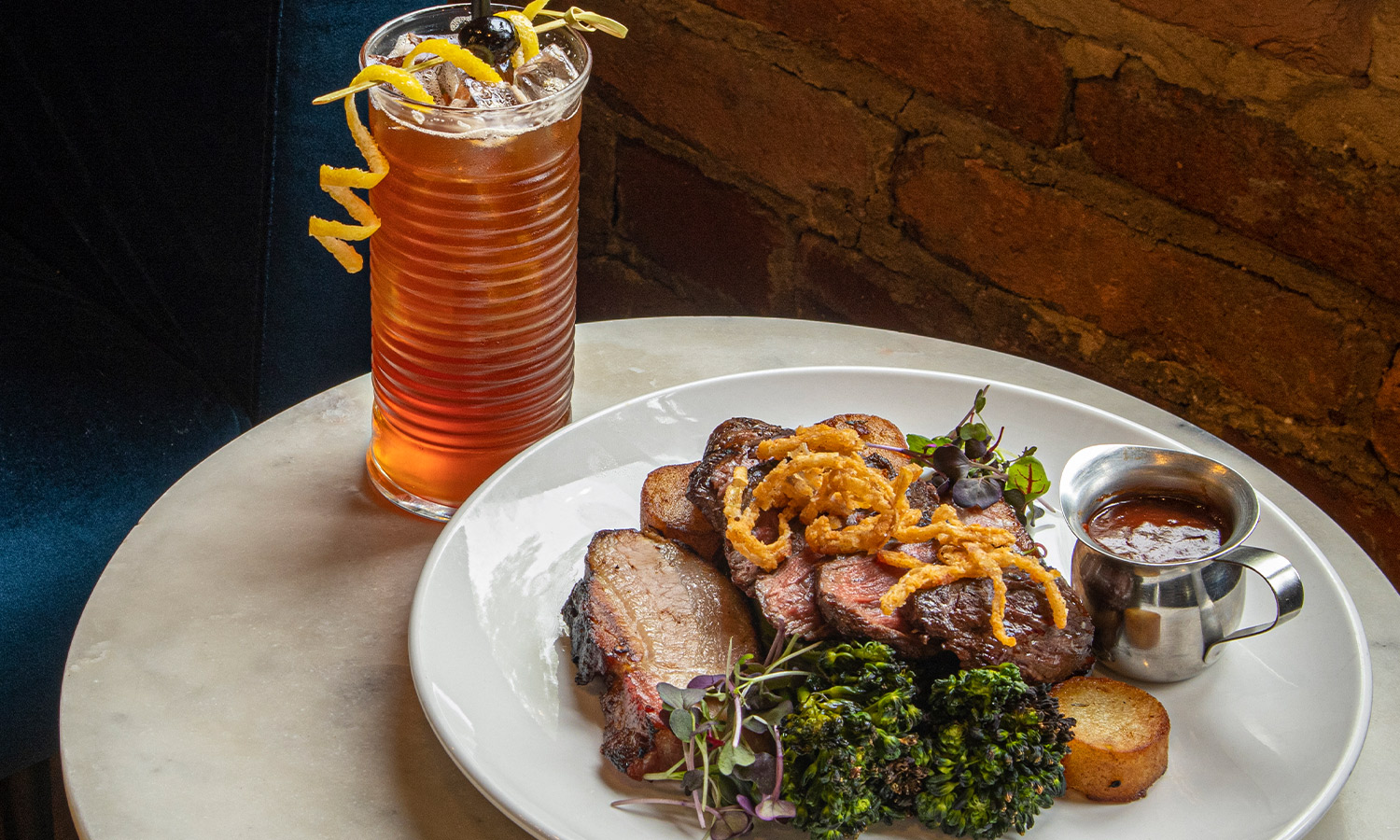 A classic dish requires a classic cocktail, and the never-out-of-style Pimm's Cup fills the need quite expertly. 
Hit the hay. We've got another day and a half ahead of us. And set your alarm early. Because Saturday's a-waitin'. 
Saturday morning: breakfast at Cafe Nola
Kick-start the full day of your culinary crash course with a stop at Cafe Nola, right off of downtown Frederick's "square" where Market Street and Patrick Street meet downtown. Settle into the outside seating area and relax in the warm sunshine while sipping on an Irish Coffee made with Counter Culture coffee. This spot is perfect for people-watching while you wait for your breakfast to arrive.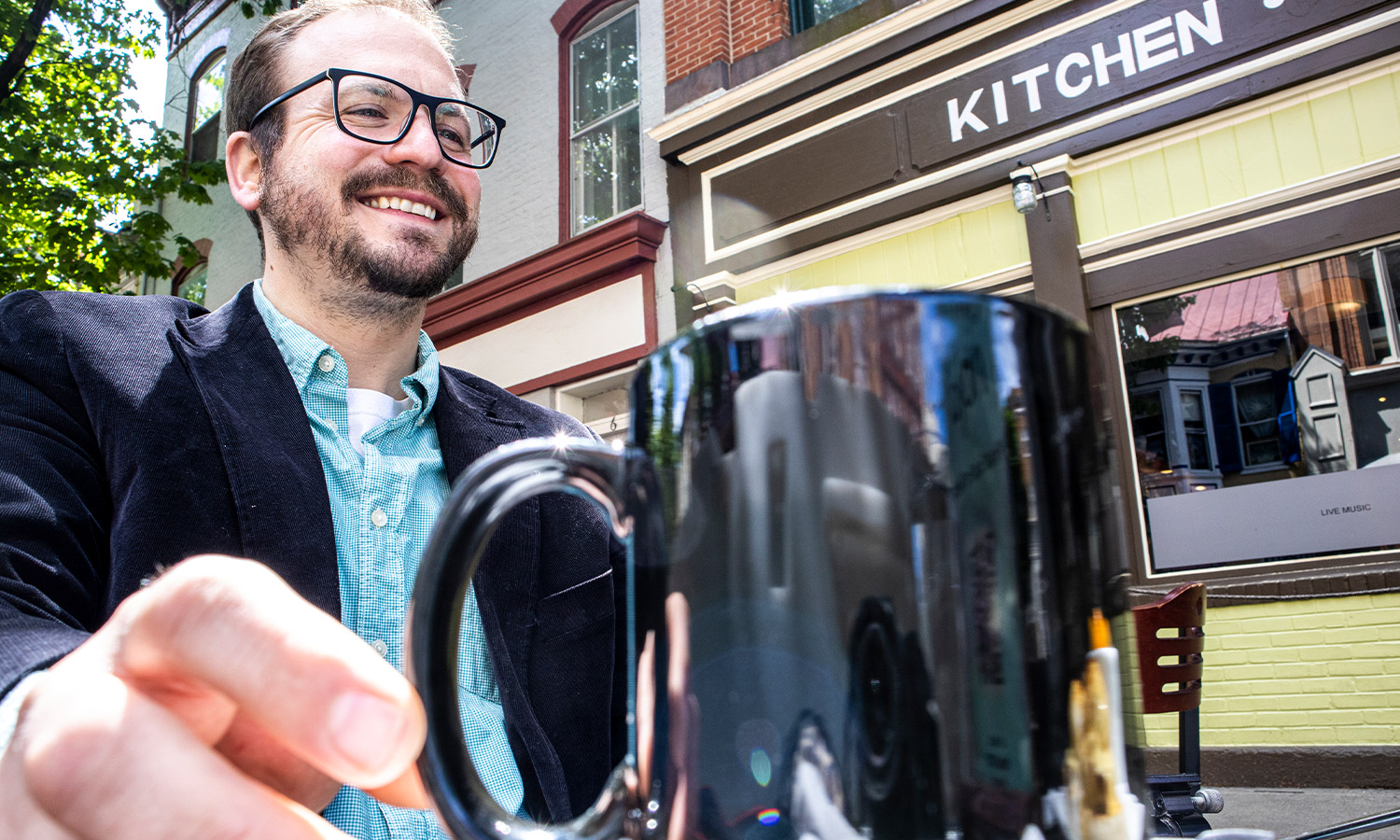 And because you're in Maryland, you know a standard eggs benedict isn't going to cut it. At Nola's, they slap a crab cake on it. Is there a more satisfying feeling than running a fork through a perfectly poached egg? I don't think so.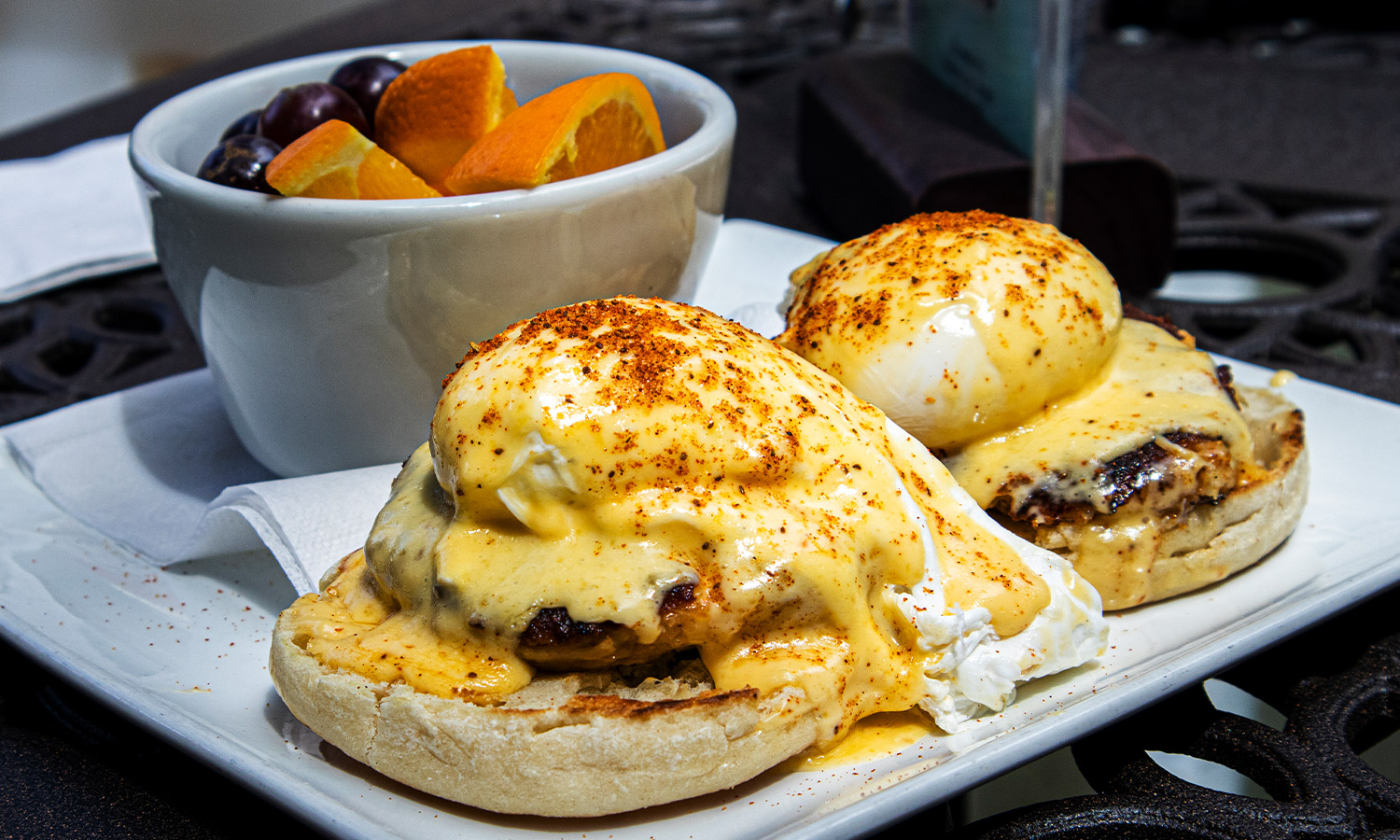 It's time to explore all that downtown Frederick has to offer and to burn off some of those calories from breakfast. I recommend taking a walk down Carroll Creek Park — Frederick's answer to San Antonio's Riverwalk — to explore the public art displays. Depending on the time of the year, the creek itself gets dressed up with a variety of art installations and events.
Saturday afternoon: ice cream from South Mountain Creamery
Now that you've walked off your hearty breakfast, wrap up your stroll down Carroll Creek by indulging your sweet tooth at South Mountain Creamery's Ice Cream Shop, smack dab on the creek itself. 
You could opt to taste each of South Mountain Creamery's flavors (they're all brilliant), but instead, you're going to want to settle for something heftier. Something that's going to turn heads as you eat it on your continued promenade down Carroll Creek. You're going to tackle Middletown's most famous monster in sundae form: the Twisted Snallygaster.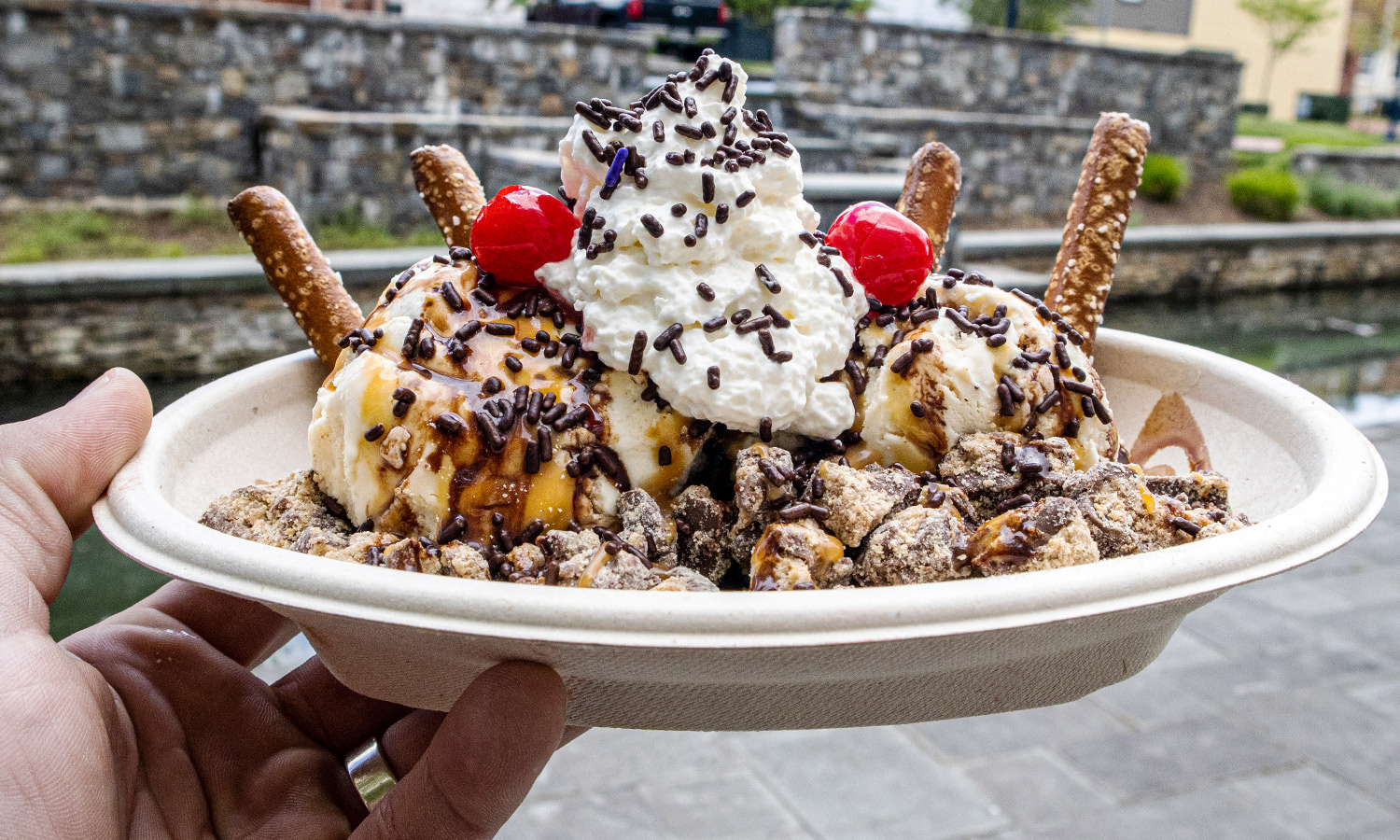 After slaying the mighty Snallygaster (and thoroughly washing your hands and face), head back towards the square. Browse the Curious Iguana bookshop and nab a couple of signed copies of your favorite local authors' books before hitting up the bevy of curio shops that line both sides of Market. 
Saturday happy hour: craft cocktails at Thacher & Rye
Full from your late afternoon "lunch" and loaded down with souvenirs, retire to your hotel, and get changed into your finest duds. You're ready for a night on the (down)town in Frederick. 
Sure, you may not be hungry after that monstrous sundae, but it's about time you tasted some tempting tipples. Hit up the bar at Thacher & Rye (Bryan Voltaggio's latest restaurant in downtown Frederick) for some of the best handmade cocktails in the state. 
Saturday night: dinner at The Tasting Room
To recap: You've woken up with an Irish Coffee and a hefty serving of eggs and fruit. You've satisfied your sweet tooth, your hootch tooth, and your shopping itch. That means it's time to dive into The Tasting Room, one of the best fine-dining offerings in downtown Frederick. 
Begin your meal with an order of their Peruvian Bay Scallop Ceviche, made with bay scallops, avocado, lime, tomato, cucumber, chili, red onions, cilantro, and served with corn chips. 
Take a purposeful scoop with a chip, ensuring a smooth coverage of the sauce, as well as each veggie. Carefully place a single scallop on your chip. Now eat the entire thing. (If it's manageable. I mean… no point in choking over scallops after all.) With the first crunch of the assembled corn chip, you realize you finally hit the coup de grâce, as the butter-like scallop joins the melee of complementary flavors and textures.  
You'll want a glass (or perhaps even a bottle) of wine from The Tasting Room's impressive wine list. I recommend Domaine Gachot-Monot's Cotes de Nuits-Villages for this next course, because up next you're about to tackle the Colorado Rack of Lamb — lamb chops, hummus, castelvetrano olive tapenade, and spinach, served with a veal reduction.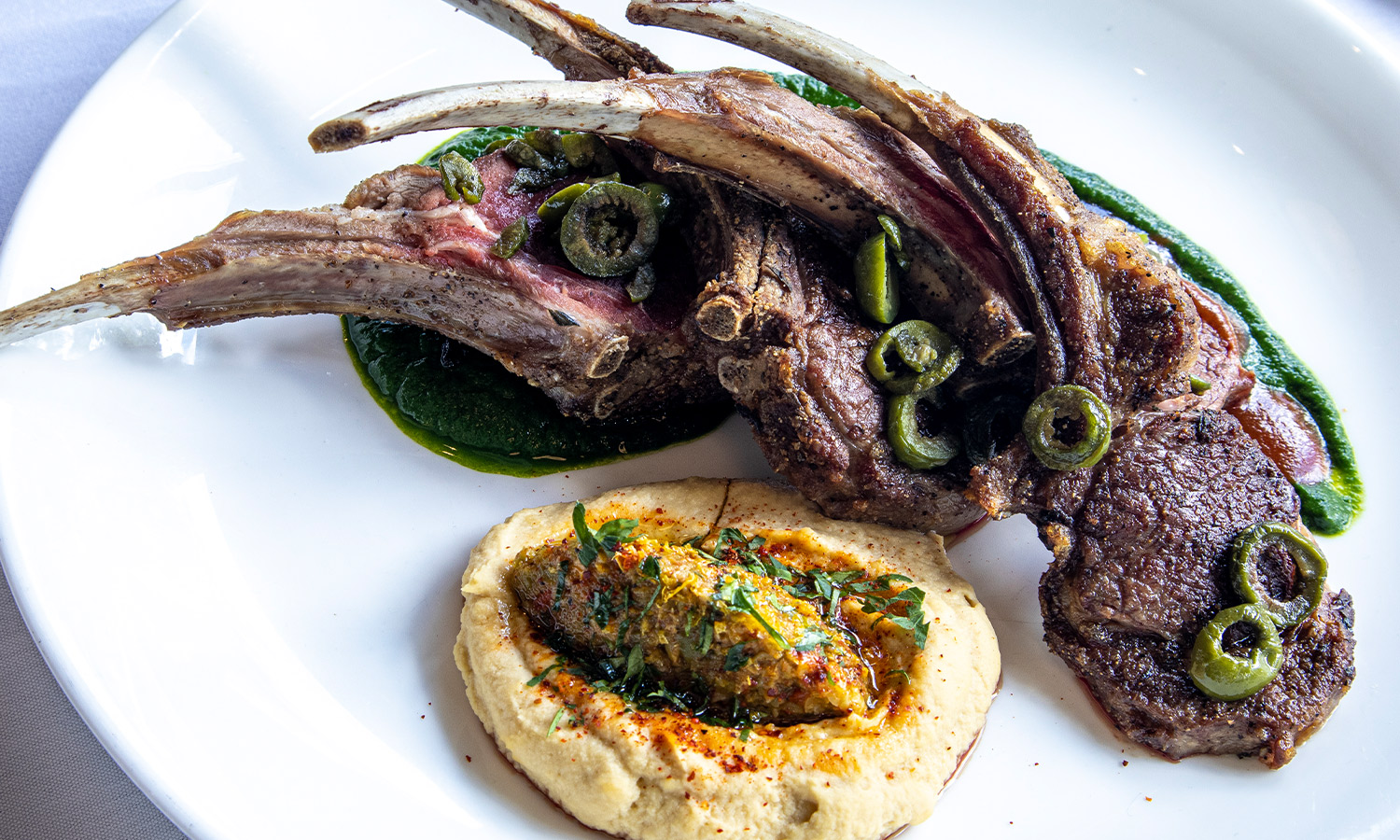 There are only so many words in the dictionary that can mean "velvety" and "melts-in-your mouth" and "best lamb chops I've had in my life." Even a quick reference to your pocket thesaurus brings up less-than-accurate words like "glossy" and "sleek." 
Suffice it to say, the lamb practically dissolves when you take each bite, with hints of acidity from the tapenade.
Sunday morning: brunch at White Rabbit
Now that you've successfully downed some of the best cocktails in Maryland and filled up on classic high-class fare with a modern twist from the night before, it's time to soak up all that booze. 
Sleep in and hit up White Rabbit Gastropub for one last hoorah before you have to head back home to reality.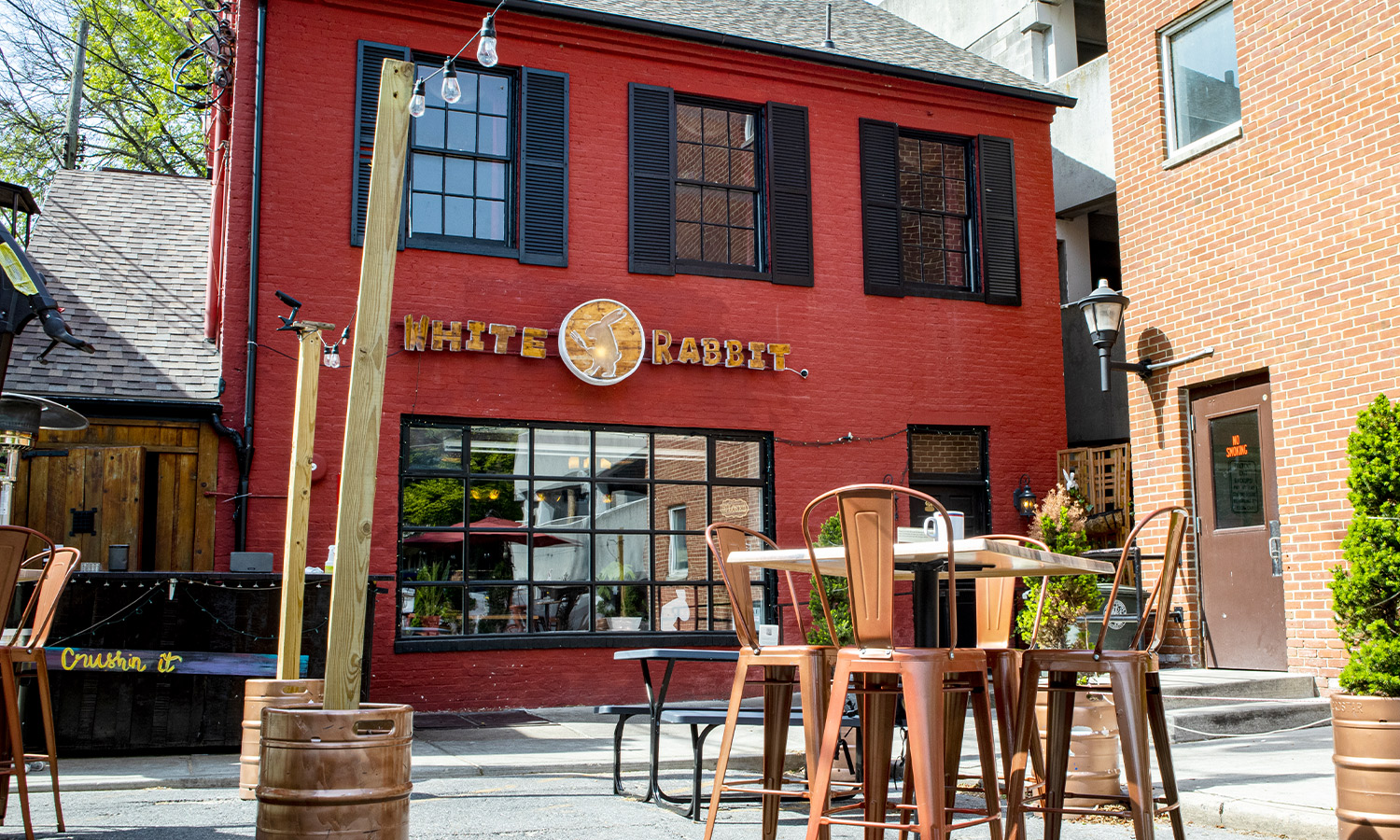 You'll notice that Detroit-style pizza — a unique take on pizza that places the sauce on top of all the other ingredients — is one of White Rabbit's specialties. Think breakfast pizza sounds weird? Trust me — you want the Chicken and Waffles pizza here. The pizza boasts a base of whipped cream pizza dough, Wisconsin brick cheese & cheddar cheese, topped with crispy chicken tenders, buffalo sauce, Mike's Hot Honey, and a bit of powdered sugar. 
Served with a side of maple syrup, the pizza takes a classic diner dish and turns it way up.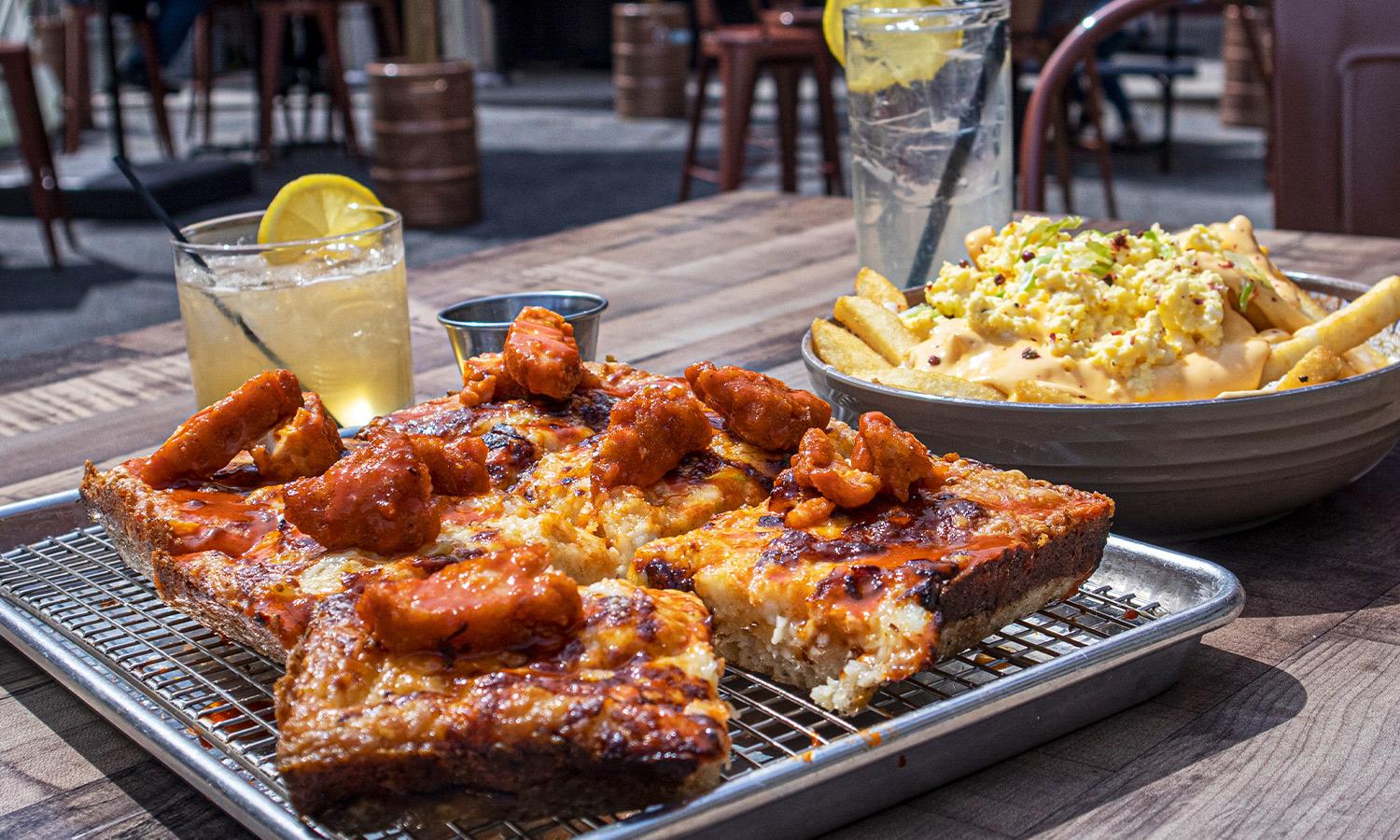 Bolster your pizza with an order of Breakfast Poutine — crispy cheese fries topped with hollandaise and scrambled eggs. Just be warned – both these guys are delicious but dense, so make sure you've got the Son of a Bee cocktail and an Arnold Palmer Crush to get you through. 
If you can hoist yourself up from the decadence that was your late brunch, head down Market until you hit the Record Exchange. Indulge your audiophile dreams with their drool-inducing selection of new and used vinyl – and even some vintage video game systems to boot. 
____
You've done it. You went into the short weekend in downtown Frederick with the true dedication of a bon viveur. Even better? You've only scratched the surface of what this hopping central Maryland town has to offer in terms of foodie and boozy delights. 
---
Lead Photo: Mark Vierthaler
Mark A. Vierthaler is the Head Distiller at Whiskey Del Bac in Tucson, Arizona. He's also a former Marylander who left a part of his heart in the Old Line State. He has won over a dozen international awards for spirits he has made and was a finalist for the inaugural Icons of Gin from the UK-based Gin Magazine. He lives in Tucson with his wife Jenn, silver lab Moose, tabby cat Rump Roast and the occasional javelina & coatimundi that wanders into their backyard. He also makes a point to take in as much craft as possible when he travels back to Maryland. Follow his cooking, mixology and distilling misadventures @WhiskyIcarus on Instagram.