Visit Elijah Bond's Ouija Board Headstone in Baltimore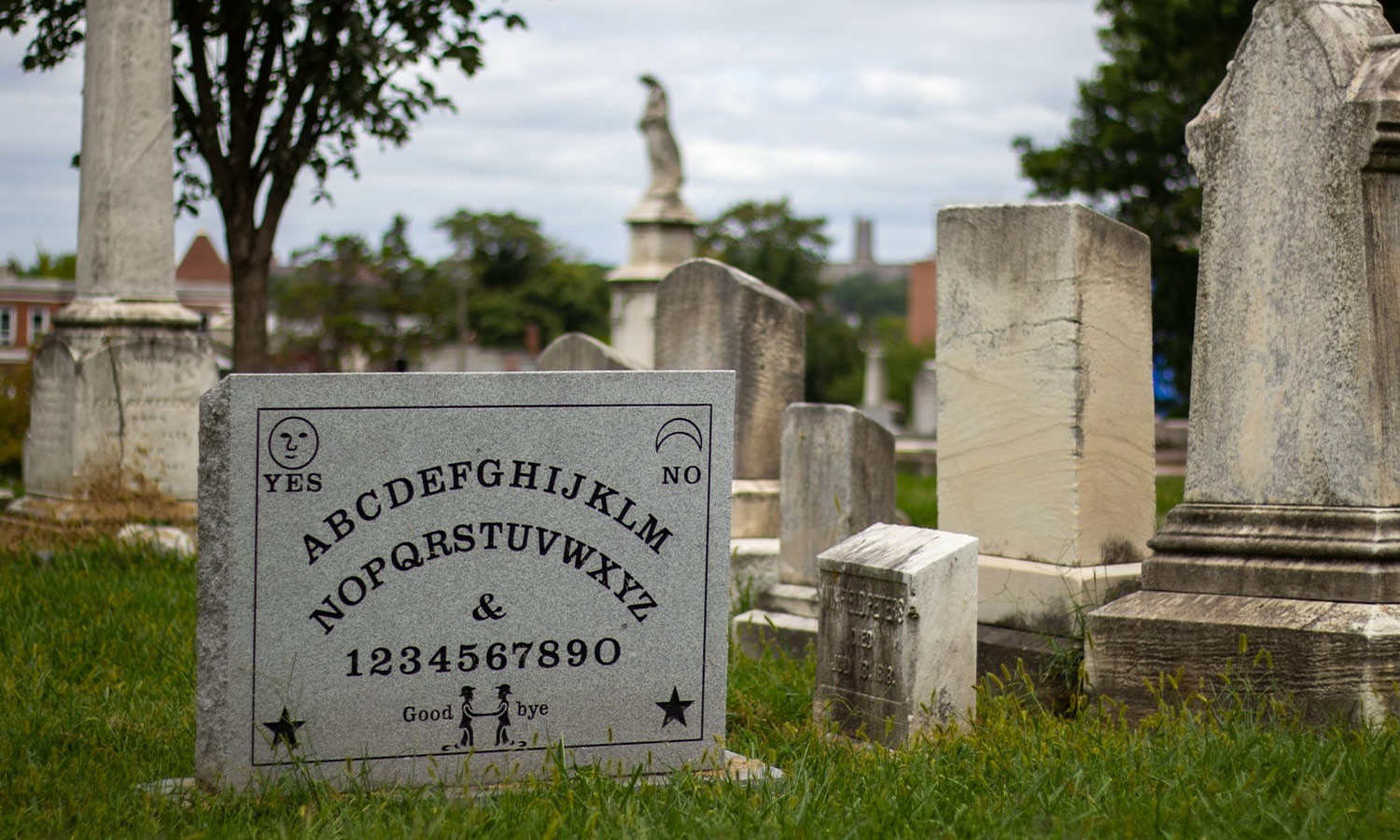 Whether you believe ouija boards are powered by those from beyond the grave or are a simple result of the ideomotor effect — there's no denying the eerie, paranormal feeling they're known to emit. In fact, even a skeptic might refrain from trying one out all alone in a cemetery at night.
Still, decades after its creation, the phenomenon of ouija boards continues to perplex and intrigue paranormal enthusiasts, scientists, and psychologists alike; surely leaving inventor and patentee Elijah Jefferson Bond quite pleased. 
As the first to commercially sell these "Wonderful Talking Boards" (trademarked as Ouija in 1891), Bond quickly captured the attention of others with claims of this magical device being a link "between the known and unknown, the material and immaterial." Or, as more commonly described today, a creepy game board used to bridge the gap between the living and the dead. 
Ironically, 30 years after creating said magical, spirit communication device, Bond himself died and was buried in an unmarked grave; making it quite difficult for the living to reach him. 
It wasn't until 2007, 86 years after Bond's death, that paranormal "talking board" historian and expert, Robert Murch, set out to find his grave and provide him with a headstone noting his incredible invention. After 15 years of searching, Murch was finally able to locate Bond's precise grave in the Green Mount Cemetery in Baltimore, MD; spending several of those years working closely with the cemetery owners to accurately identify the grave.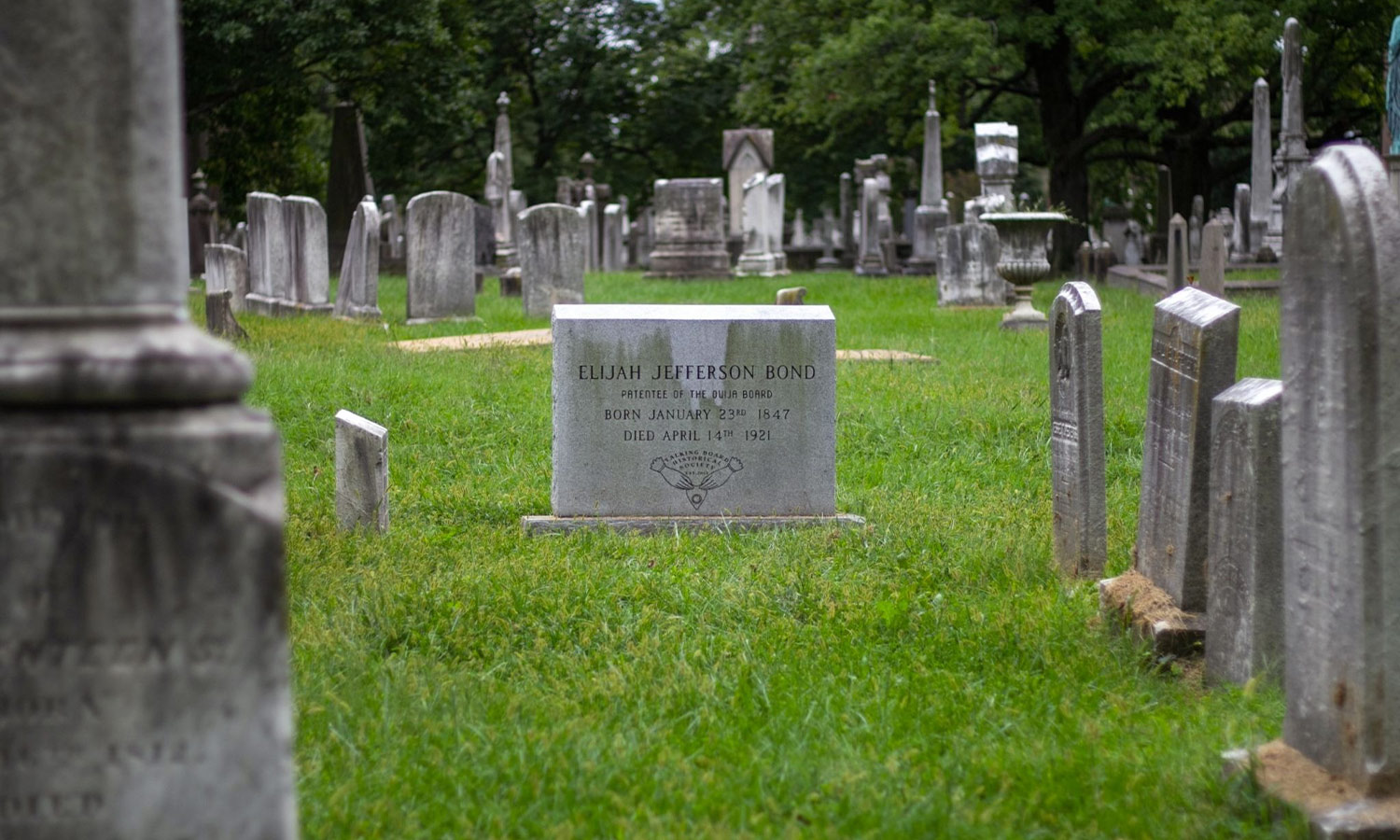 Alongside volunteers and donors, Elijah Jefferson Bond now rests below a truly memorable headstone—one that makes communicating with him on the other side all the more simple.
Additional Tips & Notes
: 
The Cemetery is open Monday through Friday 9:00 AM – 3:30 PM. On Saturdays, the office is open from 9:00 AM – 12:00 PM, the grounds remain open until 3:30 PM. Closed on Sundays.
Admittance is currently by appointment only, so be sure to call (410) 539-0641 beforehand. You will also have to call this number in order to enter and exit (it will be locked, and you probably don't want to spend the night there).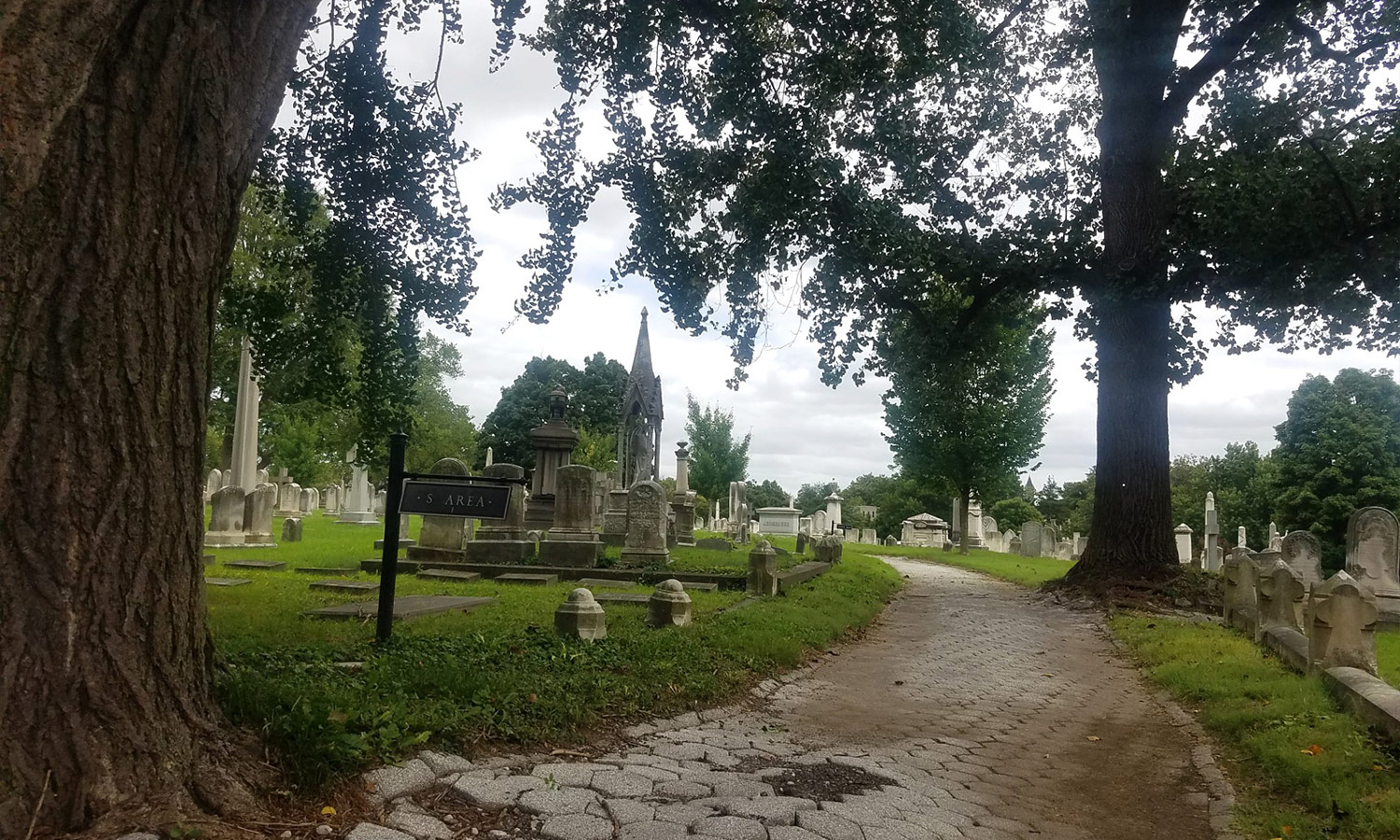 Once in the cemetery, sign in at the office (to the right of the gate), grab a map, and make your way toward the large building on the hill. Elijah Bond's headstone is #15 on the map: section P, located right across the street from the section P marker. It seems a bit out of place, but still fairly easy to spot once in the right area.
You can also find the grave of John Wilkes Booth (1838–1865), the assassin of President Abraham Lincoln, during your walk-through of Green Mount Cemetery, too! 
Spooky fact: The first person laid to rest in Green Mount Cemetery was two-year-old Olivia Cushing Whitridge. Since that time, these hallowed grounds have become the final resting place of more than 65,000 individuals.
During your drive: What better way to prepare for a day in the cemetery than by listening to a few creepy podcast stories? Check out this list of the 20 Best Paranormal Podcasts.
---
Lead Photo: Matthew Culver