A Summer Weekend at Deep Creek Lake

Deep Creek Lake is one of the most popular vacation destinations in the state of Maryland and one that neither my husband, Joe, nor I had ever visited. We rectified that on a beautiful summer weekend.
As we drove west from our Frederick home, we listened to several episodes of The Maryland Curiosity Bureau, a WYPR podcast investigating Baltimore's idiosyncrasies. During an episode on Lake Trout, we were stunned to hear that Maryland doesn't have any natural lakes. "What about the one we are traveling to?" Joe asked incredulously. As we soon learned, Deep Creek Lake is actually a man-made reservoir. 
Day 1: Friday
We arrived in McHenry, MD, in the mid-afternoon and drove straight to our accommodations. LakeFront Lodge is located on the northern tip of the lake—er, reservoir—right off route 219 and near Wisp Resort, a popular skiing destination.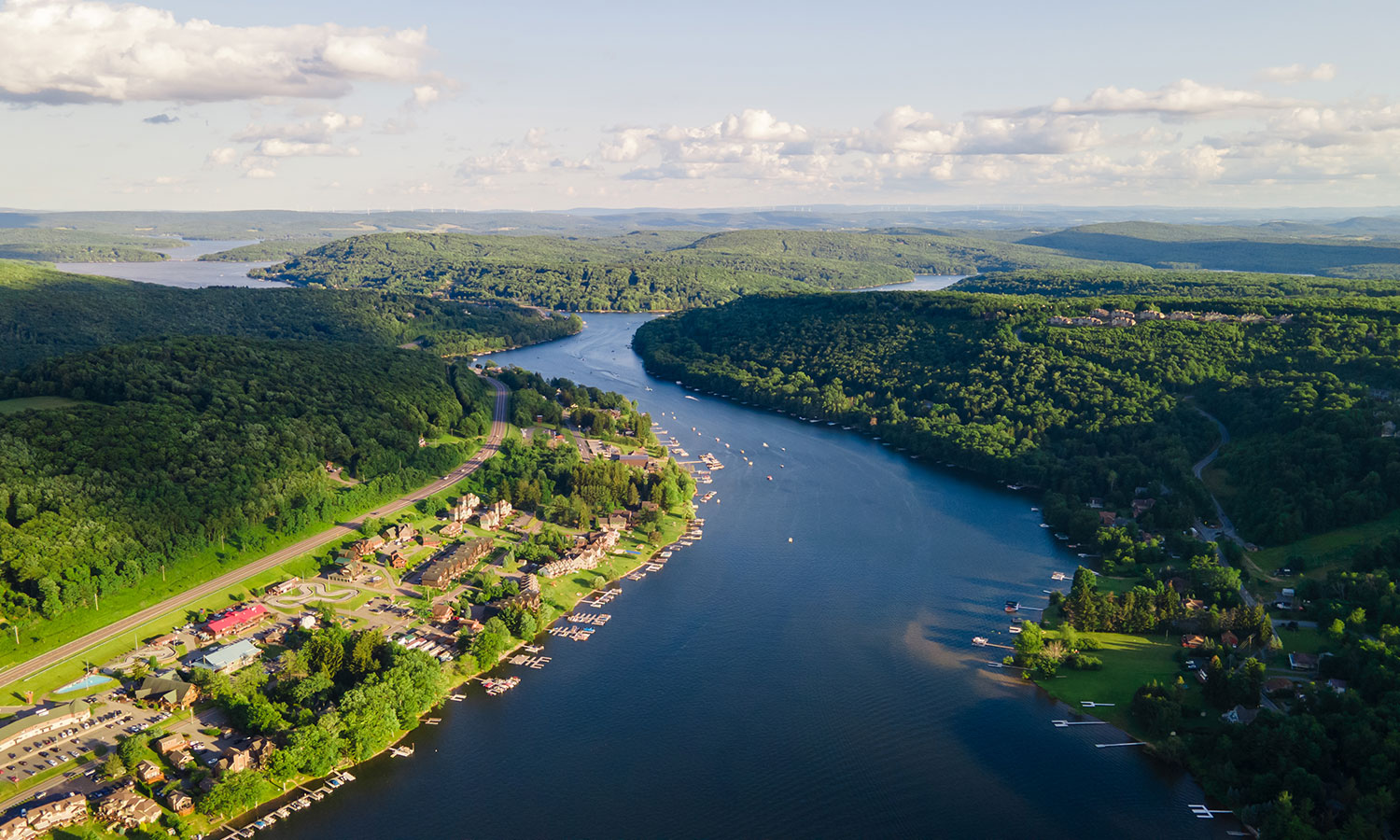 Every room of this dog-friendly hotel has a lake view, and our first-floor room opened onto a deck right on the shore. We grabbed our books, plopped into lounge chairs, and spent the afternoon soaking in the water views. We watched a group of teenagers repeatedly cannonball into the water from the inflatable rafts tied to the hotel's dock. Their parents watched from a pontoon boat at one of the slips available for rent along with your room.
After reading, we turned our attention to a rather poorly-executed game of corn hole. Perhaps to save us from embarrassing ourselves, a gaggle of geese waded ashore near our game. We spent a good 20 minutes watching them eat, as they didn't seem at all concerned we were so near.
For dinner, we headed to Mountain State Brewing Company, enticed by their 18 rotating craft beers on tap. Joe had an apple butter pulled pork sandwich, while I chose a classic margherita pizza. As we sipped our beers, we agreed that we already loved Deep Creek and would plan a longer return trip soon. 
Day 2: Saturday
A day of eating and exploring awaited us. First up: Belgian waffles heaped with fresh fruit and locally-made maple syrup at Trader's Coffee House.
We headed south down route 219 to a group of shops. Already full of sweet breakfast, we bypassed the Copper Kettle Popcorn Factory, Deep Creek Donuts, and Lakeside Creamery, deciding to save them for our next trip.
We stopped at The Christmas Chalet, which was positively teeming with holiday spirit. A typical male, Joe wasn't very excited to visit the shop, but he admitted it was fun to look at the large selection of ornaments. We selected a few as gifts for family members and chose one of two bears holding a "Deep Creek" sign for our own Christmas tree. We have a tradition of buying an ornament every time we travel, so decorating our tree each December becomes a walk down memory lane. 
After standing in the parking lot, hoping for a glimpse of the twin fawns the Chalet sales clerks had seen earlier (we didn't see them), we checked out The Tourist Trap. True to its name, this store offered a wide variety of souvenirs with "Deep Creek Lake," "Maryland," and even "West Virginia" designs, as well as toys, puzzles, books, and other amusements. A lover of games, Joe bought two small board games.
For lunch, we tried Ace's Run Grill and Pub. We were delighted to be led to an outdoor deck overlooking the lake. Our beet salad and chicken vodka wrap perfectly highlighted the local ingredients the restaurant prides itself on and filled our bellies for an afternoon of exploring.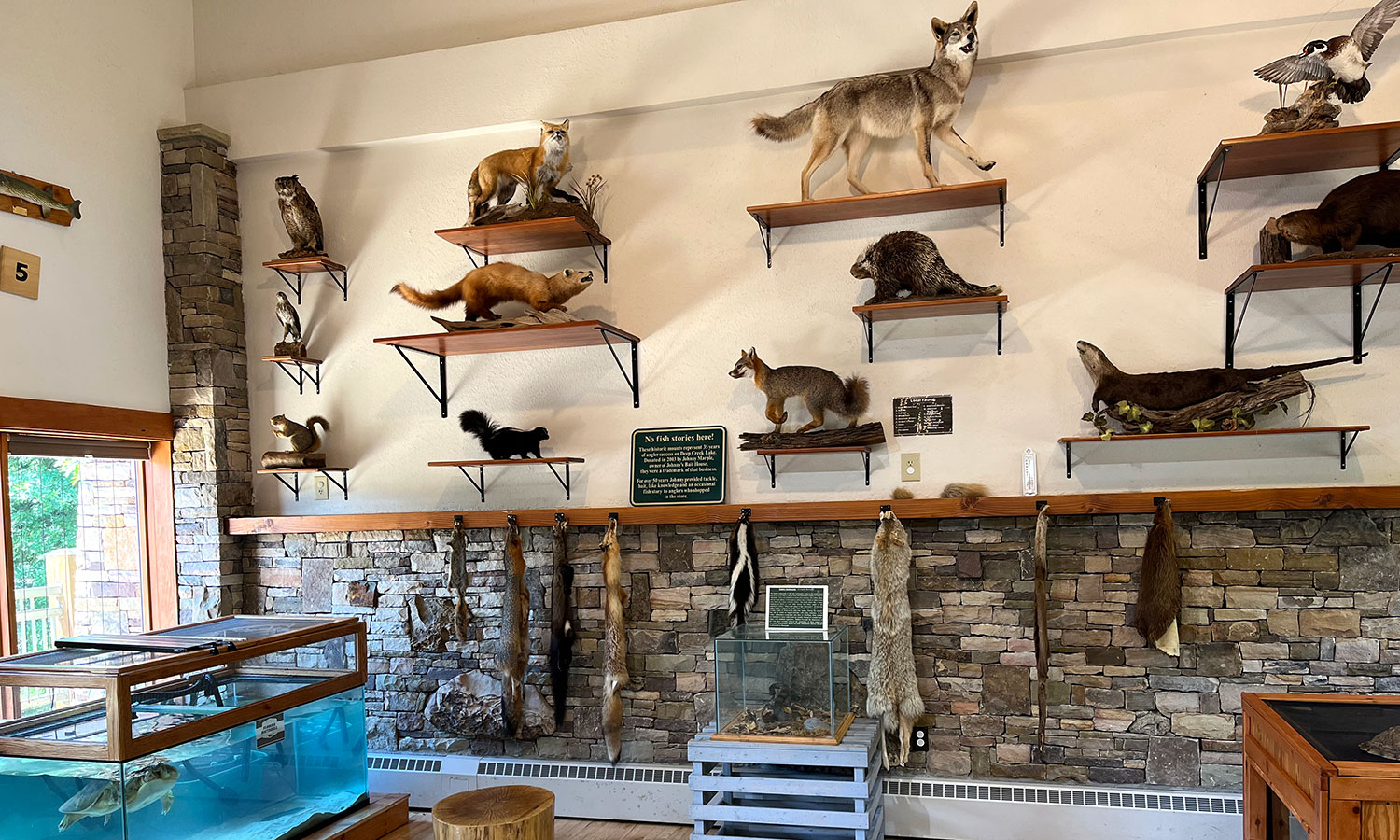 Craving some physical activity in this outdoor-recreation mecca, we headed to the Deep Creek Lake State Park. We checked in at the Discovery Center, where exhibits on wildlife native to the area brought us up-close-and-personal with a variety of animals—both living and stuffed. Armed with a trail map, we headed to Beckmans Trail, an easy, 2-mile loop that led us to the abandoned Brant Coal Mine. We ended at the beach, where we watched swimmers more intrepid than we were braving the cold water.
We were excited to try MoonShadow for dinner. We hadn't made reservations but we should have; we were lucky to grab two seats at the bar. Billed as Deep Creek's only scratch kitchen, MoonShadow offers vegetarian and gluten-free options, along with beer, wine, and innovative specialty cocktails. We settled on chili-dusted salmon, parmesan chicken wings, and a grilled summer vegetable plate, all of which were delicious. 
Back at the hotel, we wrapped up our day in front of the fire pit with s'mores and a little of the moonshine we had purchased at Tall Pines Distillery in Salisbury, PA, on our way into town. We were both totally relaxed and sad the weekend was nearly over.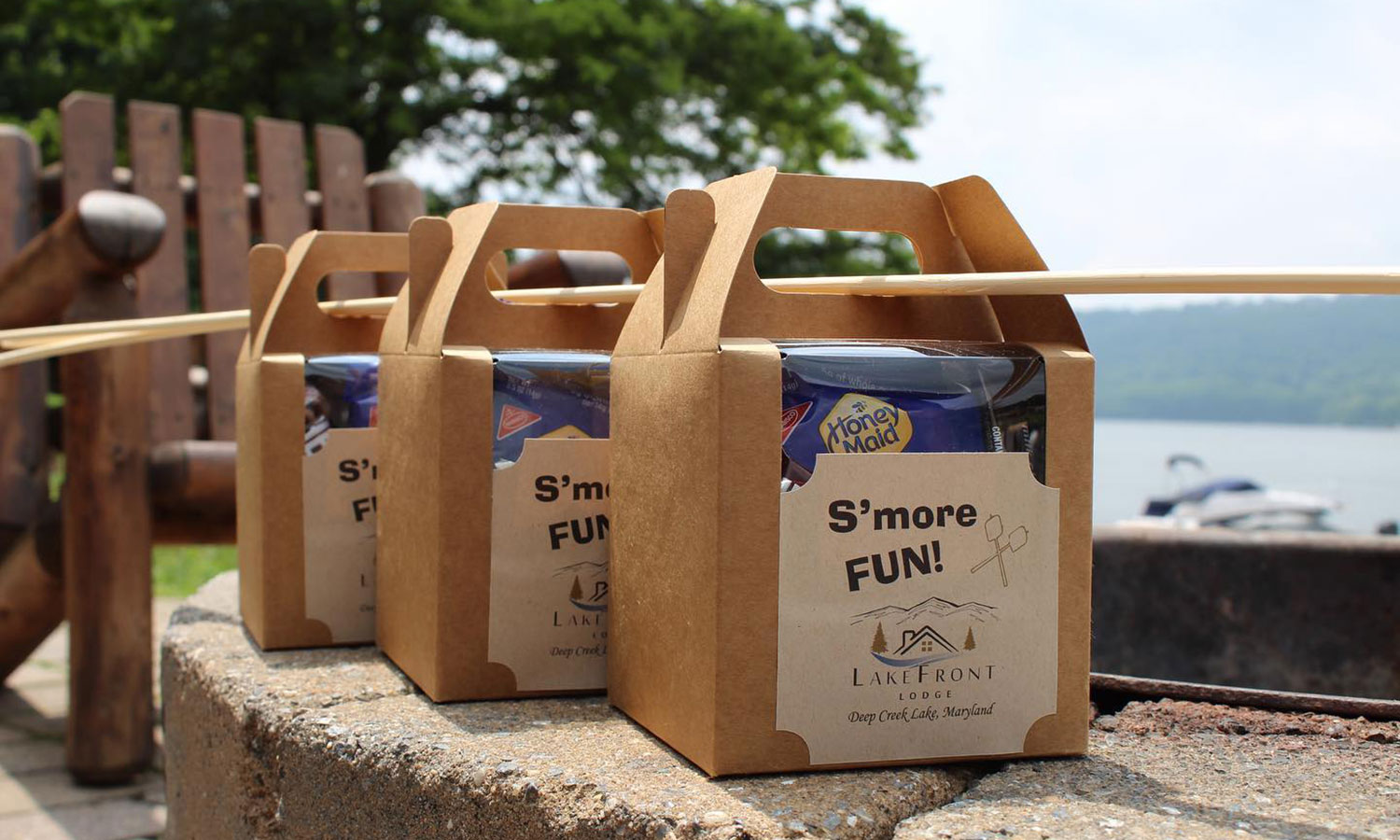 Day 3: Sunday
We couldn't leave Deep Creek without getting on the water! Fortunately, our hotel had kayaks for rent, but there are also rental shops dotting the lake. LakeFront Lodge is in a "no-wake-zone" cove, and the calm waters are perfect for paddling. We explored the marinas and vacation homes that lined our section of Deep Creek Lake, playing one of our favorite games: "Which House Do You Want?" (We aren't that picky—we'd take any of them!)
After checking out, we grabbed some brunch on the peaceful patio of Canoe on the Run. Our weekend getaway was over, and we had only scratched the surface of all Deep Creek Lake has to offer. On our next trip, we definitely want to spend more time on the water. There are also spas, breweries, a cidery, more dining and shopping, a lavender farm, and even horseback riding. We can't wait to return.
---
Lead Photo: Heidi Schlag. View from LakeFront Lodge in Deep Creek, MD.
Heidi Glatfelter Schlag is a marketer, history lover, and traveler who can often be found exploring museums, parks, small towns, and farms. She founded Culture-Link Communications, where she helps local nonprofits and small businesses build their brands. Heidi lives in Frederick, MD, with her husband and two dogs.