Two Adventurers and a Baby Go Family Camping at Deep Creek State Park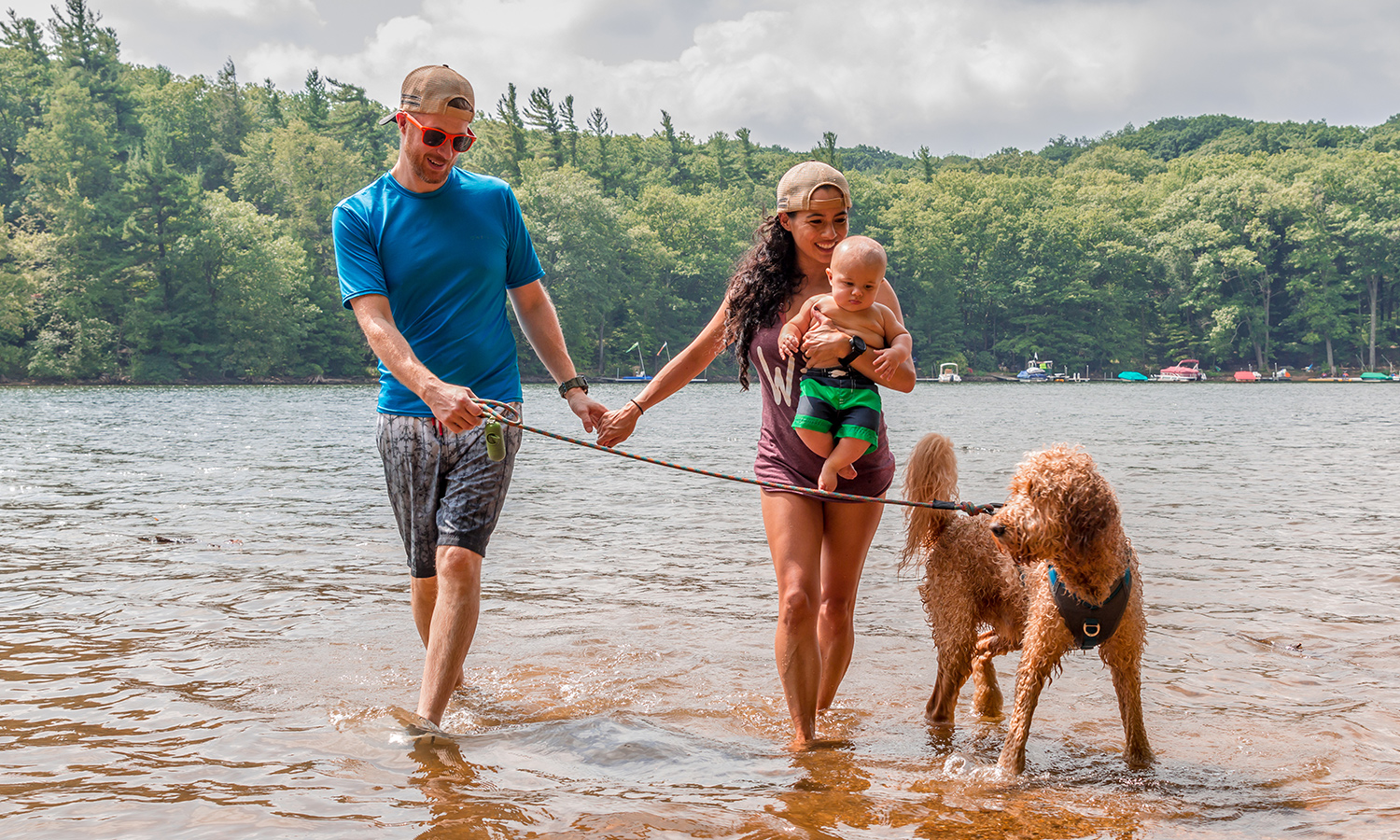 My husband Scott and I were both raised by parents who believed in the value of family camping. It's a great way to introduce children to the natural world without the distractions of modern technology. For us, camping meant collecting firewood with mom, learning how to go fishing with dad, singing songs around the campfire as a family, and falling asleep together on the floor of a big Coleman tent. Camping was an easy and affordable way for our parents to infuse our childhoods with a bit of rugged adventure.
Scott's parents took him on RV road trips, where they stayed in campgrounds throughout southern Virginia and eastern Tennessee. My parents took my sister and me to Deep Creek Lake in Western Maryland where we would spend hours on a boat fishing, tubing, and otherwise exploring.  Looking back on these camping trips, it is interesting to note how vividly we can recall details like the distinct smell of my dad's tackle box, the plaid pattern of Scott's sleeping bag, and the gaudy style of our parents' retro RVs. These memories last a lifetime and are a testament to the power of exposing kids to new and exciting experiences. 
Having just started our own family, Scott and I wanted to continue the tradition set by our parents before us of spending summers outdoors. In choosing the destination for our 5-month old's first camping trip, it only seemed appropriate to return to a location that already played host to so many wonderful memories—Deep Creek Lake.
Deep Creek Lake State Park is tucked away into the lush landscape of the Allegheny Mountains, an ecologically diverse region rich in wildlife, waterfalls, and forested trails. The state park encompasses over 1,800 acres of land including a mile-long shoreline along Deep Creek Lake, Maryland's largest inland lake.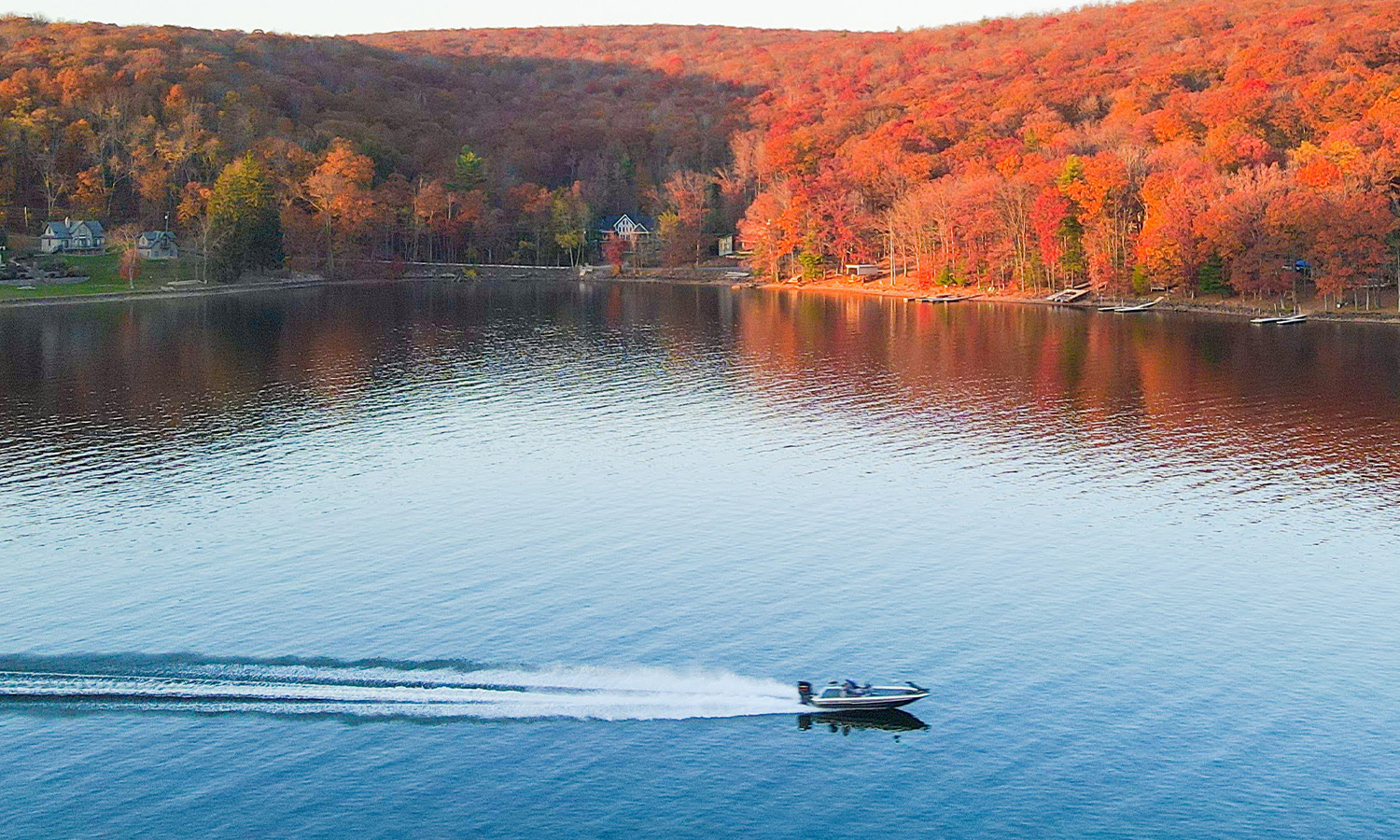 With two swimming beaches, 20 miles of hiking/biking trails, 112 campsites, and over 10 species of fish stocked throughout the year, Deep Creek Lake State Park is a must-visit for outdoor enthusiasts. There are plenty of child-friendly activities for kids too—including a 6,000 square foot Discovery Center, sensory trail, aviary, multiple playgrounds, and a forested amphitheater for nightly events.
Aside from Deep Creek Lake State Park, Garrett County is home to ten other state parks and forests providing vast areas for outdoor exploration. Savage River Reservoir, Broadford Lake, and the Youghiogheny River are popular locations for boating and paddleboarding, while Swallow Falls and New Germany State Parks are favorites for hiking. 
Scott and I love to take advantage of any opportunity to get outdoors. We have explored a large portion of Maryland and Virginia with nothing but an Osprey pack on our backs. From the moment we welcomed our first child into the world, there was an unspoken agreement that we would fill his life with as much adventure and opportunity as we could. Since he was born this past March, we have taken him hiking in the Blue Ridge Mountains, picnicking by the Potomac River, and swimming in the Chesapeake Bay. A camping trip with our son was long overdue. 
But it was clear to us a two-person tent simply would not do. We needed a bigger space that would work with our needs. Enter glamping—the perfect solution for our first family camping experience.
Glamping is a way to experience the adventure of camping, but without sacrificing amenities that we all crave. While glamping can mean a luxurious experience with resort-style amenities, it can also be something as simple as camping with electricity, running water, and more comfortable living space. 
We arrived at Deep Creek Lake State Park around 4 pm in the afternoon and immediately began setting up our living space for the next two nights. We decorated the high ceiling of our tent with string lights and a baby mobile. A camping rug served as a perfect playmat for our little one to explore the tent away from lurking mosquitos. The centerpiece of our glamping unit was a lush inflatable mattress complete with a variety of camping pillows and jersey-knit sheets and a portable bassinet placed beside it.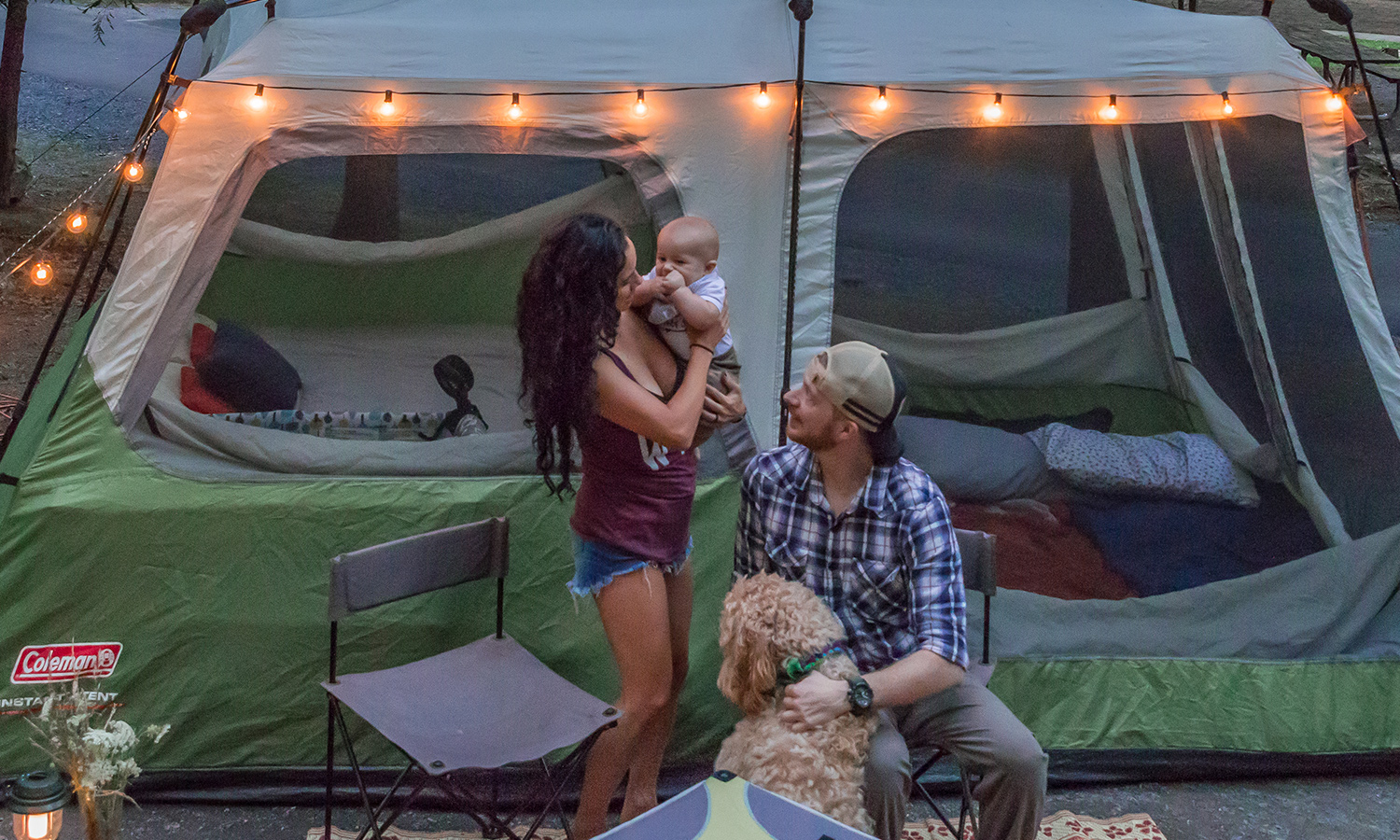 Around 8 pm, Scott ran out to Arrowhead Market to purchase a few last-minute items. I stayed behind in the tent with Huckleberry and our little one. Together we laid on the giant mattress, with Huckleberry curled up against my side and my son snuggled on top of me in his little onesie dreaming the night away. I loved the intimate moment of experiencing the great outdoors with my son. The darkness, the sounds of crickets, the faint smell of campfire drifting through the air while feeling his little chest move up and down on mine. It was a moment of pure connectedness.
The following two days we spent exploring the state park and surrounding areas of Garrett County. The campground has over a mile of shoreline including two sanded beaches. While I waded into the water with our son in my arms, Scott mounted a hammock between two nearby trees and relaxed in the shade with Huckleberry. We also spent some time inside the park's Discovery Center, a full sensory experience with opportunities to touch, listen, and observe. While our 5-month old was a bit too young to fully understand every exhibit, it was amazing to see him curious and captivated by the feeling of animal pelts under his fingertips and the sight of freshwater fish swimming before his eyes.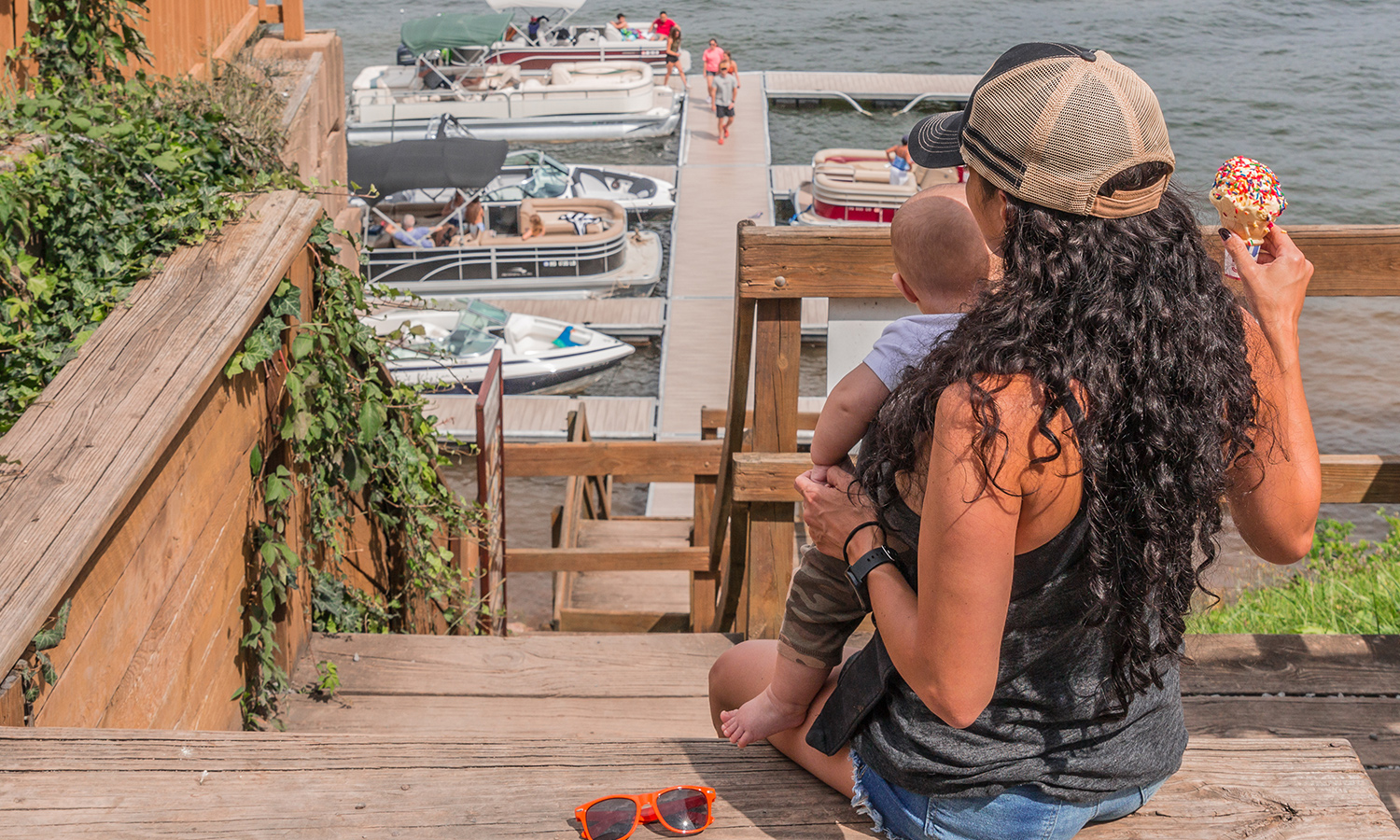 We took a short drive to Swallow Falls State Park during our trip. The 1.5 mile Canyon loop trail is kid-friendly, and between Labor Day and Memorial Day, it is also dog-friendly. Hiking with a baby in a carrier was a little tough at certain points along the trail, however, it was well worth it for the views of Muddy Creek Falls  (the highest in Maryland) and Swallow Falls. Huckleberry also had an enjoyable time splashing his paws in the natural pools of cascading water.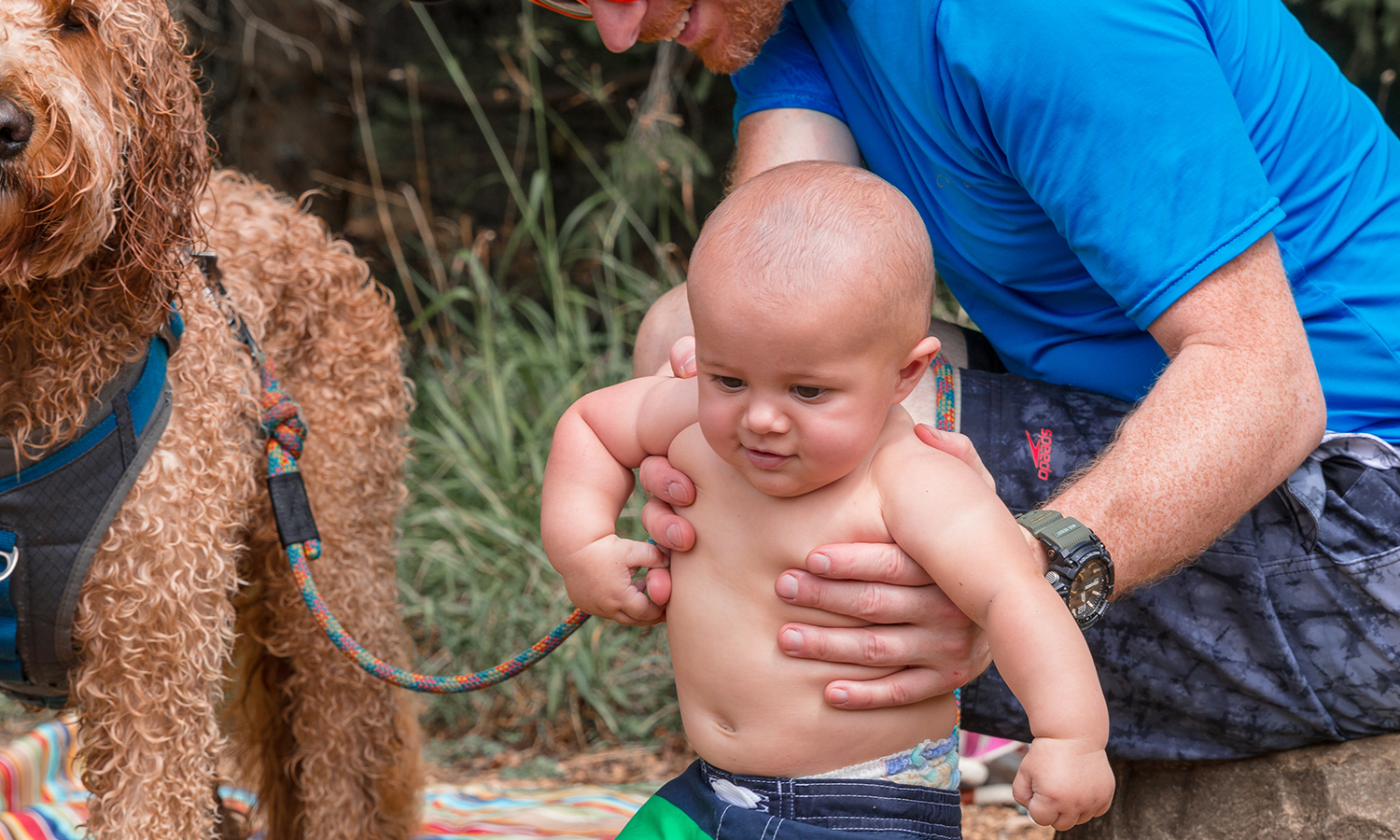 After the hike, we rewarded ourselves with a scoop of ice cream covered in sprinkles from Lakeside Creamery, the perfect ending to a first family camping trip.
There is something special about staying at the same campground where I spent so many summers as a kid with my parents. It is the magic of reliving my childhood memories while at the same time creating new ones with my own family. Although this was without a doubt the most we have ever packed for a camping trip, it was worth it being able to spend unadulterated time as a new family surrounded by the natural beauty of Deep Creek Lake.
---
Lead Photo: lovicarious.com
Cecilia and her husband Scott run the adventure travel website www.lovicarious.com where you can expect to find off-the-grid destinations, unique stays, helpful city guides, and epic travel stories. Their Instagram is filled with travel photos to inspire your next big adventure and they have recently been featured in Business Insider and Yahoo Finance.