Merry & Bright Displays of Light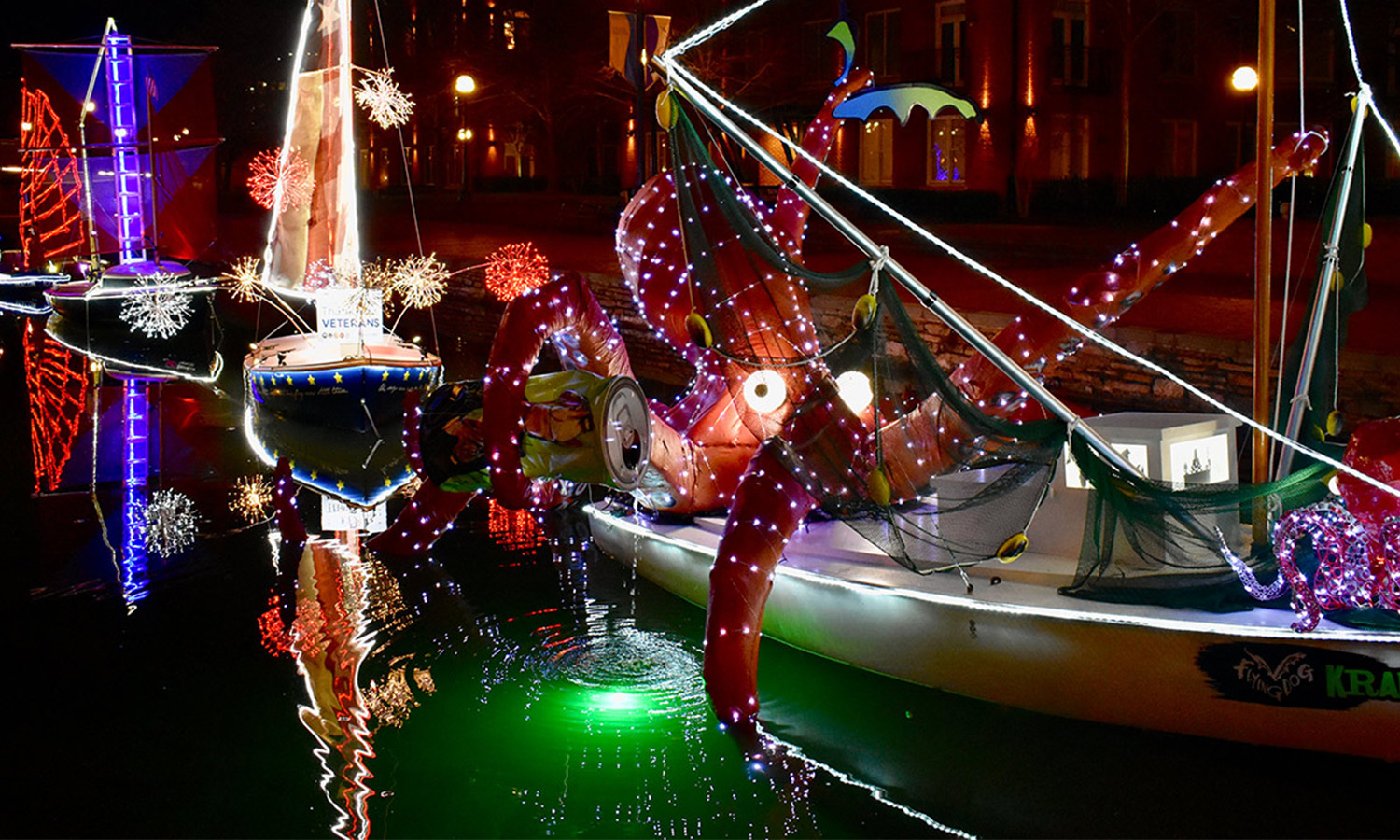 Nothing lights up a child's face (or an adult's for that matter) like looking at holiday lights. The twinkle and amazement as the lights blink and shimmer, or the palpable joy when there's a favorite character in the display – it's building memories to last a lifetime. For me, the holiday excitement in my son is highly contagious and uplifting, and with so many great light displays around the state, they're sure to help get you and your loved ones into the holiday spirit as well!
Brad's Christmas Light Show – Bel Air, MD
Last year my son and I took a drive to Brad's Christmas Light Show in Bel Air. It's a little over 7 miles off 95 where you pull into a community and tune your radio to 92.7. The light show is designed to dance along in synchronization with the music. We listened from our car and heard classic Christmas songs and even the popular "Let It Go" from Frozen. As we sang along with the songs, we watched as the lights danced across the lawn in merriment.
This year Brad has done it bigger than ever with about 50,000 lights and a 20-minute light show with a variety of songs from "Into The Unknown," "Walking in a Winter Wonderland," "Joy to the World," "Jingle Bells,"  and many more!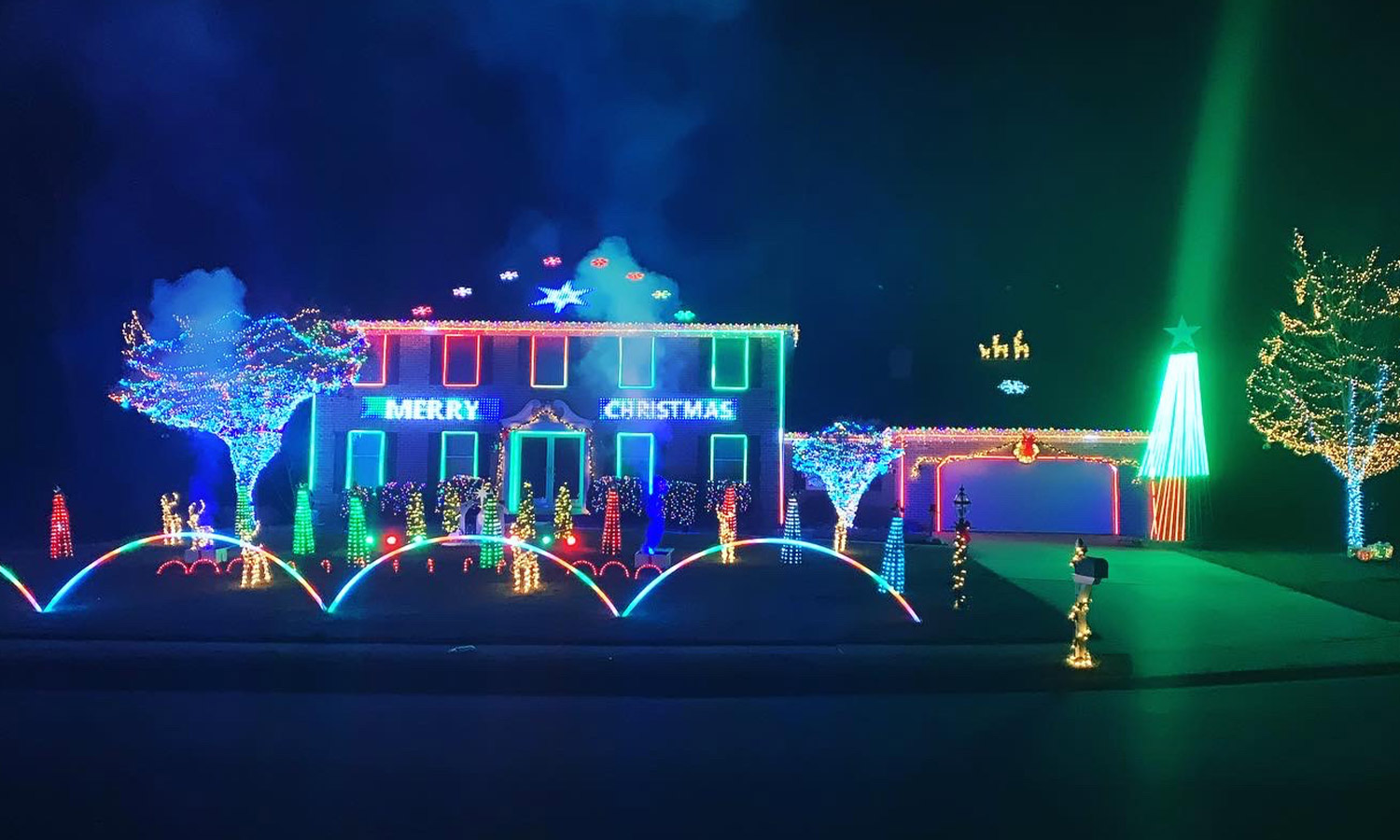 The light show is free, but they collect donations to Make-A-Wish Mid-Atlantic, which raised over $6,000 in 2019. Stop along the way and pick up a pizza from Fortunato's Pizza Bel Air to enjoy during the show! See event page for details.
Zoo Lights, Baltimore, MD
The Maryland Zoo in Baltimore has transformed part of it's grounds to feature over 100 thousand LED lights with different animal and holiday displays. Although there won't be any real animals, all the lights will be fun and festive as you experience the glow.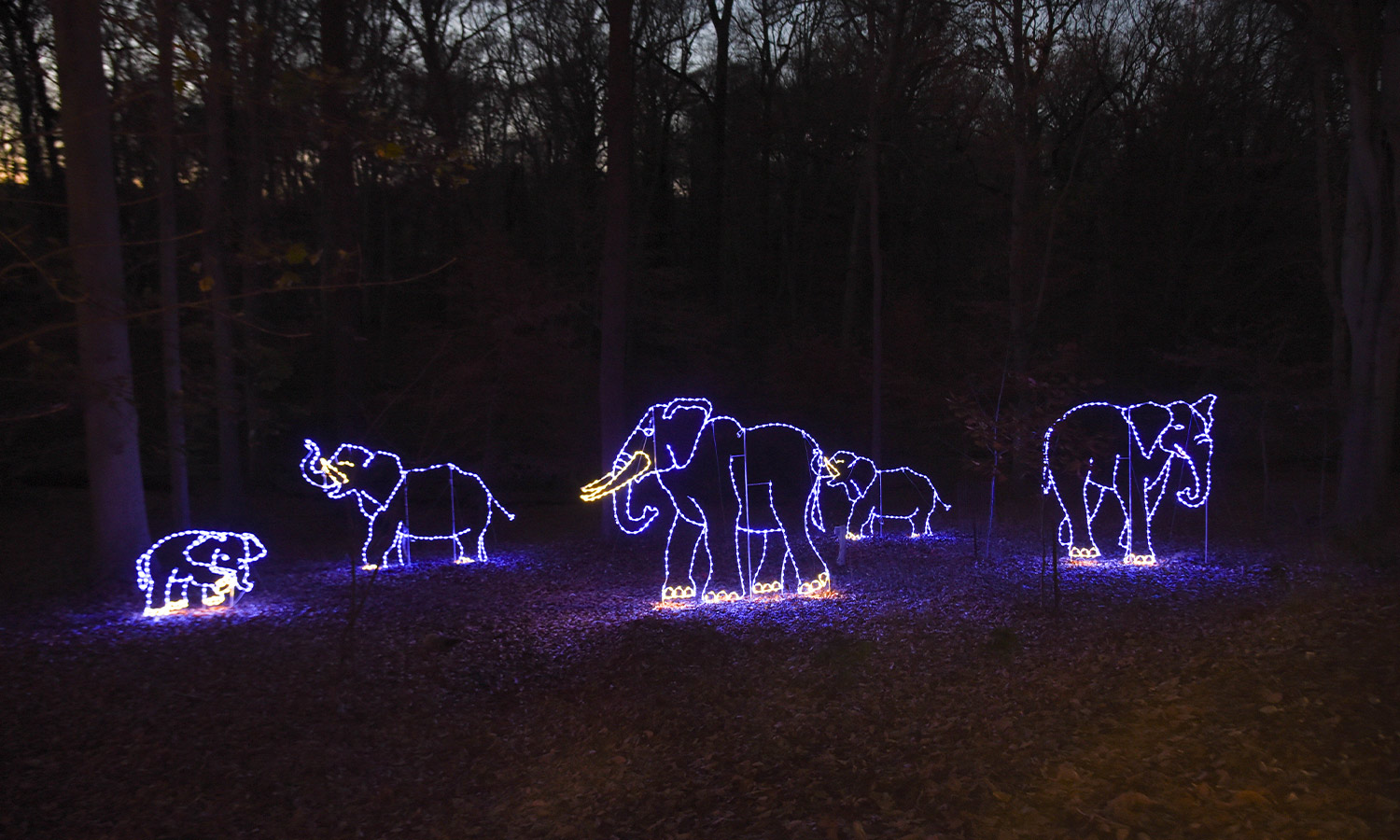 There are two ticket options for drive-thru on Wednesday, Thursday, Fridays and Sundays, as well as a walk-thru option on Saturdays. If you choose the drive-thru option, play some festive music such as this great Indie Holiday Playlist. See event page for details.
After going to the zoo, enjoy Hampden's dining scene and grab a Boozy Hot Chocolate at The Bluebird, enjoy a local handcrafted ice cream cone at The Charmery, or make it a date night with a reservation at my favorite restaurant The Food Market.
Sailing into the Winter Solstice, Frederick, MD
Over in Frederick, Sailing into the Winter Solstice starts during the holiday season but stays up through the first Saturday of February. Take a nice stroll down Carroll Creek in downtown Frederick to look at over 15 illuminated and floating boats hosted by Color on the Creek.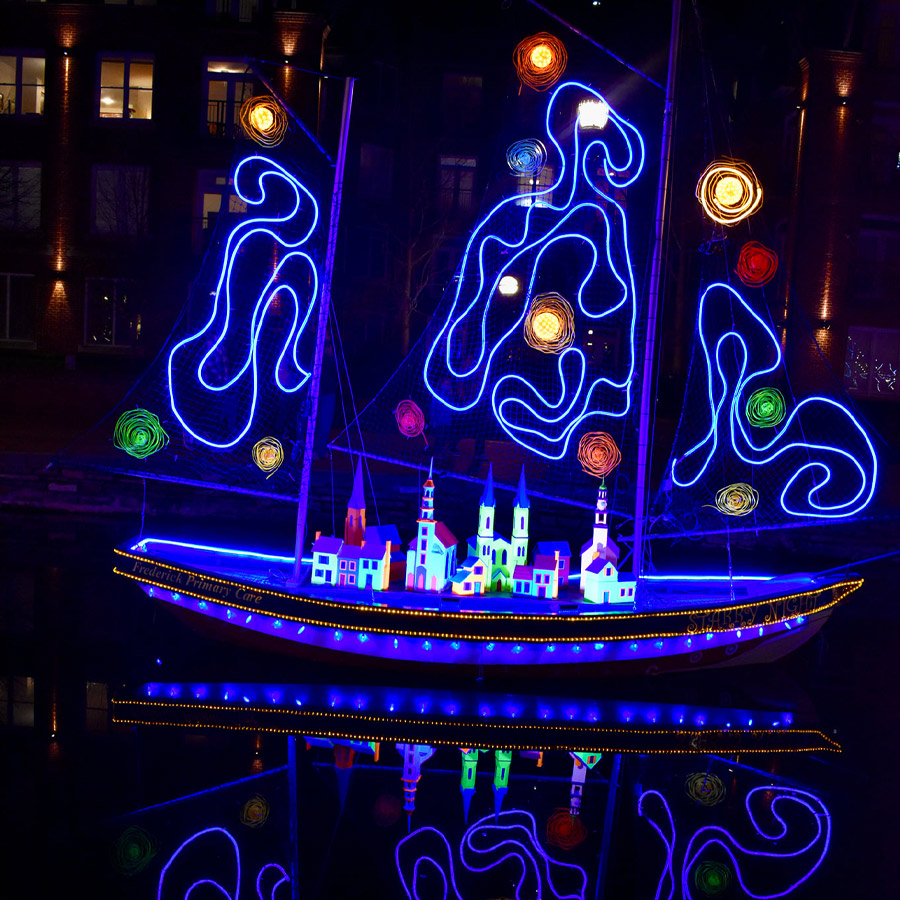 The reflection of the lights on the water, and the vibrant fun themes bring out the wonder in everyone. Each boat is designed and entered by local businesses or persons to benefit a charity of their choice. The contest asks visitors to donate money to the charity represented by their favorite boat, and each dollar equals one vote. It's such a great way to celebrate the season of giving. See event page for details. 
Grab a hot chocolate at Frederick Coffee Co and sip it while you stroll along the creek and vote on your favorite boat.  Be sure to walk or drive through charming downtown Frederick before heading home!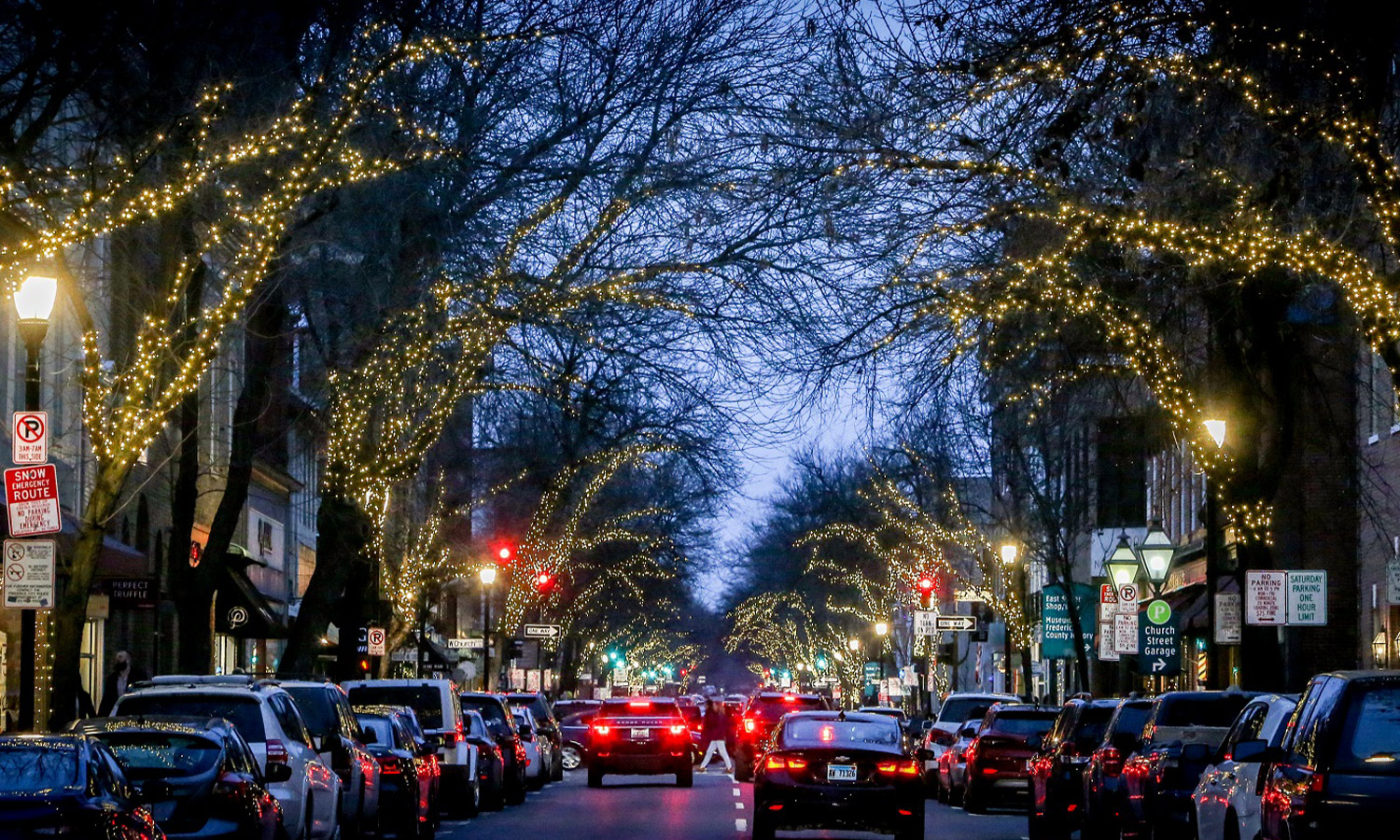 Light On the Bay, Annapolis, MD
The next destination on the list takes you towards the Bay on Route 50. Throw on some cool 3D glasses for Light On The Bay in Annapolis, MD. It's open until January 2 with over 60 illuminated displays in Sandy Point State Park. Drive through and view all the different lights and decorations. The best part is it is only $20 a car, and the proceeds benefit the SPCA of Anne Arundel County, which has provided shelter and care for homeless animals for over 100 years now. See event page for details. 
Merriweather Symphony of Lights, Columbia, MD
Over in Columbia is Merriweather Symphony of Lights, a 27-year tradition in Howard County. Take your choice of drive through or walk through. Bonus fun is there will be a contest this year, so stay turned to their social media for more details. This year, a portion of proceeds will benefit HoCo General Hospital. See event page for details.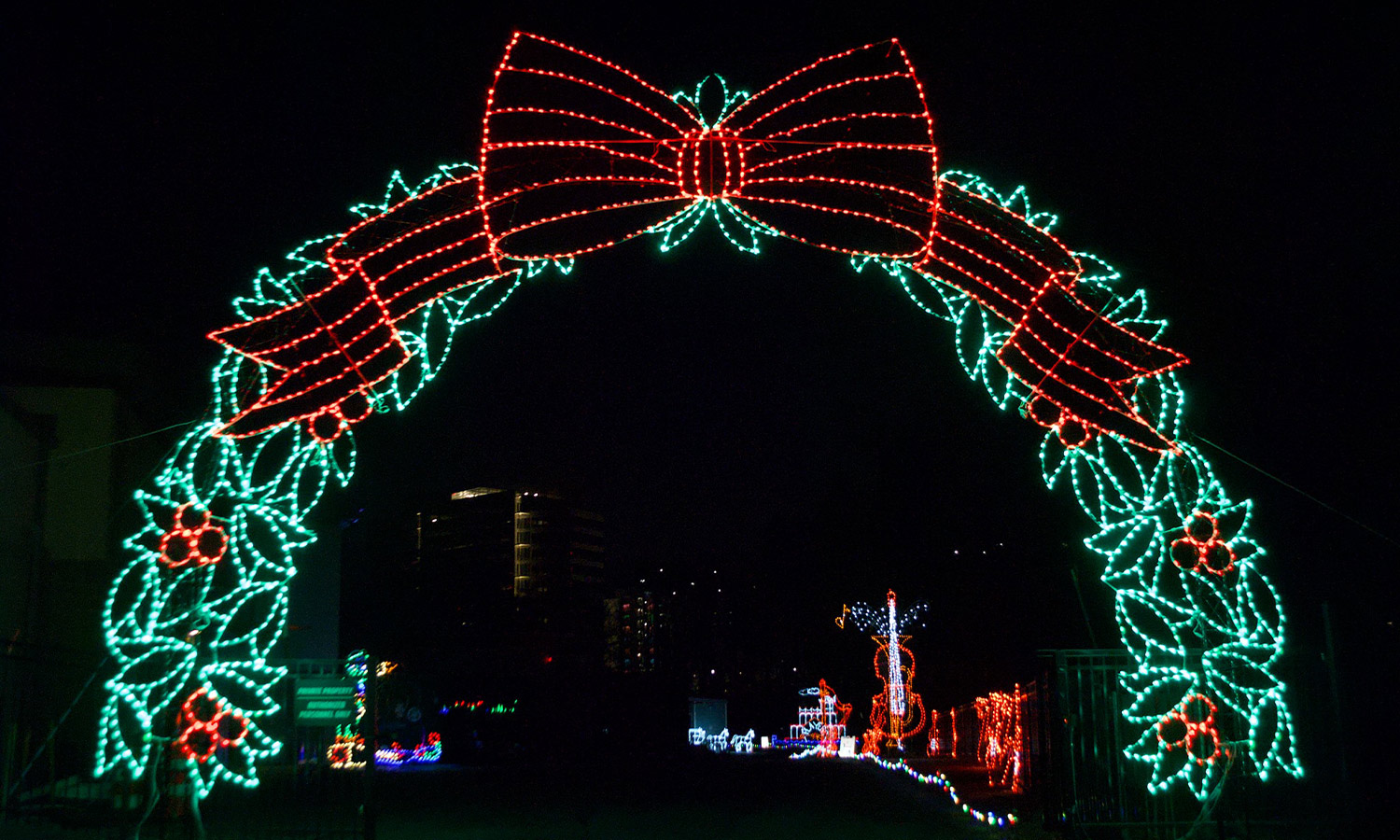 Before or after you check out their lights, stop by Grillmarx Steakhouse and Raw Bar that just opened and is walking distance from the venue. There's also Cured, Sushi Sono, and all the options at the Columbia Mall, which is just across the street.
Winter Lights Festival, Gaithersburg, MD
Gaithersburg in Montgomery County is home to the Winter Lights Festival, which is celebrating its 25th anniversary this year. It's a 3.5 mile drive through Seneca Creek State Park with over 450 illuminated displays. Part of the proceeds of this event go to different food and nutrition programs in Gaithersburg. See event page for details. 
Festival of Lights, Upper Marlboro, MD
The Festival of Lights is full of more than 2.5 million lights in Watkins Regional Park in Upper Marlboro of Prince George's County. There's even a giant 54-foot Christmas tree that you don't want to miss. There's even Festival Spectacles while supplies last at the gate to help turn the lights into floating holographs. They ask that guests also bring canned goods for donation to local food banks. There's a Baskin-Robbins close by to grab an ice cream treat after viewing the lights. See event page for details. 
Travel Tip: Due to COVID this year, most locations are requiring advanced tickets or time slots to be purchased. Please check event websites for specific safety details. 
---
Lead Photo: Downtown Frederick Partnership
Lindsay grew up in Frederick County and now resides in Baltimore County with her son Wyatt. She has a passion for food and beverages, and loves trying new places and experiences. Follow her on Instagram at @hungryfortidbits