Celebrating Love at Antrim 1844

Have you ever been so excited to introduce someone to a place you've previously visited that you can't help but constantly check their face for a reaction? That was me a few weeks ago when I introduced my husband to Antrim 1844, an upscale historic hotel in Taneytown, a small Carroll County town tucked between Emmitsburg and Westminster. I first visited Antrim 1844 in 2017 with my coworkers on a wellness retreat; now, I was getting away to celebrate 15 years of marriage with Andy.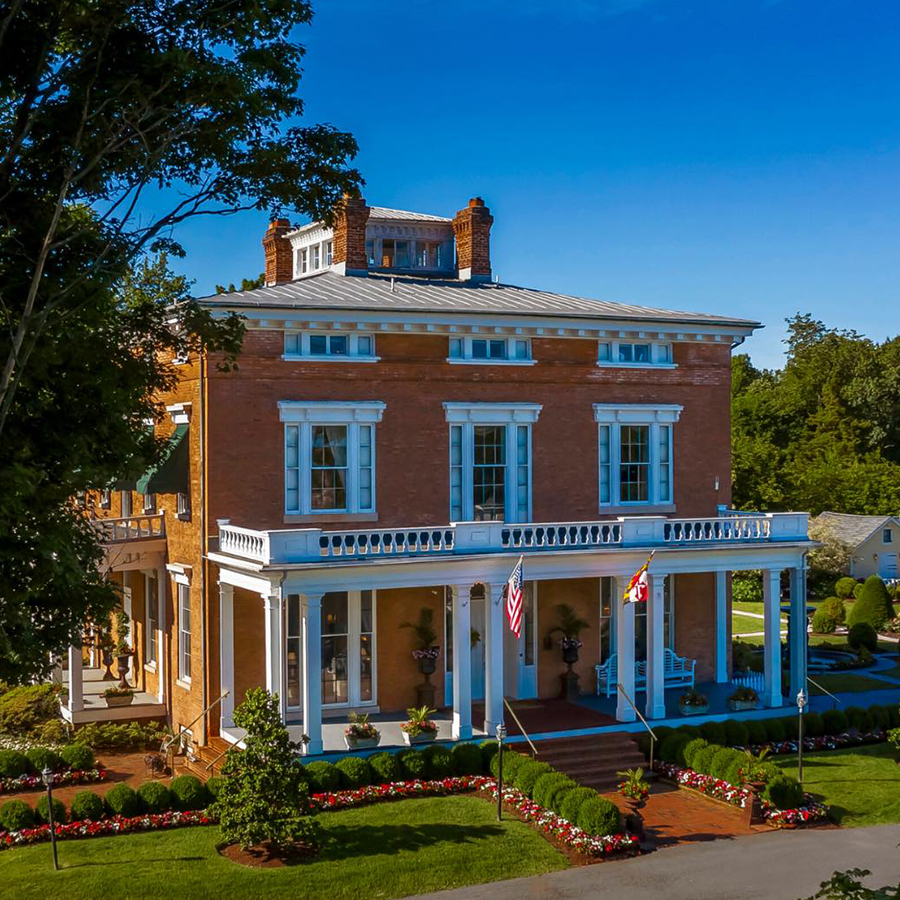 We left our house in Myersville on a sunny Friday afternoon and arrived in time to explore the grounds before our dinner reservation. I explained to Andy that while the main house at Antrim (called The Mansion) is what people see when they first arrive, there are ten other guesthouses located on the 24-acre estate, as well as a glass-enclosed pavilion for weddings, meetings, and special events.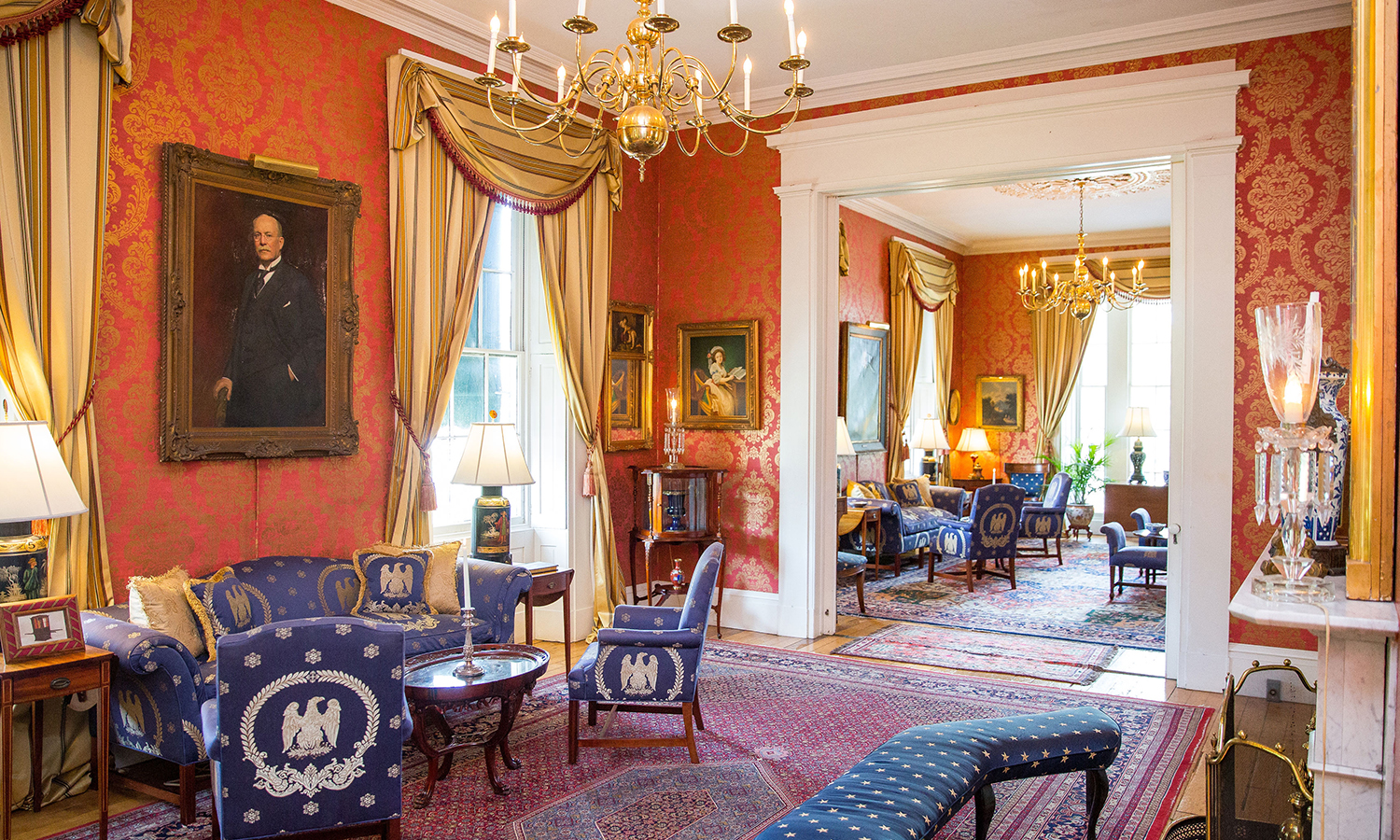 I acted as a tour guide as we strolled hand in hand around the property, pointing out the drawing rooms inside The Mansion before heading outside to check out the tennis court, lawn games, and the breathtaking secluded pool, where we saw a couple reading and drinking cocktails in the shade.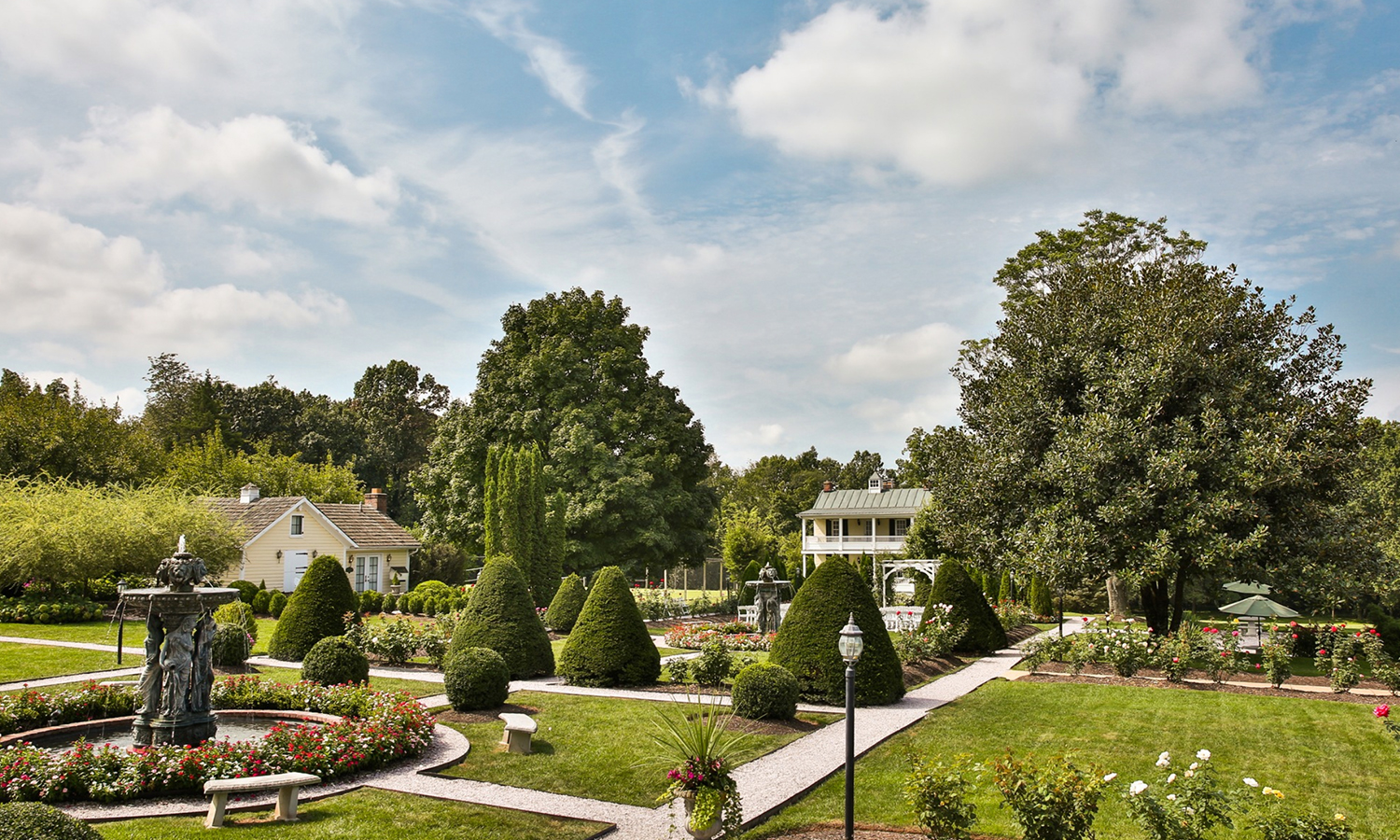 We watched a few minutes of a wedding rehearsal taking place in the gardens before heading to our room to drop off our bags, thankful that the next morning's forecast promised great weather for taking advantage of corn hole and relaxing by the pool. 
Many of Antrim's 40 guest rooms are named after recognizable historic figures, and they all feature impressive beds and ornate decor.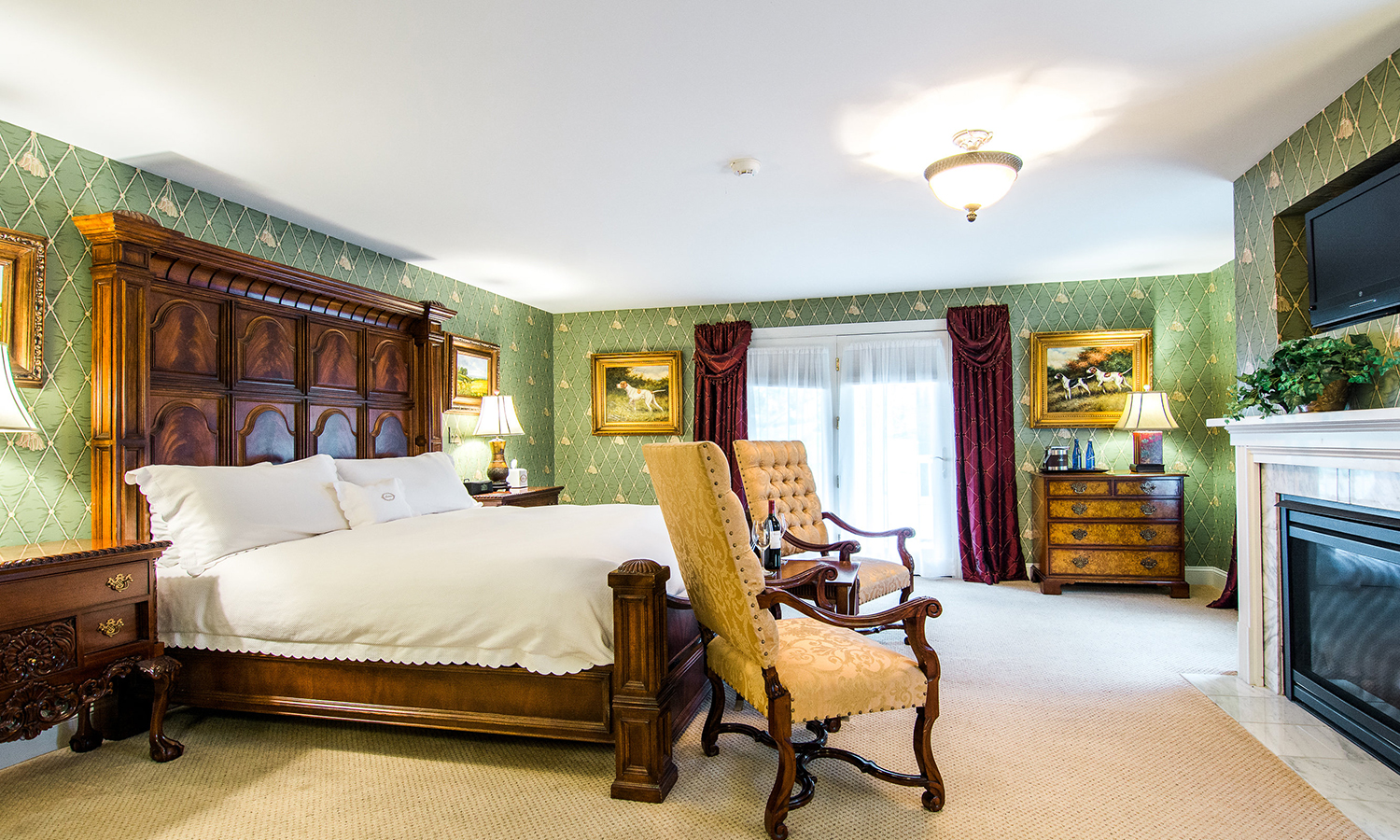 We immediately flopped onto the king-size four-poster bed in our room and set to work on plotting out the rest of our evening. I was disappointed to have arrived too late to have complimentary afternoon tea served in The Mansion, as it was a special memory from my prior visit, but Andy came to the rescue with a suggestion of getting cocktails at Pickwick Pub before dinner. 
The tiny cocktail and whiskey lounge inside The Mansion is big on charm—a large fireplace, sporting prints, and tartan-covered walls transported us to the English countryside. We sunk into a leather sofa across from a couple celebrating a milestone birthday and chatted away while sipping on some of the best cocktails we've ever had. (My margarita included house-made apricot jam!) It gets even better: A server brought us a variety of passed appetizers to enjoy with our cocktails. The appetizers served as the first course to our dinner, which I could write a separate article about. 
View this post on Instagram
Andy and I were 21 when we got married. We lived on ramen, frozen cheesy rice and broccoli, and chicken patties. Our date nights back then looked like going to Taco Bell and Blockbuster. If we grabbed a bottle of wine from the store it was under $10 and selected at random. We may have more refined palates and a bigger bank account now, but our night at Antrim was the first time we ever indulged in a wine pairing with our multi-course meal. Go big or go home!
Fun fact: In addition to Pickwick Pub, Antrim also has an impressive wine cellar available for a private dining party. All of Antrim's dining options are open to the public.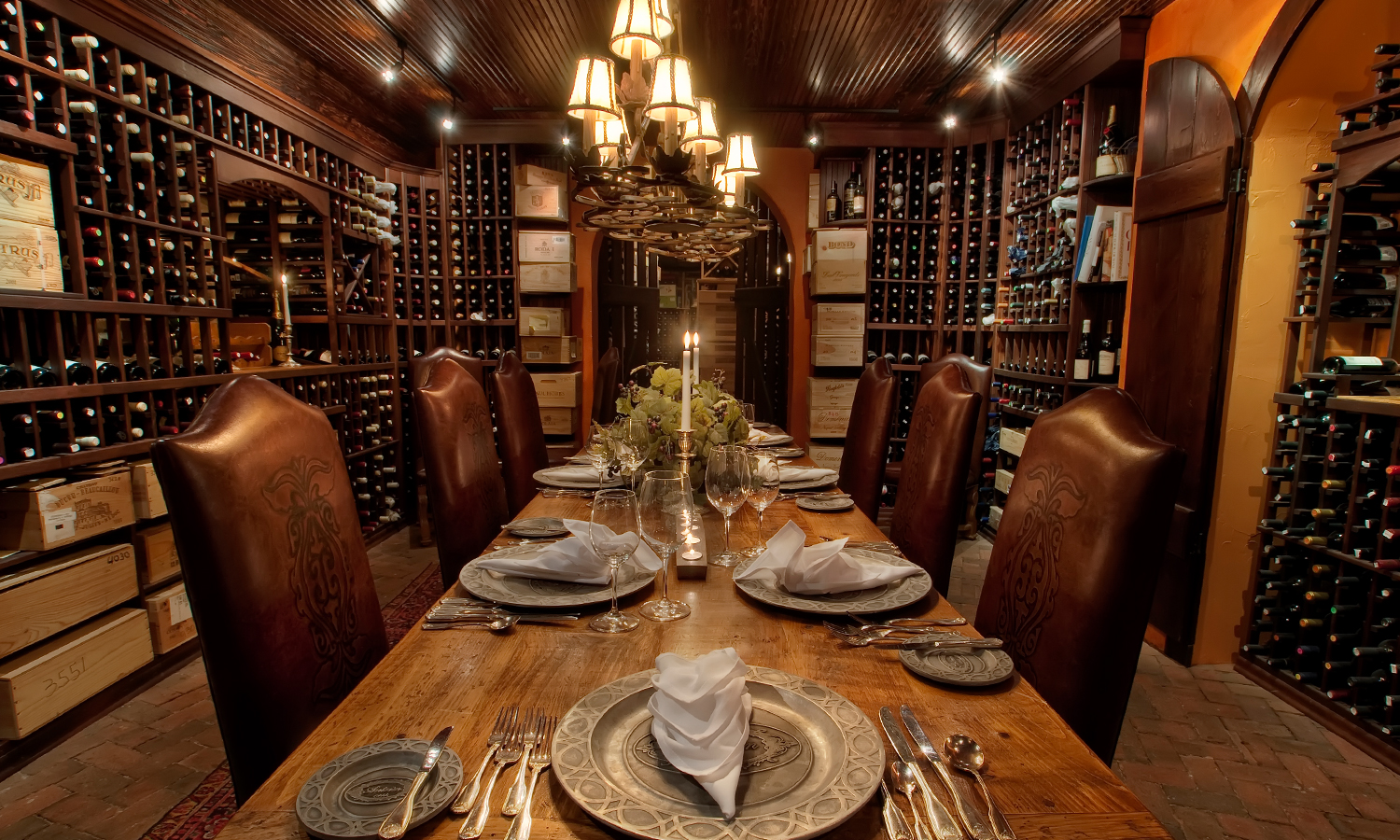 Dinner was the highlight of our stay. We intentionally ordered different courses to try one another's food and wine (a classic couple move), and there wasn't a single disappointing bite. Our favorites from the evening included the tender and flavorful coffee braised bison and the artisan cheese slate, perfectly paired with a rich, fruity sherry.
Sometimes a great meal can be ruined by a bad atmosphere, but at Smokehouse, thoughtful touches ensured an enjoyable experience. The menus placed at our table read, "The Rennie Party / Happy Anniversary!" and multiple servers stopped by our table to congratulate us on the occasion. I especially enjoyed the pianist, whose music served to enhance our celebratory meal. We felt like royalty. It was truly an evening to remember, and a dining experience we agreed we'll enjoy again.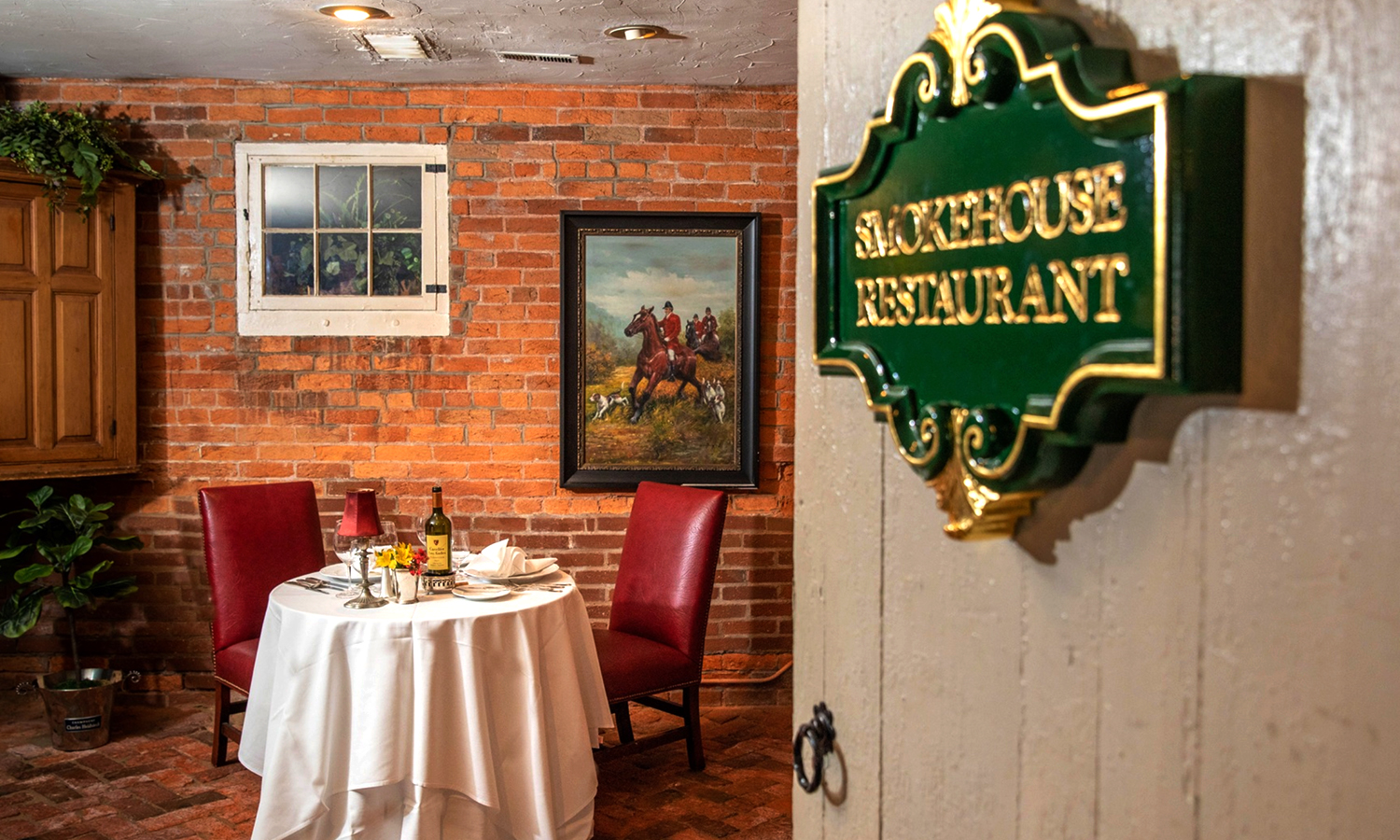 We slept in and took our time getting ready for breakfast, where I was thrilled to discover the same apricot jam from my margarita as an option to slather all over my toast. I wasn't so thrilled, however, to learn that it was pouring rain outside after finishing our meal. Our plan to spend all morning enjoying Antrim's gorgeous property was ruined, but all wasn't lost—our room was a pleasant place to read, write, and watch television.
Our anniversary stay at Antrim 1844 was one for the books. It felt significant to return to a place I loved visiting years ago, and extra special to bring along my sweetheart. His reaction to the whole stay was one of delight and appreciation—exactly my sentiment of being married to him for fifteen years.
---
Lead Photo: Laura Rennie
Laura Rennie is the Editorial Manager of Maryland Road Trips and also works as a freelance writer. She loves a good burger and often plans her travels around food. Laura lives in Myersville, MD, with her husband and daughter. She can be reached at laura@marylandroadtrips.com.