Our Yurt Stay at Savage River Lodge

I will staunchly defend myself to this day – the weather report strongly suggested unseasonably mild temperatures for that particular late-winter weekend in 2021. And that's just what I needed to finally coax my wife into joining me for her first backpacking trip. Decked out in pristine new gear and taken aback by the Mid-Atlantic's mountain views, she would instantly fall in love with our adventure, the outdoors, and our new shared hobby. (Ah, the best-laid plans.) Expecting above-freezing conditions and packing accordingly, we were a bit surprised when temps dropped to 15 degrees that first night. The sounds of colorful language and chattering teeth rang out through the wilderness, and the only thing icier than our extremities that evening was my wife's reception to going on another cold-weather backpacking trip. Roughly a decade later, I was ready to redeem myself. The older and mildly wiser me now understood that baptism by ice was the wrong approach, but relegating all of our outdoor escapades to only three seasons seemed a disservice to the beauty of winter. Which is why I was thrilled to stumble upon the most perfect blend of rustic seclusion and refined relaxation – Savage River Lodge.
Located in the stunning mountain landscape of Garrett County, Savage River Lodge offers a truly unique experience wherein guests are encouraged to connect with nature but in a way where you won't have to sacrifice comfort. With that perfect slice of marital compromise in mind, we loaded up the car, all-too-enthusiastically left our son with his grandparents and hit the open road to redefine and reclaim our sense of winter adventure.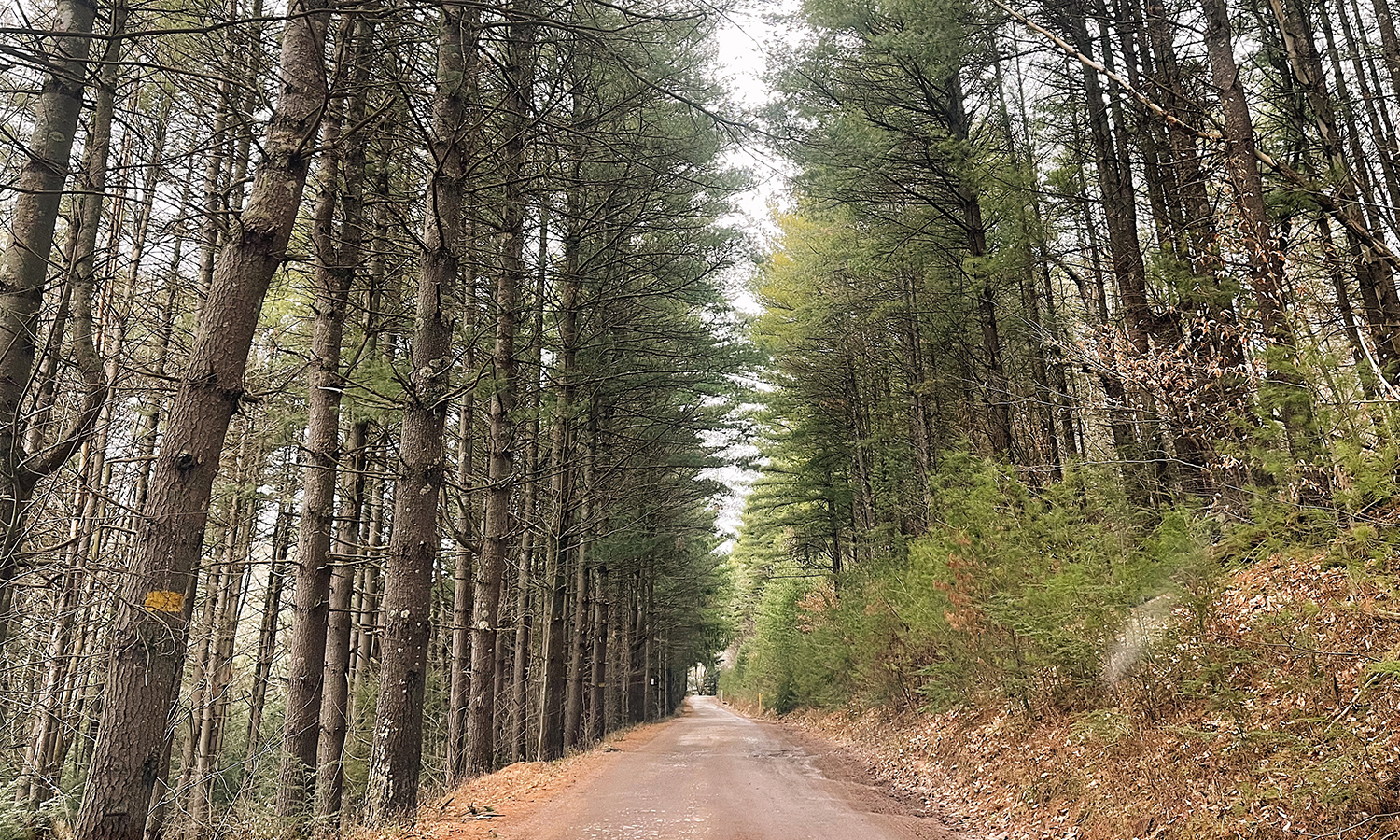 Traveling west to Savage River Lodge along I-68 is its own special experience. As you pass through the engineering marvel that is the Sideling Hill road cut, you emerge on the opposite side with views of tree-covered mountains and rolling farmland in the valleys below. A charming collection of small towns are scattered along the highway, each with its own historical prominence given the interstate's overlap with the Old National Pike (U.S. 40), so there's no shortage of quaint main streets, hometown diners, and local shops along the journey.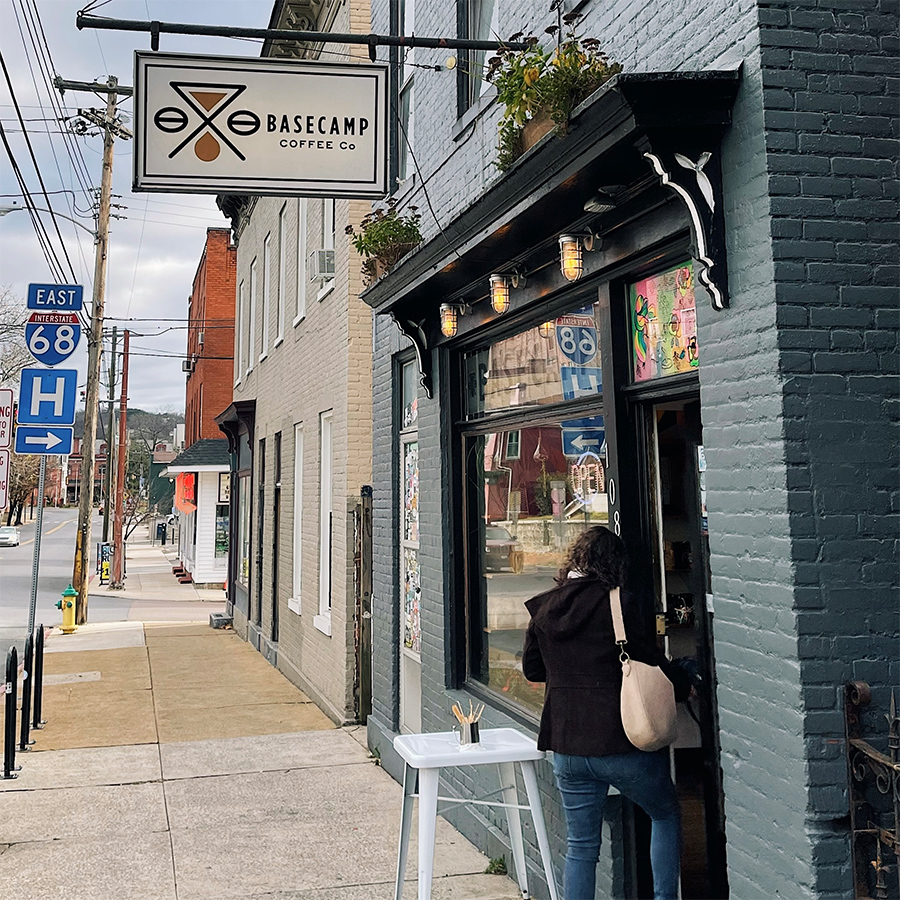 We made our first stop in Cumberland, MD to snag some much-needed caffeine from Basecamp Coffee – a local micro roastery with incredible brews and tasty baked goods. Coffee in hand, we decided to stretch our legs a bit and take in the crisp morning air with a walk through the main city center, where there's clear signs of revitalization underway for this once flourishing railroad stop. We meandered about and unexpectedly discovered a variety of vibrant murals ranging from homages to road travel along U.S. 40 to portrayals of the numerous cultures represented throughout the region's history. With our souls warmed by the art but our faces frozen by the wind, we hopped back in the car and continued westward.
Putting miles behind us, I found myself more present than I had been in months. My wife and I laughed wildly, sang 90's rock ballads emphatically, and spoke of the future optimistically – something that'd been a challenge in recent months. As we sat a foot apart from one another confined to the car but content in the moment, I was reminded of one of my favorite Mark Twain quotes, "I have found out that there ain't no surer way to find out whether you like people or hate them than to travel with them." We know we certainly don't hate each other, but the road created a nice reminder of just how much we like one another.          
We decided to take a food detour in Frostburg, which is conveniently located only 20 minutes or so from Savage River Lodge. It's a small city mostly known for its local state college, but it was interestingly one of the first cities along the Old National Pike. Charming Victorian homes lining Main Street boast architectural details from a bygone era. The residential area then gives way to the commercial center of Downtown Frostburg, and glass storefront windows and red brick facades deliver a fully Norman Rockwell-esque experience.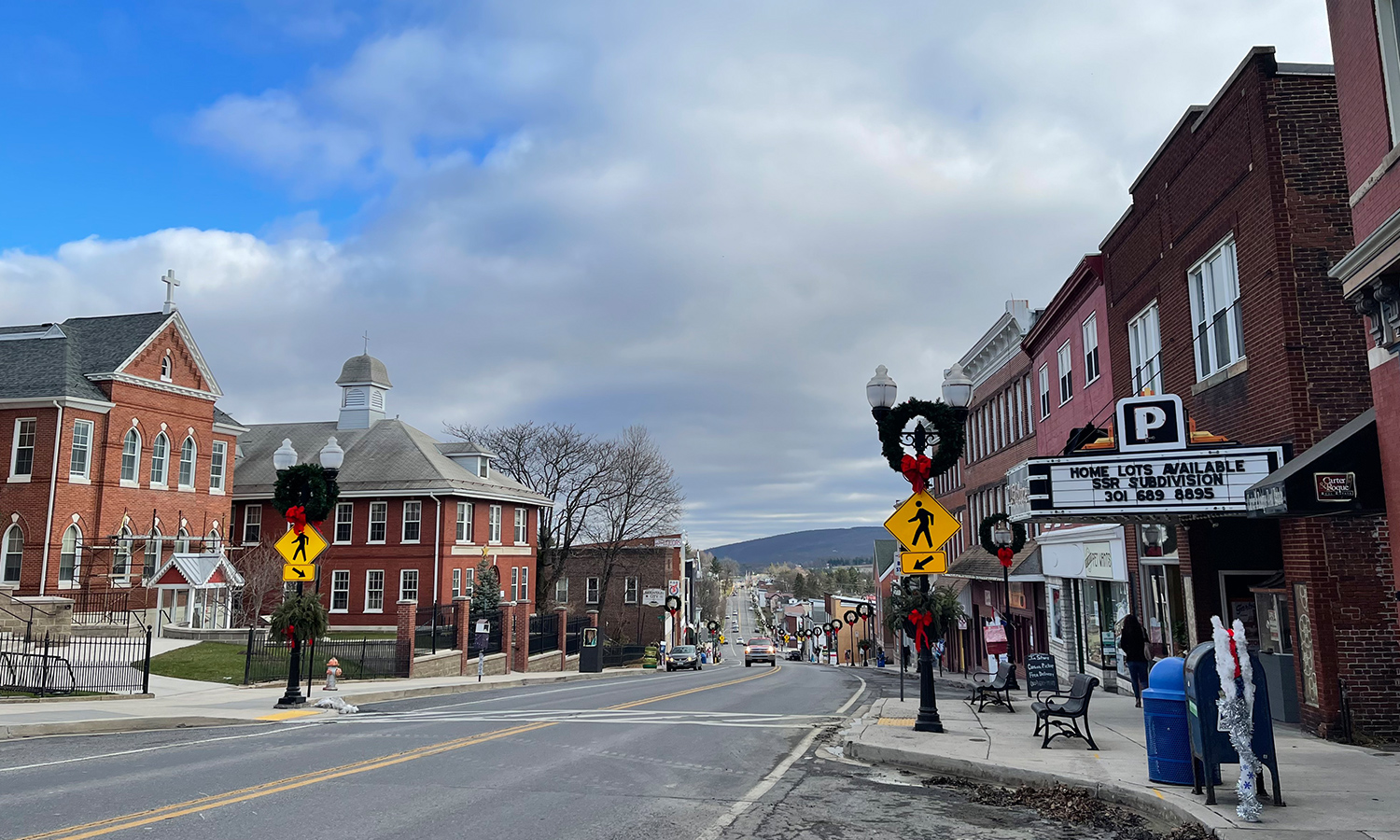 We sat down for brunch at Toasted Goat Winery, where I devoured the Goat's Brunch Burger – a two-pattied behemoth with an over-medium egg and ample cheese. Paired with the homemade chips and a wide selection of Maryland craft beers, it was the perfect stop. As an added bonus, the restaurant is housed in the stunning Gunter Hotel. The building dates back to 1897 is certainly a standout among the adjacent structures. We perused the interior for a bit and eventually found our way back outside to walk off some calories and take in the hilltop view of Main Street, which seemingly fades away into the distant mountains. It was as perfect a moment as any to officially unplug and disappear into the woods.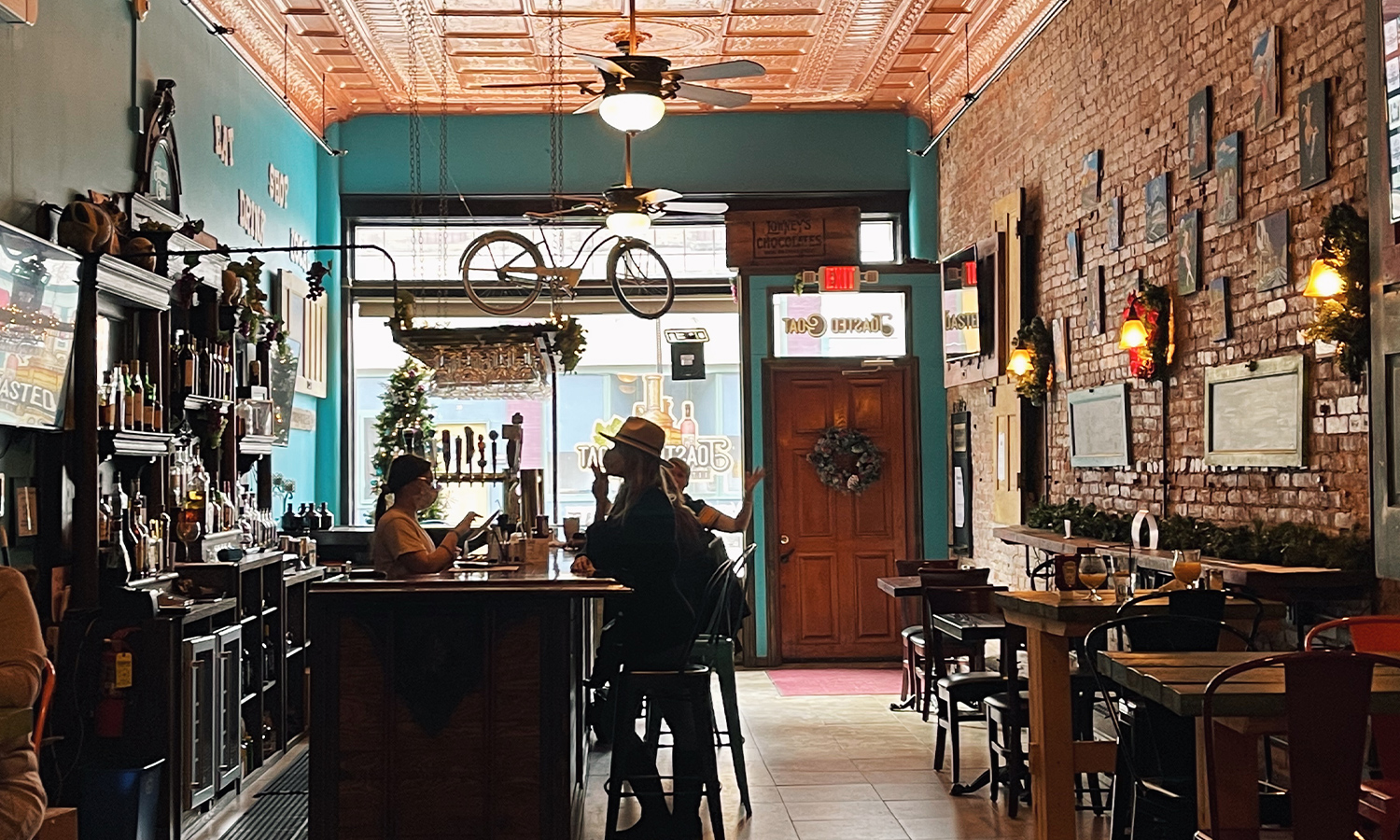 We arrived at the entrance of Savage River Lodge, which was a bit unassuming. There's no real evidence of the facilities at first – only a sign and a brief stretch of asphalt that gives way to a narrow dirt drive winding along hillsides covered in towering evergreens. It felt like the access road went on for miles, but every curve built the anticipation of the accommodations that awaited us. We eventually reached a bridge that carried us over the headwaters of the Savage River and into a small, rocky meadow where remnant snow piles from a storm a few days prior blotted the landscape. I'm fairly certain there was a synchronous deep exhale from my wife and me because it definitely felt like all the noise and distraction of life was being kept at bay on the far side of the bridge. We were officially "away from it all."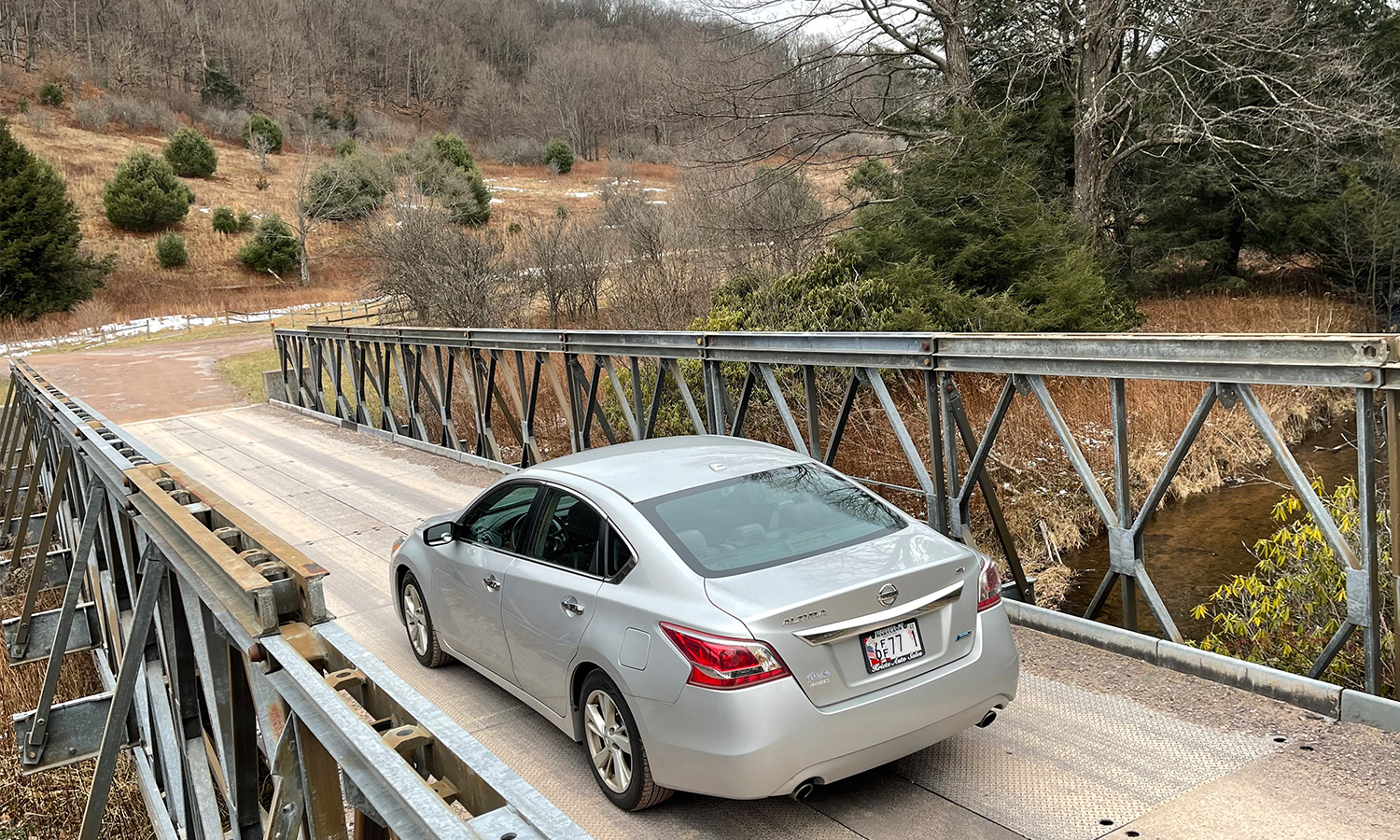 Aside from being bathed in natural beauty (literally surrounded by 700 acres of State Forest land), one of the standout features of the Savage River Lodge property is how the facilities are scattered throughout the woods. So many high-end resorts will often feel a bit like a college campus – buildings in tight configurations, leaving little space for solitude. But as we arrived in the heart of the property, we noticed two pockets of yurts placed in clearings on either side of the main road – eight yurts in total – which were even cooler in person. As we continued to drive, The Lodge eventually came into a view perched in grand fashion on the side of a hill with its large, vaulted A-frame ceiling standing prominently in the air. A wrap-around porch was just begging me to take a seat in one of many rocking chairs with a hot cup of coffee, but we were too eager to explore the interior.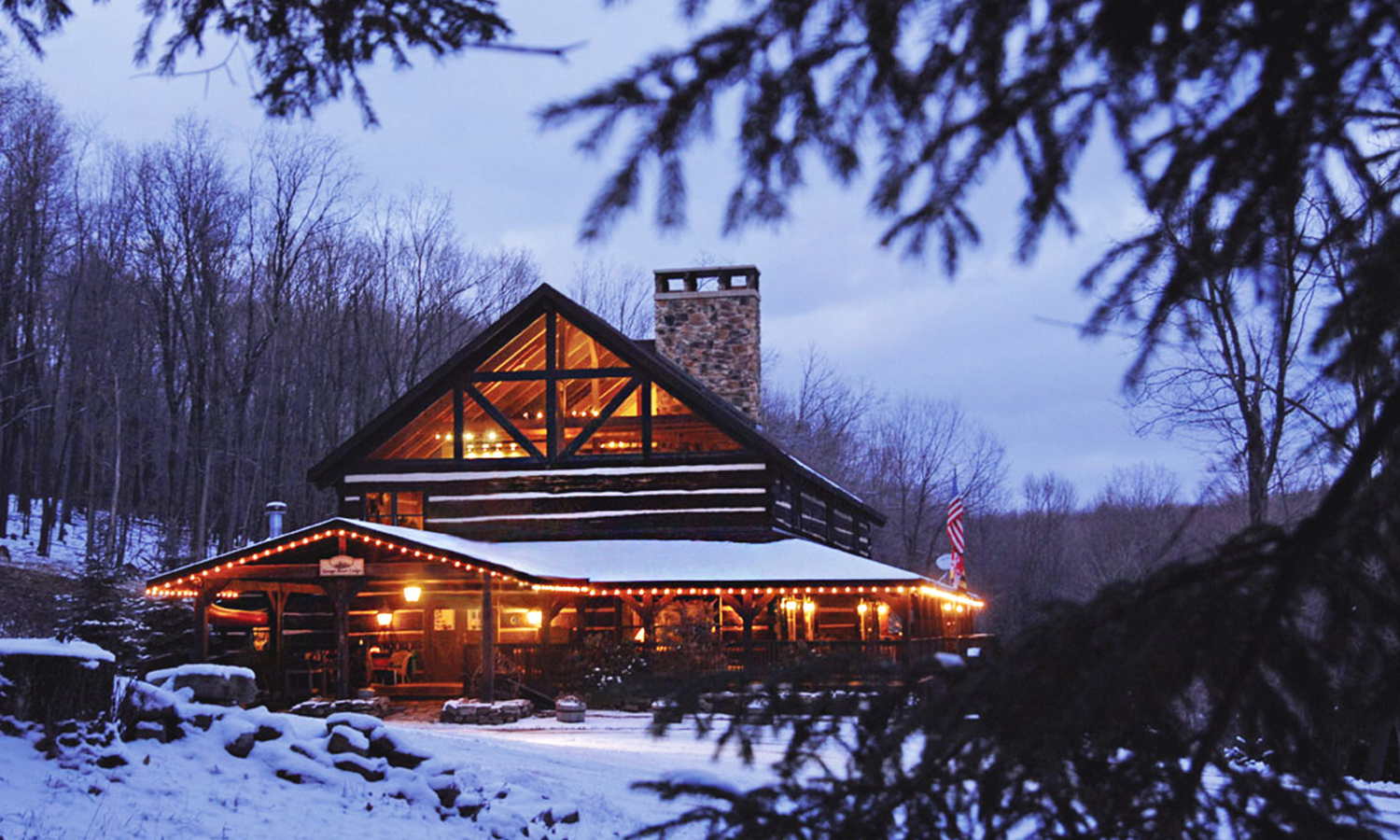 Constructed with fir and spruce logs and boasting 10,000 square feet of multi-use space, The Lodge embodies everything you would want in a winter mountain retreat. A double-sided fireplace surrounded by comfortable furniture is the focal point in the great room and provides the perfect spot to either read silently in the glow of the fire or shake off the chill after a morning hike. Mainstays of lodge aesthetic were found throughout the space – taxidermied animals, a rustic canoe, old personal photographs in vintage frames – yet none of it felt out of place or overdone. The Lodge has all the warmth and charm of a family cabin but the refinement of a spa. Beyond the great room we found the bar (naturally), where there's an award-winning wine selection, a great line-up of draft beers, and made-to-order cocktails (ask about the Lodge Old Fashioned!). We chose not to indulge at the moment and continued to explore the space, which revealed a cozy reading loft on the top floor in addition to an impressively stocked library with hundreds of selections. I secretly thought to myself, "Booze and books – what if I just stay the night here?" But better judgement prevailed, and we made our way excitedly to our yurt.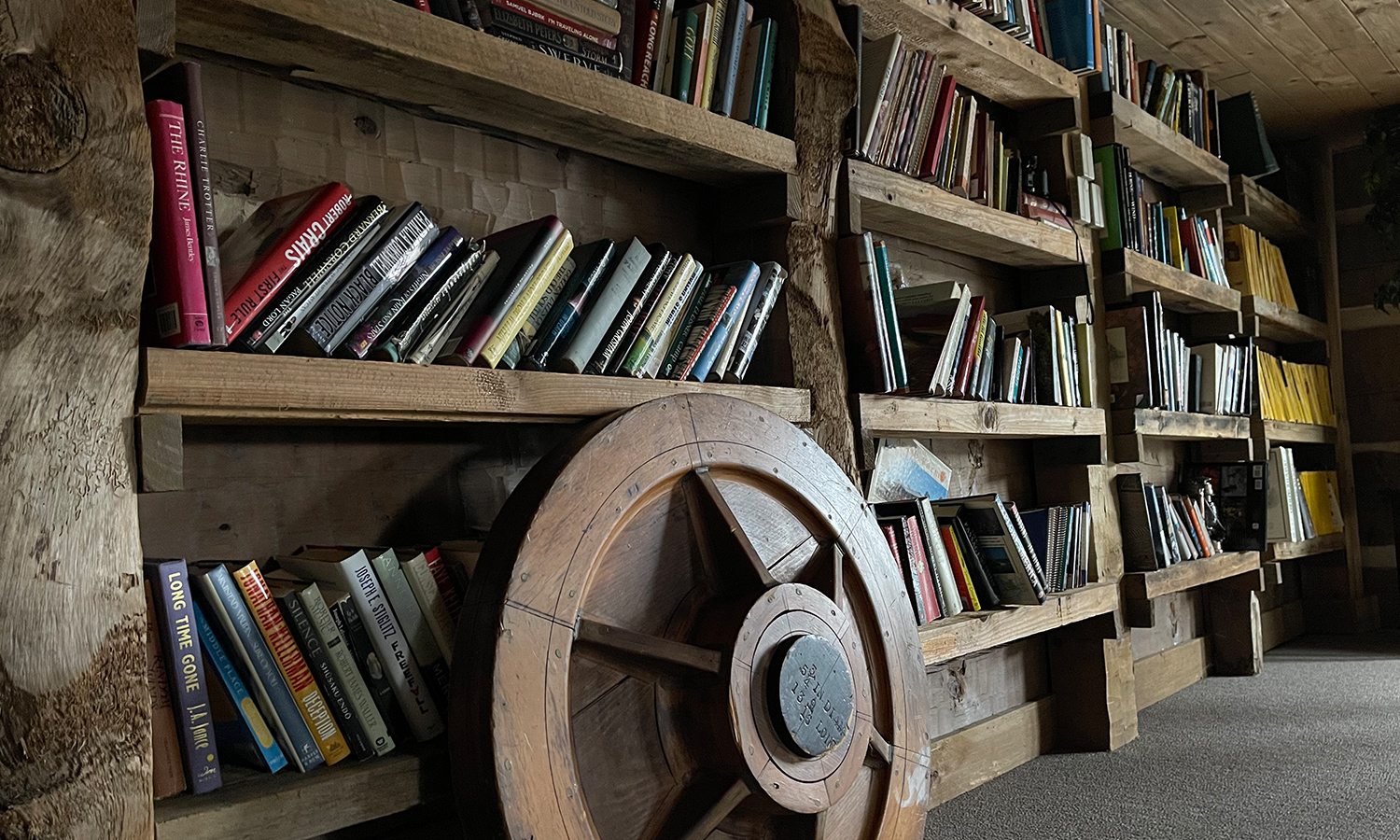 Let me be clear right off the bat: while in form and basic function the yurt appeared similar to what you might think nomadic tribes have used for a couple of millenia, the features were probably a bit more… luxurious. We removed our boots on the front porch, and upon entering, warmth immediately hit our feet. That's right – the yurt is equipped with radiant floor heat in addition to a furnace and a quaint gas fireplace. I don't know if it was literal or figurative, but my wife melted knowing that we wouldn't have a repeat of that forsakenly frigid night on the mountain years prior. The amenities list for the 30-foot diameter spaces reads something like this: sitting room with overstuffed leather furniture, king-sized bed with luxury linens, private bath with shower and double sinks (not to mention super comfy robes), kitchenette stocked with teas and hot chocolates, private viewing deck, and of course the serenade of nature sounds permeating the canvas walls from the forest. And as the glow of natural light shone down on me from the domed skylight as if I were some renaissance painting, this self-ordained mountain man was ready to concede that "glamping" is freaking awesome.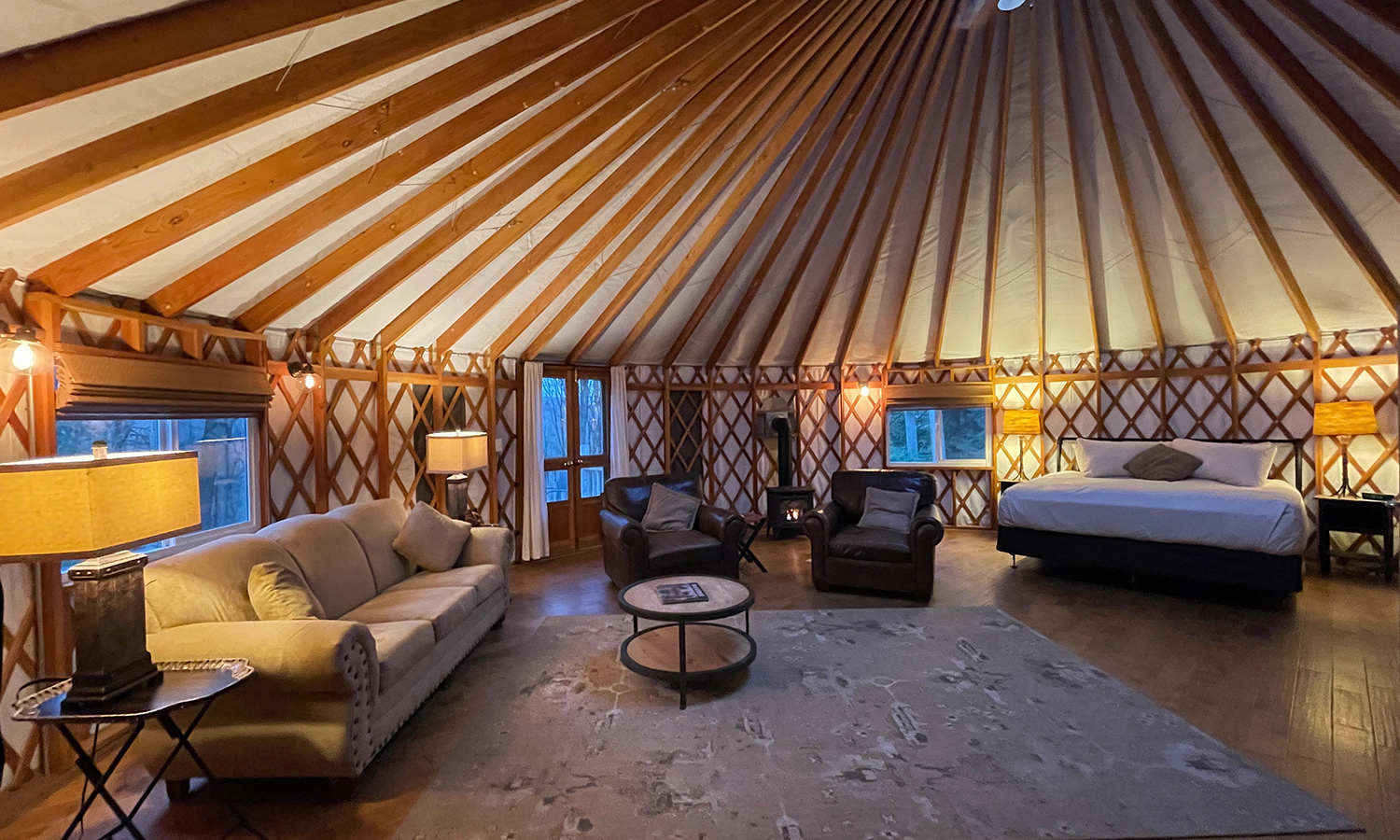 After we stopped reacting like kids staying in a hotel room for the first time ever, we quickly settled into some comfy chairs and began to undertake what few parents have ever experienced – uninterrupted reading. The sounds of turning pages and the acoustic guitars of the Avett Brothers streaming from my phone were all that filled the air while we sipped complimentary champagne discovered in our mini-fridge. Occasionally the wind would lightly disturb the canvas wall, but we were snug and comfortable with feet propped in front of the fire. And then my phone began to ring with literally the only acceptable interruption to our winter bliss, "Hello Mr. Vandergrift, have you decided what you would like delivered to your yurt for dinner?" Savage River Lodge customarily has a 56-seat restaurant serving incredible American regional cuisine for lunch and dinner; however, not to be undone by COVID-19 restrictions, the wonderful staff at The Lodge has perfected yurt-side delivery of their remarkable menu. We dined on wild game meatloaf, garlic rosemary pork tenderloin, and an incredible chocolate cake for dessert. After dinner, like a moth to a flame, my wife found her way to the warmth of the bed. I decided to add some layers and take a night stroll.      
One of the many advantages of the outdoors in winter is the abundant opportunities for quiet contemplation. I walked in the darkness along the dirt road to The Lodge with a canopy of starlight overhead. I pondered the things one does at night in the woods: What was that sound? How quickly will the animal who made it eat me? Will there be Lifetime special about my harrowing tale of survival? But before I could go further down the rabbit hole of my imagination, I found myself at a bonfire provided nightly by the staff. In the Adirondack-style rocking chairs surrounding the blaze was a well-dressed couple from Baltimore, who had just eloped hours before with a ceremony at Savage River Lodge. We traded pleasantries, swapped a few stories, and went our separate ways.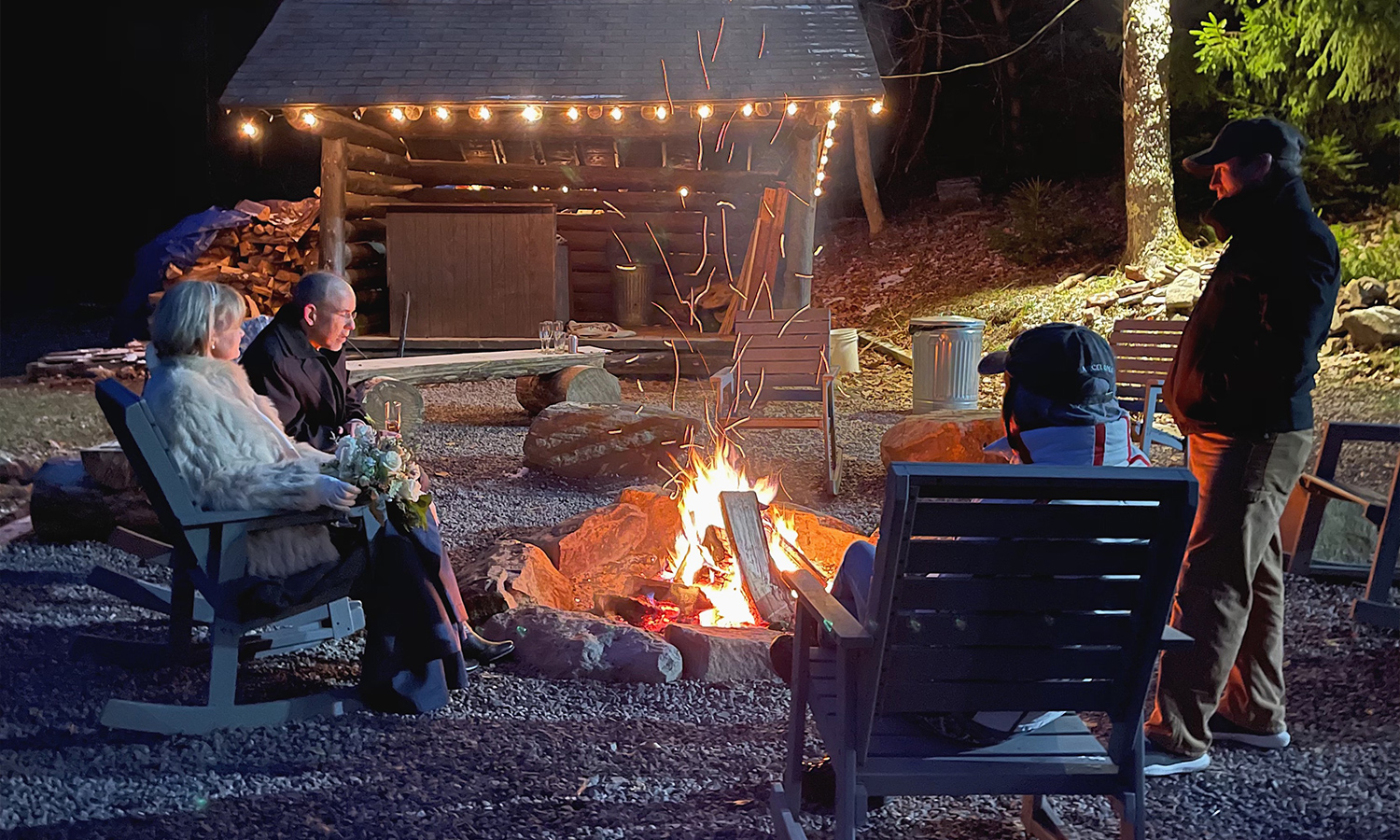 As I made my journey back to the yurt, I reflected on some of the glowing sentiments the newlyweds shared about the day and realized how many of those thoughts paralleled my own. I began to dissect what had made our Western Maryland winter experience so different from trips before, and I narrowed it down to three themes: time, space, and silence. The road afforded focused time together that me and my wife truly needed. The outdoors gave the gift of space from traffic, crowds, and even the four walls of our home. And the serenity of winter and our secluded yurt allowed the silence necessary for rest and rejuvenation.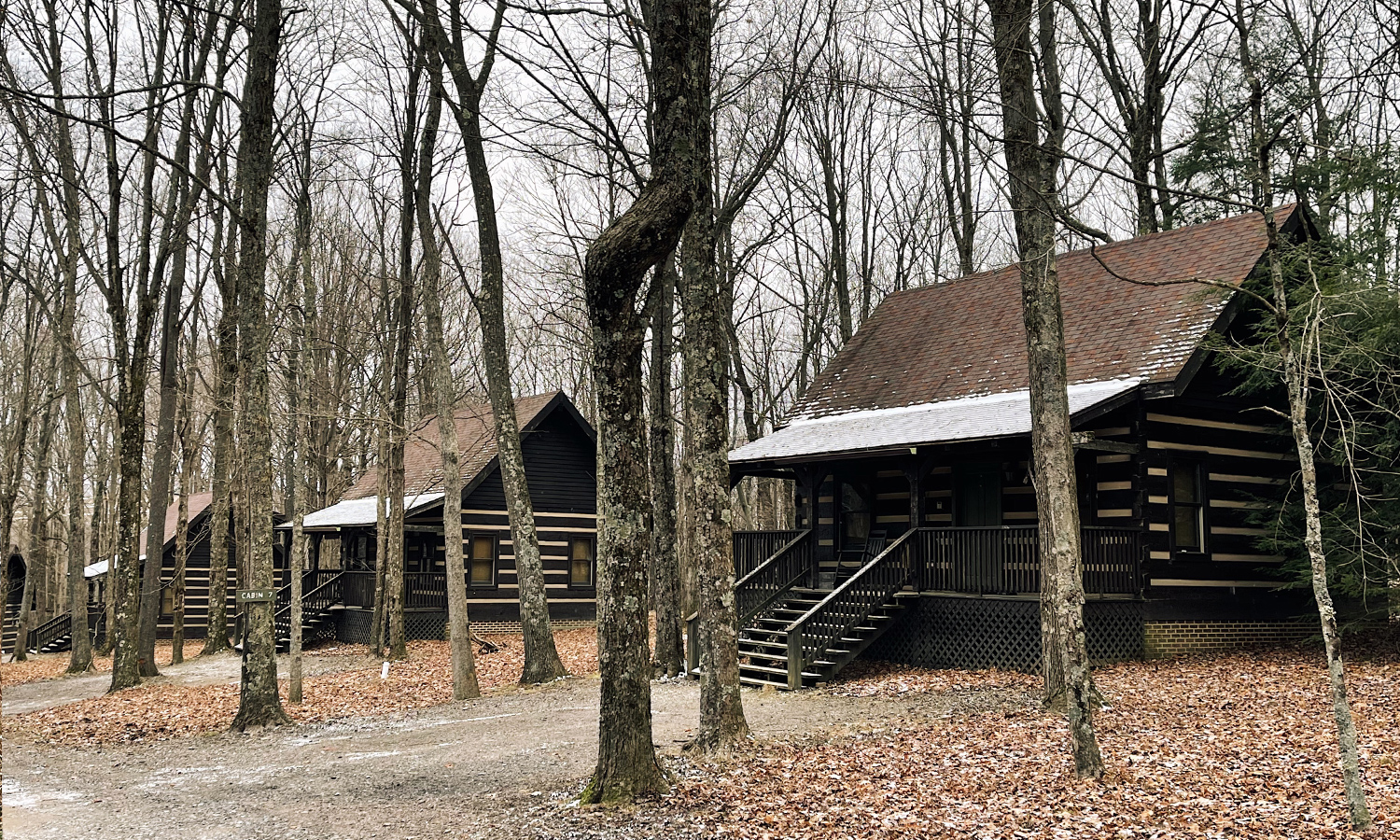 We awoke to a crisp, cloudy morning that invited a quick two-mile hike along one of the privately maintained trails. Arriving back to the yurt, a basket of delicious muffins and orange juice awaited us. We reluctantly packed our bags and walked to the car as I added mental fuel to my new dream of building a luxury yurt in my backyard. We then drove around the property getting one last glimpse of the lodge, the collection of private cabins, and the mountain scenery. And as we crossed the bridge that once welcomed us into Savage River Lodge, a light snow began to fall like confetti as if to celebrate our successful reclamation of winter travel.
---
Lead Photo: Savage River Lodge
Chris is the Editor of Maryland Road Trips and loves spending time in nature with his wife and son.