Accessible Travels in Maryland for Everyone to Enjoy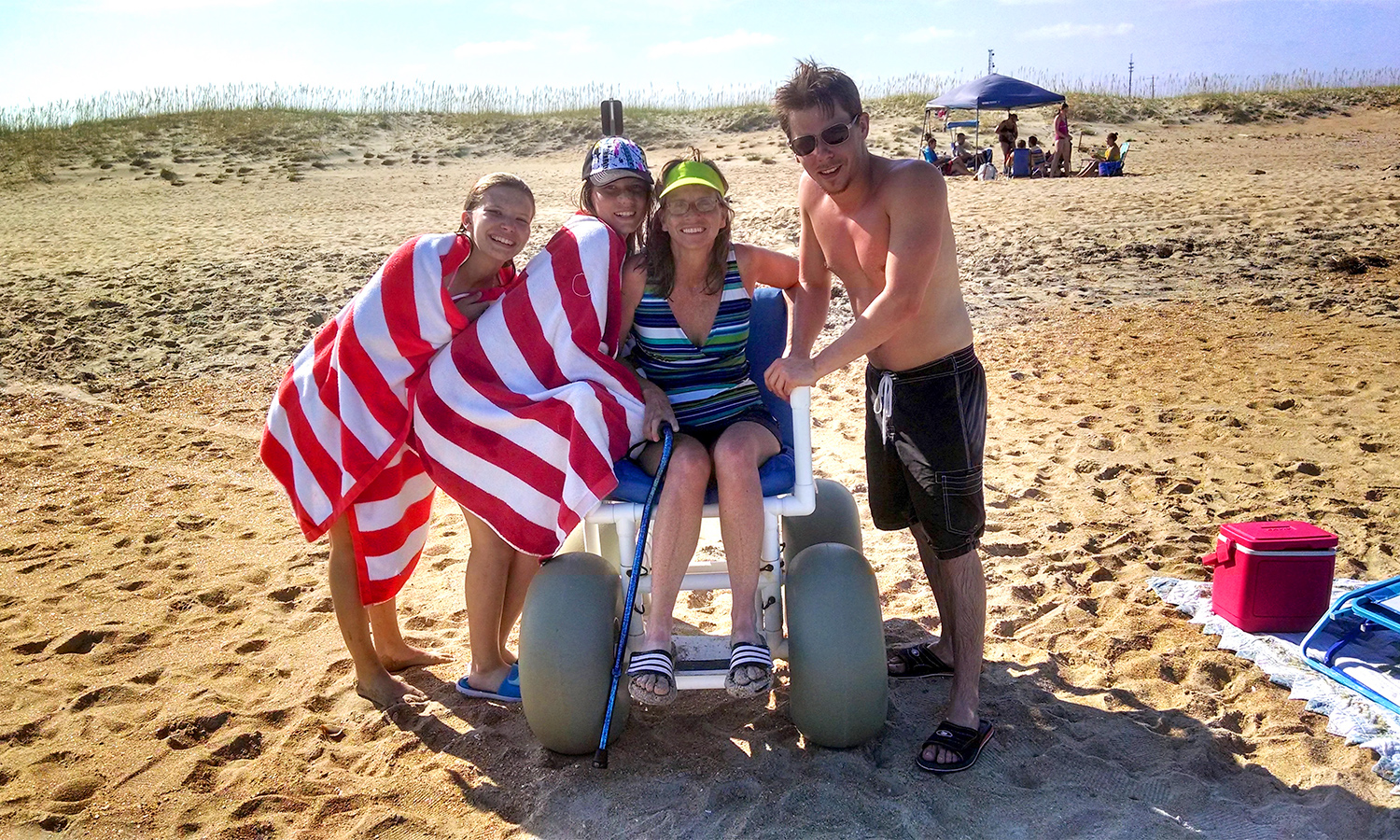 For many Maryland travelers, travel troubles conjure images of angst-riddled backups on the Bay Bridge, or unexpected downpours washing away all hopes of a solid beach day. Travel troubles, however, take on a whole other meaning for travelers with disabilities. Tiny bathrooms that can't accommodate a wheelchair, one lonesome accessible parking spot, or trudging to the water through what might as well be quicksand beneath the feet of someone with mobility challenges.
I have a dynamic disability, sometimes referred to as an "invisible" disability. My disability isn't outright obvious; my symptoms wax and wane and change. For seven years, I used a mobility scooter (after intensive rehab, I no longer use it), so I'm well-versed in the art of traveling with a mobility aid. I'm hardly alone. According to the Centers for Disease Control and Prevention, about 1 in 5 adult Marylanders have a disability. Some disabilities are visible, others aren't, and the struggle is real for each of us. Especially when traveling. 
During the first pandemic summer, my family decided to explore parts of Maryland we hadn't before, making our way to Assateague for a day trip. The long sturdy boardwalks immediately caught my eye, and the sheds housing beach wheelchairs. I'd used beach wheelchairs before. They have extra-large rubber wheels to cut through the sand. This time I was able to drive my scooter directly to the end of the boardwalk, and my youngest daughter and husband helped me get to our nearby spot on the beach. Assateague also scored big because of the large outdoor showers, enough room for me to drive my scooter inside and rinse off. Better than riding home with sand in my pants. There was plenty of handicapped parking, and the piers on the bay side are wide enough to accommodate a scooter or wheelchair should we have decided to try fishing or go crabbing. 
We also went on a day trip to Solomons Island, a charming southern Maryland town loaded with history and sailboats, and water everywhere. I hopped on my scooter and rode all over the boardwalk with a happy heart. I kept pace with my family as we explored the tiny island. We stopped for cones at The Ice Cream Place and gazed out over the water.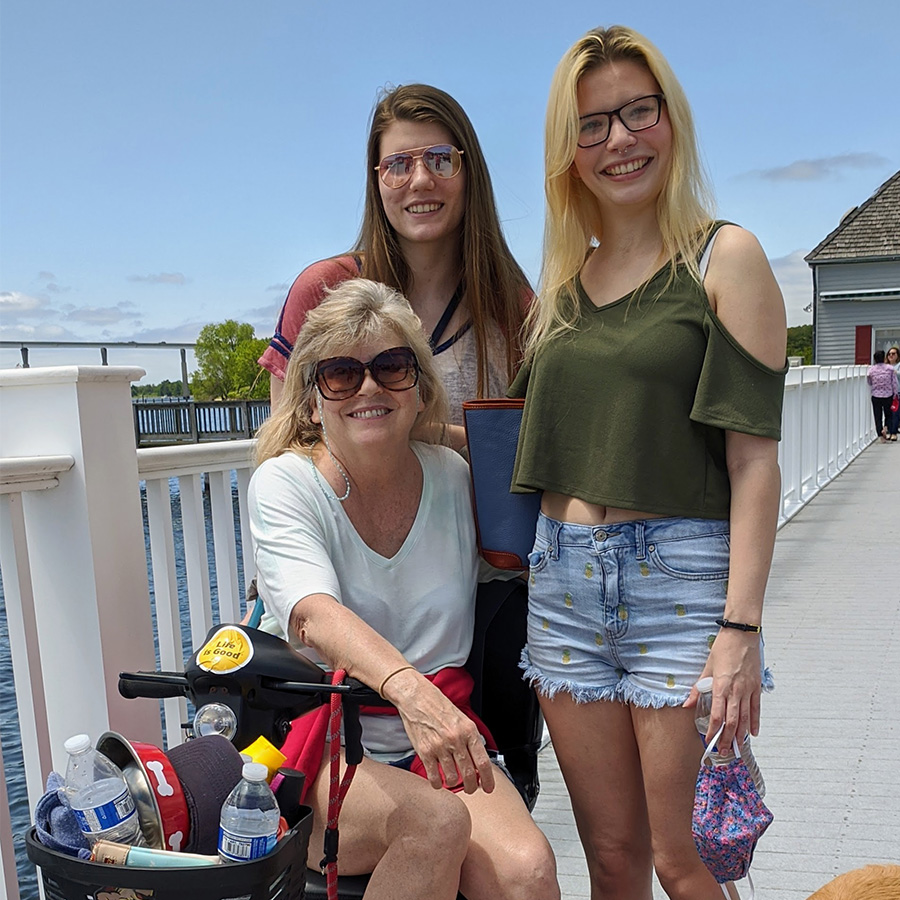 We made it a doubleheader by stopping at Calvert Cliffs State Park, a prime locale for scootin' and enjoying nature. I'd caution against manual wheelchairs because the person pushing you probably wouldn't appreciate the steep inclines. We did see rangers carrying some visitors in jeeps. I would call first and see if that's a thing they do regularly. The bountiful canopy of trees along the scooter-friendly paths shielded us from the hot sun. Once you get to the water, the distance from the path to the water's edge isn't far. I used my cane to navigate the hard-packed sand. I should probably add that there are no lifeguards at Calvert Cliffs. Some Maryland parks have them, and some don't, so if having a lifeguard is a must, call ahead first to check. As a side note, I've always found clean, accessible bathrooms a hallmark of our state parks. Big shout out to our Department of Natural Resources!
Point Lookout State Park, way down the southern tip in Scotland, also offered smooth cruising. The hard-packed sand on the dog beach on the northern end allowed me to carefully traipse to my beach chair with little difficulty and bring our Golden Retriever Henry along too. My girls were even able to get me into the gentle waves in one of our extra-large inner tubes. Sandy Point State Park in Annapolis offers similar access to the beach, but the distance to the water can be longer, and the fluffy sand is deeper to slog through, so renting and bringing a beach wheelchair is a must for some. The bathrooms and shower areas at Sandy Point are spacious enough for wheelchair or scooter users, however, it can get crowded. We went mid-week and late in the afternoon to avoid crowds.
Cunningham Falls in Thurmont is a cherished old favorite, one we'd visited a lot back in the days I was able to hike on two strong legs. The sturdy, wide boardwalk takes wheelchair and scooter users right up to a prime view of the falls, and there's a disability-friendly fishing pier that's especially beautiful in the fall.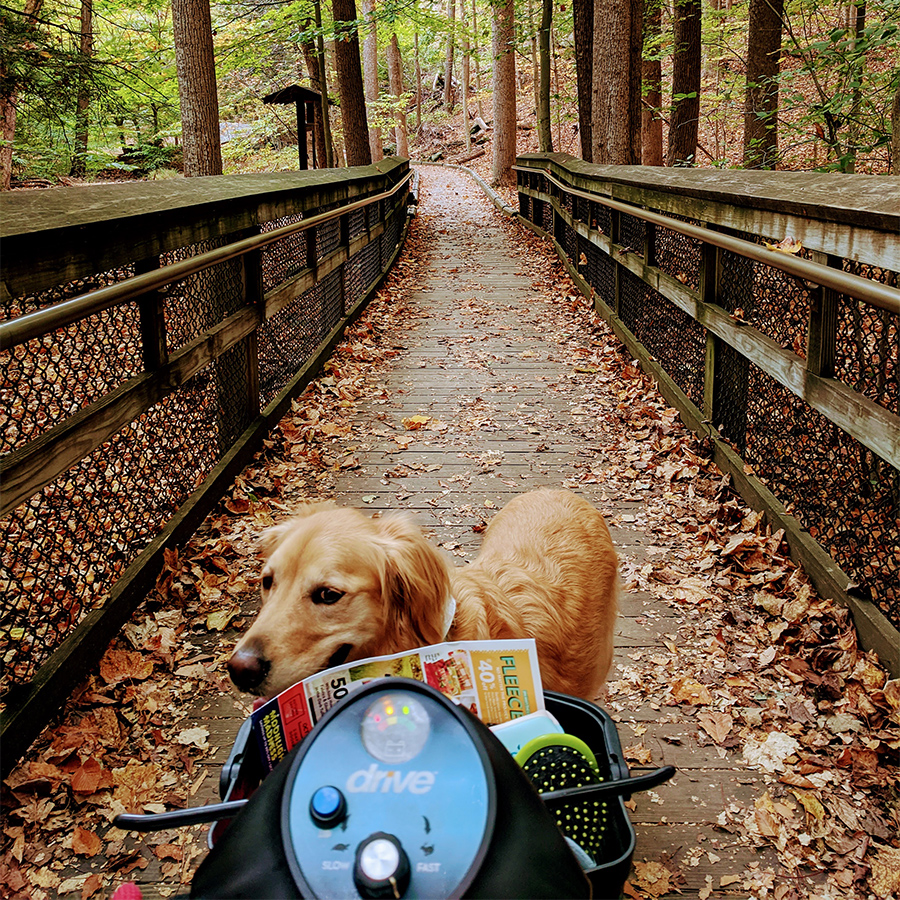 The C&O Canal in Sharpsburg parallels the Potomac River, where nature lovers on scooters can keep pace with family members on foot (my scooter was a beast, going six miles per hour). 
We tried crabbing at Kings Landing Park in Huntingtown. The pier was enormous, and the trail down was easy to navigate. We nabbed one measly crab, a young 'un we tossed back, but had a great day because it was easier and less stressful for me to scooter around. To make up for our abysmal failure as crabbers, we cheated and purchased live crabs off a Mel's Crab truck on the way home. The crabs were meaty, and heavy and still feisty when we got them home to cook.  
I recently learned that Ocean City provides many options for ADA beach access points, including mats on the sand for access to the beach and regular beach wheelchairs. They also have motorized beach wheelchairs available for rent!  Go to sandhelper.com to check out motorized chairs that get you right to the water's edge without your family member having to huff and puff and push, especially on hot, humid days when the sand seems ten times as deep and scorching hot! Find everything you need to know about accessing Ocean City beaches with a disability here.
Do you know of a disability-friendly shopping destination, or another beach, fishing, or hiking/scootering spot in Maryland? Send Maryland Road Trips an email—we'd love to feature it in a future article.
---
Lead Photo: The author enjoys a day at the beach with her children. Credit: Jackie Duda
Jackie Duda is a writer with disabilities living in Frederick, Maryland. She loves getting out and writing about her travels with her kids and husband and their Golden Retriever, Henry. Jackie has been writing for nearly 30 years, with articles published in Woman's Day, The Washington Post, Costco Connection Magazine, The American Institute for Cancer Research, and many others. Before writing, she was an English teacher with Montgomery County Public Schools. She chronicles her travels and day-to-day life with disabilities on Instagram @jackiesjourney4.