Fire up the Sleigh: Shop Local from Mountains to the Bay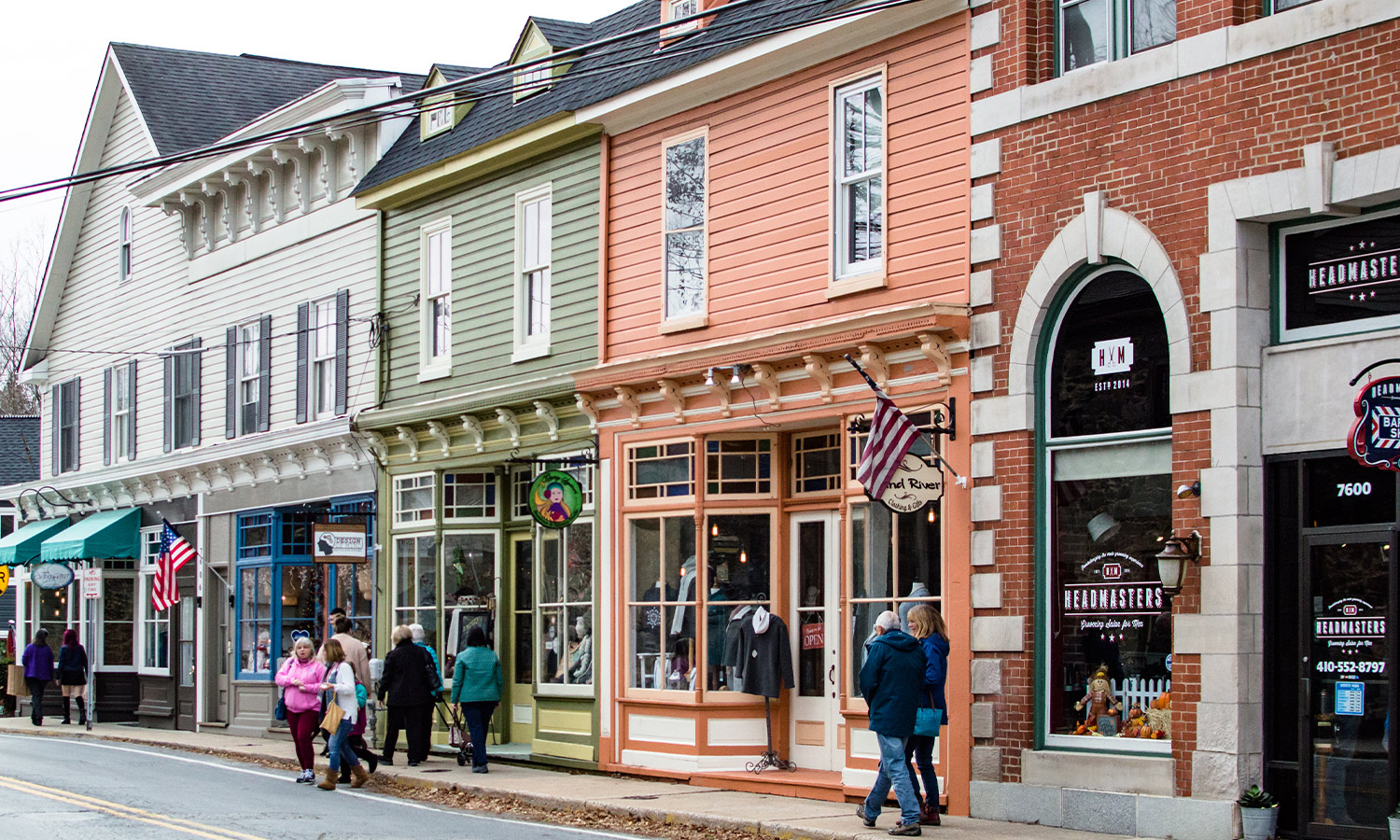 Instead of putting holiday shopping off until the last minute and relying on quick shipping, I took a new approach this year and combined holiday shopping with my love of travel. Though I grew  up in Maryland, I never ventured beyond my neighborhood of North Potomac (other than the occasional school field trips to DC). I recently returned  to the area after nearly 20 years of living in California, and have been excited to explore the state as an adult — with both a car and newfound appreciation for the charm of small towns.
Maryland is full of historic towns and main streets that make great destinations for holiday shopping. You can find unique gifts you won't find anywhere else while supporting small businesses that need our dollars more than ever. 
Along the way you can explore a new town, try new restaurants, and enjoy winter activities, such as drinking a craft beer on a working farm or checking out model trains at a historic railway museum. Here are three festive towns to consider taking your holiday shopping this year.
Annapolis, MD
With its brick-lined streets, quintessential town circle lined with shops and cafes, and more original 18th-century buildings than any city in North America, Annapolis steps up its European charm during the holiday season. Its location right on the Chesapeake Bay, 35-minute drive south of Baltimore and 40-minute drive east of DC, makes Annapolis a popular summer escape from the cities. But I personally love it in the fall and winter, when its maritime character transforms into a Dickens-inspired scene with Irish pubs, glowy streets of boutiques, and ghosts of America's founding fathers.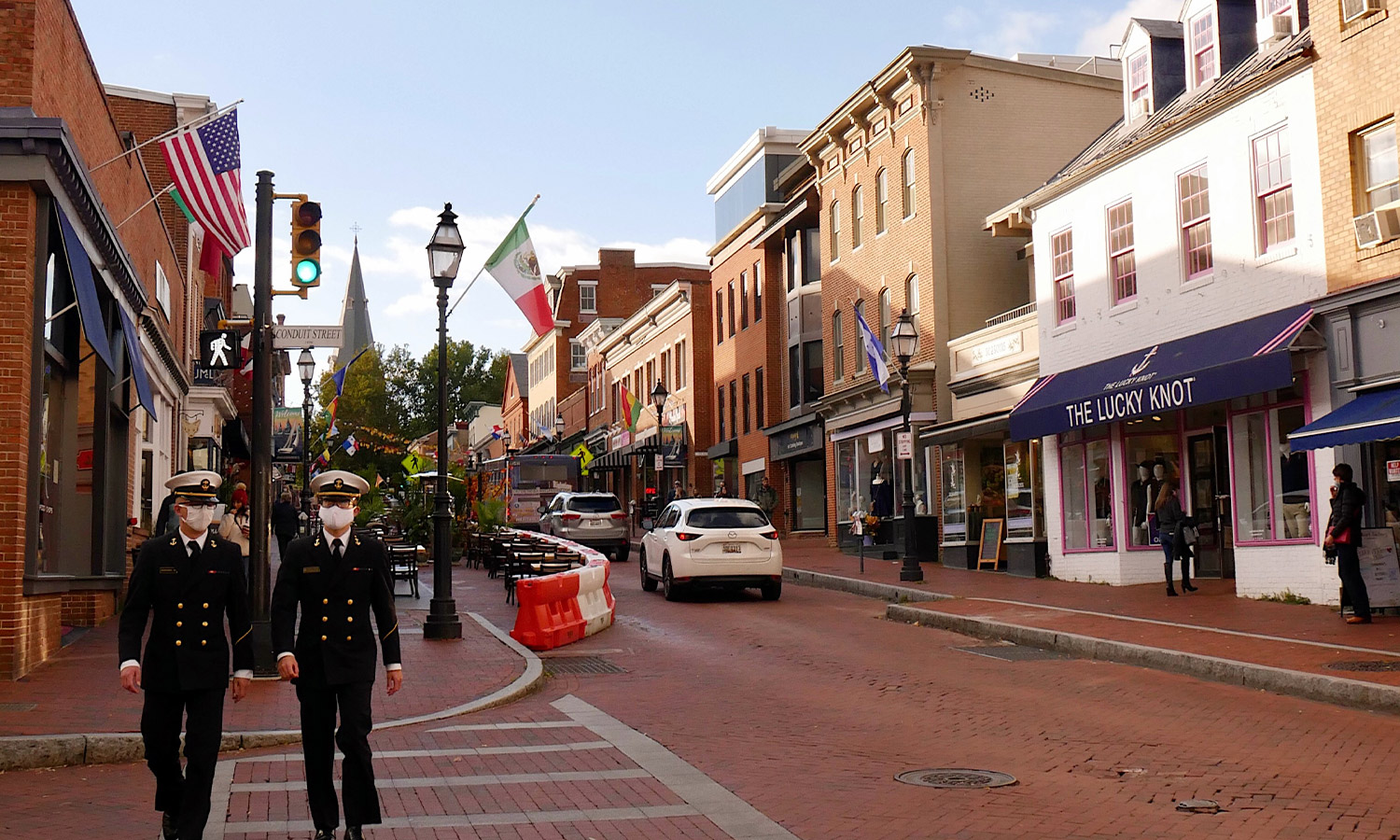 My husband and I did an impromptu ghost tour that was both a fun and socially-distanced way of getting to know the history and architecture of the city. And I can't wait to go back on December 6th for the first annual Holiday Arts Festival, where 50+ artists will be selling their work in the Arts District. The one-of-a-kind shops on West Street and Maryland Avenue – where you'll find antiques, art, gourmet foods, and books – are the perfect destination for an afternoon of holiday shopping while supporting local artists and entrepreneurs. Here are two of my favorites:
Just because we can't travel doesn't mean we can't bring a piece of the world home. The name Mango+Main represents the intersection of the streets of the Third World (where you may be told to turn right at the mango tree) and the main streets of America. At Mango+Main, you'll find one-of-a-kind gifts made by female artisans from 23 different countries. I was impressed with their selection of high quality clothing and jewelry, leather bags, and unique home décor like large, decorative baskets, and beautiful kitchen towels. They even have an adorable kid's section full of colorful rompers and sundresses, handmade dolls, and wooden toys. In addition to visiting its Annapolis store, you can shop their products online at mangoandmain.com. 
Need a gift for a food-loving host? Vignette has you covered. Owner Laura Cottrill is also an interior designer and merges her love of food and design to help clients create amazing food boards and tablescapes for parties and special events. Her passions are reflected in shelves lined with gourmet foods and specialty condiments from Italy (think olive spreads, truffle honey, Sicilian pesto, and aged balsamic vinegar), cheese boards, and cookbooks, along with items to make your home warm and cozy like unique light fixtures and unbelievably soft blankets and throws.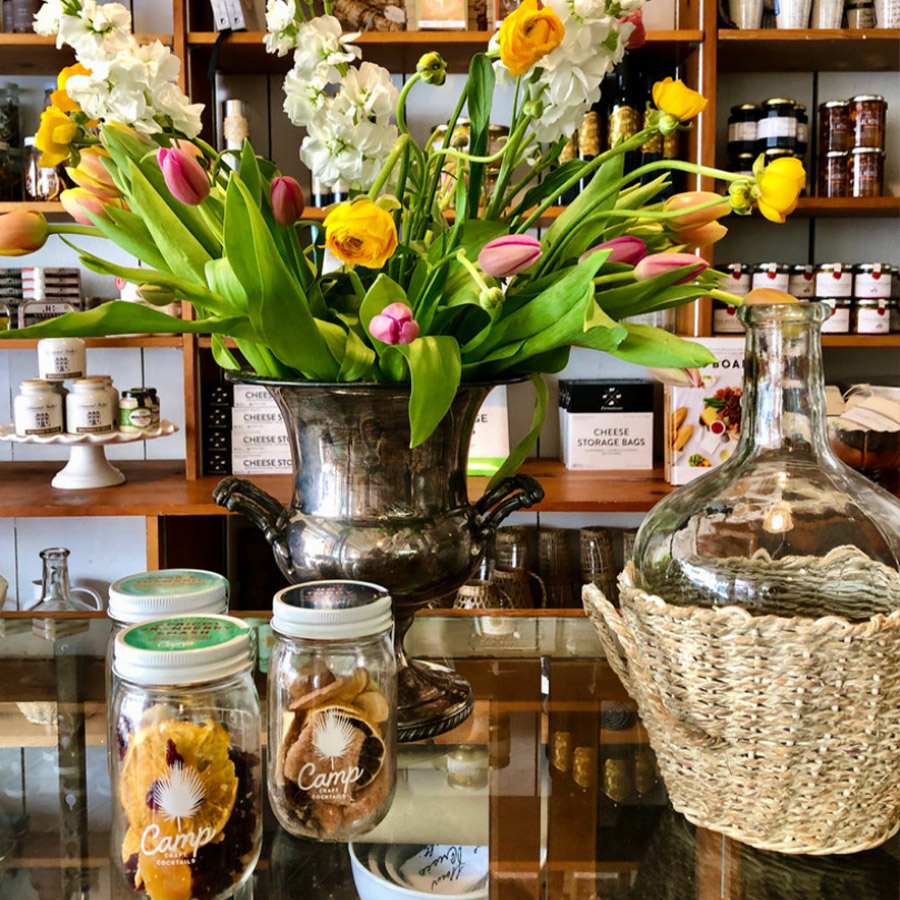 The only problem with walking into Vignette is that you may walk out with more gifts for yourself.
While You're There
Refuel from shopping at Sailor Oyster Bar, a local favorite that turns out astonishingly tasty dishes from just a blow torch, convection oven, and toaster. We loved their whitefish toast with apples and melted gouda, Cubano, and fresh oysters from Maryland and Virginia.  
Check out a holiday light show on the Chesapeake Bay at Sandy Point State Park. Less than a 20-minute drive from Annapolis, you can marvel at 60 animated and stationary displays of Old Annapolis City, the North Pole, and a colonial village from the safety of your own vehicle. The show runs from November 20 through January 2. 
Sykesville, MD
When I heard that a town in Maryland was voted "Coolest Small Town in America" in 2016 by Budget Travel magazine, I decided to make a weekend excursion to check it out for myself. Just 30 minutes east of Baltimore and five miles off Interstate 70, Sykesville sits along the original B&O railroad tracks (the first intercity railroad in the Western Hemisphere) and the Patapsco River. You'll know you've arrived when you see the Sykesville Station sign next to a brick-red Disneyland-esque, Victorian building.
While just a restaurant now, the building was so beautifully restored to its original structure built in 1884 that you feel like you're standing at a vintage train station. As you turn your back to the station, you'll see the main street stretch out ahead of you. This may be the most idyllic main street of any I've been to in Maryland with its variety of boutiques, ice cream shops, chocolatier, creperie, bookstore, Irish pub, and a distillery housed in a large stone building. It's enough for a whole day of activities to get in the spirit of the holidays. (Bonus: Sykesville is close enough to larger cities like Frederick and Ellicott City to do even more shopping and eating.) While there are many interesting shops on Main Street, these really caught my eye:
If you're a Christmas junkie like me, then you may instantly fall in love with Revive. The store takes pride in its collection of Sid Dickens memory blocks and handcrafted home décor by local artisans, like the sleek wooden charcuterie board I bought here for my best friend's housewarming. The store closes for five whole days starting at 3pm on November 22, taping up its walls, and reopening on Black Friday after being transformed into a Christmas wonderland.
Step away from the stress of holiday shopping into this tranquil space full of handmade wellness inspirations, like custom mixed essential oils, wonderfully fragrant hand-poured candles, handwoven dreamcatchers, and one-of-a-kind artwork. The shop instantly transported me to Indonesia, where I once spent a month. Owner Lauren Pobletts makes almost everything in the shop and offers crystal energy/Chakra healing. The shop even offers kombucha on tap in seasonal flavors like maple fig and apple chai.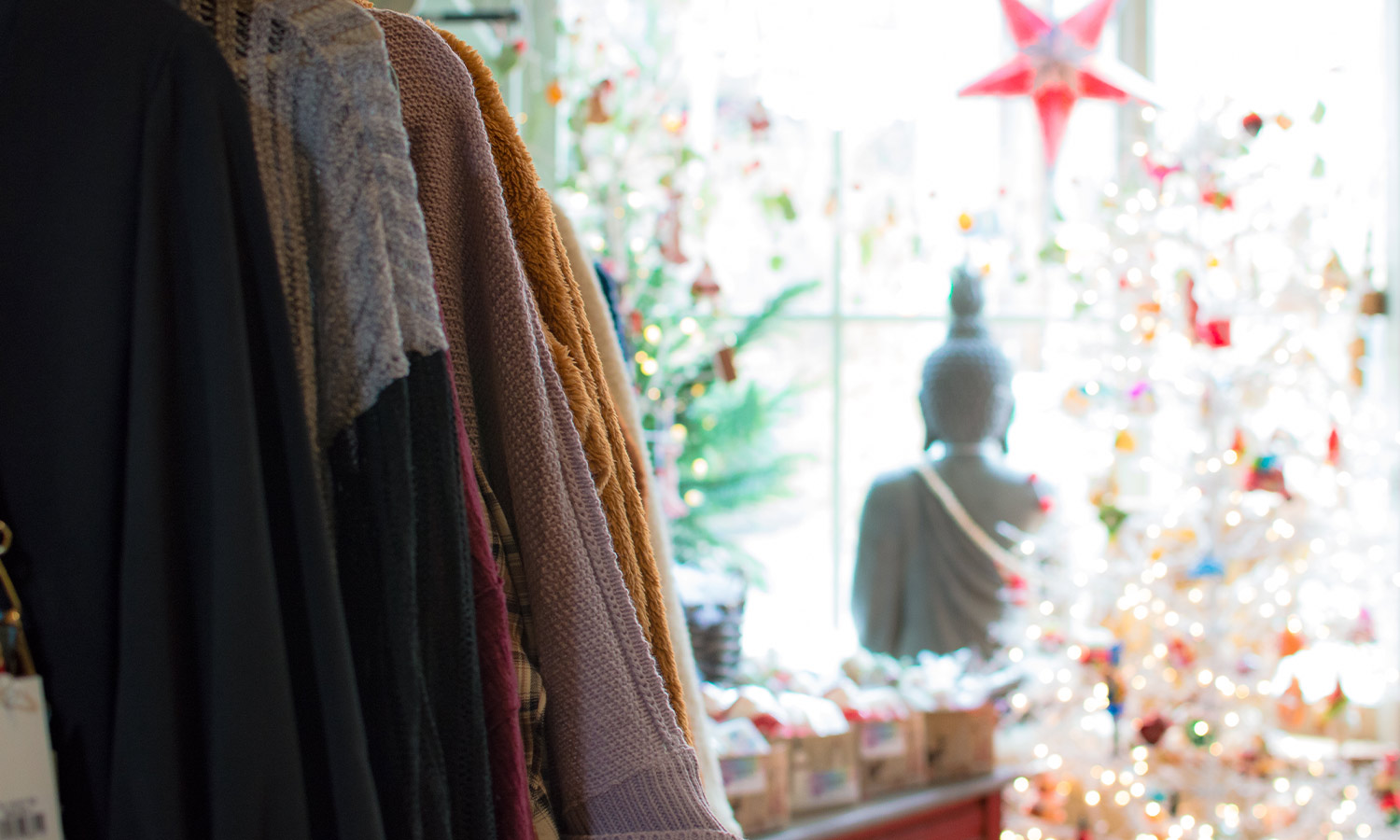 What I love most about Gypsy Systers is that it's a female-driven family affair. Lauren's daughters help with the store, her eldest offering makeup services for weddings and special events. If you're in the mood for a holiday makeover or want to gift one, book your appointment before you arrive in Sykesville!
While You're There
Grab a gourmet coffee and authentic French crepe on the adorable wraparound blue porch of French Twist Café just off Main Street. The crepes are inspired by owner Helene Taylor's childhood growing up in France. Try the Marylandaise with Maryland blue crab meat or their Jack-o-Lantern crepe stuffed with homemade pumpkin cheesecake and topped with whipped cream and graham crackers. 
Take a 30-minute detour north to Union Bridge, where you can see model trains at the Western Maryland Railway Historical Society Museum. Founded to preserve a piece of America's rich railroad history, the museum has an extensive collection of railroad artifacts and memorabilia from the Western Maryland Railway. 
If you're like me and think there's nothing wrong with eating ice cream in the winter, head to Hoffman's Ice Cream 20 minutes north of Sykesville. Family-owned and operated since 1947 (yes… 73 years), Hoffman churns out over 50 flavors of homemade ice cream and is consistently voted Carroll County's best ice cream. Bring a cooler and take home one of their famous ice cream cakes for the holiday! 
Cumberland and Frostburg, MD
I can't think of a more idyllic getaway during the holidays than spending time in the mountains. Driving west along Interstate 70 approximately 2 hours from Baltimore and DC will lead you to the Twin Cities of the Maryland Mountains: Cumberland, known as the "The Gateway to the West," is worth a stop for its history and outdoor activities, while nearby Frostburg offers the energetic atmosphere of an intimate college town.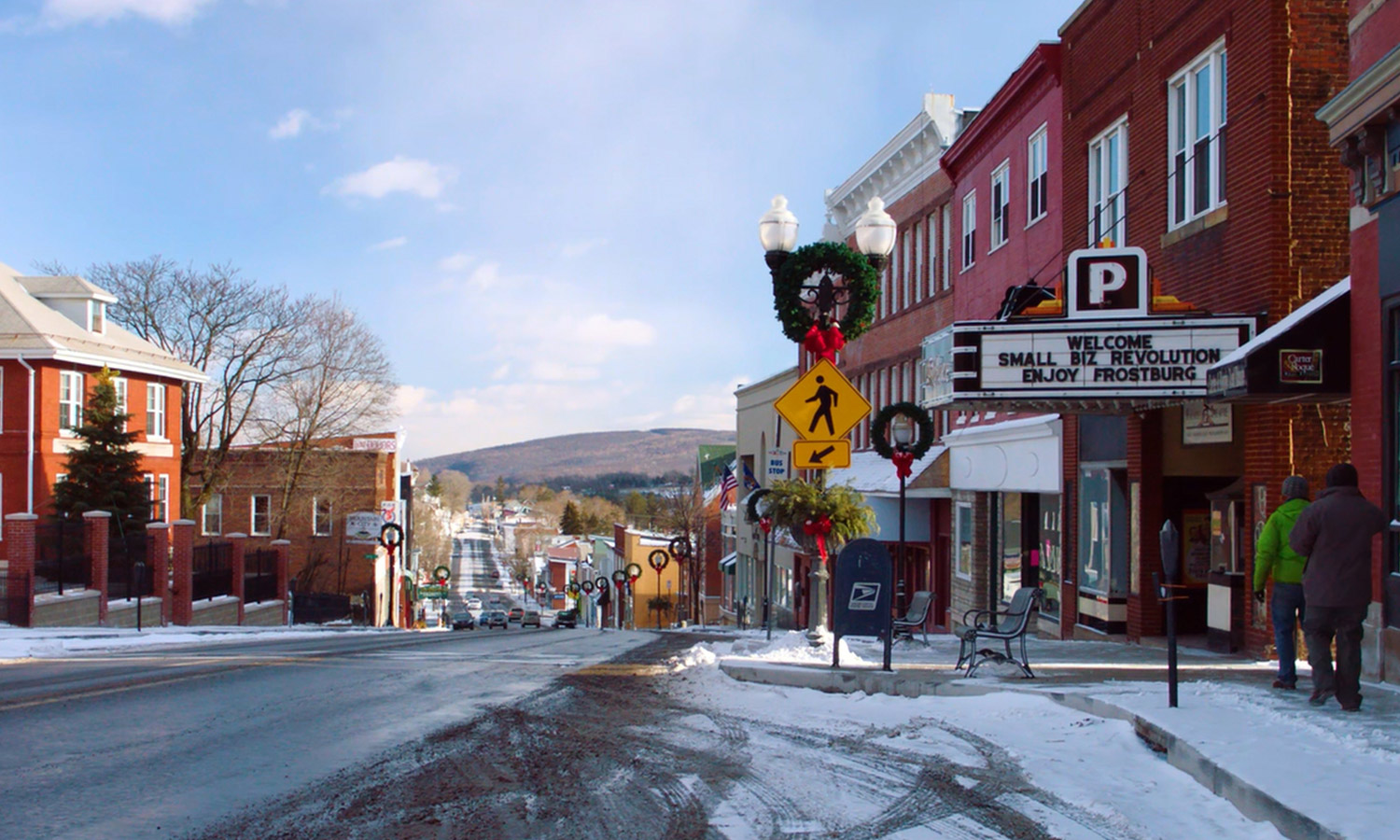 You'll find plenty of lodging options from the historic Hotel Gunter to farm-to-table bed and breakfasts to the Rocky Gap Lodge & Golf Resort overlooking the mountains. Together, the Twin Cities offer charming main streets, a refreshing music and arts scene, and award-winning wineries, breweries, and distilleries to make for both a relaxing and exciting holiday shopping trip.
To find unique gifts characteristic of this part of Maryland, head to Frostburg's Main Street where there are a variety of retail and specialty shops offering locally-made gifts. MCTA is dedicated to celebrating and preserving the traditional arts of the Alleghany Highlands. The shop sells only products made by local artisans and artists, including photography, pottery, woodwork, quilts, and knitted accessories. Every first and third Saturday of the month in the fall and winter, it hosts the Frostburg Winter Farmers Market where you'll find gourmet food gifts made by local growers. The shop even hosts concerts by local and, occasionally, nationally renowned musicians.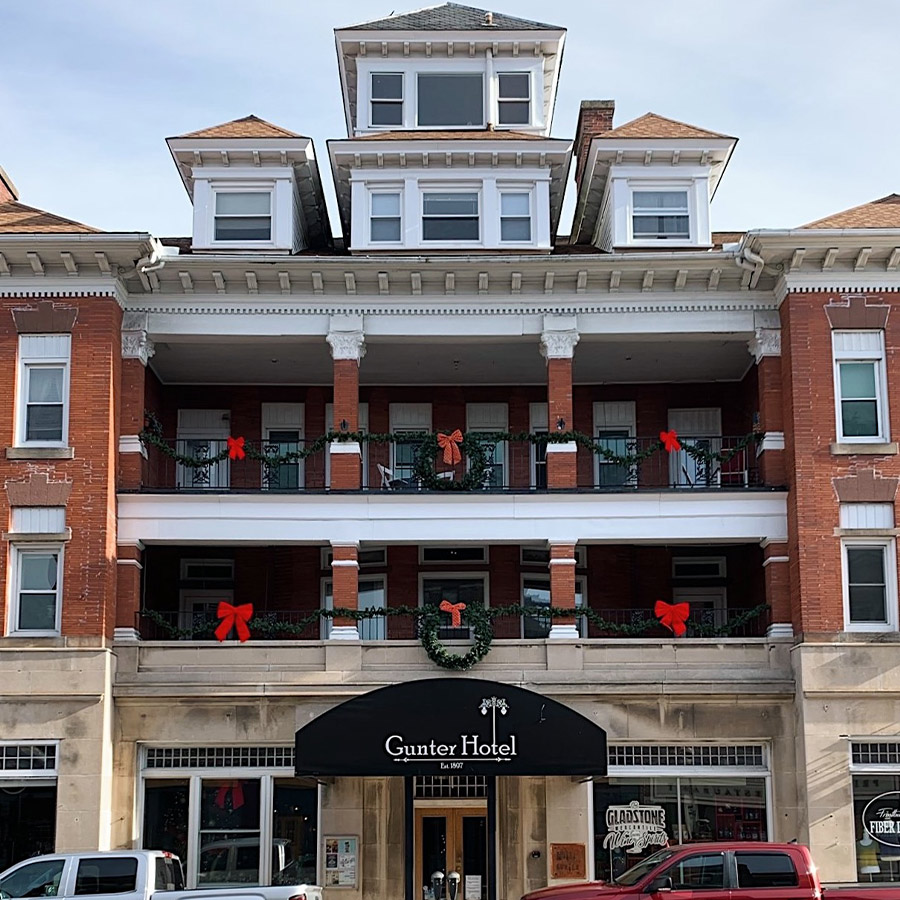 Located inside the historic Hotel Gunter, Gladstone Mercantile is not your usual hotel gift shop. For one thing, it sells its own wine, spirits, and coffee. It's home to Toasted Goat Winery, Route 40 Brewing and Distilling, and Gladstone Beanery. Pick up a bottle of Toasted Goat sangria or dessert wine, a local favorite. The colorful, storybook labels make the wines great gifts for the holidays. Gladstone Mercantile also sells over 50 locally-made items, such as reclaimed wood centerpieces by local artist Jason Becker, stained glass ornaments, and paintings of the historic towns of Maryland. On your way out, stop for a cocktail at the recently opened hotel speakeasy, creatively named The Speakeasy. (Check out the Hotel Gunter Facebook page for updates.)
While You're There
Take a drive through Green Ridge State Forest and experience the beauty of Maryland's largest contiguous forest. The 45-mile scenic driving tour takes you to some of Allegany County's best overlooks, with breathtaking views of the rolling mountains of Maryland and West Virginia. Grab a map at the forest headquarters and be sure to pack enough water and snacks, as well as a camera and binoculars.
Taste local beers at Locust Post Brewery, the newest farm brewery in the area nestled in the mountains halfway between Cumberland and Hagerstown. Located on a 26-acre farmstead, the family and dog-friendly brewery offers a variety of beers on tap by award-winning brewer, Lincoln Wilkins. Enjoy them on their spacious deck with beautiful mountain views and live music on weekends. 
---
Lead Photo: Downtown Sykesville Connection
Gina is a writer, yoga teacher, and career coach. Her love of food and self-discovery has led her to travel and live all over the world, including San Francisco, Chicago, Bali, and her hometown of Chengdu. She currently lives in Maryland with her husband and English Cream Golden Retriever. Follow her @ginachenart