No Business Like Snow Business: Dog Sledding, Mountain Coasting, and More Winter Activities in Maryland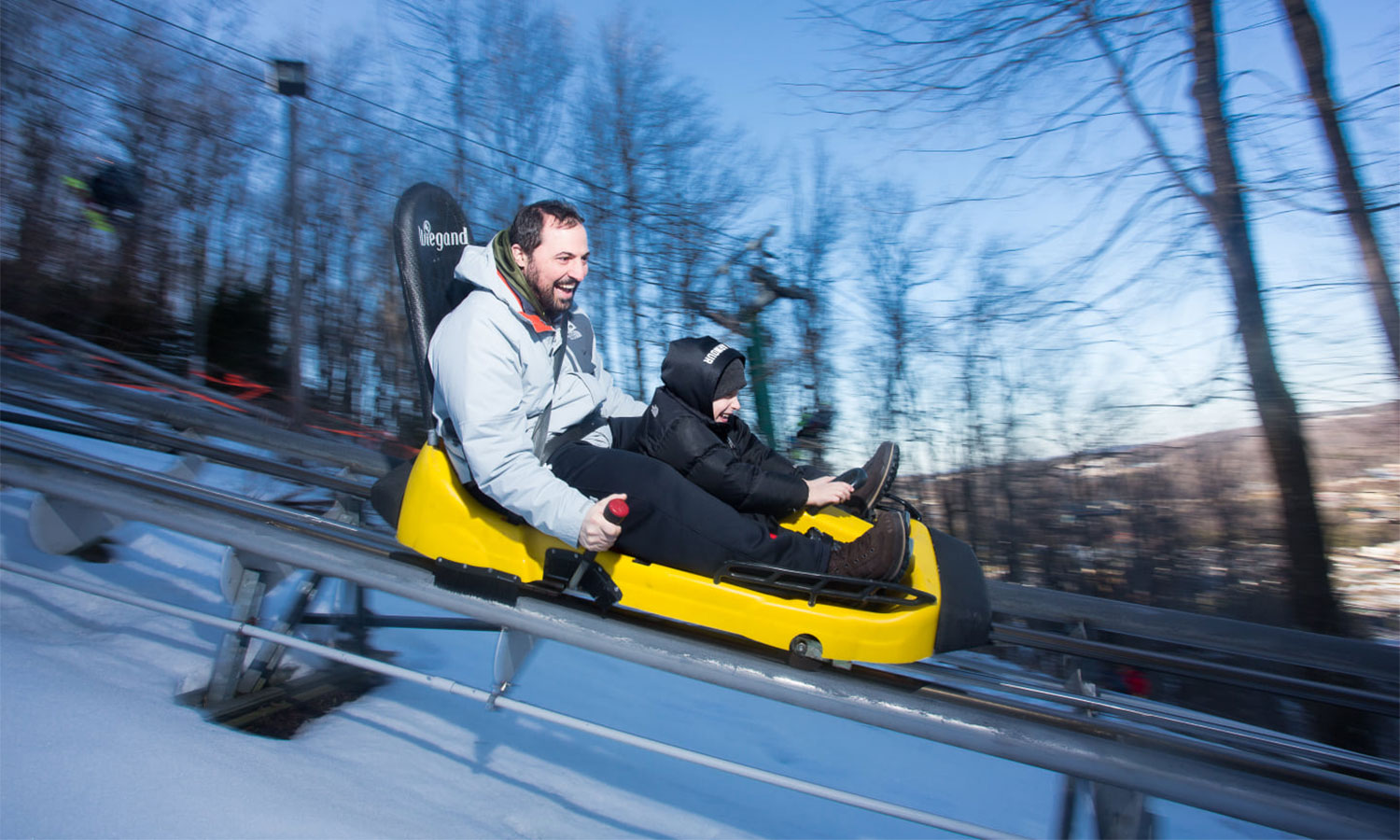 How often have you stayed inside on a cold day because you didn't know what memorable outdoor fun was only a drive away? Here are some not-to-miss winter activities in Maryland, from snowshoeing, a mountain roller coaster, dog sledding, and more. Bundle up and get outside—there's a Maryland winter wonderland waiting for you!
Wisp Mountain Coaster at Deep Creek
Tis the season for sports such as skiing and snowboarding, which also create the perfect opportunity for a cozy lodge staycation with family or friends. With not everyone at the same skill levels—and some friends who might just want to come along to enjoy the atmosphere—it helps to choose a resort with a variety of options for your daily excursions. Wisp Resort, in McHenry, not only has snow tubing, a popular winter thrill at many ski locations, but also a pretty unique side activity in the form of its self-powered mountain coaster.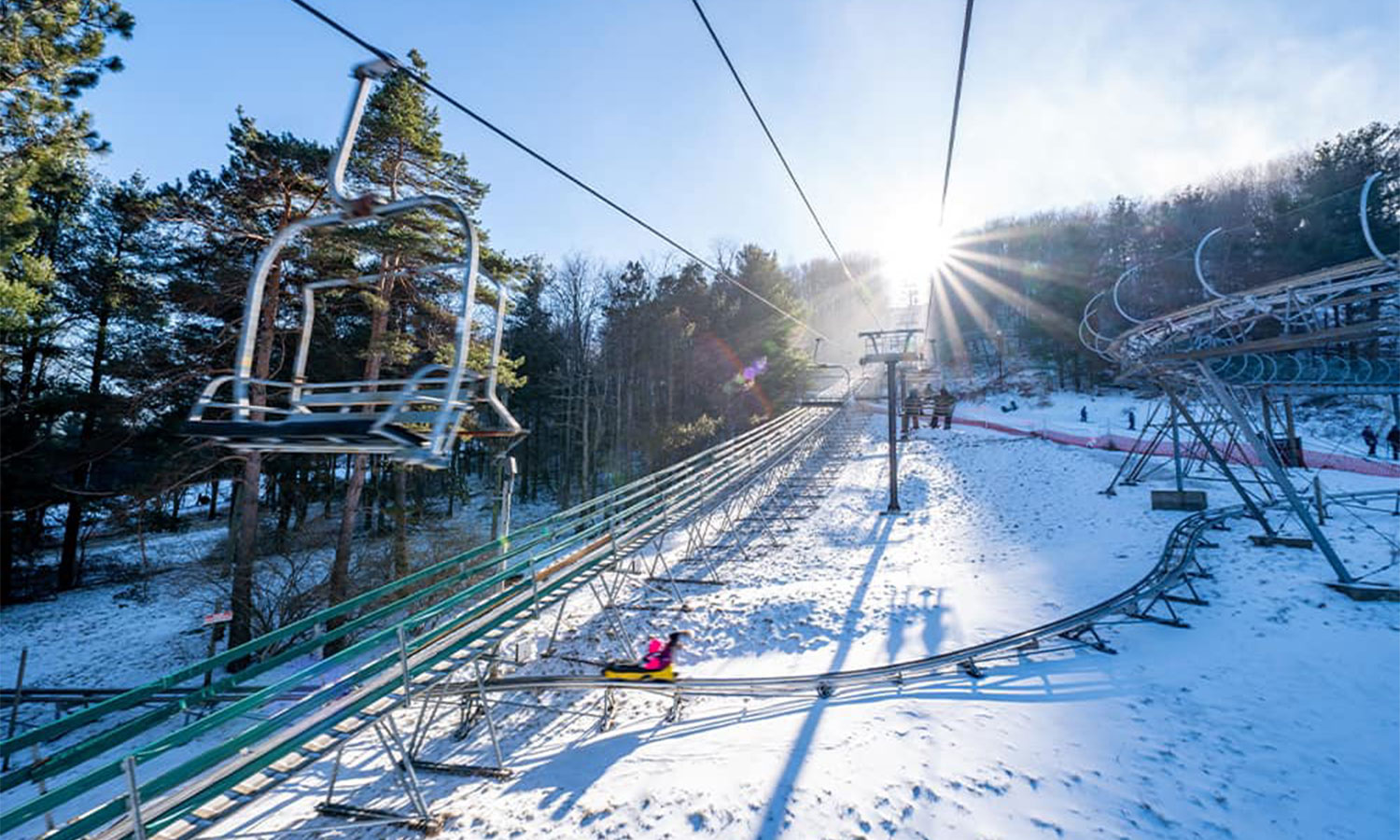 For a $19 single ride and a $24 double ride, you can take in the sights around the mountain as you control your own speed using hand brakes. Corkscrews keep riders on their toes while still giving them a few moments to relax and enjoy the view.
Children ages 3 and older (and at least 38 inches tall) are permitted to ride in the front of the coaster cart with a rider age 16 or older manning the brakes in the back. Children age 8 and older can ride alone in a cart or with another rider age 16 and older, but two adults cannot ride together. Hours are subject to change weekly, and weather permitting, so check their hours of operations or call the resort at 800-462-9477.
If your route to Wisp puts you along I-68, plan to pull over at Sideling Hill for pictures!
Ice Fishing at Deep Creek
Fish & Hunt Maryland names Deep Creek the state's most popular ice fishing destination. With 3,900 acres and more than 65 miles of shoreline, it's the largest freshwater lake in the state and holds varieties of fish such as walleye, yellow perch, bluegill sunfish, and northern pike. You'll want to set up an ice shanty for protection from the elements and bring the proper equipment, including an auger to drill a hole in the ice, and warm and waterproof clothing. (We recommend wearing a life vest, too.)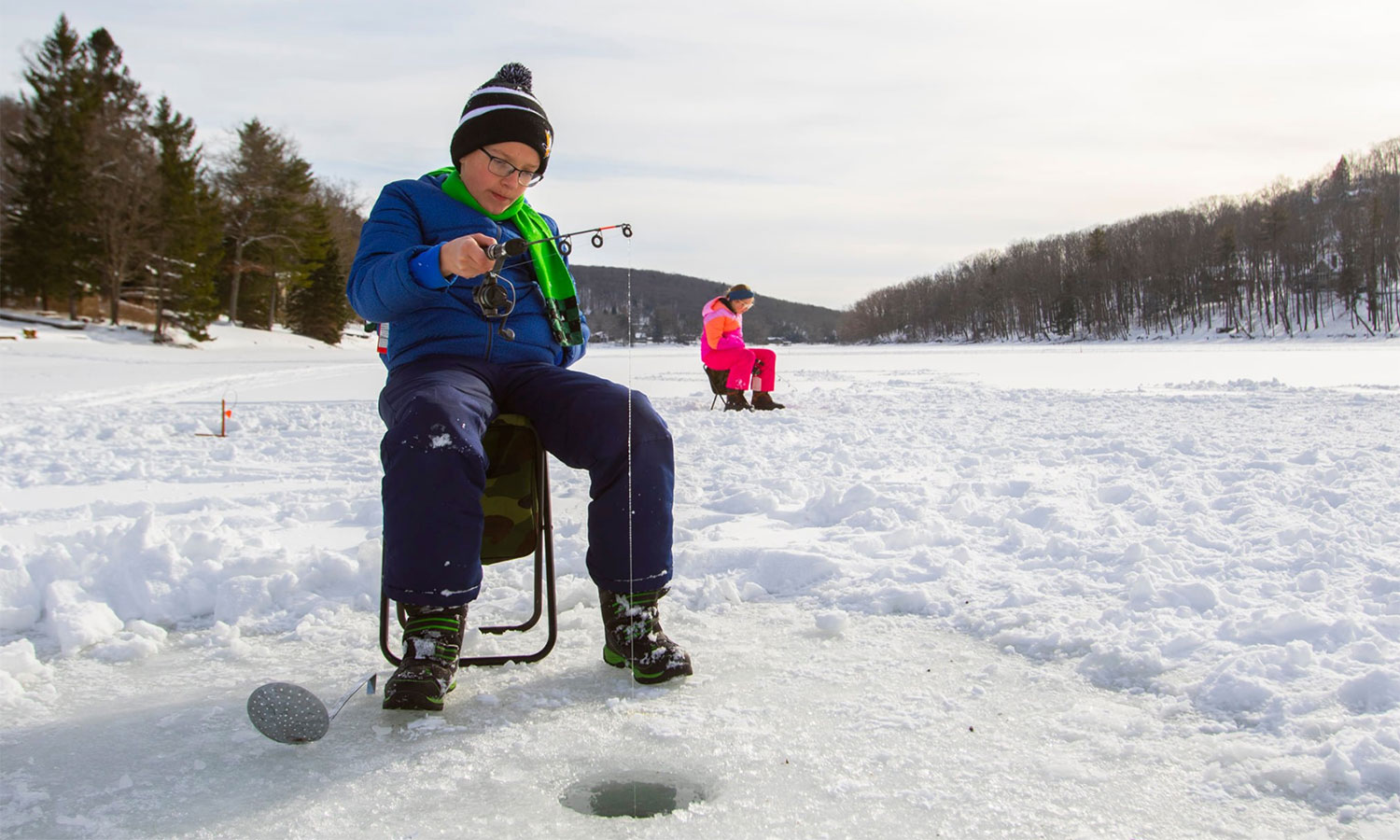 Check out nearby vacation rentals for tips on the best spots. Red Barn Vacations recommends the coves during the early stages of the season, which will begin as soon as ice thickness reaches a minimum of 4 inches. Ice conditions shift throughout the season, so call Deep Creek Lake State Park for updates before you go. The Maryland Department of Natural Resources has an essential guide on ice dangers and safety at Deep Creek. There you will also find information on licensing and regulations. To fish in freshwater in Maryland, a non-tidal fishing license is required, which you can easily obtain for both temporary and long-term visits to the lake. A year-long license is $20.50 and a 7-day license is $7.50 for Maryland residents. Non-residents are charged based on costs of similar licenses in their home states and can also get a 3-day license for a short visit. 
Skip the gas station and fill your cooler with goodies from nearby FireFly Farms in Accident.
Snowshoeing in Garrett County
If you like to carve your own path, you might enjoy beating back the brush and going where few venture in the snow-packed woods of Swallow Falls State Park or Snaggy Mountain. All Earth Eco Tours are $40 per person and include hot chocolate, snowshoes, and a guide to help you get to know the forest.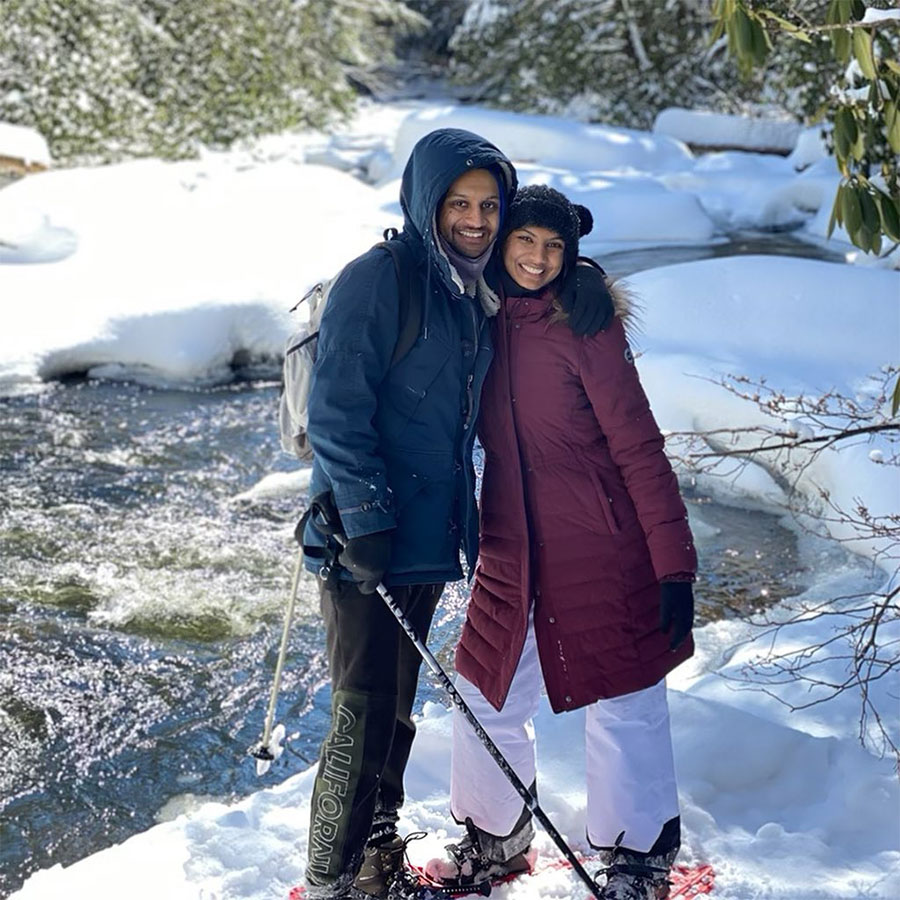 Learn about plants, animals, history, and lore as you roam through the backcountry. You might spy otter slides, bear tracks, deer, boulders, old-growth trees, and waterfalls on the journey. 
Wisp Resort has snowshoeing lessons with a 2-hour shoe rental for $44 standard ticket price or you can take advantage of several nearby state parks and resorts with hourly or daily shoe rentals. Lake Pointe Inn on Deep Creek Lake compiled a quick-hit list of area locations that offer snowshoe trails or instruction.
While there's plenty of places to stay in Deep Creek, you can explore more of Western Maryland with a drive up to Savage River Lodge in Frostburg, where you can book a stay in the lodge, a cabin, or a yurt.
Dog Sled Rides in Baltimore County
Yes, you read that correctly! Book a "Yappy Hour" ride with Maryland Sled Dog Adventures and let trained sled dogs pull you along the Torrey C. Brown Rail Trail in Northern Baltimore County. If you're going alone, your experience will cost $400. Parties of 2-4 cost $300 per person. Your Yappy Hour ride includes a meet and greet with the dogs, a thorough demonstration of how the dogs are harnessed and how mushing works, and a 20-30 minute ride. Tours are available October through March.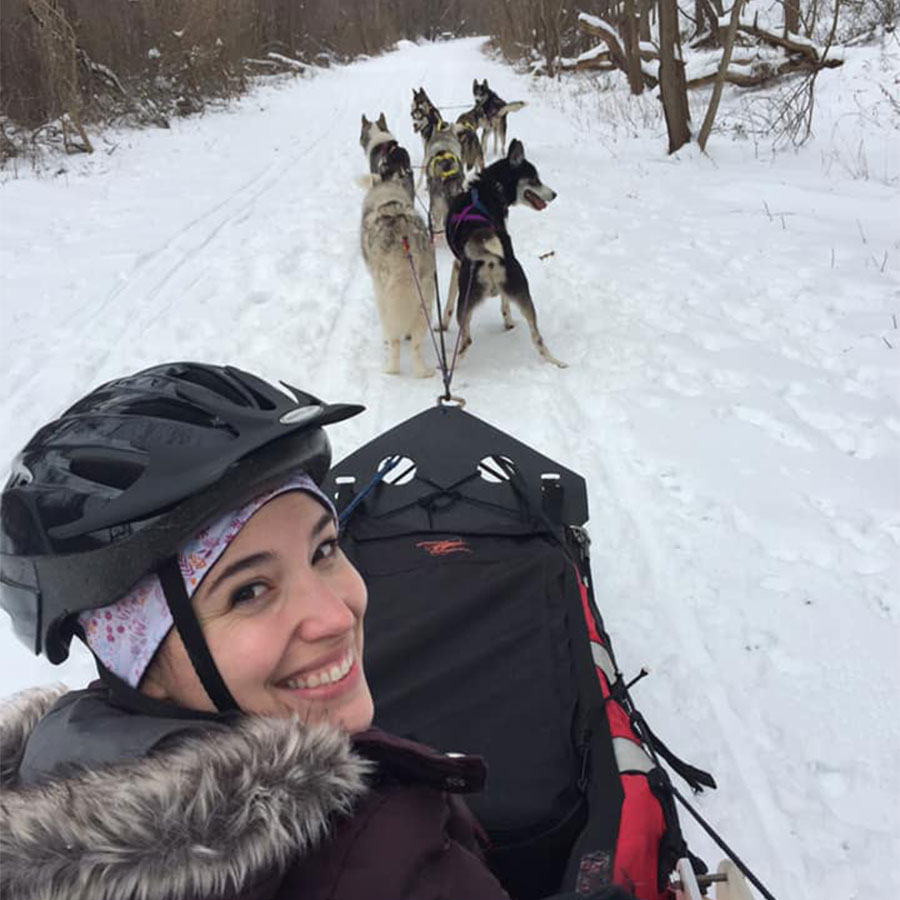 Three-hour tours are also offered—see the website for details. Call owner Catherine Benson at (443) 562-5736 for more information.
Wild Horses at Assateague Island
The wild horses of Maryland and Virginia's Assateague Island herds are on the beach year-round for visitors. Drive-in camping sites are open at Assateague National Seashore from Nov. 16 through March 14 first come first served for $30 per night. Make a fire and enjoy the company of these beautiful horses and ponies from afar.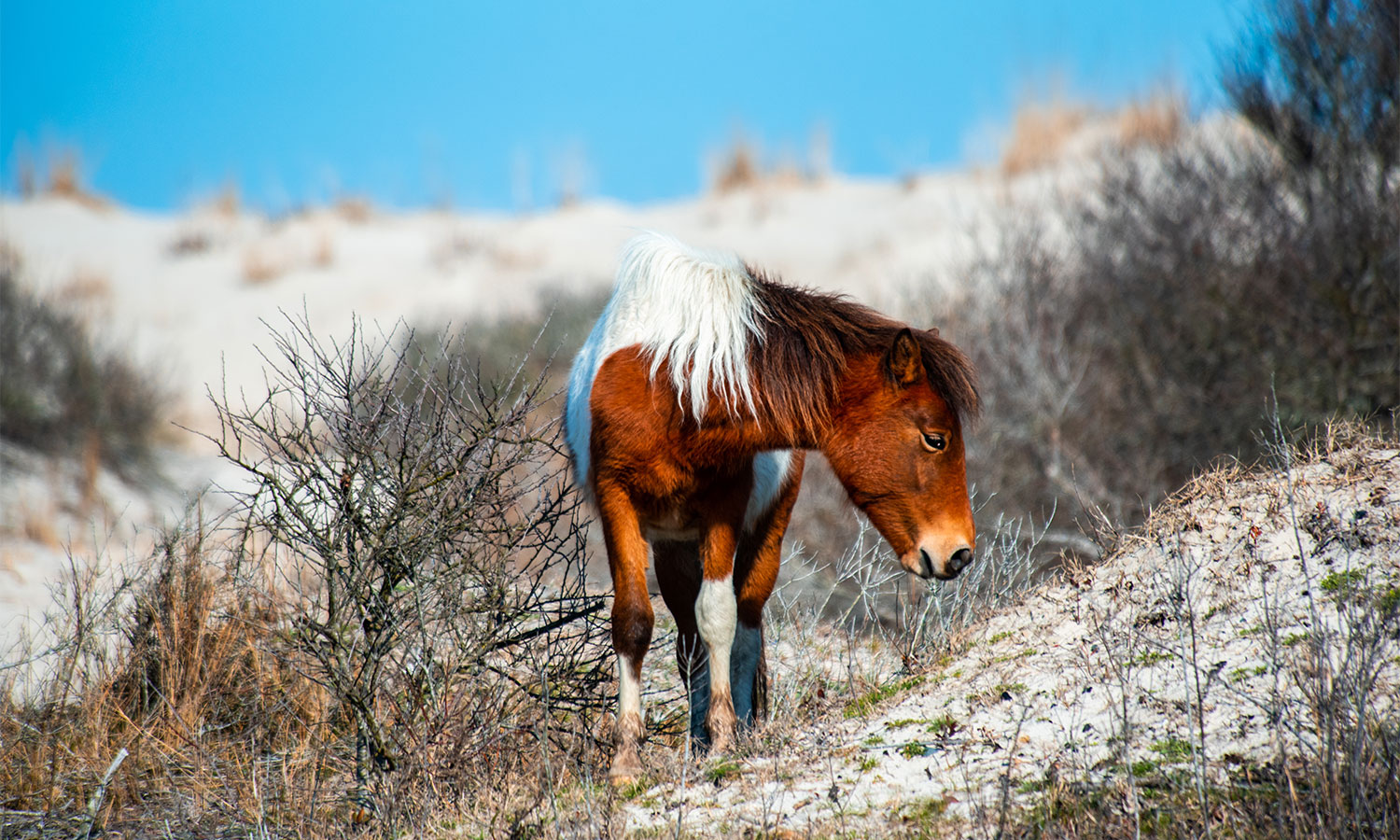 From Oct. 16 through April 14, you can even ride among them on your own horses! Reserve a horse camping site for up to six people and six horses for $50 per night plus vehicle entrance fees through recreation.gov. Though riders must take care to keep a wide berth between domestic and wild horses, it's a great opportunity to see them up close.
Extend your trip with a stop in downtown Berlin, where you can visit a mermaid museum, browse an independent bookstore, and sip milkshakes at a soda fountain.
Ice Skating in Rockville
Located just off I-270 in Maryland's Capital Region, Rockville Town Square Outdoor Ice Skating is a great place to pull over and kick off a road trip in style. The rink is open until mid-March, which gives you plenty of time to plan a visit (or several).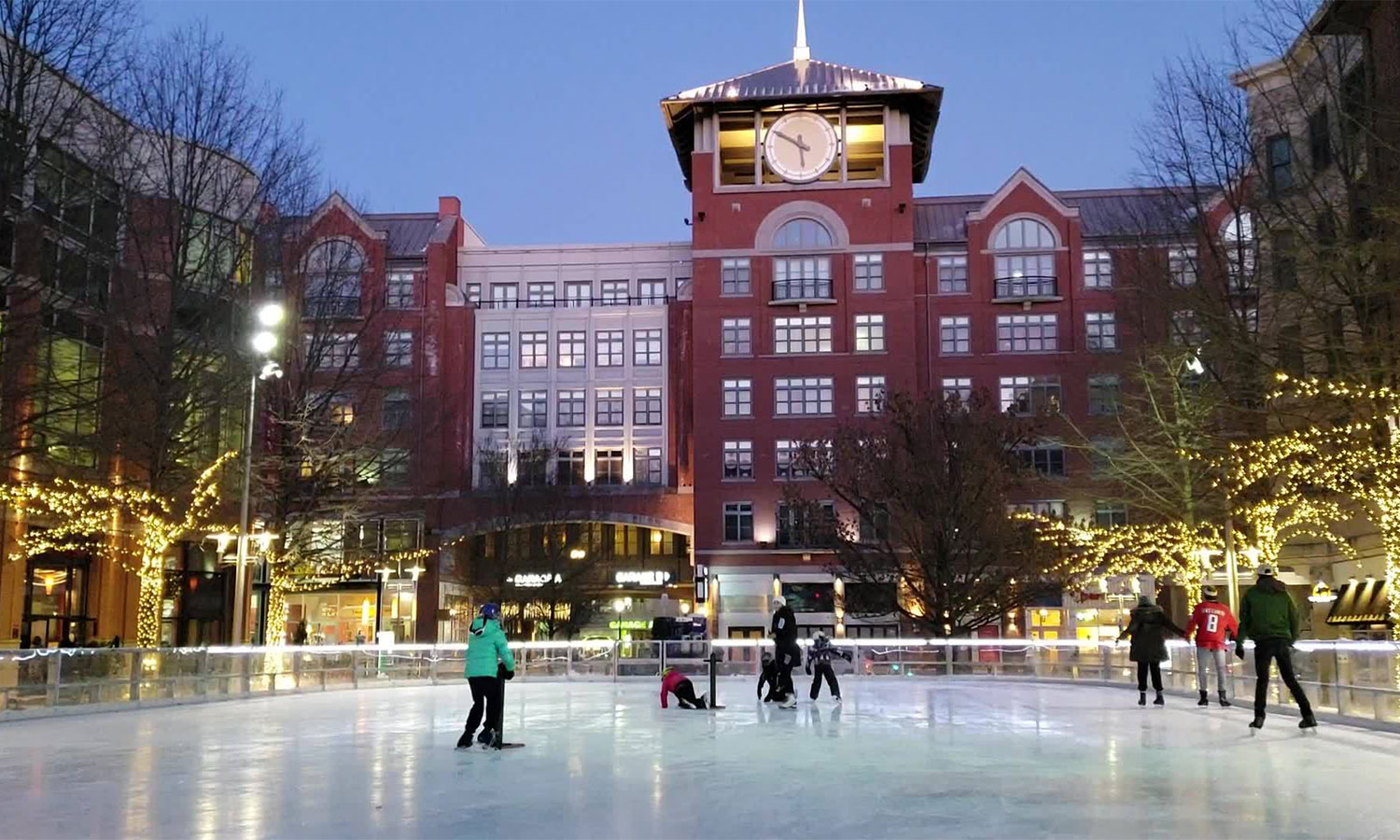 Seniors and kids 12 and under skate for $10/each; tickets for those 12+ are $11/each. Skate rentals are $5—they offer double blades (for kids), figure skates, and hockey skates. Your ticket gets you an hour of skate time (not including time to clean the ice).
Once your session ends, head to Dawson's Market for delicious vegan fare.
---
Lead Photo: Wisp Mountain Resort
A Baltimore-bred journalist who takes great pride in her Old Bay, Natty Boh and that one football team, Lindsay C. VanAsdalan has always loved experiencing life through food, music and culture. And road trips have been a big part of that — so much so she made an entire magazine devoted to road trips for her senior project in college. When not writing, you can find her out at a concert (in safer times), trying the best new burger in town or snuggling cats.
Laura Rennie is the Editorial Manager of Maryland Road Trips and also works as a freelance writer. She loves a good burger and often plans her travels around food. Laura lives in Myersville, MD, with her husband and daughter. She can be reached at laura@marylandroadtrips.com.