Clear Eyes, Full Art, Can't Lose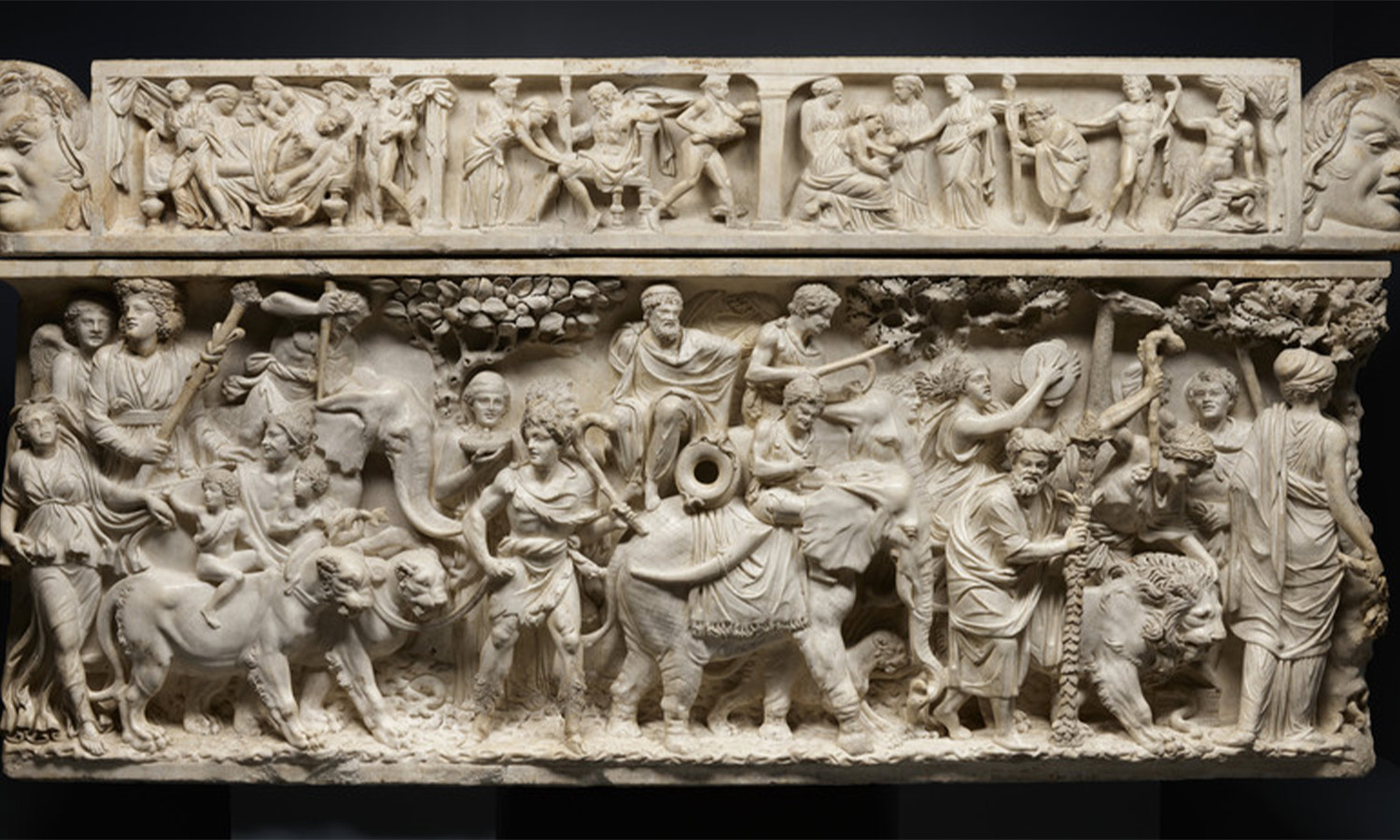 After taking several road trips out of state to make up for the lack of travel during the COVID-19 lockdown, my fiancé and I found ourselves back in Baltimore without plans for Halloween weekend. A day exploring some of Maryland's art attractions seemed like a great use of our Saturday — it would be a great opportunity to not only immerse ourselves into the local art scene, but also search for a potential location for either our engagement party or wedding.
We woke up fairly early and dressed in matching flannels and vests (don't judge us). We got into the car, turned on a Fall Road Trip playlist, and started the five-minute drive from our apartment in Federal Hill to our first location — The Walters Art Museum.  
The museum is located in the Mount Vernon neighborhood immediately north of downtown Baltimore, widely known for being the home of the Washington Monument, one of two monuments in Maryland designed to honor our nation's first president. (The other monument is just south of Boonsboro.) Mount Vernon holds a special place in our hearts, because last month my fiancé got down on one knee and proposed to me right in front of the monument!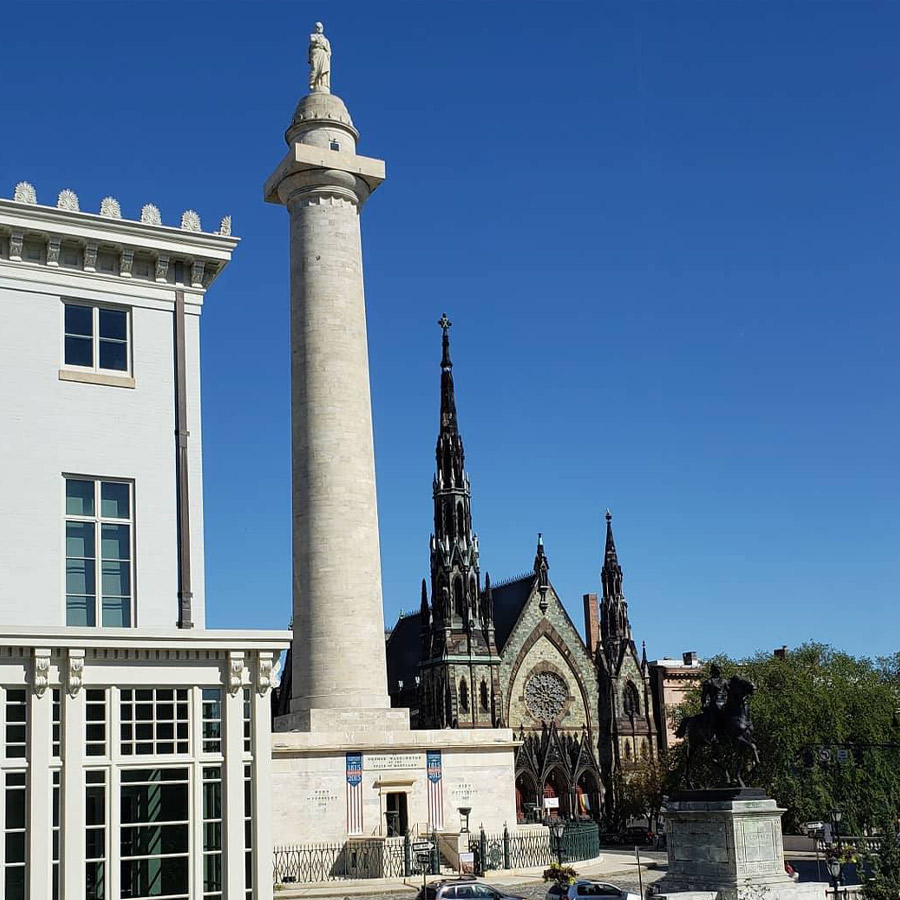 We found street parking easily and walked two blocks to the museum. Although some of the museum's buildings are still closed due to COVID-19, there is still a ton to see in the Centre Street Building. We managed to explore all of the current open exhibits in approximately two hours. Some of the exhibits included: 19th-Century European and American Art, the Medieval World, Islamic Art, Renaissance and Baroque Art, and the Ancient World. Some of my favorite pieces were a monogrammed porcelain coffee set, the Jet Pump Fountain, Giovanni Boldini's Lady with a Guitar, the Suit of Armor for a Samurai Warrior, and the beautifully stone-carved sarcophagi (funeral receptacles).
After the museum, we headed to Appalachian Spring, an artisan store in Rockville to shop for some unique gifts. We pumped up the music and took I-395 S to I-95 S to MD-97. The drive went by fast, as we spent the time discussing our wedding guestlist and possible locations for our nuptials. It would have taken us about 45 minutes, but we took a short ten-minute detour to grab some much needed coffee and snacks at Coffee Republic in Rockville.  
Coffee Republic is located in a shopping plaza and has plenty of parking. The setup is adorable with colorful art, a nook with a couch and a chess board, and even vases with flowers at each table.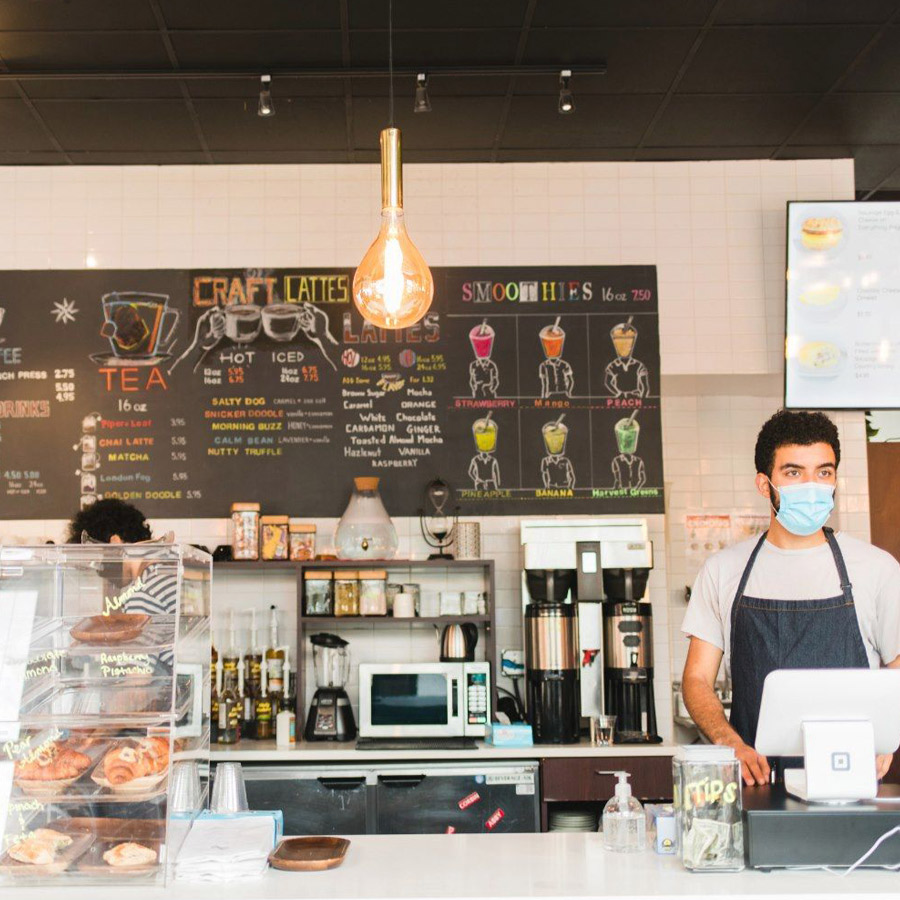 We ordered lattes (the snickerdoodle for me and the vanilla for my fiancé) and a few breakfast items to stave off our hunger until dinner. 
After Coffee Republic, we had a short drive to Appalachian Spring, located in a shopping plaza with ample parking. The store features handcrafted items perfect for adding an eclectic touch to your home or office (or for purchasing as gifts). Everything in the shop is handmade in America! I was taken by the colorful scarves, vibrant vases, glass ornaments, pop culture coasters, jewelry, and the cheese boards (maybe because I have a slight obsession with cheese).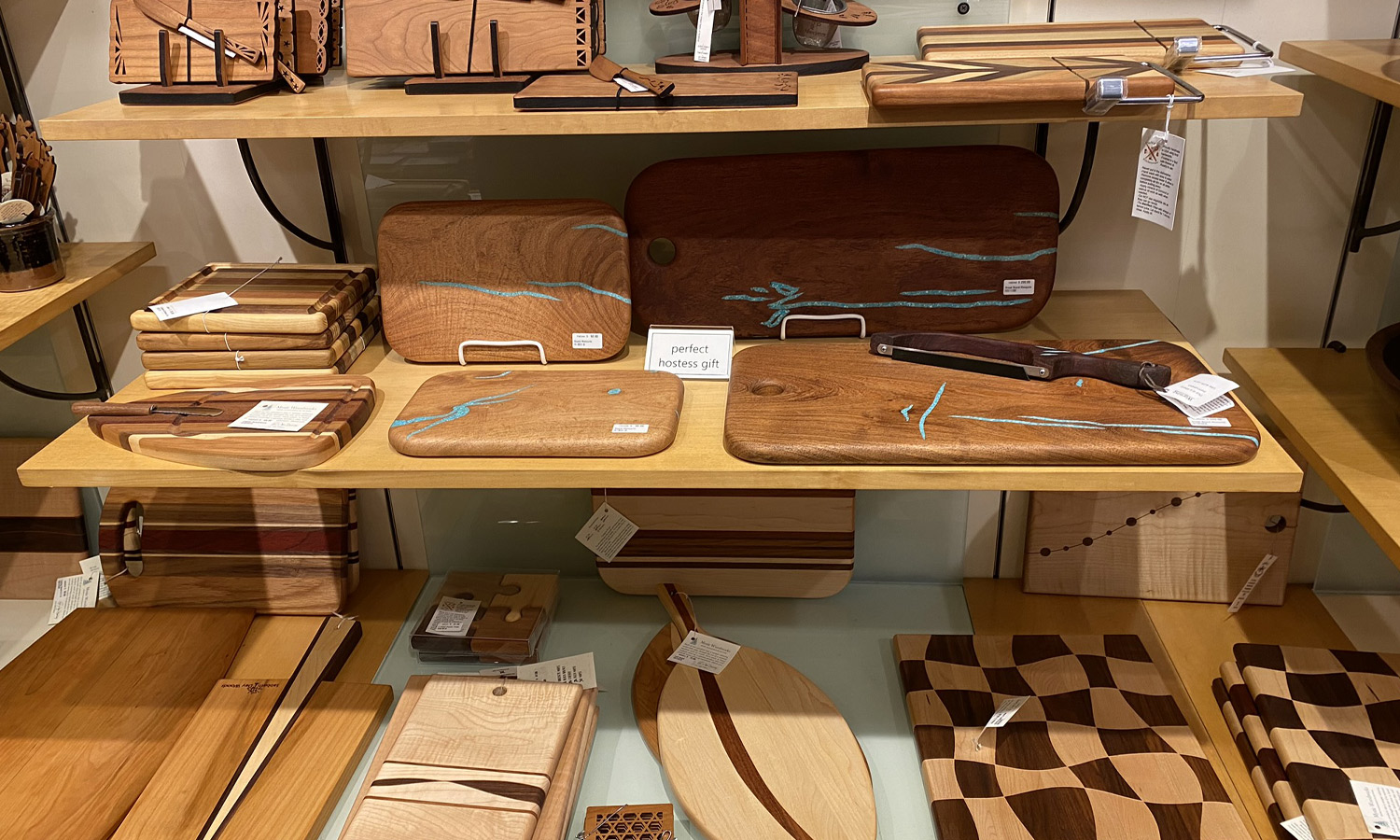 If you're in Rockville and need a card, this is the place to go — there was a wide variety of options for every occasion. Give yourself at least thirty minutes to enjoy this eye-catching and diverse shop.
Following our shopping adventure, there was one more spot remaining on our list — The Mansion at Strathmore in Rockville. Only ten minutes south from Appalachian Spring on MD-355, getting there was a breeze. We parked on the side of the building and explored outside of the mansion, including the Sculpture Gardens and the gazebo, before heading in for the self-guided tour. Once inside the mansion, the galleries span two floors and multiple rooms. 
We spent about 45 minutes walking around the mansion and taking in the three main exhibitions: Paper Works: The Art of Paper, Woolgathering, and Modulation & Harmony. The largest paper sculpture in the Paper Works exhibit took the artist 1.5 years to complete (working 40 to 60 hour weeks) and four days to install in the mansion. My favorite was the Woolgathering exhibit where the artist formed dyed wool into sculptures. We were there for the last day of these specific exhibits. The curator told us that it takes a few weeks to switch out the exhibits, so make sure you check the schedule before visiting.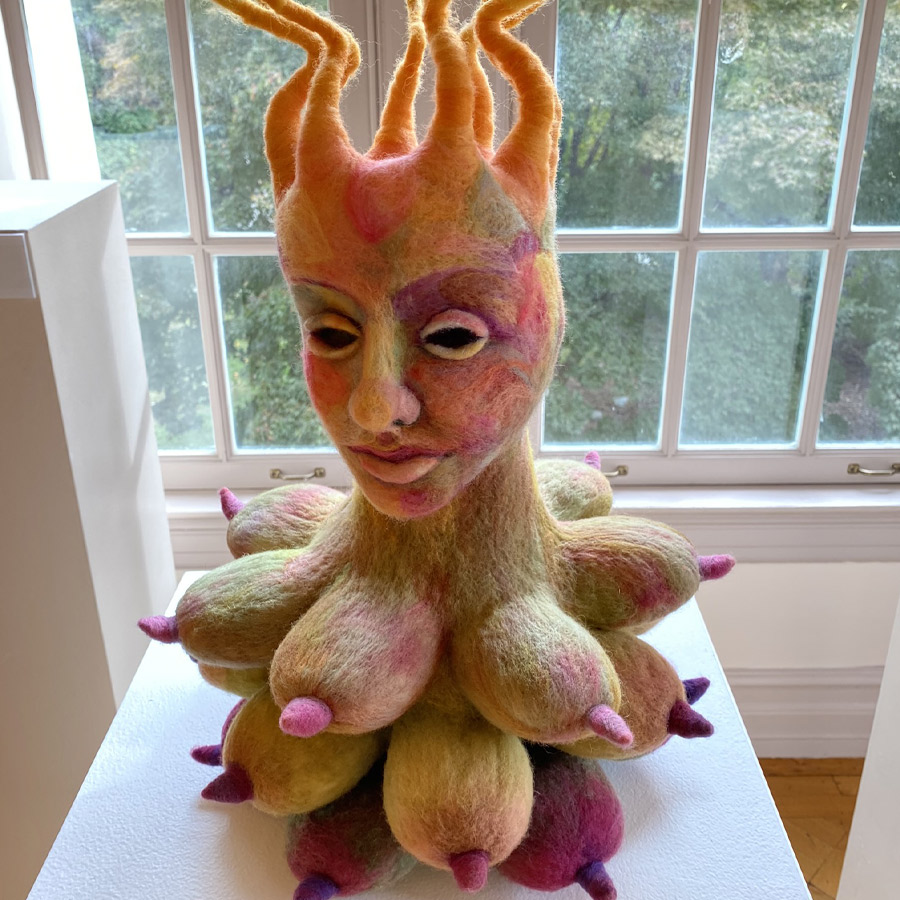 We enjoyed our time at the mansion so much that we ended up speaking to the curator about the mansion's policies on weddings. Coincidently, in one of the rooms that was closed to the public, a micro wedding was being set up for that day.
While You're in the Area
You can also add a stop to your day and enjoy the breathtaking Glenview Mansion if you plan ahead. Unfortunately, we could not get a reservation. Instead, during this trip, we drove about 30 minutes from the Mansion to Butler's Orchard in Germantown, where we picked pumpkins and took fall photos in the iconic orchard pickup truck. (While pumpkin season is now over, you can still enjoy the farm market, and the orchard will be offering pre-cut and pick-your-own Christmas trees starting November 27.) After the orchard, it was time to head back to Baltimore to don our Halloween costumes for the night, but a dinner detour was in order first. We stopped at The Brewer's Art Tavern in Highland, a great halfway-point between Germantown and Federal Hill, and enjoyed garlic fries, the grilled cheese sandwich of the day (bacon, cheese, and honey), and a beer from the tavern's large selection of craft beers. 
---
Lead Photo: The Walters Art Museum
Yelena is a litigator and corporate attorney with a deep passion for travel and food. She grew up in Maryland and then spent seven years living in various locations throughout the United States and overseas before returning home in 2007. She now resides in Baltimore City with her fiancé. Follow her on Instagram at @seetheworldeatthefood and on her website: www.seetheworldeatthefood.com.