15 Earth Day Events in Maryland

There is no shortage of Earth Day events in Maryland. Get your hands dirty, learn more about the environment, or celebrate with your family! Give back to your local community, or travel to a new-to-you place in our beautiful state. 
Please note that reservations or tickets are required for many of these activities, so plan ahead.
Get Your Hands Dirty
Frederick County
–
Earth Day Weekend at Morning View Food Forest
Friday, April 21, 10 a.m. – Sunday, April 23, 4 p.m.
Spend the weekend with The Reed Center for Ecosystem Reintegration, planting 5,000 trees and shrubs on 12 acres at Middletown's Morning View Food Forest. Volunteers can camp on site, enjoying a Friday evening outdoor film, Saturday evening concert, workshops, and other fun activities. 
Montgomery County
–
Potomac River Cleanup on the Matthew Henson Trail
Saturday, April 22, 9 a.m. – 11 a.m. 
Popular for birding, cross-country skiing, hiking, and mountain biking, the Matthew Henson Trail in Silver Spring's Matthew Henson State Park borders the Turkey Branch, a tributary of Rock Creek.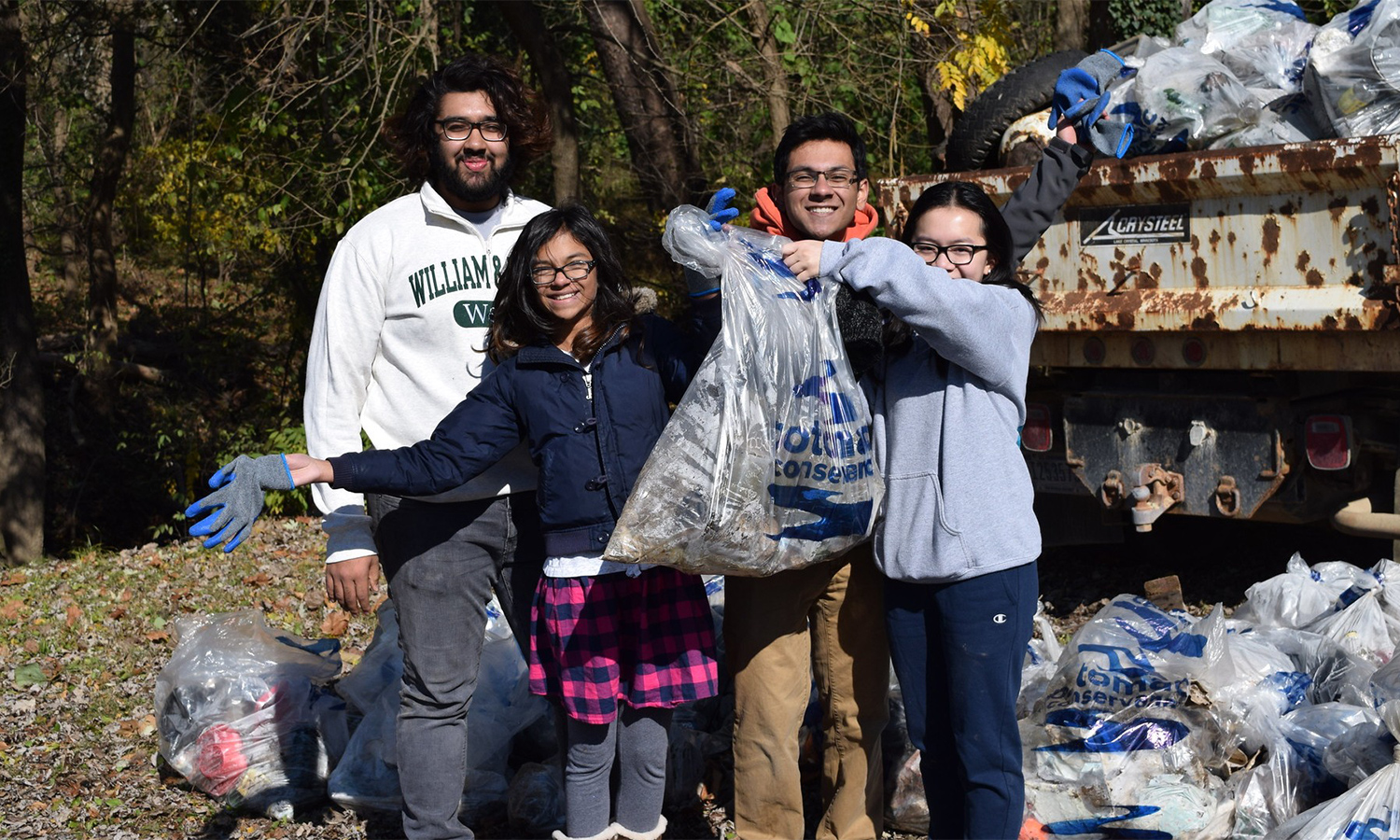 Join the Potomac Conservancy to clean up trash and ready this popular trail for spring. 
Washington County
–
Earth Day Community Clean-Up & Tree Planting
Saturday, April 22, 9 a.m. – 1 p.m.
There are two chances to get involved in Hagerstown's Earth Day celebration. Gather at University Plaza at 9 a.m. to clean up the downtown area, or plant trees and stencil drainage areas at the Jonathan Hager House Museum from 11 a.m. – 1 p.m.
Howard County
–
Invasive Plant Removal: Historic Oella Cemetery
Saturday, April 22, 9 a.m. – 12 p.m.
Remove invasive plants and tree debris from the Historic Oella Cemetery with Friends of Oella Cemetery and the Patapsco Heritage Greenway. This cemetery is the final resting place of Union Manufacturing Company mill workers and their families. The first textile company in the state of Maryland, the mill operated for the majority of the nineteenth and twentieth centuries.  
Anne Arundel County
–
Earth Day at Quiet Waters Park
Saturday, April 22, 9 a.m. – 5 p.m.
Join Capital SUP in cleaning up the South River by kayak at this Earth Day celebration in Annapolis.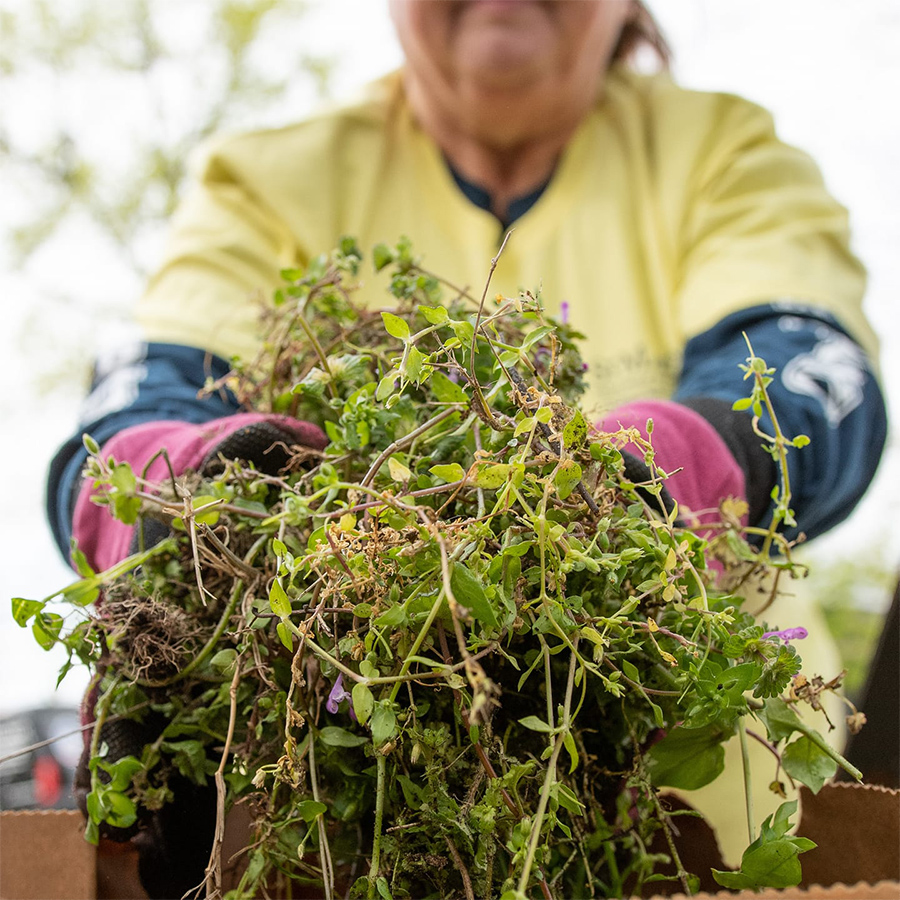 Held in Quiet Waters Park, the event will also include nature hikes, talks, demonstrations, and a Classy Clutter Sale, where you can donate your unwanted household items to raise money for a new Nature Center.
Learn About the Earth
Harford County
–
Earth Day Seed Bomb Workshop at Jerusalem Mill
Saturday, April 22, 1 – 4 p.m.
Make your own seed bombs in the Miller's House, a small stone cottage nestled behind the large mill building in Kingsville's Jerusalem Mill Village. Seed bombs are small clusters of wildflower seeds that, once planted, will create a colorful pollinator habitat to your backyard. 
Montgomery County
–
Earth Blessings: A Guided Silent Retreat Celebrating Earth
Saturday, April 22, 10 a.m. – 4 p.m.
After a celebration of Earth Day led by a program leader with The Center for Spirituality in Nature, you can quietly contemplate the universe around you or wander the 200 acres of trees, meadows, and streams surrounding the Dayspring Silent Retreat Center in Germantown. 
Baltimore City
–
Water Quality Science and Outdoor Exploration at Masonville Cove
Saturday, April 22, 9 a.m. – 4 p.m.
Become a water scientist for a day at the nation's first Urban Wildlife Refuge Partnership, Masonville Cove. Located in south Baltimore, the Cove is also offering self-led hiking, birdwatching, and geocaching on Earth Day. Visitors can also explore the indoor nature center and try to catch a glimpse of the bald eagle pair and their three eaglets on campus!
Prince George's County
–
A Tour of the Alice Ferguson Foundation's Living Building and Living Shoreline
Friday, April 21, 1 p.m. and 4 p.m.
Get a behind-the-scenes glimpse at one of the world's greenest buildings, only the thirteenth to achieve full Living Building Certification. The Alice Ferguson Foundation's Executive Director Theresa Cullen will explain the building and the Living Shoreline that is preventing erosion along the Potomac River.
Worcester County
–
Pollinator Festival at Assateague State Park
Saturday, ​April 22, 10 a.m. – 2 p.m.
Held at the Assateague State Park Marina, The Pollinator Festival celebrates the birds, bees, butterflies, and other mammals vital to growing our food and flowers. Take a tour of the Living Shoreline, help plant pollinator gardens, and participate in crafts and games. 
Have Fun with the Family
Baltimore City
–
Mr. Trash Wheel's Earth Day Birthday
Saturday, April 22, 3 p.m. – 6 p.m.
Mr. Trash Wheel is celebrating his ninth year of cleaning up the Bay, and his party at Pierce's Park will include fun for all ages. Kids can visit with the EcoAdventures reptiles, parents can enjoy beer from Peabody Heights Brewery, and everyone will get dessert!
Wicomico County
–
Earth Day at the Salisbury Zoo
Saturday, April 22, 10 a.m. – 4 p.m.
The Salisbury Zoo's animal ambassadors invite you to spend Earth Day with them!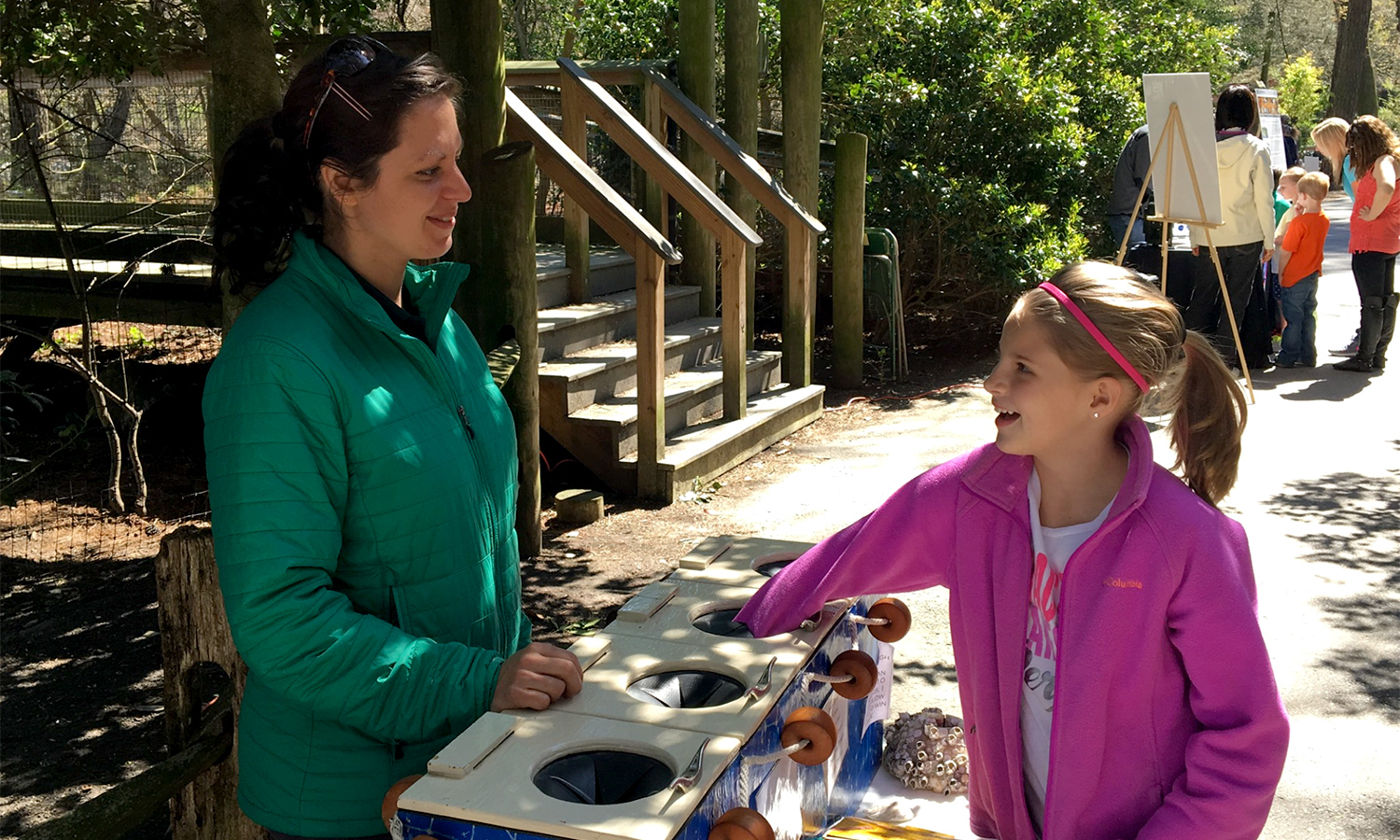 Besides visiting the bears, monkeys, snakes, and flamingos, you can explore discovery boxes, make crafts, and learn about nature from the environmental exhibitors on site for the day.
Cecil County – Earth Day Weekend: Our Future Planet
Saturday, April 22 and Sunday, April 23, 9 a.m. – 5 p.m.
Go on a flora and fauna scavenger hunt in Elk Neck State Park and pick up trash on your way. After your hike, visit the Nature Center to receive your stamp of appreciation for taking care of the earth.
Calvert County: Earth Day Guided Hikes with the American Chestnut Land Trust
Saturday, April 22, 10 a.m. – 11:30 a.m.
Explore the Turkey Trail on a guided Earth Day hike perfect for families with children. The American Chestnut Land Trust maintains 22 miles of free hiking trails in the Parkers Creek watershed.
Caroline County
–
Earth Day at Adkins Arboretum
Saturday, April 22, 11 a.m. – 3 p.m.
Visit Ridgely's Adkins Arboretum for a celebration of Earth featuring a music circle, a forest scavenger hunt, nature bingo, citizen science, live music, and local food trucks. Try your hands at making seed balls, painting with natural dyes, and stitching a tree tapestry.
---
Lead Photo: Mr. Trash Wheel in Baltimore, MD. Credit: shutterstock.com
Heidi Glatfelter Schlag is a marketer, history lover, and traveler who can often be found exploring museums, parks, small towns, and farms. She founded Culture-Link Communications, where she helps local nonprofits and small businesses build their brands. Heidi lives in Frederick, MD, with her husband and two dogs.