Hidden Hiking Trails on the Eastern Shore

The Eastern Shore of Maryland is famous for many things—crabs, boating, history—but hiking is not usually something most people think about when it comes to the shore. Central and Western Maryland seem to get all the attention from hikers. 
Until the pandemic, I didn't give hiking too much thought, either. Other than exploring trails at Tuckahoe State Park and Assateague, I was oblivious to the many hiking adventures the Eastern Shore offers. With an energetic four-year-old to entertain during lockdown, I decided to explore my home state like never before, embarking on an almost daily road trip to hike paths less traveled.  
We discovered new landscapes, abundant wildlife, and some incredibly beautiful trails through our daily travels. The following list highlights six of our favorite spots:
Conquest Preserve
The relatively new Conquest Preserve is located along the quiet shorelines of the Chester River in Queen Anne's County. The site includes over four miles of trails through wooded areas, meadows, and even a beach, perfect for picnicking. The trails are mowed and well maintained, but they are not marked, and there is no map to accompany the trail system. We were able to find our way back to the parking area with the help of Google Maps satellite view.
Idylwild Wildlife Management Area (WMA)
The Eastern Shore is home to numerous wildlife management areas. These public lands are open to visitors, but they are primarily used by DNR for habitat management and hunting. Since deer seasons are over by February, spring is the perfect time to explore places like the Idylwild WMA in Caroline County. The trails at Idylwild are not marked, but it's pretty easy to find your way. (If you prefer to have a map, you can find a basic one online.)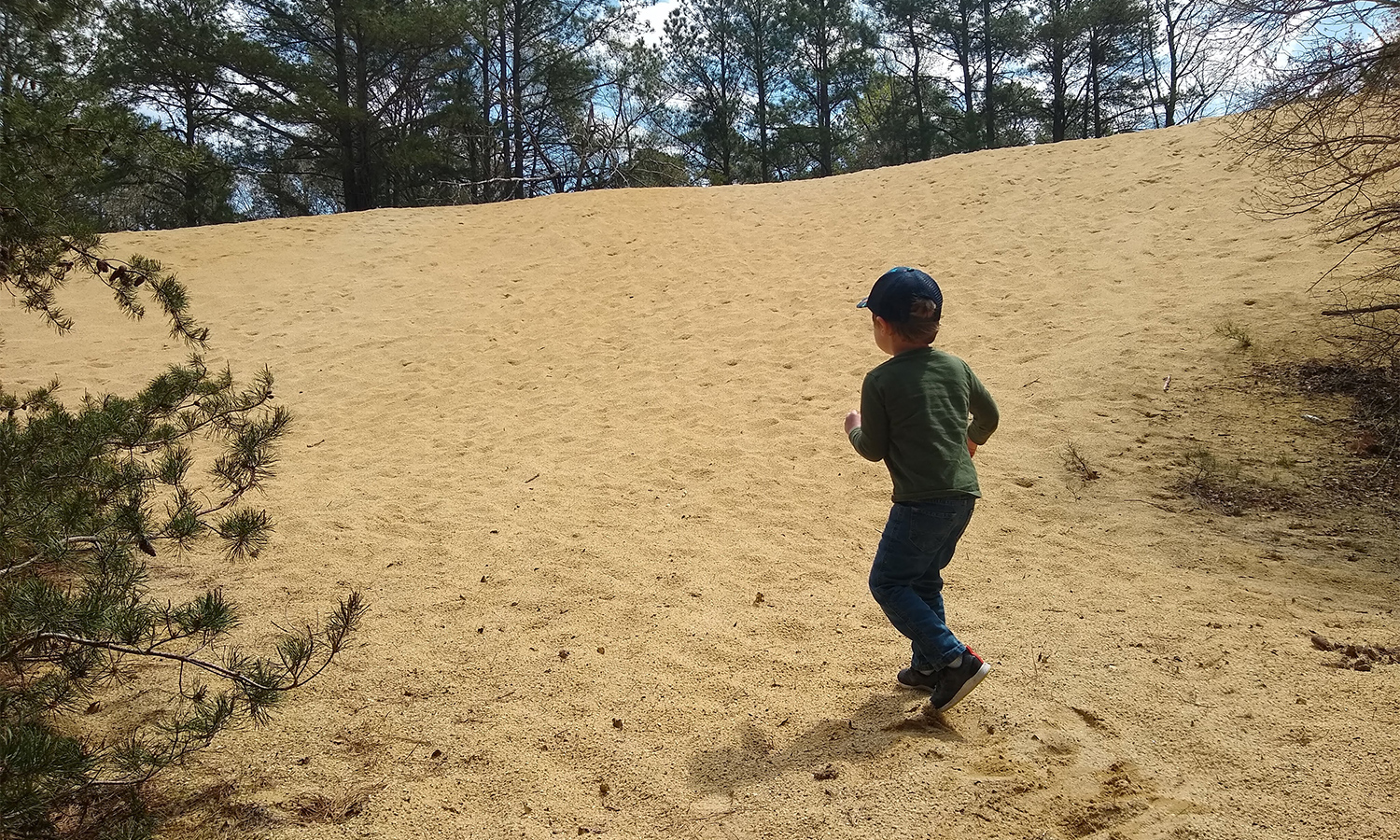 The most striking feature of this trail is the giant sand dune! Idylwild is miles from the coast, so stumbling across this massive sand ridge was totally unexpected. According to DNR, the sand ridges formed at the end of the Pleistocene epoch (aka the last ice age!). While there are multiple paths to choose from, we hiked a two-mile loop, starting at the parking area off Noble Road.
Tom Tyler Nature Trail
The Chesapeake Forest Lands, consisting of over 75,000 acres across six counties, make for a gem of an experience. One of the best spots to visit within the Chesapeake Forest Lands is the Tom Tyler Nature Trail, located on the eastern edge of the Nanticoke River in Wicomico County. The trail is about two miles altogether, although some parts were a little overgrown, which caused us to get lost for a hot minute. We really enjoyed the tree identification signs, and the picnic area midway through the hike was the perfect spot for some lunch. The highlight for my son was finding not one, but TWO eastern mud turtles! You might spot bald eagles, the Delmarva fox squirrel, or other threatened or endangered species if you're lucky.
Robinson Neck Preserve
I get a little giddy every time I think about Robinson Neck Preserve! Maybe it's because the preserve is so stunning, but it might also be because this was one of the few solo hikes I did—a much-needed break for some quality "me" time (and nobody asking me for snacks every five minutes!). Managed by The Nature Conservancy, the preserve is located near Taylor's Island in Dorchester County. The 1.4-mile trail offers a beautiful variety of upland forests and extensive boardwalks across brackish marshes.
The most memorable thing about this hike was the silence. Aside from the breeze blowing through the marsh grasses, there was not a sound to be heard; not even a distant plane flying overhead. 
Deal Island Wildlife Management Area
If you've had your fill of forests and meadows, the Deal Island WMA in Somerset County is definitely worth a visit for a change in scenery. With most of the trails on raised dikes running through the marsh and between manmade impoundments, we really got some spectacular, vast views of the marsh and surrounding waterways. We spotted a large assortment of waterfowl, too, so this spot is a must-see if you're a birder. It's also a great spot if you want to get some serious hiking mileage logged, as there are over seven miles of trails here. As with many wildlife management areas, hunting is a popular activity, particularly during duck hunting season, so we opted to explore on a Sunday when no hunting is allowed.
Nassawango Creek Preserve
The Prothonotary Warbler Trail within Nassawango Creek Preserve was the place that initially inspired me to take my son hiking more often. My husband heard about this trail shortly before the pandemic, so our whole family ventured out to find it. The preserve is not far from the town of Snow Hill in Worcester County. The Prothonotary Warbler Trail is just one of several hidden hikes within its boundaries.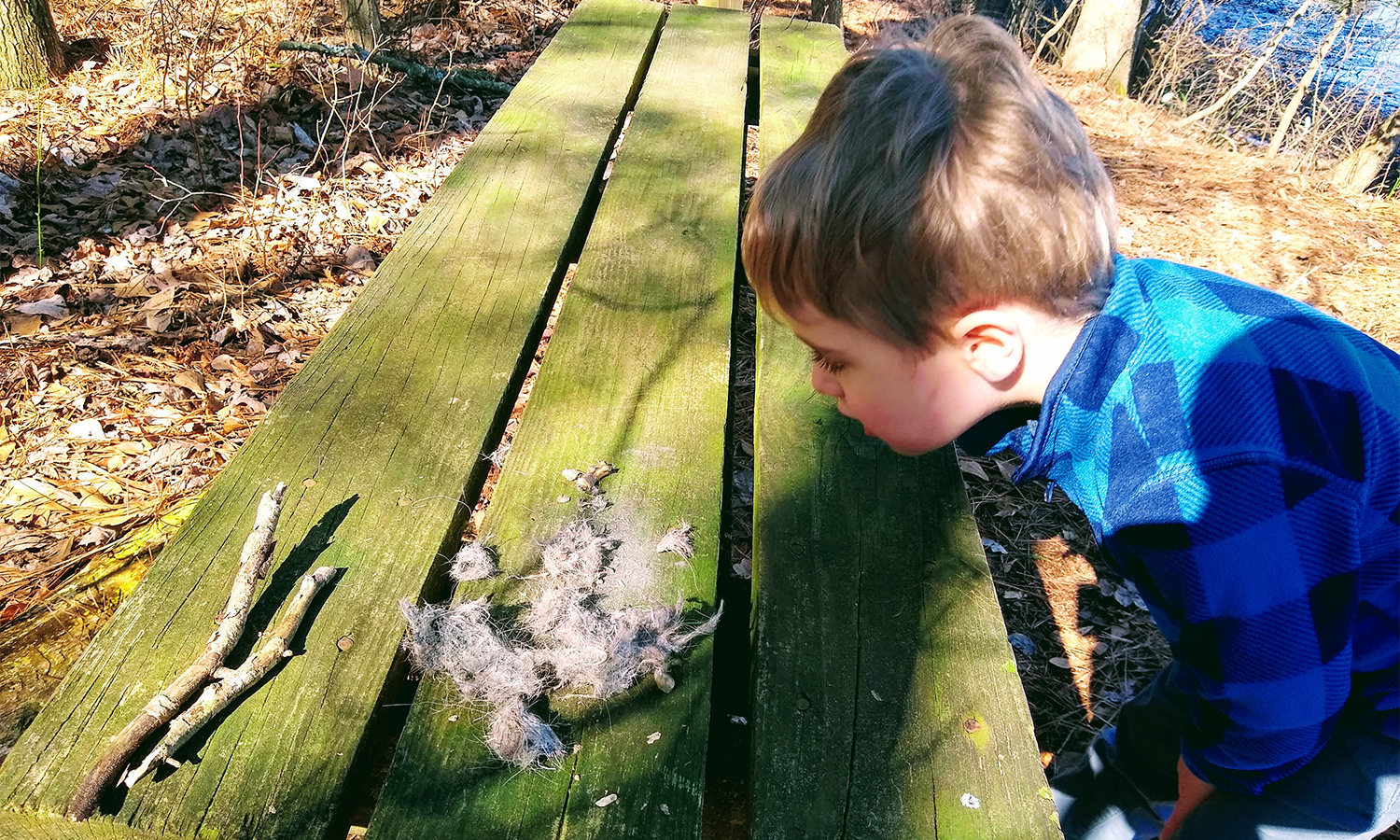 The highlight of this hike was finding an owl pellet, which we promptly dissected on a bench to discover what the owl had been eating (we think it was a vole), all while enjoying a view of the creek between the trees.
Before you go: Please enjoy all of these trails responsibly! Pack out all trash, stay on the designated trail, pick up after your pets, and if the parking area is full, respect the site's established carrying capacity and come back another time.
---
Lead Photo: The author's son at Deal Island WMA in Somerset County, MD. Credit: Laura Scharle
Laura Scharle is a small business owner specializing in ecotourism and heritage tourism marketing. She loves finding hidden gems and developed www.delmarvatrailsandwaterways.com to connect others with outdoor spaces. She lives in Ocean Pines with her husband and son, where they frequently paddle, hike, and fish together. She can be found on Instagram @easternshorepartyof3