An Exclusive Waterfowl Walk at Eastern Neck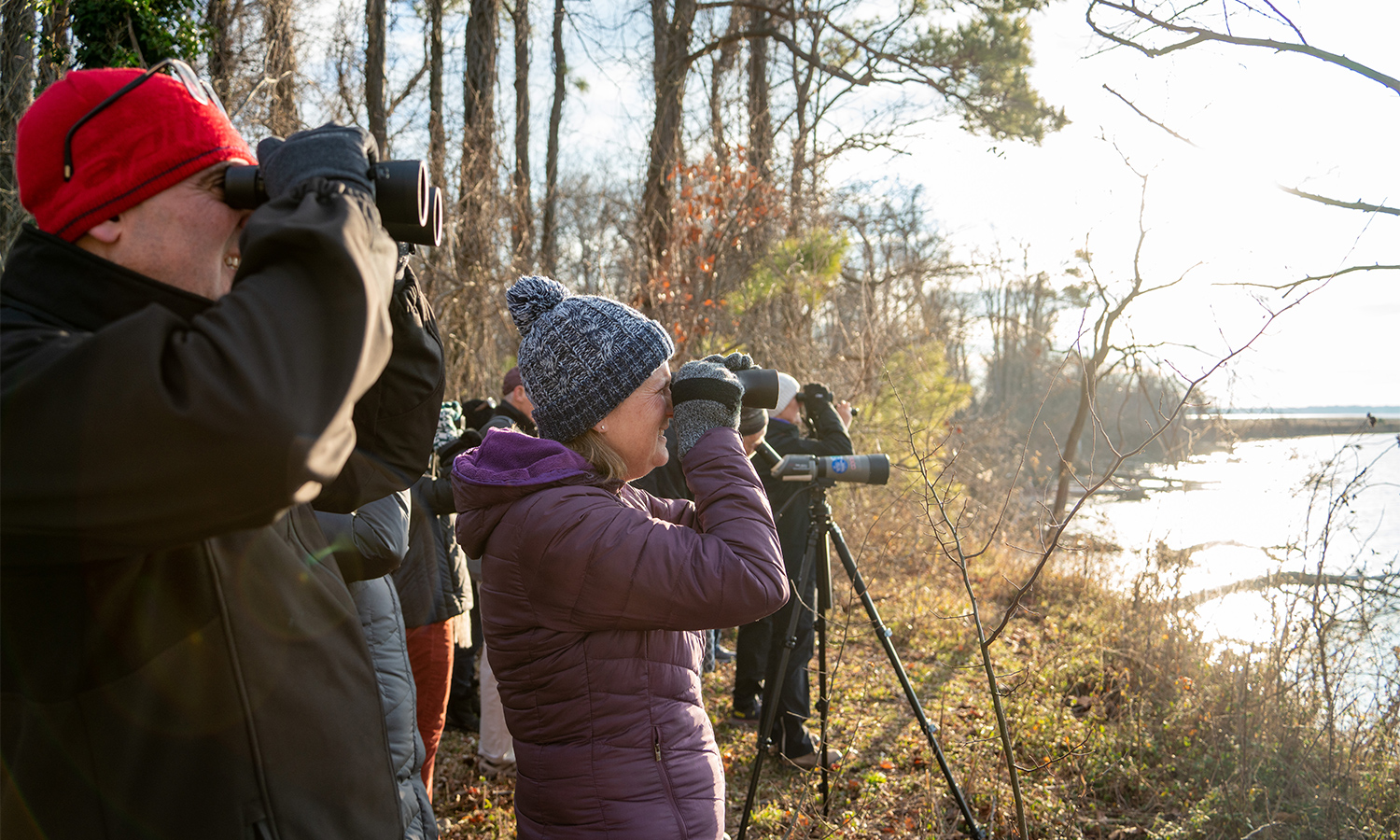 On a recent Friday night in January, my partner Dylan and I headed north for a brief getaway in Kent County, Maryland. We live just down the Chesapeake Bay, in Queen Anne's County, and were a-buzz with excitement as we crossed the bridge over the Chester River on our way to Rock Hall. This trip promised a cozy, comfortable evening in the Inn at Huntingfield Creek, dinner at one of our favorite local haunts—The Retriever Bar—and a unique opportunity to go on a waterfowl walk in restricted areas at the Eastern Neck National Wildlife Refuge. As two environmental scientists preparing to buy our first home in Kent County, the trip perfectly matched us.
The late sunset bruised the sky above the open fields and bare trees of Rock Hall, and we pulled off the road to the Inn at Huntingfield Creek. The long, elegant driveway invited us in as two of the Inn's three dogs, Bayla and Rosie, ran alongside our car in excitement. Owners Jim and Joanne Rich met us at the front door and helped us settle into our cottage. We stayed in the Pond Cottage, one of the seven themed cottages on the property, offering a fireplace, bathroom with a soaker jacuzzi tub, and coffee area. The Inn also offers five guest rooms within the main house.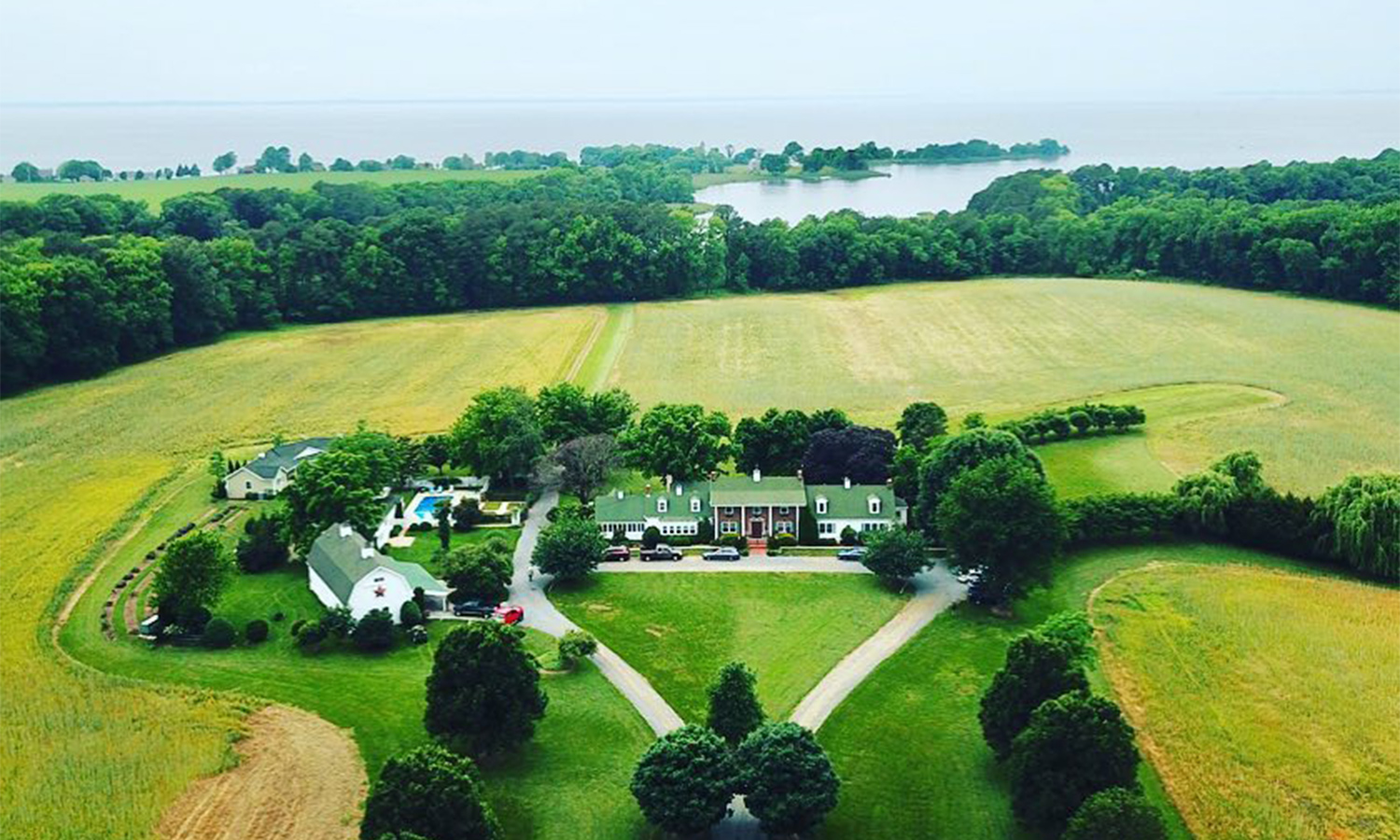 The Inn at Huntingfield Creek sits on 70 acres of the original 1200-acre estate deeded by Lord Baltimore, and the history of people on this land predates colonization. The Riches bought the parcel in the 2000s as a "burnt house in a field" and recreated the property to feel like a true getaway. 
For dinner, we went into Chestertown for cocktails and food at The Retriever Bar. Dylan and I treated ourselves to the local Orchard Point Oysters, farmed on the waters just off Eastern Neck, before digging into a burger and chicken sandwich.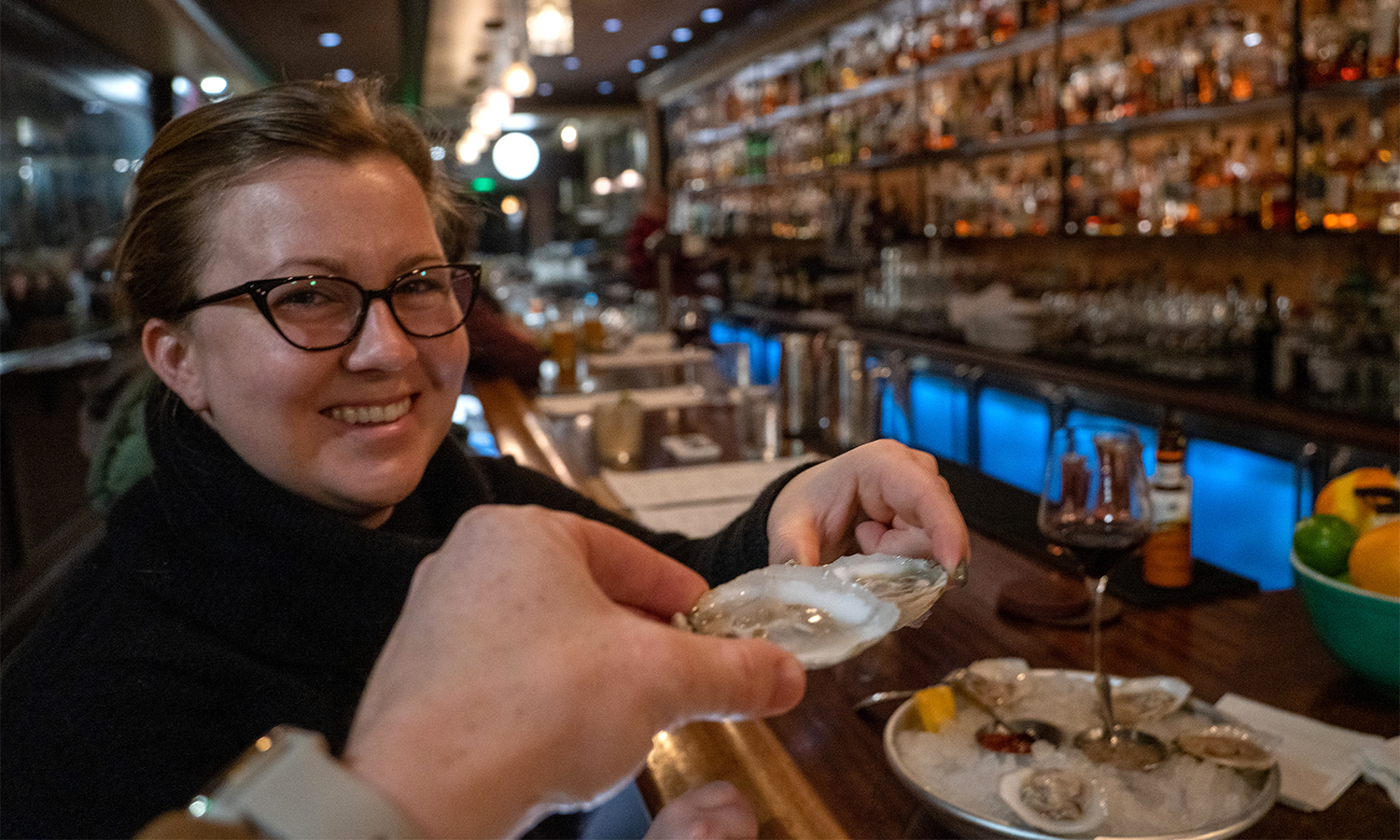 If you haven't stopped by The Retriever while in town, it's well worth the visit. The food and company are always top quality, even for my New Jersey-raised restaurant snobbery. If you aren't hungry, there's always the attached Decoy Bottle Shop, where operator and head barman Neyah White has yet to offer us a bad suggestion to bring home. 
With our fix of sweet Chester River oysters and hospitality, we returned to the Inn at Huntingfield Creek for a glass of wine in the library with the fireplace roaring. Dylan and I poked around the floor-to-ceiling bookcases while we enjoyed the complimentary wine. Our attention quickly drew to the beautiful glass art and world globe, and we daydreamed of spending days curled up in such a spectacular window-laden library.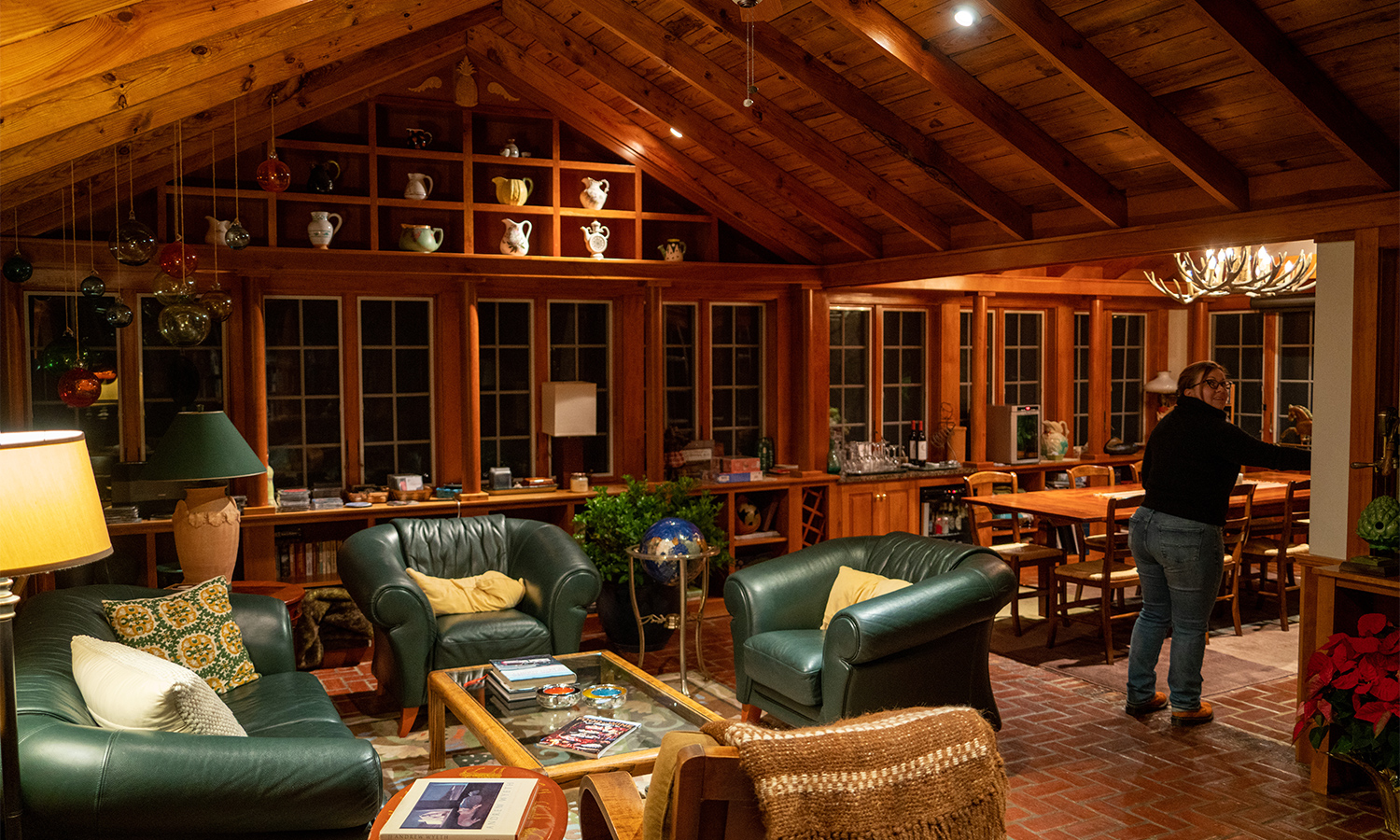 The knowledge that Saturday had early plans for us broke our spell, and we headed back to our cottage to get ready for birding.  
The following day we woke up early to catch the sunrise and get to the Eastern Neck National Wildlife Refuge by 8 a.m. The former president of the board, Melissa, signed us in. She explained that by participating in a refuge-organized waterfowl walk, we had permission to explore areas of the refuge that would otherwise be off-limits. (Click here to join the waitlist for the remaining waterfowl walks of the winter season, and check back for future walk information.)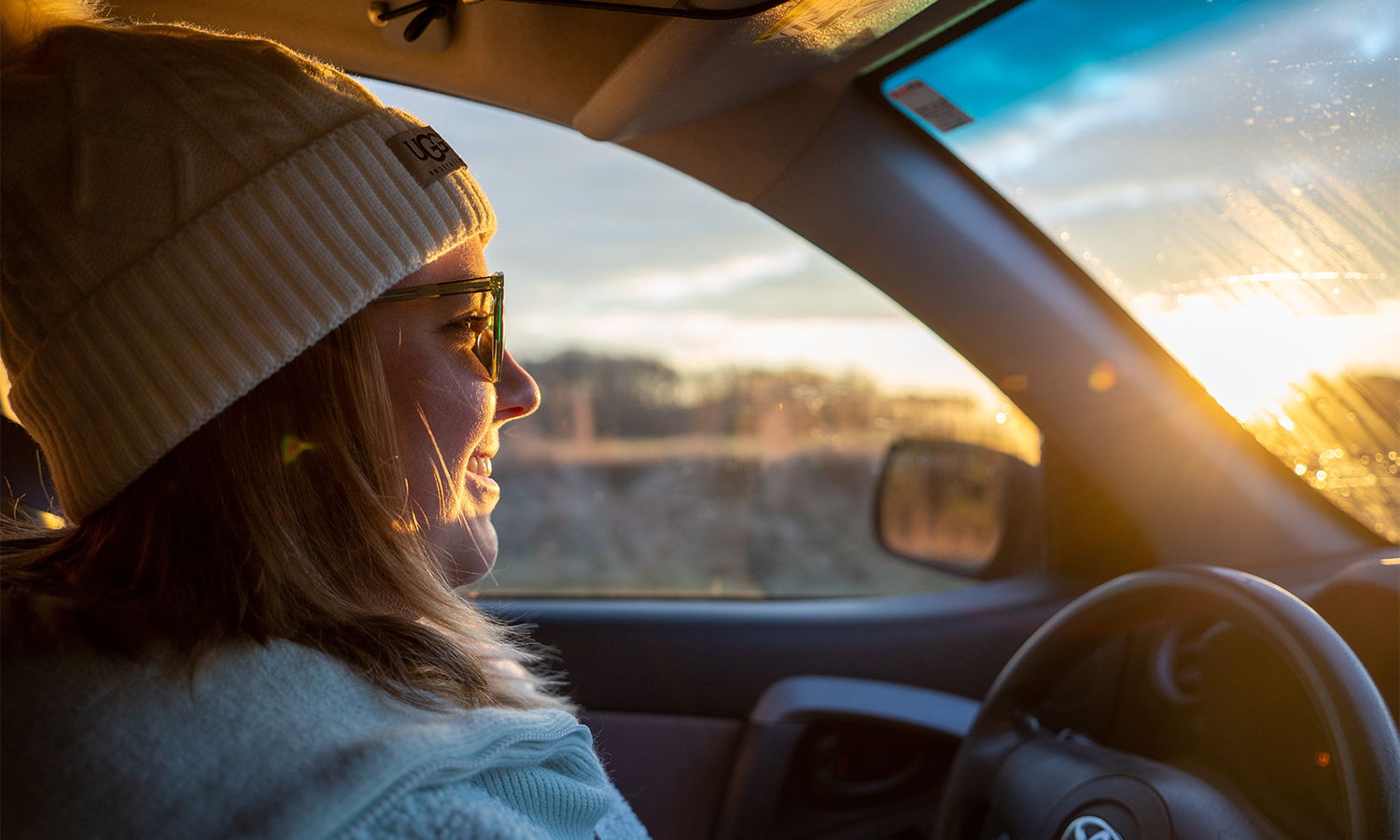 Dylan and I introduced ourselves as writers on assignment, and as we walked with the group, people began to open up. Birders came from all over the region—from as far away as Leesburg, Virginia—to see the wintering waterfowl of Eastern Neck. Our good-natured guide, Dr. Wayne Bell, stopped us periodically, listening with his trained ear to point out nearby Eastern towhees, blue jays, and hawks that were covertly calling in the surrounding trees. He shared bird facts and lessons with the group as we walked from viewpoint to viewpoint. One of our stops was Hail Creek, a sheltered marshy area with an observation deck that looked out over a cornucopia of waterfowl.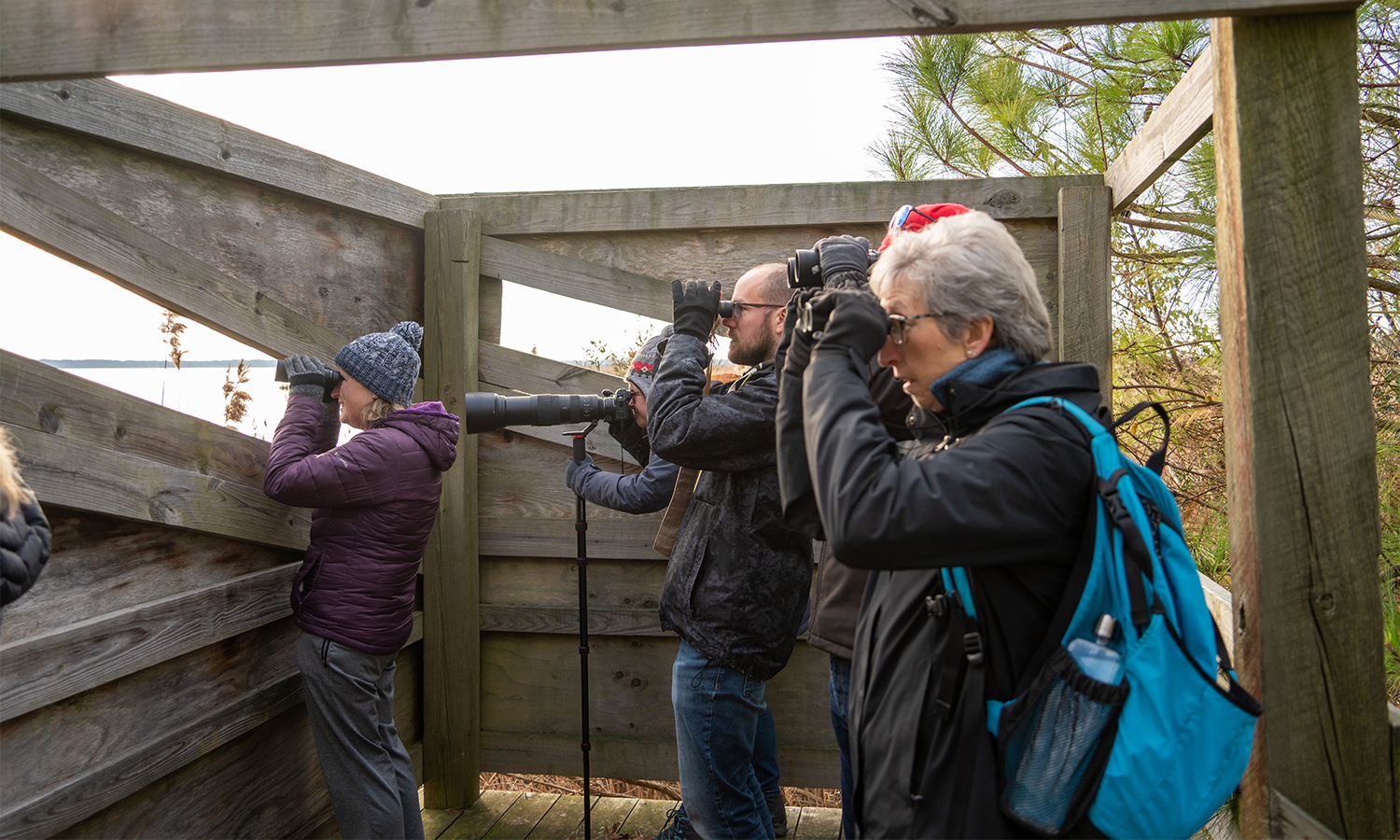 While we oohed and aahed over the rafts of scaup, buffleheads, black ducks, and ruddy ducks on the water, Dr. Bell set up a chickadee recording in the trees nearby. The recording, he explained, was of chickadees calling a warning cry followed by a screech owl call. Songbirds will team up to overwhelm predatory birds, such as screech owls, ruining an owl's most effective form of hunting: the element of surprise. As the recording played on, we began to notice an echo of the screech owl. Instead of calling in chickadees, Dr. Bell's recoding had called in a live screech owl! While we never got eyes on it, the interaction was exciting enough.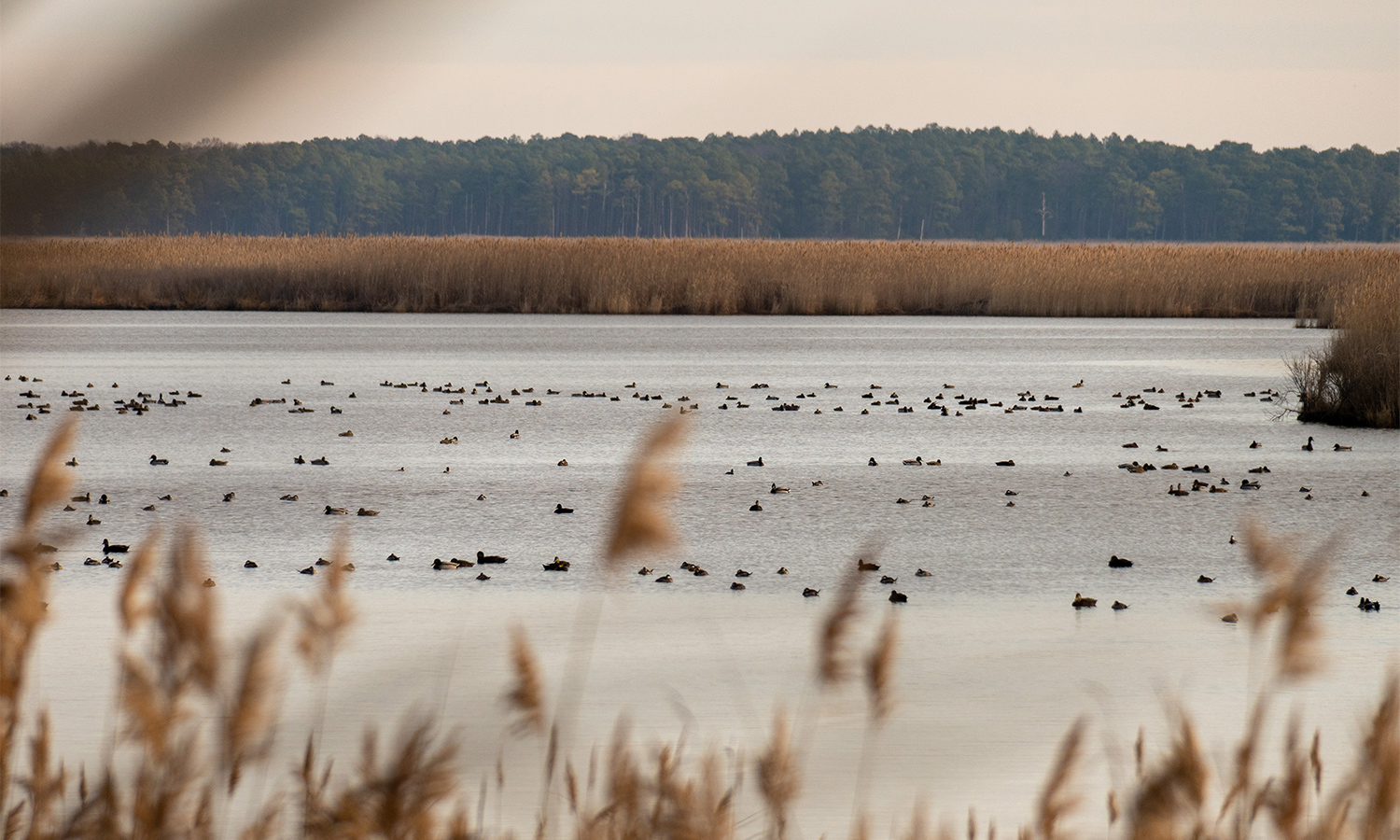 After a few hours in the brisk morning weather, we all returned to the visitor center to admire duck decoys while enjoying warm cider and cookies. Dylan and I headed out around noon, seeking brunch and window shopping. 
We pulled off in Rock Hall to grab coffee and sandwiches at Java Rock, a fun breakfast and lunch counter. I pulled a hard U-turn on our way out of town as we passed an adorable home-turned-bookstore with a huge "SALE!" sign outside. Thanks to my book obsession, we discovered the incredible Selkie Books of Rock Hall. Run by Marta Kumer as her retirement dream, the store offers books on everything you could ever imagine. Marta also sells artworks of all forms from local artists, with 100% of the proceeds going directly to the artists. Selkie Books has daily discounts available to various groups and occupations, and Marta kindly offers snacks and even customized book baskets. As soon as we got home, I hung her book list challenge for 2023 on my refrigerator. 
Reluctant to leave such a trove of interesting books, we admitted it was time to get home to our dogs. We look forward to returning to Rock Hall and upper Kent County in the warmer weather. The downtown has cute shops in tiny houses, and additional natural areas, such as the Sassafras Natural Resource Management Area, that we can't wait to explore. 
______
This article is sponsored by Kent County Economic and Tourism Development. Kent County, a scenic peninsula, is located on Maryland's Upper Eastern Shore of the Chesapeake Bay. The area offers visitors picturesque beauty, quaint waterfront towns, historic architecture, supreme outdoor recreation, and a variety of world-class cultural and arts amenities.  The County's five municipalities—Betterton, Chestertown, Galena, Millington, and Rock Hall—offer guests unique and diverse experiences.
---
Lead Photo: Birders squint into their binoculars to identify the members of a raft of ducks in a cove at Eastern Neck National Wildlife Refuge in Kent County, MD. Photo Credit: Dylan Taillie
Meg Munkacsy and Dylan Taillie are environmental scientists who live on the Eastern Shore of Maryland with their two adopted dogs, Maple and Hobbes. Their favorite trips are those that involve discovering new things about the natural world around where they live and sharing Maryland with the people they love. While Dylan was born and raised on the Eastern Shore, Meg is a "come here" from New Jersey. Dylan's fly fishing adventures can be found on Instagram @Dylightful, and Maple and Hobbes can be found on Instagram @MapleAndHobbes.