Brunswick: A Railroad Town Still Going Places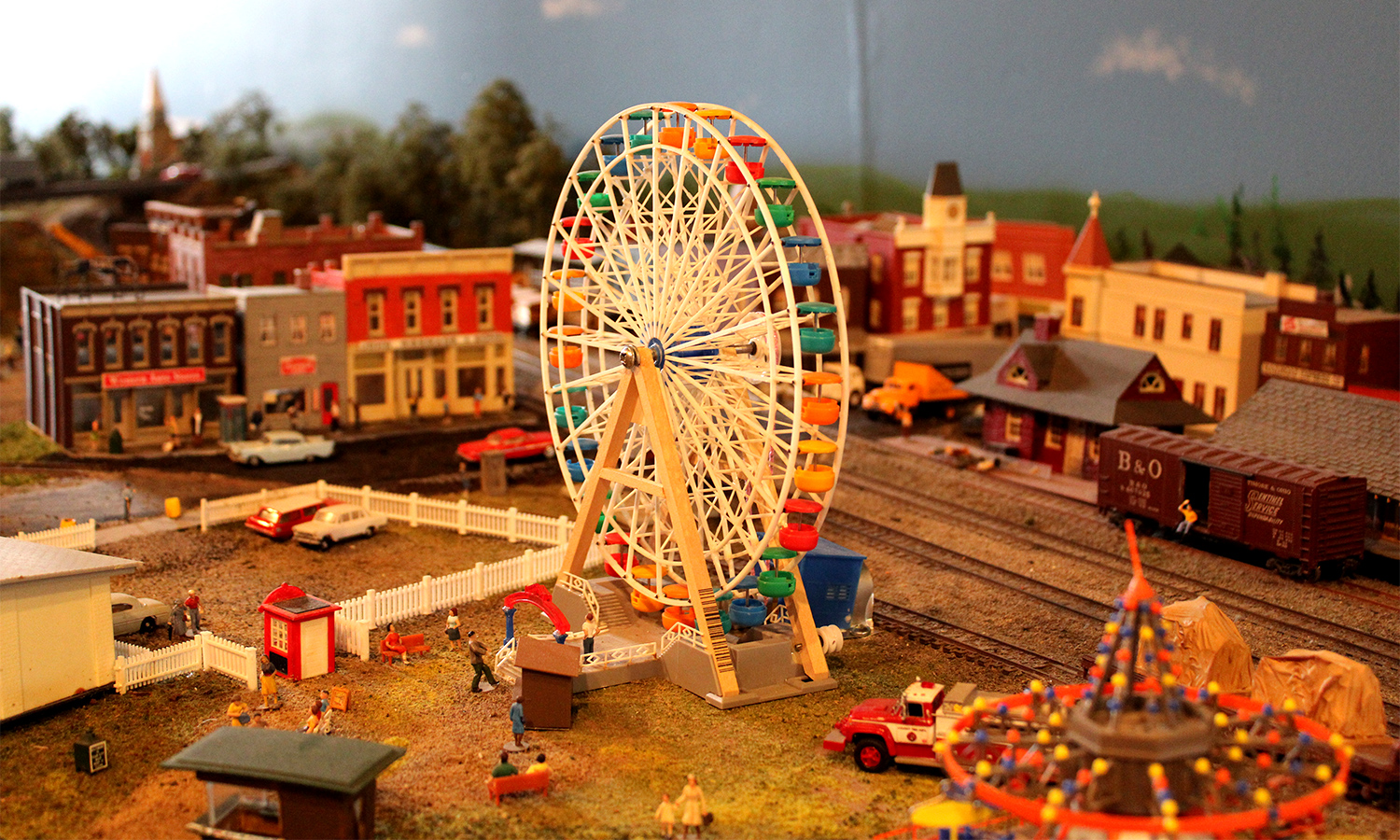 How best to describe Brunswick? Is it a river town? A canal town? A hiking town? A rail town? Well, in a word, yes. It's all of those. But one name—Smoketown, rises above the rest.
The unofficial nickname is a carryover from Brunswick's industrial heyday as a major hub and freight yard for the Baltimore & Ohio Railroad. In many ways, Brunswick is a town that still looks like it used to be something else, something more, as boomtowns often are. It had its early boom days beginning in the 1890s when the railroad first came to town and thrived in varying degrees all the way to the 1980s just before it closed its last rail yard. The cherry on the top during those final glory days was the local baseball team in '86 that finished seventh at the Little League World Series—a moment immortalized in an exhibit at the Brunswick Heritage Museum. Indeed, when it had the railroad as the engine of its local economy, Brunswick was going places.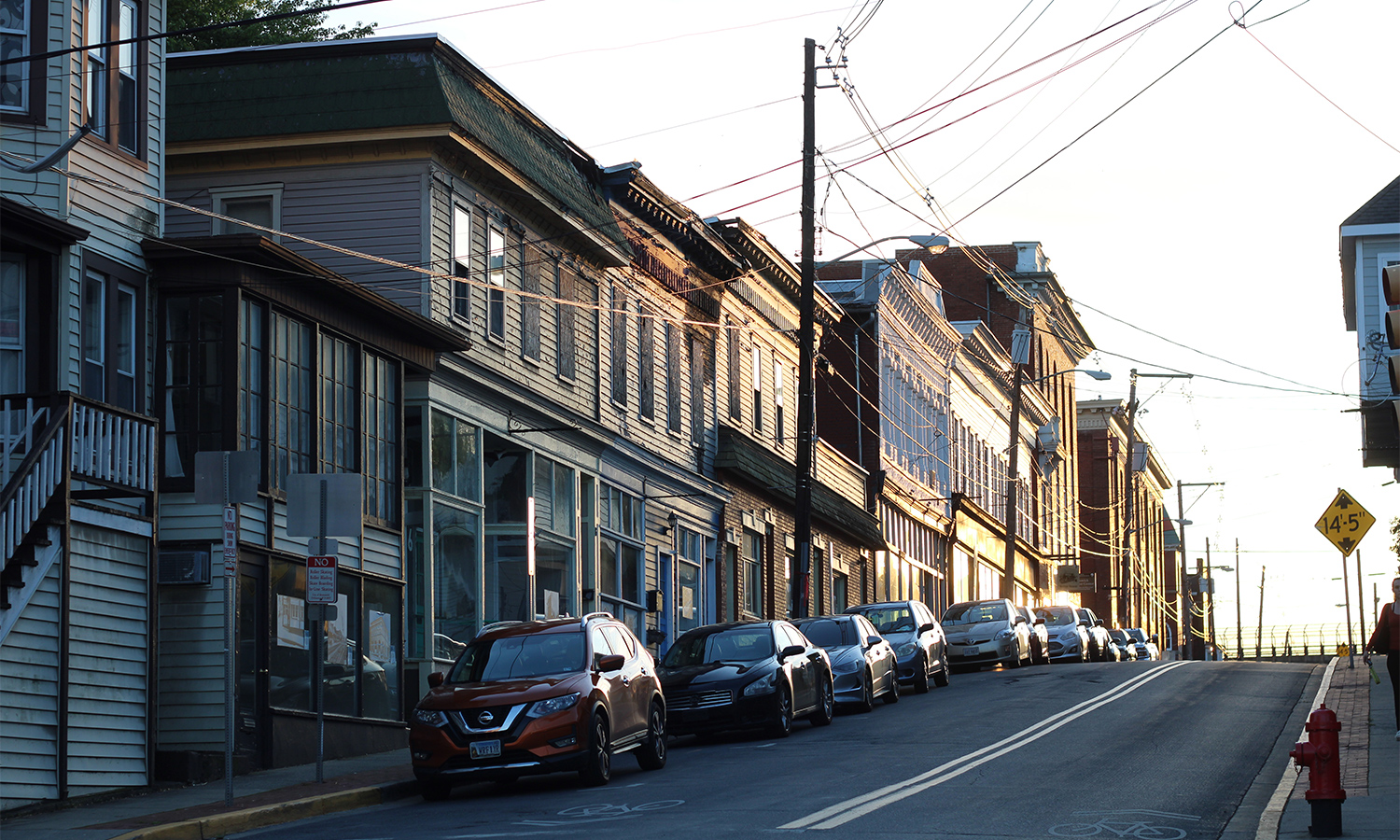 But don't be too fooled by big memories of bygone eras to assume the old Smoketown is hopelessly dormant. To visit Brunswick now is to see that it's still going places. There's an inescapable energy, a bustle even, that comes from the town's collective reach toward a new and different kind of wonderful. Whether it's the unique businesses flourishing in a picturesque setting that is itself a National Register of Historic Places Historic District, or the proximity to outdoor recreation, Brunswick is an ideal place to while away an afternoon. Make Brunswick your home base for a weekend of hiking, fishing, swimming, kayaking, cycling, and picnicking.
Where History And Adventure Meet
My family met up with friends for a leisurely bike ride along the C&O Canal and towpath, a 186.5-mile-long National Historical Park that passes parallel between the Potomac River and Brunswick's main drag, Potomac Street. Cyclists, wanderers, and folks on their way to swim in the river were out in full force taking advantage of a warm spring day. We followed the C&O canal's trademark flat towpath through a verdant canopy of a million shades of green cut by occasional ribbons of red streaking through the middle distance. Cardinals. They play here too, it would seem.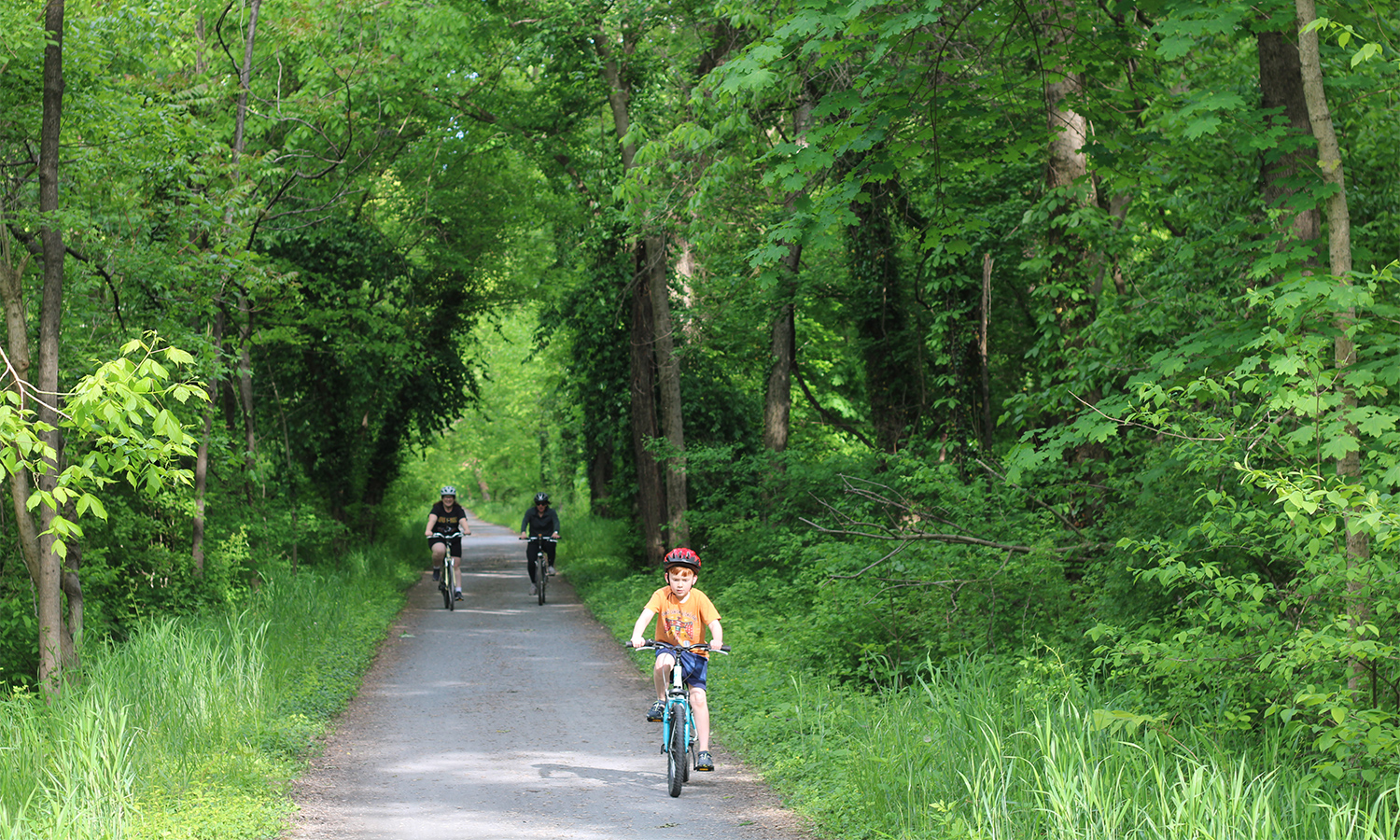 After the bike ride, we made our way to the Potomac Street Grill, Brunswick's main grill and bar with an unexpected twist. While it offers the classics of any small-town grill, at its heart Potomac Street Grill is a Middle Eastern restaurant featuring, among other dishes, a dazzling Mezze appetizer sampler with outrageously good hummus, baba ghanouj, falafel, grape leaves, and more. Not only was it delicious, but there were plenty of vegetarian options as well, which we appreciated.
Don't forget to plan for the requisite trip to the Brunswick Heritage Museum and the Chesapeake & Ohio Visitor's Center. Yes, they occupy the same building, hold the same hours (Saturdays and Sundays noon to 4 p.m.), and are in essence one museum that gives a peek into the history of Brunswick, its rail days, and the storied canal. But the crown jewel of this museum, like all crown jewels, lies at the top: An impressive 1,700 square-foot model railroad exhibit occupying the entirety of the third floor.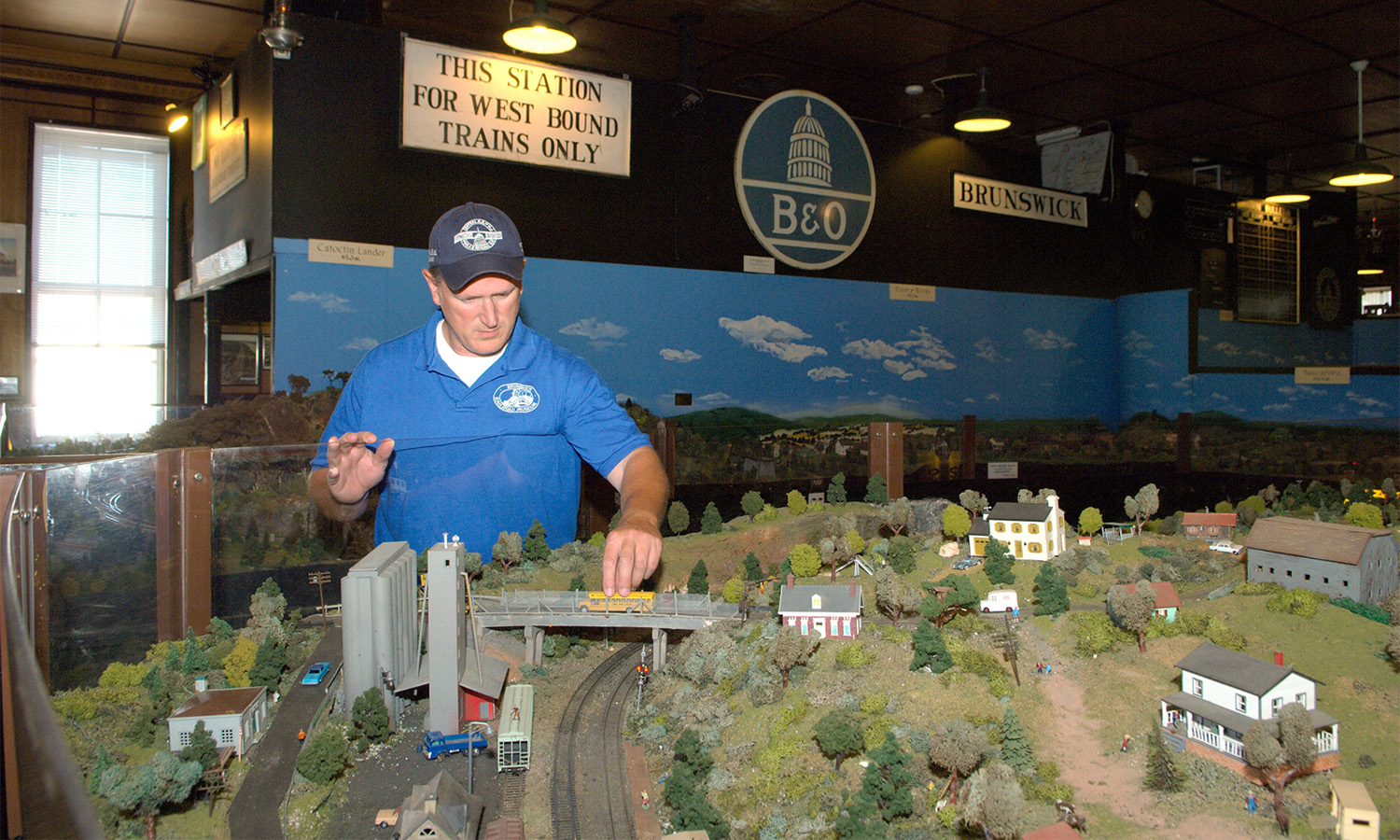 The model begins at Union Station in Washington D.C. and is recreated to reflect the stops, towns, and landscapes one would see traveling by train in the 1960s all the way to Harpers Ferry. Of course, this being Brunswick, the largest and most detailed aspect of the model depicts the Smoketown itself and just how massive the operation was here, all portrayed in dizzying and exacting detail at scale. It's this exhibit that keeps me coming back to Brunswick with my 2nd grader to travel back in time and see what new features we can discover.
After our curiosities were satisfied, it was time to tend to our appetites. Only a few doors down from the museum, an old brick church with stained glass windows and a belfry beckons to passersby with the bustle of customers and music emanating from the open door.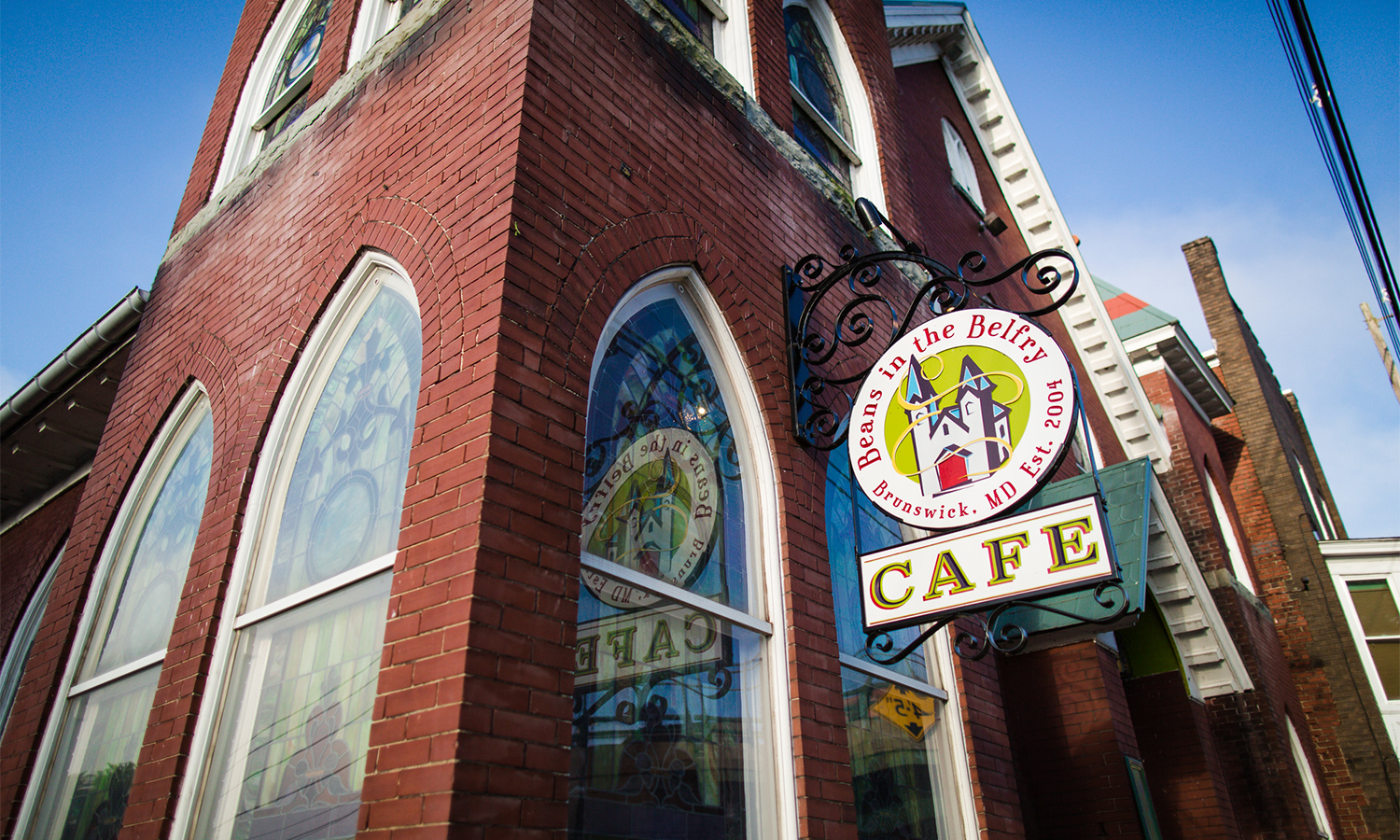 Beans in the Belfry is modern Brunswick's most iconic establishment. Every Sunday afternoon sees a bluegrass jam band plucking their strings with an improvisational flair for hours while crowds coming in from their bike rides or trail runs look to enjoy a coffee or a meal along with a jovial reprieve.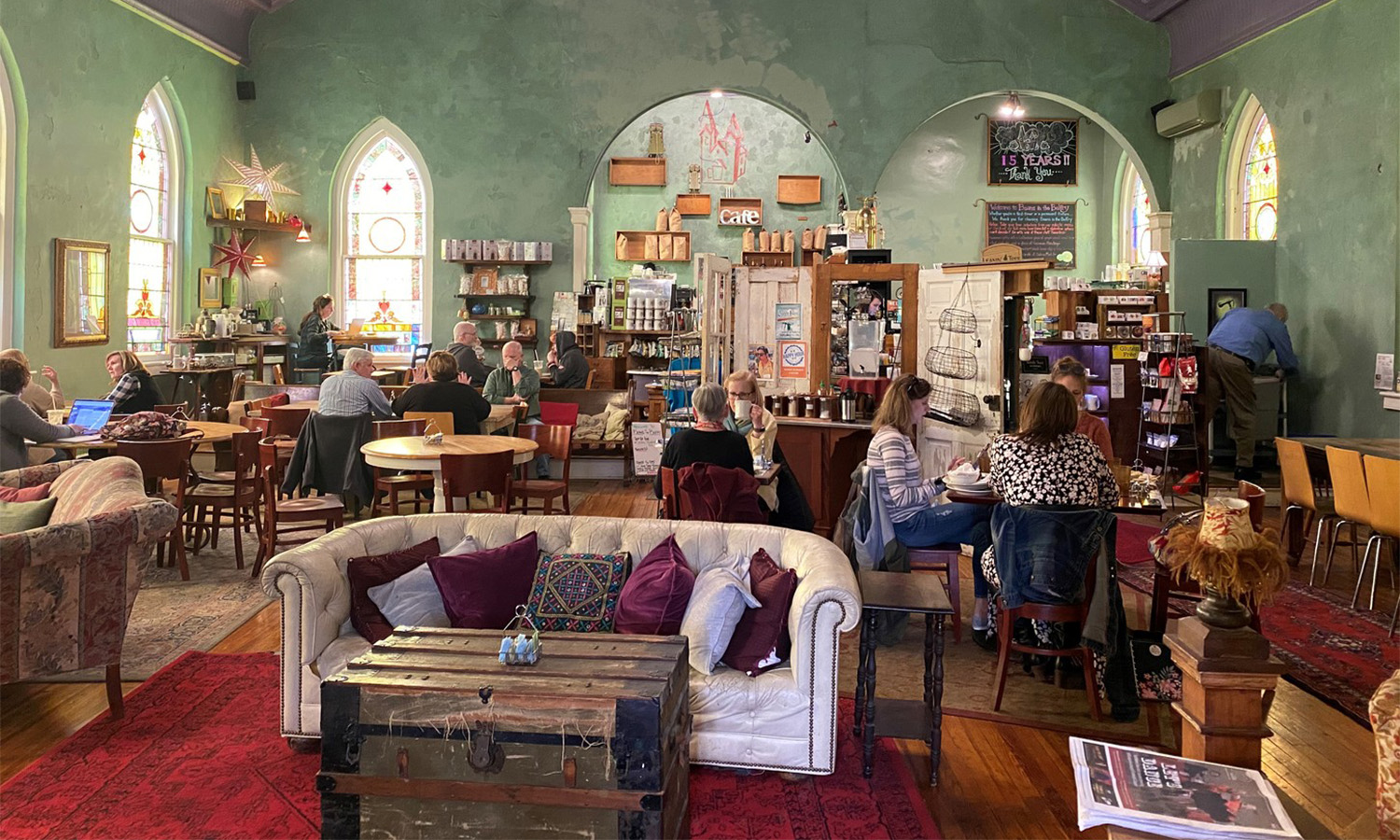 The cafe's menu ranges from sandwiches and salads to chili and breakfast quiches. You'll find plenty of tantalizing desserts and baked goods on display, too, including a lemon mascarpone cake that we devoured.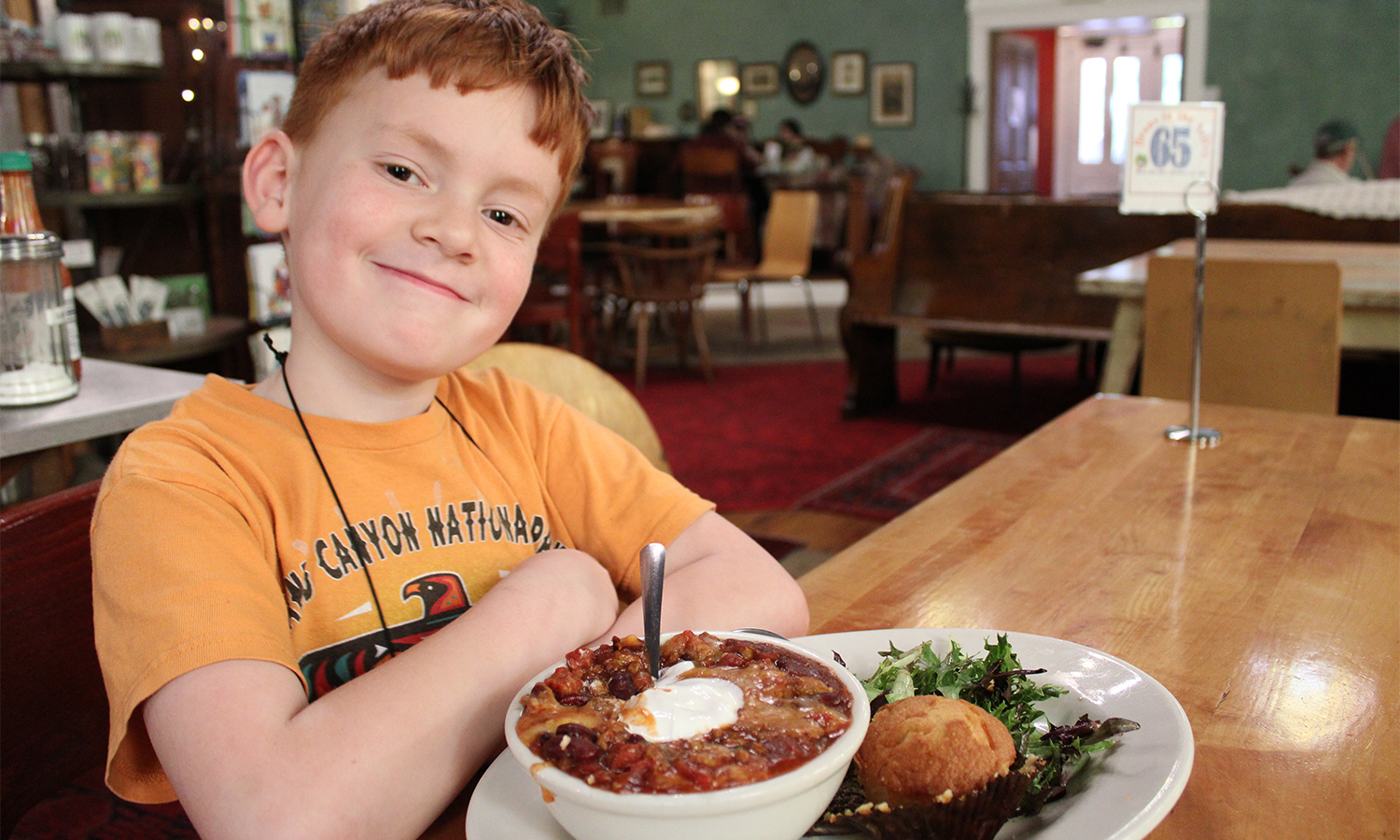 My son, who loves our Brunswick excursions, asked me if this was the only Beans in the Belfry in the world. When I told him it indeed was, he said, "Wow, that makes it pretty special then!" 
More Than Meets The Eye
With towns like Brunswick, part of the fun is simply wandering up and down the few streets that make up its historic district and seeing the architecture and businesses that give the town its unique character today. There are shops that cater to the forms of recreation nearby like the Three Points Cycles bike shop and Smoketown Bait and Tackle for all the angler's needs. And there are places that promise a wellness retreat within, like Five Dances Wellness or Roots and River Yoga. 
In keeping with the train theme, Boxcar Burgers tempts us on our walk toward the tracks. But we enjoy exploring the caboose and watching for trains at the Railroad View Park down by the station, lazily wandering wherever our fancy takes us. Beyond the tracks lies the river and the path toward the Brunswick Family Campground, where I remind myself to look into for a weekend stay.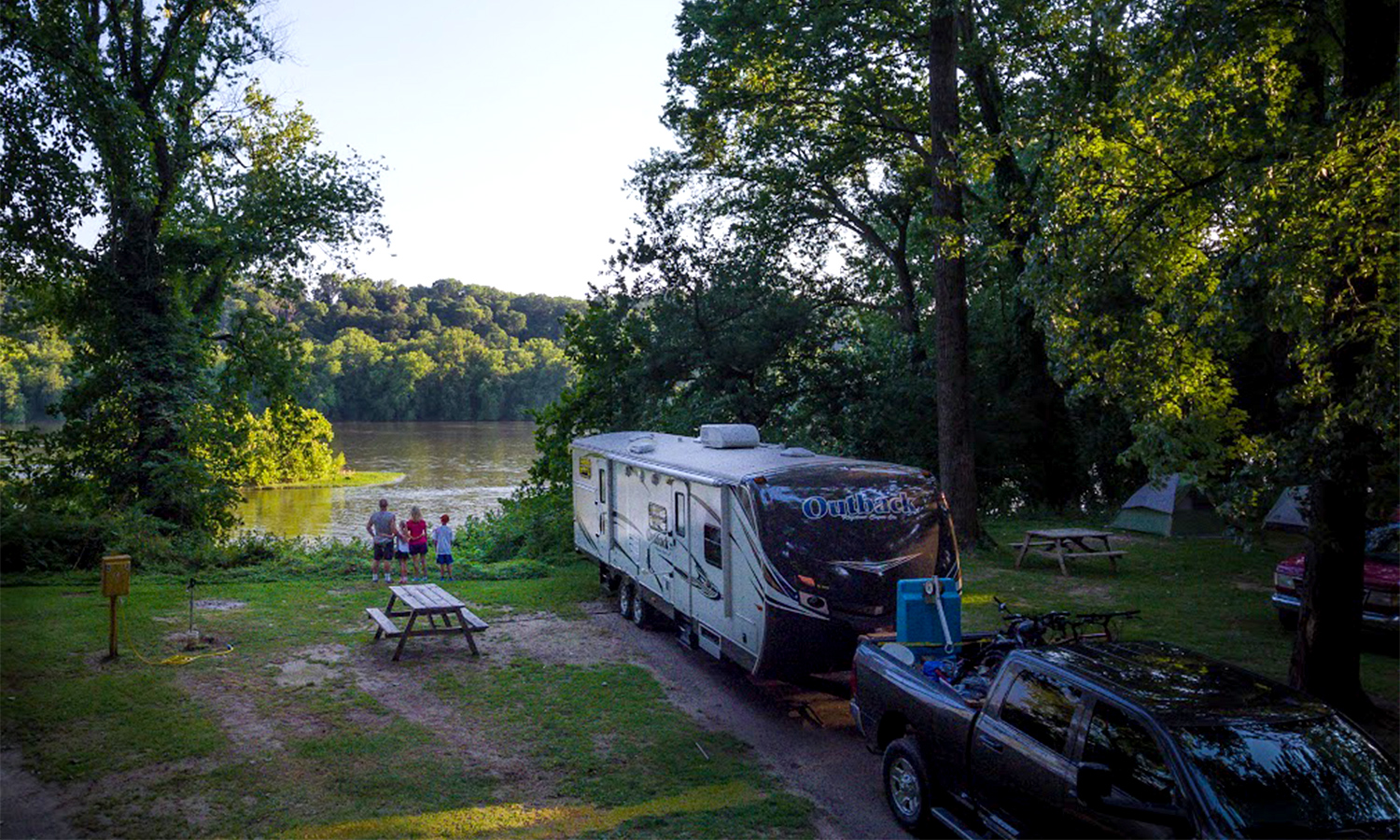 Eventually, we make our way toward the other end of town where the promise of a cold beer beckons at Smoketown Brewing Station, wisely situated next door to the hometown pizza joint, King's Pizza. Across the street is Traveling Bros Cigars, a proper cigar lounge and shop with a throwback vibe complete with overstuffed leather chairs and a chess table. But it's the patio at the brewery that offers a street-level view of the town and of the Brunswick bridge spanning the Potomac into Virginia, where I settle for one of Smoketown's iconic brews, the Black IPA.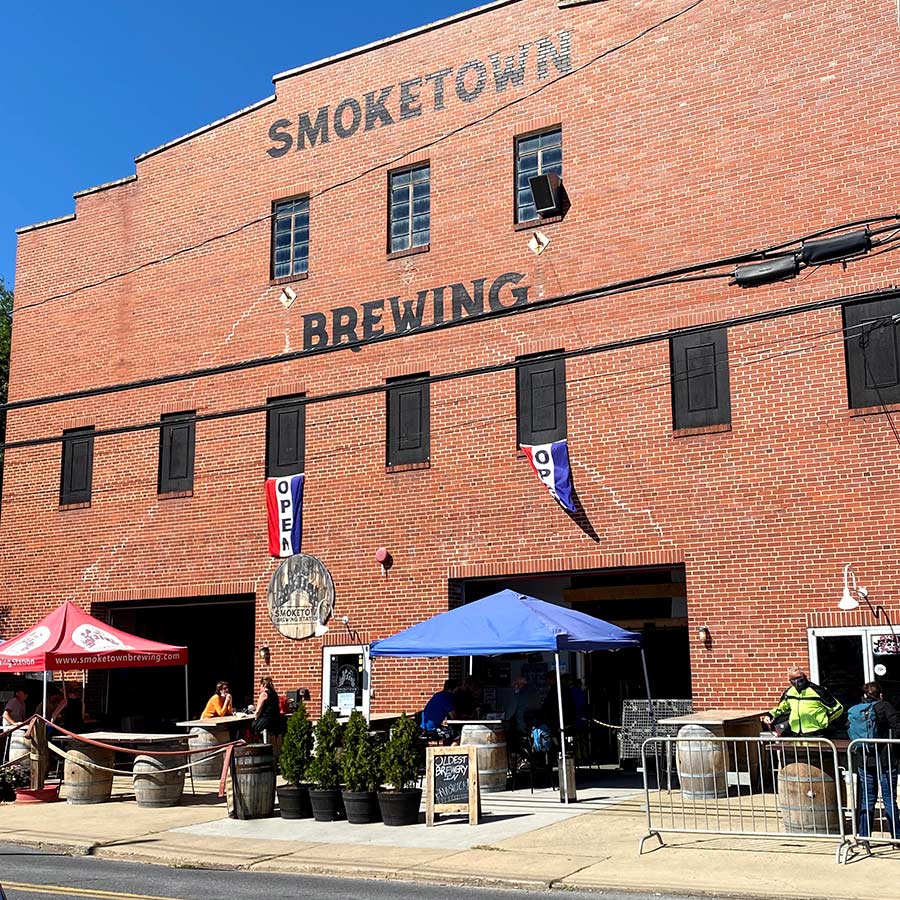 As we sit and enjoy the waning light of day, it dawns on me once again that this is more than just a sleepy old town forgotten on the banks of the Potomac. What outsiders like me realize when we visit here is that while in pursuit of its next chapter, there's still a lot to discover that makes Brunswick a great place right now. I can't wait to come again.
____
This article is sponsored by Brunswick Main Street. Downtown Brunswick has a charm rooted in our railroad culture, canal history, and river and mountain resources. We are situated directly on the C & O Canal National Historic Park (mile marker 55), River's Edge mountain bike trail network, and a designated Appalachian Trail Community, making our historic downtown with its independent mom & pop restaurants, historical attractions, bike outfitter, and variety of lodging options, the ideal spot to launch day trips on the C & O Towpath or overnight while thru-traveling.
---
Lead Photo: The model railroad at the Brunswick Heritage Museum in Brunswick, MD. Credit: Joseph Peterson
New to exploring Maryland, Joseph is always searching for that unexpected gem in unassuming places. From forgotten corners in big cities, to hidden historical markers in the middle of nowhere, he wants to find them all, and hit up every small town, museum, craft brewery and point of interest in between.