13 Summer Vacation Ideas in Western Maryland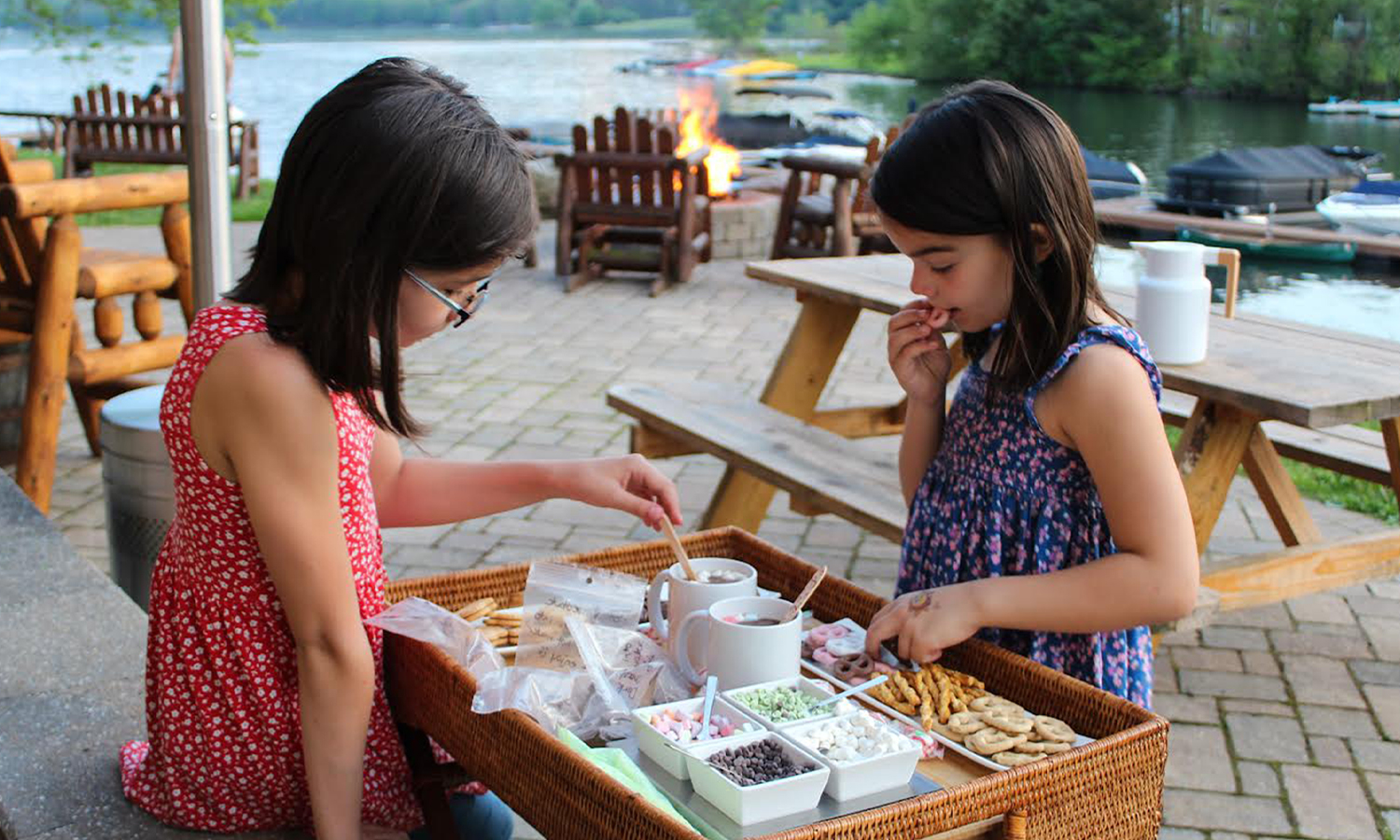 Your mind might immediately go to the Eastern Shore when thinking of summer in Maryland, but the mountain side of the state is equally worth a visit. We're sharing 13 summer vacation ideas in Western Maryland to inspire you to get out an explore unfamiliar areas that are an easy drive from many surrounding cities. Discover unique excursions, breathtaking views, and plenty of ways to get out on the water!
Bring your dogs to a lakeside hotel at Deep Creek
LakeFront Lodge is located on the northern tip of the Deep Creek Lake right off route 219 and near Wisp Resort, a popular skiing destination. Every room of this dog-friendly hotel has a lake view, and you can enjoy corn hole, fire pits, kayaks, and more. Warm up after a day on the water with a hot chocolate charcuterie board!
See Maryland's highest waterfall
If you're looking for a beautiful Western Maryland experience, a visit to Swallow Falls State Park should be at the top of your list.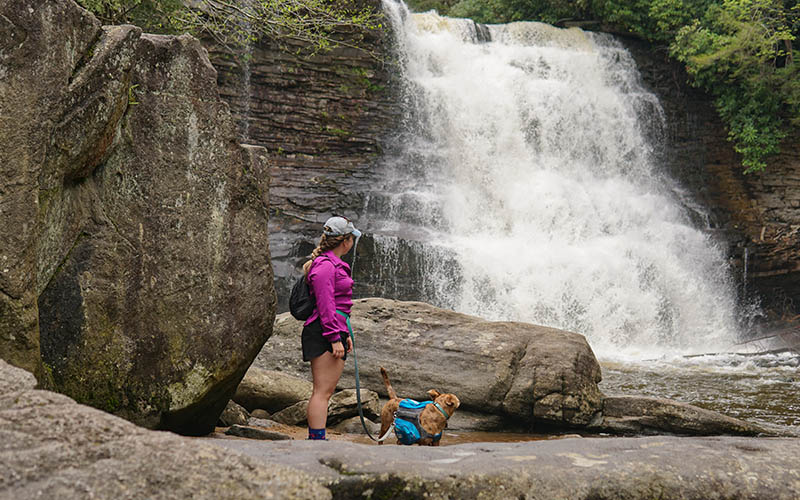 The thunderous noise of Muddy Creek Falls (Maryland's highest waterfall!) travels throughout the local forest of ancient hemlocks. The air is cool even at the height of the summer and the vibe there is nothing short of magical. 
Play hide-and-seek in a rock maze
The magical Garrett State Forest rock "maze" is reached via an easy hike, but is not simple to find. Imagine a cluster of boulders "dumped" in the center of a peaceful forest; step into the maze and explore the stunning rock formations and attached delicate mosses and fungi.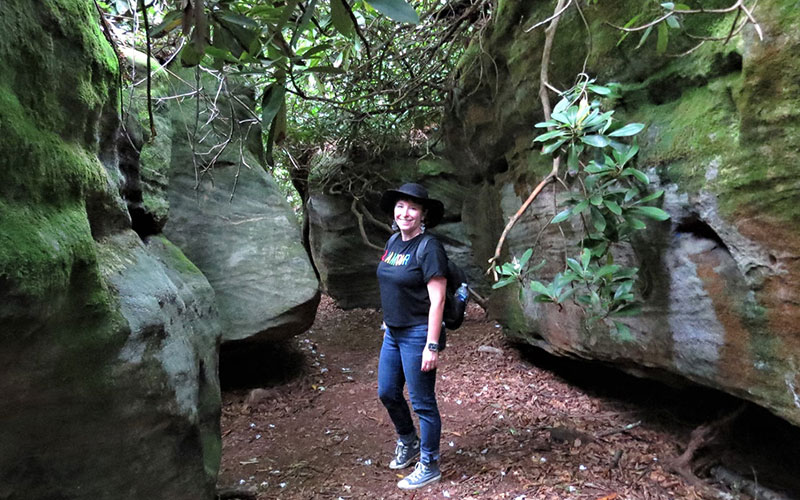 There are no signs or directional indicators, so if you get disoriented, exit the "maze" to its outer edge and circle around till you find your bearings. It's not a huge feature, so you will find your way back in no time. 
Take in the view at an iconic overlook
This scenic overlook requires no hiking and offers a stunning view.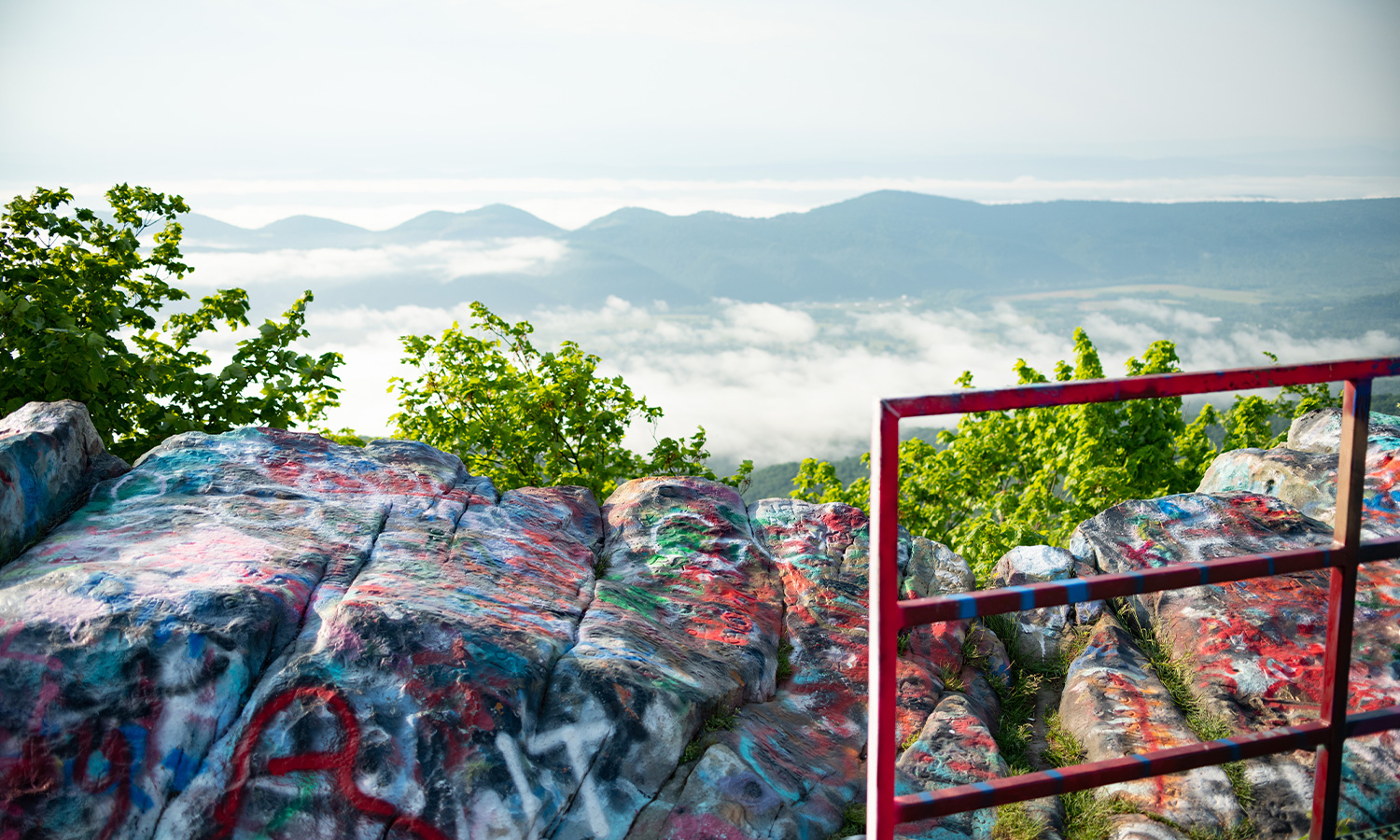 To reach Dan's Rock State Park Overlook, wind up the mountain to its summit, park your car, and head up the metal stairs. Wildflowers and scrubby trees grow out of the cracks between boulders and rocky ledges covered in colorful graffiti. (Parents may appreciating knowing there are obscene symbols painted on the rocks.)
Relax on the shores of the bluest water in Maryland
Head to Lake Habeeb in Rocky Gap State Park to enjoy what's considered the bluest water in Maryland!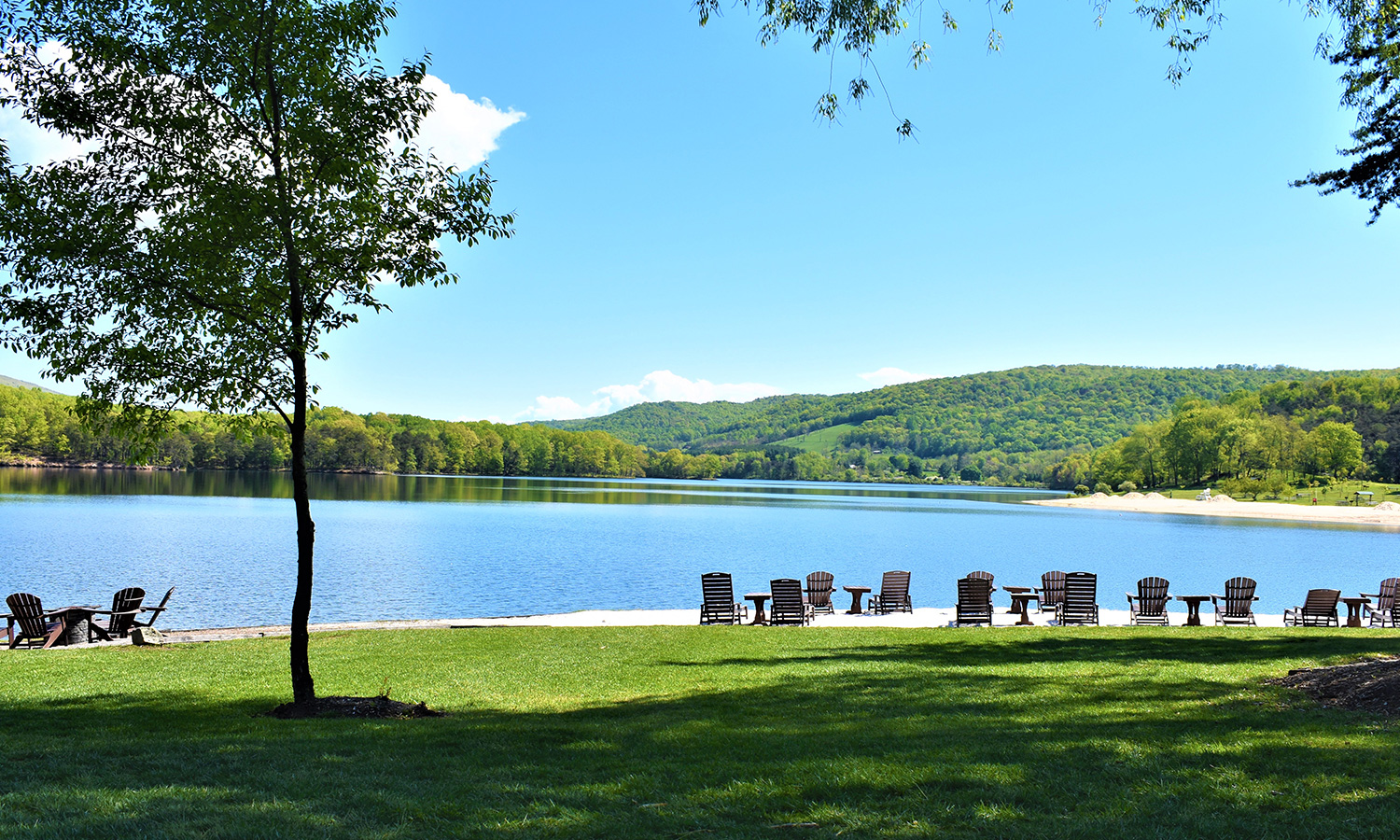 Whether you're staying at Rocky Gap Resort or camping in the state park, you can relax on the beach, kayak, SUP, or take a hike around the lake.
Go fly-fishing for brook trout
The Savage River State Forest consists of about 55,000 acres of mountains interspersed with waterways. For fly fishers, the state forest is known for its proximity to the North Branch of the Potomac River and the Savage River, two of America's 100 Best Trout Streams, according to Trout Unlimited.
Savage River Outfitters is the source for fly fishing in the area. In addition to selling Orvis and TFO products, the shop also provides guide services and rents out three guest homes on the lower Savage River. 
Take a spooky walk through a haunted tunnel
The C&O Canal's Paw Paw Tunnel, built three-fifths of a mile long through a mountain in western Maryland, was constructed by Irish and German immigrants in the mid-nineteenth century during 14 years of grueling labor. 
Today, the brick-lined Paw Paw Tunnel is said to be haunted by the spirits of these workers, as well as a headless lock keeper who was murdered for his valuable coin collection. A flashlight is recommended for anyone venturing inside the tunnel, not only for the complete darkness you'll experience, but to keep watch for anyone from the other world who may accompany you on your journey. (Click here to visit more spooky spots in Maryland!) 
Watch craftsmen at work
At the charming Spruce Forest Artisan Village in Grantsville, historic buildings have been moved on site and serve as workshops and retail spaces for a range of artisans—painters, woodworkers, blacksmith, quilters, and more. Chat with the artists and purchase handmade items for souvenirs or special gifts.
Ride a railbike past stunning mountain and valley views
Tracks and Yaks in Frostburg offers the only railbiking excursion in the state! Railbiking is an up-and-coming trend in adventure travel, and it's a low-impact activity many ages can enjoy.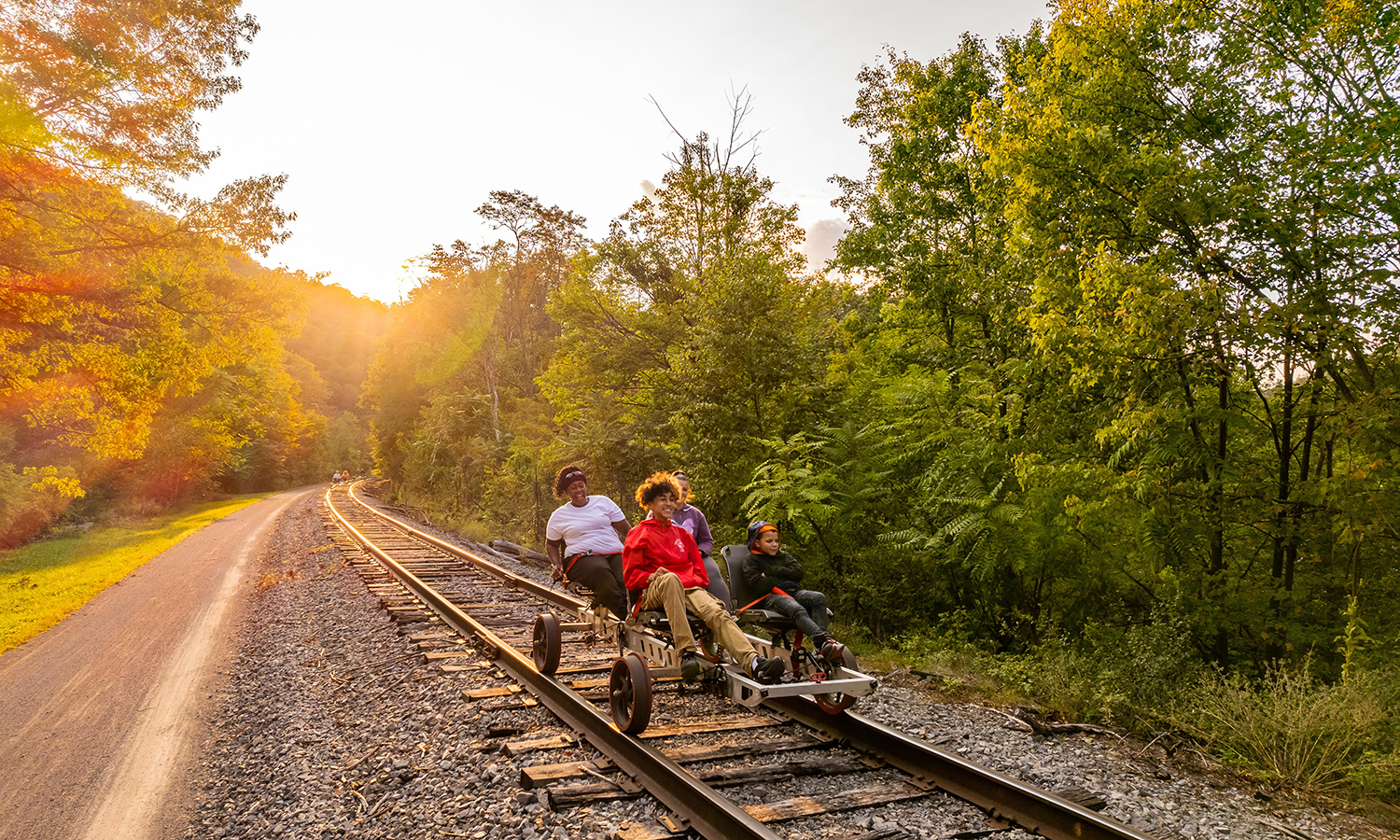 The ten-mile Frostburg to Cash Valley tour follows the Great Allegheny Passage and offers breathtaking views.
Take a selfie with art sculptures along the Great Alleghany Passage
Pose with your bike in front of "Climb" and Glide," two ten-foot sculptures that honor bikers along the Great Alleghany Passage.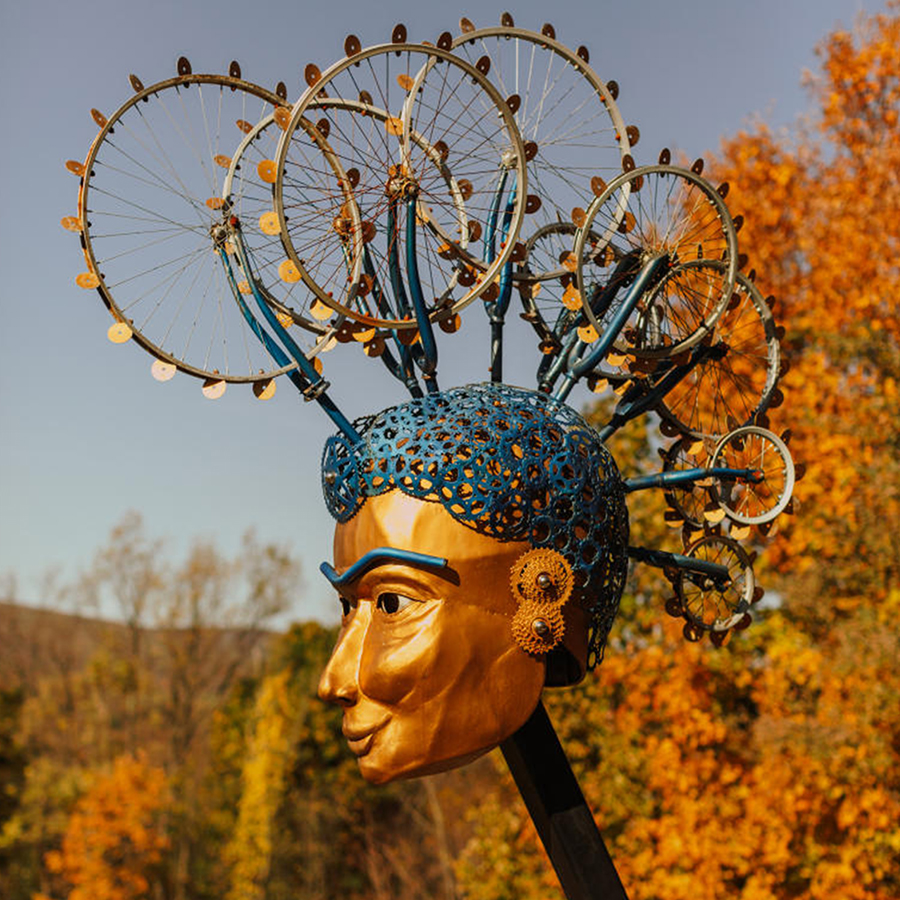 Spot the sculptures while conquering the switchback trail between the Great Allegheny Passage Frostburg Trailhead and the Frostburg Depot.
Spot bluebirds at a national battlefield
Since 1979, Antietam National Battlefield has fledged more than 6,000 bluebirds along its lovingly maintained Bluebird Box Trail, a system of 70 nest boxes posted at various intervals along the battlefield's tour roads.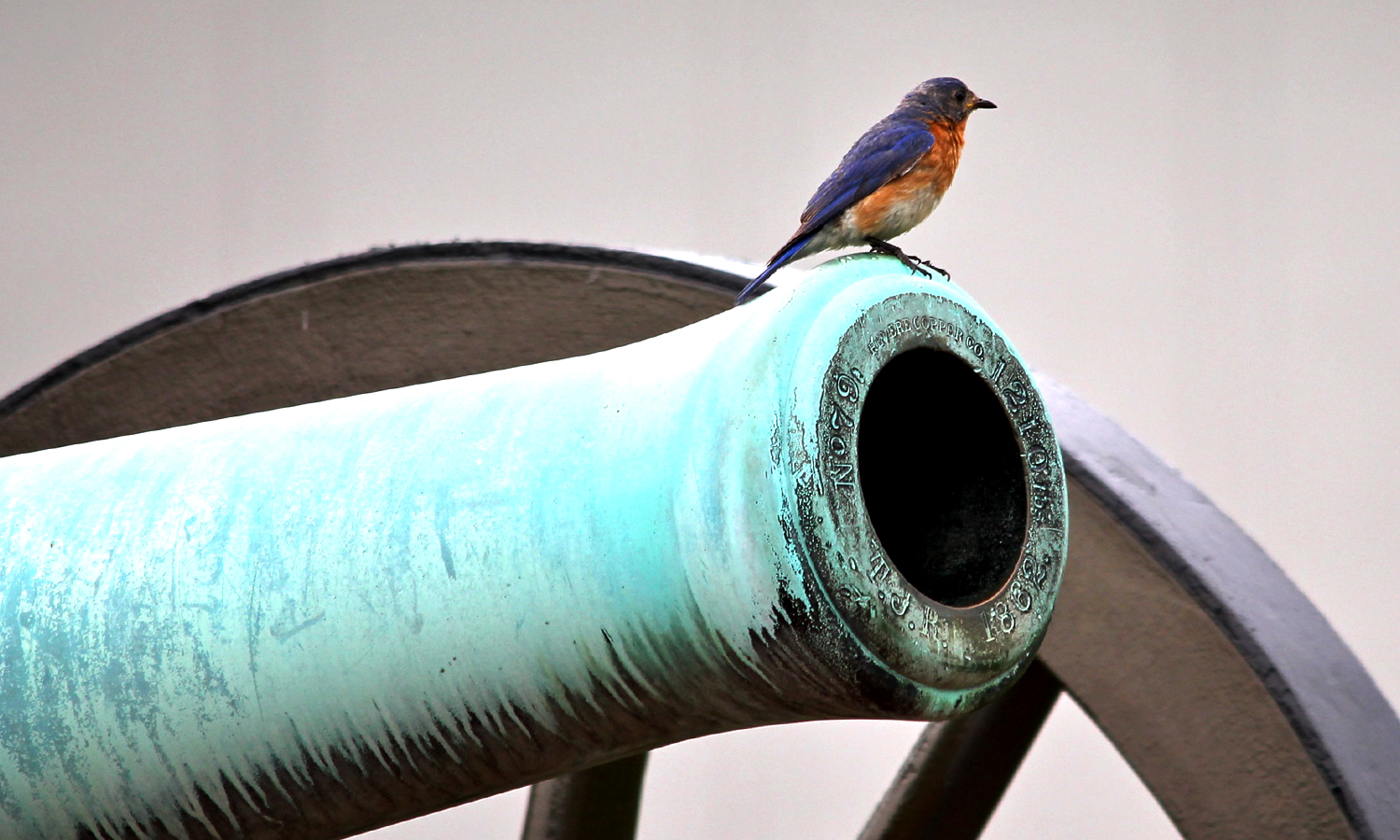 Take a peaceful walk through Antietam National Cemetery while you're there.
Tour the only show cave in Maryland
Crystal Grottoes Caverns in Boonsboro is the only cave in Maryland open to the public, and it's minutes away from Antietam National Battlefield. Tours of the caverns occur every half hour (no reservation needed), and children 4 and under are free!
Book a stay at an inn owned by author Nora Roberts
Treat yourself to a small-town getaway at Inn Boonsboro, owned by prolific romance novelist Nora Roberts. (She even wrote a series set in Boonsboro!) Each of the eight rooms has a literary theme based on famous romances that yielded happy endings, including characters such as Elizabeth and Darcy from Pride and Prejudice, Jane and Rochester from Jane Eyre, Titania, and Oberon from Shakespeare's A Midsummer Night's Dream, and even Nora Roberts' own two characters, Eve And Roark, from the In Death books under her other pen name J.D. Robb.
---
Lead Photo: Lakefront Lodge | Caption: Hot chocolate charcuterie board at LakeFront Lodge in Deep Creek