Like A Good Book, Inn BoonsBoro Takes You Away

When researching places to go for a quick, one-night getaway, I happened upon the town of Boonsboro, Maryland, which seemingly is owned and run by famed romance and mystery novelist Nora Roberts. A longtime resident of nearby Keedysville, Roberts invested in the town of Boonsboro, and she and her husband own and operate many of the businesses in town, including an inn. The idea of investigating this little town took hold, and so my husband and I set out for a visit. 
People looking for a local "get out of town" trip will enjoy Boonsboro, which sits in Washington County, Maryland, at the foot of South Mountain. Frederick is 14 miles away, and Hagerstown and Shepherdstown, West Virginia, are a mere 10 miles away each. Harper's Ferry and the historic Civil War battlefield, Antietam, are also close drives for those seeking to learn more about history.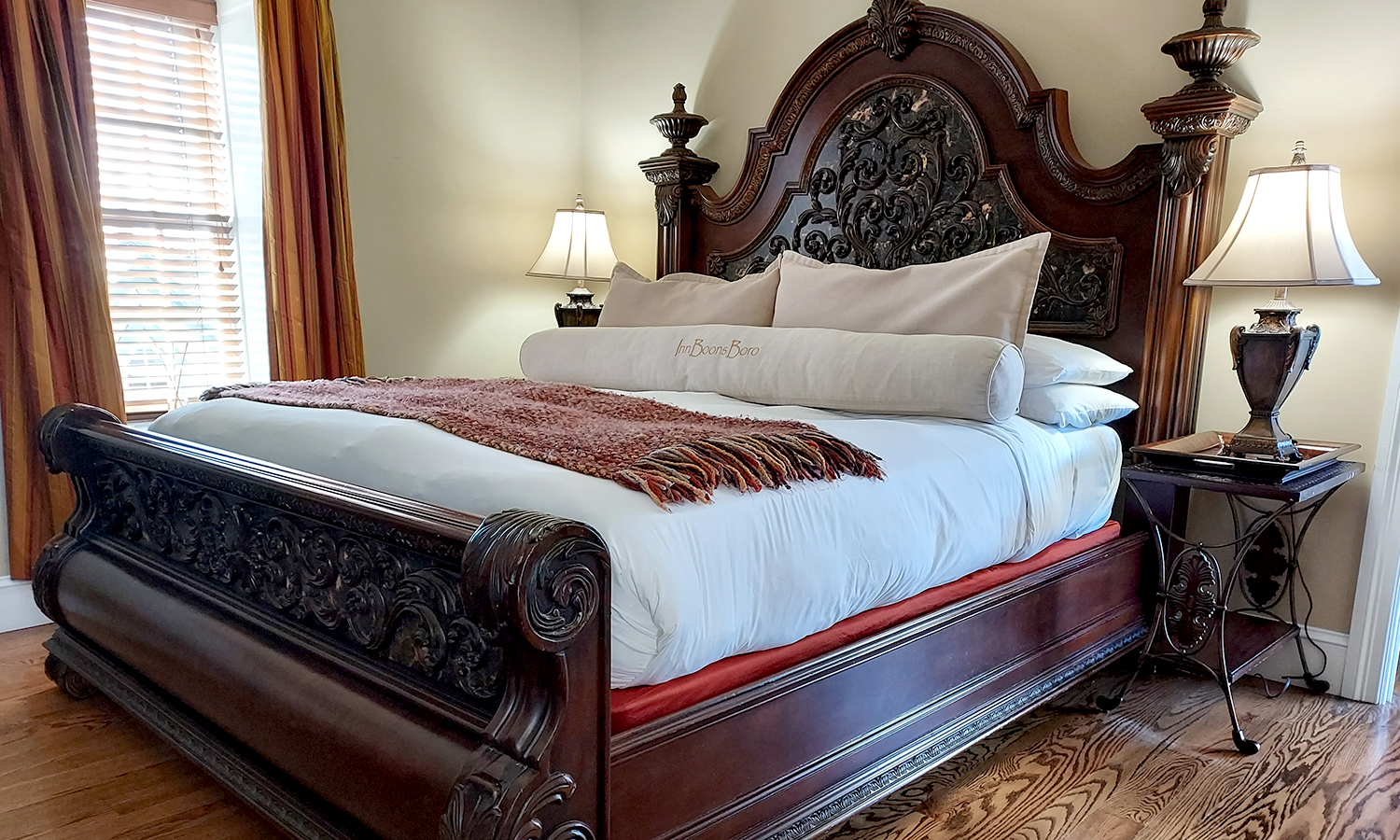 Inn BoonsBoro was an indulgent delight. Each of the eight rooms has a literary theme based on famous romances that yielded happy endings, including characters such as Elizabeth and Darcy from Pride and Prejudice, Jane and Rochester from Jane Eyre, Titania, and Oberon from Shakespeare's A Midsummer Night's Dream, and even Nora Roberts' own two characters, Eve And Roark, from the In Death books under her other pen name J.D. Robb. Each room has its own vibe, its own look, and its own soaps and toiletries designed specifically for that room. Located on Boonsboro's square, the Inn features large porches in the front and back of the hotel on two levels and a quaint patio and garden area with seating outside.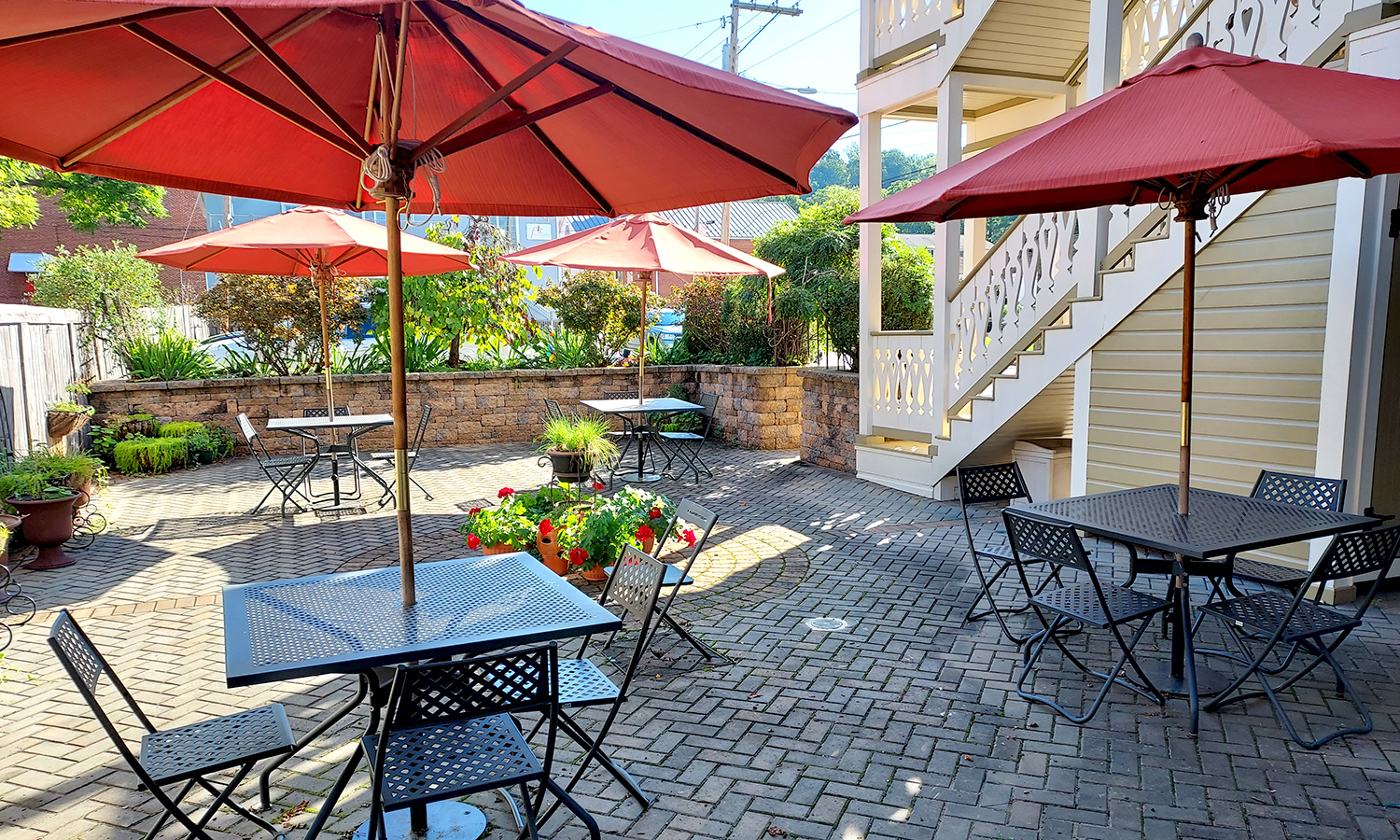 We stayed in the Penthouse on the third floor, the only room that did not have a theme. More like an apartment, our guest quarters were beautifully designed and elegant, with a sitting room, long hallway, bathroom the size of our bedroom at home, and a master bedroom with a four-post bed. The bathroom was probably the most luxurious one we have ever seen in our travels, replete with heated floors, a heated toilet seat and towel rack (yes, I'm serious), a jacuzzi tub, and a large, glass shower. The chandeliers in the bathroom alone were swoon-worthy.
Inn BoonsBoro also offered special touches, such as a wine and cheese charcuterie, which is offered daily between 6 p.m. and 8 p.m. for guests, baked goods in the dining area for your taking all day long, complimentary beverages and whiskey, and a two-course breakfast, which we very much enjoyed in the morning.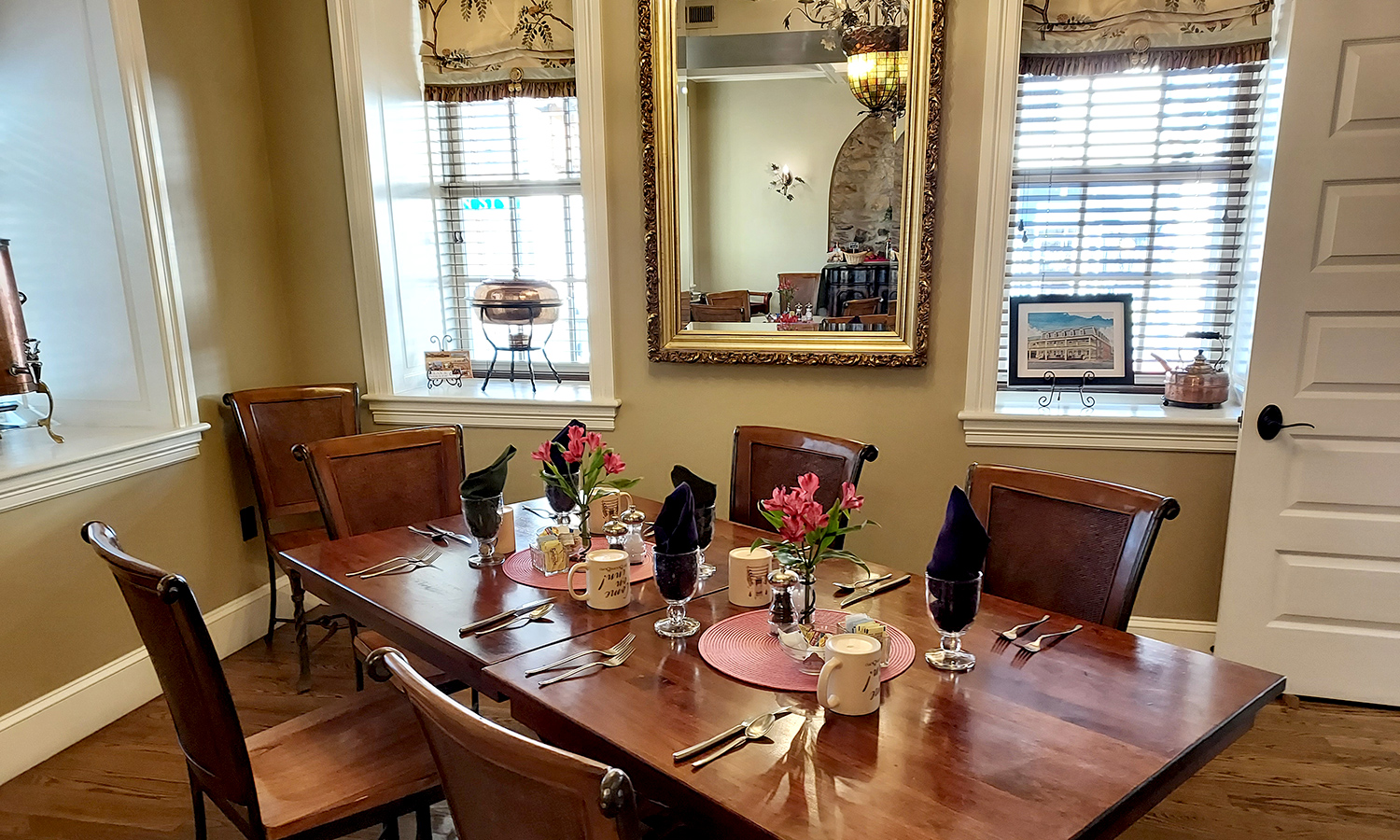 The Inn also boasts a rich library and lounge area, and the courteous staff were helpful, kind, and engaged with their guests.
In order to bolster community spirit in the small town, merchants paint their storefront windows. On special occasions, food vendors set up in a common area with food trucks and baked goods, and musicians play on the front porches of the Town Hall and the Inn.
We spoke with a mother and her grown daughter who stayed two nights at the Inn. They travel to the inn each year from Atlanta and Dallas, respectively. Their goal is to stay in each one of the rooms at Roberts' Inn. Both are big readers and fans of Roberts' novels, and they spoke of the relaxation of staying in the small town, visiting the bookstore, and eating at the two restaurants on the square—Vesta Pizzeria and Dan's Taphouse—while lounging, reading and enjoying the Inn's many splendors.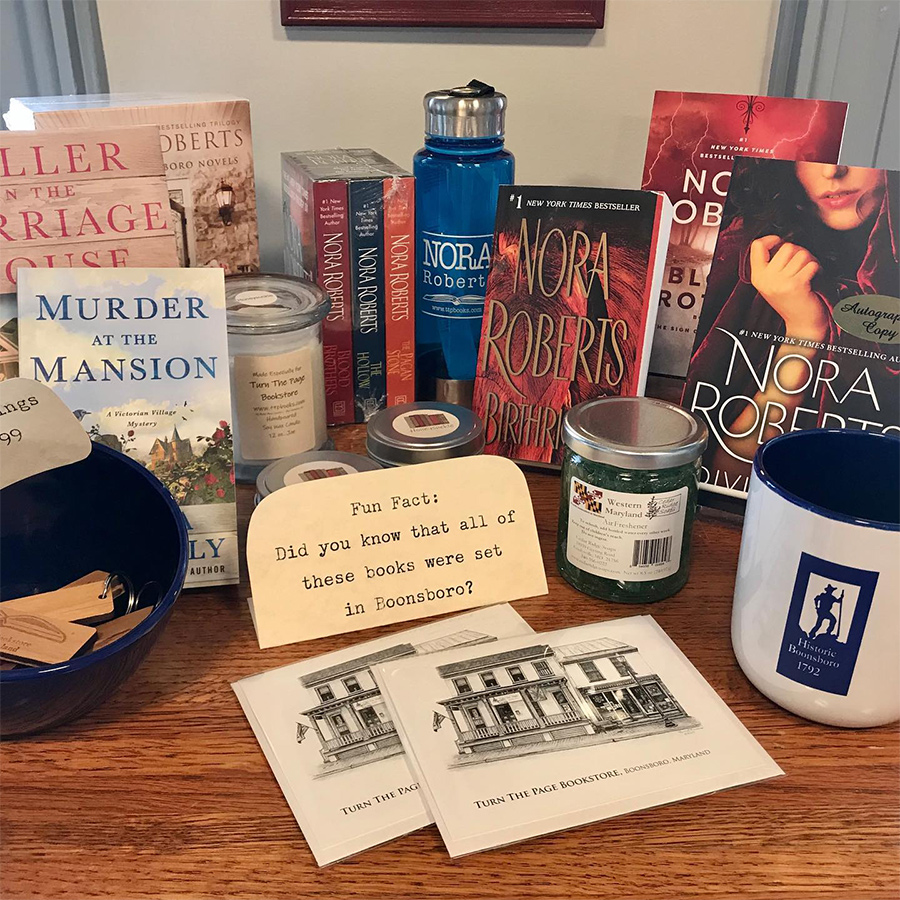 One of the most prolific writers of our time, with approximately 200 books to her name, Inn BoonsBoro was the brainchild of Roberts and her husband, Bruce Wilder, who owns the charming bookstore, Turn the Page, across the street from the Inn. In fact, The Inn BoonsBoro Trilogy by Roberts is set in the Inn and includes the following books: The Next Always, The Last Boyfriend, and The Perfect Hope. In addition to the bookstore, Roberts and Wilder also own the gift shop and gym in town. Longtime residents of the area, the couple's goal of restoring the Inn to its old grandeur was a success. They preserved its architecture and character and provided a place for people to come and do as my husband and I did: simply get away from reality for a night, read a good book, and unwind. And, of course, come away inspired.
---
Lead Photo: Stephanie Verni
Stephanie Verni is an Adjunct Professor of Communication at Stevenson University and the author of seven novels. She has taught a variety of communication courses, and she especially loved teaching courses in travel writing. A true Marylander, she enjoys writing about the beauty of her state and incorporating Maryland locations into her books. When she's not writing, you can find her on her boat cruising the Severn River with her family. She's on Instagram at @stephanieverniwrites