A Vandweller's Last Hurrah in Maryland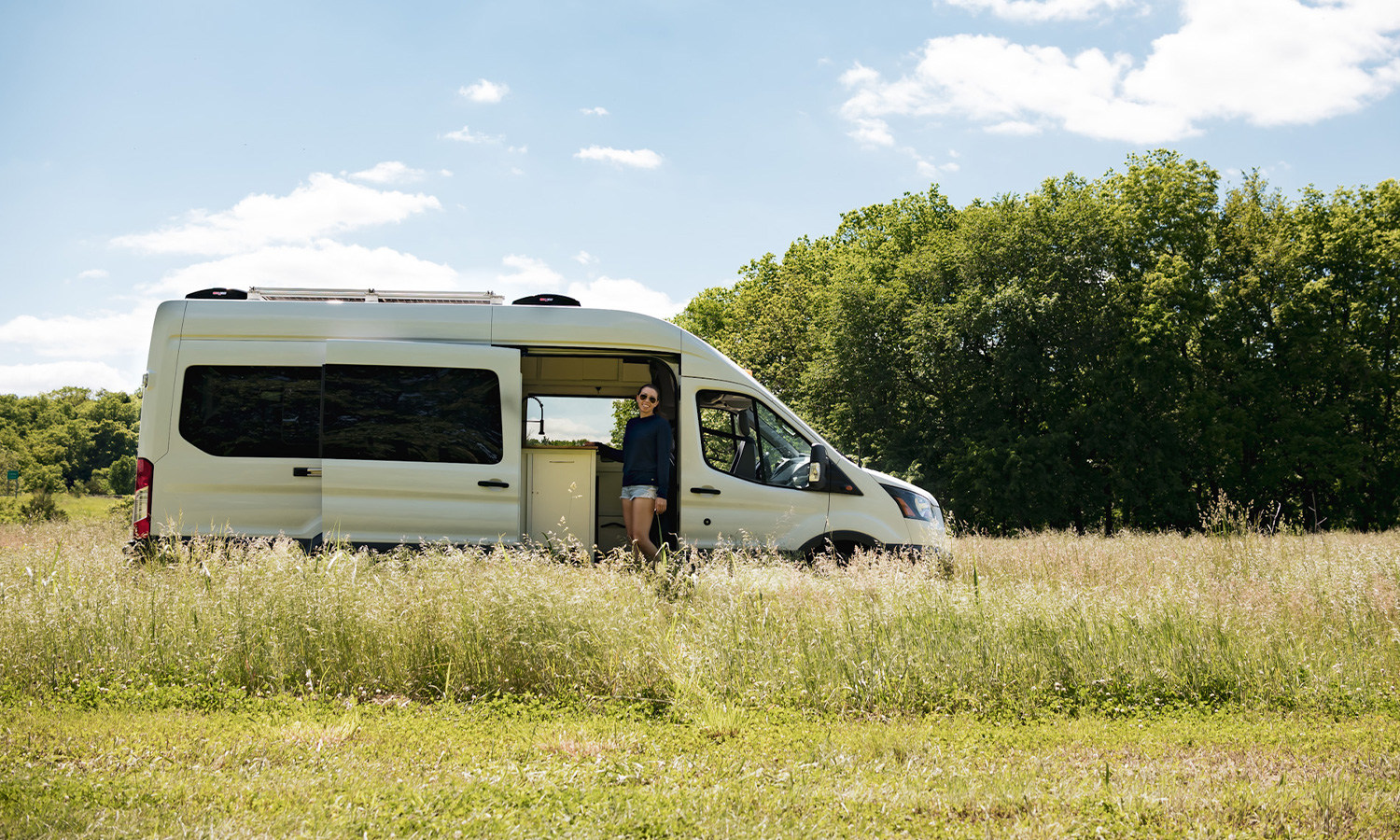 As someone born and raised in Maryland, I felt spoiled growing up having both beaches and mountains only a short drive away. It's one of the things I love about this state, which has been my home base after several international trips. Until now, that is.
When COVID-19 threw my travel abroad plans out the window, I pivoted. I thought about what I wanted my next chapter to be, did a lot of research, bought a van, and converted it into my home on wheels. As the build on my van came to a close, I knew I wanted to take one more drive around Maryland to test things out before heading west. I set my GPS for Cumberland, Maryland.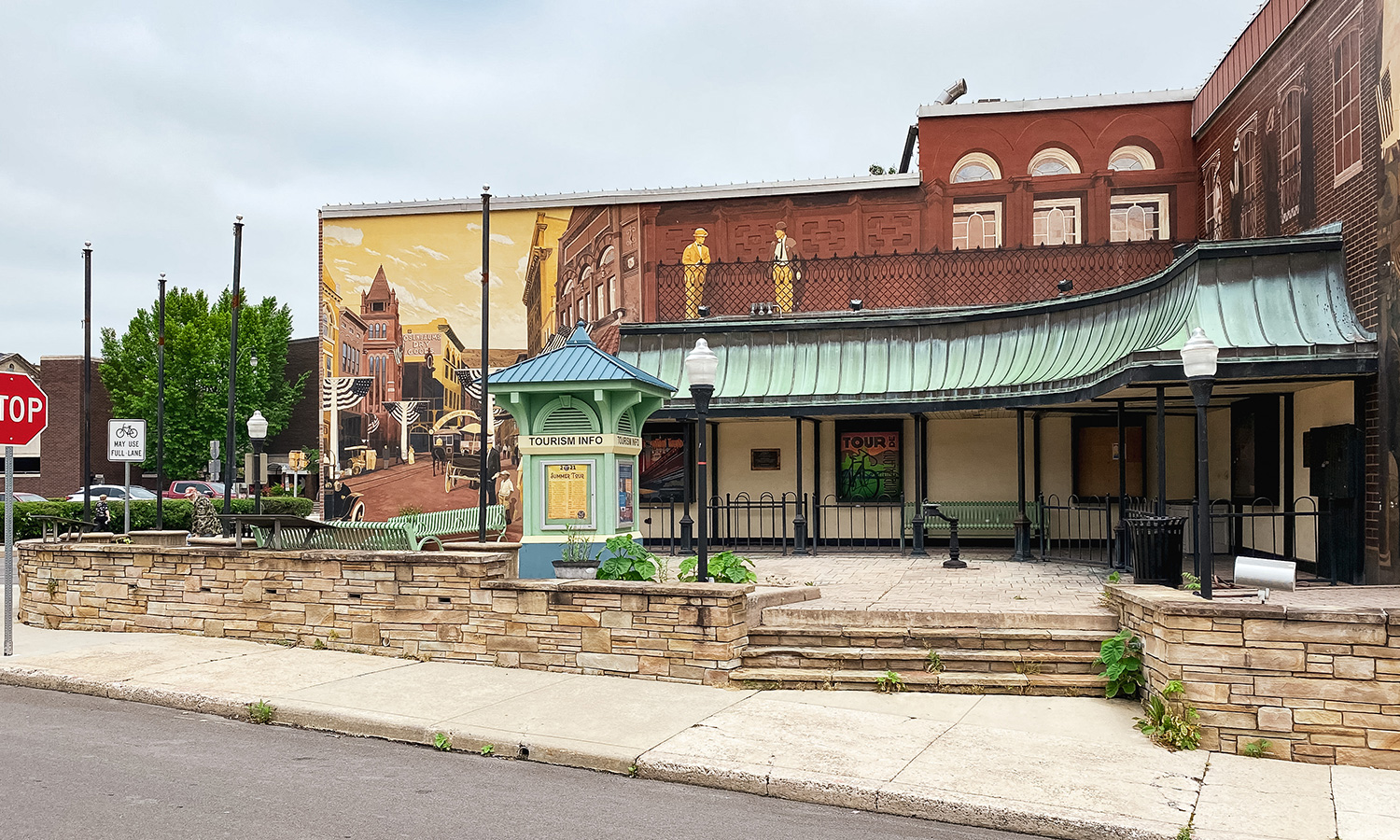 As I pulled off I-68, I was immediately struck by the historic and quaint nature of this city. I found parking (which happened to be free when I went) at the centrally-located main station of The Western Maryland Scenic Railroad. I discovered Cafe Mark, less than a five-minute walk from the station, and treated myself to their daily special drink and a jalapeño bagel. Guests can choose between the open brick corridor outdoor seating or the cozy library feel of their upstairs dining area. The staff couldn't have been more pleasant and their facilities were clean.
Looking for an area to walk, I headed back towards the railroad station and while strolling along the canal ran into Robert, the owner of Dig Deep Brewing. He gave me the inside scoop suggesting several local stops. While I wasn't able to make it to his brewery that evening, several locals spoke highly of grabbing a beer there and dinner around the corner at the Crabby Pig, which is located right on the water.
For a scenic walk accessible right from the train station and across from the Cumberland Visitor Center, I started down the Great Allegheny Passage. This 33.2 mile point-to-point bike trail initially travels alongside the tracks and was paved as far up as I walked.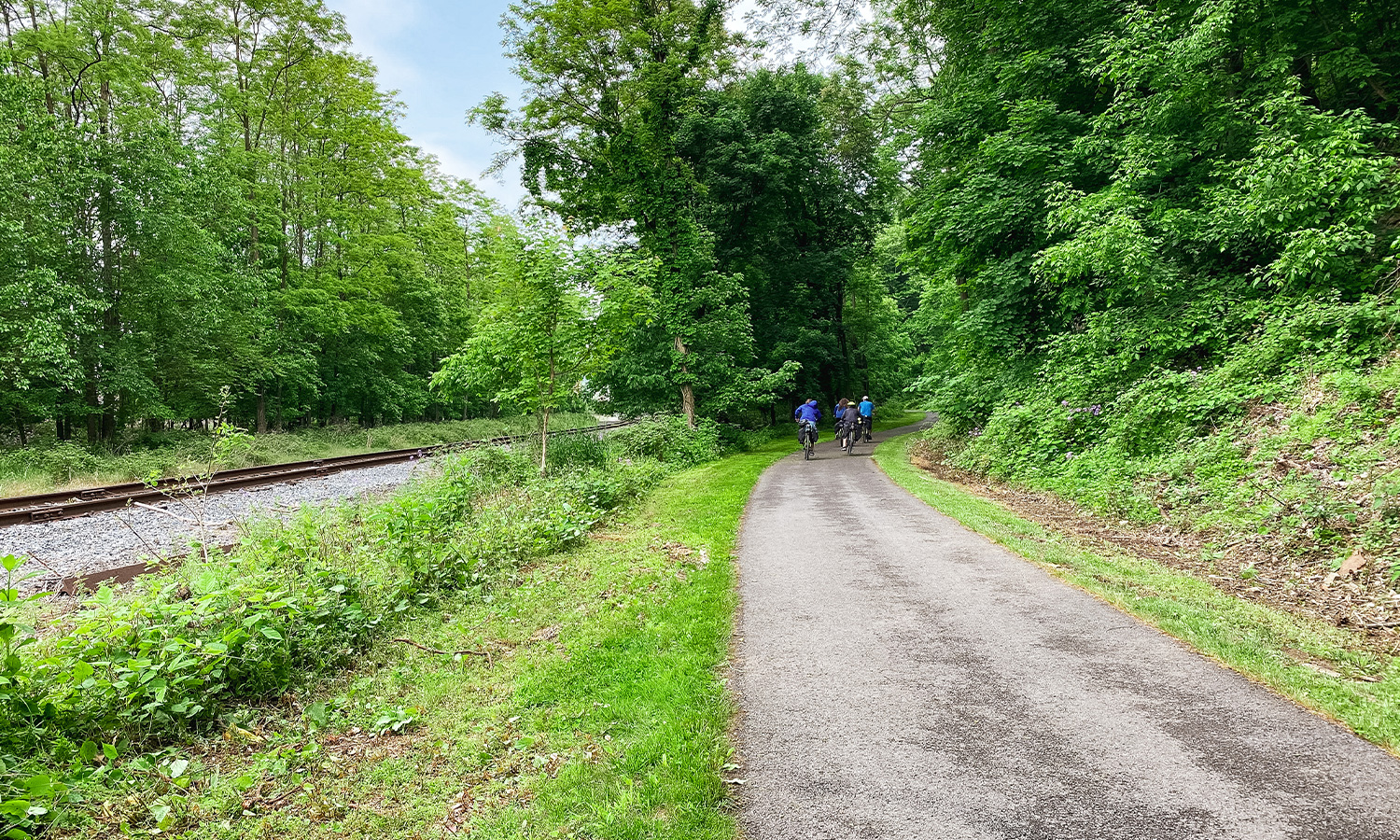 Using the app AllTrails, I was able to easily see where I could get on and off this trail, which I shared with a few others on foot but primarily bikers. It was such a treat to effortlessly walk from downtown, picturesque with its historic brick buildings, to a quiet trail winding through the trees. 
In need of another bite to eat, I walked up a block to Queen City Creamery, which serves up deli sandwiches, paninis, ice cream, and even adult shakes. It always feels good to support local, and these guys made it easy with fast service and great food. I had the Pesto, Mozzarella, and Tomato Panini, which was fresh and delicious!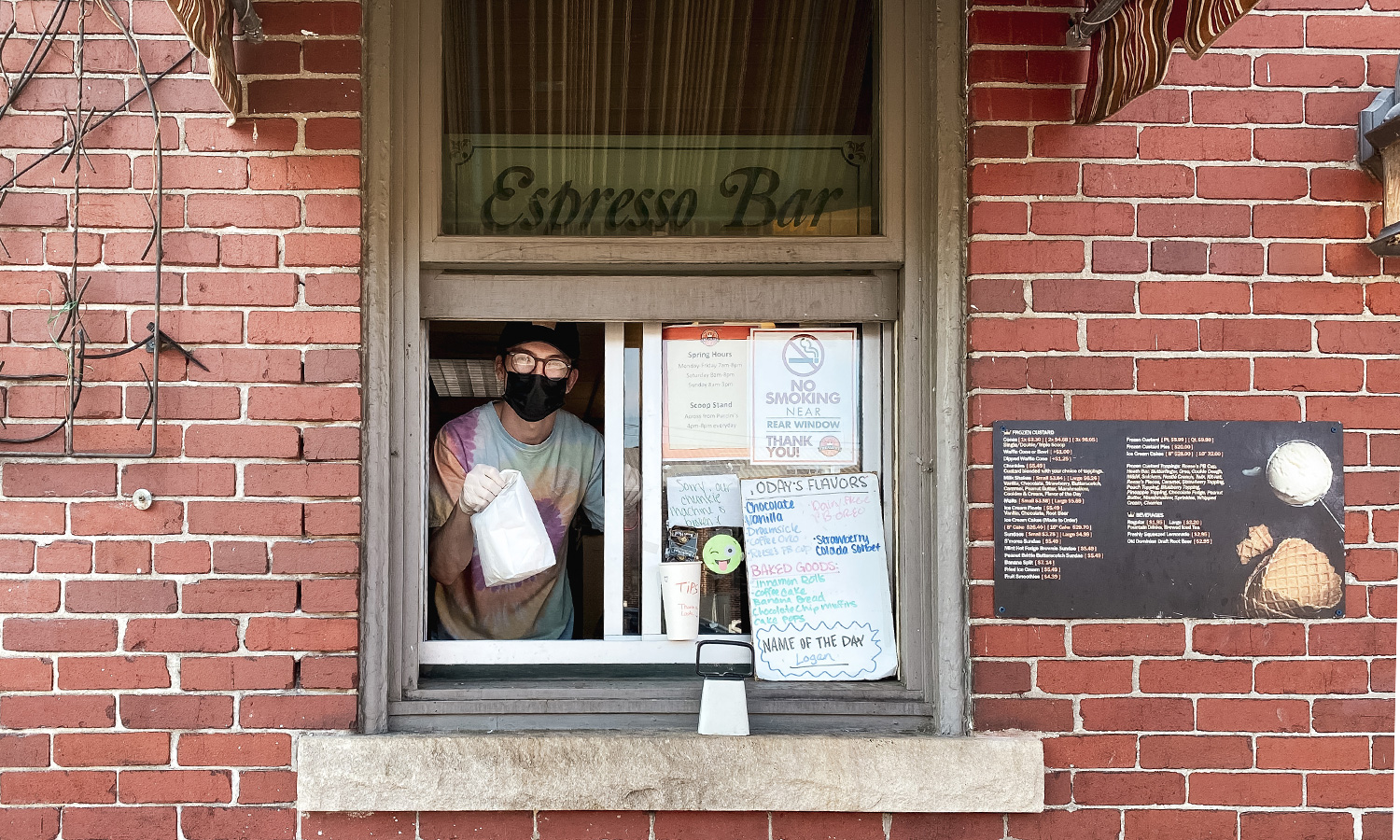 I spent the evening wandering the downtown shops and then making the 5-minute drive south along the canal to visit Clyde's River Guides just over the West Virginia state line. Jay and his rescue pup, Clyde, showed me around their waterfront property as we chatted about kayak rental and river guide services, options for where to paddle from his launch point, and his plans to expand the business to include local food vendors and breweries. Having spent the evening chatting with Jay overlooking the river with Clyde at my feet, I can definitely recommend him as an experienced guide welcoming anyone looking to float down the river in a tube, rent a kayak, or buy a watercraft of their own. 
My final stop of the day was a place to wash up and camp for the night. I use the Planet Fitness facilities for showers while on the road, and occasionally use their gym equipment as well. All of their facilities are clean and well kept, making it a very worthwhile investment when it comes to memberships as a van dweller. I elected to skip the workout area this time after seeing my Fitbit displayed 17k steps on the day. Freshly showered, it was time to find parking and call it a night. I called the Walmart in Lavale, MD earlier in the day to confirm they allow overnight parking. (Not every location does.) Upon pulling in I saw where other RVs and tractor trailers had parked away from the store, found myself a spot, and completed my nightly routine of locking the van and arming my security system.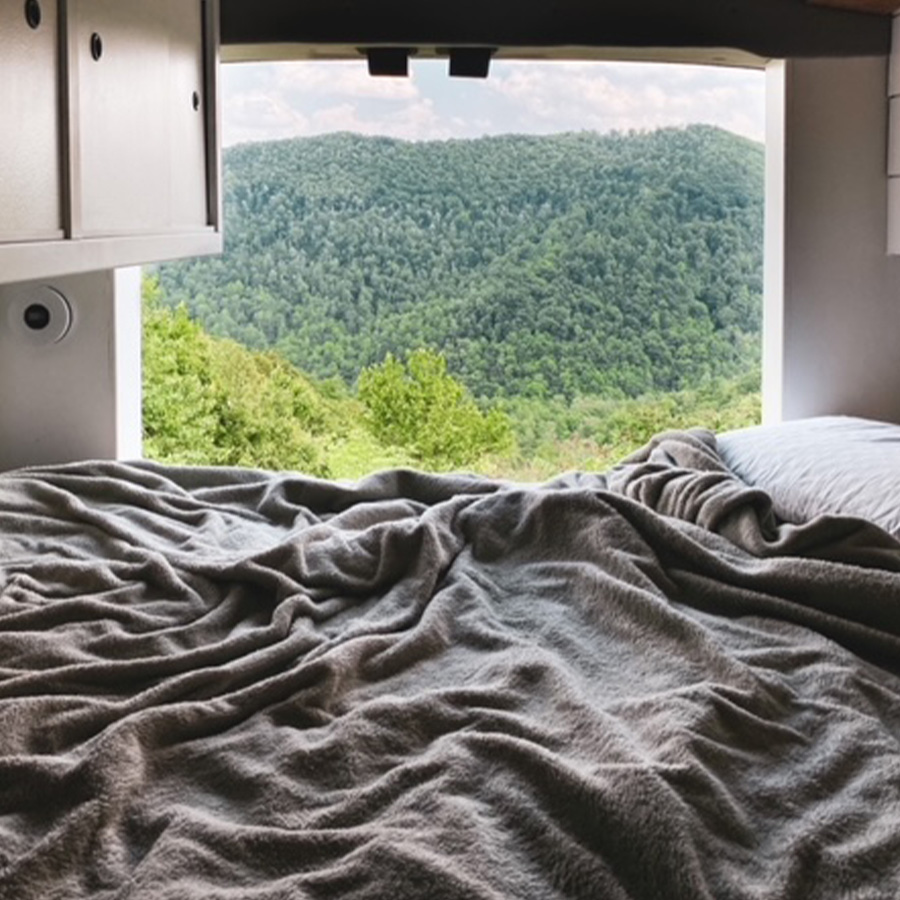 I rose the next morning ready to check out a popular overlook 25 minutes outside of Cumberland. After driving to the wrong side of the mountain (Dan's Mountain Recreation Area), a nice man on a lawnmower gave me directions to the overlook I was searching for. I absorbed none of his "left at the fork, right at the gas station, hard turn after the guardrail" directions but nodded, pulled away, and then put the right pin in my GPS for Dan's Rock Overlook. This scenic overlook requires no hiking and offers a stunning view. 
Along paved neighborhood roads zig-zagging up the mountainside, Google Maps took me right to the pull-off area for this overlook. Next to a handful of marked gravel parking spaces, there is a picnic table and staircase leading up to the top of the rocky outcropping. What makes this location so unique is also quite controversial — it is COVERED in spray paint. The layers of neon paint undeniably make this a memorable site. While no property should be vandalized and natural pathways especially should be left as untouched as possible, I don't know that there is any going back for the spot. The graffiti makes it what it is now. Unfortunately with this comes obscene symbols, making it less family-friendly, which is especially sad considering it's an amazing view that can be reached by car and a few steps.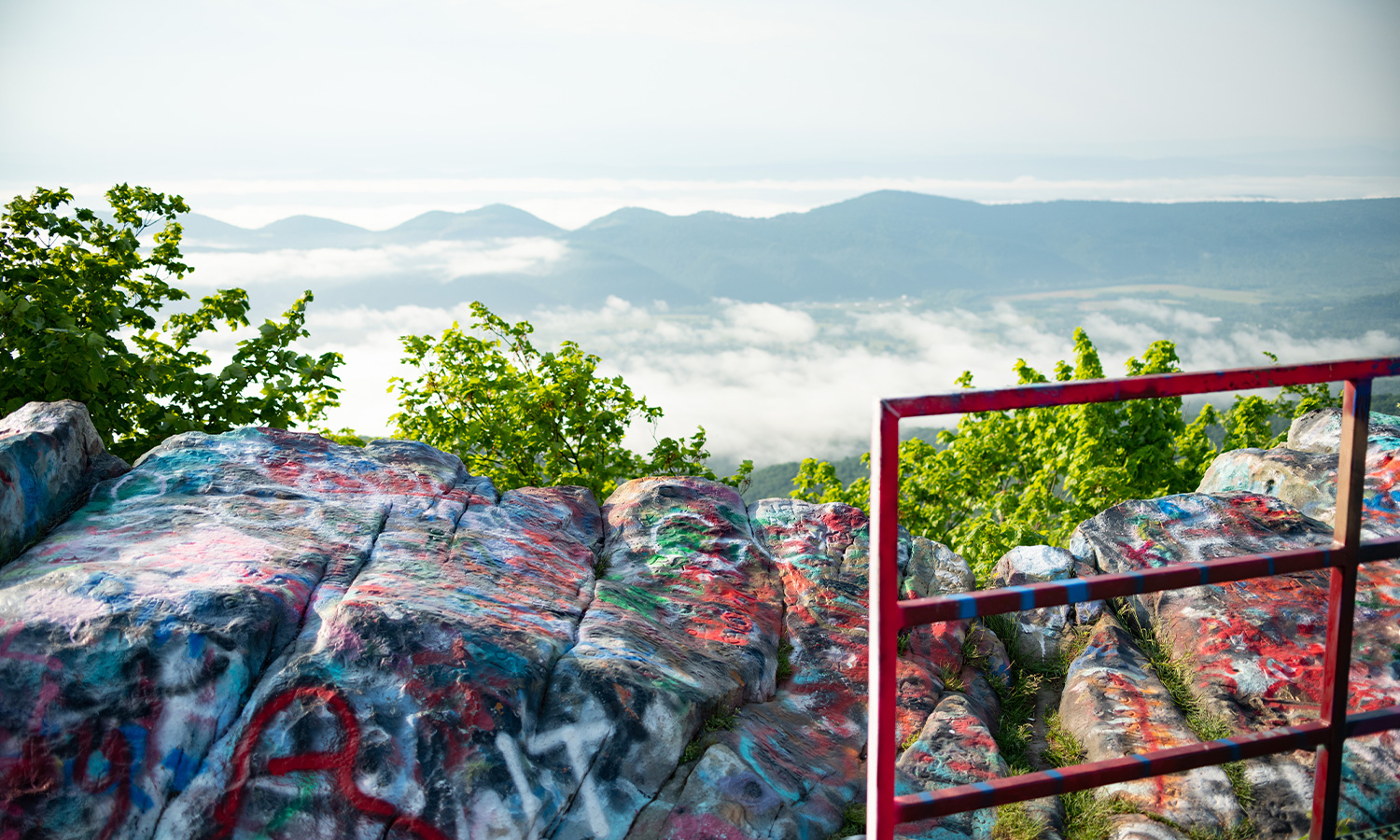 After taking some photos and soaking up the view of clouds settled between mountaintops, I continued my trek west. I look forward to passing back through this area and revisiting the connections I made. Until next time, Maryland!
---
Lead Photo: Erika Hagen
Erika Hagen is a Maryland native who recently moved into a van she converted into her home on wheels. With a degree in Graphic Design from UMBC and years of experience as a portrait photographer she now works remotely while road tripping full time. Keep up with her latest creative endeavors and outdoor adventures on Instagram @VinnieVan.Go and check out her other work at www.erikahagenphotography.com.