A Smith Island Pelican Tour to Remember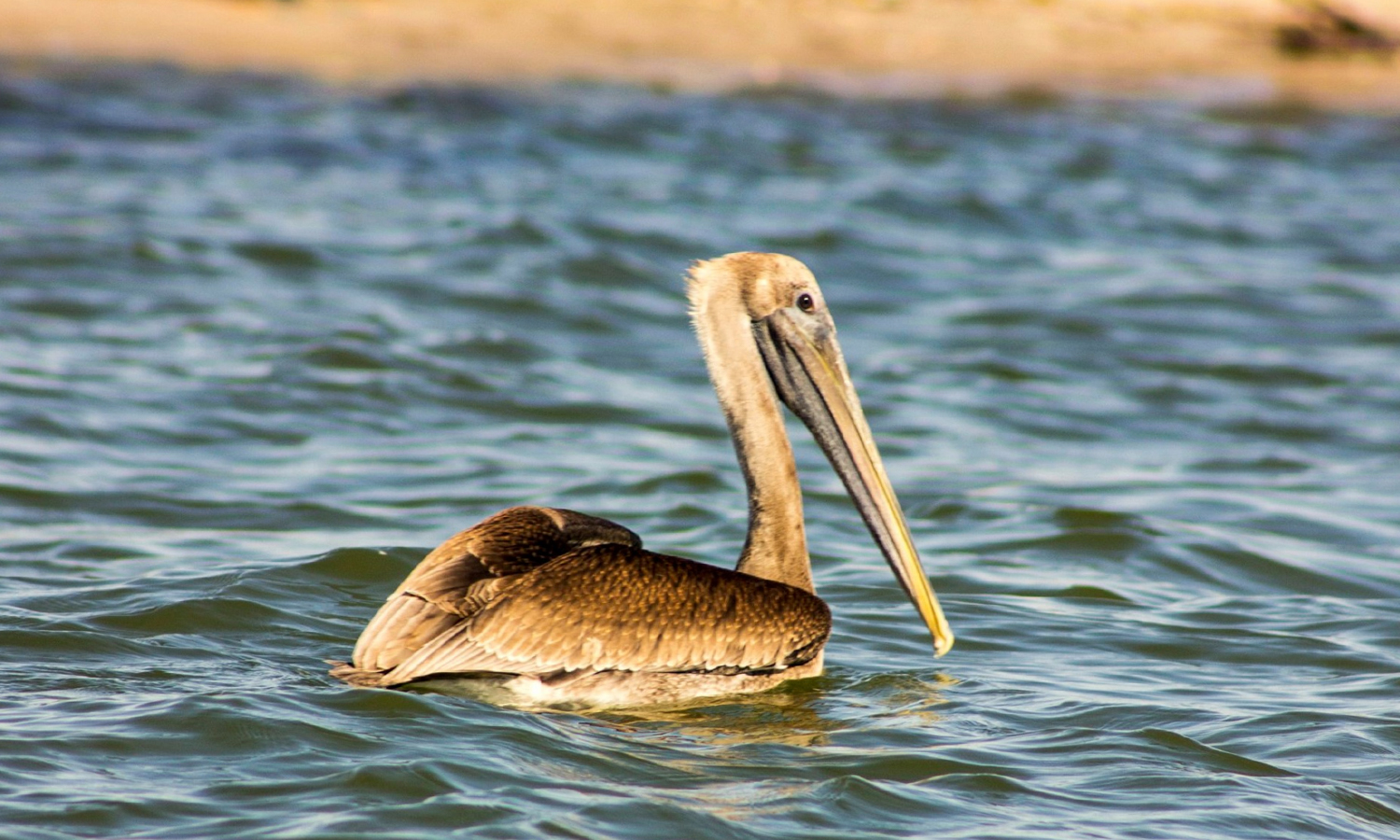 An estimated 45 million Americans call themselves birders, aka bird-watching enthusiasts. I'm very new to it, but here's what I've realized about birding: It's a great excuse for a road trip!
When I found out that the country's northmost colony of brown pelicans roost in the uninhabited islets surrounding Smith Island, I vowed to visit. Delmarva Birding Weekends runs day-long Smith Island Pelican Tours in June and July, which is peak nesting season. 
The hour-long boat trip departs from Crisfield at 7:30 am, so I took the excuse to drive down the day prior and explore the area. I hadn't been since pre-pandemic, and while Crisfield has long been quiet, it's even quieter these days, especially midweek. 
Set at the tip of Somerset County, the southernmost town in Maryland is surrounded by water and marshland. It's an ideal habitat for blue crabs, which made Crisfield a boomtown back at the turn of the last century. Crisfield's wide city dock has ample space for watermen, who bring their catch to the remaining packing houses, and is a popular spot for fishing. The town is edged by the Cedar Island National Wildlife Refuge, which spans nearly 3,000 acres of tidal marsh favored by black ducks and other waterfowl.
For overnight, I chose the Rodeway Inn at Somer's Cove Marina, which is clean and quiet, and priced right. If I were coming for a longer weekend stay, I might check into one of the waterfront condos overlooking the city dock. 
Much of Crisfield's commercial district is closer during the week, but not Water's Edge Café, family-owned and located right by the main dock. A town staple, everyone comes through here at some point, either to dine in their casual, family-friendly dining room, or to get ice cream at the sweet shop next door. This is home cooking the way you want it, cooked from scratch onsite, starting with fluffy pancakes at 8 am to crab imperial-stuffed shrimp at 8 pm. If they're running their fried chicken special, order it.
For waterfront dining, head to Fisherman's Grille, open Thursday through Sunday. Their menu includes seafood platters, ribs, soft-shell crab tacos and all-you-can-eat snow crab legs on certain night. Pair it with a fruity crush and eat one of the picnic tables on their shaded outdoor deck (dogs allowed!) or in the airy dining room.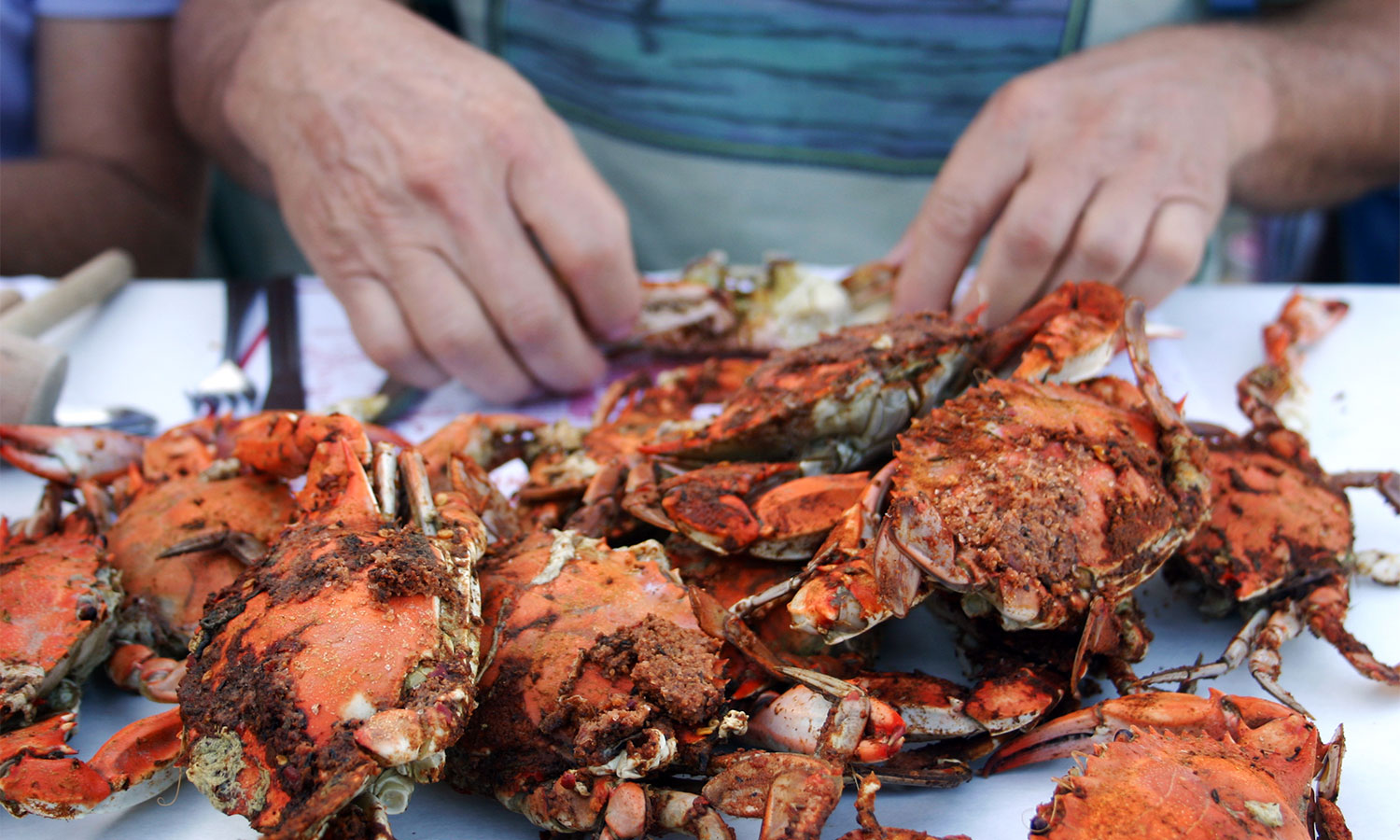 If you want steamed crabs and beer, Linton's Crab Deck and Seafood Carryout is the way to go. They've been bringing fresh Bay seafood to market for 30 years. You can dig into a bushel of steamed crabs and shrimp paired with ice-cold beer on their screened-in porch, or get your crabs packed up to enjoy on your balcony. Their carryout store has fresh and frozen just-about-everything: oysters, soft-shells, clams, scallops, and of course crabmeat. They're open 9:30 am to 4 pm weekdays, and close at 5 pm on weekends.
An early night was fine with me, as we met early the next morning for our 45-minute boat ride to Smith Island, aboard the Captain Jason. The sightings started as we pulled away from the dock, and continued throughout the 45-minute ride, as guide Jim Rapp pointed out seabirds along the way. 
We boarded a trio of smaller boats once arriving to Smith Island and took to the waterways.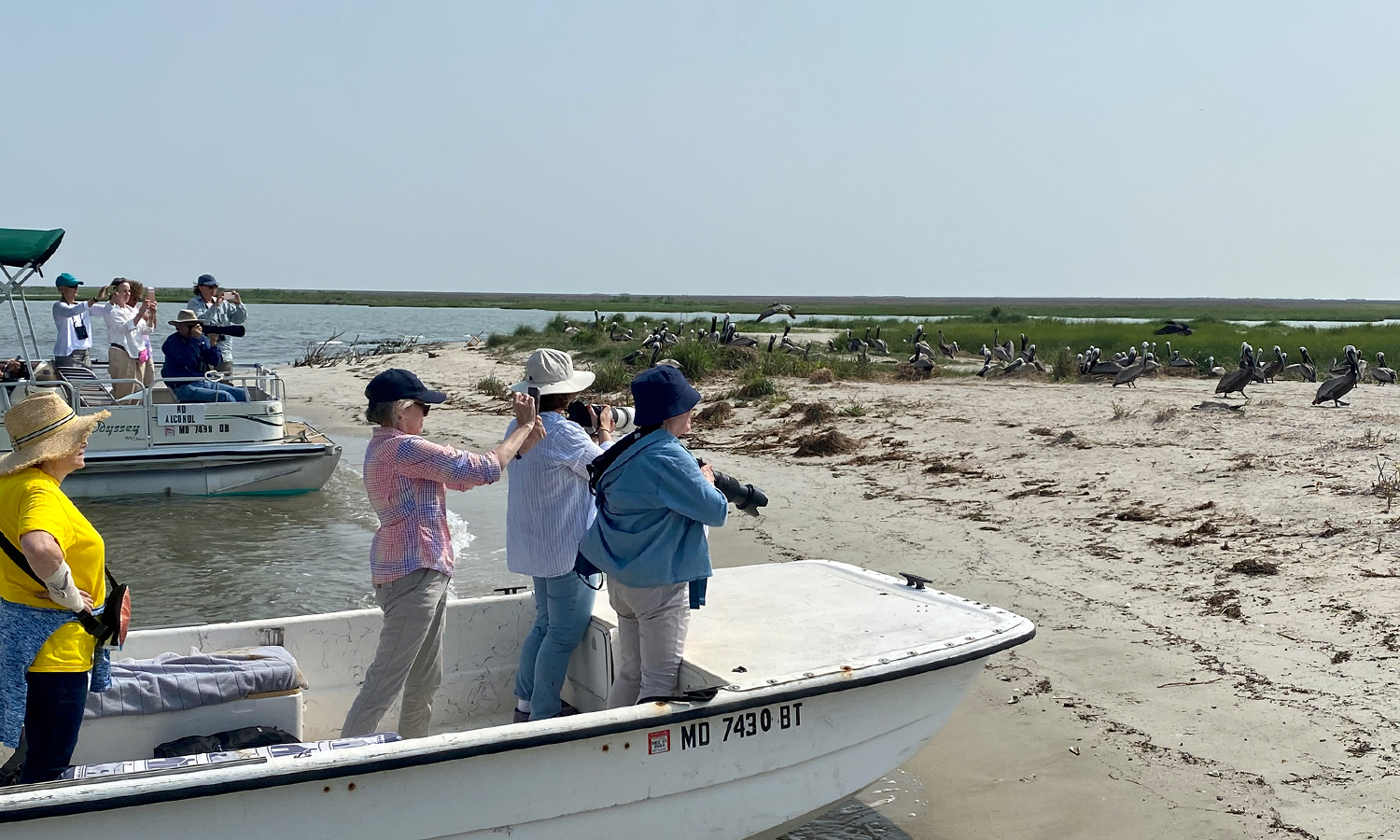 Pelicans roost on outlying protected islets, no landing allowed, but we pulled right up the beaches and watched them from just feet away—close enough to see everything without disturbing them.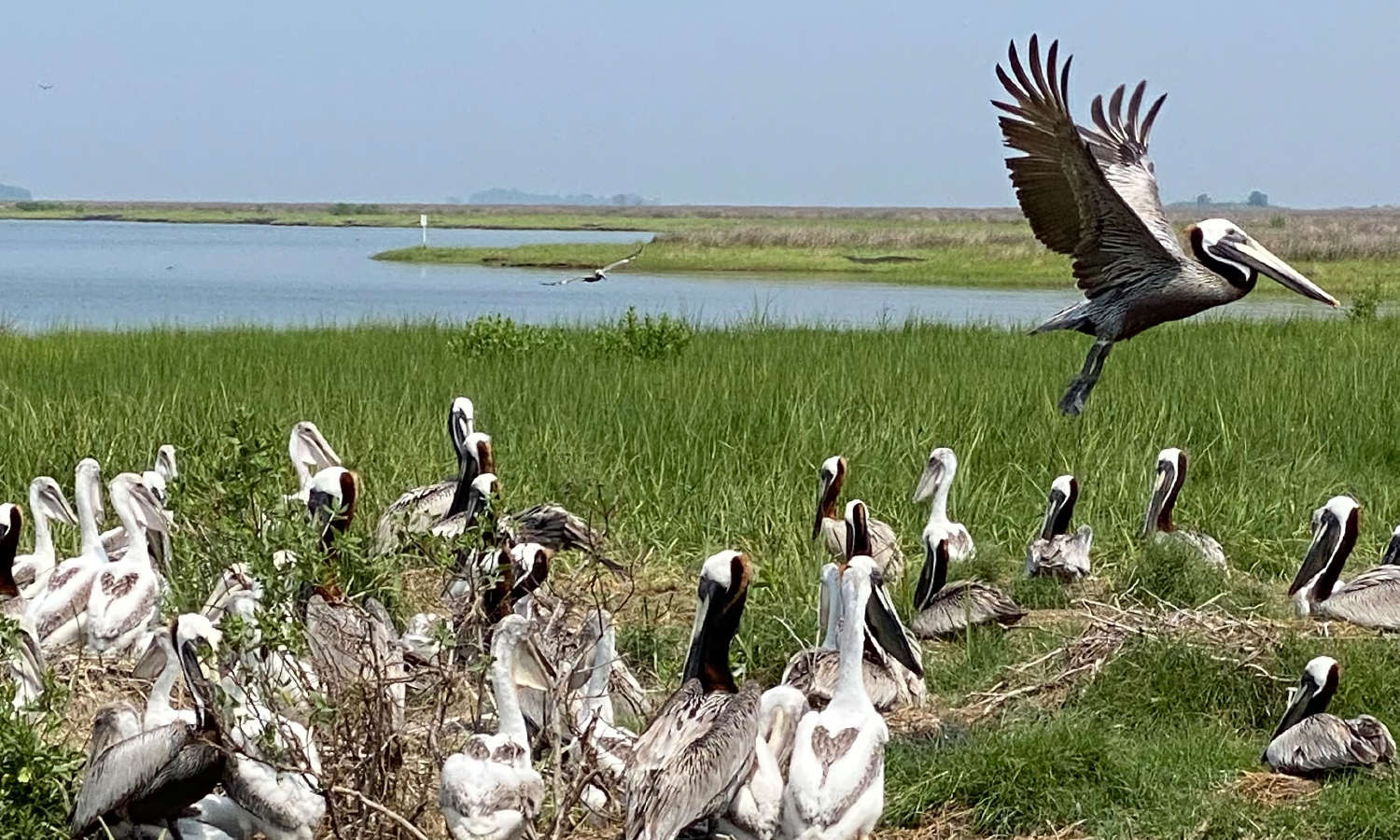 Everyone was rapt watching their interactions, including our three boat captains, all locals who live and work these waters. 
After an hour or so of island-hopping and pelican watching, we headed to Tylerton's Drum Point Market for a take-out lunch featuring their famous crab cakes and slices of Smith Island cake. (A number of people in my group also pre-ordered frozen crabcakes to go; one bite of my sandwich and I immediately regretted not doing so myself.)
Then, we reboarded the ferry and headed to the town of Ewell, the largest of Smith Island's three towns. (The smallest, Rhodes Point, connects by road to Ewell.) Ewell gets commercial ferry service from Crisfield and Point Lookout in St. Mary's County, and is home to the Smith Island Cultural Center & Museum. The small museum's short film gives a great overview of the island's history and community, and it's the perfect place to stock up on books and cozy sweatshirts.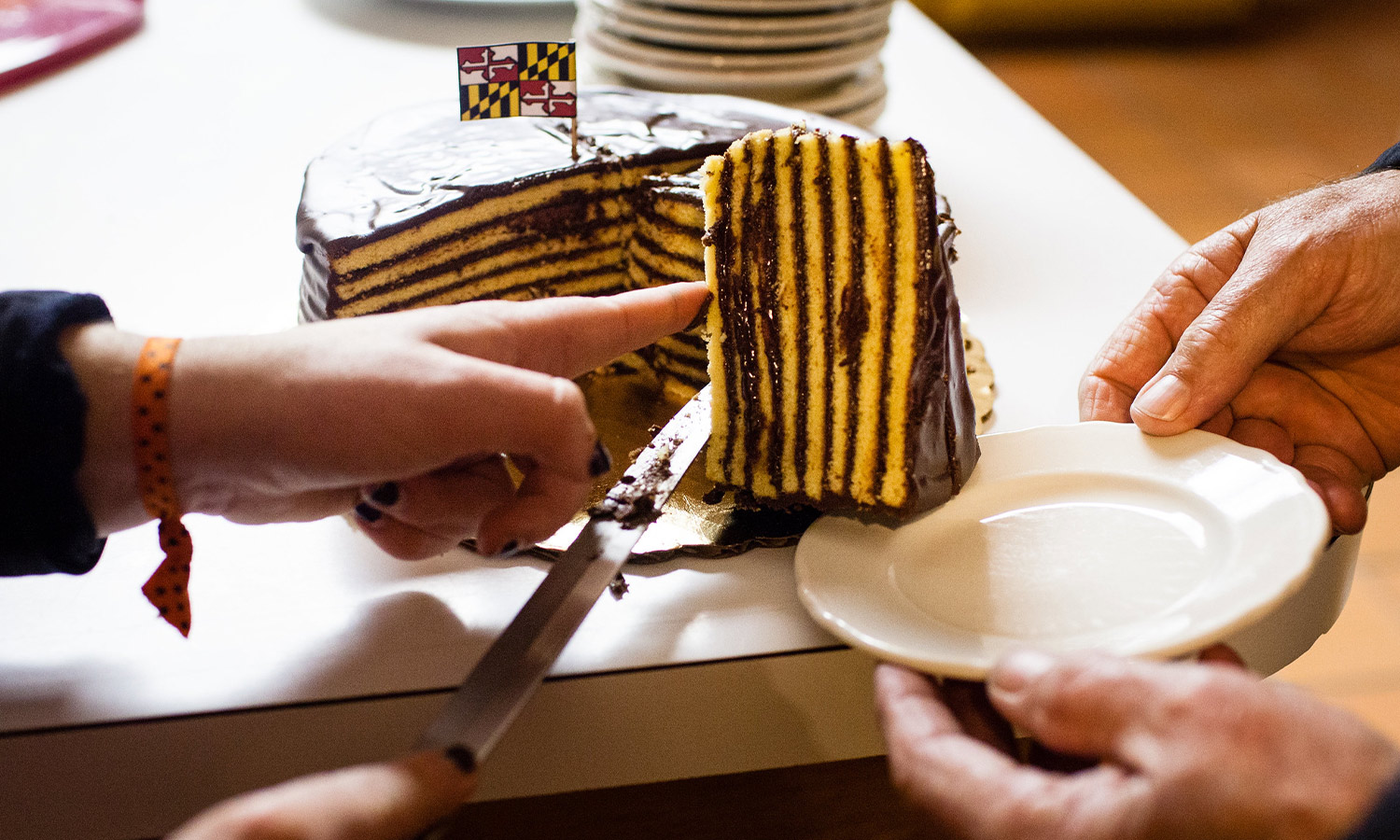 While in Ewell, you can also visit the Smith Island Bakery (yes, they'll pack cakes to go!); enjoy the view from the wide deck of the Bayside Inn, Smith Island's only full-service restaurant; or rent a golf cart or bicycles to explore on your own.  
The day ended with more bird-watching on the ferry back to Crisfield. I couldn't be more impressed with Jim Rapp's knowledge and enthusiasm for all things feathered; it's infectious. Delmarva Birding offers excursions all year long, including history-connected birding tours on the Harriet Tubman Underground Railroad Byway in Caroline County, and Sunset Seabird Safaris, running from June through September out of West Ocean City Harbor. And if you're interested in going on a Smith Island Pelican Tour yourself, get on the waitlist for a 2024 tour. 
See what I mean about birding being a great excuse for a road trip?
---
Lead Photo: Smith Island Cruises
Longtime travel writer/editor Susan Moynihan has visited 60+ countries, but her favorite pastime is exploring the back roads of her home state. Her book 100 Things to Do in Annapolis and the Eastern Shore was published in 2019, and she has a new one in the works.