A "Fun Mom" Road Trip to Frostburg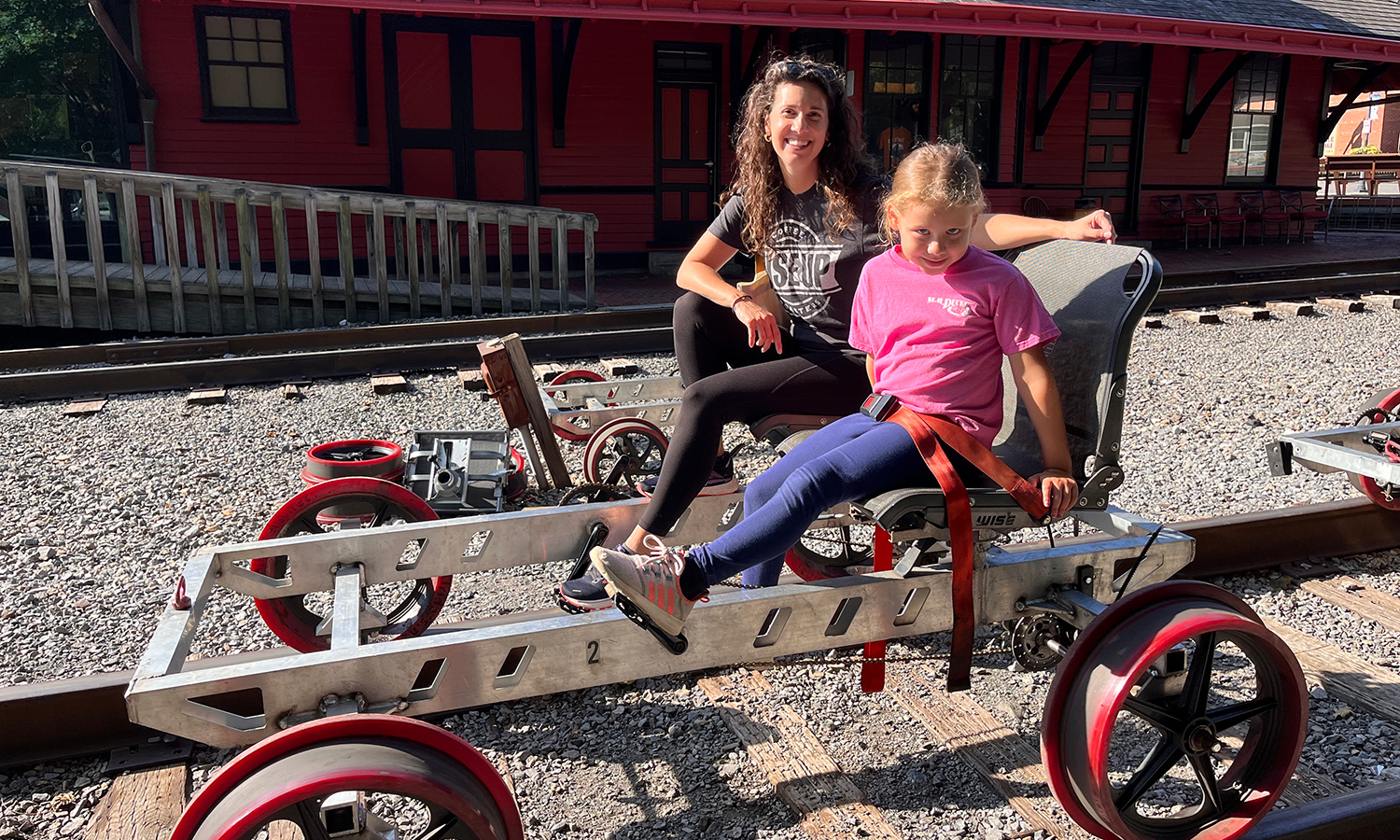 Do you ever feel you need a complete reset with your kid(s)? By the end of July, I felt weary of what seemed like non-stop chatter and interrupting from my six-year-old daughter, Chloe. I was tired of holding boundaries and felt guilty for wanting time to myself. I missed being a fun mom. My husband had a business trip in early August, so I booked a last-minute mother/daughter trip to Frostburg, Maryland. My goal for the trip was simple: connect with my child. 
One of the things I've come to appreciate about living in Maryland is that we have so many types of getaways close to home. Packing for an overnight stay and making the short drive from Frederick to Frostburg was a breeze. And oh, that drive! Passing through the geological marvel known as Sideling Hill is a road trip event in and of itself, whether you pull off to take photos or simply gape at the views from inside your car. 
Perched in the Allegheny Mountains, Frostburg offers a picturesque retreat for anyone craving a break from the responsibilities of home. I felt as if we were entering a vintage postcard as we drove through the charming rows of historic buildings lining both sides of Main Street.
We parked at Hotel Gunter, conveniently located within walking distance to almost everything we did over our stay, and walked hand in hand to Clatter Cafe.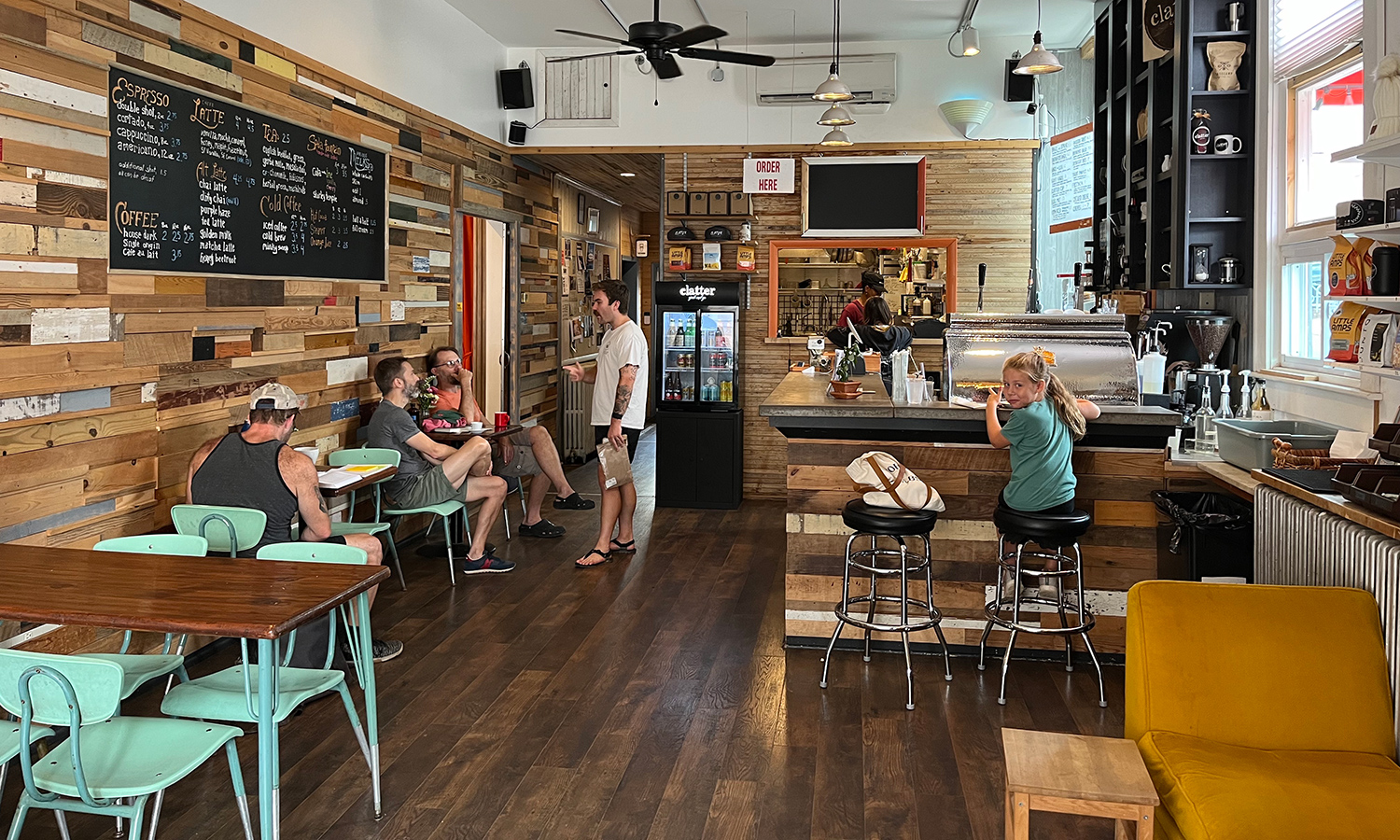 I devoured the G.O.A.T bagel (delicious!) and made my first "fun mom" decision of the trip—allowing Chloe to eat a blueberry muffin for lunch. We walked to the Frostburg Museum, where we received a tour from docent John Kirby. I was nervous Chloe would quickly lose interest, but the museum packs in fascinating local history while telling the story of our nation on a smaller scale.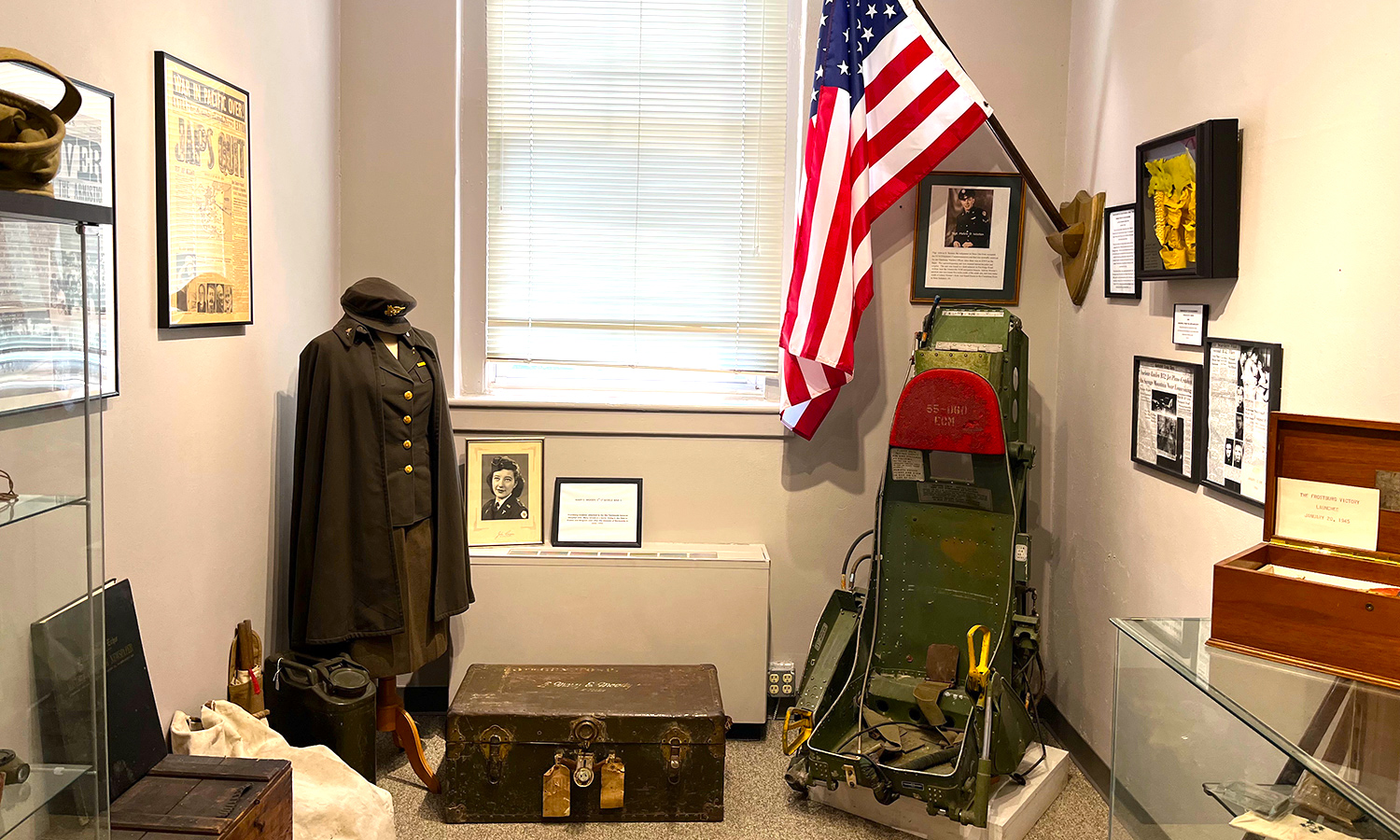 We learned about Frostburg's coal mining industry and viewed the uniform and foot locker of a local woman who nursed soldiers in Normandy and a seat from the 1964 Savage Mountain B-52 crash. Kids will love the room full of donated antique and vintage children's items. Whether you consider yourself a history lover or not, there's something for everyone to appreciate here, and it's well worth a stop if you're in town. 
The plan was to head straight to our hotel next, but we couldn't resist popping into Main Street Books first. Reading is my favorite hobby, and entering an independent bookstore puts me on cloud nine. Fun mom move #2: I let Chloe pick out a book and a stuffed animal.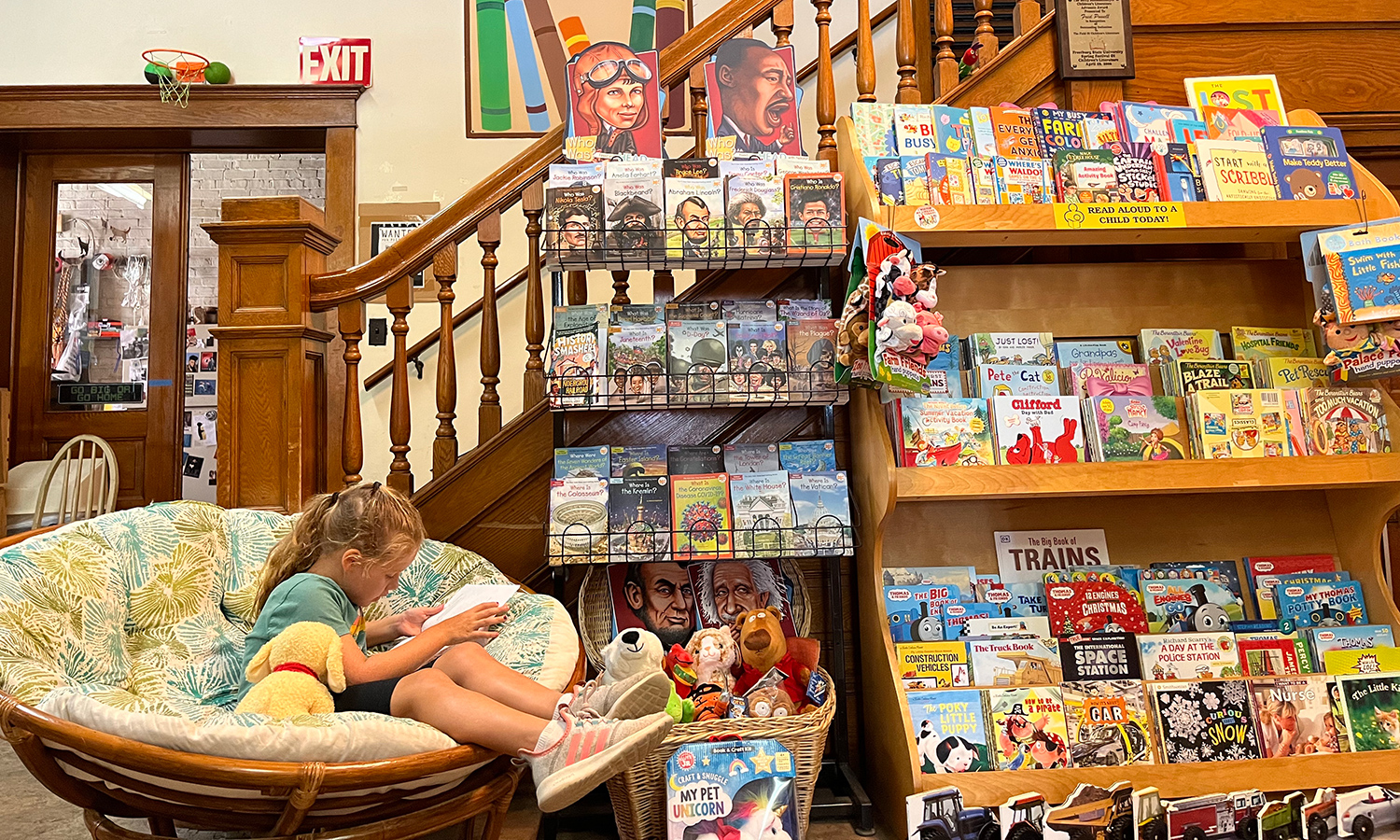 I would have been content to spend all afternoon browsing the shelves and chatting with the helpful staff, but this trip wasn't all about me. Thankfully, our hotel was practically next door, and I knew we could come back the next day.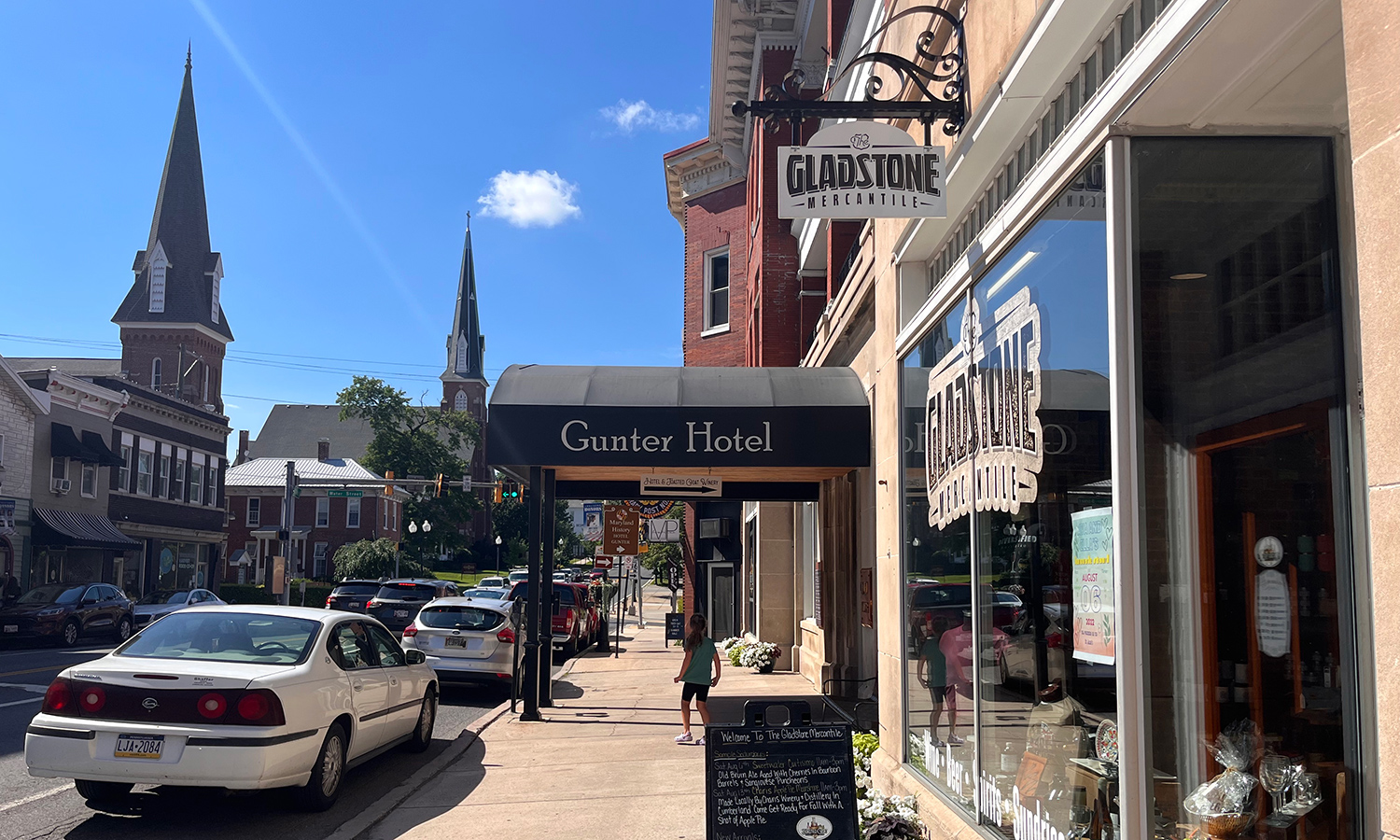 I've wanted to stay at Hotel Gunter since reading about it in an article from 2020, and it didn't disappoint. The property has housed much more than hotel guests since its construction in 1897, including a petting zoo, a prison, a speakeasy, and a cockfighting pit! Stop at the front desk and ask for a tour of the building—you won't regret it. There's even a handful of exhibits in the hotel basement. Now, the building houses hotel rooms, apartments, a ballroom for events, Toasted Goat Winery Tasting Room and Restaurant, and Gladstone Mercantile. The original basement speakeasy now serves as a bar and event venue, and there's also a biergarten behind the hotel.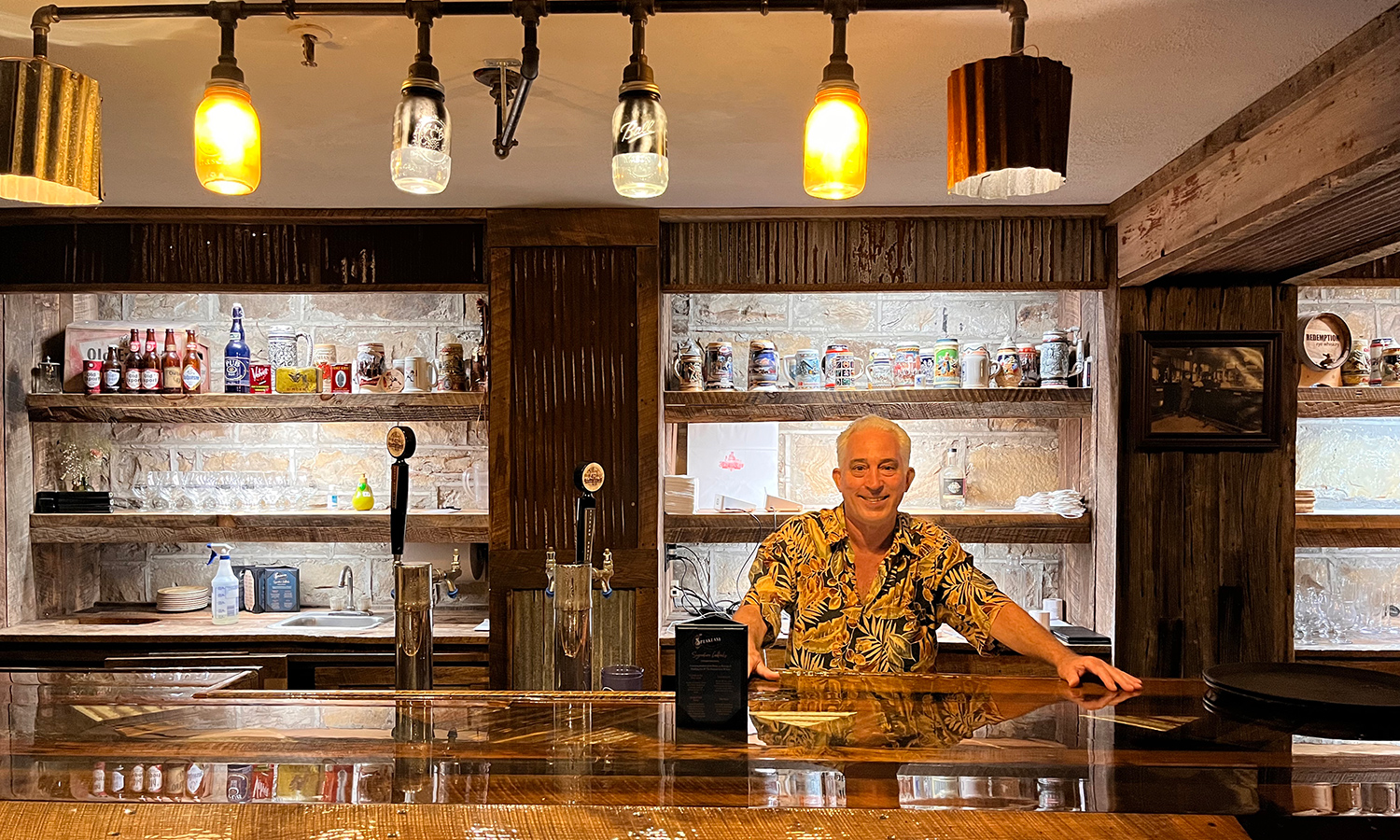 With renewed energy after a rest in our clean and comfortable room, we hit the town once more. There's plenty to explore, including Madison Paige Boutique, Old Forty Trading Co., Ladybug Boutique, and McFarland Candies. Don't miss perusing Mountain City Traditional Arts, a nonprofit that celebrates traditional Appalachian art. The space serves as a performance and event venue as well as a gallery and retail shop. Find a variety of treasures created by local artisans, from fine art photography to candles, soaps, socks, jewelry, knitted items, and more. Chloe has dreams of being a professional artist one day (if being a mermaid doesn't pan out), and I enjoyed watching her carefully touch and admire nearly every item in the shop.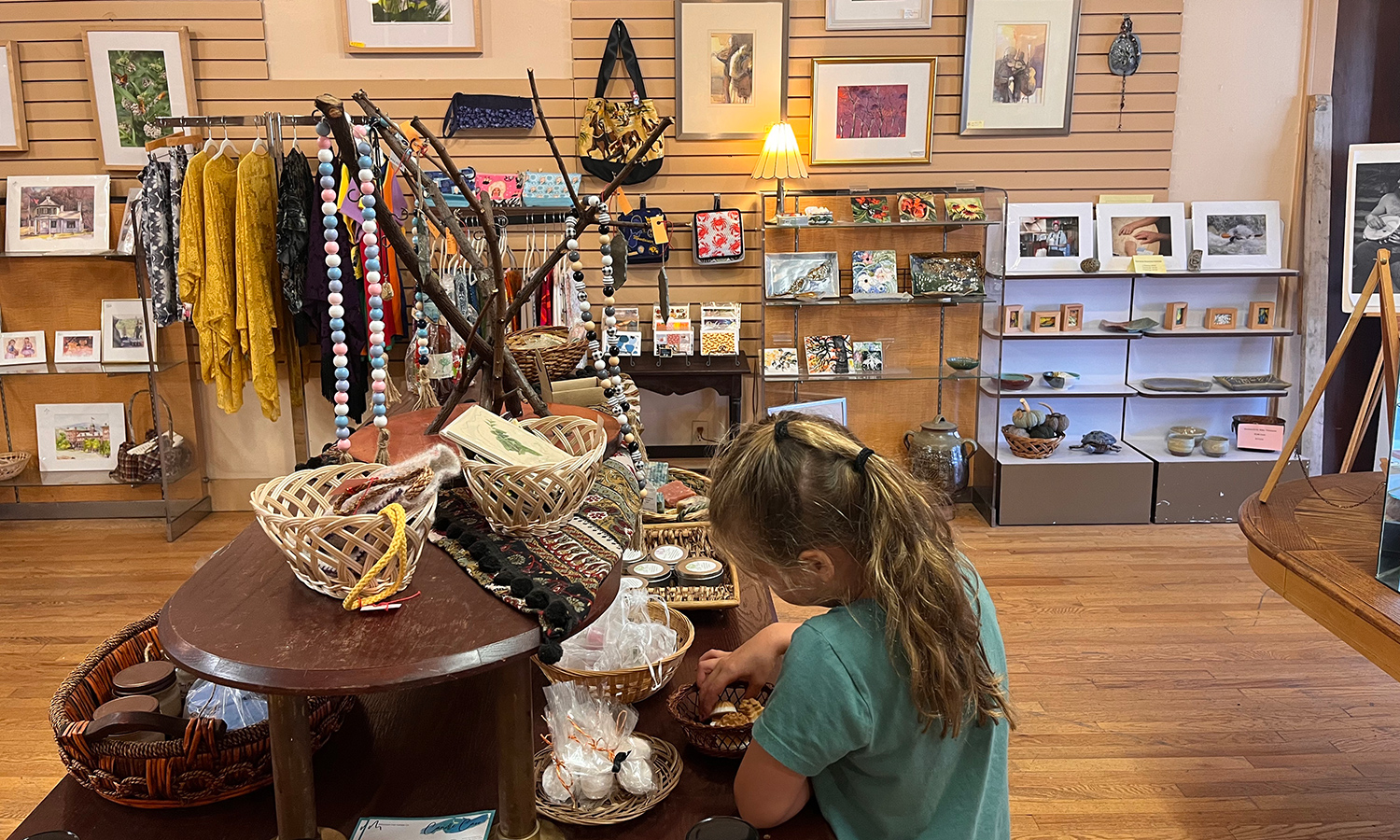 I rewarded my shopping sidekick with ice cream before dinner. No trip to Frostburg is complete without a stop at Frostburg Freeze, a walk-up shop offering a variety of frozen delights. From there, we did something I'd never done on vacation before—we went to the public pool! Fun mom strikes again! 
We ended our evening with burgers and fries at The Toasted Goat, clearly the place to be even on a Tuesday night.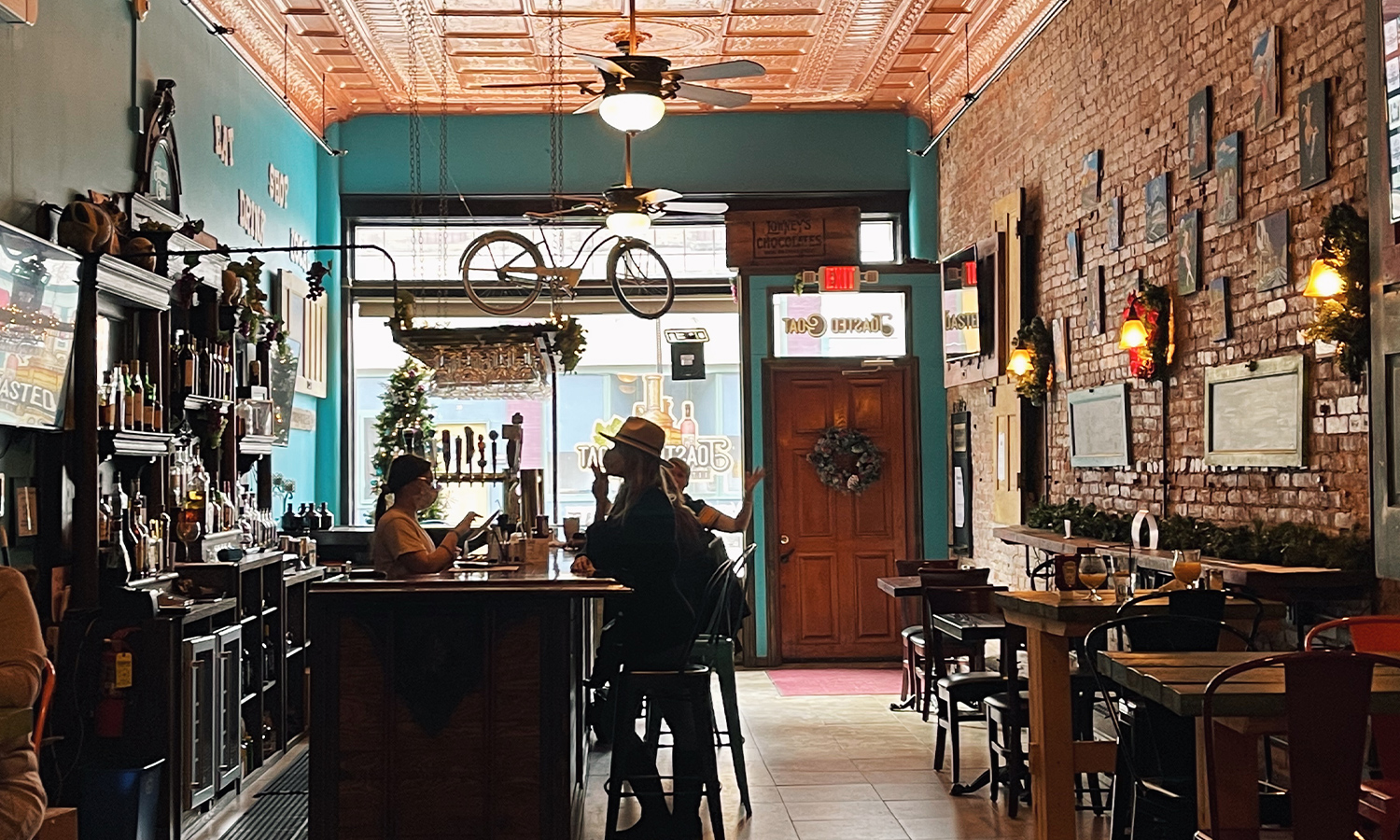 I noticed groups of families, friends, and couples on dates and even spotted John, our friendly docent from the museum, who sweetly accepted a picture my daughter colored while waiting for our meal. 
Coffee was first on my mind when we woke up the following day, so we walked back to Clatter Cafe, where an employee at Main Street Books promised I'd have an impeccable cappuccino. It pays to talk to locals—the burst of caffeine was the perfect start to my day. We enjoyed a filling breakfast at Princess Cafe, a family-owned restaurant for four generations.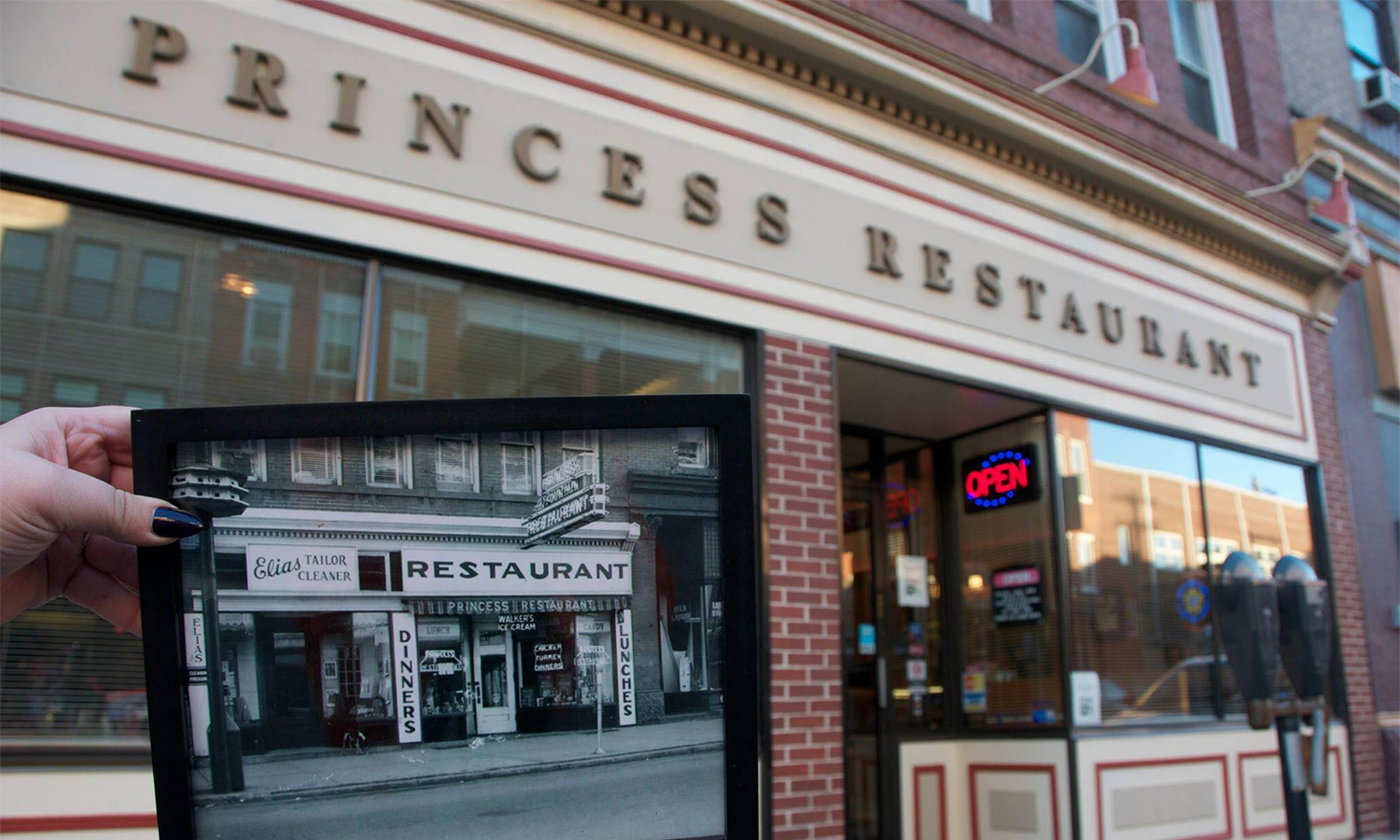 Fun fact: you can sit in the Truman booth, where former President Truman and his wife ate lunch together in 1953! Kids will love sitting at the lunch counter, and parents will love the affordable prices.
Next, we made the short drive to the Train Depot for our 9 a.m. railbike excursion with Tracks and Yaks. We took the Frostburg to Cash Valley tour, a ten-mile ride that follows the Great Allegheny Passage. We laughed, sang, and chatted through the trees and past breathtaking mountain views.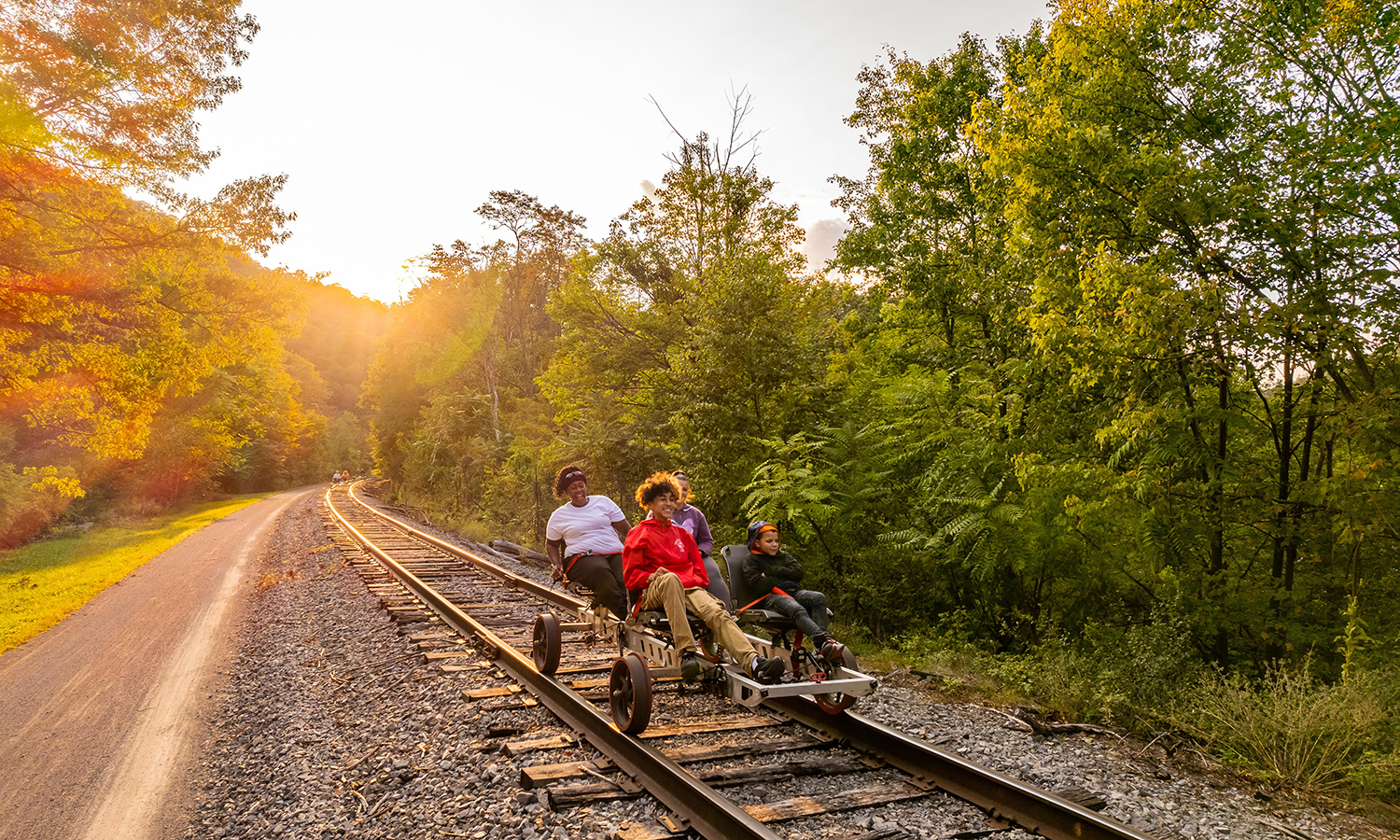 Chloe determined within the first five minutes of the ride that she was having "the time of her life" and "we have to come back with daddy and some friends." I was impressed that she didn't get tired of being in a seat for nearly two hours. In fact, she helped pedal the last five miles! Our enthusiastic tour guides (special thanks to Josh and Chuck) made sure everyone felt safe and comfortable using the bikes and shared entertaining local history during one of the stops along the ride. We spent some time enjoying the public-use games at the train station before heading back to town for lunch.
If you're a sucker for a club sandwich, run, don't walk, to the charming Mountain City Coffeehouse & Creamery. I'm not kidding when I say it was the best club sandwich I've ever had!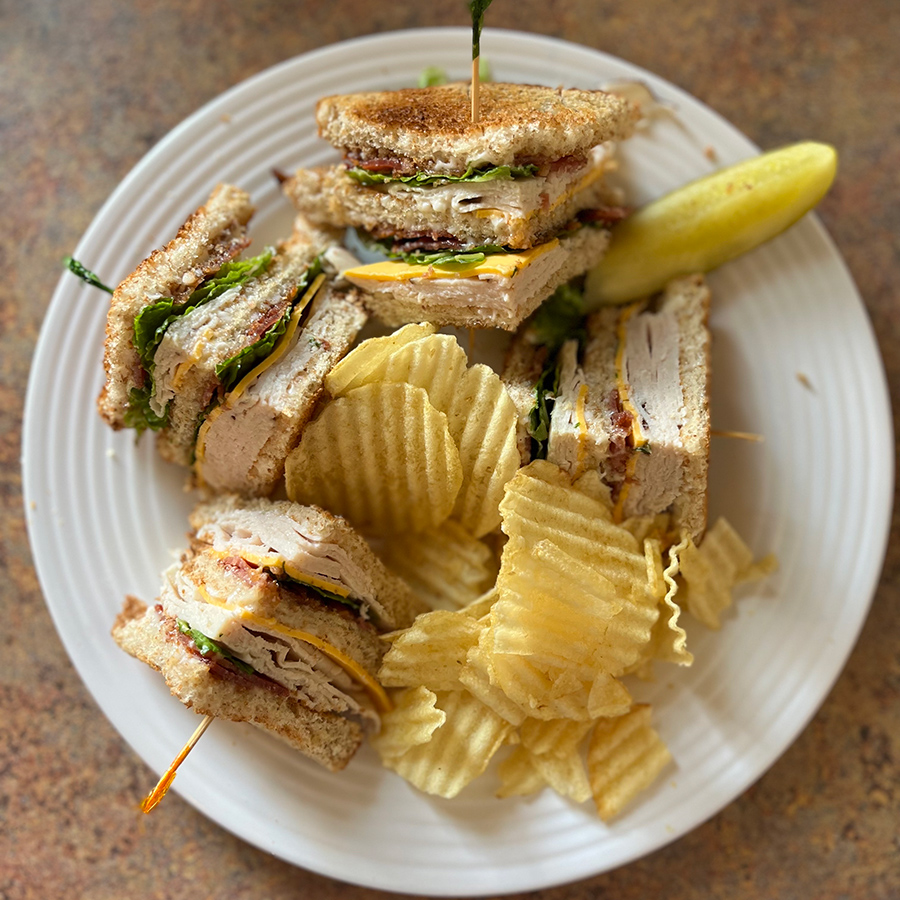 I spoiled Chloe with one last ice cream cone before we walked up the hill to check out of the hotel. But first, I had to do a little more shopping: a few more novels from Main Street Books and a bottle of wine from Gladstone Mercantile.
We left Frostburg with a trunk full of shopping bags and hearts full of happiness. Exploring a new place with my daughter without the distractions of work and home management provided hours of opportunities to snuggle, talk, and enjoy one another's company. Whether you're looking to reconnect with a loved one, poke around a walkable historic main street, or find the book and coffee shop combination of your dreams, put Frostburg on your list of places to visit. 
___
This article is sponsored by Frostburg First, a Maryland Main Street Community. Frostburg, known as Maryland's Mountain City, is located in Western Maryland and is less than 3 hours from the DC/Baltimore and Pittsburgh metropolitan areas. Home to unique attractions set against stunning scenery, Frostburg is a trail town on the spectacular Great Allegheny Passage and the destination for the Western Maryland Scenic Railroad. Its charming shops and restaurants with local flair in a lively arts and entertainment district make this hidden gem a perfect mountain getaway.  
---
Lead Photo: credit to a kind Tracks and Yaks employee—thanks!
Laura Rennie is the Editorial Manager of Maryland Road Trips and also works as a freelance writer. She loves a good burger and often plans her travels around food. Laura lives in Myersville, MD, with her husband and daughter. She can be reached at laura@marylandroadtrips.com.