Gather Gram-Worthy Blooms at These Sunflower Fields in Central Maryland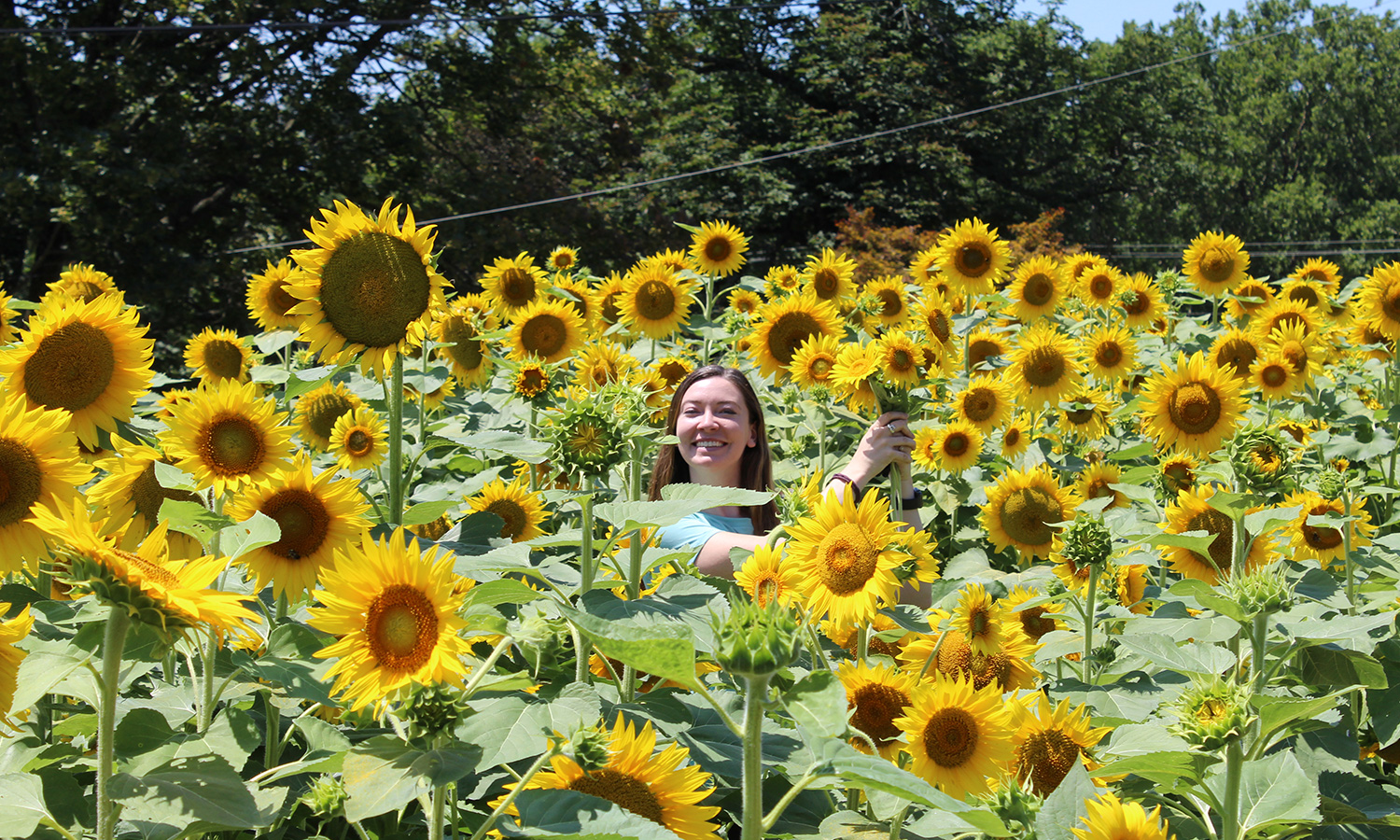 It's no surprise sunflower fields have gained popularity throughout the years. When your Instagram feeds fill with rows upon rows of bright petals, you can't help but feel the draw to experience the sunny blooms for yourself. Lucky for you, there are a handful of sunflower fields in central Maryland that make a great day trip from D.C. or Baltimore.
While it seems like these flowers are around all summer, this crop only has a season of about a month. It's best to visit at their peak before they're gone!
Fortunately, with fields all over Maryland that are planted at different times in the late spring and early summer, you are sure to find somewhere in bloom to add your own flower-filled pics to the 'gram.
I recently got the itch for a personal photoshoot and a bouquet of blooms for my desk. Some photographers book private sessions at sunflower fields, but I just opted for my new Canon camera to play with. Camera packed and model in tow (my sister), I hopped into my car, opened the sunroof, and blasted Sunflowers by Post Malone to start the day.
The Sunflower Garden – Westminster
I was excited to visit The Sunflower Garden in Westminster as our first stop of the day. I visited this spot with my college roommates almost seven years ago and remembered how adorable the farm was with flowers around every turn.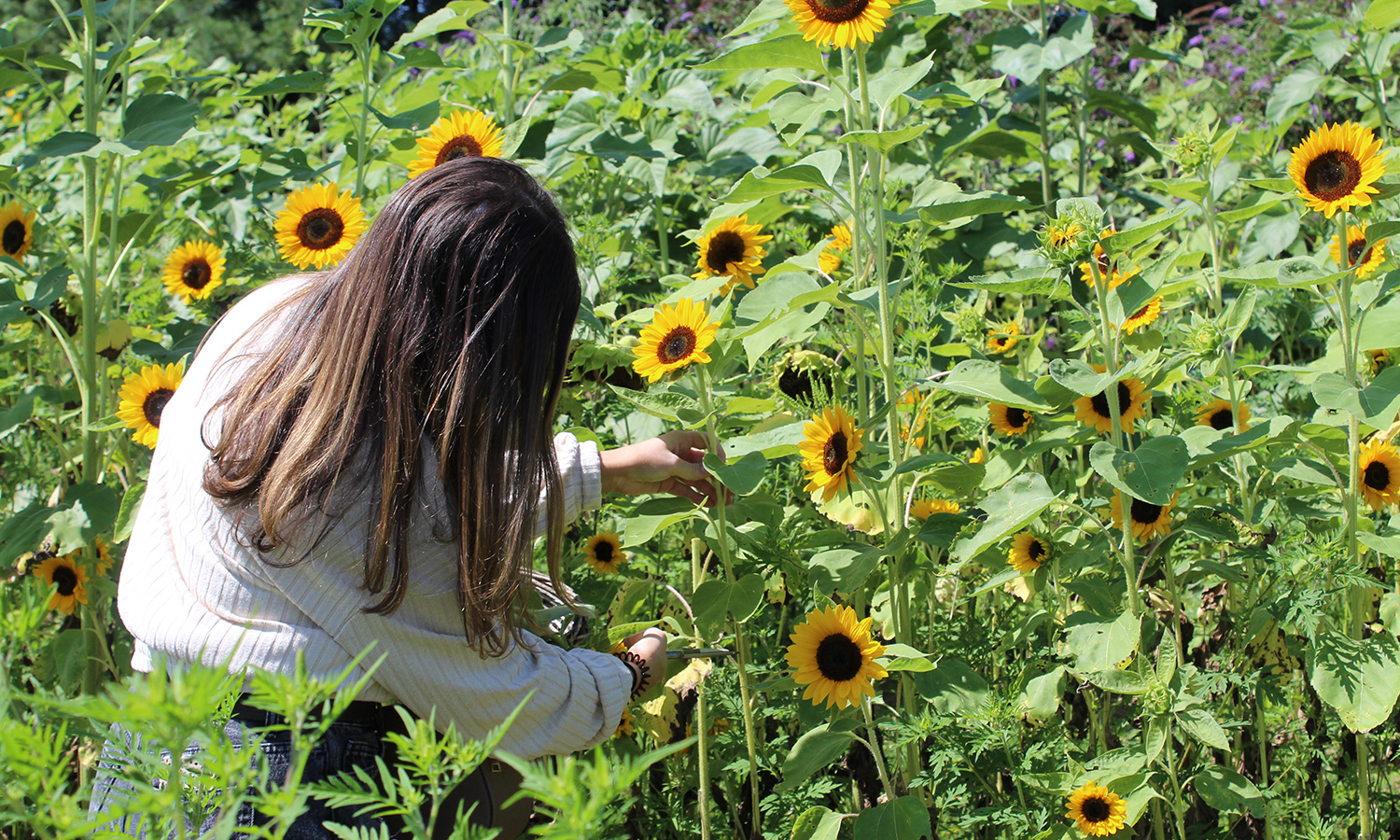 The Sunflower Garden features smaller fields of sunflowers surrounding rows of a large variety of flowers, including zinnias and cosmos, perfect for building bouquets. When you walk up, grab a collecting basket to fill and venture through rows of flowers, watching butterflies and other pollinators flying around.
Each bouquet is $15; additionally, they offer various unique vases and containers you can purchase to display your beautifully picked arrangement.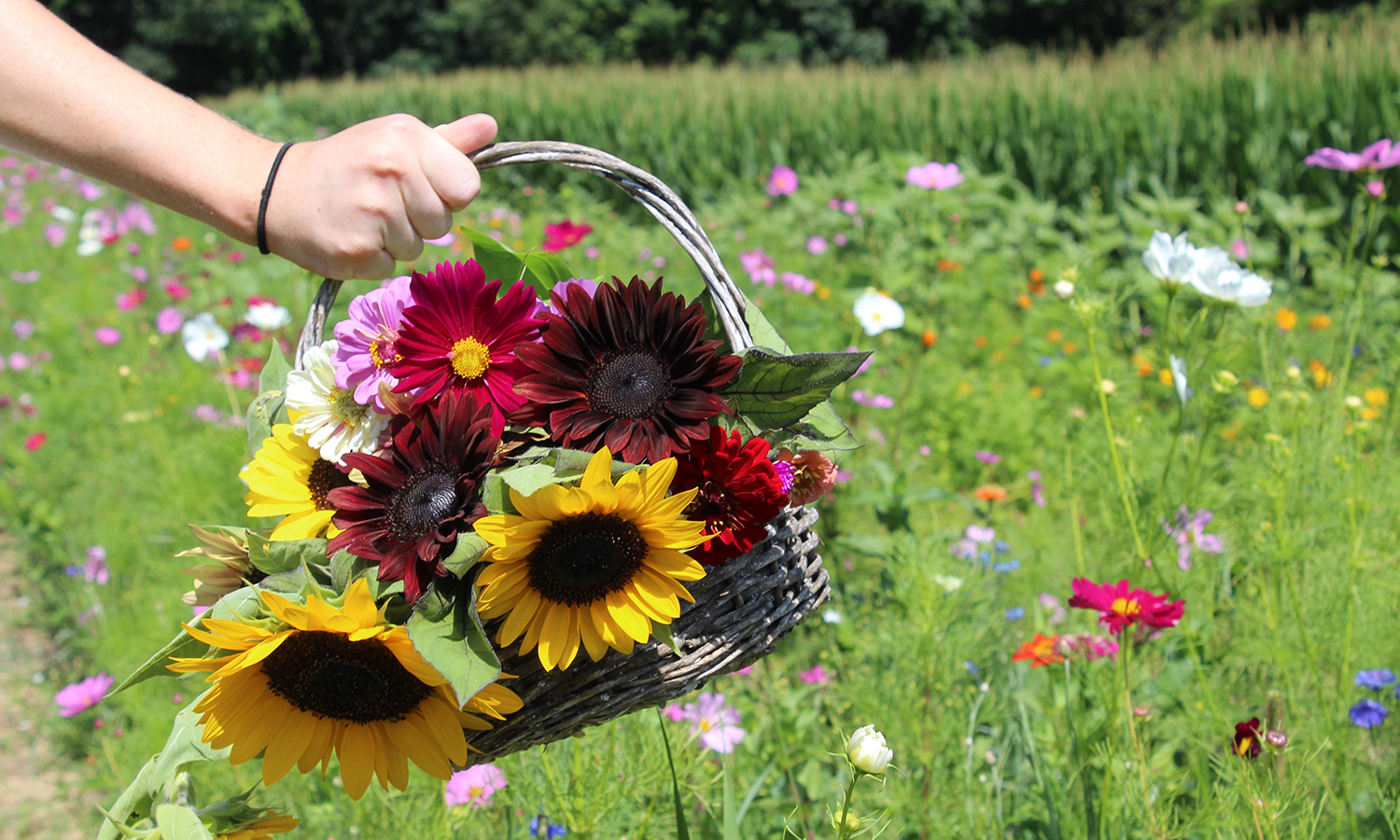 This field sits back on the farm and offers the most serene views, making it a picturesque experience. They are updating Facebook with their open schedule and the progress of their sunflower maze set to be in full bloom in September.
Larriland Farm – Woodbine
Larriland Farm is a childhood favorite; I have many young memories of picking apples in the fall and strawberries in late spring. The farm has a summer and fall crop of sunflowers, making it a great stop to grab some sunflower pics and do some pick-your-own crops on your trip.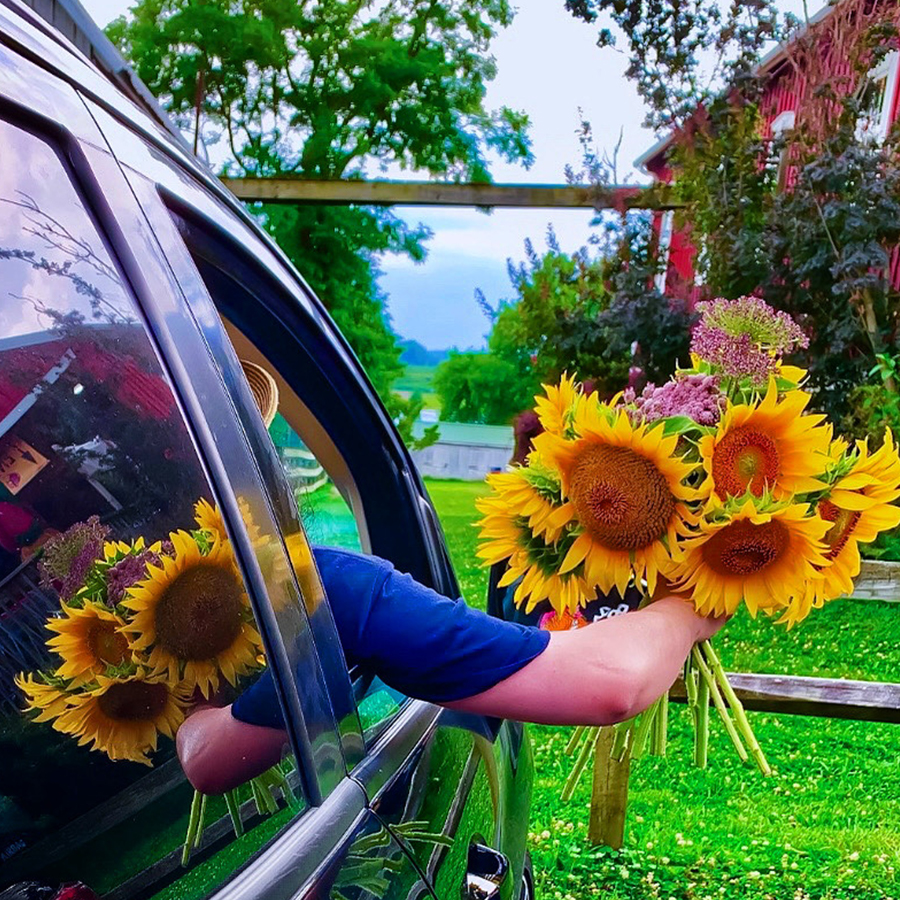 The fall sunflower field should last into October, making it an excellent destination for flowers, pumpkin picking, and enjoying their weekend fall festivals. Their current sunflower patch has a small loop to walk through and is next to their wildflowers.
For $15 you get to fill a cup with flowers of your choice. The farm's website is updated daily with what fields are open and the pick-your-own options. Larriland is a great family farm with many options for kids of all ages, making it an excellent stop during your fall excursions.
If you find yourself on I-70, stop by — it's only 2.5 miles off the interstate. Be sure to stop at Alex's Snow Cones & Ice Cream on your way home.
Sunflowers of Lisbon in Maple Lawn – Fulton & Lisbon
As a child, Derek Patrick always imagined a sunflower field in the sod farm in Lisbon. Around a decade later, that dream became a reality, and Sunflowers of Lisbon was born. I've visited this field since its start and have hundreds of photos to show for it. Last year, their second location opened in Maple Lawn to expand the sunflower season over two farms. Both fields fulfill all your sunflower needs with over 10 acres of flowers at each!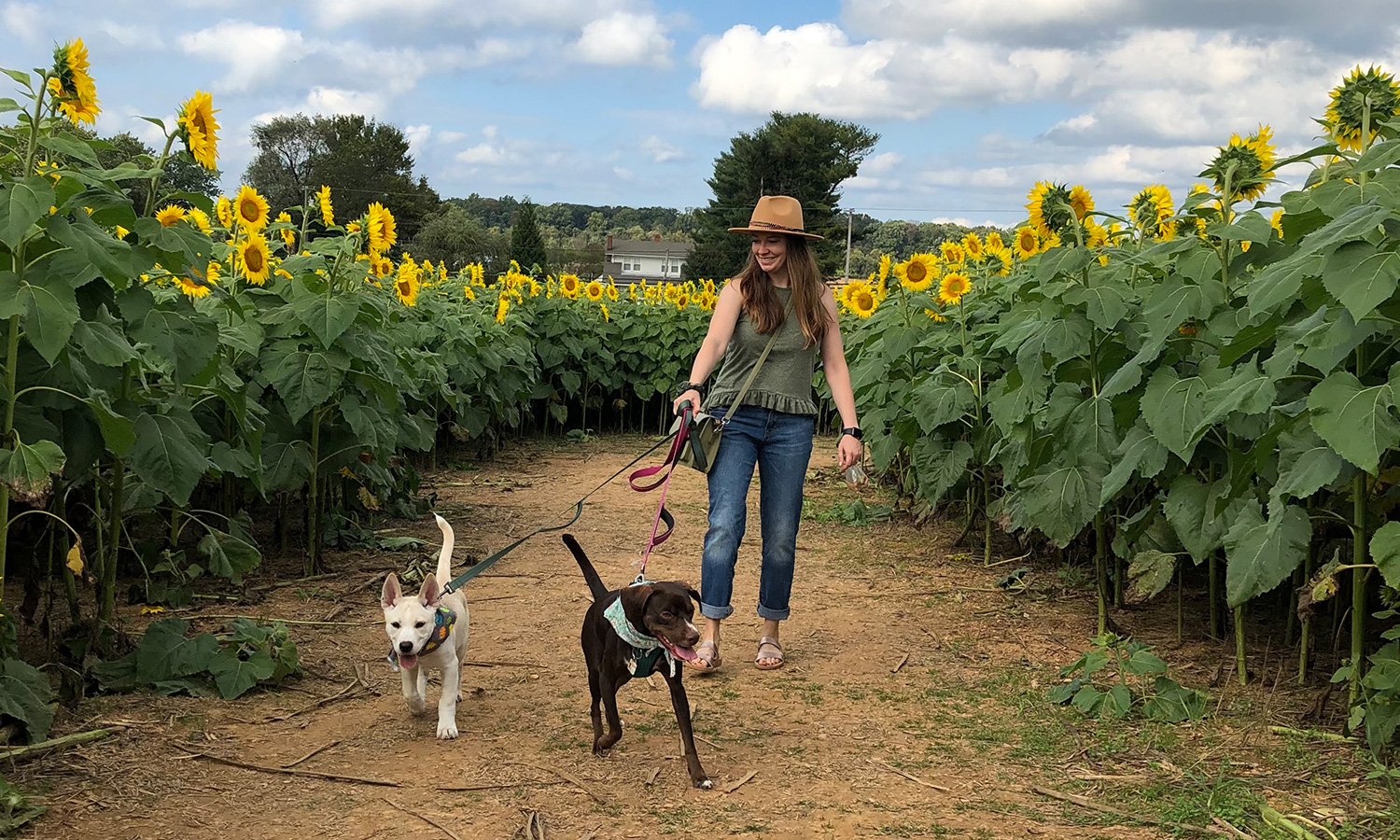 The Lisbon field is open until July 31 with possible fall dates announced through their Facebook. The Maple Lawn field is scheduled to be open throughout the month of August. There will also be a corn maze and pumpkins in October at Lisbon. Both locations host vendors, hayrides, food trucks, and live music on the weekends, making this a great place to hang out for a few hours. An entrance fee of $15 per person (age 5 and up) includes two blooms and access to the festivities.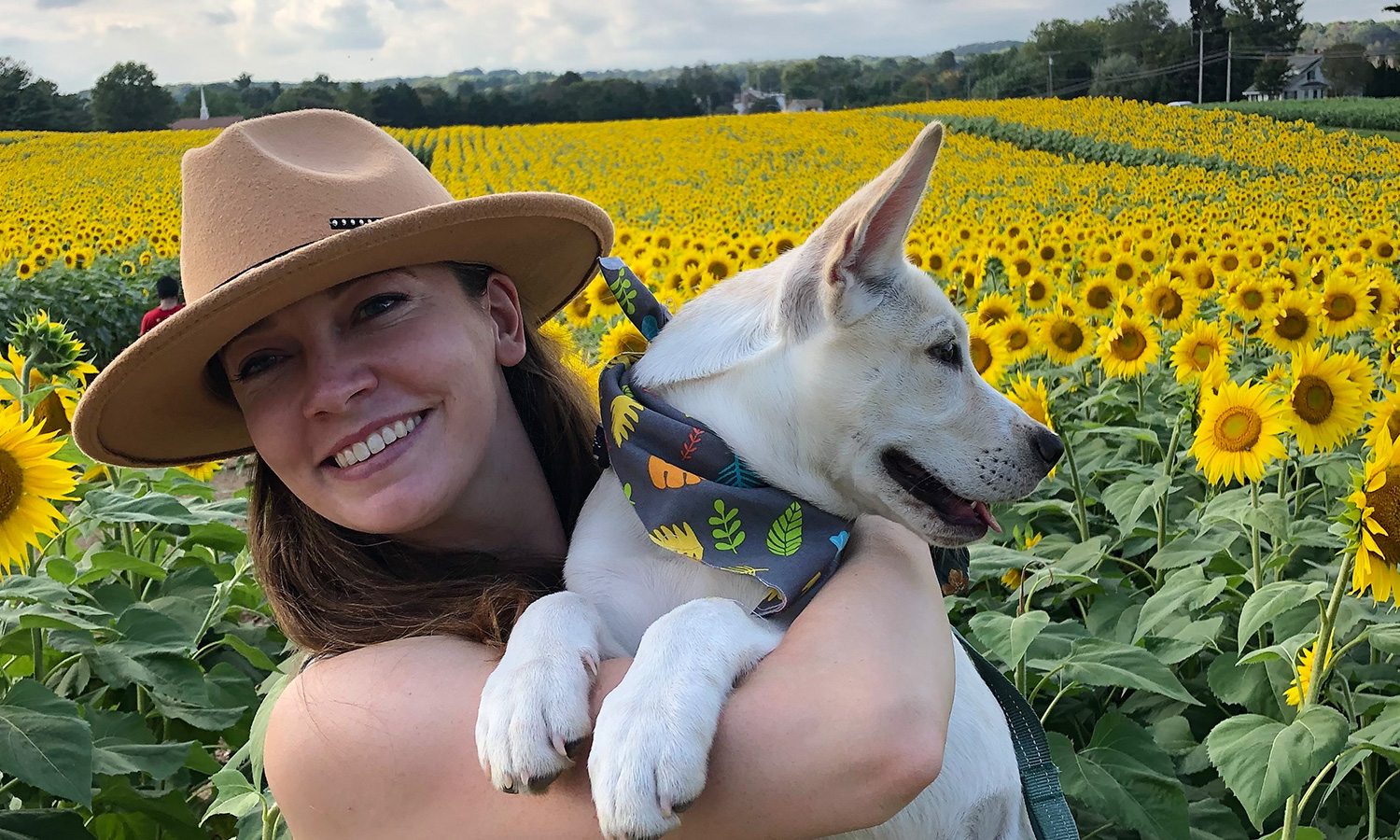 Well-behaved leashed dogs are welcome, and they even host dog nights. This was easily the largest field of flowers we visited and truly embodies the spirit of sunflower fields. Information about both fields can be found at Sunflowers of Lisbon on Facebook and Instagram.
Other Maryland Sunflower Fields Worth Seeing in the General Area
I was hoping to enjoy an ice cream cone in the sunflower field at Rocky Point Creamery, but just like with any crop, many factors affect how these fields will grow. Fortunately, they were able to replant and expect flowers in mid-September. If you're thinking of making a trip here once the flowers bloom, check out these other road trip destinations.
This article has been updated to reflect 2022 events and dates.
---
Lead Photo: Lanie Condor
Lanie Condor is the Social Marketing Manager of Maryland Road Trips. She enjoys traveling the state to find inspiration for content, especially when she can bring her two dogs along. She and her husband (and the pups) live in New Market, Maryland.