Design Your Perfect Escape at Rocky Gap State Park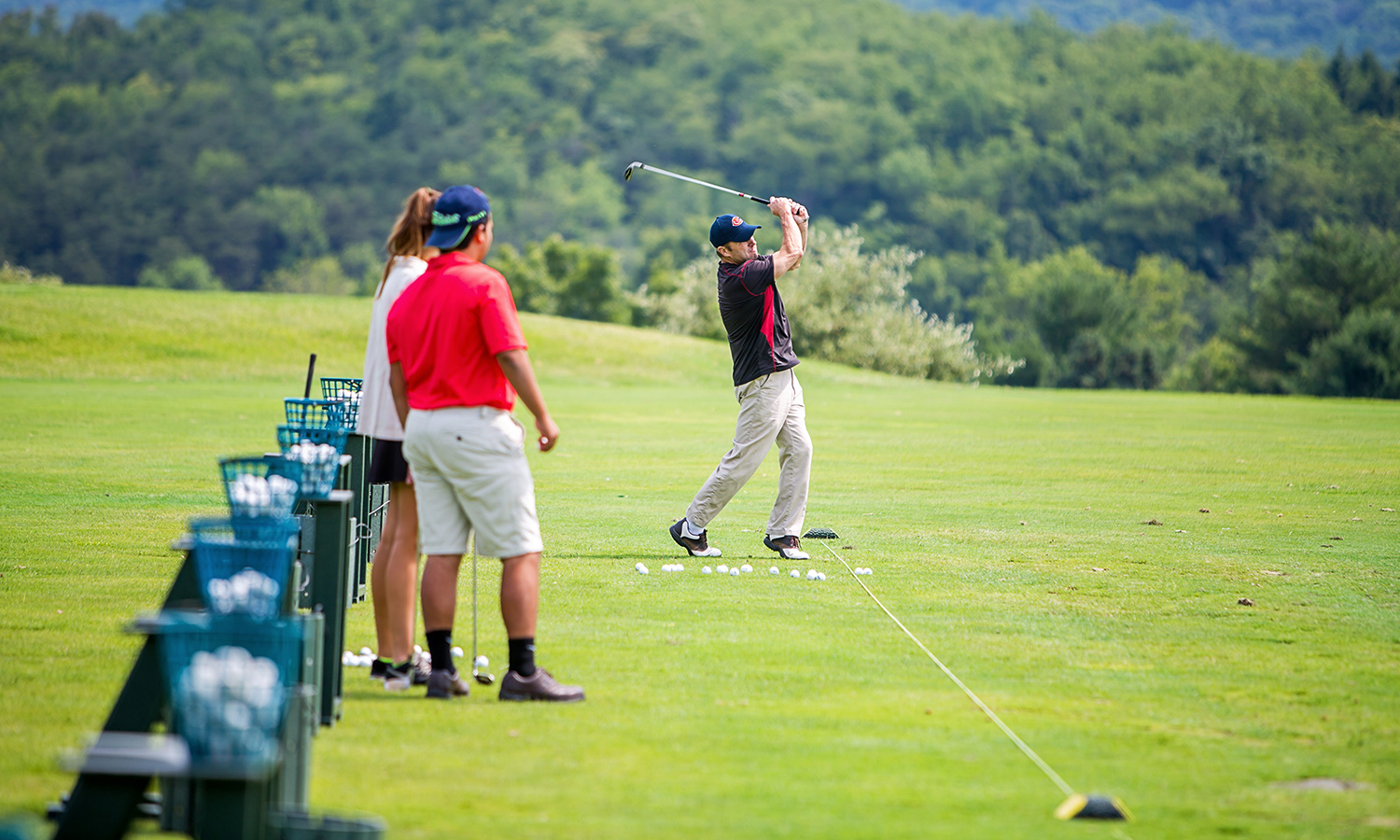 Sometimes we need that weekend getaway where we don't have to drive too far or board an airplane. An escape that makes us feel like we're far away, even if we're close to home. Luckily for us, there is such a place on the outskirts of Flintstone, Maryland — Rocky Gap State Park.  
Deep in the heart of the rolling green Appalachian Mountains in Allegany County lies a resort paradise along the shores of Lake Habeeb. What had once been home only to state park land, the expansive Rocky Gap estate has morphed into a full-fledged escape from the ordinary where resort-meets-casino, spa, golf, campground, and outdoor lover's nirvana. 
What I love most about Rocky Gap is it fits everyone's style. Whether your go-to is a wooded campsite near plentiful hiking trails to explore or a luxurious spa day with a comfortable hotel room to relax away your stress, it's all available for anyone to design the perfect escape. 
The Campground at Rocky Gap State Park
I've camped at Rocky Gap State Park Campground a handful of times, and it remains one of my most favorite places to camp. The sites are large and level, mostly wooded, with considerable space between sites. It doesn't feel crowded to me, even when fully booked. With easy access to the lake and a beach reserved solely for campground visitors, along with multiple hiking trails including the 5-mile-long lakeside loop trail, outdoor activities are abundant on over 3000 acres of public land.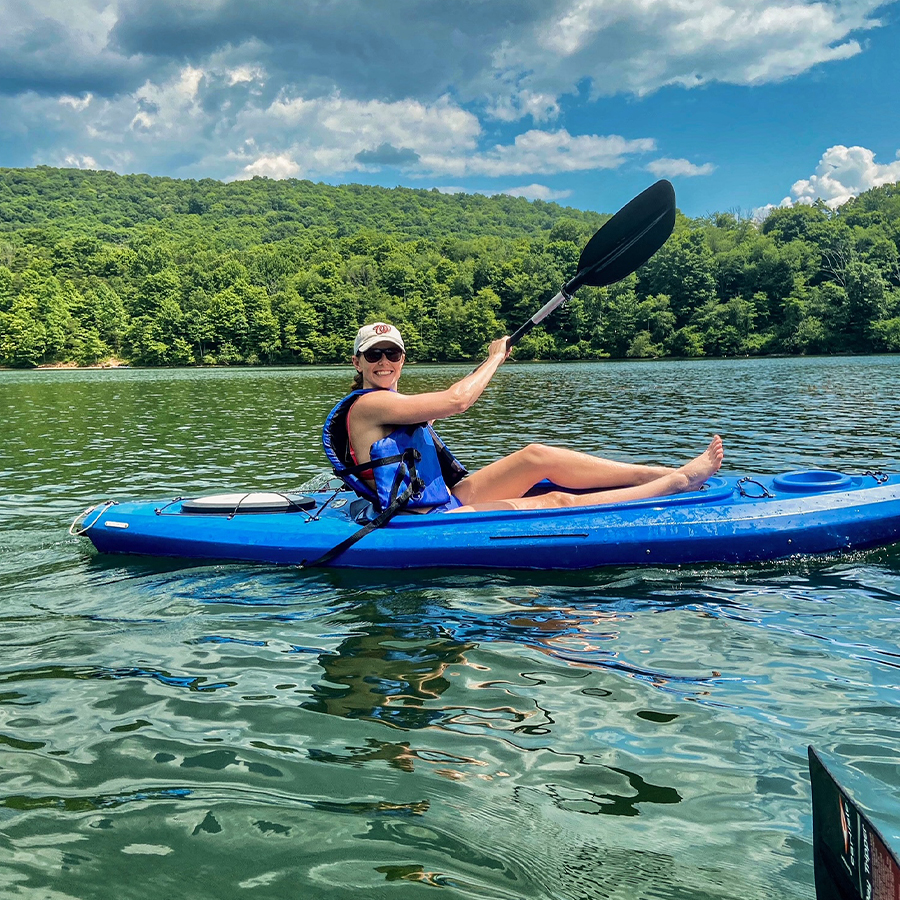 Bring your canoes and kayaks to enjoy on the lake. Some are available for rent in the summer months. Be aware that there is only one loop within the campground that offers electricity and is pet-friendly. If you're self-contained and don't require on-site power, opt for a loop with no electricity because far fewer rigs stay at this end of the campground. For a more "glamping" style of camping, there are 15 mini cabins, as well as a yurt and a private chalet also available for rent. Reservations are made by phone or online.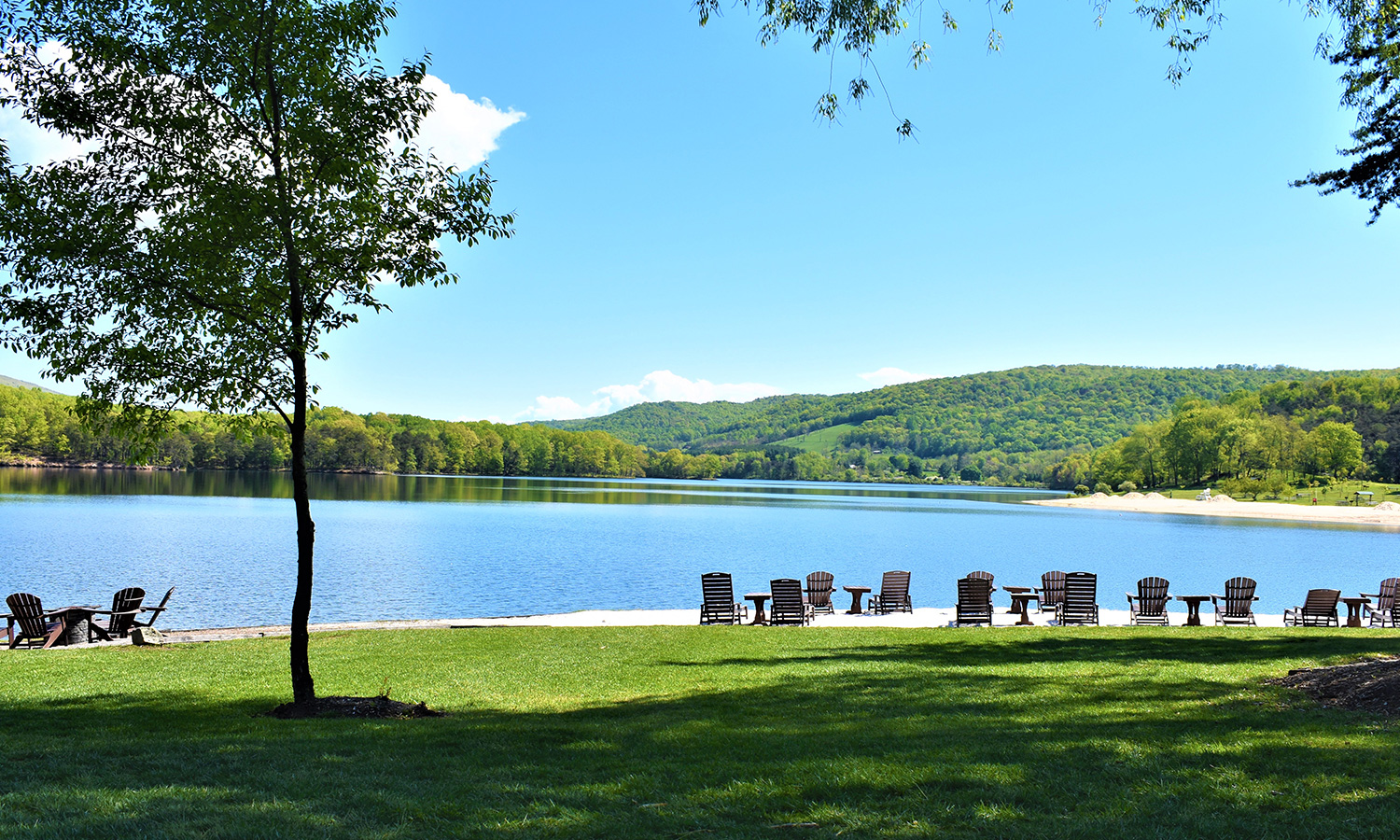 Campground visitors can utilize almost all that the hotel side offers as well. The casino, the spa, the multiple restaurants, the lakefront outdoor space, and a world-class golf course welcome everyone, even those not staying at the hotel. The swimming pool area and fitness room are reserved for hotel guests only and are keycard operated for entry. 
The Rocky Gap Casino Resort
During my most recent visit to Rocky Gap, I opted for a hotel stay with the bonus of a spa visit. I checked into my room considerably earlier than the posted check-in time of 4 pm, so it never hurts to ask if arriving a little early. The rooms are not enormous at only 318 square feet but were recently updated and had all of the amenities necessary for an amazingly comfortable stay. 
Rooms at the resort come lakeside or mountainside (mountainside is more like a view of the parking lot, to be honest). For unforgettable views, opt for a lakeside room (the best views are on the fourth or fifth floor).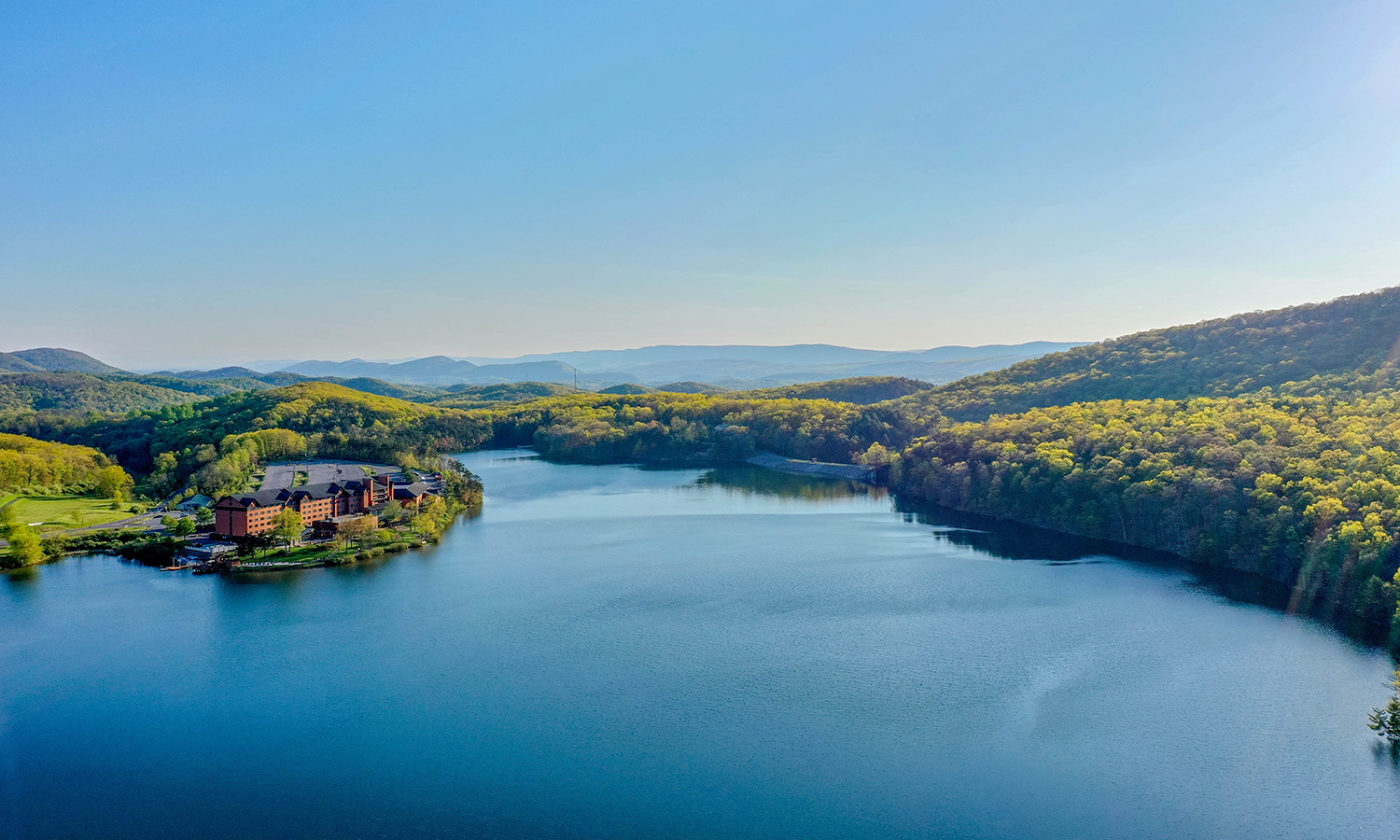 Wake in the morning to streaks of sun flitting across the water like diamonds on display as the trees backdropping the lake sway in the gentle breeze. 
Outdoor lakeside seating is plentiful, with cozy fire pit tables dotting the shoreline and the upper paved patio to warm you as the evening turns cooler. By the lake's edge, a feather-soft, white-sand beach adorned with heavy-duty chairs awaits for sun worshiping, lounging, or casting a rod.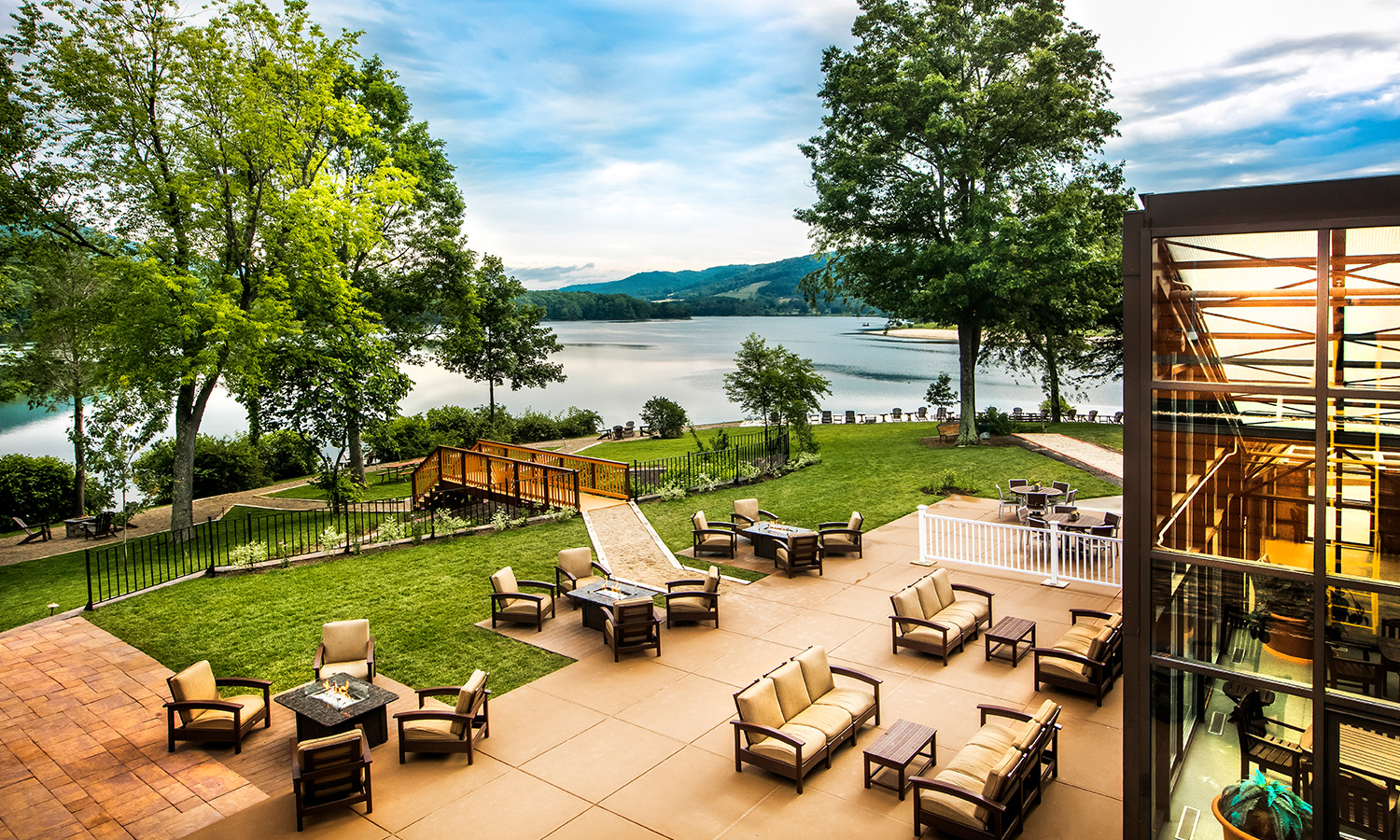 I started my evening at a lakeside fire pit table as the sun was dipping behind the mountain. With a full view of the lake, I spotted fish jumping out of the water, as well as a mama goose and her four fuzzy little yellow goslings cozied up just inches from the shoreline. A few feet from the new family's roost, the gander stood watch, making certain no other geese inched too closely. The wildlife put on quite the show as I relaxed  by the fire before dinner. 
There are two restaurants on-site with a third (the soon-to-be Lakeside Grill) under construction. LB's Place provides casual lakeside dining, with indoor and outdoor seating available during the warmer months. Although the menu isn't extensive, it does provide plenty of options, from burgers to flatbread pizza, salads, and Maryland crab cakes. I chose to splurge on the crab cakes for dinner, and I am glad that I did. The service was quick and the food was delicious.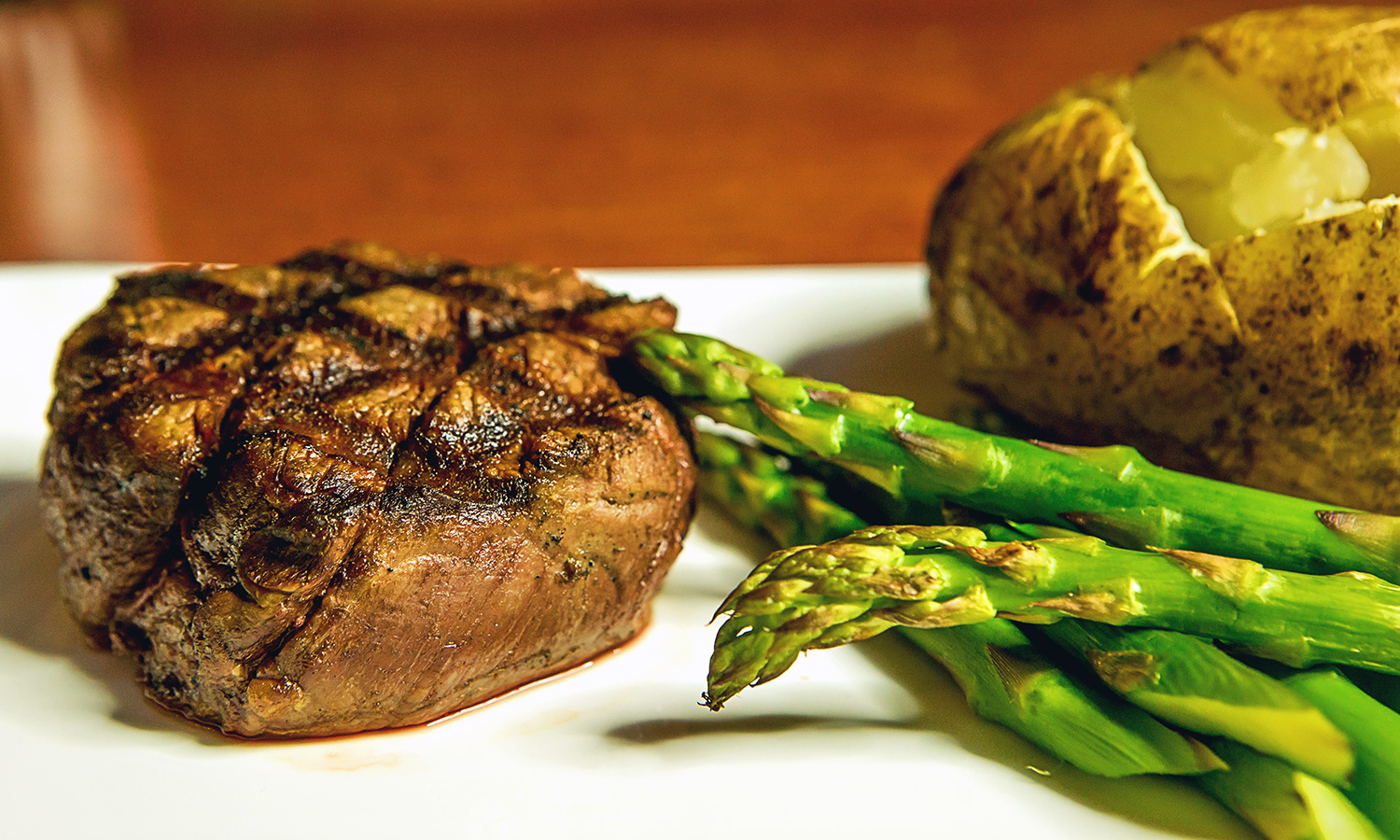 LB's sunken bar spans the entire length of the restaurant with floor-to-ceiling glass windows behind bottles ranging every shape, size, and flavor to optimize lake views while enjoying your beverage of choice. An expansive list of beer, wine, and cocktails is available from the bar to accompany your meal, to take outside while you stroll the grounds, or to carry up to your room.
After dinner, I enjoyed the indoor pool and hot tub. The pool and surrounding concrete deck area are entirely enclosed with soaring glass ceilings and walls, allowing the sun's warmth to help maintain the pool water temperature at an enjoyable 85 degrees. Ample table and chair space, along with bins full of pool towels, make it easy for parents to relax while giving the kids some time to play. (Note: There are no lifeguards on duty.)  
The Casino
As you might imagine, Rocky Gap's casino gaming floor draws visitors who come for just the day or a few hours in the evening. Because of this, the casino can seem quite crowded at times, but it doesn't necessarily reflect how full the hotel might be on any given day. Even so, your game choices here are almost innumerable, so it's easy to find an empty chair at a game table or one of over 600 slot machines. Occasionally, live comedy acts and other types of live entertainment are on the schedule —check their website for dates and times or to reserve tickets. There is a lobby bar, as well as a grab-and-go style eatery that stays open 24 hours a day on the weekends to help fuel your gaming strategy. 
If a casino is not your thing, don't let that be a reason to skip this beautiful resort. Because the casino location is on a separate side of the building from the hotel floors, there were no noise issues that prevented a pleasant, relaxing stay. Security is abundant throughout, and I always felt very safe in and around the entire complex. 
The Spa
If pampering yourself during your time away sounds like a tiny slice of heaven on earth, look no further than Rocky Gap's Spa. A luxurious day or just a few hours can change your entire weekend from just fun to fun and fabulous! Salon services here range from men's and women's haircuts, color, or styling, to waxing services.
Grab a signature spa manicure or pedicure — they even have a chocolate-covered strawberry pedicure, complete with chocolate-scented scrub and chocolate-covered strawberries to enjoy during your treatment. Or bask in a hot-stone massage with warmed aromatherapy oils. However you design it, the spa delivers top-notch service in a pleasing atmosphere. Services are available by appointment only, so be sure to call ahead to schedule your day of indulgence. 
Golf Course
I'll be the first to admit that I am not a golfer, but seeing the perfectly manicured greens that wind their way past one expansive view after the other certainly makes me want to learn. Since I didn't experience the golf course myself, I stopped by and chatted with the kind folks in the pro shop to get an idea of who might want to play a round of golf here and why.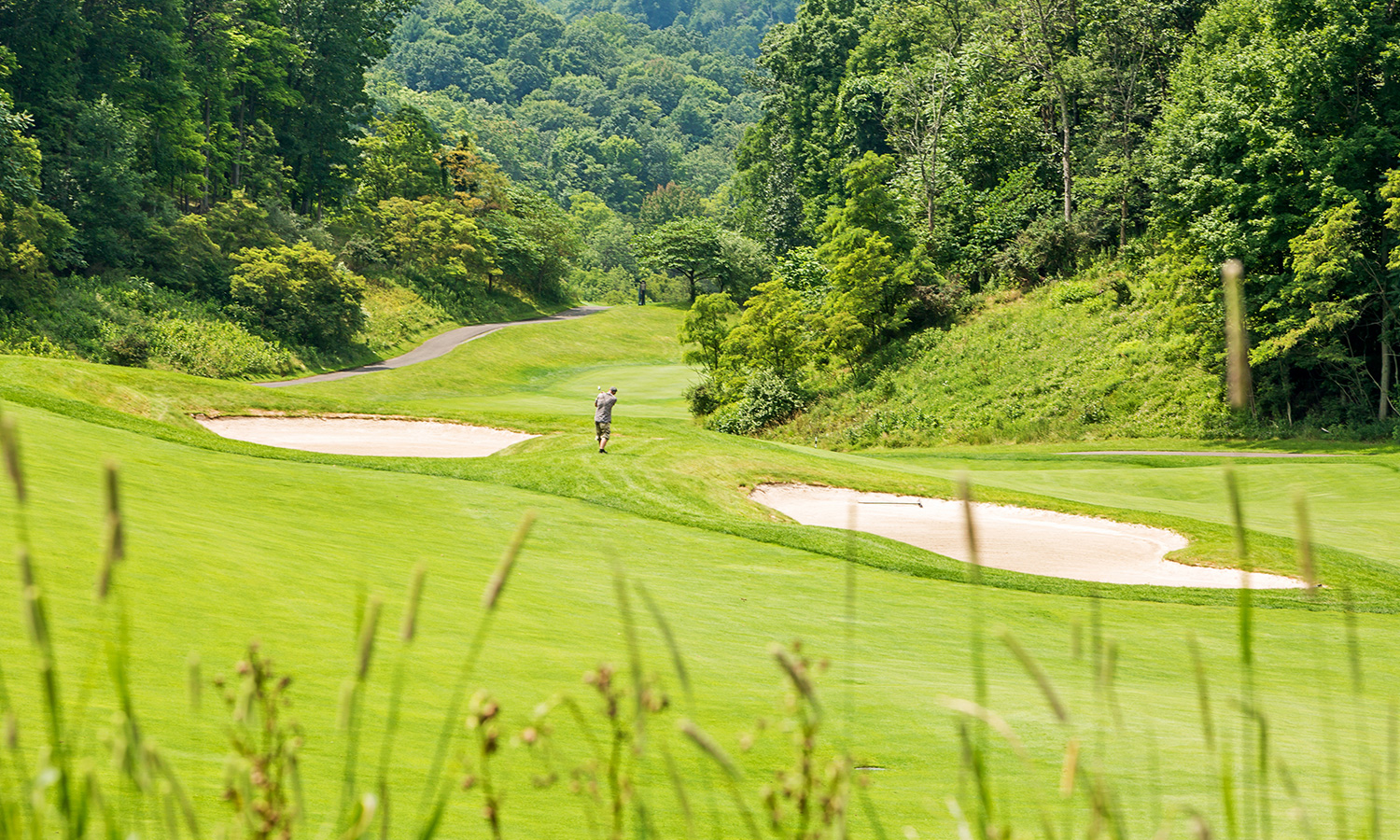 Pro shop employees were quick to brag about their daytime home away from home, stating very proudly that this course can claim something that no other Maryland golf course can – it's a Jack Nicklaus Design course. Nicklaus Design is the world's leading golf course design company and has produced the most championship golf courses globally. Even a non-golfer like myself knew immediately how spectacular of an accolade this must be to a pro-golfer. 
But what about the average, non-pro, just-for-fun golfer? Can he or she play here as well? That answer is a resounding yes! Golfers of all skill levels are drawn to the uniqueness of this particular course because the front nine holes are carved into the mountains, while the back nine spread across gently rolling meadows. Adjustable tee boxes at each hole allow players to modify the level of challenge. Along with the 18-hole course, there are also putting greens, chipping areas, and a driving range. 
We've all missed travel so much over this past year. As the world gradually reopens its collective doors, don't forget about those fantastic gems right in your home state. Rocky Gap State Park is most certainly one of those gems, perfect for all sorts of travel occasions – girlfriend getaways, romantic weekends, multigenerational travel, guys golf outings – you name it. If you haven't glimpsed the far western side of Maryland lately, you are in for such a special treat. 
---
Lead Photo: Rocky Gap Casino Resort
Colleen O'Neill Mulvihill is a retired Howard County career firefighter, certified holistic nutrition consultant and health coach, who has also become an avid travel writer. She is a wellness-travel seeker who enjoys sharing mind, body, and soul experiences along with holistic and healthy travel tips on her website and blog, HolisticHealthTraveler.com. You can follow her travels on Facebook and Instagram @holistichealthtraveler