An Island Forged by Water and Tradition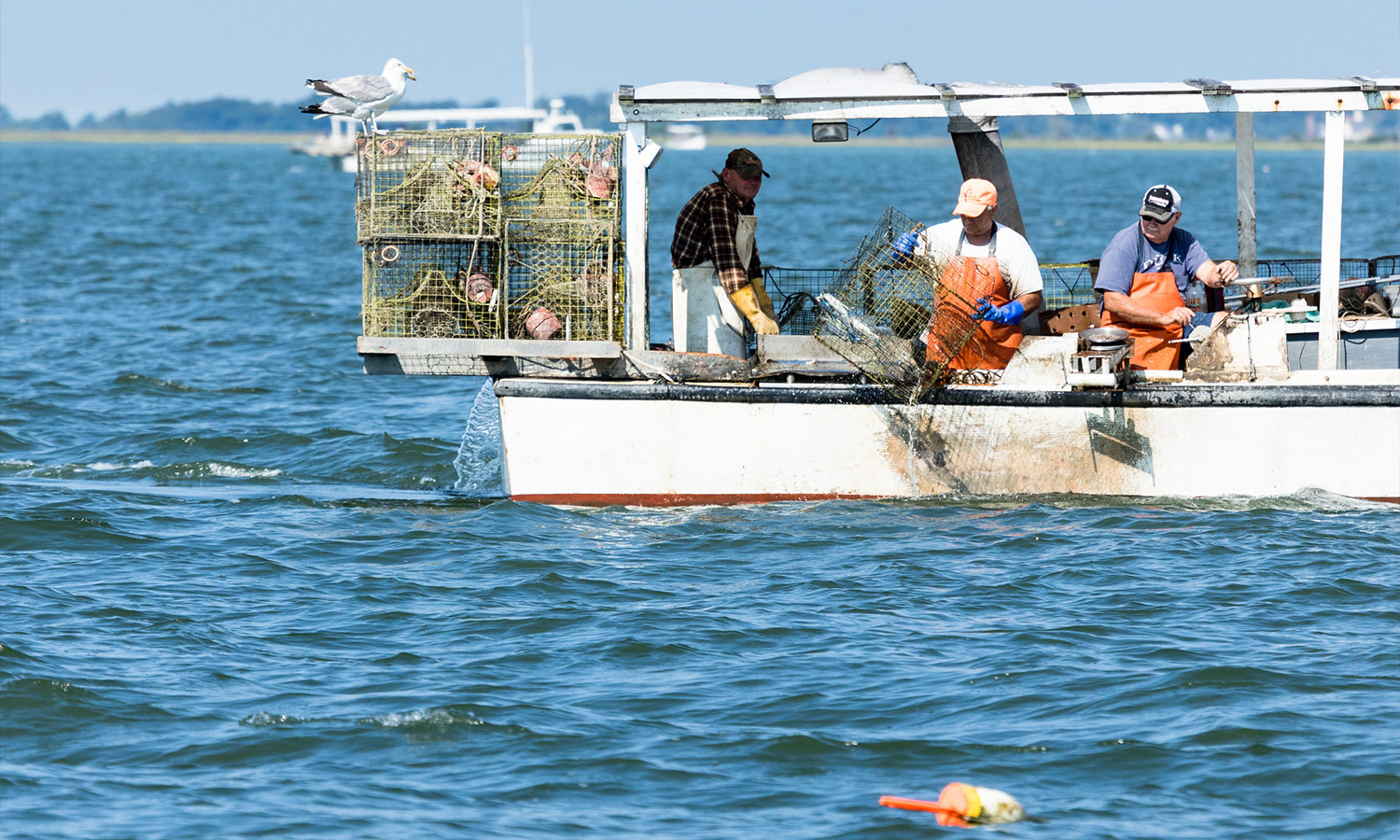 I first heard of Smith Island when I read Tom Horton's memoir "An Island Out of Time," for an assignment during my first year of college. I learned about an island in the Chesapeake Bay that was so remote its residents spoke with an accent that sounded more English than American (some 350 years after their ancestors first settled there). 
Smith Island captured my imagination, and I immediately put it on my list of places to visit. When I made the trip there a few years later, I found it to be just as fascinating as I'd hoped. Stepping foot on the island really did feel like a journey back to another era. The traditions unique to the island give it a special sense of place well worth the ferry ride across the Tangier Sound.

About the island
Lying 12 miles west of the Eastern Shore town of Crisfield in Somerset County, Smith Island is only accessible by boat. Ferries service the island regularly during the summer and early fall and operate on a more limited schedule the rest of the year. The island straddles the border between Maryland and Virginia, though all three of the island's communities — Ewell, Tylerton, and Rhodes Point — are located in Maryland.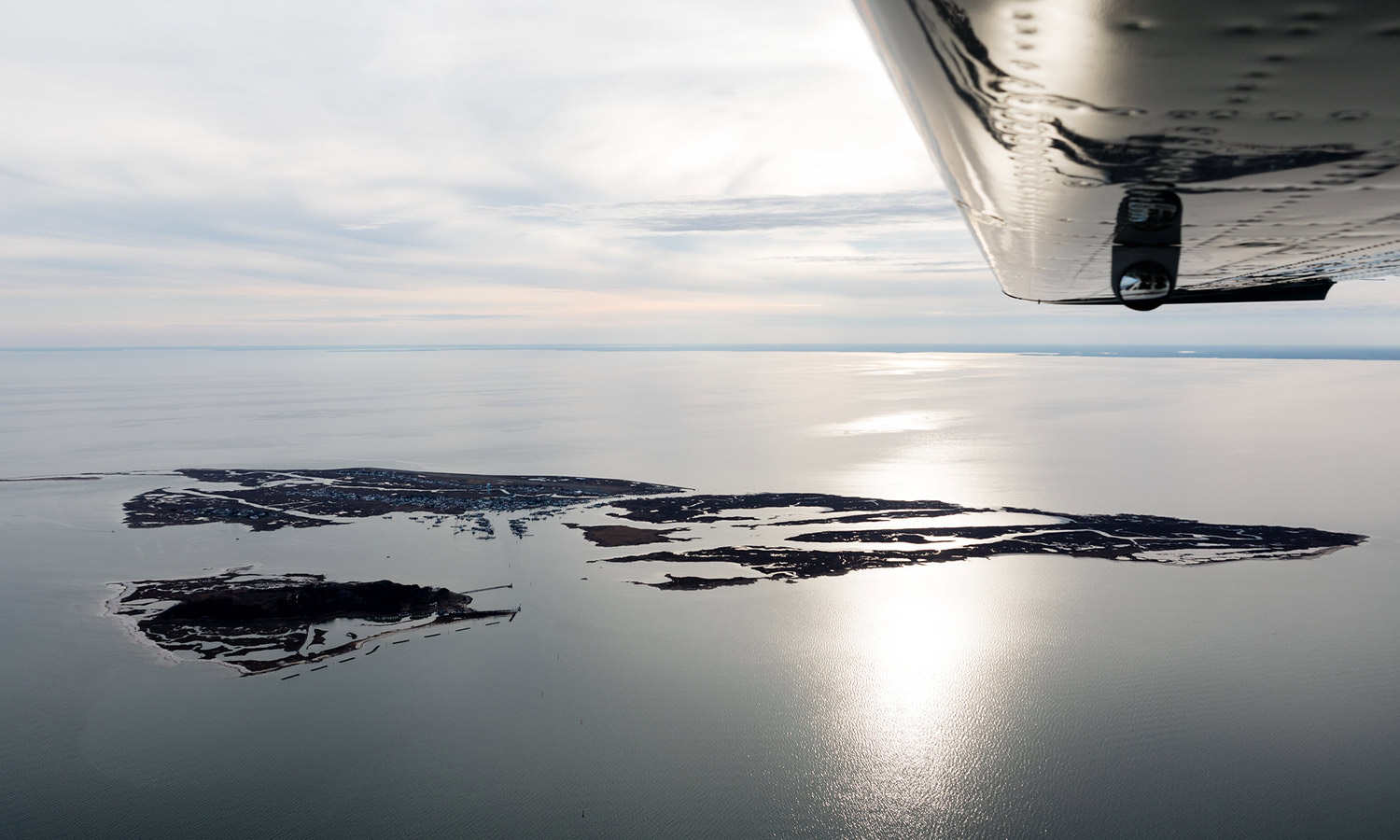 Archaeological evidence shows that Native Americans inhabited the marshy island on a seasonal basis for about 12,000 years. The first residents of the Eastern Shore were Nanticoke, part of the Algonquin tribe, who harvested oysters, crabs, and fish in addition to crops like maize and beans. The Nanticokes, like so many other native groups, suffered from disease and displacement wrought by Europeans. By the early 1900s, less than 100 Native Americans remained on the entire Eastern Shore. Read more on native history in the Chesapeake region in this Smithsonian Magazine article and in this piece from the Chesapeake Bay Program.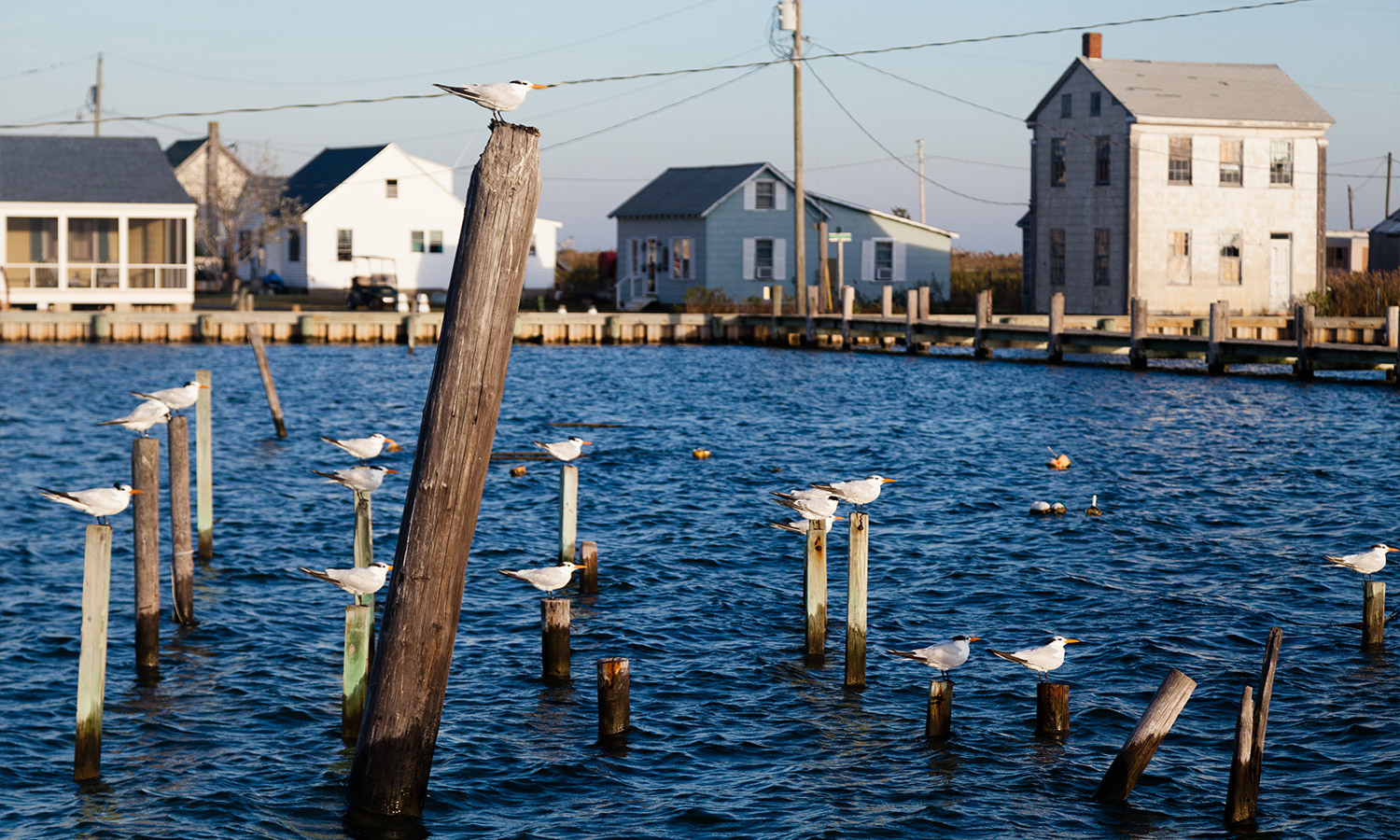 Europeans began to arrive in the area in the late 16th century. English explorer Captain John Smith led two expeditions from the Jamestown colony in the early 17th century to document waterways, islands, and native peoples throughout the Chesapeake region. He found his way to Smith Island in 1608. Settlers from southwestern England and Wales established farms across the island throughout the 17th century. Descendants of some of the first English inhabitants remain on Smith Island, twelve generations later. You can learn about Smith's expeditions and the legacies that remain visible today through the Captain John Smith Chesapeake National Historic Trail and their associated tourism initiative, Find Your Chesapeake.
The people of Smith Island have made their living on the water for the last 150 years when social and environmental factors caused most residents to transition from farming to fishing. Boats have become an integral part of life on the low-lying island for both transportation and trade. "Watermen" are independent fishermen who catch oysters, fish, and crabs and sell them to wholesale seafood companies. A group of island women led by Janice Marshall formed the Smith Island Crabmeat Co-op in the 1990s and have distinguished themselves by packaging meat from the whole crab rather than "jumbo lump" only. You can witness crab picking in action during the season, from late May through mid-November.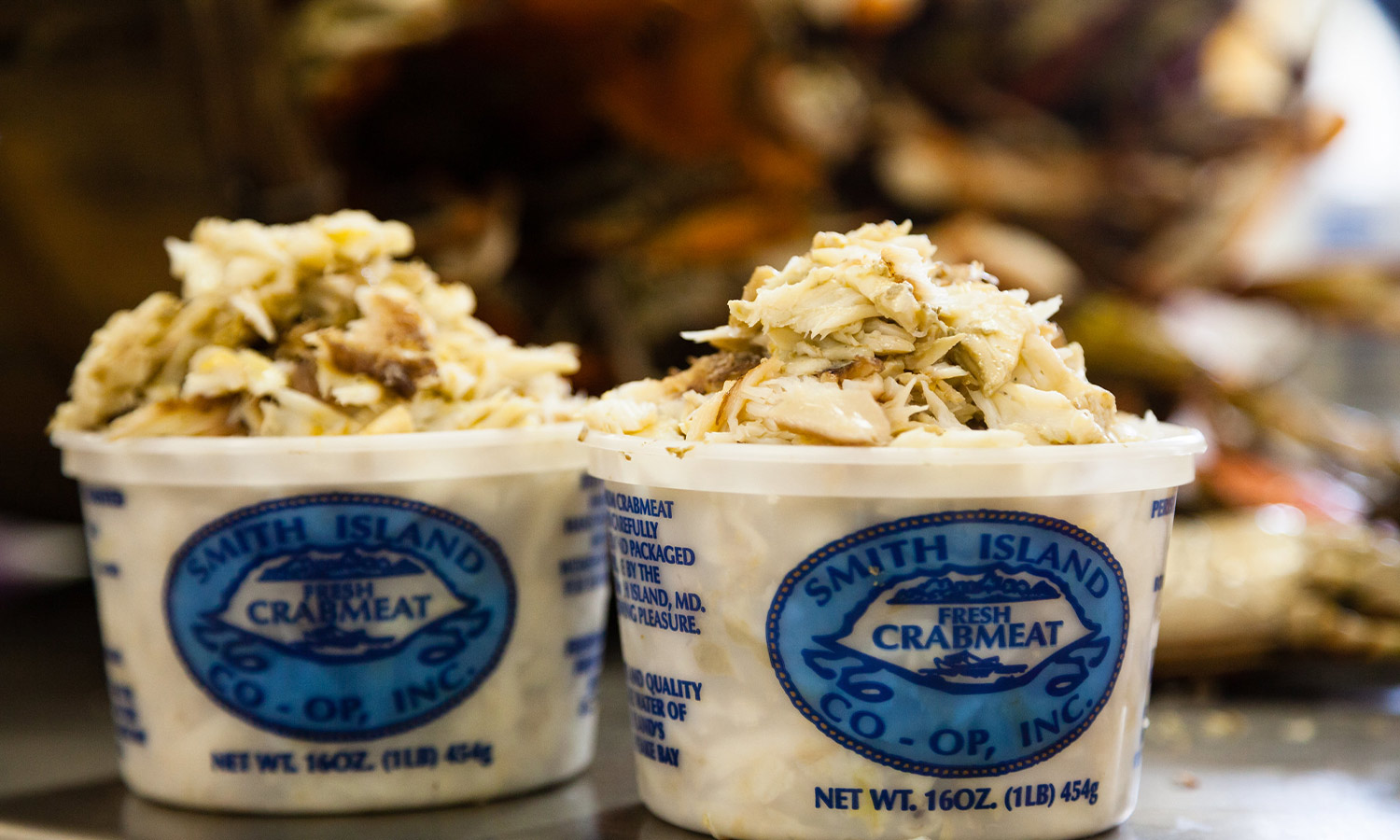 Smith Island may be best known to most Marylanders as the home of the state dessert: Smith Island Cake. Mindy Kaling recently tweeted about it. National Geographic named Smith Island Cake as one of "Five American Desserts Worth the Trip." This famous cake is made up of eight to ten layers, each baked individually, with an almost equal distribution of frosting to cake. I've heard the cake was first developed as a calorie-rich fuel for watermen out on the Bay all day.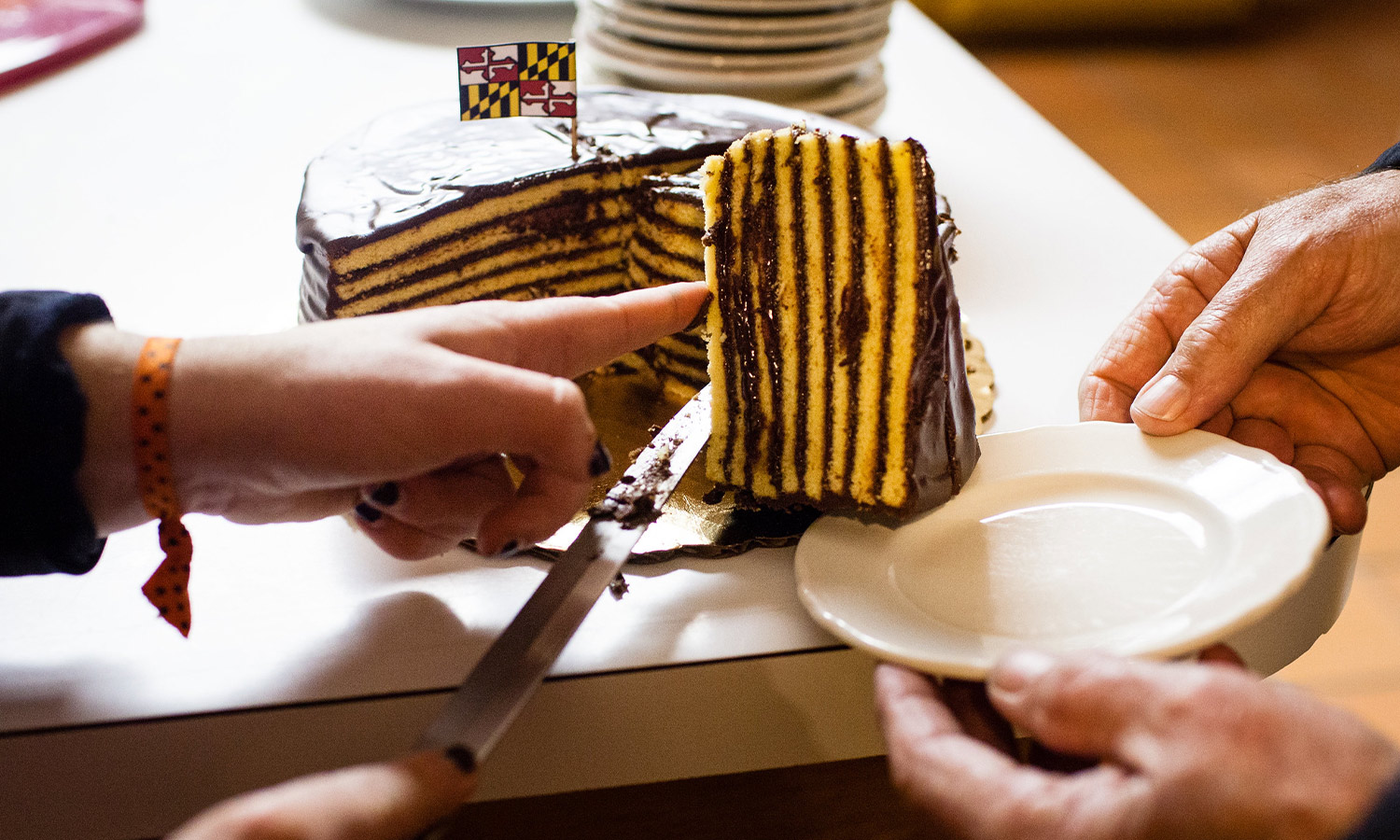 The Smith Island Baking Company can ship a cake anywhere across the country (I ordered five Smith Island Cakes for my Baltimore wedding), but nothing beats the pleasure of eating a decadent slice on the island itself. Yellow cake with fudge frosting is the most classic variety, but the cakes are also offered in lemon, red velvet, and seasonal flavors. You can read more about Smith Island Cake in Chesapeake Bay Magazine or from the Smithsonian's National Museum of American History. 
Cake baking is just one of the local customs passed down between generations of island residents that makes Smith Island so rich in culture. The state folklife program Maryland Traditions, which I interned with back in 2009, honored the United Methodist Women of Smith Island with a distinguished award for their stewardship of these folkways.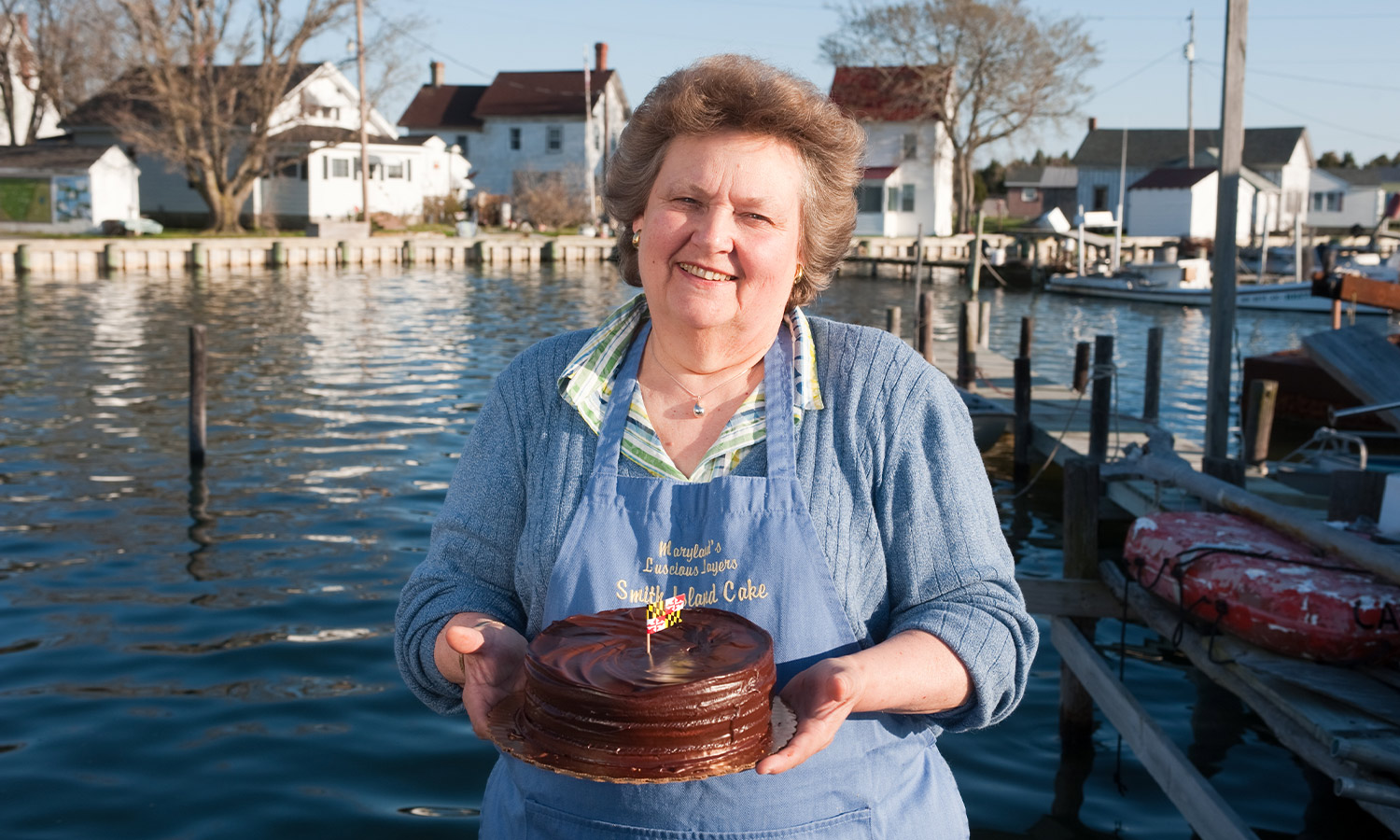 The Smith Island Cultural Center and Museum in Ewell is a must-see destination for anyone looking to learn about the traditions unique to the island. 
Now is the time to start planning a trip to Smith Island for later in the year. Summer and early fall are the best times to visit. 
What to do when you're on the island
I was worried that the time between the ferry drop-off and pick-up would be too short, but three hours felt like plenty of time to eat some lunch and a slice of Smith Island Cake at the Bayside Inn, read the exhibits at the Cultural Center and Museum and wander around the island. Many locals travel by golf cart, but you can cover plenty of ground on foot or by bike. You could opt to spend the night at one of the island's bed & breakfasts or guest houses, or the motel. The Smith Island Inn offers both rooms and cottages for larger groups. If you stay overnight, look into chartering a boat to see the most of Smith Island.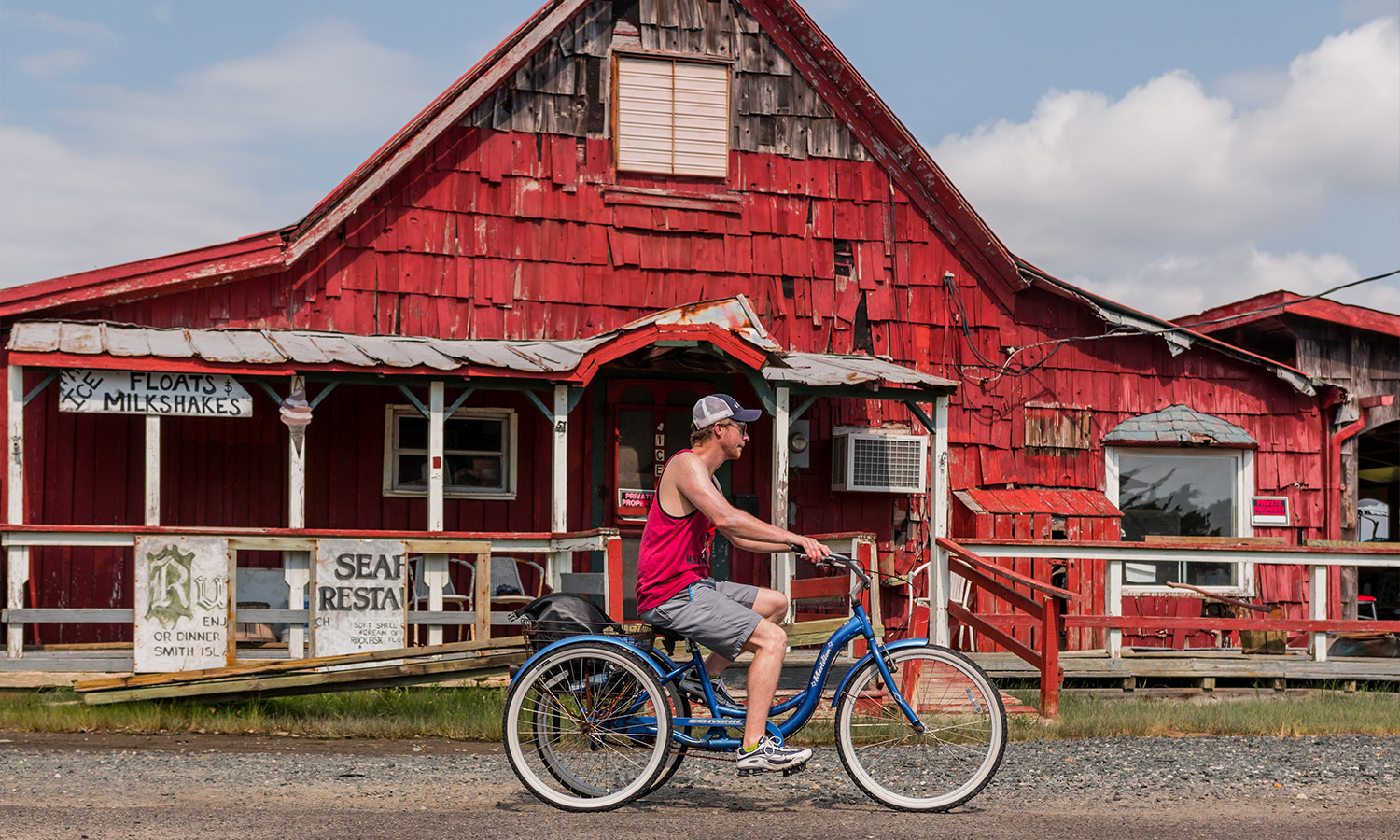 Avid kayakers might want to bring their own boat  (note there is an extra fee to bring a kayak aboard the ferry) to explore this "paddler's paradise" of 8,000 acres of marshes, but you can also rent one for the day. The island has seven marked water trails, ranging from 1 to 4.5 miles each. Cell phone service is not reliable from this remote island — plan accordingly and download a map to your smartphone in advance.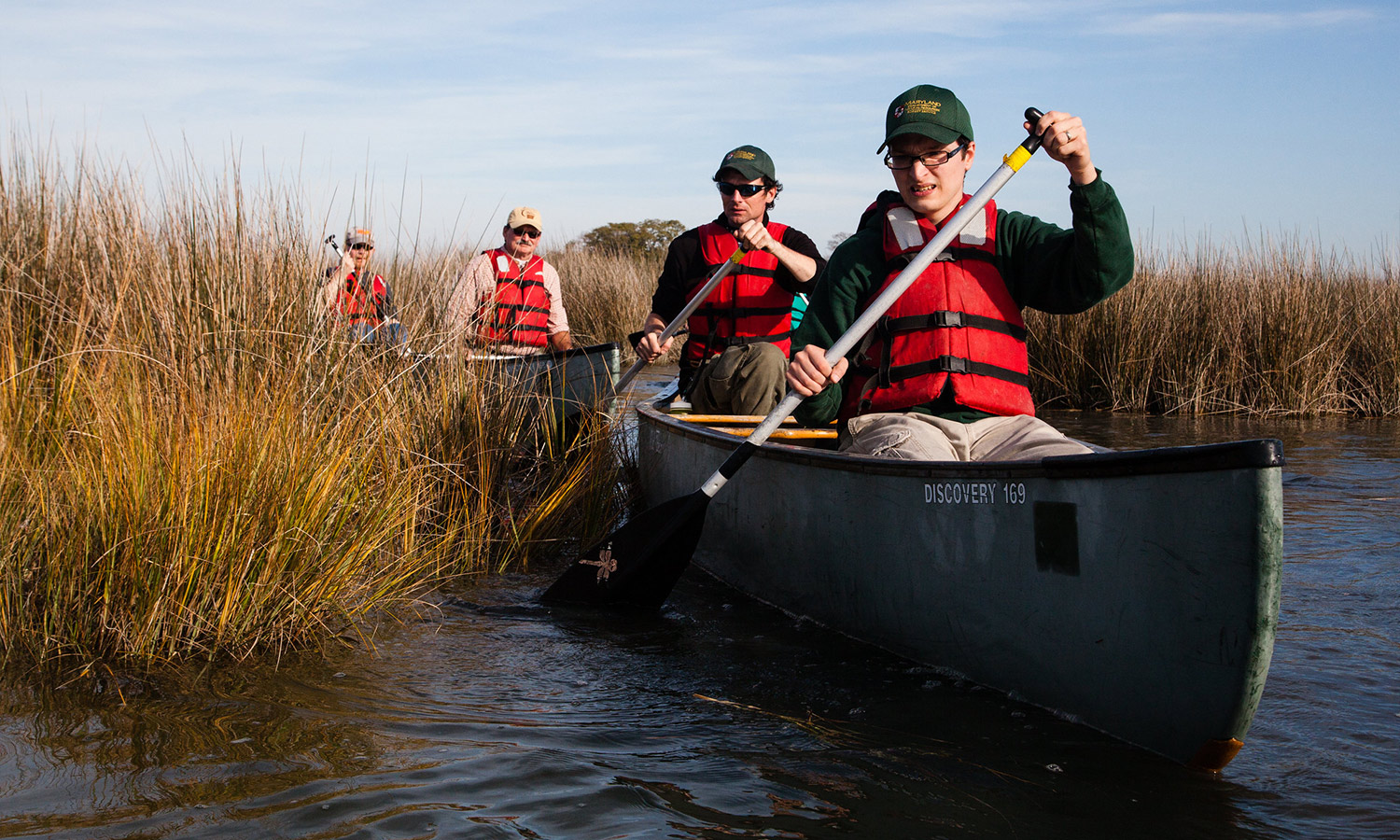 Visitors can also enjoy plentiful bird watching and nature photography. The shallow waterways crisscrossing Smith Island make it an appealing home for herons, egrets, ibis, osprey, and pelicans. Colonies of these birds nest together in rookeries on the island. While not open to the general public, it's worth noting that Smith Island is also home to the 4,500-acre Glenn Martin National Wildlife Refuge. The combination of salt marsh grasses, insects, and sand bars attract a range of species in the spring and summer: black ducks, mallards, gadwall, green-winged teal, gulls, terns, black skimmers, oystercatchers, and willets.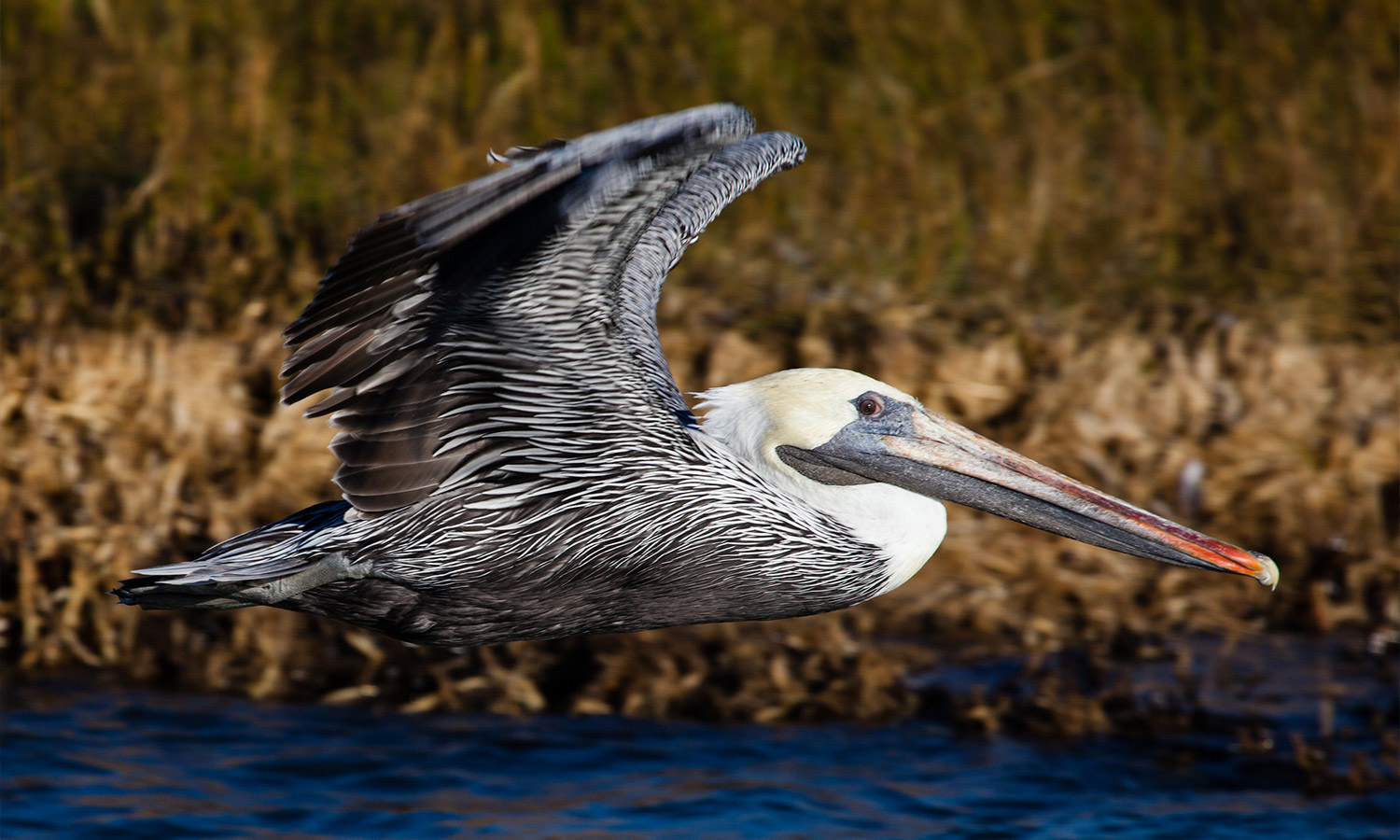 During the winter, many types of waterfowl live here: black ducks, pintail, mergansers, long-tailed ducks, scoters, bufflehead, Canada geese, and tundra swans. This refuge supports the largest colony of brown pelicans in the Maryland portion of the Chesapeake Bay. Whether you're exploring the island by foot, bike, or boat, respect the wildlife and don't interfere with nests or other habitats.
Where to stop on your way
If you're approaching from the Western Shore via the Bay Bridge, I highly recommend getting your hands on a copy of "From Bridge to Boardwalk." This two-CD audio journey across the Eastern Shore brings authentic voices from the region straight to your ears. You can hear tenth generation Smith Islander Jennings Evans describe his 45-year career as a waterman as well as stories from muskrat skinners, decoy carvers, crab pickers, and gospel singers.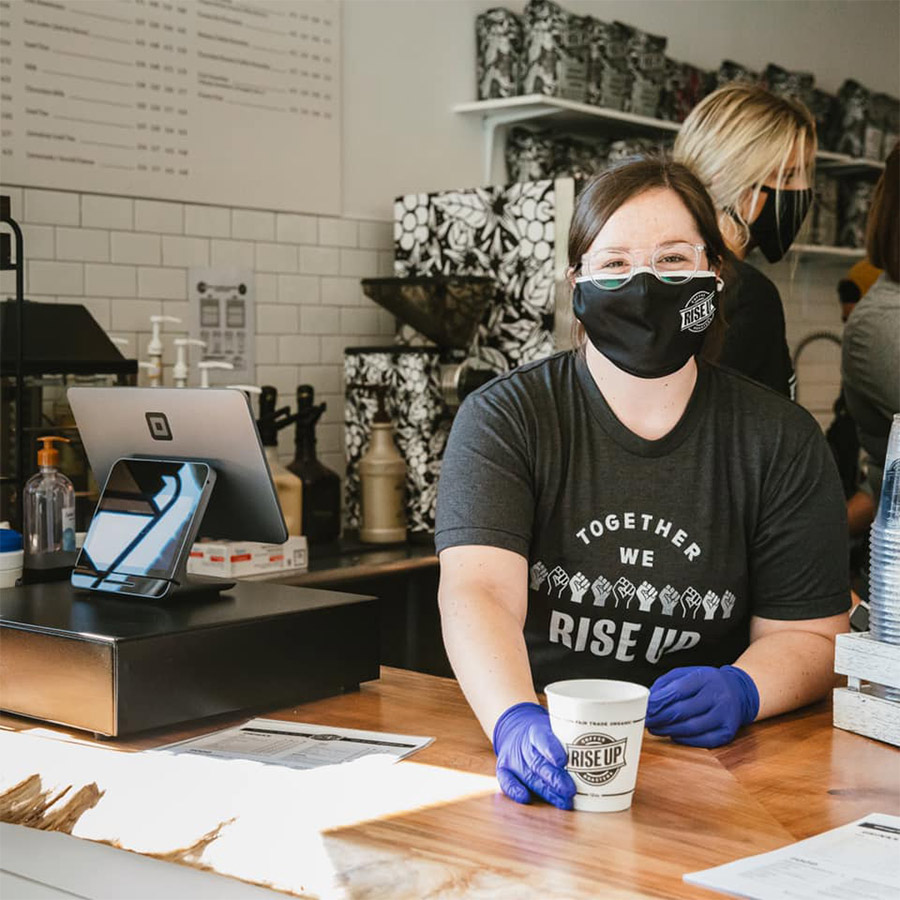 Heading south down Route 50, you'll encounter quite a few charming downtowns on your way to Crisfield including Easton, Cambridge, and Salisbury. Rise Up Coffee, with many locations throughout the Shore, provides the caffeine boost needed for a long drive. My husband always makes a point to visit RAR Brewing in Cambridge to stock up on his favorite Maryland craft beers. The Ward Museum of Wildfowl Art at Salisbury University is also worth a stop. While it's not Maryland's only museum dedicated to decoy carving (Havre de Grace has another), the Ward strives to connect the arts with cultural heritage and environmental education as well.
How to learn more about Smith Island
There are plenty of ways to prepare for a visit to Smith Island. Immerse yourself in the world of watermen through the Pulitzer-Prize winning masterpiece "Beautiful Swimmers" by William W. Warner. Try your hand at a recipe from "Mrs. Kitching's Smith Island Cookbook" or hear the Smith Island dialect from master baker Mary Ada Marshall in this video from photographer Edwin Remsberg. Get to know "An Island Out of Time" through the book by Tom Horton or the 25-minute PBS documentary of the same name. 
---
Lead Photo: Photo by Will Parson, courtesy of the Chesapeake Bay Program
Auni Gelles is a public historian, ice cream enthusiast, and mom to an energetic toddler. A Seattle native, she has lived in Baltimore for 10+ years. Follow her at @aunigelles.