Classic Cars in a Quaint Boating Town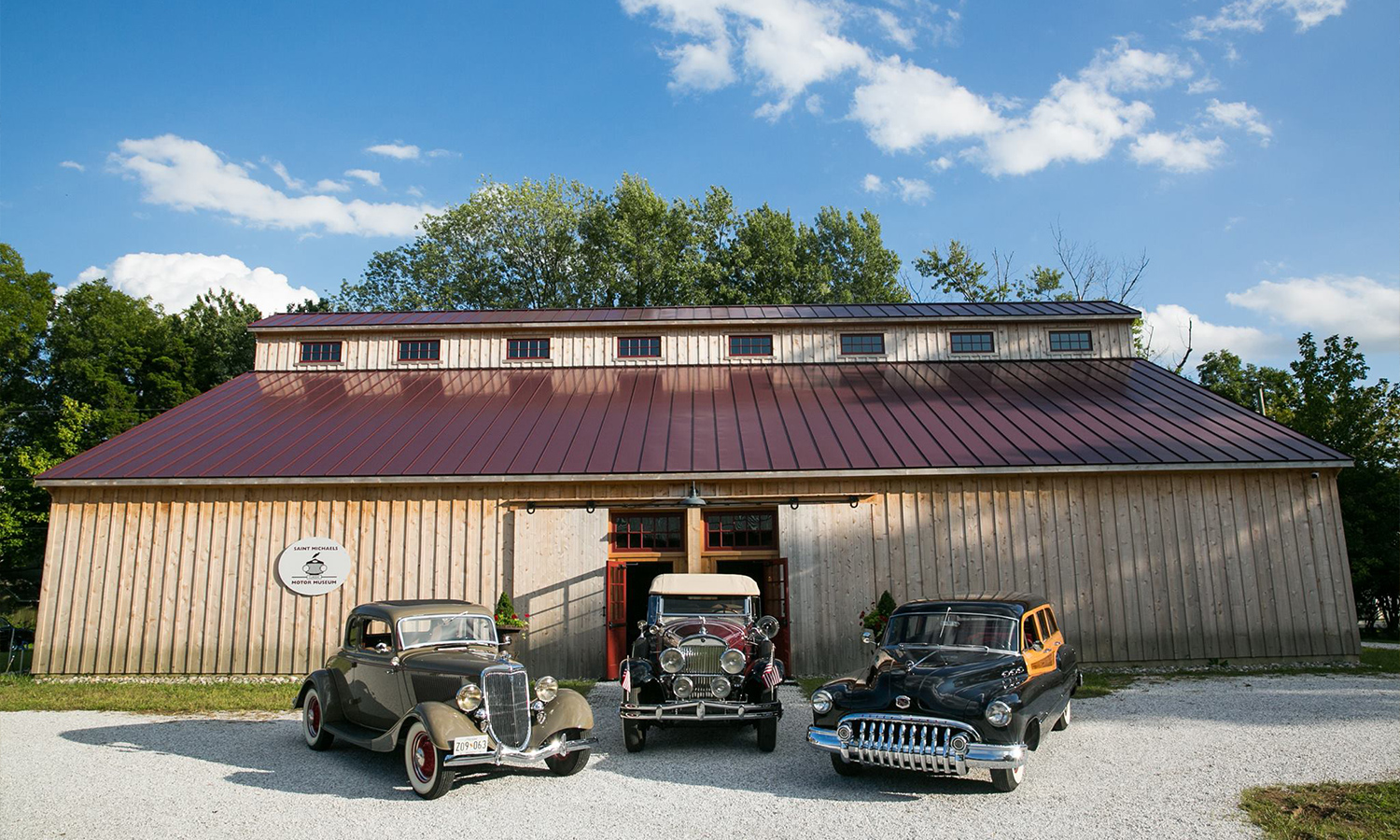 If you are looking for a family-friendly activity that will delight and educate any car enthusiast, the Classic Motor Museum of St. Michaels is your answer.  I stumbled upon the museum when researching road trips to celebrate my father's birthday, and I may just win the award for daughter of the year after finding this gem.  Even if you know absolutely zilch about cars, you are sure to have a first-rate experience.
My parents picked my fiancé and I up from Baltimore City at 9 am and hit the road after stopping to grab a cup of coffee at Order & Chaos Coffee, one of our favorite cafés in the city. Starting the drive on MD-295, we approached the Bay Bridge in no time, and made it to St. Michaels in about one and a half hours. This was just enough time to catch up on each other's weeks while listening to smooth jazz (my father's favorite).  
The museum is just off of Talbot Street, the main drag in St. Michaels, and is a stone's throw away from a rum distillery, a winery, a brewery, and a variety of shops and restaurants. There are three buildings that encompass the museum: The Pinkett House (one of the oldest buildings in St. Michaels dating back to 1851, which was restored and relocated in 2014), the Struthers Family Education Center, and the Exhibit Barn (constructed in 2014). At the time of our visit, only the Exhibit Barn was open.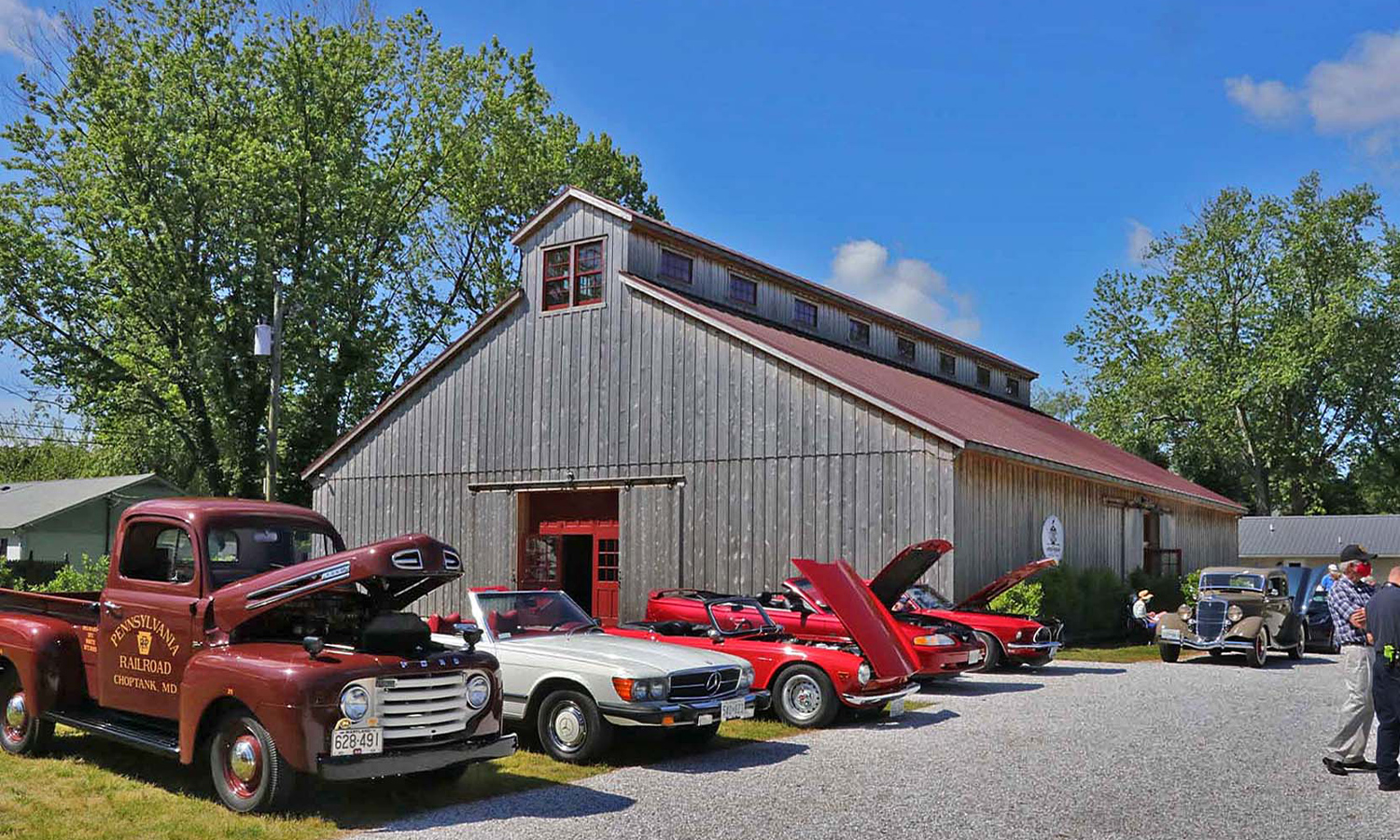 One could easily walk right by the Exhibit Barn if not for the conspicuous, bright red 1972 Mustang Sportsroof 351CJ that stops you right in your tracks. Upon entering the barn, you will be greeted by one of the docents, who will be ready to impress you with a one-of-a-kind personalized tour. If you find yourself at the barn on a Saturday, you will be lucky enough to be hosted by Bill, whose knowledge of classic cars may surpass Mr. Ford himself.
The museum draws all types of visitors from around the United States, from Corvette clubs to families to couples fatigued by typical museum experiences. The barn features an ever-changing collection of pre- and post-WWII cars, muscle cars, trucks, motorcycles, and even collectibles, including a Texaco Gas Pump from the 1950s.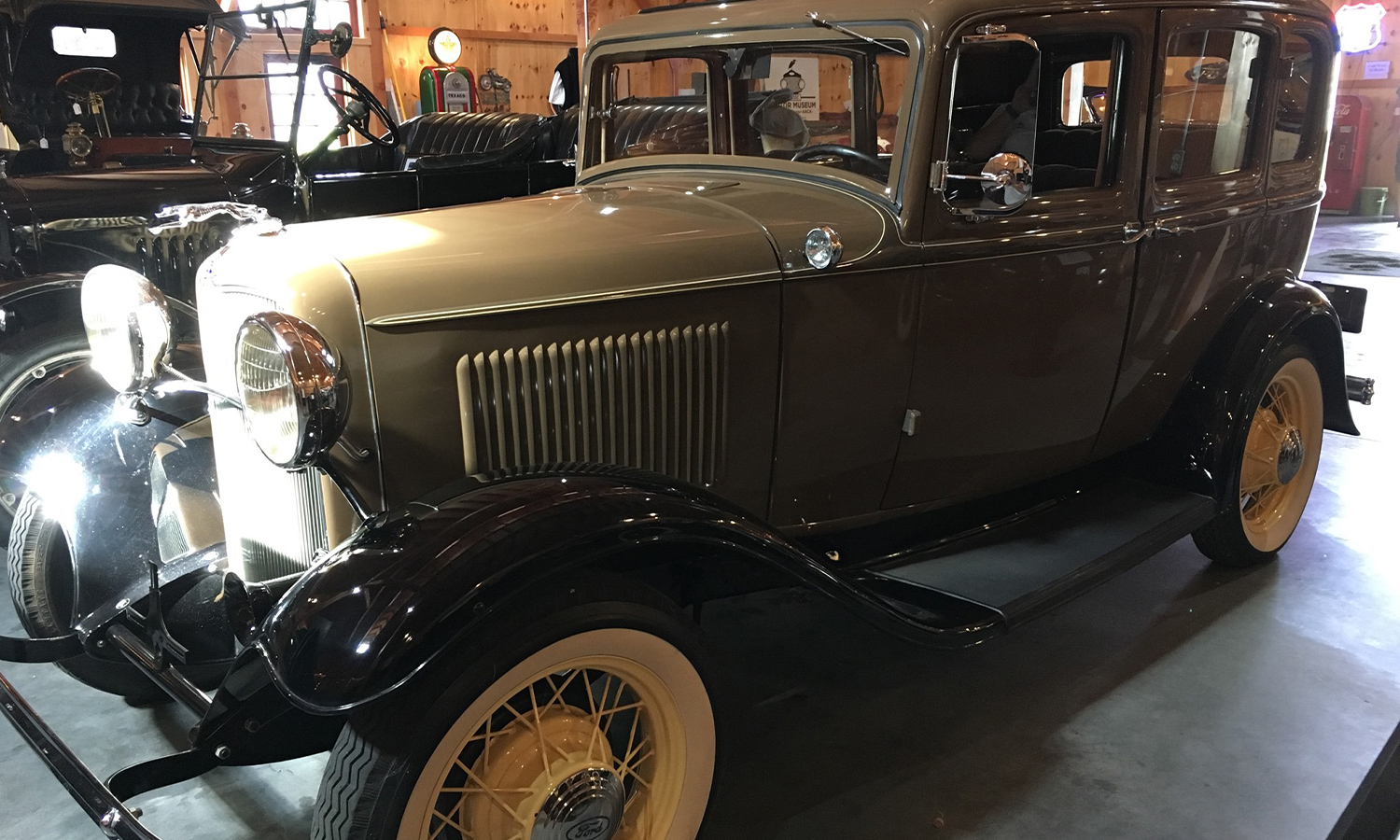 Some of the cars that caught our attention were: the 1915 Model of the T Truck, the 1966 Pontiac GTO, the 1956 Chevrolet Corvette, the 1971 Dino Ferrari 246 GT, and the 1927 Packard Limousine, among others. Although visitors are not allowed to touch the cars, guests are allowed to climb aboard the 1931 American LaFrance fire truck (a hit with kids and kids at heart). Don't forget to take a picture! 
The most expensive car in the museum is the 1969 Boss 429 Mustang — the engine alone could cost you over $100,000! Yes, the cars are beautiful (your pictures will definitely awe the car-lovers in your life), but the knowledge you gain in just twenty minutes will give you enough anecdotes to impress at all of your family gatherings during the upcoming holiday season.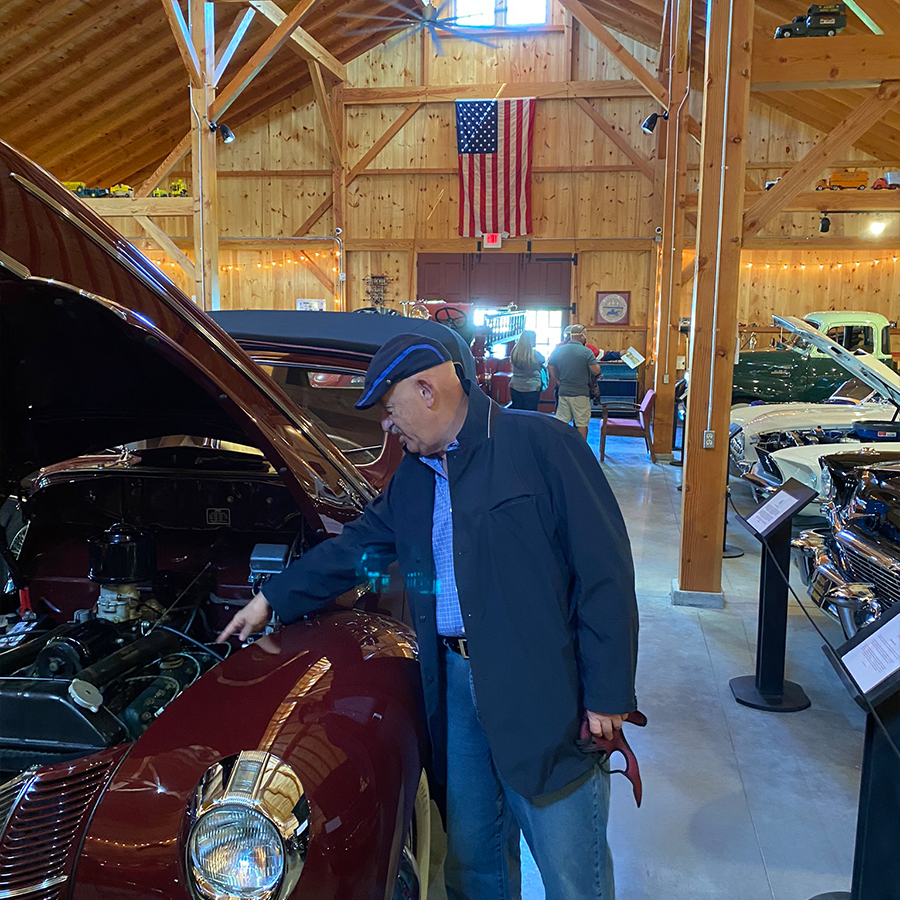 Did you know that the first automatic transmission using hydraulic fluid was developed by Brazilians?  Or that the first Ford Model T cost under $900? And that it became the first mass-produced car? Were you aware that many racing cars have the steering wheel and the stick shift on the right side? Or that the three-point seatbelt we know today was invented by a Swedish engineer working for Volvo? These are just a few of the multitude of facts you will learn during your tour.
Be sure to make a private reservation if you want to see all three buildings of the museum on a Thursday or Friday, or just walk in to see the Exhibit Barn on a Saturday or Sunday. Give yourself 30 minutes to an hour to tour, explore, and take pictures at the barn. 
While You're in the Area
During this trip, we shopped for unique gifts on South Talbot Street and North Talbot Street (my favorite little shop is Take Me Home where I always manage to buy great smelling soaps, lotions, jewelry, and ornaments), ate lobster rolls at Awful Arthur's, grabbed ice cream at Justine's Ice Cream Parlour, had a drink from Purser's Pub inside the Inn at Perry Cabin (and had the opportunity to join in on the Inn's new tradition of 5 pm toasts), and ate a delicious dinner with a view at Foxy's Harbor Grille. This charming town known for its food and gorgeous water views will leave a lasting impression.
---
Lead Photo: Classic Motor Museum of St. Michaels
Yelena is a litigator and corporate attorney with a deep passion for travel and food. She grew up in Maryland and then spent seven years living in various locations throughout the United States and overseas before returning home in 2007. She now resides in Baltimore City with her fiancé. Follow her on Instagram at @seetheworldeatthefood and on her website: www.seetheworldeatthefood.com.