Road to Trail: Your Guide to Family Hiking in Maryland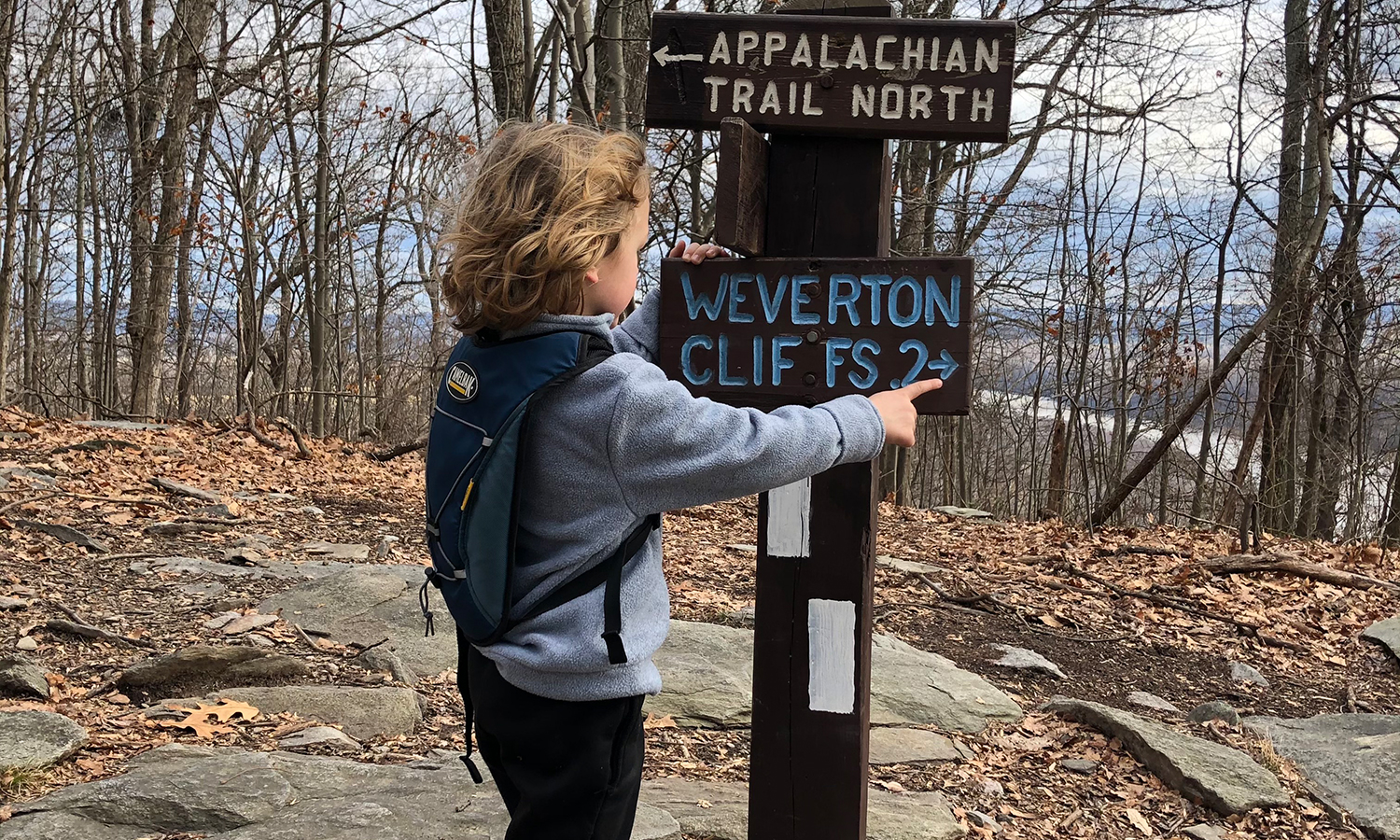 Heading into the great outdoors for a family hiking adventure is a wonderful way to nurture an appreciation of nature while creating lasting memories. Time in nature makes you happier and healthier, regardless of your age. As an added bonus, exposure to natural surroundings at a young age can cultivate lifelong connections to the outdoors. While getting your kids jazzed to spend hours on the trail may seem like a daunting task, family hiking can be a rewarding experience with some advance planning. 
The Benefits of Hiking
Hiking initially appealed to me because it doesn't require much equipment and it's an activity that all ages and abilities can enjoy. The physical and mental health benefits made me fall in love with and continue hiking. Scientific evidence shows that time in the outdoors helps connect people to the land, to themselves, and to each other. Hiking is my therapeutic outlet for keeping my own health and wellness in check and I want my children to benefit from nature connection as well.
As a mom of three with two teenagers who have grown up in the era of smartphones and school-issued tablets, I vowed to spend more time in nature, disconnected from technology, when my youngest child was born.
The earlier you start hiking with young children, the more accustomed they get to time on the trail and the easier it is to get them to hike with you as they get older. My teenagers also love the outdoors, but they prefer fishing, hunting, and snowboarding. It's more challenging to convince them to join me for a hike — yet when they do, I get to enjoy seeing their faces light up at a water crossing when they spot a brook trout.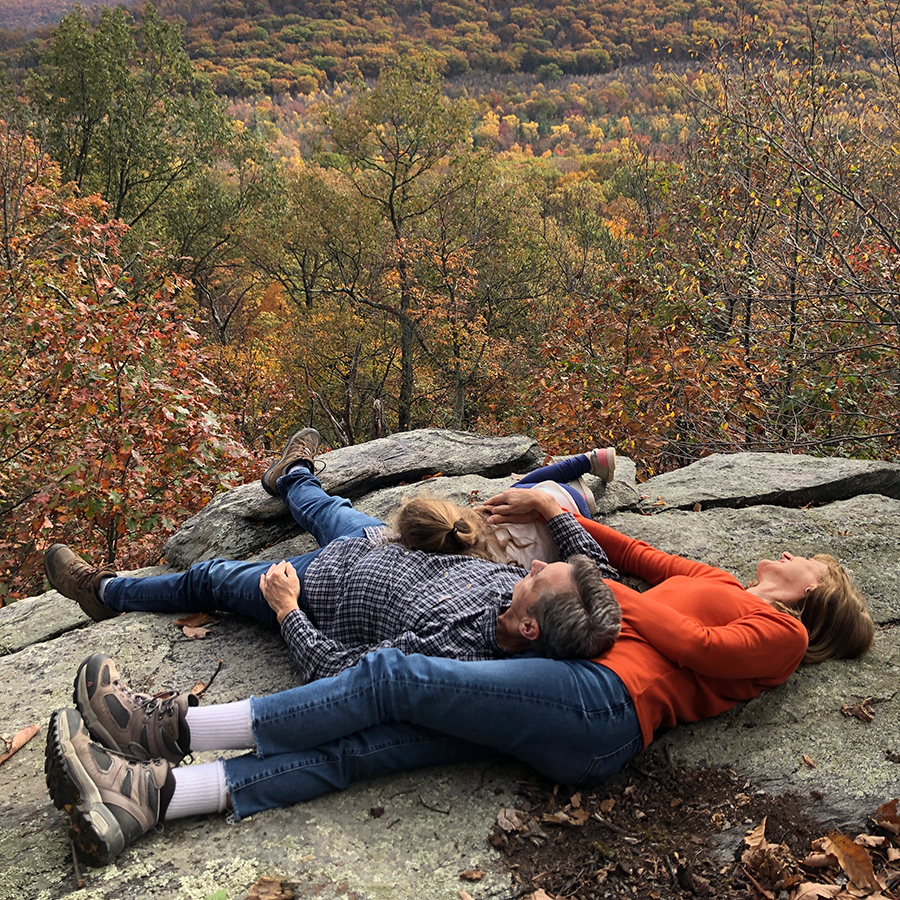 Time Together on the Trail
At the age of 4, my daughter section hiked the entire 45+ miles of the Appalachian Trail with me through Maryland and West Virginia, plus portions in Virginia and Pennsylvania. She reads trail blazes like a pro, uses a single trekking pole to check for rattlesnakes and copperheads along rocky portions of the trail, hikes in sneakers, and carries her own pack every step of the way. She can identify a variety of plants and animals including Paw Paw trees, Fleabane, and Pileated Woodpeckers. Her favorite thing, other than enjoying trail snacks and being a deer whisperer, is hiking to a great view.
My daughter and I have created lifelong memories while hiking. We've enjoyed springtime displays of bluebells lining the C&O Canal towpath. We've hiked high above Harpers Ferry on Maryland Heights where my third great grandfather was stationed during the Maryland Campaign of 1862. At Swallow Falls State Park we've gazed up at tall hemlocks and white pine trees in old-growth forests and we've marveled, from a distance, at the beautiful markings of a Timber rattlesnake in the Frederick Watershed. We've observed birds of prey in the Raptor Mews at Hashawa Environmental Center and had endless views from Weverton Cliffs and Black Rock on the Appalachian Trail. At Catoctin Mountain Park we've listened to the peaceful sounds of Owen's Creek trickling over moss-covered rocks and watched colorful fall leaves float on the water at the base of Cascade Falls in Patapsco Valley State Park.
You too can create these kinds of memories with your family on the trail.
Have a Plan Before You Go
Before stepping foot on the trail, take some time to plan ahead and prepare for your outing. AllTrails, an app with both free and paid versions, allows you to search for hikes by city, park or trail name. It also rates hikes on their level of difficulty, has downloadable maps which come in handy when cell service is spotty and even shows the elevation profile for the trail.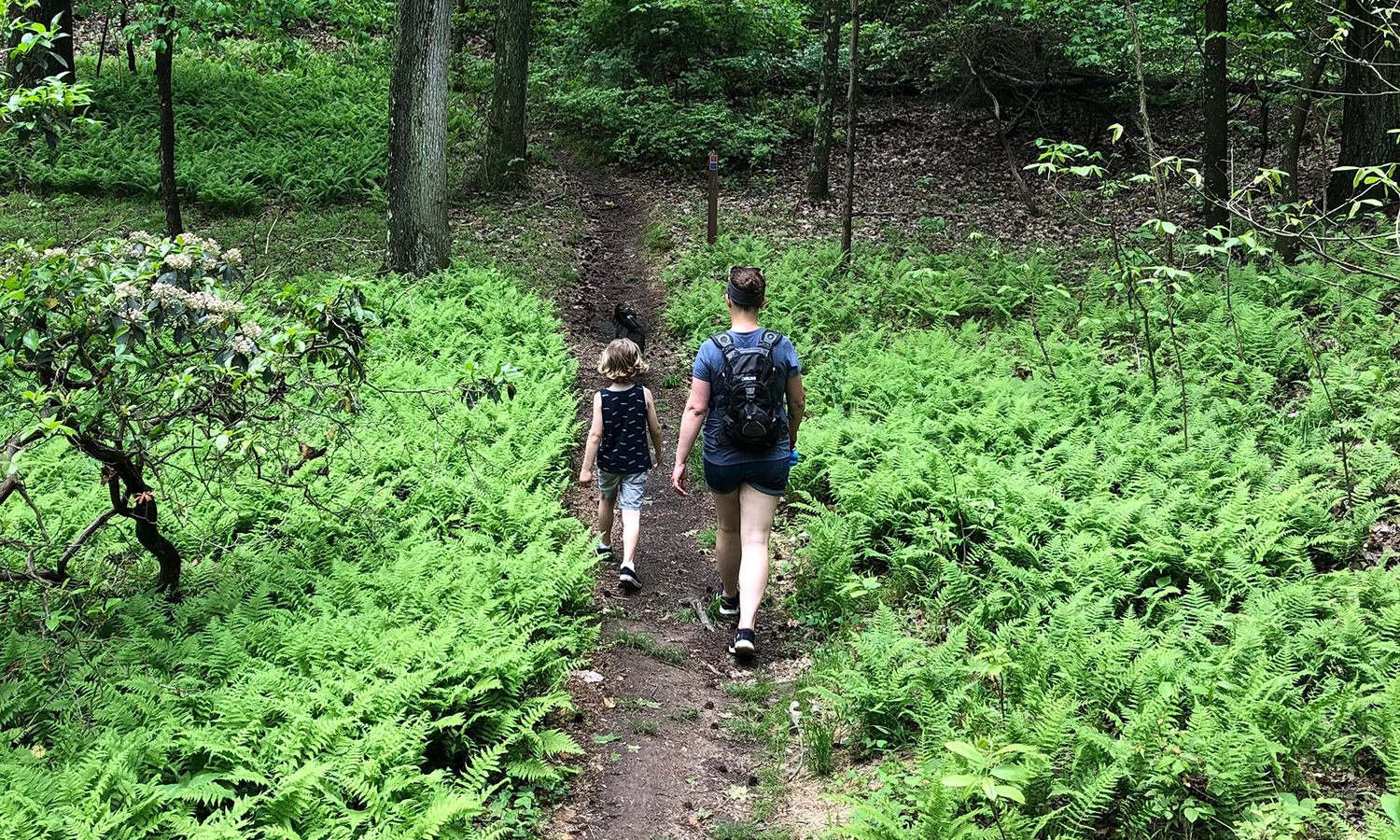 Once you determine where you'd like to hike, check the website for that location to find trail information and maps. Make sure the terrain is well-suited to your family's abilities and locate additional details about parking, facilities, hours, fees, and maps. 
Parking is sometimes limited at trailheads and can often be a challenge on weekends. Do your research ahead of time to see if there are multiple access points for a trail, or have a backup plan for another nearby trail if parking isn't available. Also be sure to follow any park or road signage pertaining to parking, as well as park hours. It's no fun to return from a hike to find your car towed, ticketed, or gated in for the night.
Always do a day-of check of the weather to make sure the forecast hasn't changed since you last checked. The latest forecast can help you decide what to wear, what outerwear to pack, and if there are any threats of bad weather. If you're hiking during the summer, you should always know what to do if it storms during your hike. 
It is important to be aware of potential trail dangers, from drop-offs at overlooks to wildlife. Timber rattlesnakes and copperheads are the two types of venomous snakes found in Maryland. They should be treated with caution and close encounters should be avoided. Black bears are also prevalent in Maryland and are generally afraid of humans, but can be aggressive when cubs are present. Thorough tick checks should be completed after every hike.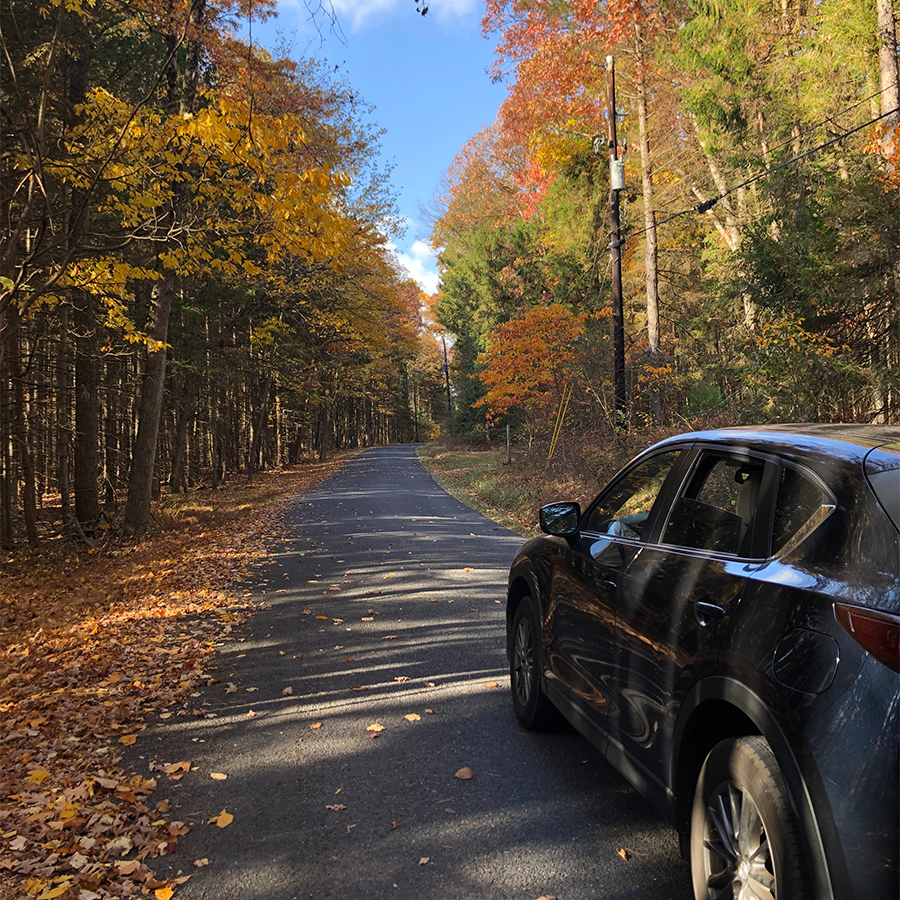 Make the Most of Drive Time
Utilize the drive time to your hike location to get your kids pumped about hiking. Talk about any trail features you're planning to see, mention what wildlife you may encounter and teach your children the importance of Leave No Trace Outdoor Ethics. Several Leave No Trace principles are important to instill in children, especially Leave What You Find, which includes not picking flowers, collecting things you find in nature, or stacking rocks to make cairns, which can negatively impact wildlife like the Hellbender salamander and trout. Another principle, Respect Wildlife, is important to model for children, showing them to create safe distances and to never approach or feed wildlife. And finally, it's important to Be Considerate of Other Visitors so everyone can enjoy their time in nature. It's always helpful to make a pit stop at a park visitor center, if available, because bathroom facilities are typically limited or non-existent out on the trail.
Making It Fun for Kids
Oftentimes the idea of walking several miles in the woods isn't appealing to a toddler or preschool-age child. Sometimes it's all in how you frame it, such as calling it an "adventure" as opposed to hiking. Packing plenty of your child's favorite snacks is extremely important when hiking. Frequent snack breaks can help young children tackle longer distances and give them something to look forward to. Get the entire family involved in snack prep by putting out a variety of ingredients like nuts, dried fruit, and chocolate chips. Then let each person assemble a bag of their favorite trail mix.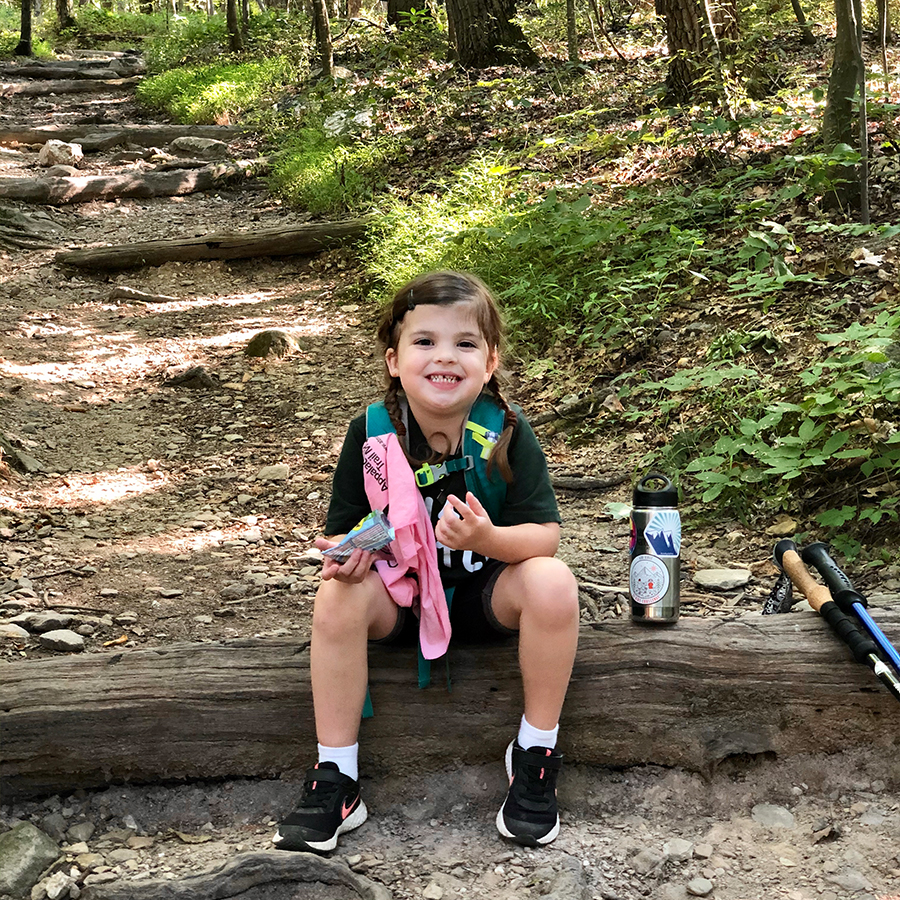 Children are naturally curious, and being in the outdoors is a great way to teach them about their surroundings. If you're at a National Park Service (NPS) site, inquire about a Junior Ranger program and check out Park Quest if you plan to visit Maryland State Parks. Both programs offer ways for families to learn about nature, history, culture, and more. NPS sites like Catoctin Mountain Park and Monocacy National Battlefield, as well as many others, have Kids in Parks TRACK Trails, designed to get families unplugged and outdoors together. The trails offer family-friendly outdoor adventures and kids can log their activities to earn actual prizes. Some activities can only be completed at specific places while others can be done practically anywhere out in nature, even in your own backyard. 
Children are often inquisitive when exploring the natural world. My daughter and I attempt to remain as unplugged as possible when it comes to technology, but we frequently pull out my phone for photos—photos of each other, photos of plants, photos of insects, and even photos of scat. Once home, I use the iNaturalist app to upload our photos and identify what we observed. 
Tips & Tricks
One of the most important factors when it comes to hiking with children is a willingness to go at their pace, which can change from hike-to-hike when it comes to young children. Pace is an important consideration when choosing which trail to hike and figuring in other factors like the sunset or closing time for a park or trail. Speaking from experience, if you're used to hiking at a faster pace, slowing down to move at a snail's pace can require an incredible amount of patience at first. On the flip side, it helps you to see the wonder of nature through the eyes of a child and truly appreciate your surroundings. 
While you can't always please everyone, it's important to try to create hiking experiences with each family member in mind. That can mean everything from finding a place to fish near the trail for the family member who loves fishing, to stopping and reading historical markers for the history buff, or allowing a budding artist time to sit and sketch a forest scene. Hiking with teenagers provides a great opportunity to unplug and have important conversations without the distraction of technology.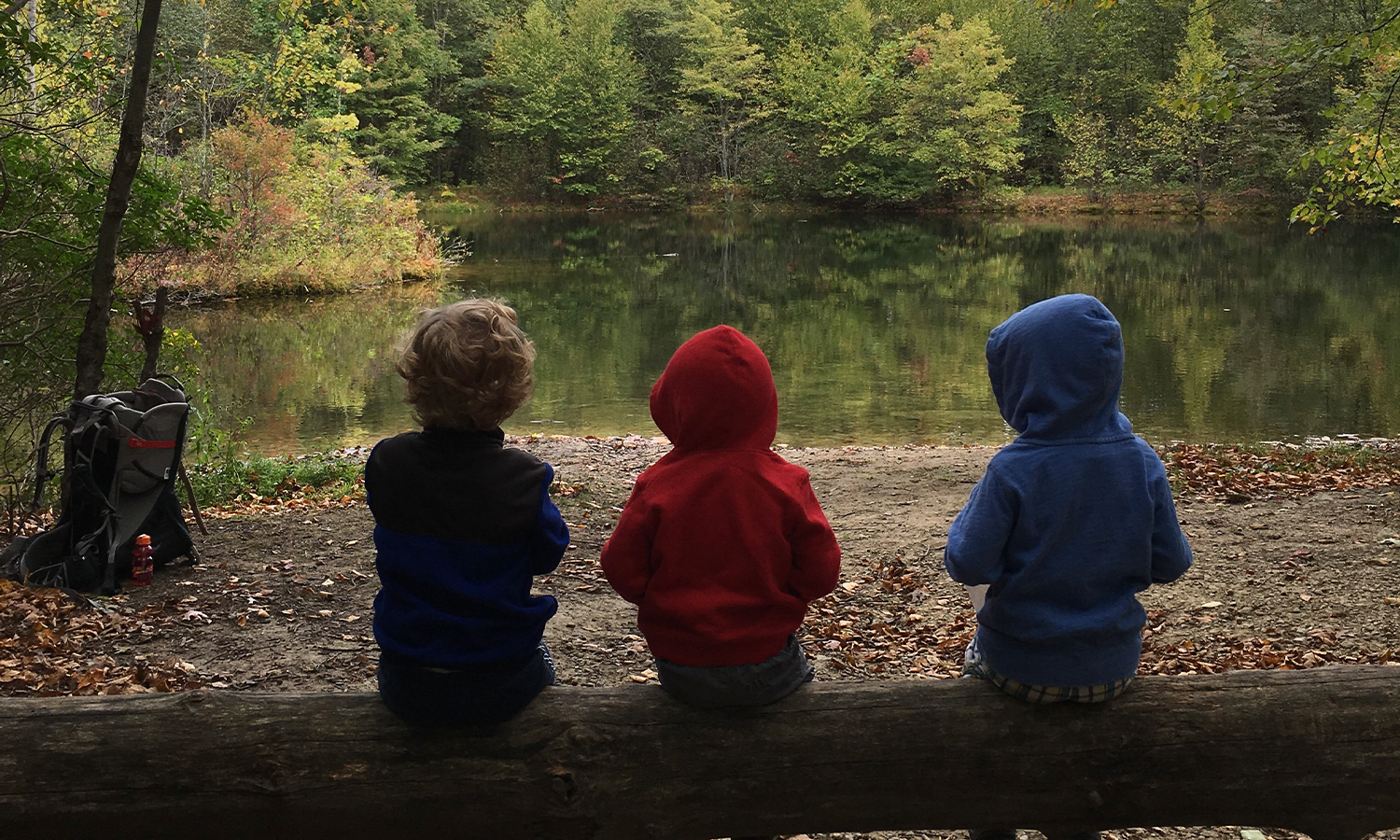 Children are physically capable of so much more than we give them credit for. Maneuvering in the outdoors helps them build strength, develop confidence, and learn to manage risks. While it's important to prevent accidents and be mindful of your surroundings, kids are resilient. Unstructured playtime in nature is one of the best gifts you can give them. 
So where are you planning your next family hike? What blazes will you follow when you get there? Hit the trail for some family time and make some Maryland memories!
Where to Go
If you're traveling the Journey Through Hallowed Ground Scenic Byway, between Gettysburg, Pa. and Monticello, Va., be sure to check out the Lower Trail and Cliff Trail Loop at Cunningham Falls State Park. For travelers heading to or from the Shenandoah Valley, consider the short but spectacular hike to Weverton Cliffs along the Appalachian Trail in Knoxville, Maryland. Patapsco Valley State Park's Cascade Falls Trail and the Serpentine Trail at Soldiers Delight Natural Environmental Area are great options along the I-95 corridor. If you're in Northern Virginia, DC, or southern Maryland be sure to check out the magnificent views from the Great Falls Overlook Trail at C&O Canal National Historical Park. And finally, if you're heading through Western Maryland on your way to or from Ohio, Morgantown, West Va., or Pittsburgh, be sure to enjoy the waterfalls along the Swallow Falls Canyon Trail at Swallow Falls State Park. 
---
Lead Photo: Chris Vandergrift
Charissa Hipp is the founder and CEO of The Nature Prescription, LLC. A longtime tourism marketer and nature therapy guide, she believes in the power of connecting people to places. Charissa resides in Williamsport, Maryland with her husband and three children.