Learn, Experience, and Taste the Legacy of Maryland's Watermen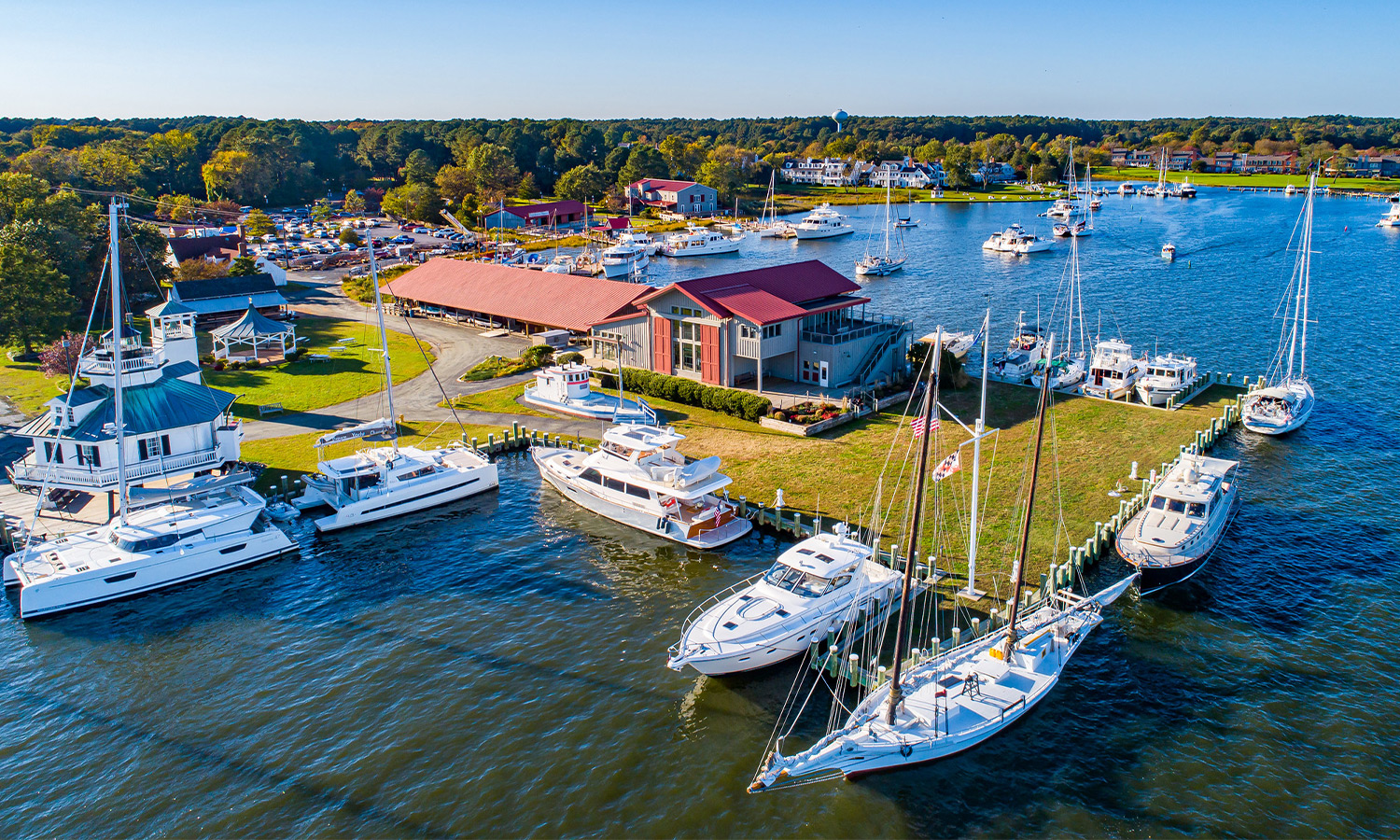 The Chesapeake Bay is the pride of Maryland. Who among us doesn't love seafood pulled directly from its waters? But the bay doesn't yield its catch easily. For centuries, watermen (and women) have labored tirelessly – alone on a boat, hours before sunrise – to ensure fish, oysters, and blue crabs grace the tables of homes and restaurants around the world.
Maryland's watermen work the Bay itself, as well as the rivers that flow into it, including the Potomac, Patuxent, and Chester. This mix of salt and freshwater makes the Bay an estuary, the largest in the United States and one of the largest in the world. According to the Chesapeake Bay Foundation, it yields over 500 million pounds of seafood a year, seemingly a ransom until you compare it to years past. 
While on his 1607-1609 exploration of the Bay, Captain John Smith noted in his diary an "abundance of fish lying so thicke with their heads above the water, as for want of nets, our barge running against them, we attempted to catch them in frying pans." It is not so easy to catch them today — watermen work hard year-round. While some specialize in one type of seafood, others vary their catch with the season to make ends meet.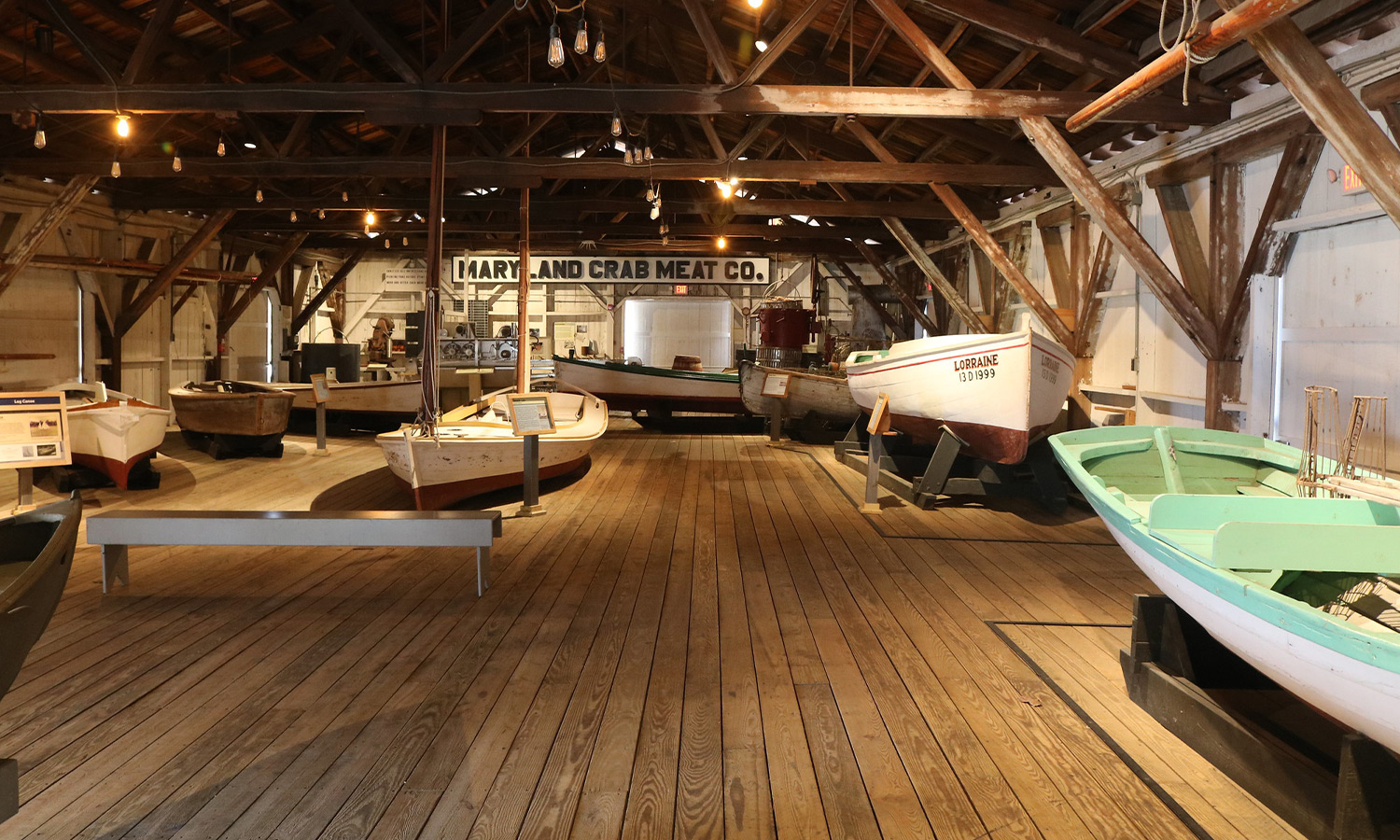 The summer is for blue crabs. A crabber may work 500 crab pots in a season, where crabs are caught after crawling in to eat fish used as bait. Upon pulling the pots, which happens daily, the waterman has to sort the catch — jimmies (male), sooks (female), peelers (crabs ready to shed their shells), busters (crabs midway through shedding), and soft shells (crabs who have already shed) must all be sorted, as each brings a different price.
Oysters are harvested in the fall and winter. Historically, people would wade into the water and pick up the bivalves by hand. Hand tongs were then developed to allow watermen to pick up oysters off the river bottom. In the mid-nineteenth century, dredging was invented; however, due to the damage this system caused to underwater habitats, dredging is now strictly regulated.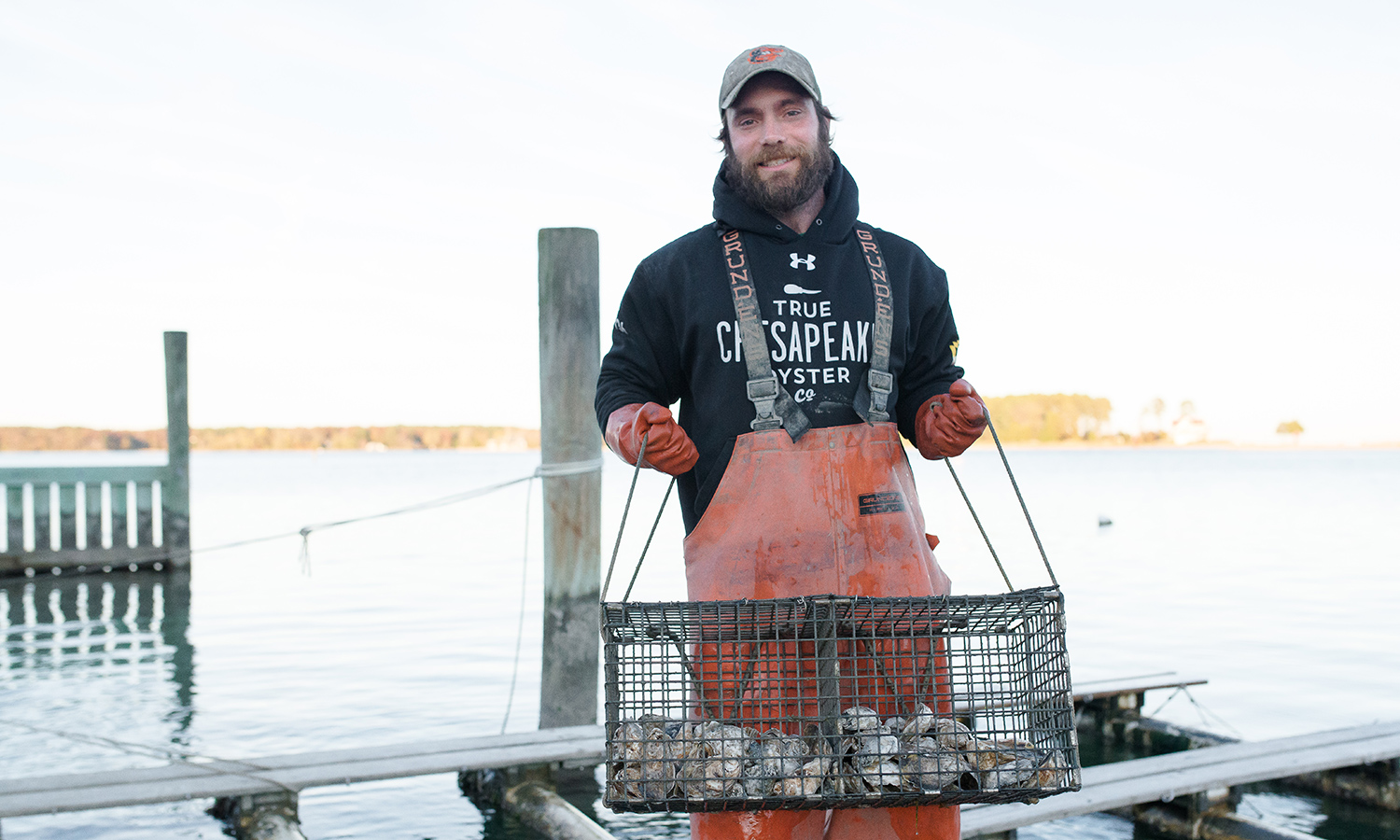 Both Native Americans and European colonists ate a lot of oysters and crabs; in fact, during the 1609 "Starving Times" in Jamestown, the settlers survived the winter almost entirely on oysters. Archeological evidence suggests that crabs were not only popular throughout the seventeenth and eighteenth centuries, but also that our forefathers were eating 10-inch crabs – twice as big as the ones we pick today! 
The Powhatan Indians living near the Bay refined the processes for catching crabs, fish, and oysters and passed their knowledge to European settlers shortly after they arrived in the New World. In the same way, the trade secrets of watermen have been passed down from generation to generation — the occupation often binding together families who live their whole lives in the same waterfront settlements as their ancestors. Although these towns have a reputation for being insular, their citizens exhibit a true sense of community and solidarity born from the rigors of making their living on the water.
After Emancipation, many freed Blacks pursued careers as watermen, due to low start-up costs and high demands for seafood. While they worked, they often sang sea chanteys, work songs that tied their movements to a beat and coordinated their efforts. (Watch a performance of the Northern Neck Chantey Singers here.)
Although the term "watermen" generally refers to people who make their living by harvesting crab, fish, and oysters, the industry couldn't exist without shipbuilders, caulkers, riggers, and sailmakers who keep boats seaworthy; dock hands to load and unload cargo; and pickers, shuckers, and cannery workers who process seafood for market. Blacks found work in many of these occupations as well, at least until World War II, when many enlisted.
Today, Maryland's watermen are considered something of an endangered species. There are Bay towns where tourists can get a glimpse of watermen life: Smith, Kent, and Tilghman Islands still have working watermen plying the waters. Below, I highlight three other towns that offer the "waterman experience," but also have a significant maritime museum where you can learn more about these important American icons.
Western Shore: Solomons, Calvert County
Solomons is located at the mouth of the Patuxent River at the southern tip of Calvert County on the western shore of the Bay.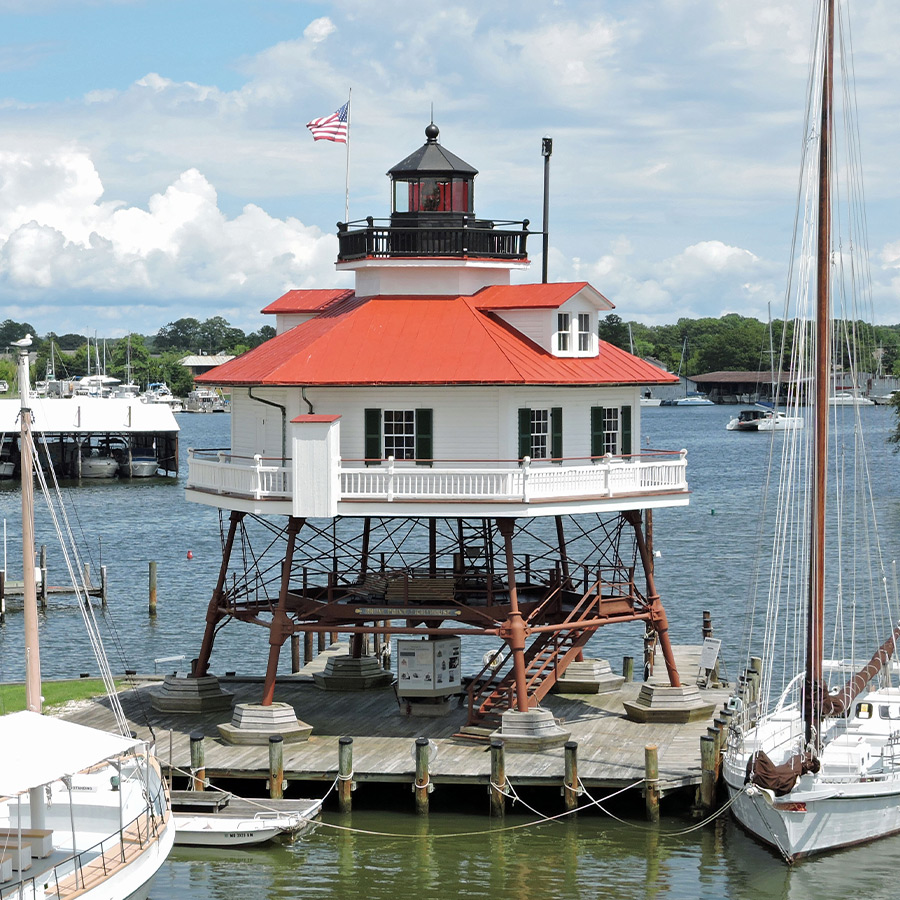 Also known as Solomons Island, this bayside town has been a home base for watermen since the seventeenth century. Solomons saw activity during the War of 1812 when Commodore Joshua Barney launched an attack on British ships from its shores. Annual events include the Solomons Maritime Festival and Patuxent River Appreciation Day.
Learn
The Calvert Marine Museum will immerse you in maritime life. The harbor features a variety of Chesapeake-built boats, and you can get out on the water on the Wm. B. Tennison or skipjack Dee of St. Mary's.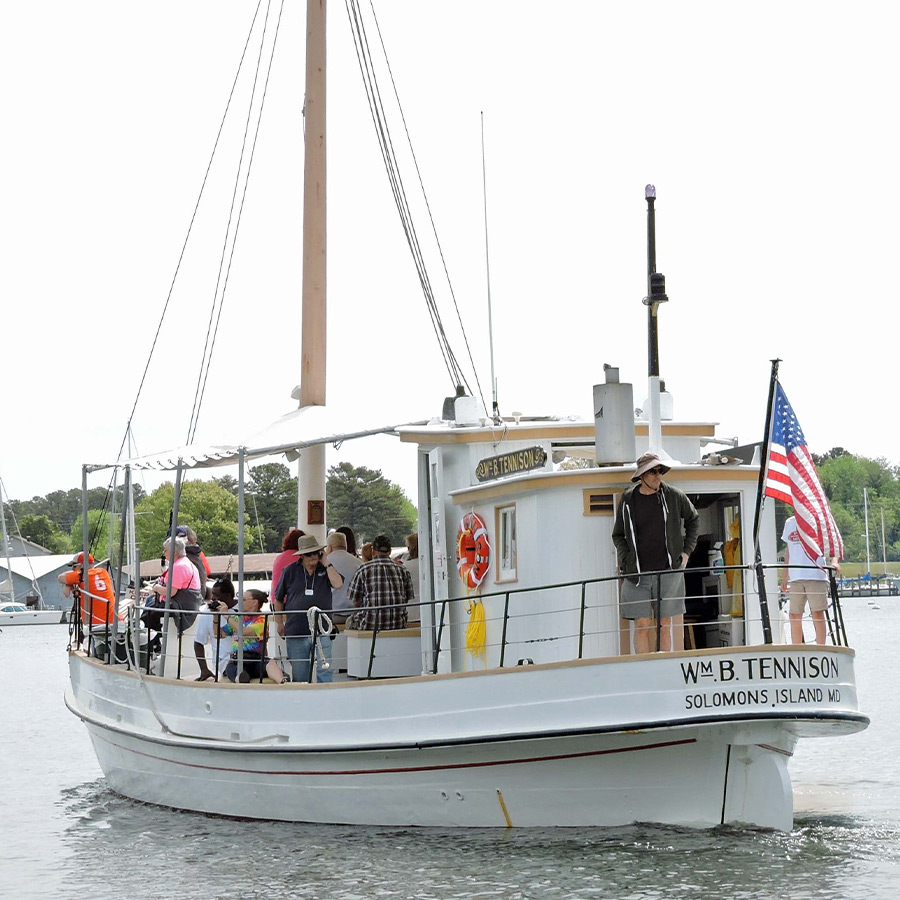 The Drum Point Lighthouse provides a bird's eye water view for those energetic enough to make the climb, and the keeper's house of Cove Point Lighthouse, the oldest continuously operating lighthouse on the Bay, can be rented as a vacation home during your stay.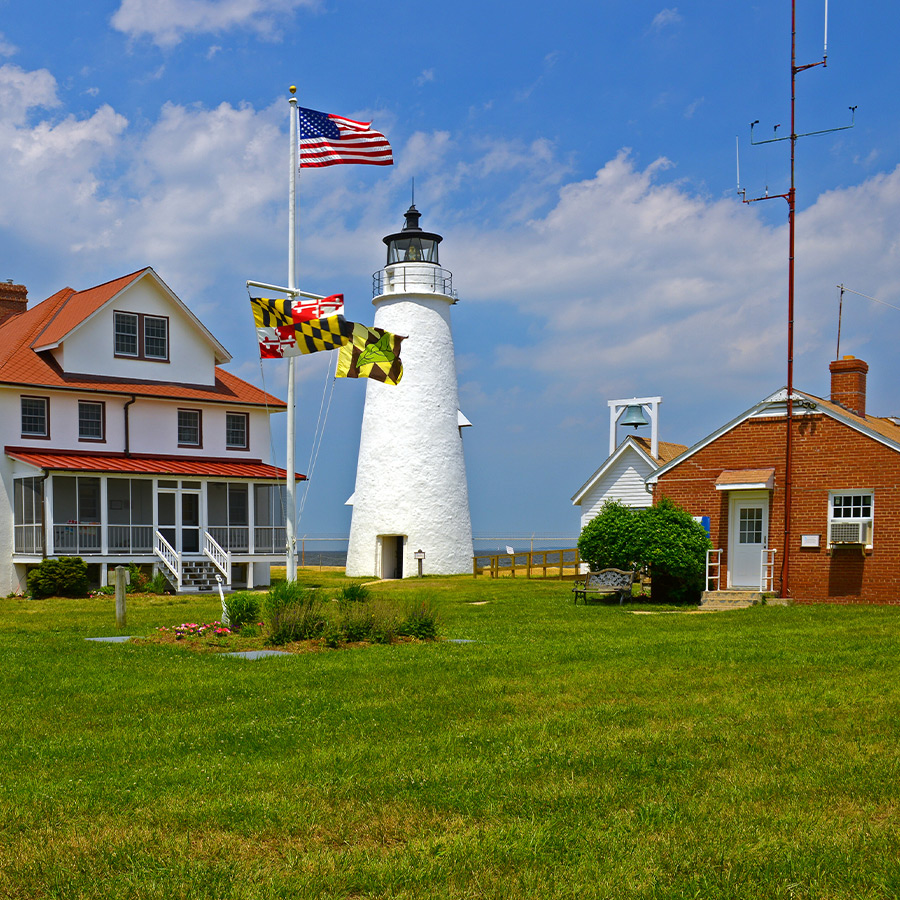 A half-mile south of the museum is the J. C. Lore Oyster House, a 1934 building that once housed a large seafood packing plant and now contains exhibits about oyster processing.
Experience
Want to try your hand at trot lining or pulling crab pots? Patuxent River Heritage Tours and Solomons Island Heritage Tours provide hands-on experiences, both at sea and on land. Certain tours will even let you eat your efforts!
Taste
Enjoy the Bay's bounty at Stoney's Kingfishers Seafood Bar and Grill or The Lighthouse Restaurant and Dock Bar. Both offer affordable meals and waterside dining.
Photo Op
A statue depicting the quintessential waterman, decked out in a raincoat and holding oyster-harvesting tongs, is part of the Annmarie Sculpture Garden and Arts Center. 
Upper Eastern Shore: Rock Hall, Kent County
One of the Bay's oldest ports, Rock Hall, was shipping tobacco and agricultural products from Maryland's plantations as early as 1706. It was also a crossroads for travelers, as it was the shortest route between Virginia and Philadelphia. Located on the eastern shore, just north of the Chester River in Kent County, Rock Hall celebrates its maritime history with several annual events, including the Pro-Am Rockfish Tournament, Pirates and Wenches Weekend, and Rock Hall FallFest.
Learn
Descendants of Rock Hall's watermen collaborated on the Waterman's Museum, where you can view exhibits on crabbing, oystering, and fishing, historical photos, and a life-size reproduction of a waterman's shanty house. A second museum, The Rock Hall Museum, documents the town's history.
Experience
Captain Brant Nordhoff of Chesapeake Bay Crabbing Charters will take you to the best crabbing spots in the Chester River, where you can pull trotlines and crab pots. While you sail, keep your eyes peeled for bald eagles as you pass the Eastern Neck National Wildlife Refuge. If you prefer fish to fowl, there are a variety of fishing charters, including Blue Crab Chesapeake Charters and Shardana Sailing, that will get you out on the water.
Taste
Waterman's Crab House, which bills itself as "the best in seafood and sunsets," will serve you hard-shell crabs or a locally-sourced entree waterside. The restaurant at Osprey Point offers a fresh seasonal menu in a casually elegant dining room nestled near a marina.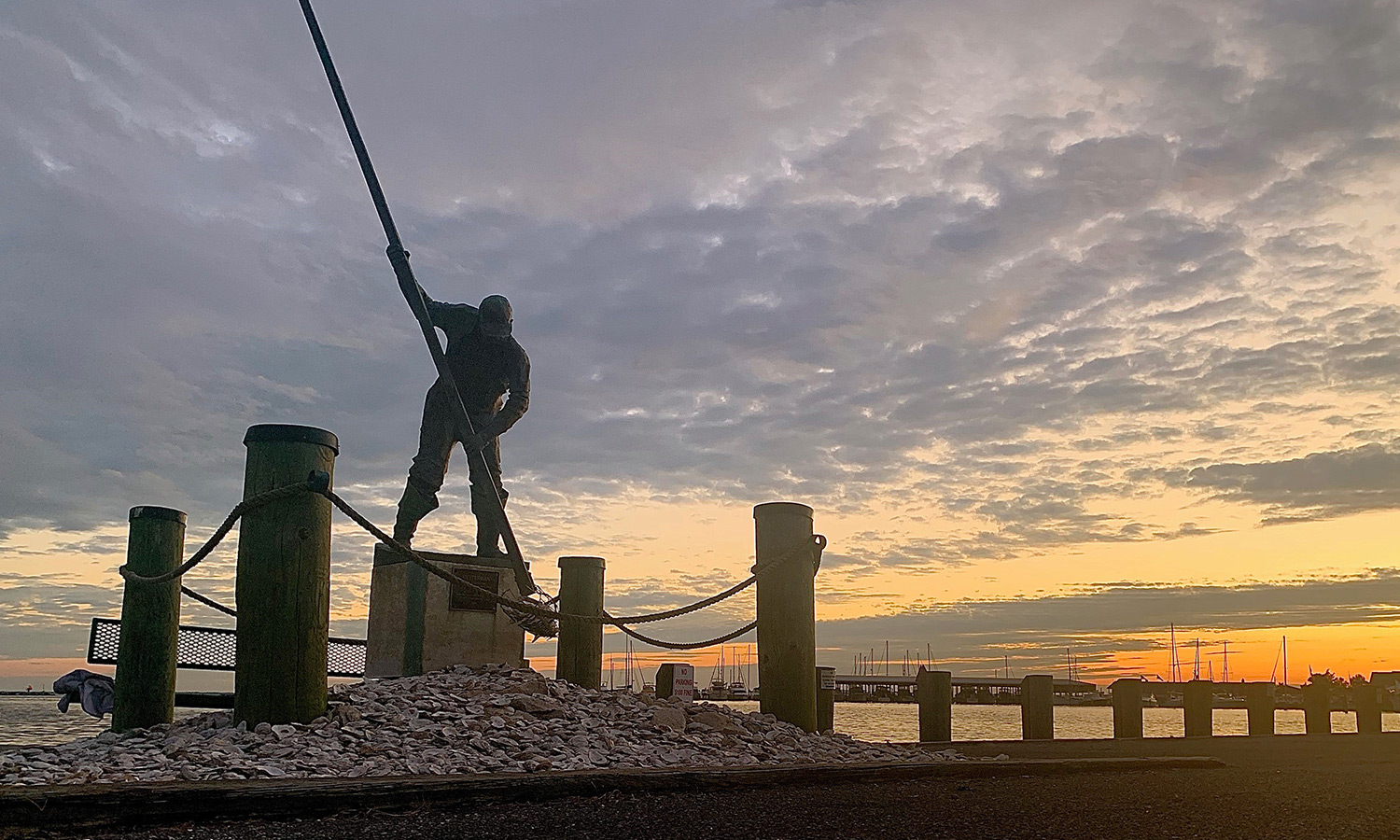 Photo Op
At Rock Hall Dock stands a bronze waterman, bent over his oyster tongs, shells scattered at his feet. Get your photo taken with this icon, and then watch the real thing offload his catch at the bulkhead.
Lower Eastern Shore: St. Michael's, Talbot County
Settled in the mid-1600s, St. Michaels was used as a port by farmers, trappers, and watermen. Perched on the Miles River on the eastern shore, this Talbot County town also saw action during the War of 1812, earning its nickname "The Town That Fooled the British."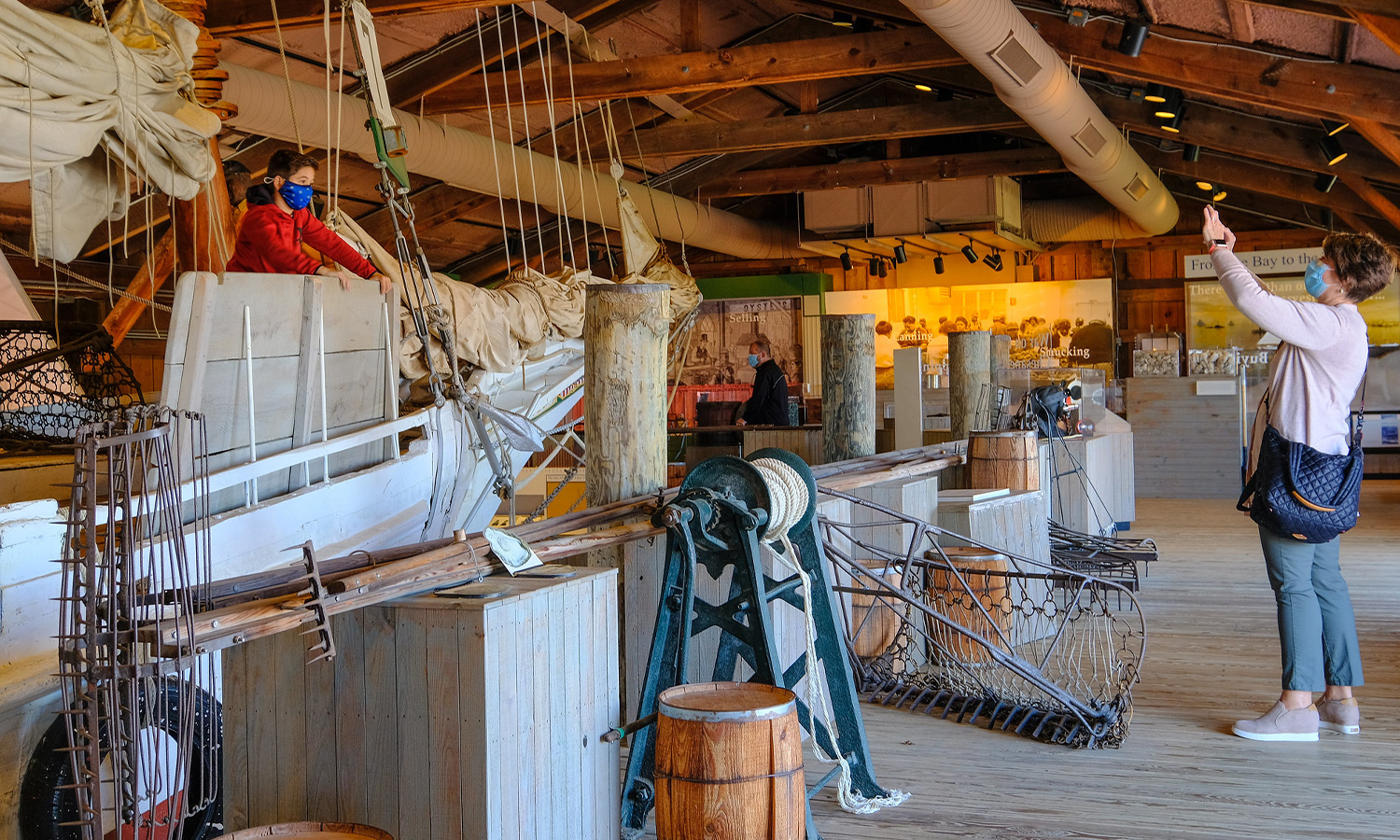 The Chesapeake Bay Maritime Museum loves to celebrate St. Michaels' heritage through events like Maritime Day and Blessing of the Fleet, Watermen's Appreciation Day, and OysterFest.
Learn
The Chesapeake Bay Maritime Museum has 18 acres of hands-on fun, including a working shipyard, a floating fleet of historic boats, and a Waterman's Wharf exhibit where you can catch blue crabs or tong for oysters. The 1879 Hooper Strait Lighthouse is open for visitors to explore, and you can ride on a buy boat, visit a crab picking plant, and learn the history of Black laborers on the Bay.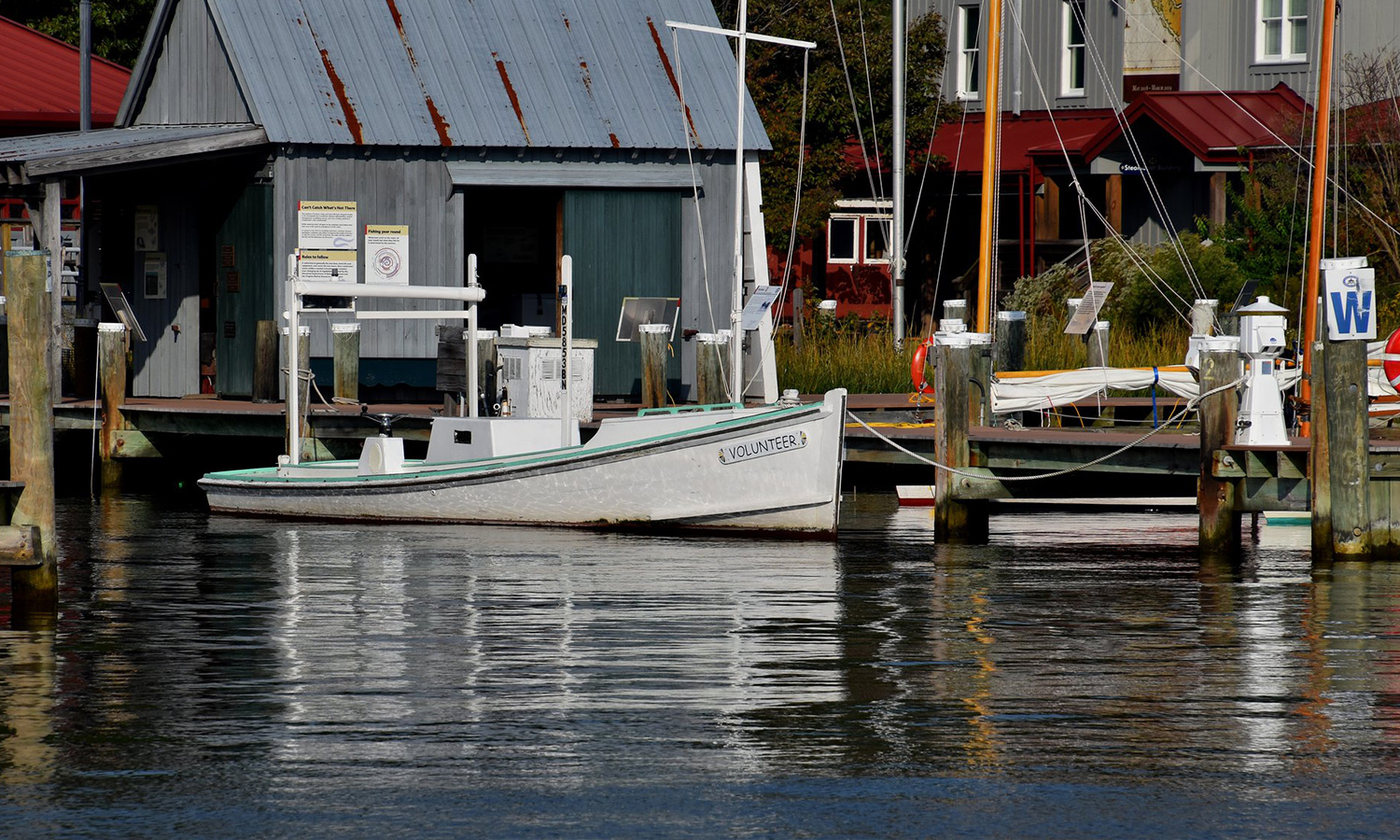 Experience
Watermen Heritage Tours operates several boats out of St. Michaels and nearby Tilghman's Island that provides a hands-on experience crabbing and oystering. Or, choose a sailing tour on the Skipjack H.M. Krentz, an authentic working skipjack. Both capture the heritage and tradition of Chesapeake Bay watermen.
Taste
St. Michaels is known for culinary delights pulled from the Bay. The Crab Claw Restaurant got its start as a clam and oyster shucking house and now serves the daily catch at picturesque Navy Point. Located in one of the town's many historic homes is Awful Arthur's Seafood Company, a restaurant founded by a man who came from three generations of watermen.
Despite its name, Awful Arthur's food is quite delicious – be sure to try their nine varieties of oysters.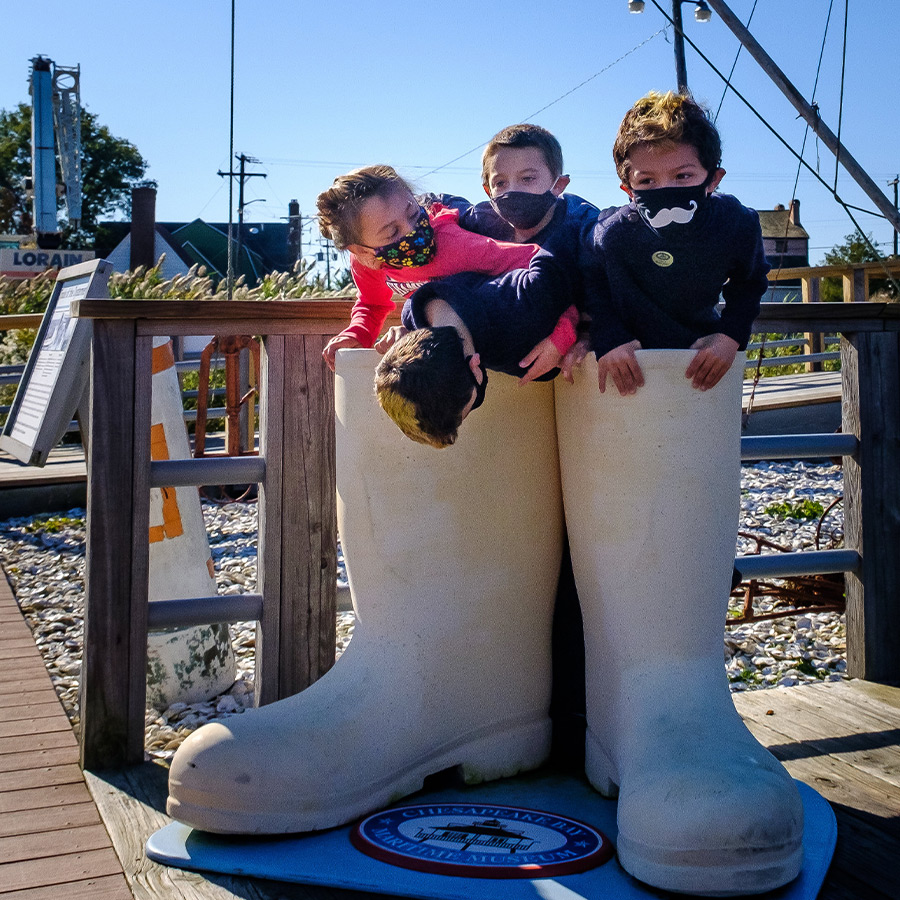 Photo Op
Climb right into a pair of oversize waterman's boots at the Maritime Museum and grin for the camera.
---
Lead Photo: The Chesapeake Bay Maritime Museum, courtesy of Shore Studios
Heidi Glatfelter Schlag is a marketer, history lover, and traveler who can often be found exploring museums, parks, small towns, and farms. She founded Culture-Link Communications, where she helps local nonprofits and small businesses build their brands. Heidi lives in Frederick, MD, with her husband and two dogs.