Running Spots in Maryland Worth Driving For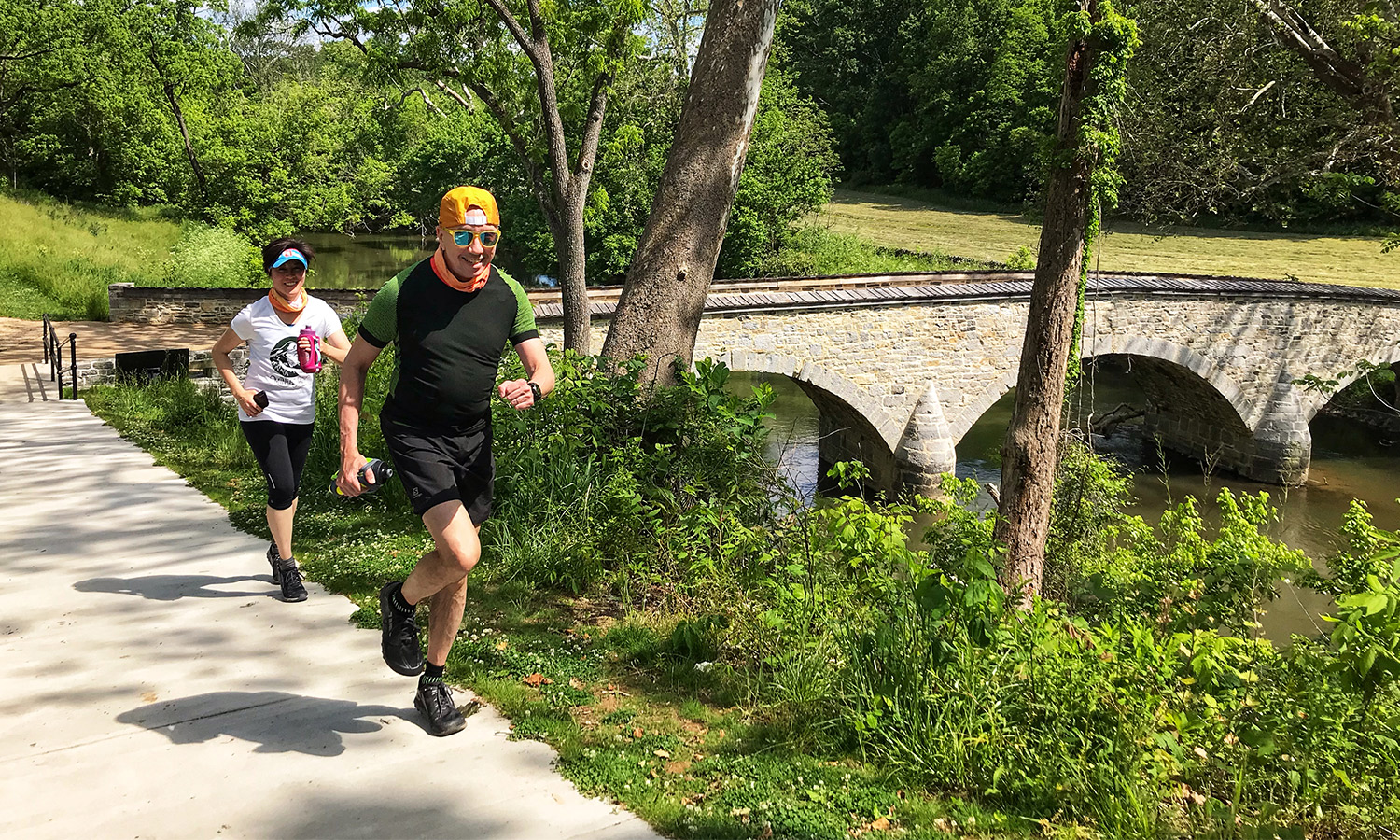 One of the best ways to explore a new location is in running shoes. By logging miles in nearly every state in the country, I've gained access to areas often unreachable by car. It's no different here in Maryland, where I've run my longest distance and explored more trails than I can remember. 
Spending time in your running shoes allows you to step away from the realities of life. As you run over rocks or down a hill, or through the woods you feel the wind on your cheeks and the sun on your face, and in those moments it feels like nothing else matters. 
Every runner has their go-to route, and it's easy to opt for the close-to-home loop to get the weekday miles in. But it's the weekend running spots I get excited about–the ones I get to drive to.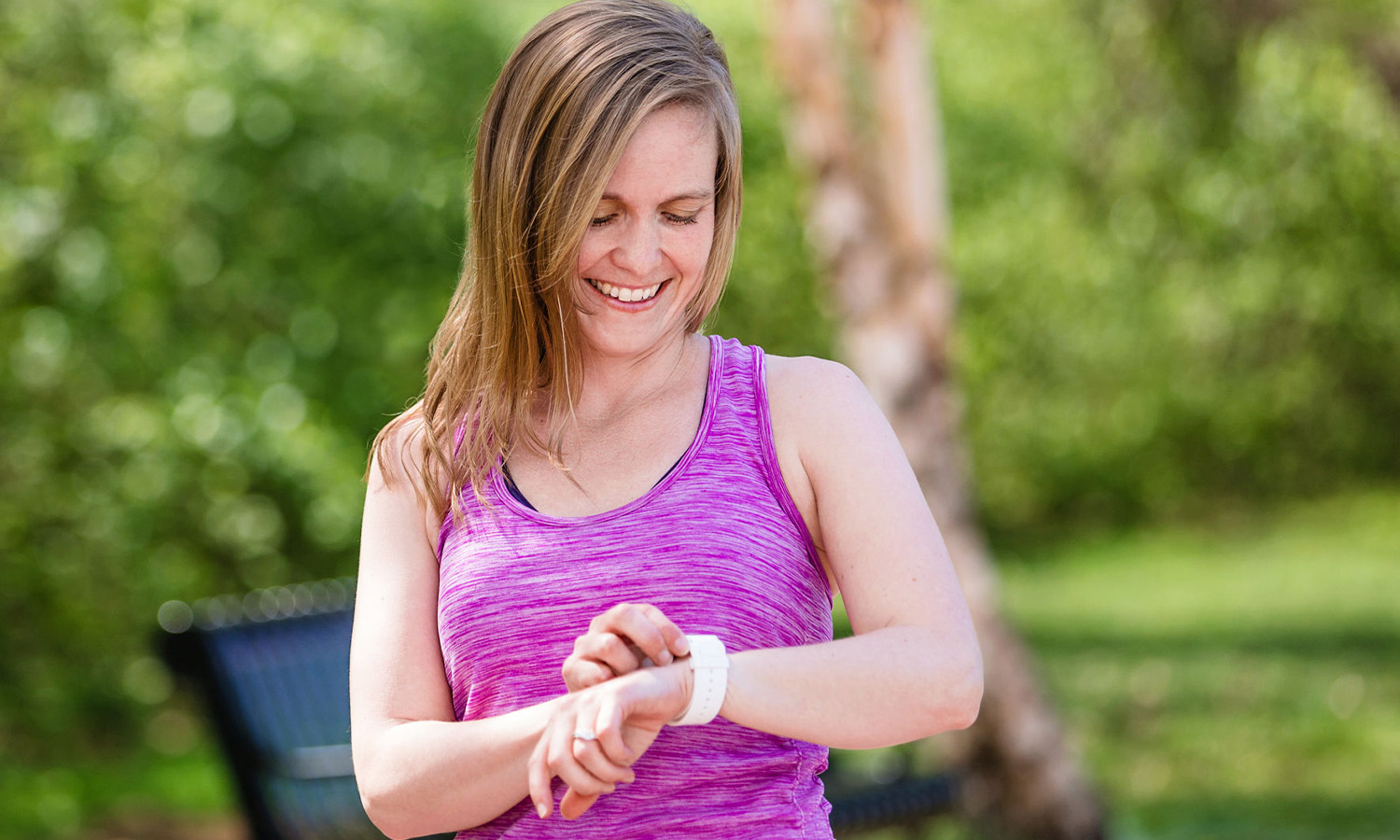 No matter where you are in the state, there's a waterfront walkway, tree-lined path, or rocky trail nearby just waiting for you. This list is just the tip of the iceberg of great running spots in Maryland worth driving for.  
Remnants of the Past at Little Bennett Regional Park
Starting in Montgomery County, head over to Little Bennett Regional Park. At 3,700 acres, there's nothing little about the largest park in the county. There are several trailheads to choose from and with its diverse habitats, every run in Little Bennett is different. Runners of all abilities can enjoy over 20 miles of trails. 
Directionally challenged people (like myself) will appreciate that both the trailheads and trails are clearly marked. The Kingsley Parking Area is my favorite spot to start from, as you have the option of jumping on a single-track trail or heading up a gravel road going past the historic Kingsley Schoolhouse. 
You'll climb a few steep hills, run through tunnels of trees, and see remnants of the past with old fences, antique farm equipment, and stone foundations of old homes and a historic tobacco barn.
Forests, Farmlands, and Lakes in Seneca Creek State Park
Last November I spent just under 11 hours running a 50-mile race around Seneca Creek State Park, another beautiful trail system going through Montgomery County. I smiled mile after mile, imprinting the scenery into my brain.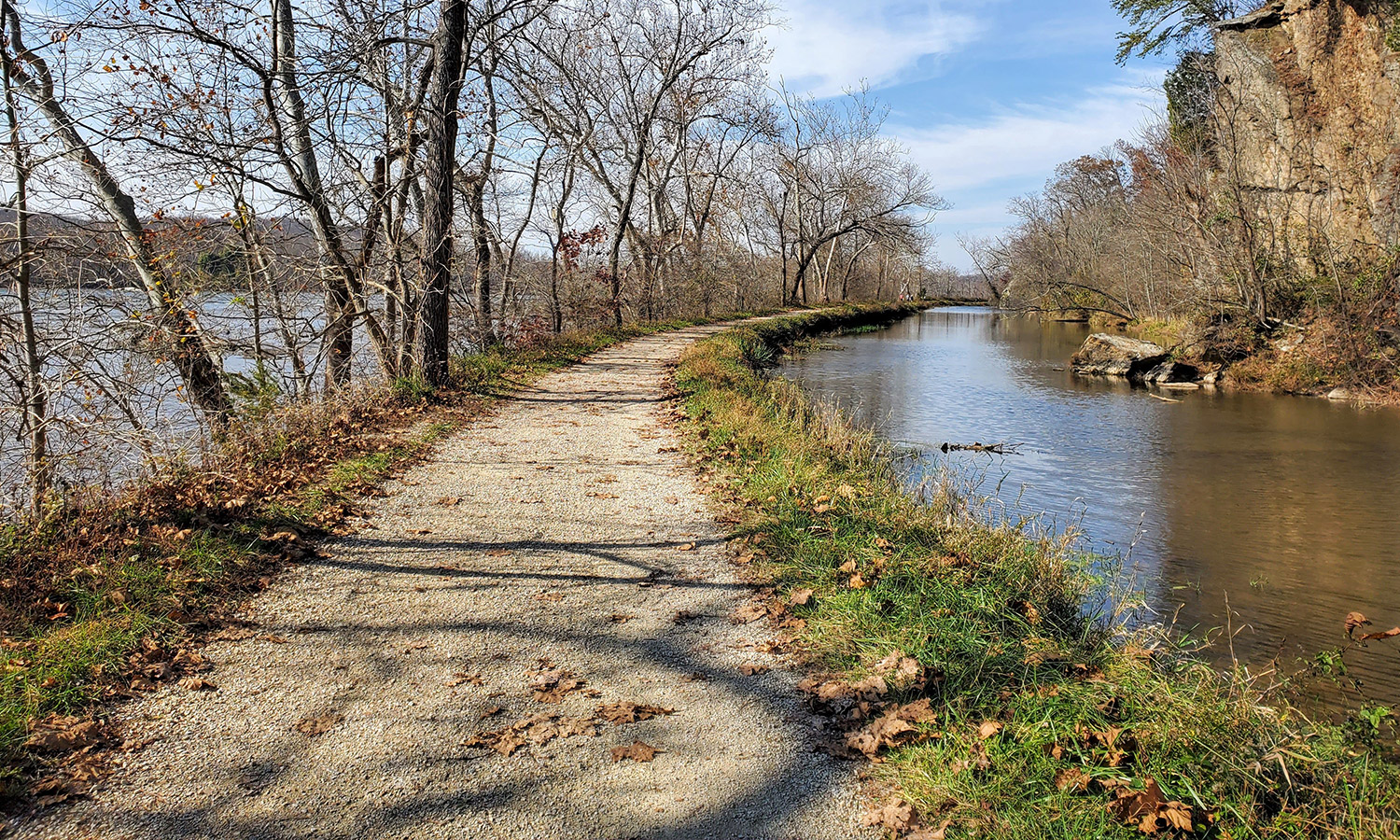 Runners get a special look at how Seneca Creek was a major source of power for the first 150 years of settlement in Montgomery County by going past the remains of several powerful mills. 
Take the 3.5-mile blue-blazed Lakeshore Trail and enjoy the sun shining off Clopper Lake and perhaps see a blue heron swooping over the water.  
Boats and More Along Baltimore's Inner Harbor
You might not expect the busy city of Baltimore to be an ideal running destination, but the seven-mile-long Waterfront Promenade along Baltimore's Inner Harbor is a surprisingly relaxing spot to jog. The mostly brick-lined, out-and-back route travels along the waterline. Park at the Canton Waterfront Park Parking Lot and head just over 4 miles to Fell's Point. Plan for an easy-paced run so you can enjoy the harbor views while avoiding bumping into other walkers and runners. 
Keep an eye out for the tall green signs with the Waterfront Promenade logo to orientate yourself along the path. 
There are plenty of local eateries to enjoy post-run. If you don't want to search for another parking spot, walk five minutes from the parking lot to THB Bagelry and Deli for a filling bagel sandwich.
Elevation Gains at Rocky Gap State Park
Every year since 2015, I've competed in a duathlon at Rocky Gap State Park. I run two laps around the 5.3-mile Lakeside Loop Trail, and my mountain biking husband completes the bike course. 
If you're hoping to enjoy family time, bring the whole crew and let them relax on the beach, while you run the challenging trail network surrounding the clear blue mountain lake.  
Wear shoes that bite into the dirt and rocks so you can climb Evitts Mountain, named for the first European settlers in Allegany County. The Evitts Homesite Trail climbs over 1,000 feet in elevation in 2.5 miles. You'll have one of those "I conquered it" moments when you reach the top. 
Nature's Treadmill, aka The C&O Canal
At the opposite end of the elevation spectrum is the Chesapeake & Ohio Canal. The nearly flat 184.5-mile canal follows the Potomac River in Washington D.C. to Cumberland, Maryland.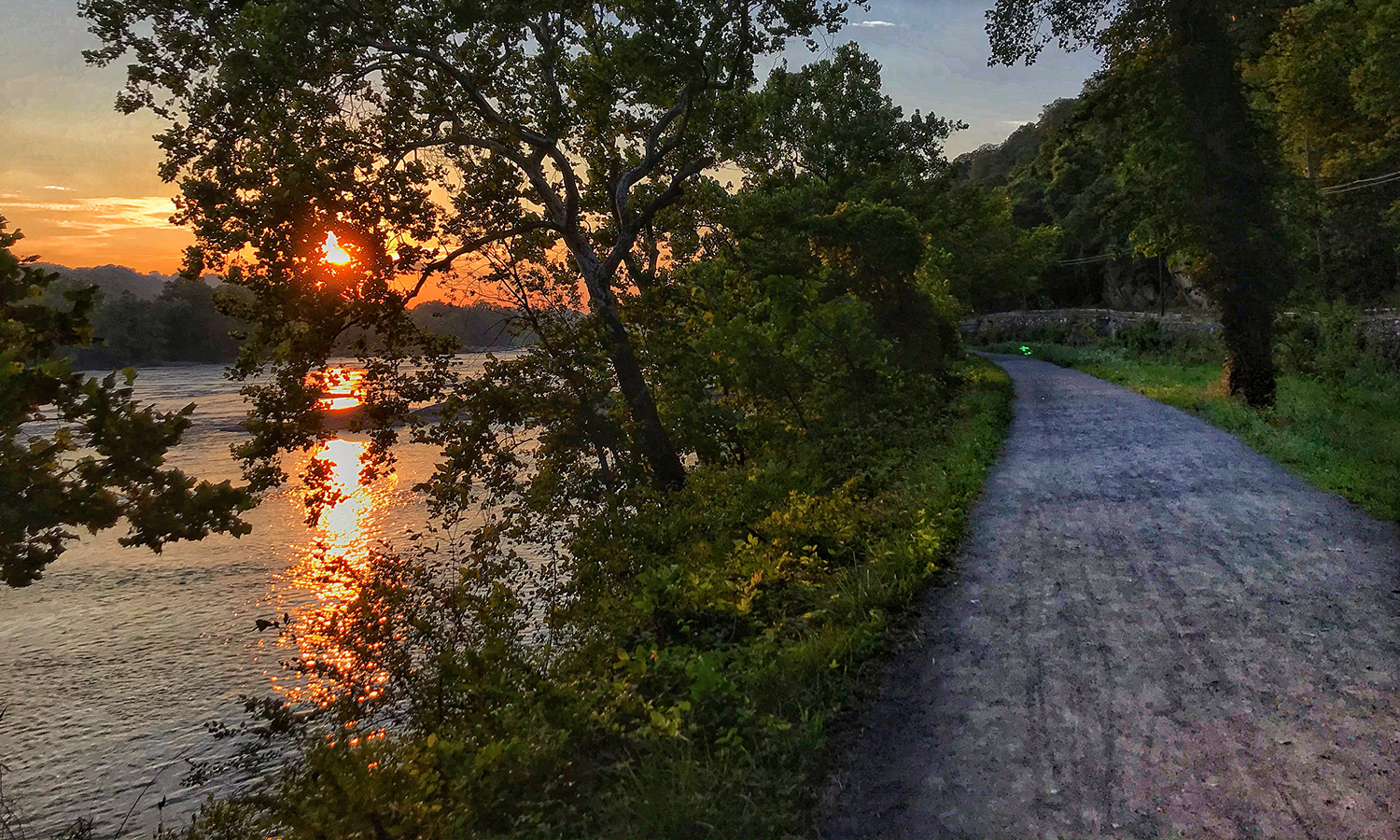 The easy course earns the nickname "nature's treadmill," where you can mix up your speed between the numbered locks. Hop on the trail at the Carderock Recreation Area Parking Lot and check out the Maryland side of Great Falls. Or head over to the Point of Rocks Parking Lot and check out the charming Victorian train station.   
Go for a Beach Run in Ocean City
As a homage to growing up in Southern California, I feel nostalgic whenever I run along Ocean City's 3-mile boardwalk. Go out early morning to catch the sun coming up as you enjoy a classic boardwalk run in Maryland. If you need a reward for motivation, consider driving up the beach for a post-run Bloody Mary.
Historic Rural Landscapes through Antietam National Park
With so much natural beauty intertwined with history, I'm looking forward to adding new spots to my future runs, like Antietam National Park.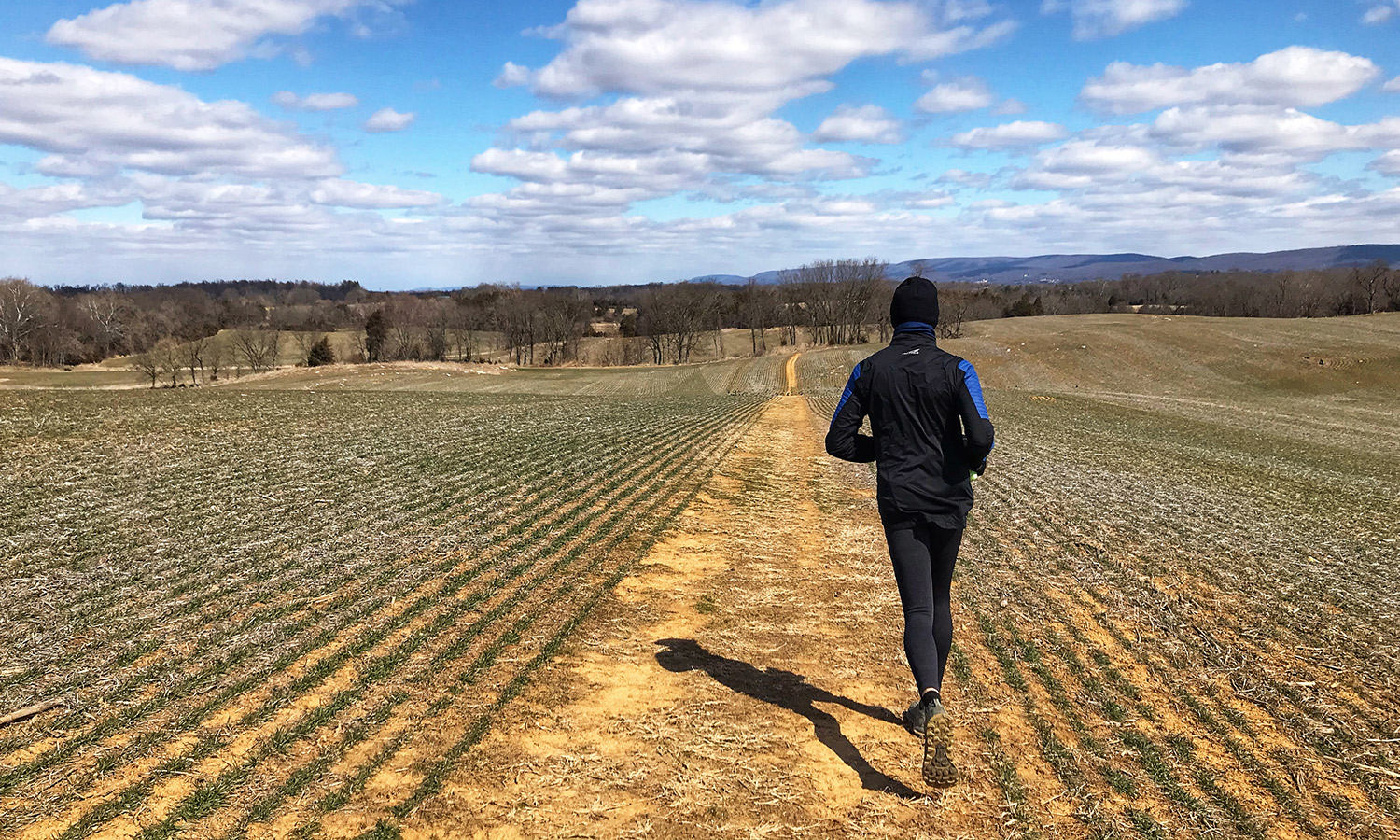 Located in western Maryland, Antietam National Park honors the 23,000 soldiers killed, wounded, or missing after twelve hours of combat in 1862. Touring the battlefield by foot takes you to unique vantage points and provides a special perspective of the battle and the people of Antietam. Plus, stopping to observe the hallowed grounds or read a plaque gives you time to breathe in the fresh air. 
Feeling famished? Head to Dan's Restaurant & Taphouse in nearby Boonsboro for a Tap House Burger and one of their craft beers. (They have over 30 on tap.)
Discover Scenic Gunpowder Falls State Park
With a nickname like Sweet Air Area, I've added Gunpowder Falls State Park to my bucket list of trails to run. Bordering Harford and Baltimore Counties, the park boasts over 18-miles of trails just off Dalton Bevard Road. Once on the trail system, it's easy to follow the Boundary Trail or create your own route between the connected trails. 
__
The battlefields, varied terrain, post-run breweries, and restaurants all make Maryland a great place to run. Runners be warned, though, once you've trekked around one of these wonderful spots, you'll want to drive to all your runs.  
So whether you're running on your vacation in Maryland or are a long-time local runner, put on your running shoes, grab your keys, and drive to your next incredible run. 
---
Lead Photo: Antietam Battlefield. Photo credit: Telly N. Enarnación
Julie Harris is a registered dietitian, digital health consultant, and freelance writer. When she isn't working, she loves to run, bake, travel, and live life outdoors. She lives in Frederick and can be reached at julieharrisrd@gmail.com.