The Brilliant Booze of Maryland (Part 3): Distilleries in Eastern Maryland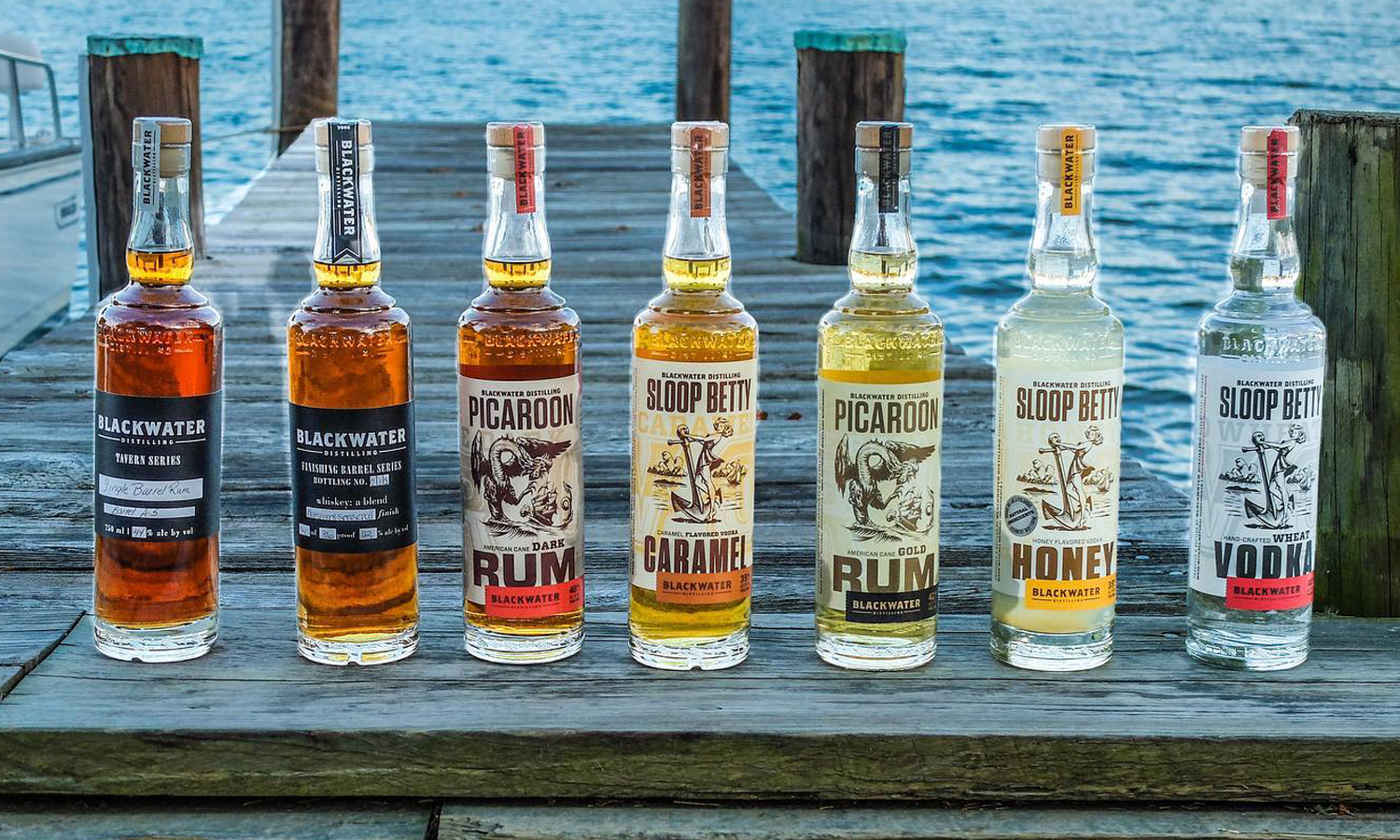 We've dug down into the distilling roots of Maryland and shown you the best and brightest distilling stars in Baltimore. Now it's time to head down distilleries in Eastern Maryland state to see what boozy delights beg for an upcoming drive! 
White Tiger Distillery – Forest Hill, MD
We start this booze journey just northeast of Baltimore. 
Founded by disabled US Army veteran, Itsara Ounnarath, upon his retirement from the service, White Tiger Distillery has grown over the years to offer a slew of spirits — and pre-packaged cocktails! 
"[Itsara] tried to make rye whiskey as a hobby," said White Tiger COO Kelly Ciampaglio. "He was struggling to get it right. During a visit from his mom, she revealed that she and her family had been making it for years!"  
Ounnarath's mother then taught him how to properly make rye and passed down the family recipe. After that, Ounnarath began exploring the distillation of any and all other types of spirits.  
White Tiger's most recent release has been a series of ready-to-drink cocktails in a pouch.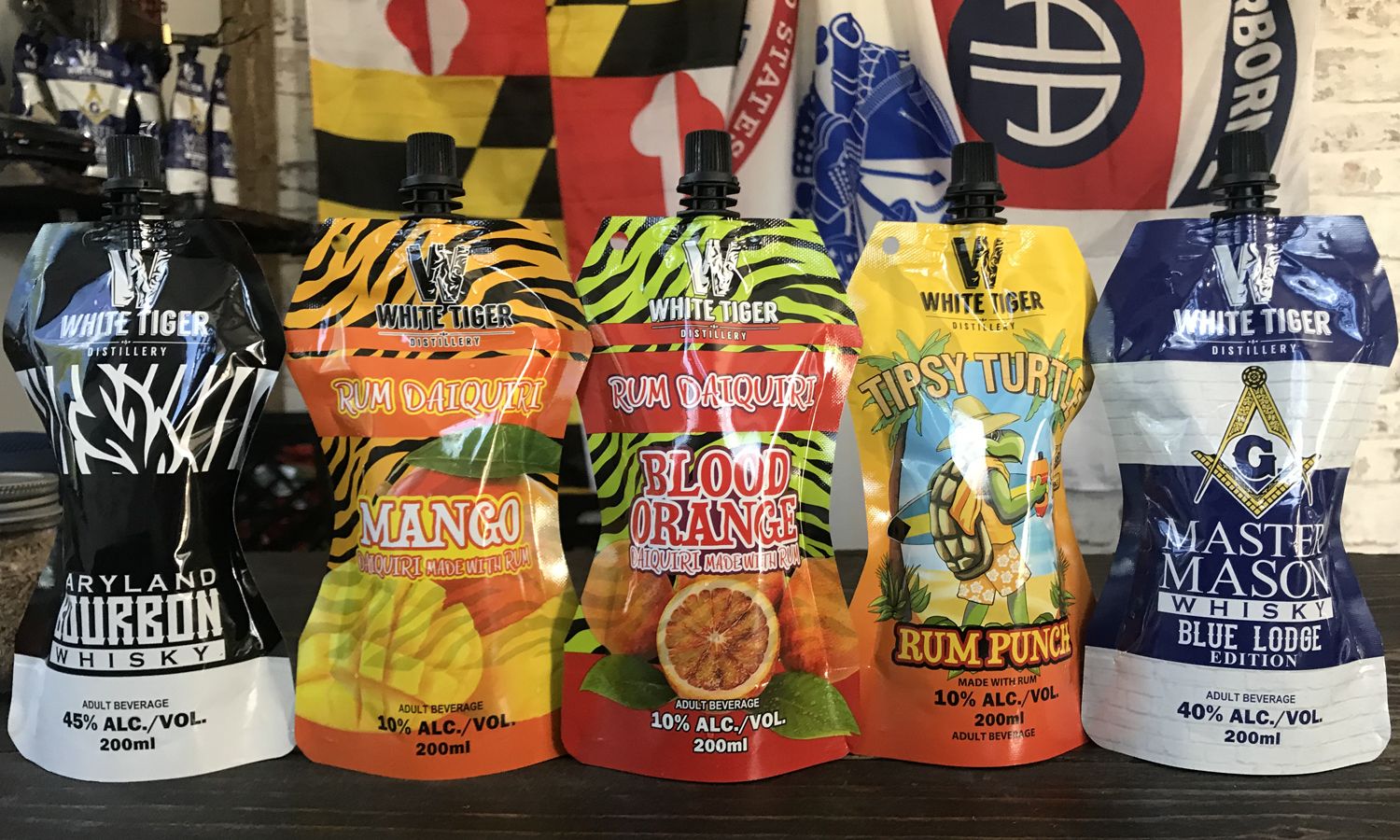 And while the ready-to-drink cocktails are definitely tasty, the somewhat cheeky brand name might have also helped get a little extra attention.   
"We became mostly known for our Fat Cock brand of rum daiquiris," Ciampaglio said. "A local following quickly grew, and not just because of the edgy name!"  
Ciampaglio said that the blending of high-quality rum with additional flavors proved a hit — and the fact that the pouch can be resealed was a definite plus.
"They're perfect for the pool, beach, boat, golf course, sporting events, parties, stocking stuffers, bonfires, etc.," she said. "Going forward, we are re-branding the Fat Cock to be WTD Rum Daiquiris, with new AND old favorite flavors."
White Tiger Distillery is open every Thursday-Saturday from 1 to 7 pm for $10 tours and tastings. IDs and masks are required.  
Looking for a reason to come back if you've already been? White Tiger recently renovated to include a welcoming bar and lounge area. Ciampaglio said that once they finally obtain their open container license, they'll be able to open their doors for longer visits and events. 
Loveton Farms Distillery – Middle River, MD
Nineteen miles down the road, you'll come across Loveton Farms Distillery — one of the newest additions to Maryland's impressive craft distillation scene.  
"We've actually been here for about 2 ½ years – at least in terms of when we first conceived of the distillery," said Master Distiller Raymond Fioravante. " We've been in the building for two years. And then it took a year to build everything by hand." 
That's right — every piece of equipment here was designed and meticulously built by hand by Fioravante, who has a degree in chemical engineering and a minor in chemistry. 
"[I wanted to] create what I believe is the perfect spirit."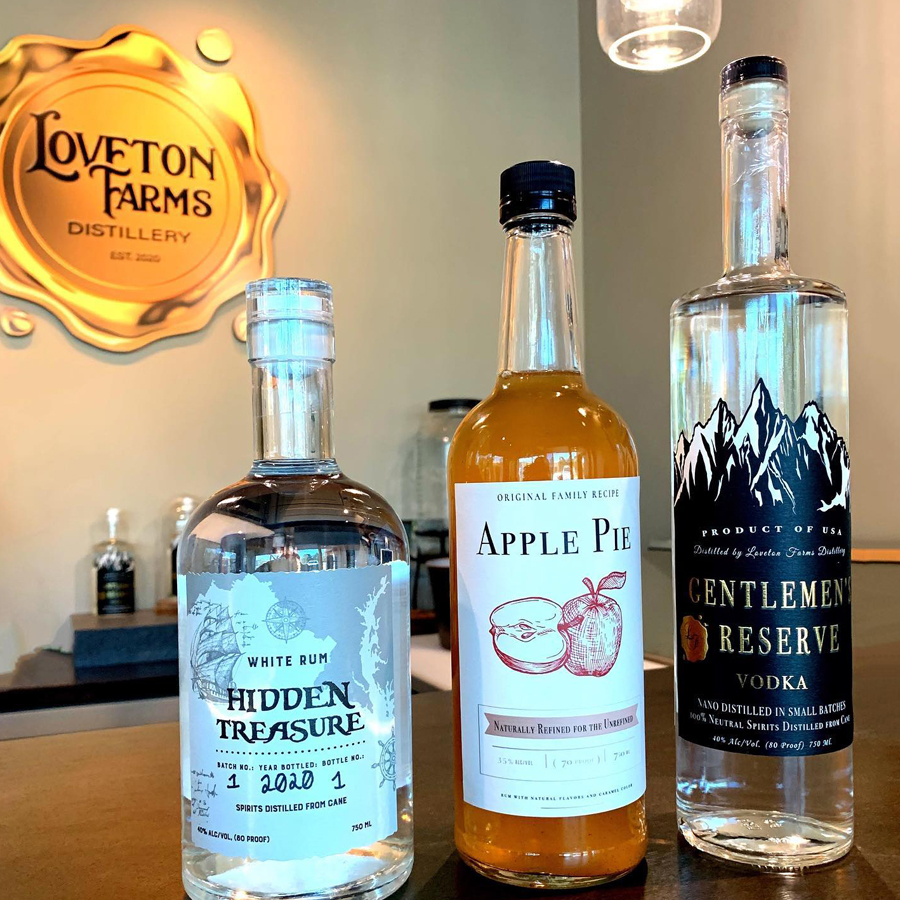 Those perfect spirits are an Apple Pie Rum, a vodka ("Gentlemen's Reserve") and a white rum ("Hidden Treasure"). As for the Apple Pie Rum — it's been a hit with the locals.
"It's a colloquial favorite," Fioravante said. "I adore apple pie. And instead of a rougher, unrefined Moonshine-esque type product, I wanted to create my own version of an apple pie spirit."
The rum is proofed down with Lohr's Orchard apple cider from just down the road. 
After a year of simply producing hand sanitizer and hoping to survive the pandemic, Loveton Farms has come out the other end and just recently opened their doors to the public.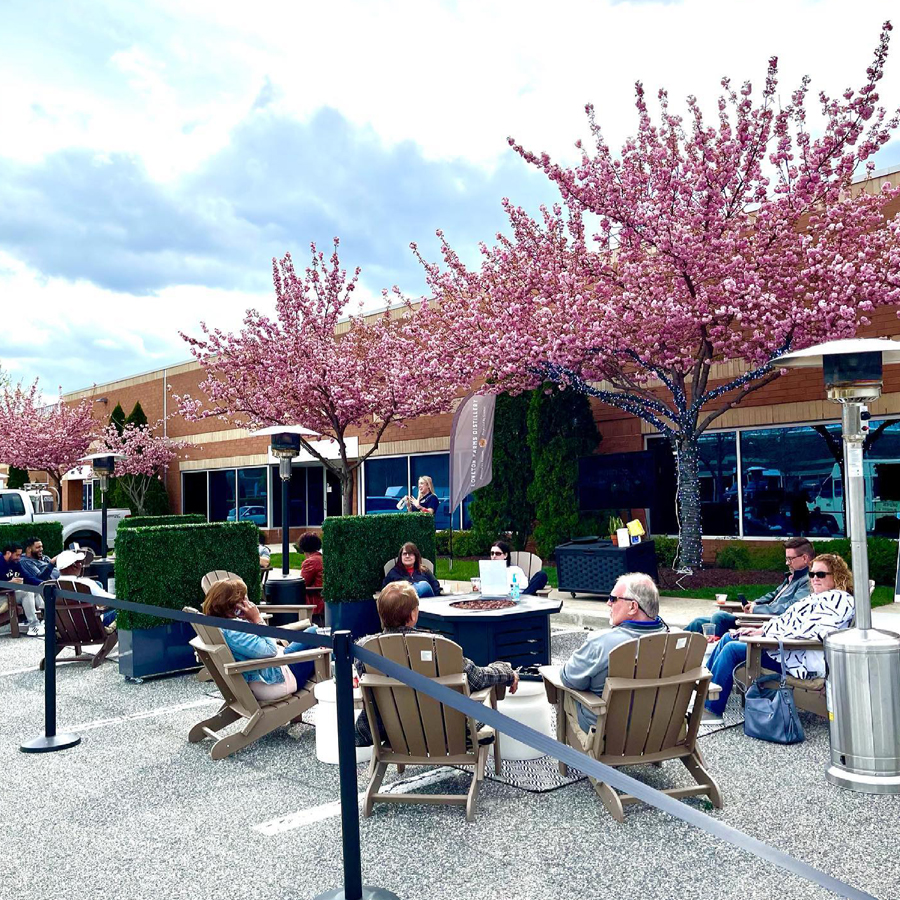 While the tours are still temporarily halted, you can visit the Tasting Room Saturdays and Sundays from 1 to 9 pm.
Make sure you call ahead, though.

"I strongly encourage people to make reservations so that everyone can be accommodated," said Fioravante. "That being said, you are welcome to stop by. It just doesn't guarantee you a seat." 
Be sure to let Fioravante know how much you've enjoyed his juice.
"The biggest compliment I think I can receive is someone tasting our spirits and saying 'I don't drink vodka, but I would love to drink this vodka.''" he said. 
Blackwater Distilling – Stevensville, MD
Finally, we take a scenic drive along the Chesapeake on our way down to Kent Island, where Blackwater Distilling was founded by Christopher Cook and Jon Cook in 2005. 
"We'd looked at starting a brewery but decided on a distillery for the fun of it and because there were no Class 1 distilleries in the state then," Christopher said. "We got our Class 1 in early 2008 and launched our first product on the market in early 2011." 
Blackwater is mostly known for its line of Sloop Betty vodkas, but that doesn't mean Blackwater is a one-trick distillery.
"Our rums, fermented and distilled onsite, originate from Brazillian cane syrup and really take after the rhum agricoles found in the West Indies," Christopher said. "We also blend a number of whiskies from around the country of different ages and 'finish' them in different barrels and casks to leverage different flavors, e.g. syrahs, ports, madeira, etc."
Blackwater is also fiercely dedicated to transparency along the entire distillation path. 
"We use Madagascar vanilla beans in our Sloop Betty Caramel vodka and make all of our caramel from Domino sugar onsite," said Christopher. "We use honey from various places, but it's usually local and is always raw and unpasteurized. Our latest batch of Sloop Betty Honey uses honey sourced from the University of Maryland."
All of the interaction is onsite at the Tavern. 
While flights of Blackwater's different spirit offerings are available to patrons, tours have not yet been rekindled. 
"Blackwater Distilling and Tavern has a relaxed and neighborhood feel to it," Christopher said. "While we have a fairly robust cocktail menu offering, we'll make custom cocktails to suit and offer a dozen or so local beers on tap." 
Spirit flights are available upon request, and you'll find knowledgeable staff that can speak to the backstory of each product as well as the branding. Food trucks are there on weekends, and it's easy to catch a market day the first Saturday of each month as well as live music and cornhole competitions.
Other distilleries in Eastern Maryland:
Fiore Winery & Distillery – Pylesville, MD 
---
Lead Photo: Blackwater Distilling
Mark A. Vierthaler is the Head Distiller at Whiskey Del Bac in Tucson, Arizona. He's also a former Marylander who left a part of his heart in the Old Line State. He has won over a dozen international awards for spirits he has made and was a finalist for the inaugural Icons of Gin from the UK-based Gin Magazine. He lives in Tucson with his wife Jenn, silver lab Moose, tabby cat Rump Roast and the occasional javelina & coatimundi that wanders into their backyard. He also makes a point to take in as much craft as possible when he travels back to Maryland. Follow his cooking, mixology and distilling misadventures @WhiskyIcarus on Instagram.