Bottoms Up! Gluten-Free Craft Drinks in Gaithersburg

An afternoon spent in the Montgomery County Agricultural Reserve is never time wasted. In fact, there is nothing quite so relaxing as driving its winding roads, soaking in the verdant fields and lush forests. Every trip brings new delights, be they time spent in nature, a journey through history, or a tasty treat. To my mind, the best trips include all three.
We have some very forward-thinking planners to thank for the gift of the Ag Reserve. Knowing their location so close to the nation's capital would continue to attract developers, they set aside 93,000 acres of contiguous land in 1981 to be used for farming and as open space. Today, Montgomery County has over 558 farms, with craft beverage makers, artists, hiking trails, and pick-your-own opportunities mixed in.
With no particular plan in place, my husband and I, along with our two dogs, started our adventure at Little Bennett Regional Park in Clarksburg, where we could choose to hike at multiple historic sites. We decided to follow the Tobacco Barn Trail, which I quickly declared one of my new favorite trails. The path was relatively flat for our aging dogs (and my aging knees), and it was mostly shaded. I love wandering through a wooded trail dwarfed by towering trees, and I'm already looking forward to returning this autumn, when the leaves will crunch under our feet.
Near one end of the three-mile, out-and-back trail, we found the trail's namesake—the ruins of a tobacco barn. Built in 1884 by Jeremiah Norwood, the barn was once used to dry tobacco, a process explained on a nearby wayside sign. 
Back in the car, a quick check of our phones guided us to the nearby Two Story Chimney Ciderworks in Gaithersburg. As we pulled up, multiple groups of people were happily settled at picnic tables outside a modern-looking white building resembling a barn.
We headed inside the tap room, a striking space with a soaring wooden-beamed ceiling and matching bar. On offer were six varieties of hard cider, which owner Tommy Evans produces from his own apple orchard. In 2016, when he bought the land the cidery sits on, two trees from the early 1900s remained from the former owners' farming enterprise. Evans makes use of those heritage trees by grafting their cuttings onto new rootstock, resulting in a unique fruit perfect for cider.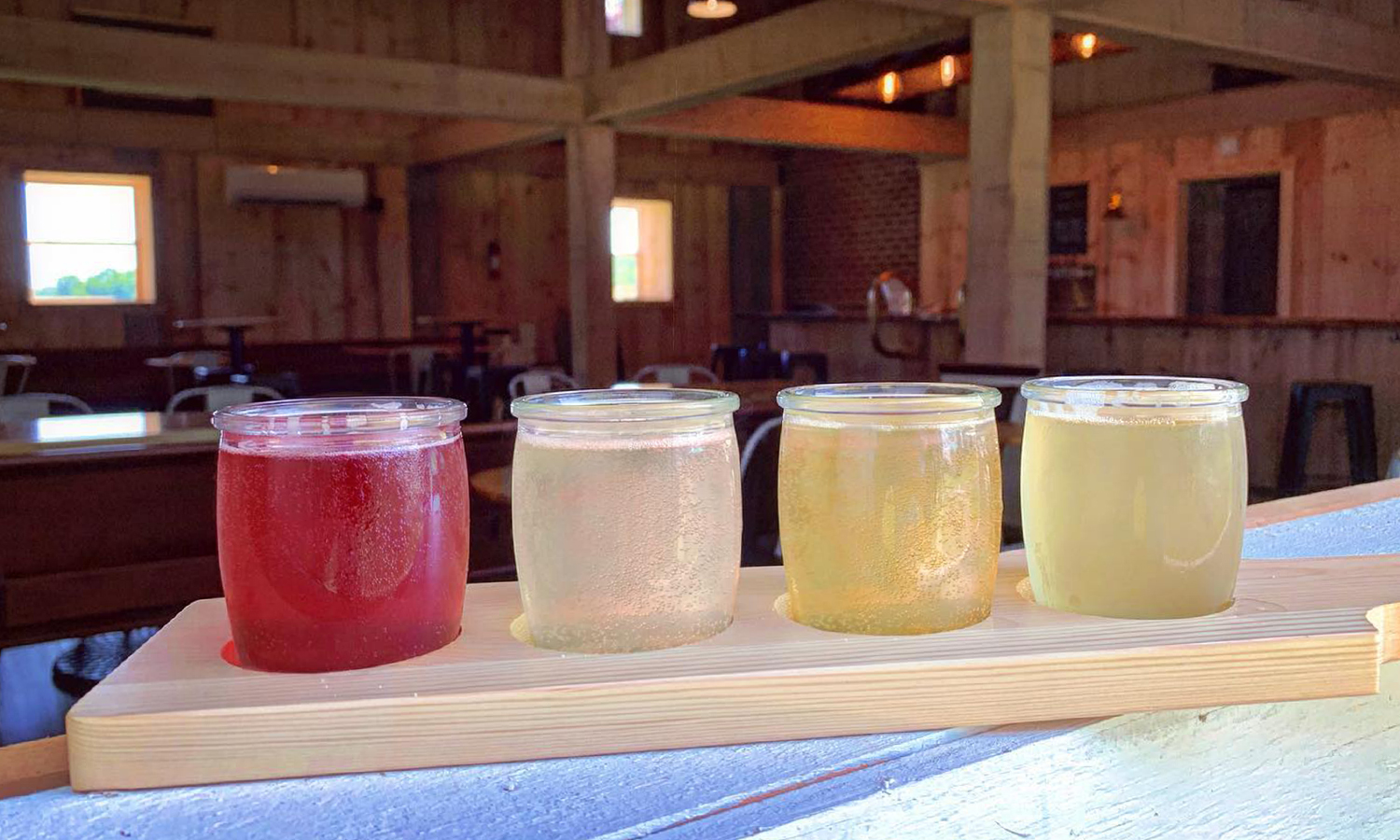 Sharing the tap room is Silly Yak Beer Company, Maryland's only gluten-free brewery. Brewer Ryan Hill got his start with craft beverages during the pandemic and now produces three types of beer from his own hops and corn, supplemented by ingredients obtained from a gluten-free malt house in Colorado. Since both operations are gluten-free, they make perfect partners.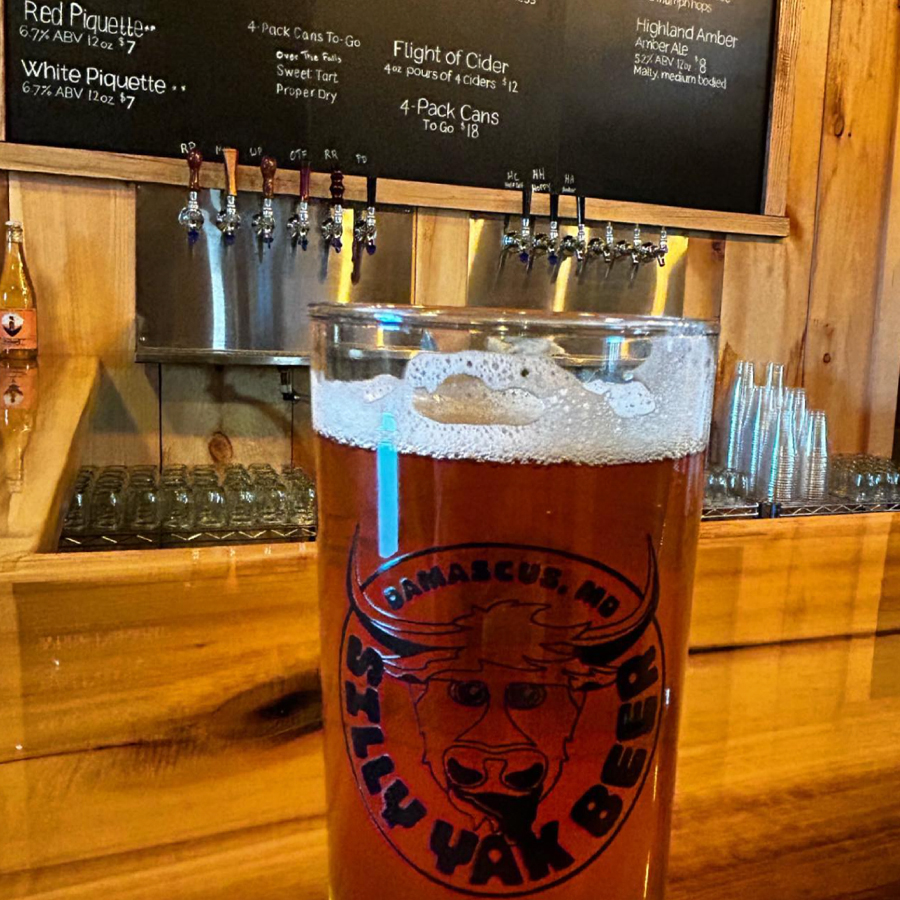 We took our beverages to an outdoor picnic table to enjoy. I had selected the Mon Amour French-style hard cider by Two Chimneys, which tasted just like a crisp apple in a glass. My husband, Joe, chose the Hoppy Heifer IPA from Silly Yak, which he enjoyed, citing its sweet citrus flavor as refreshing on a summer day.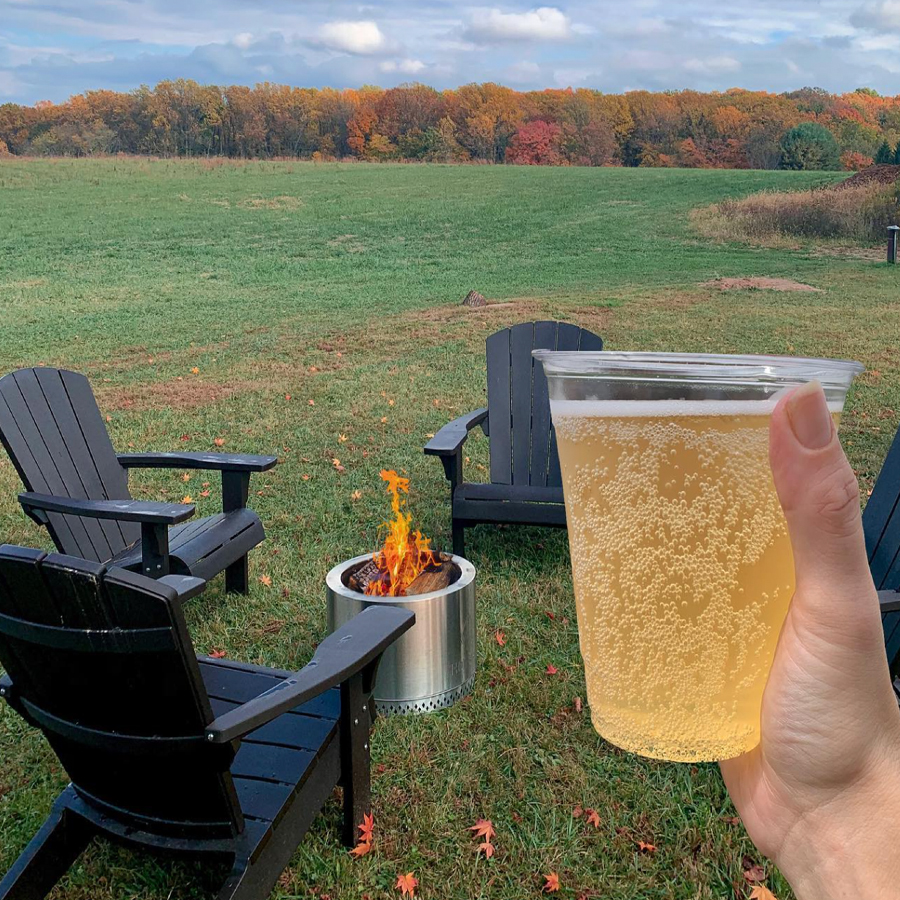 The large property offers a perfect gathering spot for parties, and guests can rent fire pits and a smaller barn. Additionally, Sister Axe Throwing has set up a row of bull's eyes behind the building, where guests can work out their aggression and practice their aim. Advanced registration is required, so plan ahead if you'd like to fling some axes.
Dogs are welcome outside, but not inside the tap room, and you are encouraged to bring your own food to compliment your drink of choice. Or, if you happen upon Two Chimneys without a picnic lunch (as we did), you can grab food either from a visiting food truck or at Etchinson Country Store just up Damascus Road. No matter what you choose, the views won't disappoint at this gem nestled in the heart of the Ag Reserve.
---
Lead Photo: Two Story Chimney Ciderworks and Silly Yak Beer Company
Heidi Glatfelter Schlag is a marketer, history lover, and traveler who can often be found exploring museums, parks, small towns, and farms. She founded Culture-Link Communications, where she helps local nonprofits and small businesses build their brands. Heidi lives in Frederick, MD, with her husband and two dogs.