Spread out at These 5 Family-Friendly Breweries in Central Maryland

As a new mom, I am always on the lookout for places we can bring our little one to meet up with friends. Breweries have always been a favorite of ours, and many breweries offer a perfect traditionally 'adult' venue that can also serve families with young children. Here are my 5 favorite family-friendly breweries in Maryland:
Hopkins Farm Brewing—Havre de Grace
Hopkins Farm Brewing is located right off of I-95 North on a sprawling farm in Harford County. There's ample parking, an extensive beer list, and multiple food trucks to enjoy. The brewery itself is located in a barn-like building that houses the bar, the bathrooms, a gift shop, and tables to sit.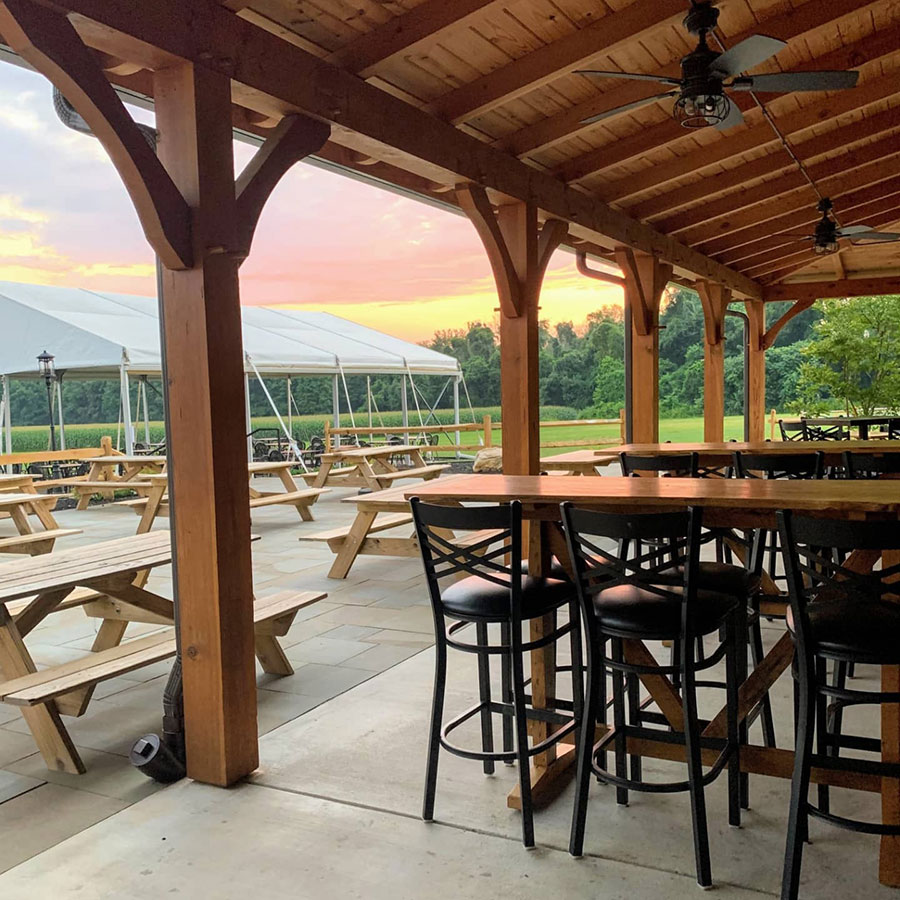 But the best part of experiencing this brewery is the amount of space there is outside—you can let your kids play around you without feeling like you're disturbing other patrons. Arrive early to stake claim to one of the outdoor tables or set up a picnic blanket and chairs of your own. 
Hopkins Farm Brewing usually offers two food trucks to choose from, and they also allow you to pack your own snacks. Outside alcohol is prohibited.
Manor Hill Brewing—Ellicott City
Also situated on a large farm, Manor Hill Brewing has a lot to offer its visitors—a huge outdoor space, plenty of parking, and brick oven pizza from their permanent Pizza Trolley (which can be easily ordered from their Toast Tab app). Plus, it's only 15 minutes outside of historic Ellicott City.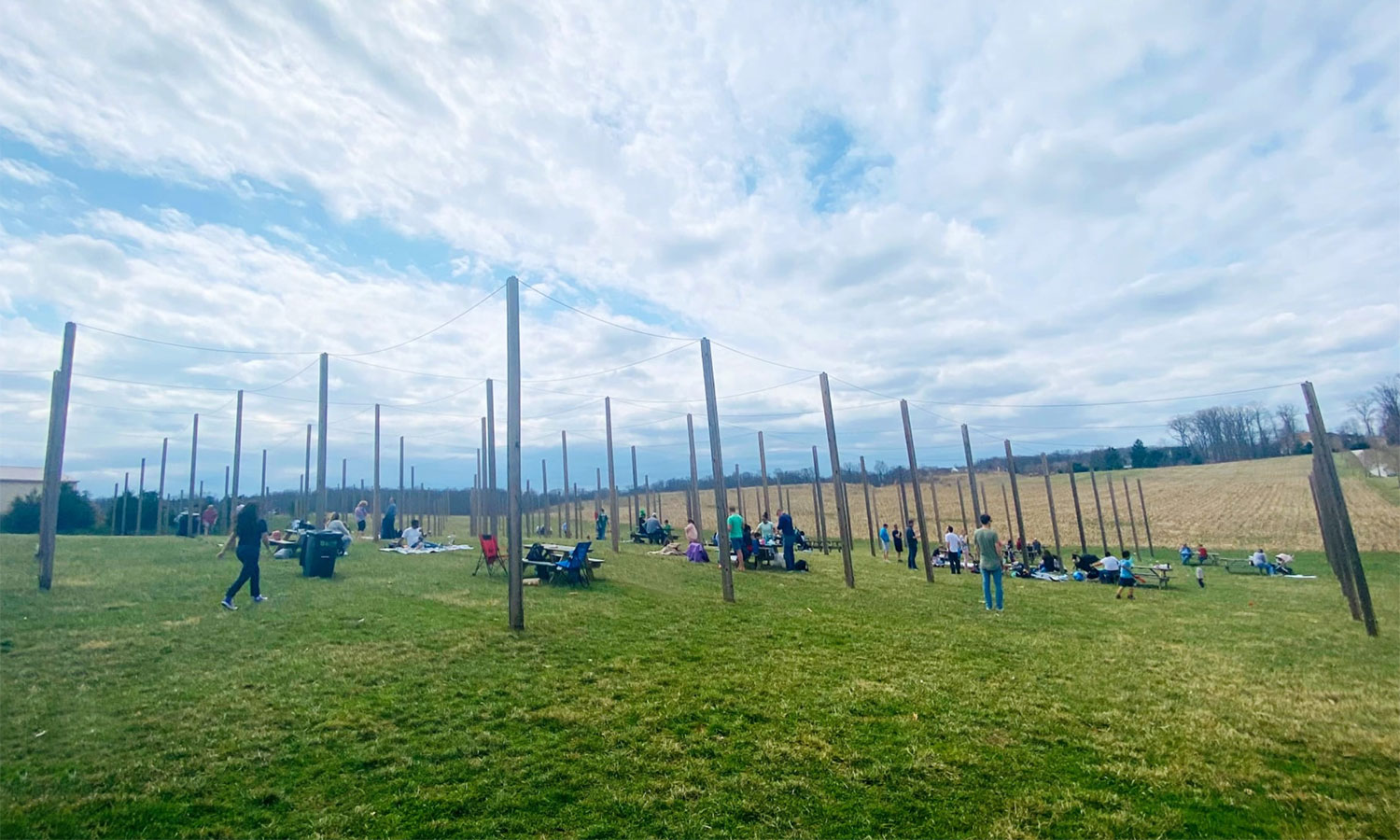 It was a little chilly outside on the day we visited, so we gathered inside. The beer was good, the pizza was delicious, and one of their bathrooms has a changing table!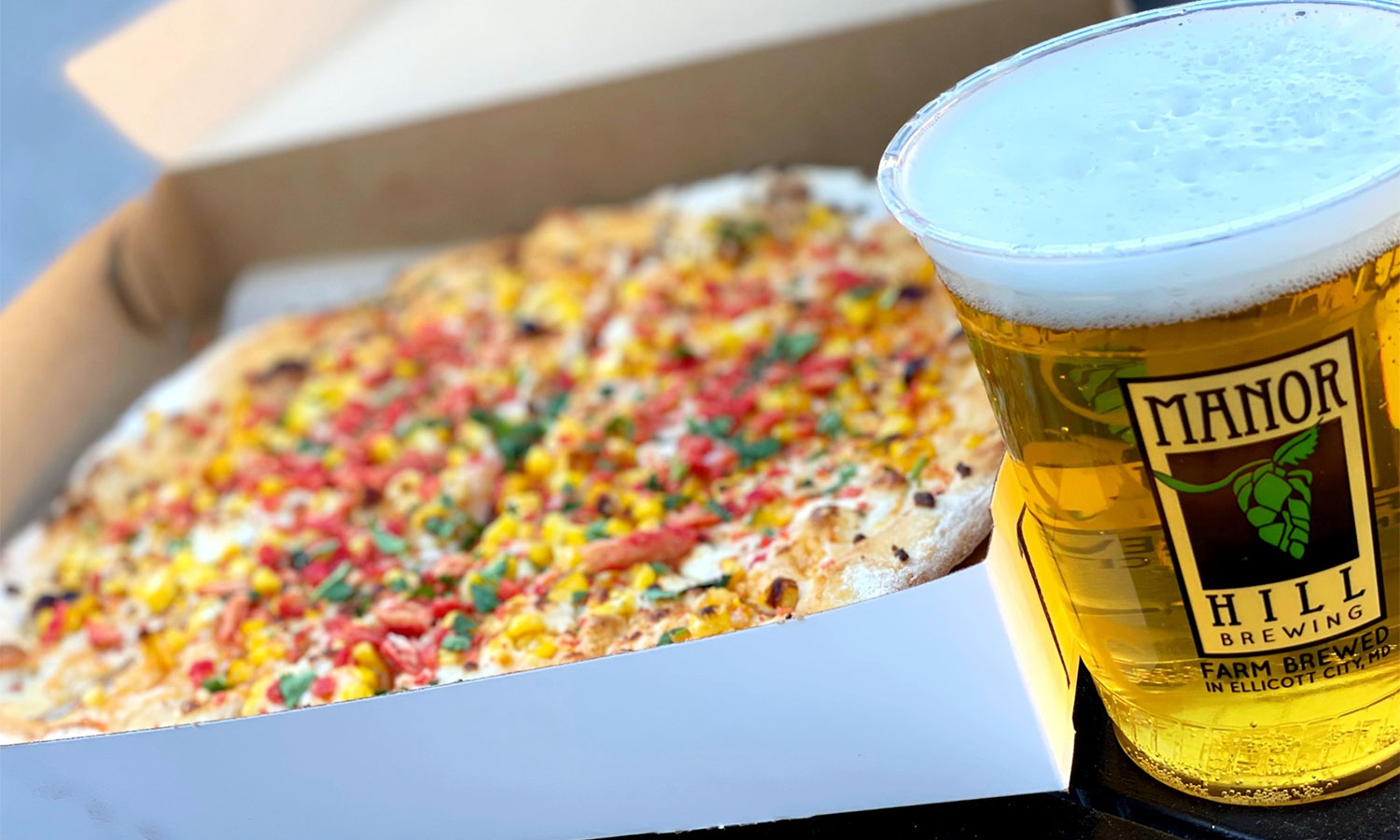 We look forward to coming back to enjoy the vast green space, check out their farm stand, and visit with the farm animals. (Note: the animal area is not a petting zoo, and they ask that the animals not be fed or pet.)
Inverness Brewing—Monkton
Located in Northern Baltimore County in Monkton, Inverness Brewing has it all—two indoor large barn spaces with bathrooms and bars, a large outdoor space to spread out with your own chairs or picnic blankets, a permanent food truck with pizza, sandwiches, and fries, a bocce ball court, and live music on weekends. They even have attendants to help you navigate their large parking lot!
Inverness has a variety of beers on tap as well as hard-seltzers offered in cans for those who are not fans of beer. They also have an extensive food truck menu.
Note: Inverness does have a changing table in one of their restrooms—just ask to be pointed in the right direction!
Brookeville Beer Farm—Brookeville
You'll find Brookeville Beer Farm in the small town of Brookeville, located west of Columbia and North of Olney. Their indoor space is fairly small, but there's plenty of room to spread out outside.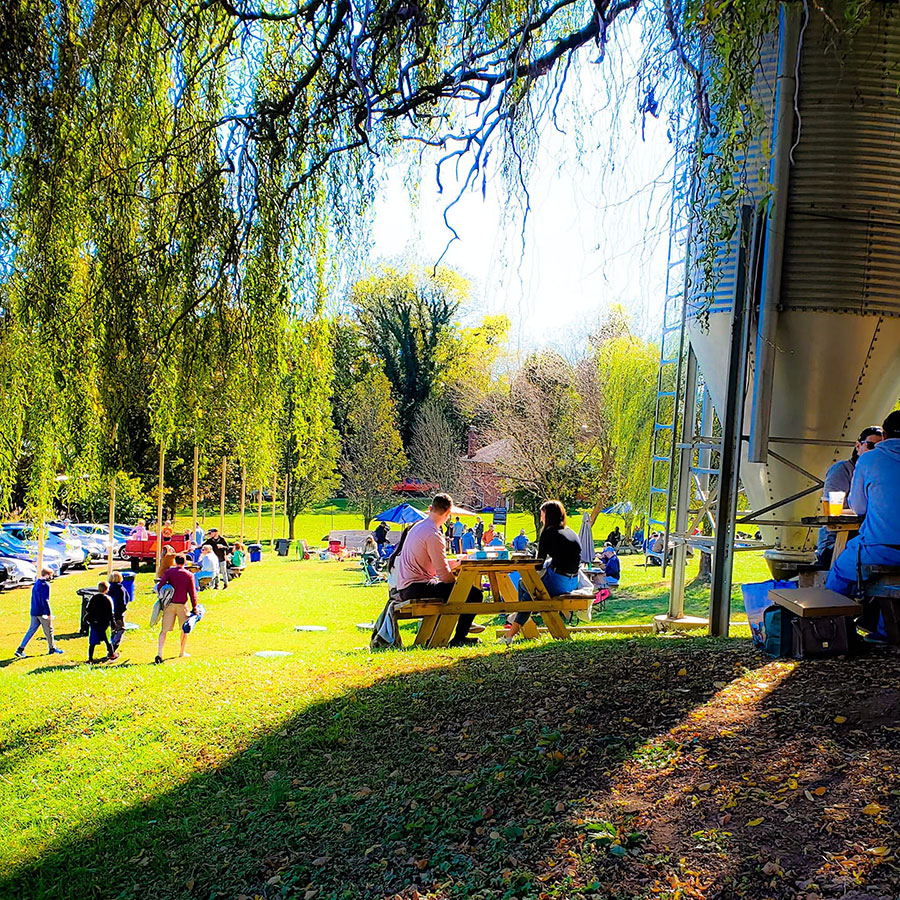 While they do not allow for outside food, their brick oven pizza is worth sampling. Be sure to check out their website with the list of upcoming events, including live music. Fun news for pet lovers—Brookeville Beer Farm allows leashed dogs!
1623 Brewing—Eldersburg
1623 Brewing started brewing beer in 2018 and opened their tap room in 2020. Located in a Liberty Exchange shopping center in Eldersburg, near Sykesville, 1623 Brewing offers ample indoor space and an outdoor patio for people to gather and enjoy their beer. The brand new venue has a spacious bar inside with tables and couches throughout the tap room, large bathrooms (with a changing station!), plenty of parking in the shopping center, and a rotating assortment of food trucks every day they are open.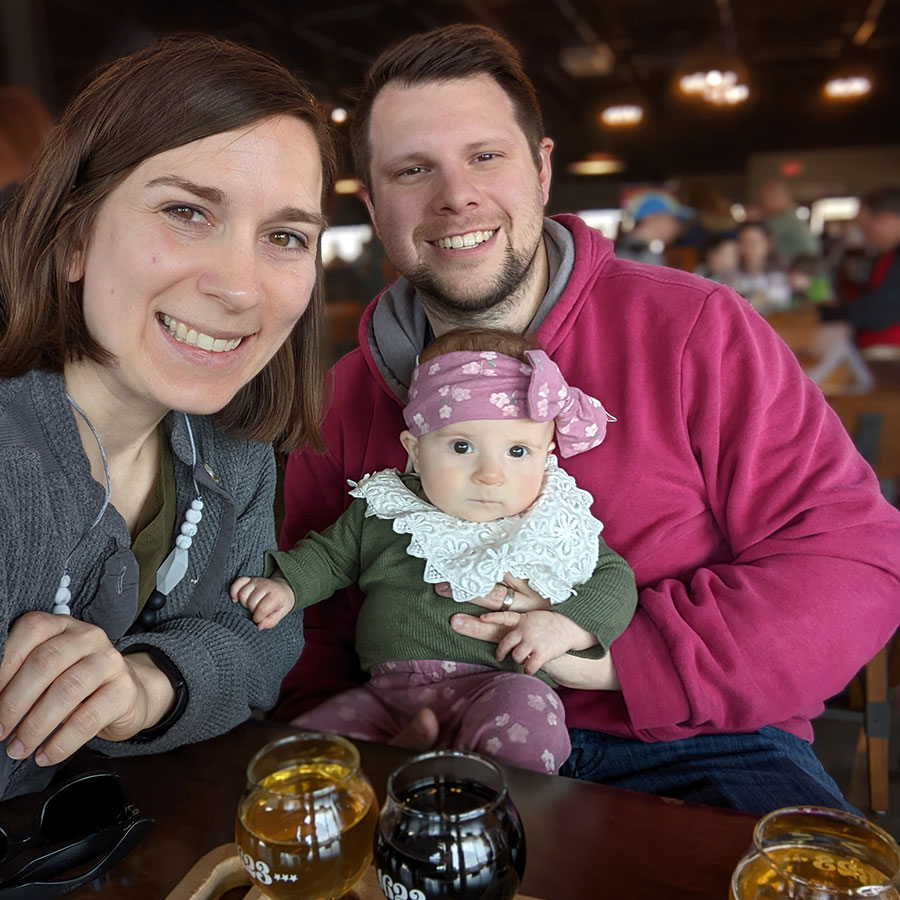 1623 offers live music on weekends, they are dog friendly, they allow for you to bring outside food or have it delivered, and they have their own seltzer bar which they mix upon order. 
Although 1623 is a more traditional taproom, they are family friendly—when we visited, there were a number of other families with little ones enjoying their time at the brewery. Be sure to check out their website in advance to know which food trucks and entertainment to expect on your visit!
---
Lead Photo: The author's husband and daughter at Inverness Brewing in Monkton, MD.
Jessica Celmer is a Baltimore native, soccer lover, and new mom, learning to navigate the new adventure that is parenthood while exploring Maryland and beyond.