History, Arts, Drinks, and Eats: All in a Day's Trip to Poolesville

Our day in Poolesville started as many of our trips do—on a mission to eat. We wanted to try Locals Farm Market, which had been highly recommended to us by several people. It did not disappoint. 
Located in the 1840s Stevens House in the center of town, Locals' farm-to-table menu features a variety of interesting salads and sandwiches. Judging from the line of people chatting with each other as they waited, quite a few locals visit Locals for their caffeine and pastry fixes, as well. The place had the warm, welcoming feel of a community favorite.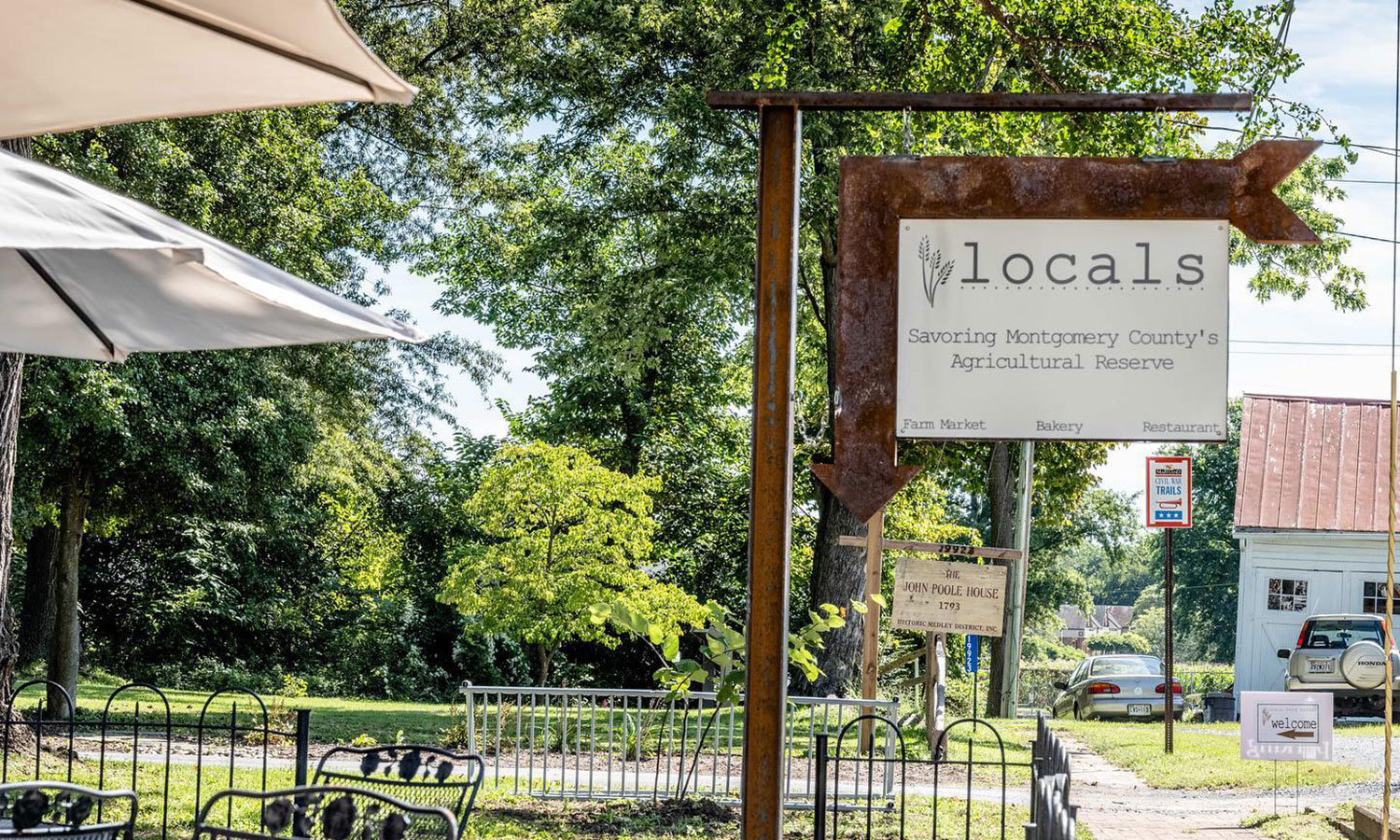 We had a hard time deciding whether we wanted breakfast or lunch. My husband, Joe, finally settled on the Unearthly Good Veggie Chicken Bowl, quickly proclaiming it the best quinoa bowl he has ever had, and my chicken caesar salad was equally as good.
Locals has a lot of seating, both indoors and out, and their walls are decorated with local art, which is how we learned about the sculpture garden right up the road. We added it to our day's agenda and headed to the historic home next door to the restaurant. The oldest building in Poolesville, the log John Poole House was built in 1793 by John Poole, Jr., where it served as a post office and a trading post for local farmers and traveling merchants. Behind the house is the E.L. Stock, Jr. Memorial Arboretum, a collection of trees, bushes, herbs, and perennials indigenous to the area, which Joe and I explored with interest.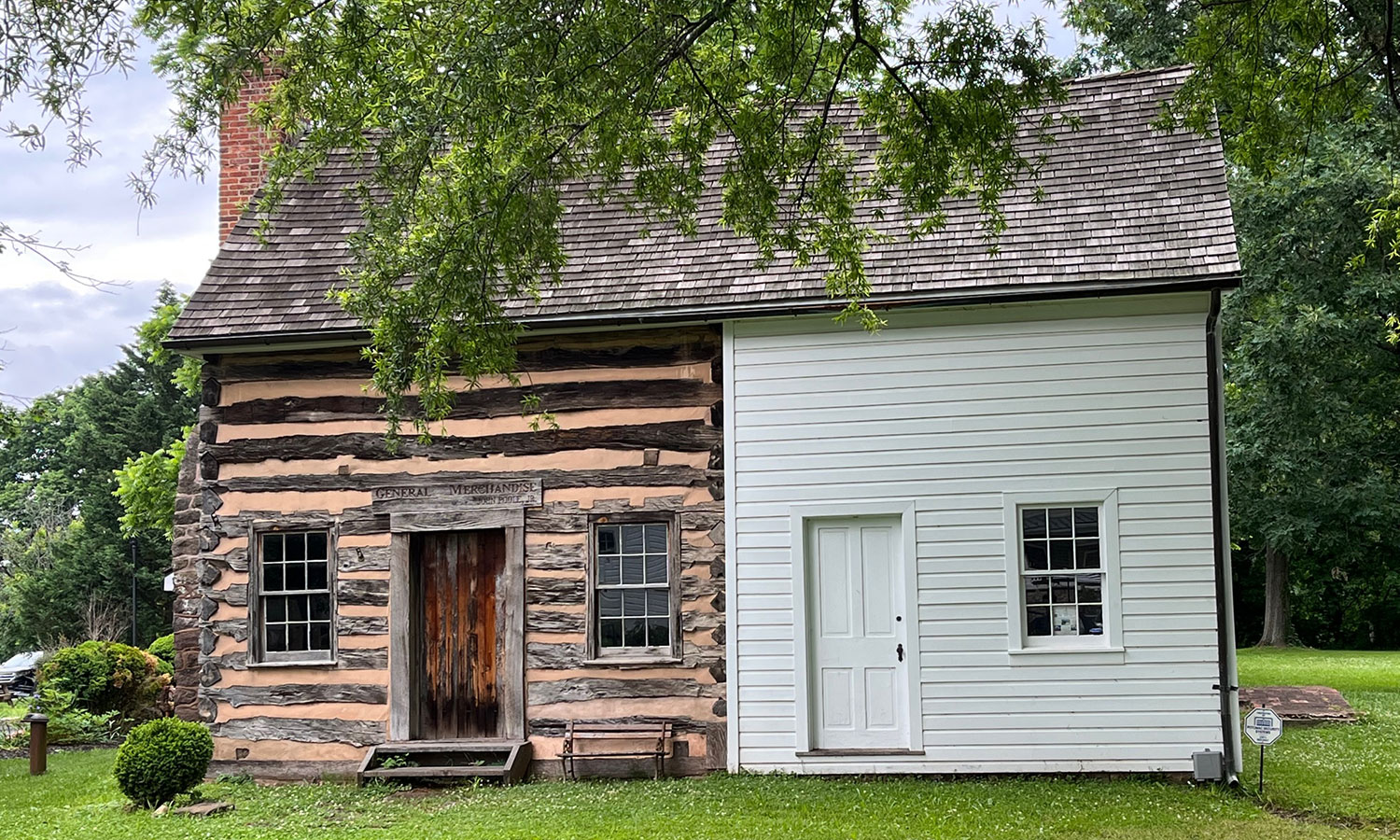 During the Civil War, Poolesville was the second largest town in Montgomery County and saw a great deal of troop movement due to its location at the intersection of two main roads. The historic 1826 Methodist Church served as a signal post and hospital during the war, and the town served as the temporary Union headquarters during the 1863 march to Gettysburg, despite Poolesville largely being sympathetic to the Confederacy during the war.
Today, Poolesville isn't a tourist hot spot but a charming residential hamlet for people who commute to nearby Rockville, Silver Spring, and Washington D.C. The Historic Medley District works to preserve the area's historic spaces, including the iconic town hall and bank building in the center of town, which is being developed into a museum.
The town also hosts Fridays on the Commons, where an artisan and farmers market combines with live music and food trucks for evenings of family fun at the centrally-located Whalen Commons. The Commons is also the site of seasonal community events throughout the year, including SpringFest in May, an Independence Day celebration, and Poolesville Day in September.
Joe and I decided to check out the sculpture garden at Alden Farms on Beallsville Road, just two miles north of Poolesville. Although I was a little worried we were trespassing, sculptor and owner David Therriault assured me by email that the garden is always open for exploration.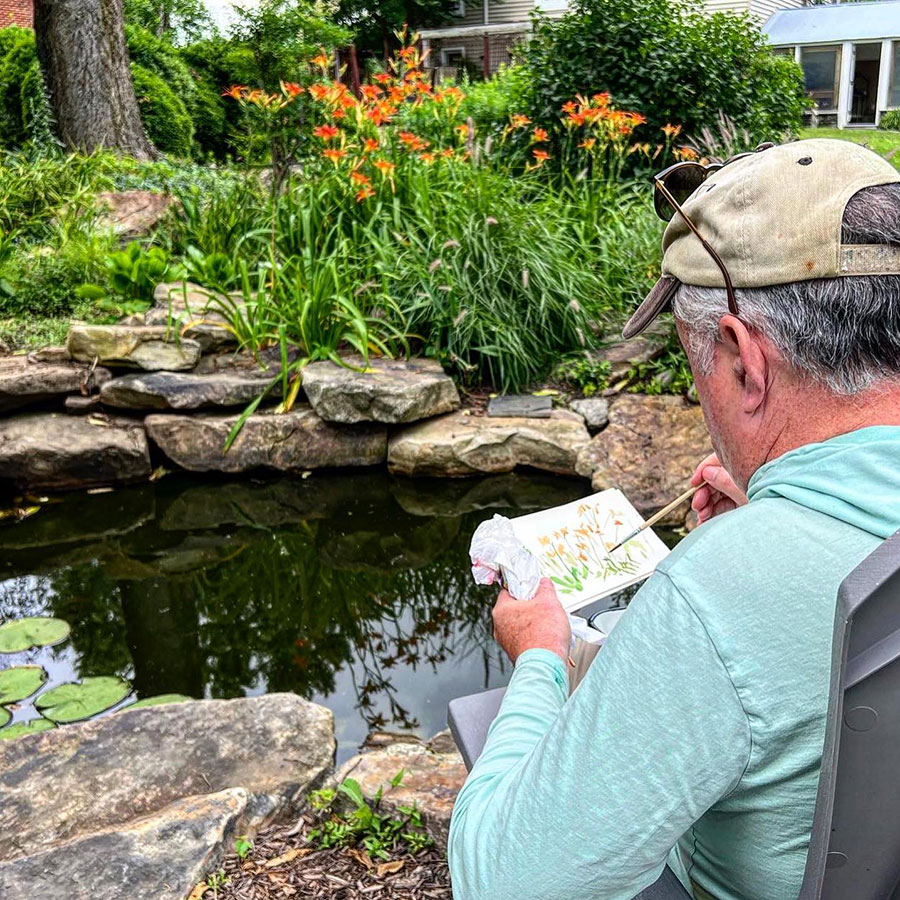 We enjoyed the artwork, mixed-media sculptures of wood, metal, and stone surrounding a small pond and beautiful wildflowers. Alden Farms is also the location of the Riverworks Arts Center, a space for artists to create and share their work with the community. Watch their website for workshops, events, and performances.
Next, we headed to Landmade Brewing, which is a quintessential example of the success of the Montgomery County Agricultural Reserve. Located on a 33-acre farm, the brewery brews on-site using fruit from their orchards and herbs and yeast from their gardens. We settled at a picnic table in their sprawling field, next to a pasture of donkeys, and enjoyed the live music. 
Since we were still full from our delicious lunch, we didn't take full advantage of the brewery's menu, which included clams, a lobster roll, and several types of sausage. Landmade has quickly become one of our favorite breweries in the area for its interesting slate of beer, laid-back vibe, and gorgeous rolling hillside views.
The area surrounding Poolesville offers many outdoor recreation opportunities, including golf at the Poolesville Golf Course, horseback riding at Woodstock Equestrian Special Park, and hiking and bike riding in the C&O Canal National Historical Park. You can even stay in a historic lockhouse located at Edwards Ferry, where a significant portion of the Union army crossed the Potomac River into Maryland on their way north to Poolesville and, eventually, Gettysburg.
---
Lead Photo: Landmade Brewing
Heidi Glatfelter Schlag is a marketer, history lover, and traveler who can often be found exploring museums, parks, small towns, and farms. She founded Culture-Link Communications, where she helps local nonprofits and small businesses build their brands. Heidi lives in Frederick, MD, with her husband and two dogs.