Making Multigenerational Travel Memorable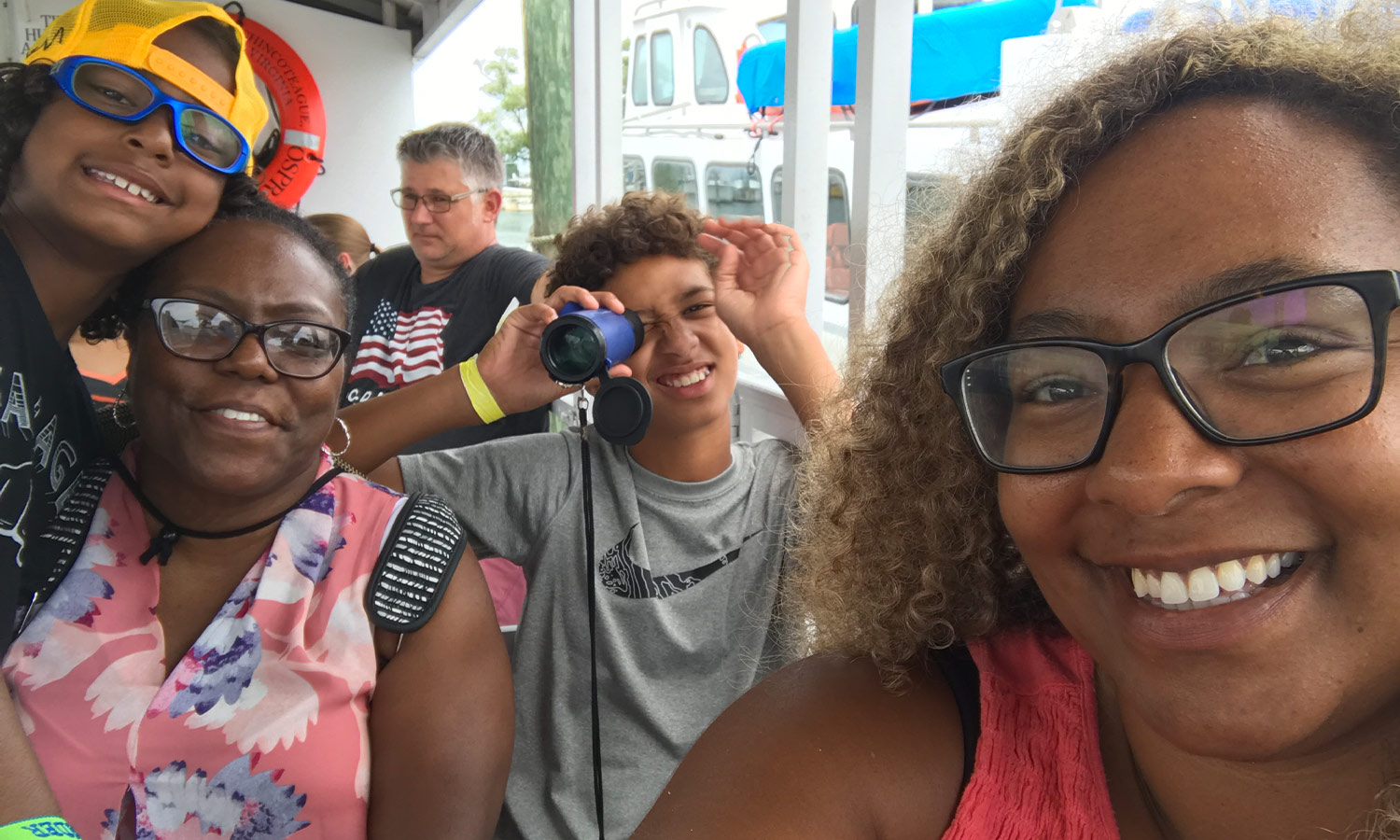 Bringing Grandma and Grandpa along for vacation can be a win for everyone in the family. Mom and Dad have another set of grownups to pitch in (and maybe provide some much-needed alone time), the kids get to enjoy some indulgent grandparents time, and Grandma and Grandpa get as many moments with the grandkids as they can stand. 
But how do you create that something-for-everyone vibe in a way that will leave your entire family happy and entertained?
You don't! 
Multigenerational travel doesn't have to be about finding the perfect place for everyone to have fun on their own. It can be about finding the perfect place for everyone to have fun with just the idea of being together. And road trips are a great option!
Relatively affordable and easier to arrange than trips that involve long flights or international itineraries, the good old American road trip is a great option for families with members young and old. All you have to decide is when and where you're headed and how long you're willing to be in the car to get there. 
We've had the pleasure of traveling with my parents several times,  from sailing on Disney cruises to enduring primitive camping. For us, successful multigenerational vacations are about making memories with the people we love. They may involve some expectation shifts – they're rarely the most luxurious or active vacations we've ever had – but they are definitely the ones that go down as being the most memorable.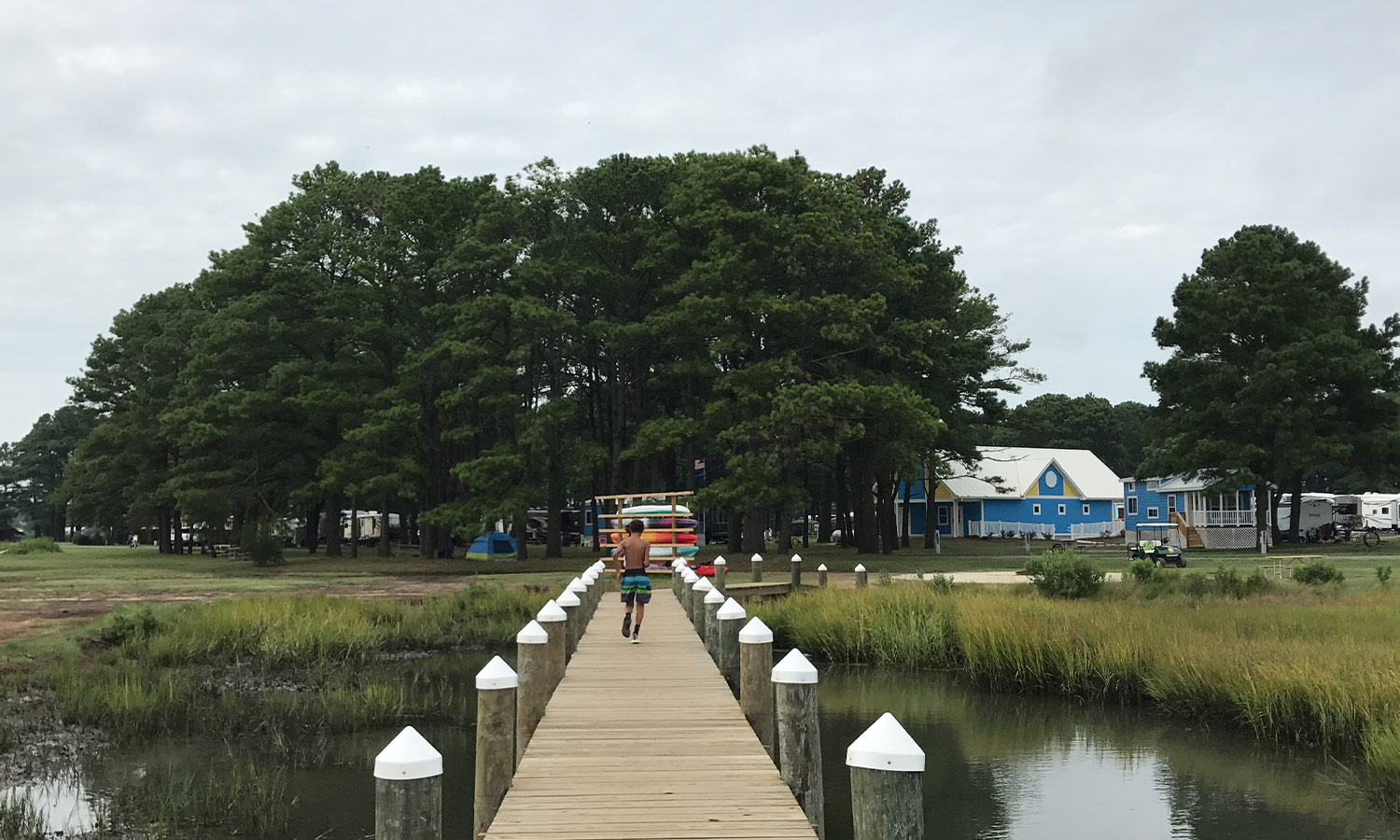 If you're considering a multigenerational getaway with your family, here are some things to keep in mind as you begin to explore your options. 
What destination will best suit your family?
Step one in successful multigenerational family travel is in choosing the right destination.
All-Inclusive resorts and cruise ships are an easy sell – they're used to catering to a multitude of people and ensuring all of their various needs, from sustenance to entertainment, are exquisitely met.
There are few such options within reasonable driving distance to Maryland, but I've found that the all-inclusive doesn't have a monopoly on multigenerational family fun.
Just think about what it is that makes those types of destinations work – little to worry about and lots to do with easy access. A little time and research on the back end, and you can create a similar experience on your own.
Think about places that offer indoor and outdoor entertainment options, are well-known for their dining options, and don't require a heavy lift to access.
Chincoteague Island was one such place for us. The wild horses that call the destination home are definitely a draw, but they aren't the only thing worth seeing on a trip to the island.
There were plenty of places to grab a tasty bite and lots of opportunities to soak up the sun on the beach. Plus, it's located just eight miles from Maryland's busiest beach destination. Consider a  day trip (or even an afternoon visit) to Ocean City to enjoy the boardwalk, beachfront, and dining options available there before retreating back to the quieter island retreat that is Chincoteague.
Where will you stop along the road?
For us, the road trip is part of the adventure. 
My kids have always been superbly excited about road trips with Mimi, likely due to the snacks and the stories and the way she always has a solution for every little problem that may pop up along the way. She has the unique ability to make everything from bathroom stops to motion sickness catastrophes part of the experience. 
Throw in some well-timed stops at interesting locations and getting there may be one of the most memorable parts of your trip.
Need help planning your trip? Check out the Roadtrippers app.
What activities are "musts" for the trip?
As a mom to three teenagers, believe me when I say that finding a vacation destination that all of them will think is worth their time can easily be an exercise in futility. Not one to be discouraged by the threat of failure, however, I have been known to commit and then consult, just in case my teen travelers don't have the foresight to know they'll have a great time.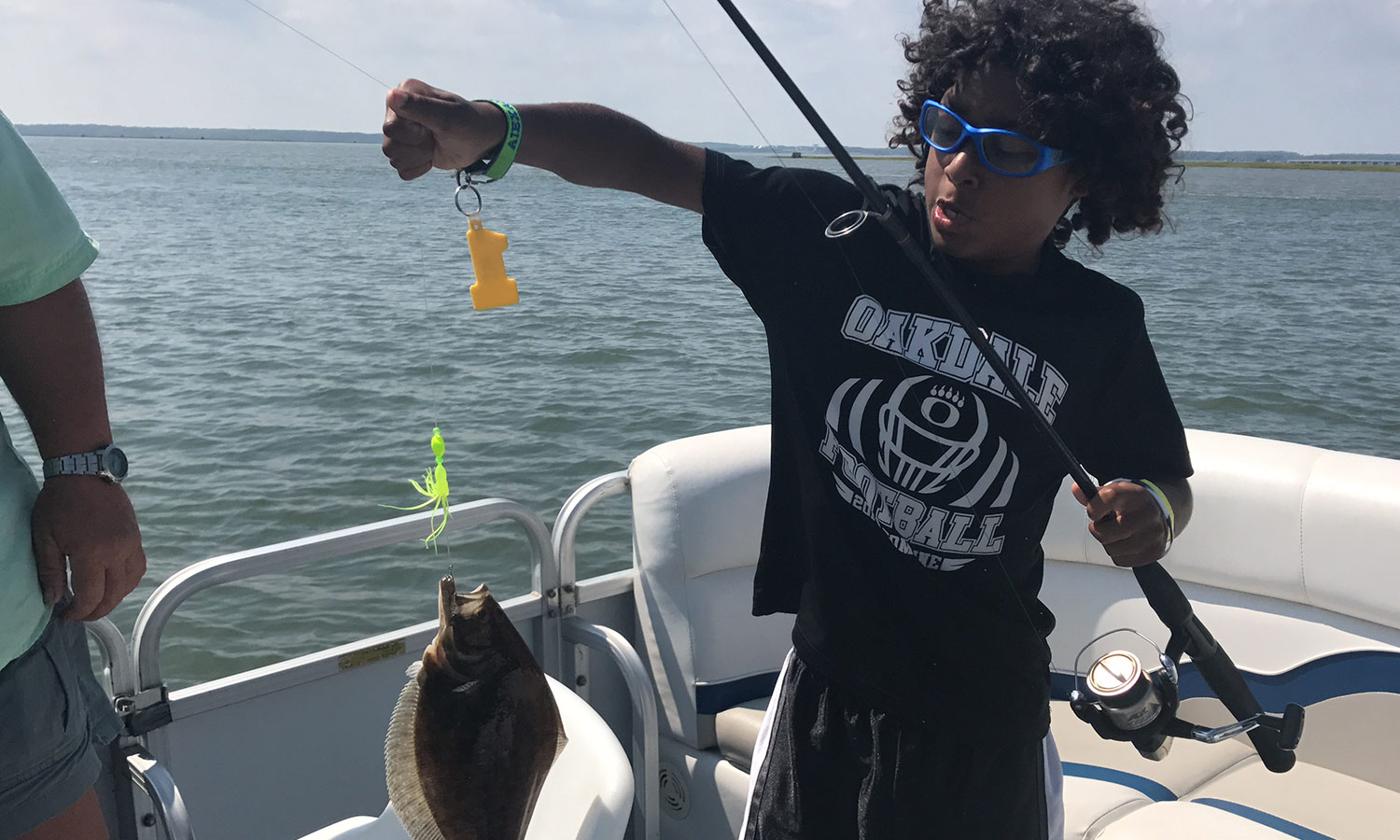 That said, you know your kids and you know your parents, so think through the things they're interested in before you book. My dad loves to fish — any vacation that will get a pole in his hands is going to be considered a winner. My teens love the water too, but usually only if it involves the opportunity to boogie board before dropping a line in the water with Papa.
Chincoteague grabs a win in this category too. We booked a cabin at a KOA campground that had an on-site pond where fishing was allowed and, since it's an island, there were plenty of additional opportunities to go fishing and ride the waves.
Remember, traveling as a multigenerational family doesn't mean you have to enjoy every moment together. It's perfectly fine to build time into your trip to go out as a couple (alone), do some things with your immediate family, and plan other activities to enjoy as a group. Choose a destination that will allow for this.
We hit nearby Ocean City early one day for a parasailing adventure. My dad is of the opinion that if he were meant to fly, he would have wings, so he chose not to come. Another morning, my mom and I escaped for a little shopping and pampering adventure while the guys hung around the campground, fishing, biking, and enjoying the pool. 
We also made time to do some things together – like evening meals and smores by the fire. And, we booked a fishing trip and an Assateague explorer cruise that every person in our party enjoyed equally. We all declared it our favorite thing about our adventure.
What accommodations do you value most?
Once you've carved out an itinerary you think your family will enjoy, it's time to think about where to stay. 
I highly recommend taking some time to think about how much space you'll need to ensure your entire family will be comfortable – having a bed for all of the adults and some space for the kids to play will help. 
The cabin we stayed in when we went to Assateague was a two-bedroom unit with a pull-out front couch. It had indoor bathrooms, heating, cooling, a screened porch, and a fully equipped kitchen. Everyone had a real mattress to sleep on and plenty of room to spread out during the day.
Grandma and Grandpa appreciated being able to tuck into a real bed each night and close the door on the kids, who could feel free to enjoy some late-night YouTube surfing before bed. 
If you're a larger family, and you like the idea of bunking together, consider checking out Airbnb or another private rental service so you can find a large enough location at a reasonable rate. 
We've only had one experience where we didn't heed this tidbit of advice, and it's part of the reason we've all sworn off of tent camping entirely. The time to decompress separately at the end of the day and sleep comfortably through the night is invaluable for everyone and will help extend the positive vibes much longer through your trip.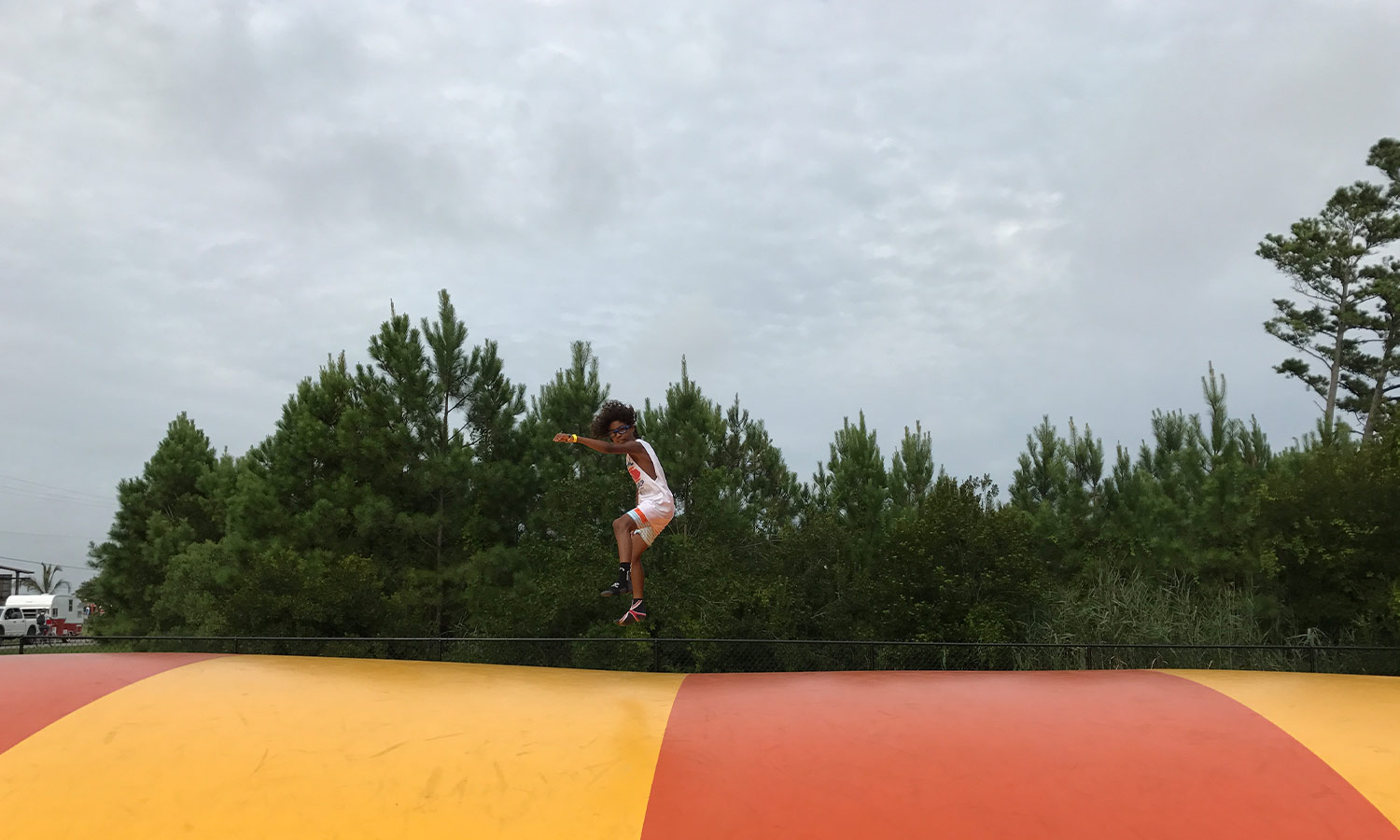 Do your dining destinations allow for large groups?
Often, coming together for meals is a major part of an enjoyable multigenerational family vacation. If you have a large group that would like to dine together each evening, you'll want to ensure that your location will allow for such. Whether on-site or at nearby restaurants, everyone will be happier if family meals can happen with ease and efficiency so you're able to enjoy them without a lot of hangry happening.
We loved the outdoor dining options at the cabins we stayed at on Chincoteague Island. The enclosed patio allowed us to spill outside and enjoy some mosquito-free fresh air while dining. The outdoor tables in front of our cabin added extra space as well.
Plus, there were plenty of nearby options, like Woody's Beach BBQ, where you could grab a bite and a picnic table without much hassle. 
My family has booked countless multigenerational trips together over the years, and we are always happily looking for new adventures to enjoy together. It is a great way for our kids to really get to know their grandparents outside of indulgent visits to their house on holiday weekends, and it helps them truly build a connection to them independent of the one I facilitate as their parent. They have time to talk, laugh, learn and just be together in ways made challenging by short visits and busy schedules. 
At the end of the day, multigenerational vacations are about enjoying things together. Find a destination that provides as many opportunities as possible for that to occur, and there's a good chance your entire crew will consider it a winning getaway.
---
Lead Photo: Amanda Rodriguez
Amanda Rodriguez has been telling stories about mom life since 2001. To make it official, she launched her parenting blog,
DudeMom.com
, in 2008 and has been entertaining parents with her unsolicited, but strangely useful advice ever since. On December 31, 2019, her first parenting book,
50 Things to Do in Baby's First Year
was published. It has been well received by both new moms and those who accidentally stumbled across it desperate to break up the monotony of quarantine. When not writing about life with kids, she can be found actively parenting three of them from her home in Frederick, Maryland where she's raising them with the help of her husband and two insanely bossy dogs. Amanda also does digital marketing for small businesses and the Frederick County Chamber of Commerce.