The True Love Story Behind Love Point Vineyards and Winery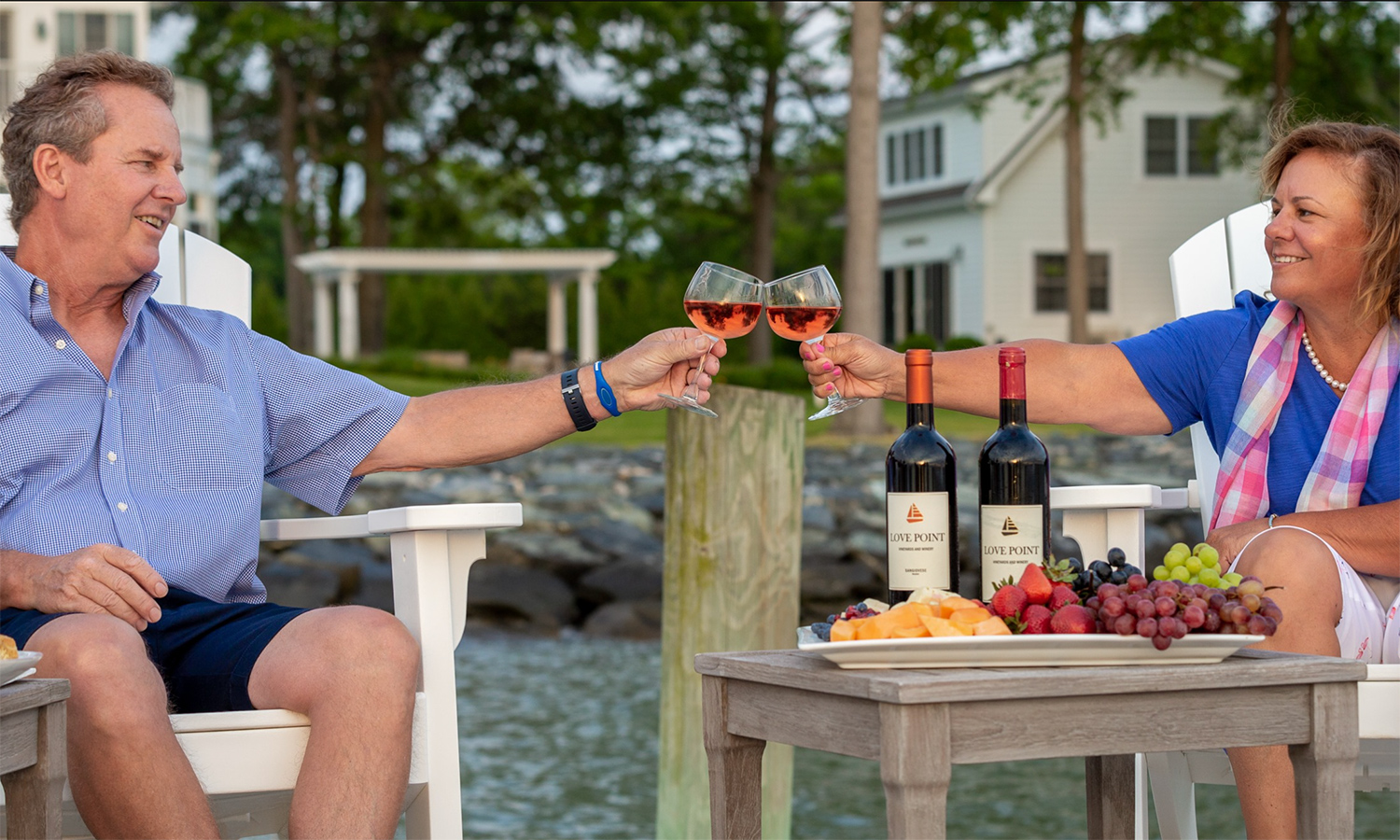 Love Point Vineyards & Winery in Stevensville, Maryland, isn't your standard go-to barn winery. Neither, for that matter, is the love story that brought owners Tim and Karen Seppi together just a mere 10 years ago. The Seppis exude warmth and hospitality from the second you step foot on their extraordinary property with picturesque views of the Chester River. Moreover, it's no surprise that they both remarked independently that their venture is truly a labor of love, with an emphasis on "love."
Named appropriately after the area of Stevensville called Love Point, Karen and Tim met and fell in love among the vines and later opened Love Point Vineyards & Winery. Karen had previously been the estate manager at a local waterfront property; Tim had been making wines for eight years at the time. When Tim met with the owners of the property that Karen managed, which had a defunct vineyard, he asked the owners if they would be interested in a partnership: he would revive the vineyards if he could use the grapes to make his own wines. The owners agreed and asked Karen to work with Tim on the project to help the vineyard prosper. Karen had a keen interest in learning about wines, and Tim had the expertise, having grown up on a farm in Prince George's County. Similar to love stories we read about in books, a relationship developed between the couple as they planted vines, grew grapes, and made wine. Like the end of a satisfying romance novel, they fell in love. As Karen said, "Wine is made with love." 
Three years ago, they married. The property they bought together is the site of their current home and business.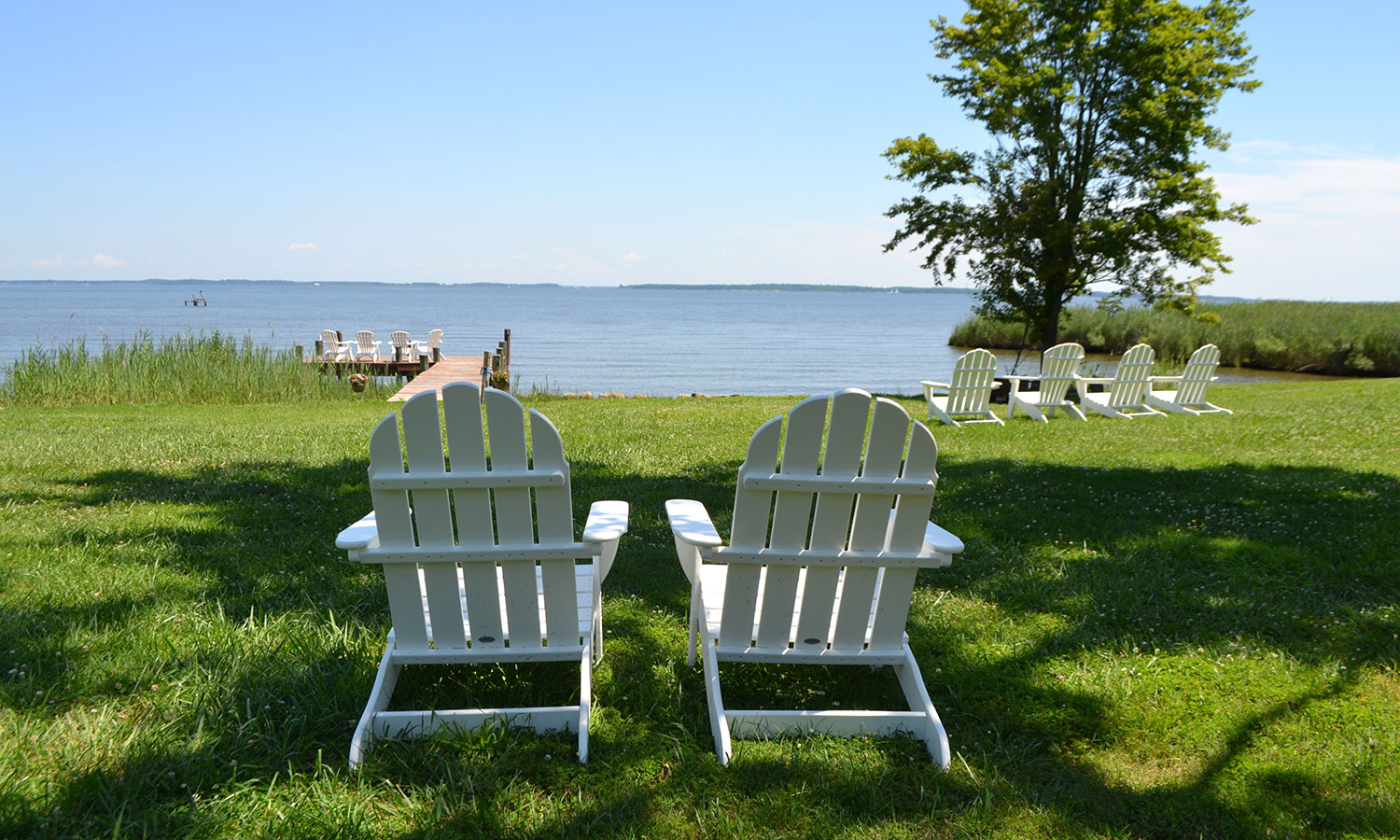 The history of Love Point is fascinating. Formerly the site of a ferry terminal and the Queen Anne Railroad, at the turn of the century, Love Point was the route people would travel to access the Eastern Shore, prior to the Bay Bridge's existence. According to Karen and local folklore, the area got its name from the story of a "well-to-do man who fell in love with the farmer's daughter."  Two prominent landmarks once graced Love Point: the Love Point Light (a lighthouse) and the Love Point Hotel. Both are now, as we say, history.
Just three miles from the Bay Bridge, Love Point Vineyards & Winery is a place to drink wine and enjoy the breeze while taking in views of the Chester River. "We feel very fortunate to own this land, but even more fortunate to be able to share it," Karen said. "We love sharing our views."
On a Thursday afternoon, couples enjoyed bottles of wine and charcuterie boards on the deck overlooking the water. It's a great place to unwind and experience the laid-back manner of the Eastern Shore.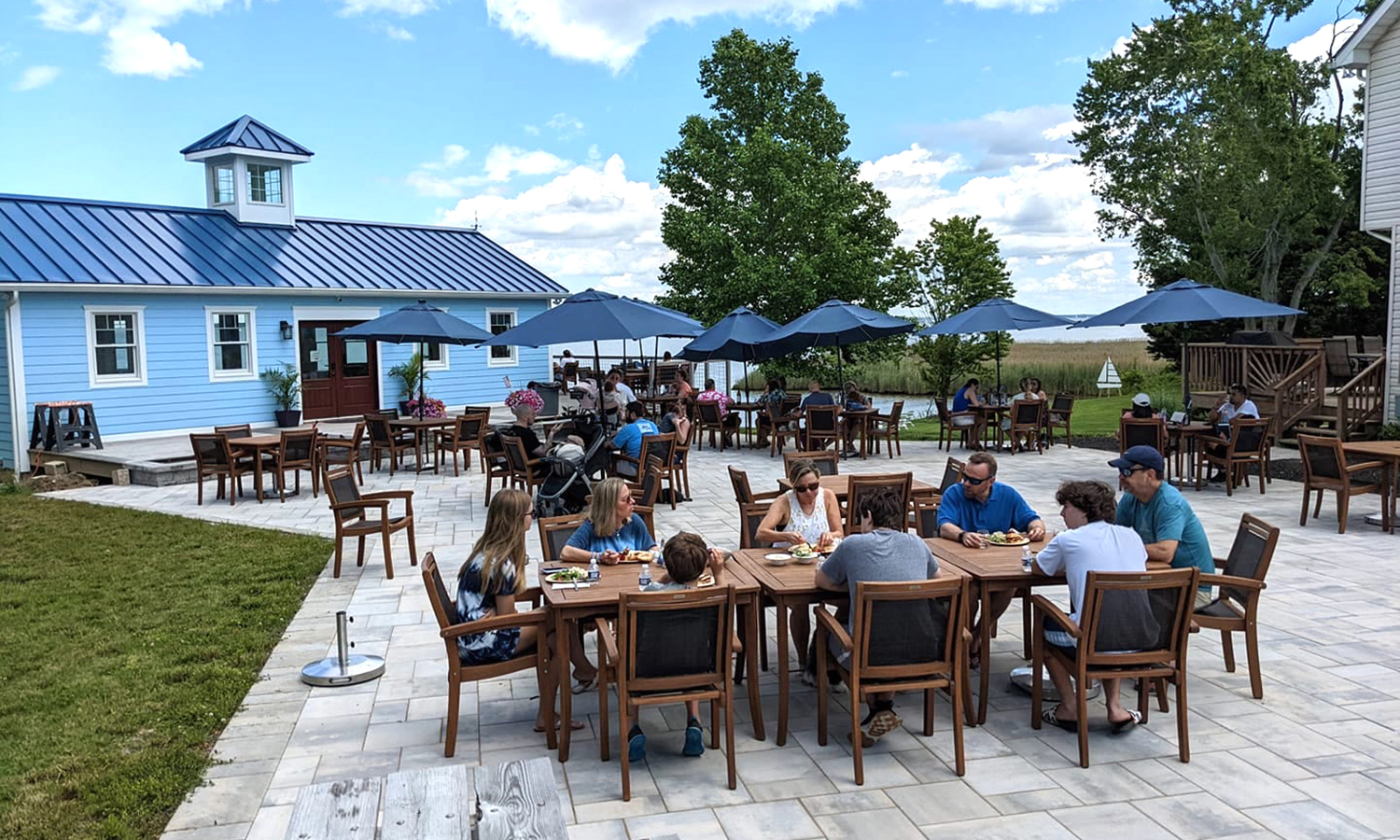 With the goal of "putting out an excellent product," Tim cares for the vines, tending to them every day. Owning a vineyard requires intense labor, and Tim spends hours working to ensure that the vines are pruned, sprayed, hedged, and constantly leafing. It's a year-round process that requires meticulous care. 
"We enjoy doing it," Tim said. "After 30 years working in IT and cybersecurity, I find myself back on the farm." The couple also enjoys recruiting willing people to help harvest the grapes. "We ask volunteers to come out in September and harvest with us—we'll be doing it again this year, and all are welcome. As a reward, folks can stick around and enjoy wine on the grounds afterward."
Clearly, there's a respect for the land, as well as a need to make visitors comfortable, happy, and relaxed, all while sipping good wine at Love Point Vineyards & Winery. As Karen said with a glint in her eyes, "There's love in every bottle."
While You're in the Area
Check out 7 more things to do around Kent Island or use the winery as a celebratory kick-off to your Eastern Shore vacation.
---
Lead Photo: Love Point Vineyards & Winery
Stephanie Verni is an Adjunct Professor of Communication at Stevenson University and the author of seven novels. She has taught a variety of communication courses, and she especially loved teaching courses in travel writing. A true Marylander, she enjoys writing about the beauty of her state and incorporating Maryland locations into her books. When she's not writing, you can find her on her boat cruising the Severn River with her family. She's on Instagram at @stephanieverniwrites