A Moll Dyer Lover's Guide to Leonardtown

St. Mary's is Maryland's oldest county, and the one most closely tied to witchcraft. Why? The late 1600s were the pinnacle years of witchcraft fever, so it makes sense that St Mary's County, settled at that time by religious-minded colonists from England, got swept up in the fervor. Of the eight known witch trials in Maryland, which took place between 1674 and 1712, the majority of them took place here. 
But the most famous "witch" wasn't tried at all—or a witch, for that matter. Moll Dyer was an indentured servant, likely Irish, who came here via the Caribbean in the late 1600s. By all accounts she lived a quiet life until winter of 1897, when a flu epidemic swept the area. Locals did what people sadly do — blamed the outsider—and burned her house down. Moll fled into the woods and was found the next day, dead and frozen to a boulder, her hand lifted to the heavens in a curse against the townsfolk who harmed her.
Her legend has been alive and well ever since; some residents recall being told as kids, "Behave, or Moll Dyer will get you!" But Leonardtown has recently taken a more enlightened approach, turning that terrible event into Moll Dyer Day, where people are encouraged to do acts of kindness in Moll's honor, to make up for the past. The first annual Moll Dyer Day was held in February 2021, and it's now an annual event featuring scavenger hunts, kiddo crafts, a "spirited" cocktail competition, and events from lectures on the history of witchcraft to late-night paranormal tours. 
Whether you visit St. Mary's County for the festival or another time of year, here's our advice on how to make any day Moll Dyer day.
Pay your respects at the rock
.
Locals are said to have known for centuries where the boulder lay, and avoided it, fearing it was cursed. In the 1970s it was dug out of the mud and put on display outside the old jail.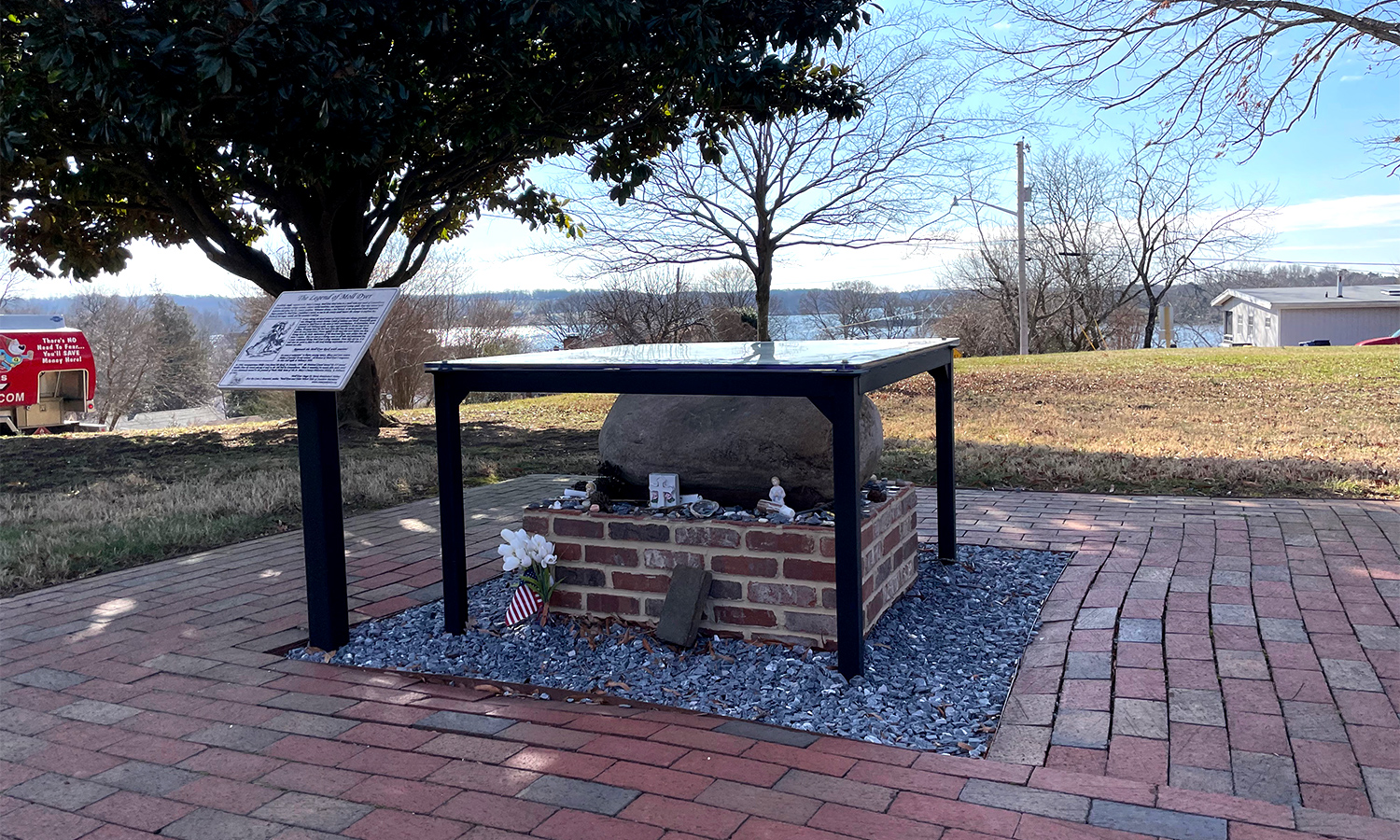 A sign shared Moll's story and pointed out her faint handprint, which you could touch if you dared. In 2021, the rock was moved to its present site beside Tudor Hall, on a hillside overlooking Breton Bay.  A thick pane of glass above protects it from the elements, and a closed-circuit camera keeps guard, capturing the visitors who come by, leaving tokens like flowers and candles. 
Take a spin through Tudor Hall.
The stately Georgian-style mansion began as a simple dwelling in 1742. As the county fortunes grew, so did the house, reaching its present look in 1817, when it was owned by Phillip Key, a relative of composer Francis Scott.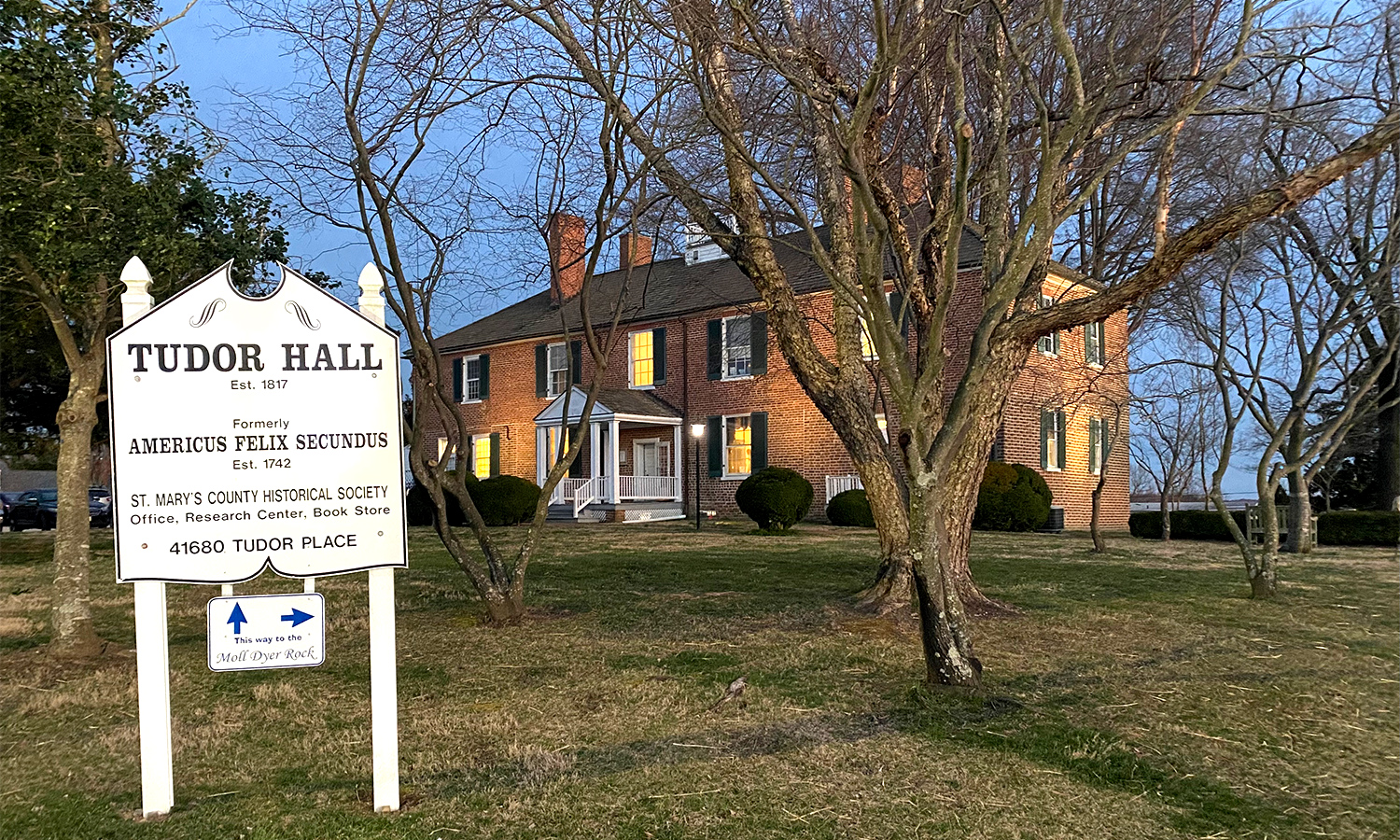 Today, Tudor Hall is the headquarters for the St. Mary's Historical Society, housing their research library, community events and, rumor has it, a ghost who visits the kitchen, the oldest part of the house.
Check out the jail.
The rock's former home was the granite-and-brick Old Jail Museum, built in 1876 and in use until 1945. Tour the former jailkeeper's quarters downstairs, and the exhibits in the upstairs cells, where prisoners were segregated by race and gender.
In partnership with the Equal Justice Initiative, a plaque outside pays tribute to Benjamin Hance, an African American county resident who was killed by a lynch mob in 1877—a testament to history that needs to be shared so it is never repeated. The Old Jail Museum is an official site on the Underground Railroad Network to Freedom, and home to the Leonardtown Visitors Center.
Pick up the book on Moll Dyer.
Every cool town has a cool bookshop. Here, that's Fenwick Books.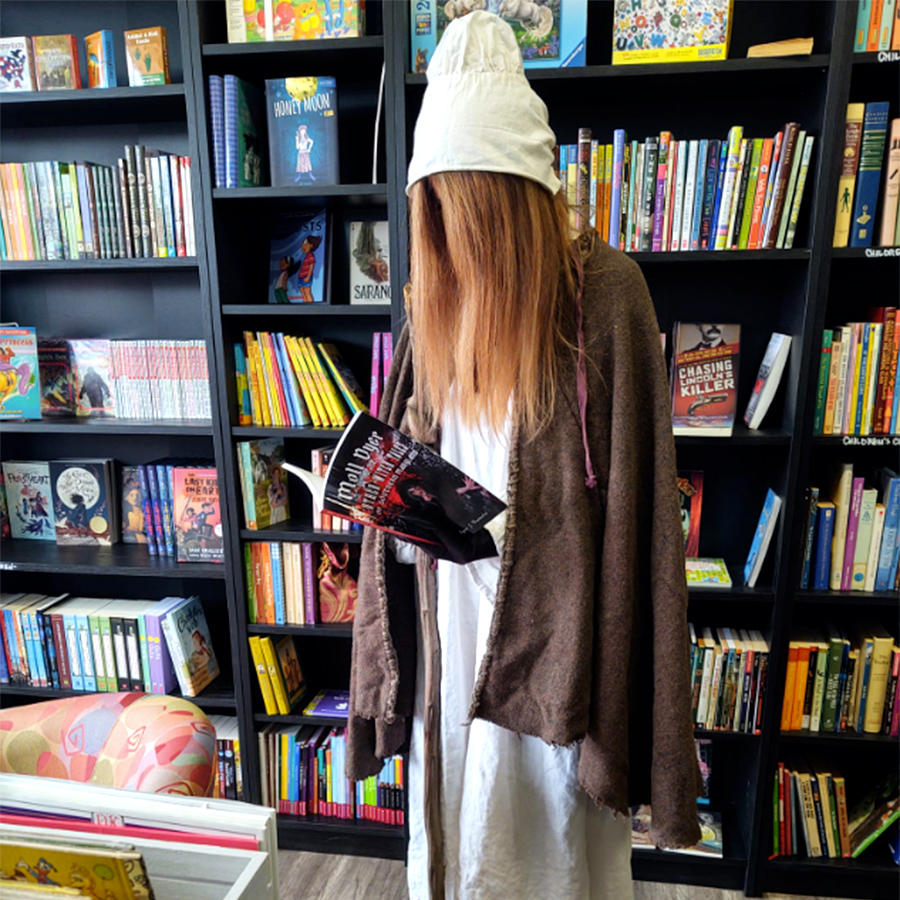 Alongside the impeccably researched Moll Dyer and Other Witch Tales of Southern Maryland by Lynn J. Buonniri—part of their impressive local interest section—you'll find new and used fiction, Chesapeake-themed picture books, even esoterica and tarot cards. Keep an eye on their Facebook page for author events.
Warm up with Molled wine
.
The Port of Leonardtown Winery uses grapes from vineyards across Southern Maryland in their varietals, produced onsite in a barn-style winery. Sample a flight in the tasting room or pick up a bottle to enjoy on their expansive patio. The winter special is mulled (not Molled, but close) wine; the Vintner's Red steeped with spices and served warm, best enjoyed by a firepit under their tent. Food trucks and live music rounds out the fun on weekends. 
Take home some whiskey.
Tobacco Barn Distillery is just down the road in Hollywood. Maryland's storied bourbon tradition started here in the 1700s, when early arrivals began distilling on the peninsula.
Moll Dyer Cinnamon Whiskey pays tribute to her with a spiced spirit, sustainably produced from locally sourced ingredients and distilled in small batches. I think she would approve.
Extend your stay: Make the most of your stay by sleeping in the middle of everything at the 41-room Inn at Leonardtown. Redone interiors are cute and modern, and the hotel is located just off the main square, within easy walking distance of restaurants. Ask for a room on the south side overlooking Tudor Hall.
Click here for more spooky travel inspiration.
---
Lead Photo: Town of Leonardtown
Longtime travel writer/editor Susan Moynihan has visited 60+ countries, but her favorite pastime is exploring the back roads of her home state. Her book 100 Things to Do in Annapolis and the Eastern Shore was published in 2019, and she has a new one in the works.