Hungry on the Trail? Here's Where to Eat and Drink Along the C&O Canal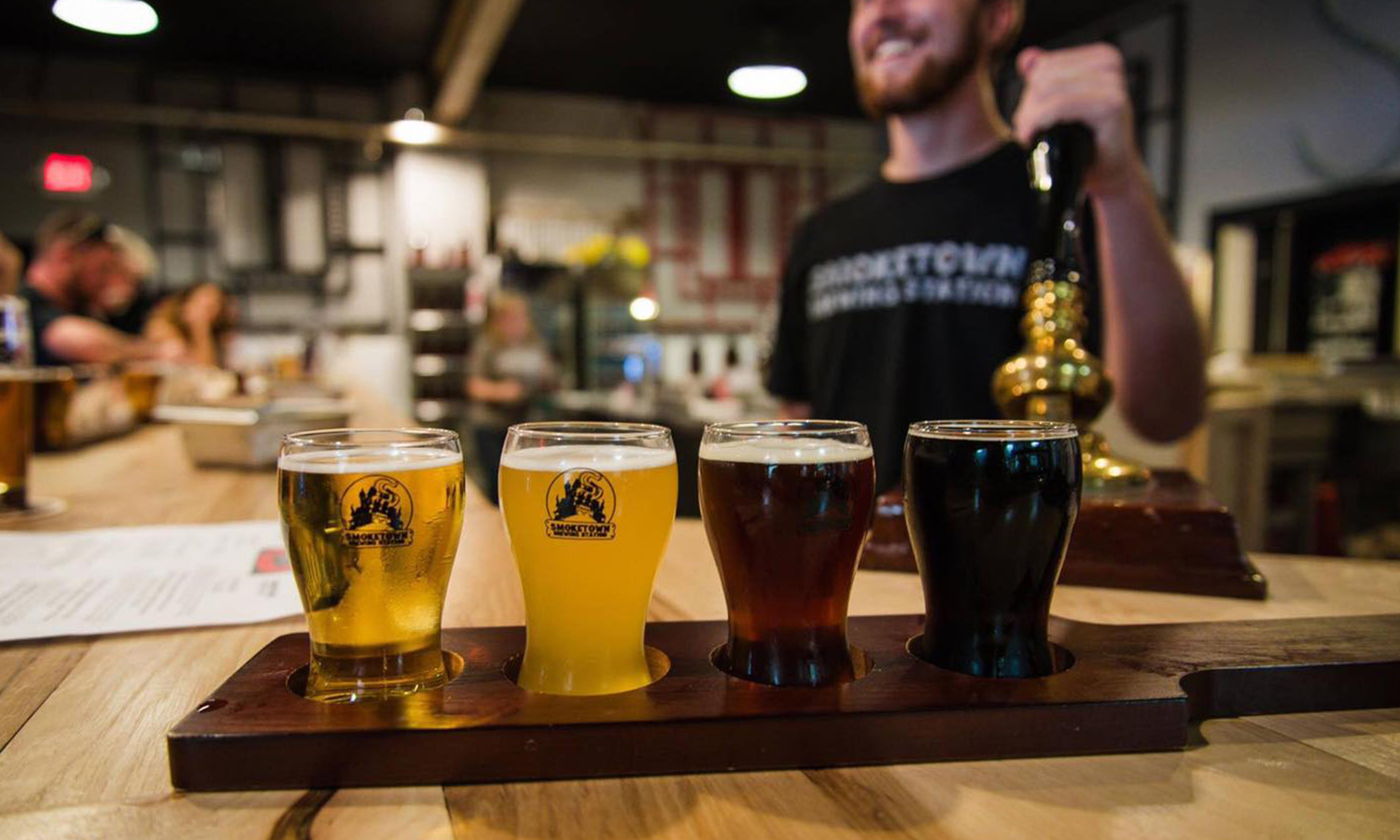 Back in the heyday of the C&O Canal, boats carrying every imaginable foodstuff were towed by mules up and down the man-made waterway. The canal was built specifically to enable the movement of goods between the Ohio River Valley and the eastern seaboard. Although lumber and coal were the most profitable cargo moved by canal boat, a plethora of goods like salted fish, wheat, corn, flour, and potatoes regularly made the trip, too.
Today, hikers and bikers use the towpath instead of mules, and their packs contain energy bars and dehydrated proteins. Sure, they are lightweight and easy to prepare fireside, but they are not particularly tasty, especially after two or three days. Fortunately, there are a variety of towns lining the towpath that all feature unique chow to delight your taste buds. Quite a few options are even canal-themed!
Each of these spots to eat and drink along the C&O canal are located within a half-mile of the towpath, making them perfect pit-spots for hungry wayfarers and cyclists.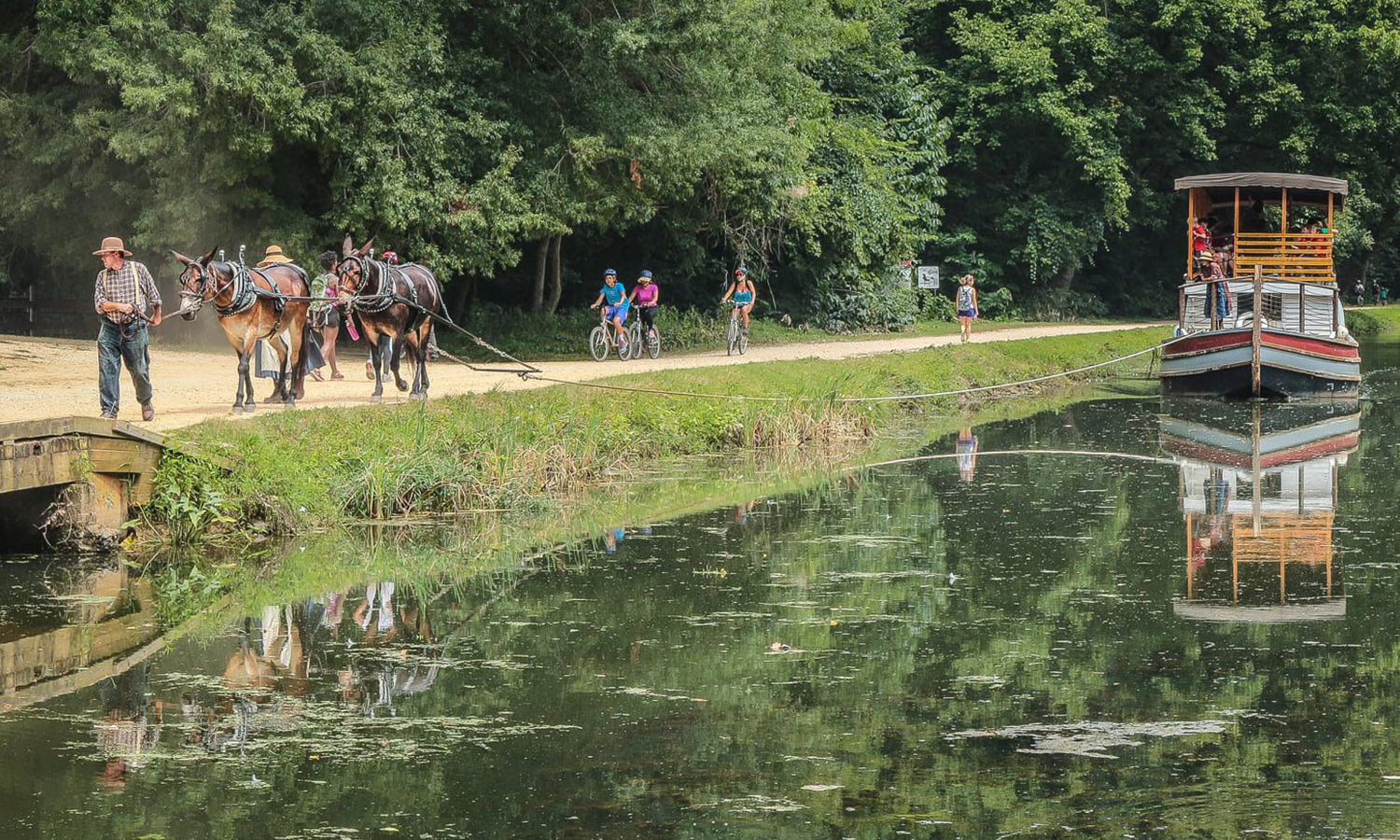 If you prefer to see the canal by car, you can visit these same spots via the C&O Canal Scenic Byway. I've also included a few options farther off the towpath especially for you! 
Cumberland (mile marker 184.5)
Many people begin their canal trip in Cumberland so they can travel (slightly) downhill all 184.5 miles to Georgetown. Before setting off, grab a bite at the Shops at Canal Place, located a short distance from both the towpath and the C&O Canal Visitor Center at Canal Place. For a full meal, head to the Crabby Pig for steak, ribs, and seafood – it's the only seafood restaurant for miles, so eat your fill if you are craving shrimp or Maryland crab cakes.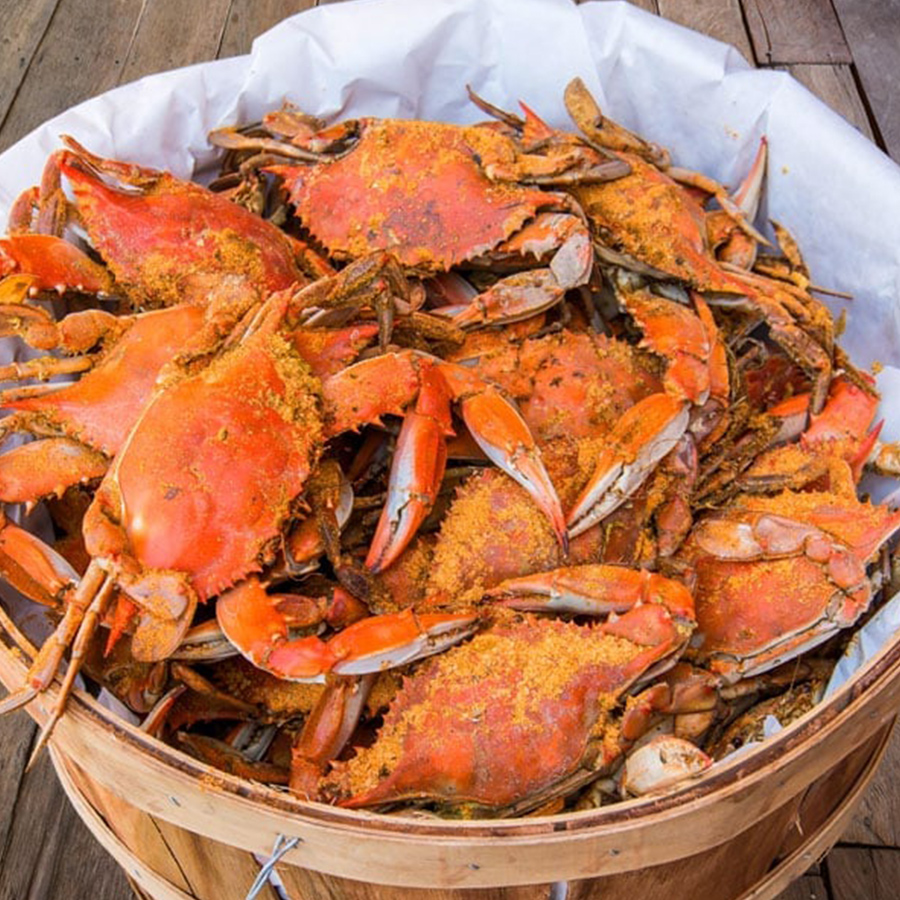 For adult beverages, check out Charis Winery or Dig Deep Brewing Company. The latter has teamed with three other local breweries on a special canal-themed pilsner called Douglas' Ditch, named for Supreme Court William O. Douglas, who played a role in preventing the "Grand Ole' Ditch" from being paved over in the 1950s.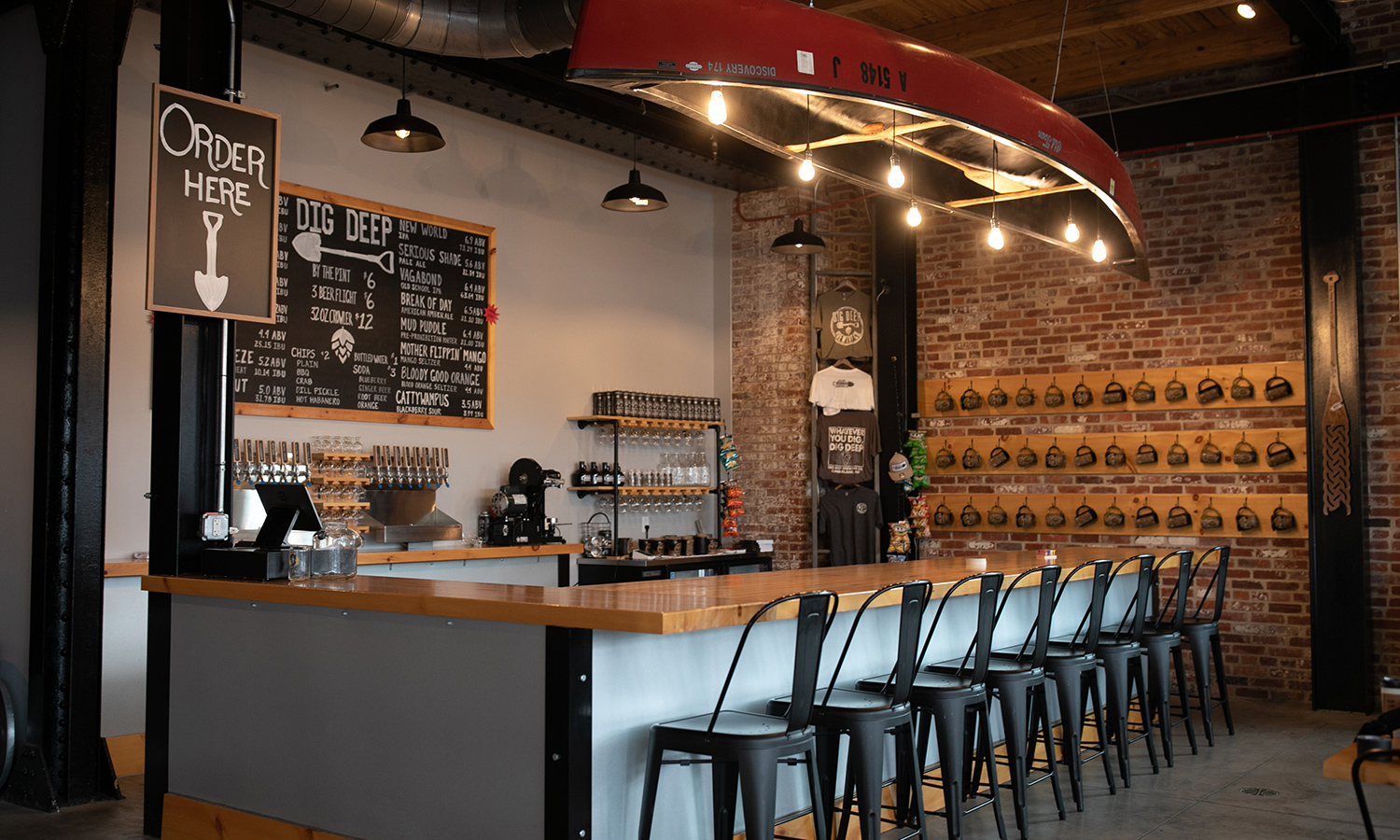 Located just steps away is European Desserts and More, where you can grab a cheesecake or cannoli. (Either one will be ruined in your backpack, so you should definitely eat it immediately.) 
Hancock (mile marker 124.5)
Buddy Lou's Eats, Drinks, and Antiques is the place to go in Hancock. This unique eatery off Church Street has both indoor dining and a large deck overlooking the canal. Antiques adorn the walls and flannel shirts have been repurposed as seat covers and curtains, giving the place a down-home feel. Buddy Lou's has a variety of sandwiches, salads, and burgers, and they are famous for their mac and cheese and crab fry starters.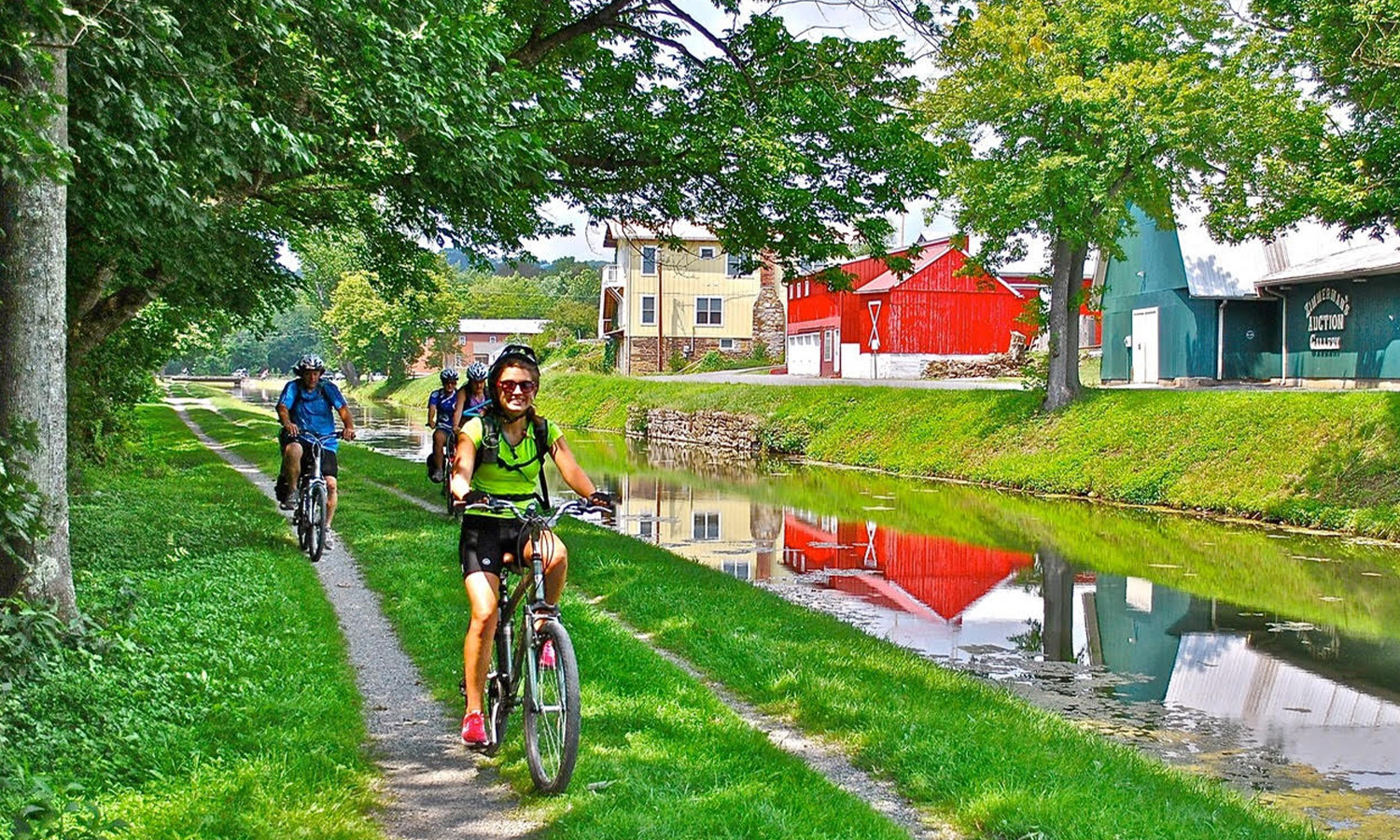 After your meal, head west on Main Street to the Fractured Banana. This ice cream shop, bright yellow and impossible to miss, has a "Canal Barge" sundae to tempt you. Select either peach ice cream with sliced peaches or deep-dish apple ice cream with a spiced apple topping. They'll pile it high "like a split mountain resembling the Sideling Hill Cut" in a canal-barge-shaped dish. Who can turn down local history with their dessert?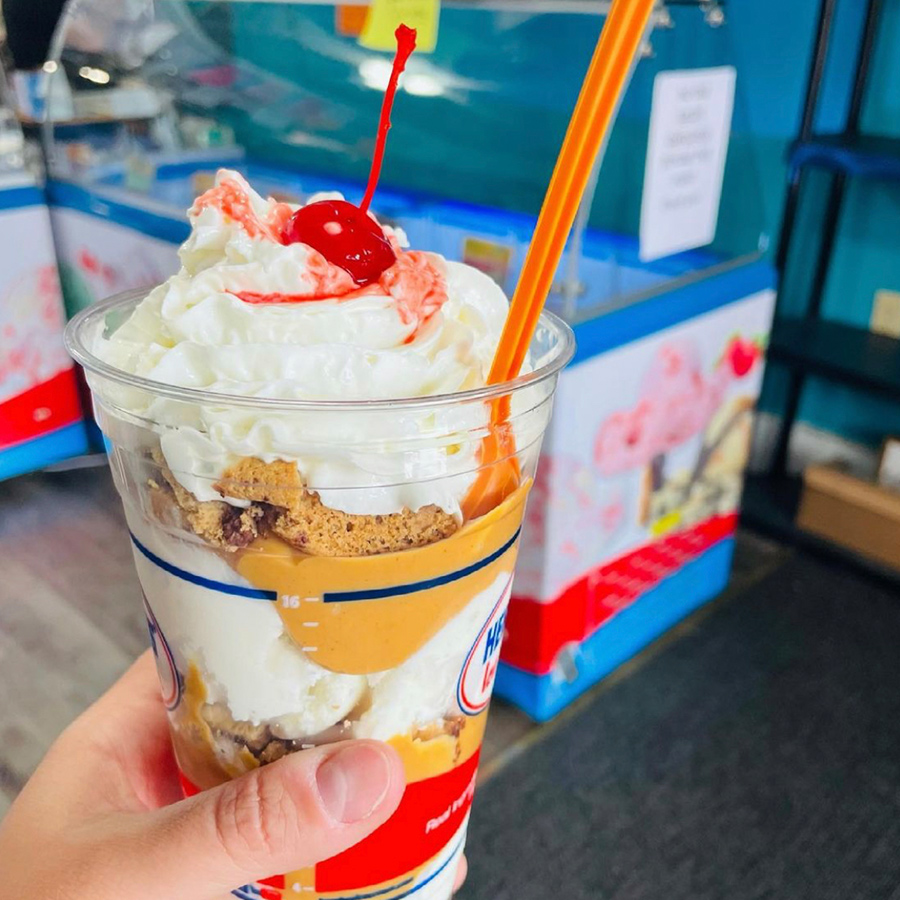 Williamsport (mile marker 99.4)
You are nearing the halfway point of your journey! While there are a variety of choices in Williamsport, Desert Rose Café and Sweet Shoppe, just down the road from the Cushwa Basin, is serving two exclusive items perfect for canal lovers.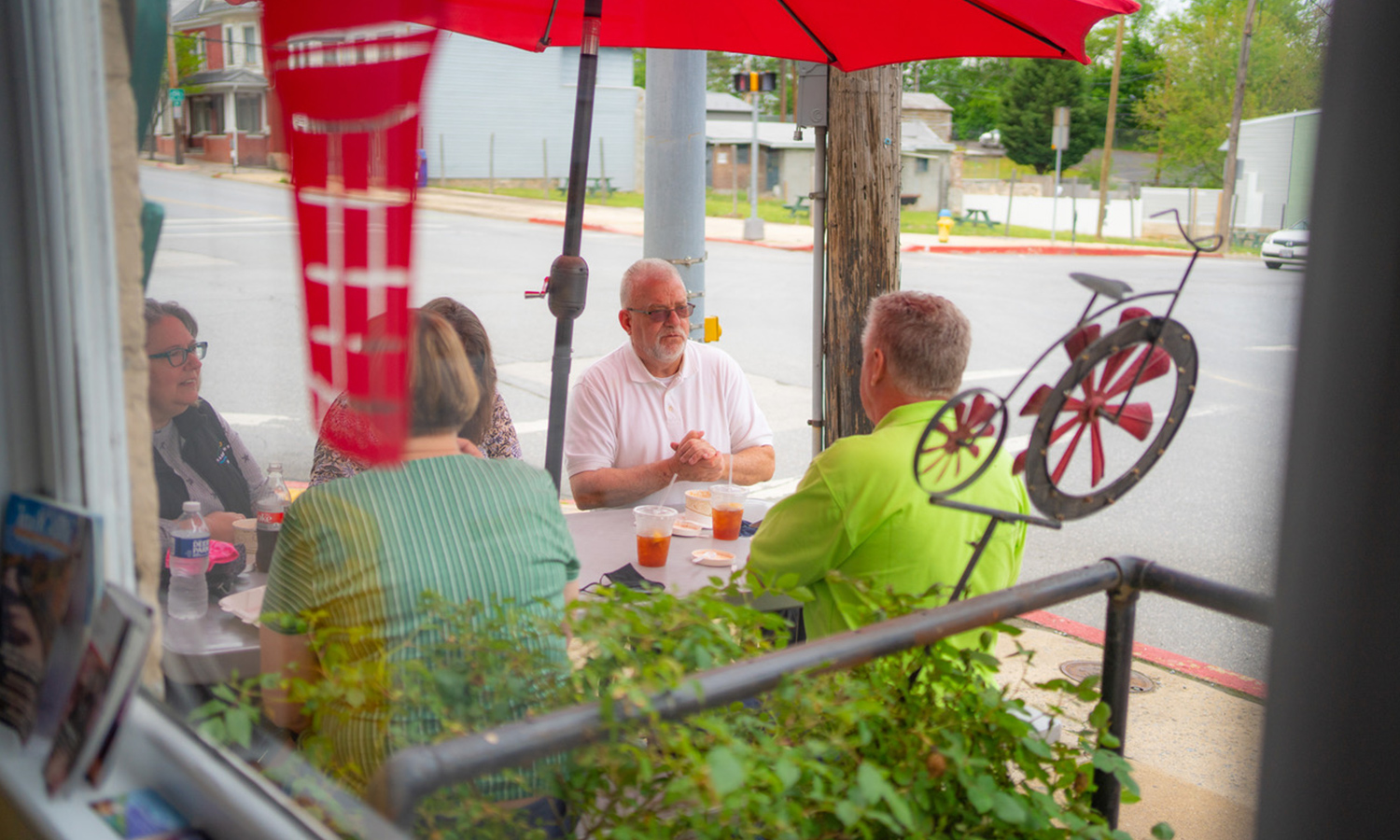 The Boatman's Bean Stew is made from an authentic recipe written by canal boat captains of yore. The delicious concoction includes navy beans, ham, potatoes, onions, carrots, and celery – all items that canal families harvested from their land. Your sweet tooth will love the Muddy Mile Marker 100, a milkshake with a chocolate cupcake, buttercream icing, and M&Ms blended into it. "It looks exactly like it came off a muddy cyclist!" said Rose Harris, the business's owner. It may not sound appetizing when put like that, but I can tell you, it is!
Brunswick (mile marker 55)
As you head into Brunswick, you have several choices. The first spot you'll come to is Boxcar Burgers, located off Maple Avenue after exiting the towpath and heading up the hill into town. True to its name, you can get a juicy burger or hot dog here, along with fries doused in decadent cheese and bacon. There is also an attached ice cream shop serving creations from Gaithersburg's Great Falls Ice Cream – their name is a shout out to arguably the most popular spot along the C&O Canal. My favorite flavor is White Chocolate Raspberry, but you really can't go wrong here.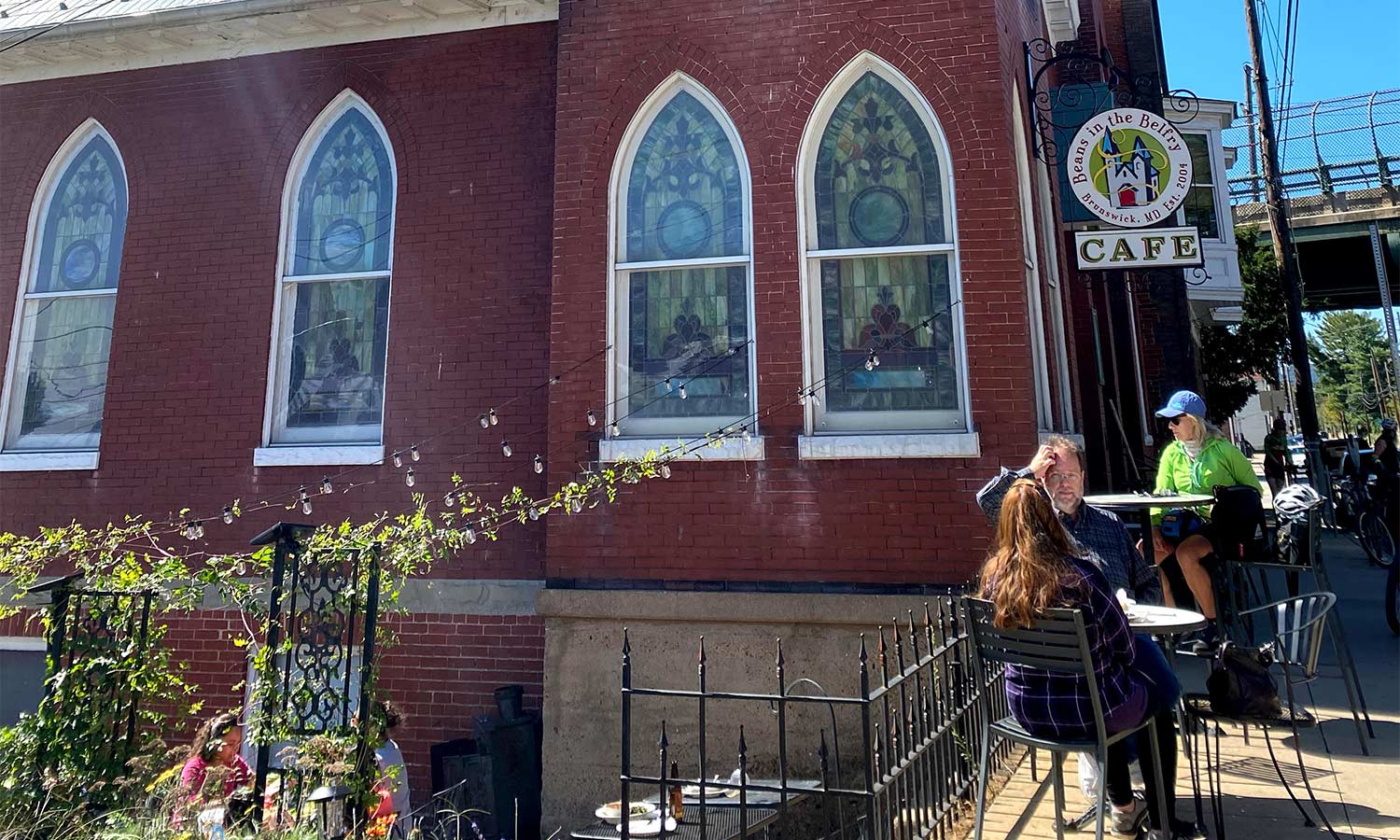 If cafe fare is more your style, check out Beans in the Belfry, just a block and a half away on W. Potomac Street. Located in a 1910 red-brick church, the place retains its beautiful stained windows and is a favorite lunch spot for locals. 
For a cold one, head west on W. Potomac another two blocks to the old fire station that houses Smoketown Brewery. (Cheers to Brunswick for reusing its historic buildings!) This family-run brewery offers Fog Holler Hazy Pale Ale, named for the fog that sets in most mornings along the banks of the canal.
They are also the masterminds behind Angler's Mid Atlantic Steam IPA, brewed in collaboration with Devils Backbone Brewing Company. Both brews were created to celebrate the C&O Canal's 50th anniversary as a national park in 2021, and the IPA is available at other establishments throughout Frederick, Washington, Allegany, and Garrett counties. 
White's Ferry (mile marker 35.5)
A true canal icon, White's Ferry is the last remaining of approximately 100 ferries that transported people and goods across the Potomac River. Founded in 1782, the ferry was operational until recently. While you and your car can't currently ride to the Virginia side, you can visit White's Ferry Grill for a meal or tasty treat.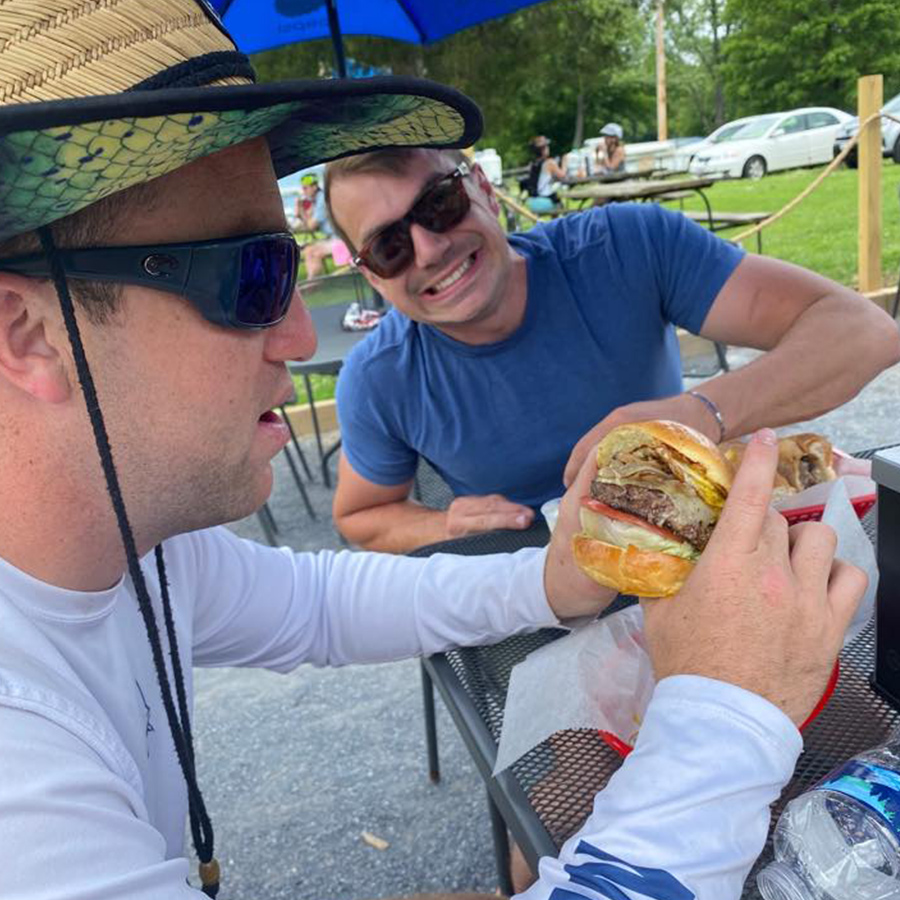 This casual eatery, located about 500 feet from the towpath, serves sandwiches, burgers, and breakfast all day. If you have arrived via the towpath, they have a sandwich just for you: the Cyclist and Hiker Delight, with turkey, black-forest ham, Swiss, lettuce, tomato, and mayo. It can power you to your next stop.
Potomac (mile marker 12.2)
Located in a Tudor-style building that could have been plucked off the English countryside, Old Angler's Inn has been a favorite of canal goers for generations. With a pizza menu, beer garden, and plenty of outdoor dining, it is a perfect spot even if you are sweaty from your adventure. However, they also offer fine dining if you are craving steak or seafood. To find the Inn, leave the towpath, cross the bridge over the canal, head out of the parking lot, and cross MacArthur Blvd. 
Traveling the C&O Canal Byway by Car
I get it – 184.5 miles of hiking or cycling isn't your thing. But you're still hungry, right? Here you go:
Captain Raleigh Bender, a C&O Canal boatsman, made his last trip on the canal in 1923. In 1936, he purchased

Captain Benders Tavern

in Sharpsburg, which he ran until his death in 1971 (incidentally, the same year the C&O Canal joined the National Park Service.) Today, the Tavern offers a full bar and menu.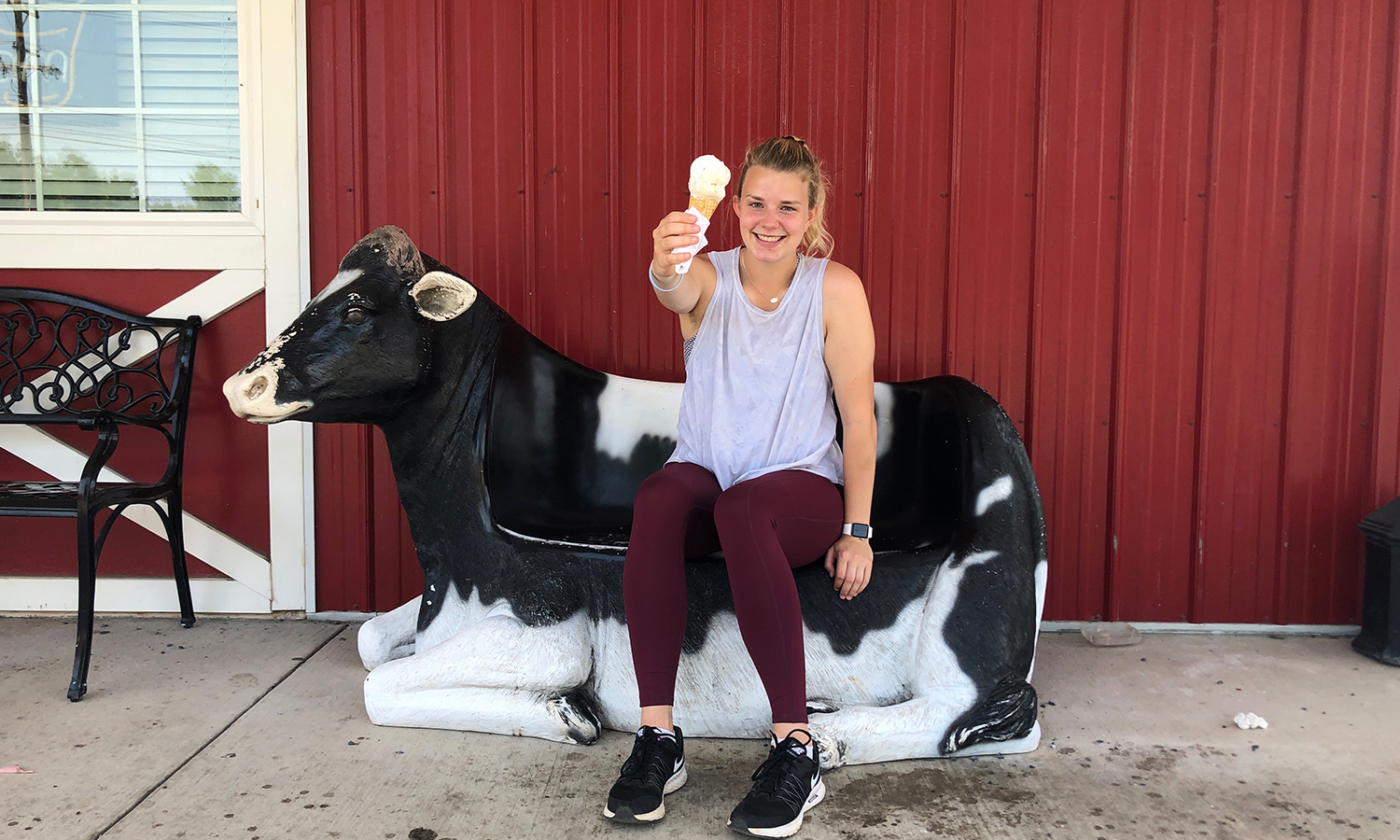 Rocky Point Creamery

, located just east of

Point of Rocks

, created a special ice cream to commemorate the Park's 50

th

anniversary. Try  "Mule Food," sweet cream ice cream mixed with oatmeal cookies and chocolate flakes is an ode to the mules who once trod the towpath. (Plus, Rocky Point is one of 10 creameries on

Maryland's Best Ice Cream Trail

!)

Shepherdstown

and

Harpers Ferry

, both in West Virginia, and therefore not technically a "Maryland Road Trip," are both accessible from the C&O Canal towpath, and are worth visits due to their unique merchants and quaint charm.
Also falling into the "not-in-Maryland" category is Georgetown, Washington D.C. The canal ends here (or begins here, depending on your perspective.) This trendy area is a food mecca – you can eat your heart out at their many eateries.
---
Lead Photo: Smoketown Brewery
Heidi Glatfelter Schlag is a marketer, history lover, and traveler who can often be found exploring museums, parks, small towns, and farms. She founded Culture-Link Communications, where she helps local nonprofits and small businesses build their brands. Heidi lives in Frederick, MD, with her husband and two dogs.