Get a Rush or Relax With These Paddlesports in Maryland

From the Allegheny Mountains to the Atlantic Ocean, Maryland has a variety of landscapes and waterways that are sure to please anyone looking for a paddlesports adventure. With adrenaline-pumping whitewater in the western part of the state, gently flowing rivers and the Chesapeake Bay in central Maryland, and tidal creeks along Maryland's coast, watersports can be found just about everywhere you go. 
Western Maryland
Western Maryland has something for everyone. If you're after an action-packed day, there are several experienced outfitters, such as Precision Rafting Expeditions, that will take groups on trips paddling up to Class 5 rapids on the Upper Yough and Savage rivers. But if you're looking for something that's a little more relaxing, they also offer trips on easy whitewater and floating trips. 
Western Maryland also features several lakes and reservoirs for flatwater paddling excursions. Greenbrier State Park is an excellent choice with a 42-acre manmade lake, perfect for canoeing or kayaking. If you don't have your own paddle craft, the park also has rowboat and paddleboat rentals onsite.
Capital Region
A variety of county parks outside of Washington D.C. offer paddling opportunities, with many of them also providing canoe, kayak, and paddleboat rentals. Black Hill Regional Park in Montgomery County is a great option for those that are trying out paddling for the first time. The 500-acre lake provides calm waters, perfect for those that want to rent a canoe or kayak for an hour. You may even want to try your hand at fishing for bluegill, crappie, largemouth bass, and other freshwater fish. And when you're done with lake adventures, the park also has hiking trails, nature programs, and a dog park.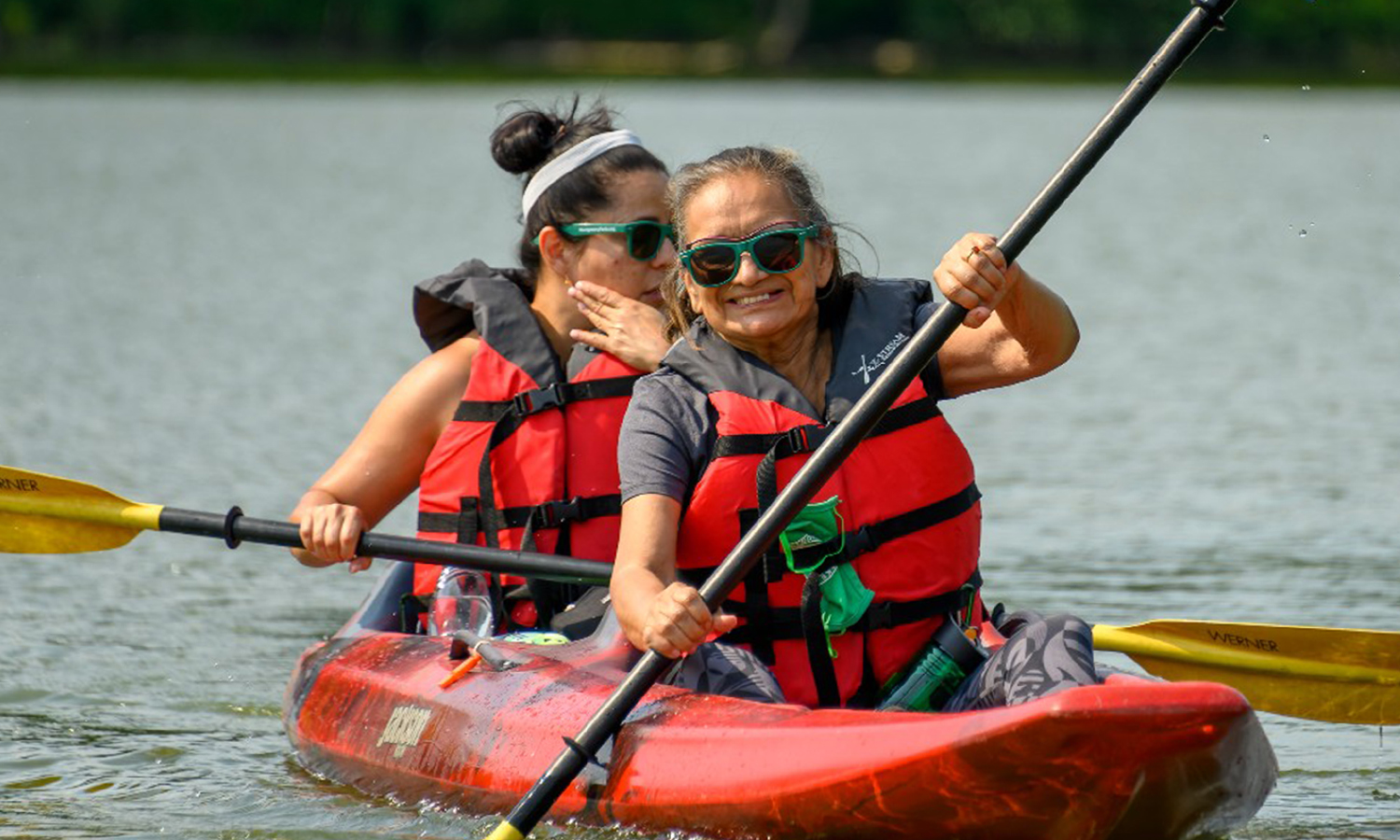 If the mighty waters of the Potomac River are intimidating, a relaxing float on the historic C&O canal might be your next choice. One of the best spots to access the canal for canoeing and kayaking is Fletchers Cove. This spot can be a little difficult to access, but once you're there, you'll see it's totally worth the drive. The boathouse offers canoe, kayak, and rowboat rentals. If you want to explore the waters of the canal by boat, head up the Clara Barton Highway to the National Park Service's Great Falls Tavern Visitor Center for a historic mule-drawn boat ride along the canal, just as it was in the 1870s.
Central Maryland
If you're looking for a way to rejuvenate your spirit and challenge your fitness while on the water, it might be worth trying out some stand-up paddleboard yoga! Capital SUP in Annapolis offers a variety of yoga and fitness classes that all take place on a paddleboard.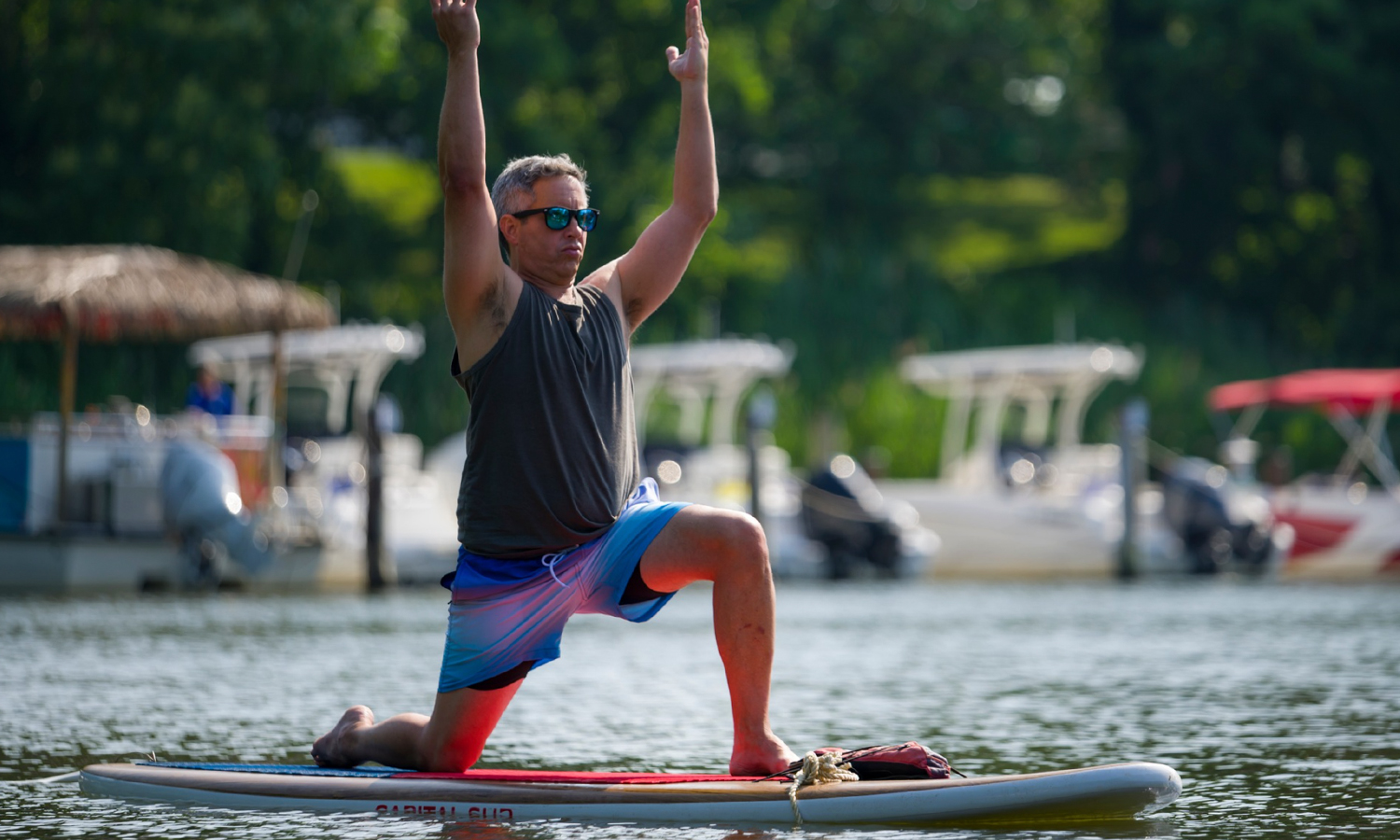 Themed classes are also popular, as they often pair SUP yoga with herbal tea tastings, cold brew coffee, and even acupuncture! If paddleboarding isn't your thing, they also have kayak and canoe rentals available.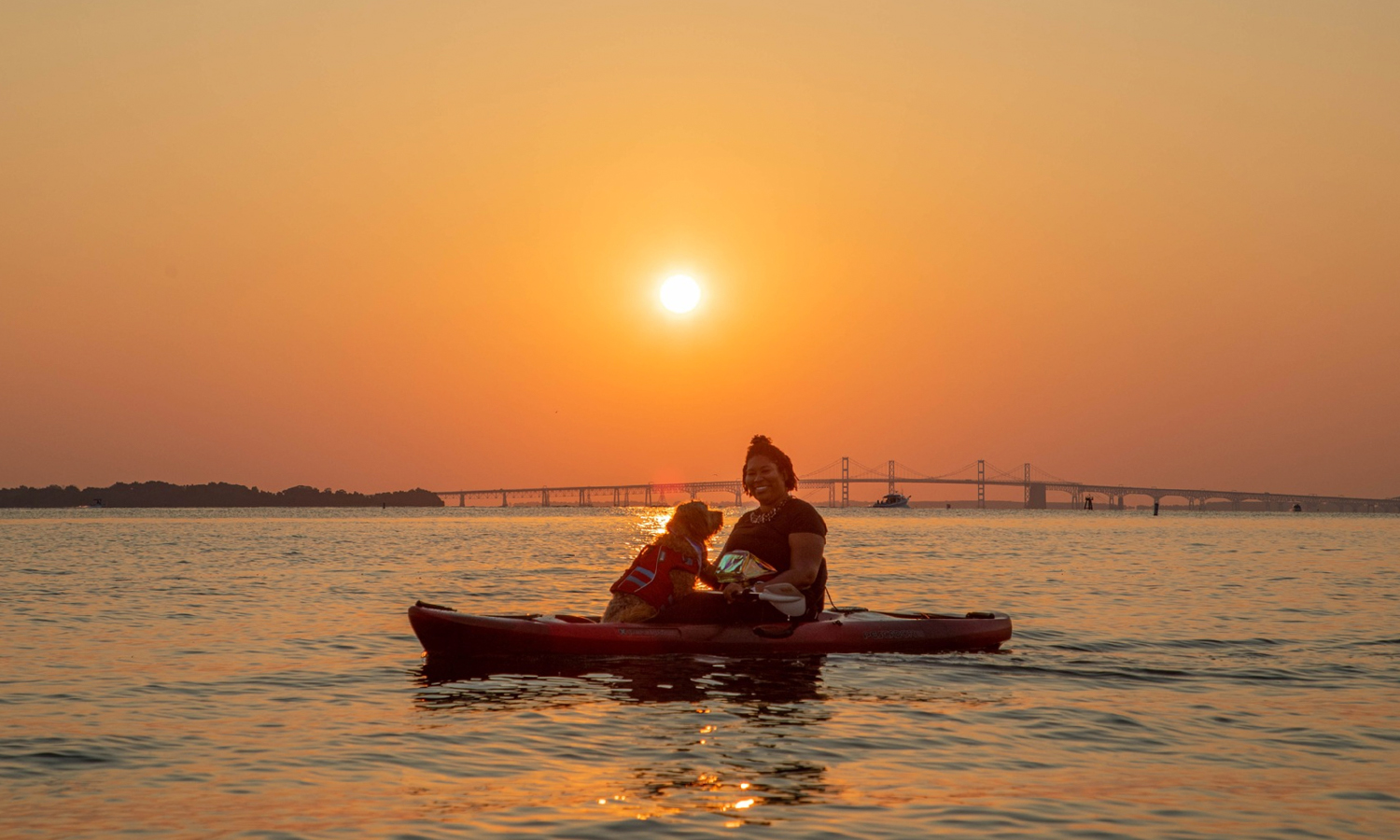 Paddlesports and water adventures are not just found deep in a natural setting though. Baltimore's Inner Harbor offers several ways to float around and catch a glimpse of the city from a new perspective.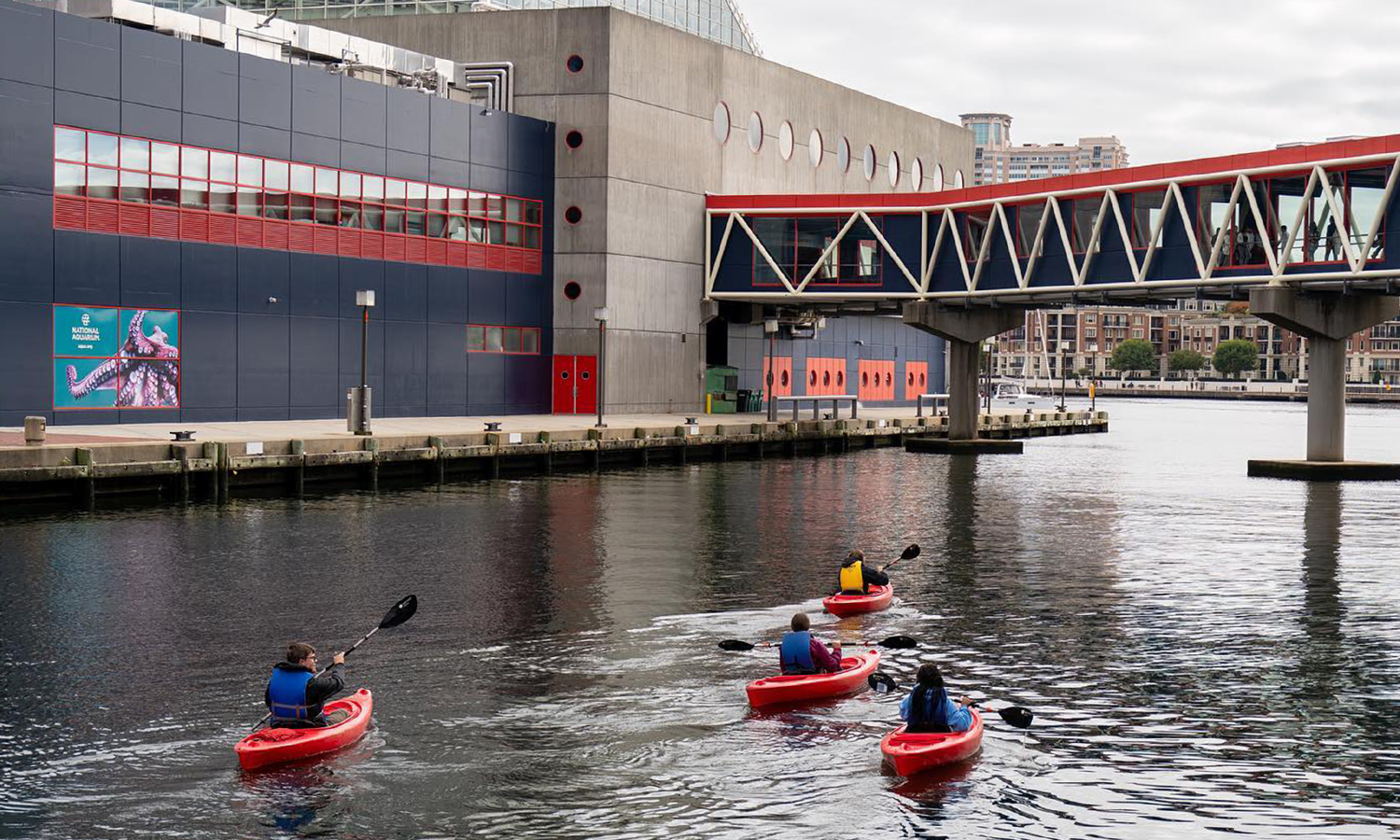 The Living Classrooms Foundation offers their famous Chessie Dragon paddle boat rentals, and Baltimore City Recreation & Parks leads kayak excursions on the harbor, as well as on the Patapsco River at Middle Branch Park.
Southern Maryland
No paddling trip to Southern Maryland is complete until you've experienced Mallows Bay. Mallows Bay is a National Marine Sanctuary and is known for the famous "ghost fleet" of over a hundred ships, dating from the 1700s to the 1900s, made of both wood and steel. It's the largest number of visible shipwrecks in the western hemisphere.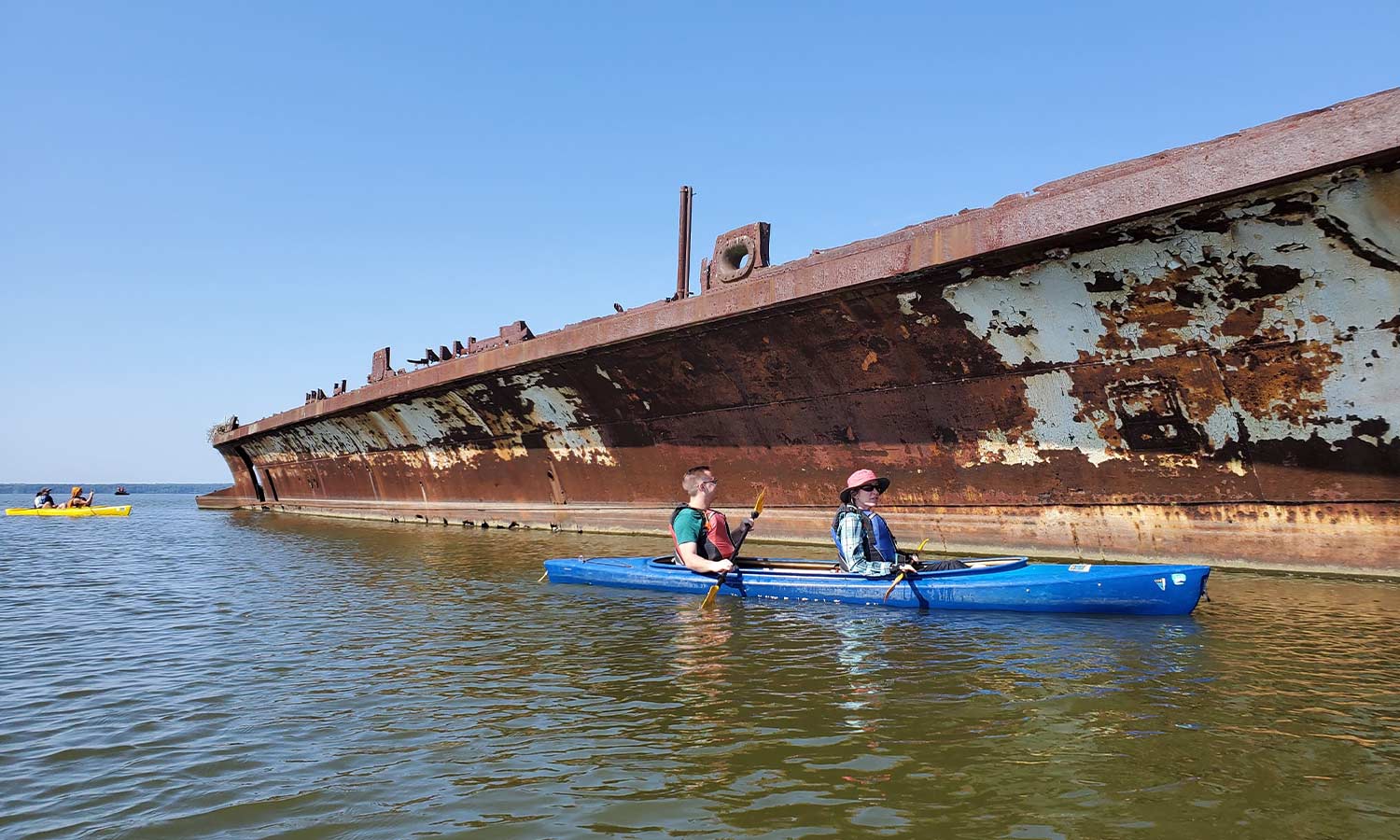 Most of the ships are from the WWI era, and after the war, they were brought to their final resting place in Mallows Bay. Today, their remains act as a habitat for fish, mammals, and nesting birds which are easy to paddle around. Several local outfitters, such as Atlantic Kayak, lead guided tours of the sanctuary. 
The Patuxent River is the longest river that flows entirely within Maryland. The river offers 115 miles of paddling opportunities, and the Patuxent River Water Trail is packed with launch sites, points of interest, and even campsites for a multi-day adventure.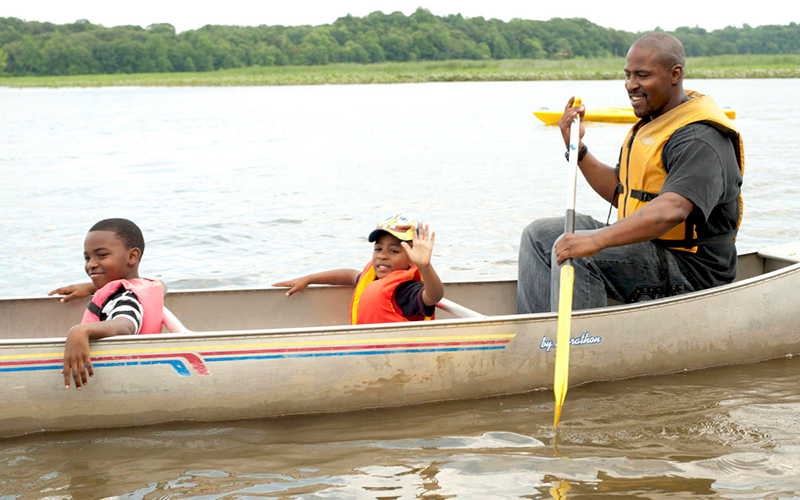 The water trail boasts some incredible birding opportunities and rich cultural heritage sites. Some of the most popular places to visit along the water trail are the Calvert Marine Museum, Jefferson Patterson Park, Jug Bay Wetlands Sanctuary. 
Eastern Shore
Maryland's Eastern Shore is a paddler's paradise, with what seems like endless tidal creeks and rivers to explore in every direction you go.
In Dorchester County, Blackwater National Wildlife Refuge has been made world-famous by its deep connection to the Harriet Tubman Underground Railroad as well as its world-class birding.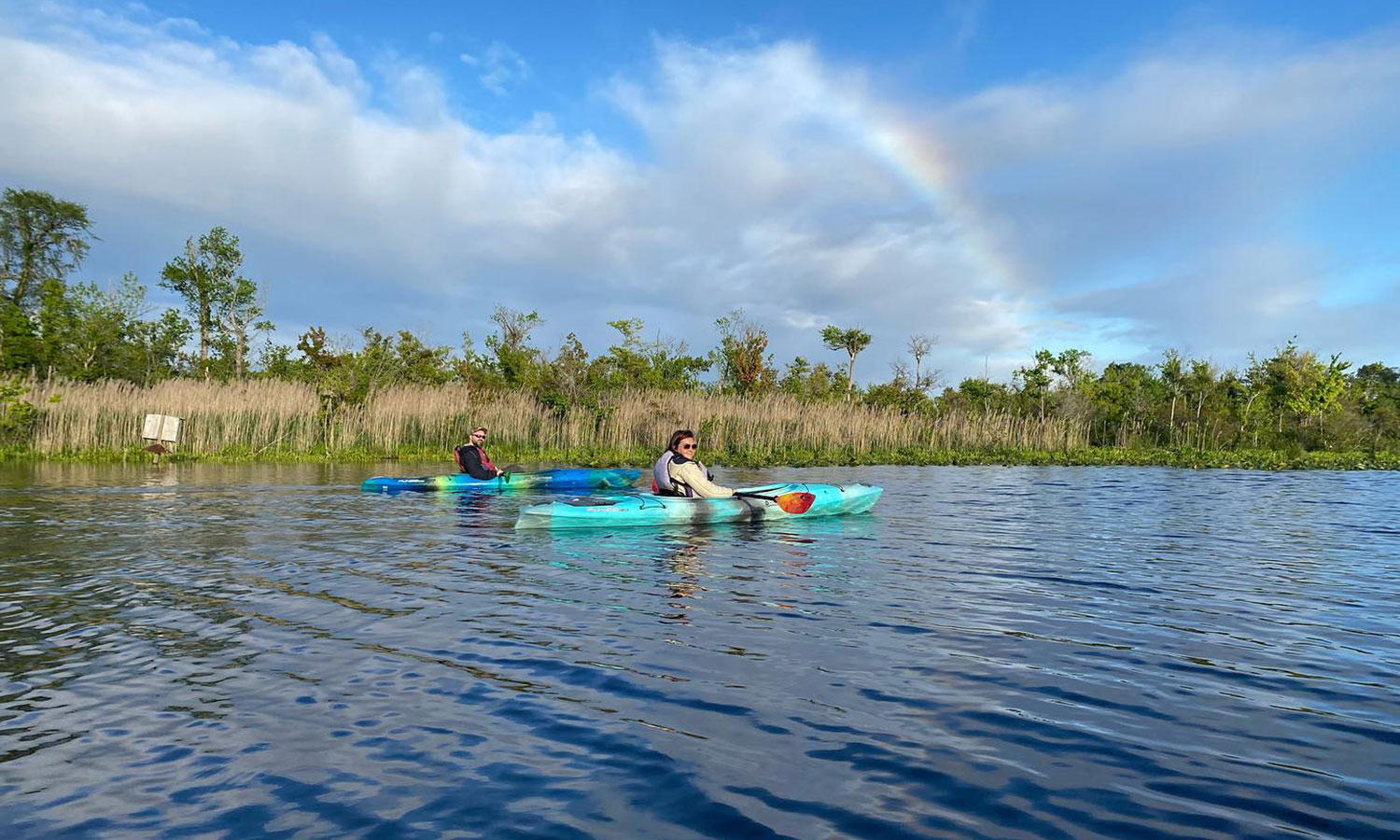 While the refuge has several kayak launches and water trails to explore, you can also rent or take a tour with Blackwater Adventures. They have two locations within the county you can rent from, and they'll even deliver gear to you. 
About 20 minutes outside Ocean City is another paddling paradise along the Pocomoke River. With water depths of up to 45 feet deep, the Pocomoke is rumored to be the deepest river for its width in the entire world! Another thing that makes the Pocomoke River unique is that the majority of its shorelines are undeveloped, making for an experience where you truly feel immersed in nature.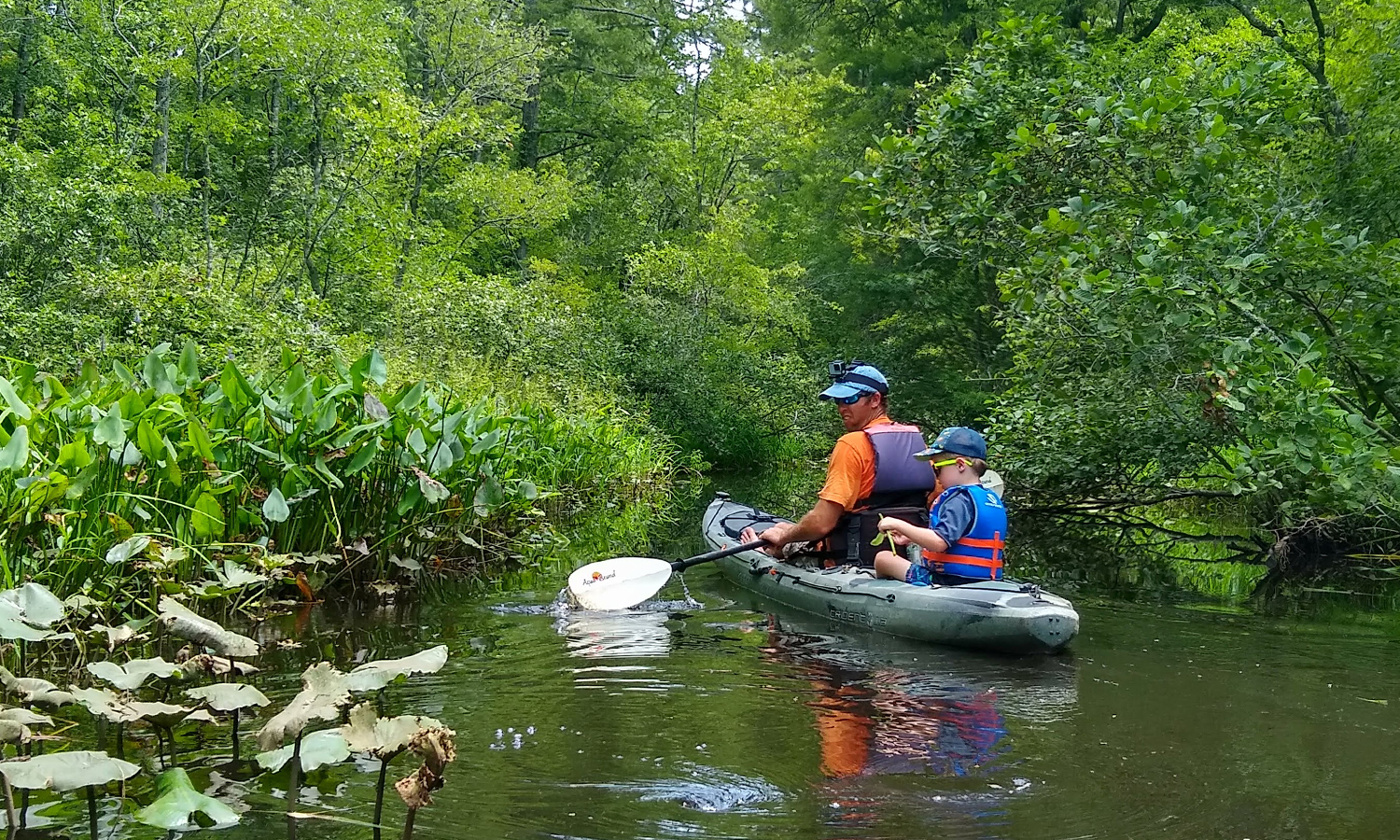 Caption: The author's husband and son at Corkers Creek, accessed at Pocomoke River State Park, Shad Landing.
From towering bald cypress trees to prothonotary warblers and the occasional beaver, the river is a true wildlife corridor. Launch in the town of Snow Hill or at Pocomoke River State Park, or rent a canoe or kayak from the Pocomoke River Canoe Company. They will even shuttle you to a put-in spot upstream, allowing you to paddle a one-way adventure.
---
Lead Photo: Precision Rafting Expeditions
Laura Scharle is a small business owner specializing in ecotourism and heritage tourism marketing. She loves finding hidden gems and developed www.delmarvatrailsandwaterways.com to connect others with outdoor spaces. She lives in Ocean Pines with her husband and son, where they frequently paddle, hike, and fish together. She can be found on Instagram @easternshorepartyof3