Chestertown: A Charming Destination With Rich History on the Eastern Shore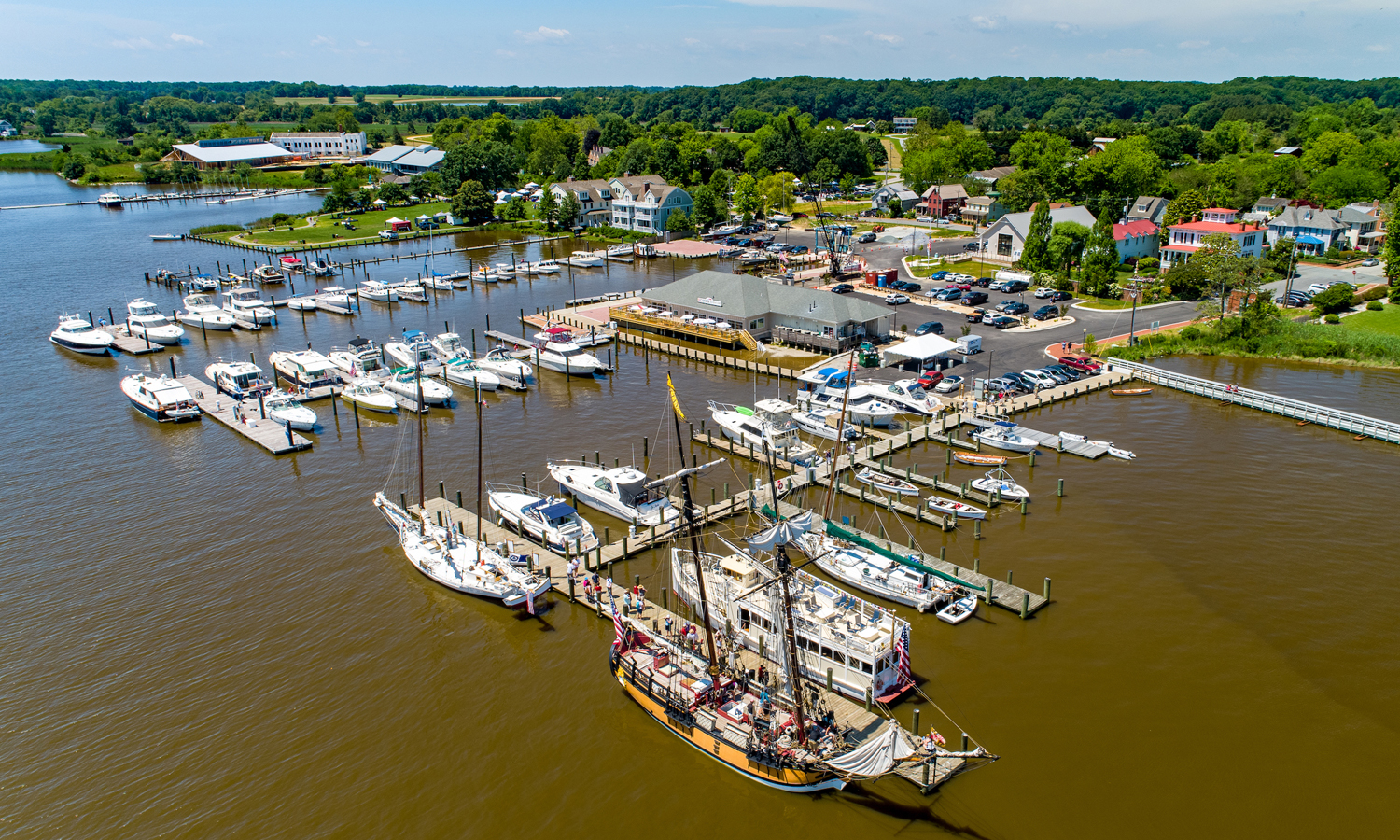 Among the many alluring cities and small towns on Maryland's Eastern Shore, few can match Chestertown's unique mix of rebellious history, African American heritage, collegiate atmospherics, and window-shopping charms.
A forty-minute drive from the Chesapeake Bay Bridge, Chestertown is a river community of about 5,000 residents nestled along the western shore of the Chester River. Approaching from Queen Anne's County across the Chester River Bridge, visitors will first notice some of the city's oldest and most notable buildings arrayed along the shore. Prominent among them is Widehall, an impressive, white-columned mid-Georgian home built in the 1770s by Thomas Smythe, reputed to be Maryland's wealthiest citizen during the revolutionary era. Widehall's lush, green lawn offers a postcard-worthy view of the river. 
The river is central to the town's most cherished legend. Chestertown takes great pride in having fanned the flames of revolutionary protest with a colonial "tea party" of its own. Inspired by their Boston compatriots six months prior, members of the Chestertown's Sons of Liberty chapter allegedly boarded the British brigantine Geddes in May 1774 and dumped its tea cargo overboard into the Chester River. The rebels were rather brazen: Unlike the Boston rabble-rousers, they pulled their stunt in broad daylight and without donning the Native American disguises the Boston rabble-rousers used. 
Some historians question the authenticity of the 1774 tea party legend, but the doubters haven't stopped townsfolk from commemorating the event with a three-day festival every Memorial Day weekend since 1977. Tall ships anchor at the waterfront dock, locals re-enact the tea toss, and downtown streets fill with food vendors, music, and puppet shows for the kids. (The 2020 and 2021 celebrations were cancelled because of the coronavirus.)
A waterfront trade post for more than two centuries, Chestertown reached its commercial peak in the mid-eighteenth century. Long since gone are its once vibrant commercial wharves, filled with steamers and sail ships that relayed tobacco, oysters, fish, wheat—and, yes, slaves—downriver to Baltimore and ports beyond. 
Chestertown's largest employer, Washington College is a short walk from the commercial and residential downtown area. Founded in 1782 by the Reverend William Smith as the first university chartered after the signing of the Declaration of Independence, the college honors George Washington. 
Today, the private liberal arts school of roughly 1,400 undergraduates is deeply connected to the colonial history of the city and nation—with a special emphasis on the role played by African American colonists. The town-gown relationship between Chestertown and Washington College vigilantly preserves that history. The College collaborates with local museums in Kent County and the new National Museum of African American History and Culture in Washington, DC, to maintain and celebrate the history of African Americans from Chestertown and Kent County. 
The college's Starr Center for the Study of the American Experience is headquartered in the Custom House building, a rebuilt version of the original site where slaves were once sold and traded in Chestertown. Since 2005, the Starr Center has awarded its annual George Washington Prize to recognize persons who made unique contributions to our understanding of the colonial era. Notable recipients include Ron Chernow, author of the best-selling biography Alexander Hamilton, and Lin-Manual Miranda, who used Chernow's book as inspiration for his acclaimed Broadway musical of the same name. The college's fabulous visual arts center, Kohl Gallery, currently features a collection of African American-themed art by Jason Patterson, a recent Frederick Douglass Fellow at the Starr Center.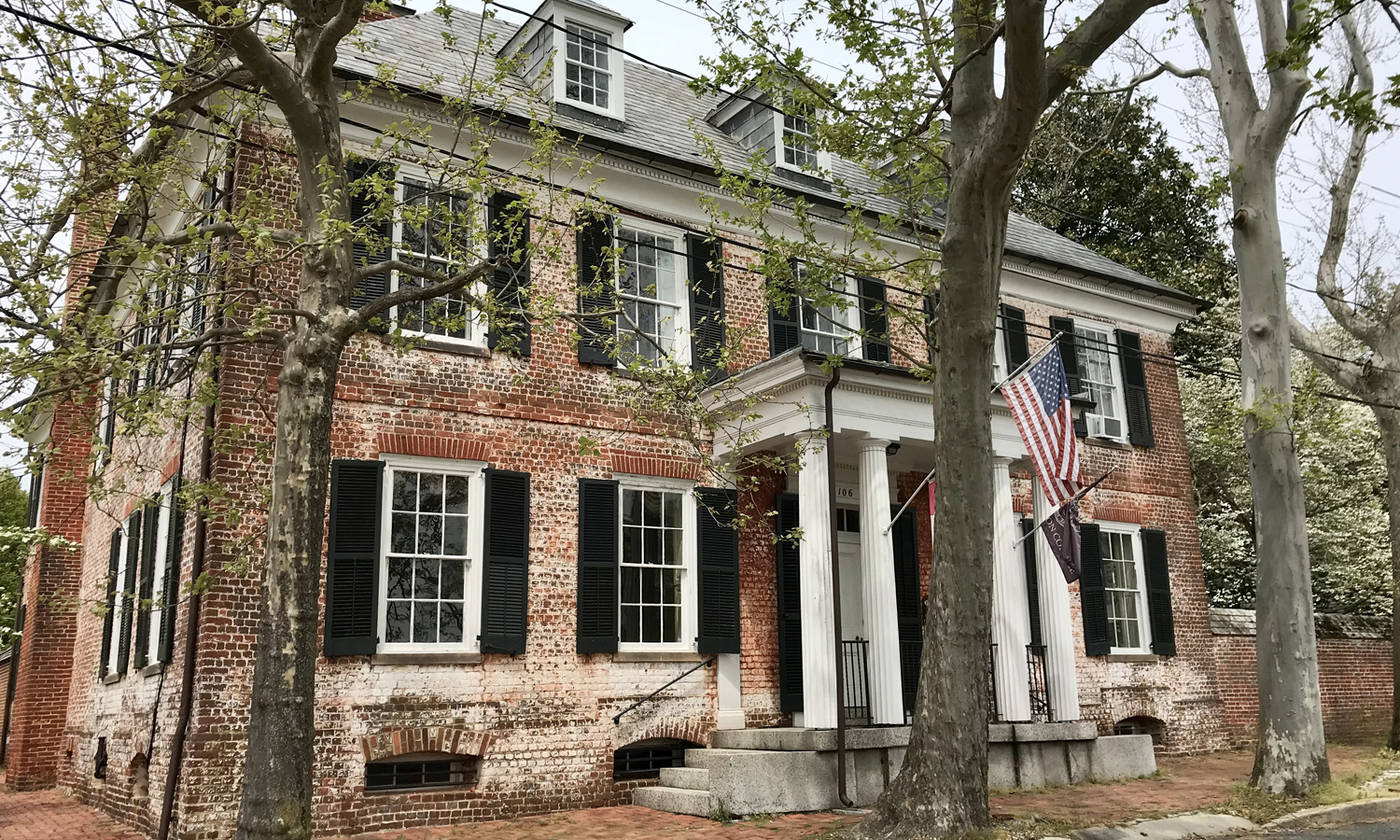 Since 1944, Washington College has owned the Hynson-Ringgold House—built by former slave-owner and Maryland state legislator Thomas Ringgold—which serves as the official residence of the university's president. A historical marker along the waterfront one block away reminds visitors of Chestertown's slave-trading history:
"JUST IMPORTED, Directly from the Coast of Angola, in the Ship JENNY, Capt. John Wilkinson, A PARCEL of choice healthy SLAVES, consisting of Men, Women, Boys and Girls; and will be Sold on Monday the 21st of this Instant July, at South River Ferry, for Bills of Exchange, Sterling, or Current Money, by Thomas Ringgold, Samuel Galloway. N.B. The Sale to continue till all are Sold."
The Bordley History Center, in the center of town directly across from Fountain Park, offers visitors detailed accounts of the role that freed African American men and women of pre-Civil War era played in Chestertown's development, including the town's role in helping fugitives reach freedom via Eastern Shore native Harriet Tubman's Underground Railroad network. At the Center, visitors can grab a useful walking-tour pamphlet and map, produced by the African American Community History Project of Kent County, featuring locations of current and former African American homesteads, churches and notable commercial establishments scattered across town.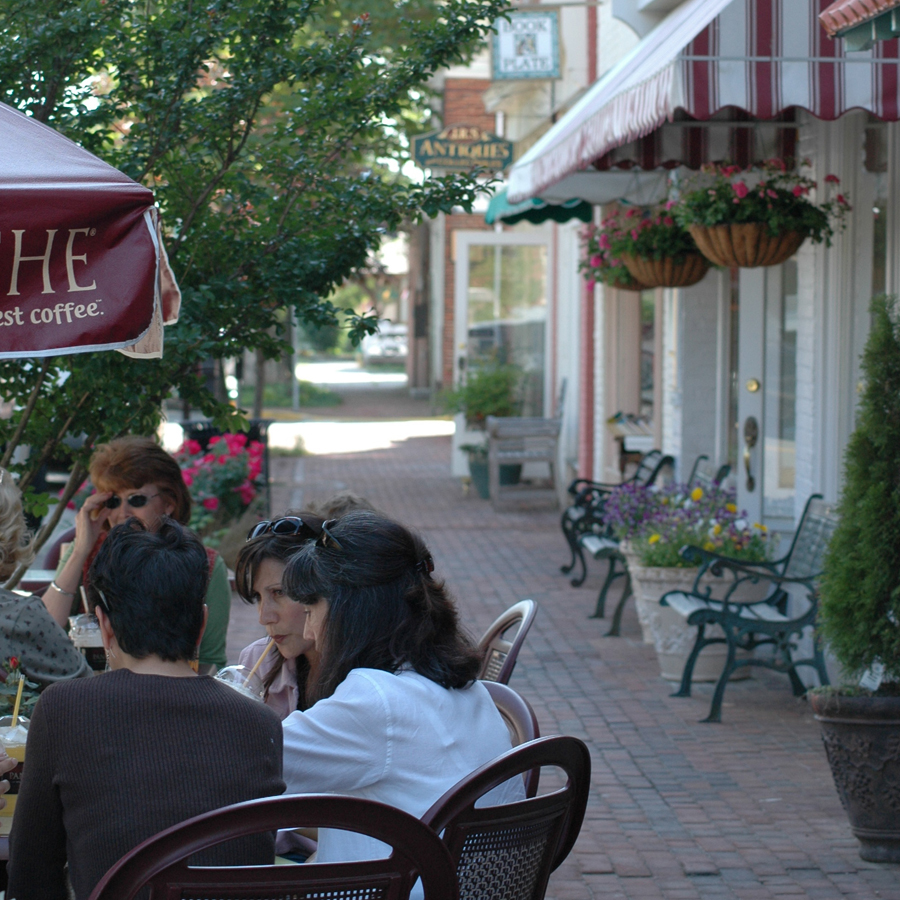 Chestertown's downtown historic district is very walkable and welcoming. Download a map ahead of time to familiarize yourself with the town and where to park. (Bonus: formerly metered spots are now free of charge.) For those who choose to arrive by boat—and maybe even spend a night waterside—the newly upgraded marina offers cheap daily and weekly docking slip rates. Landlubbers can try to book one of the six bed-and-breakfast rooms at the White Swan Tavern. Closed for many years, the establishment that dates to at least 1733 was renovated and re-opened in 1981. George Washington frequented the Tavern during his visits to Chestertown to strategize with then-owner Col. Joseph Nicholson and other local revolutionaries.
If the Memorial Day tea party festival is an inconvenient time to visit, fret not: Chestertown's quaint business district is a year-round magnet for nearby college students and faculty from Washington College, plus tourists in search of a nice lunch, tasty desserts, or a shopping bargain.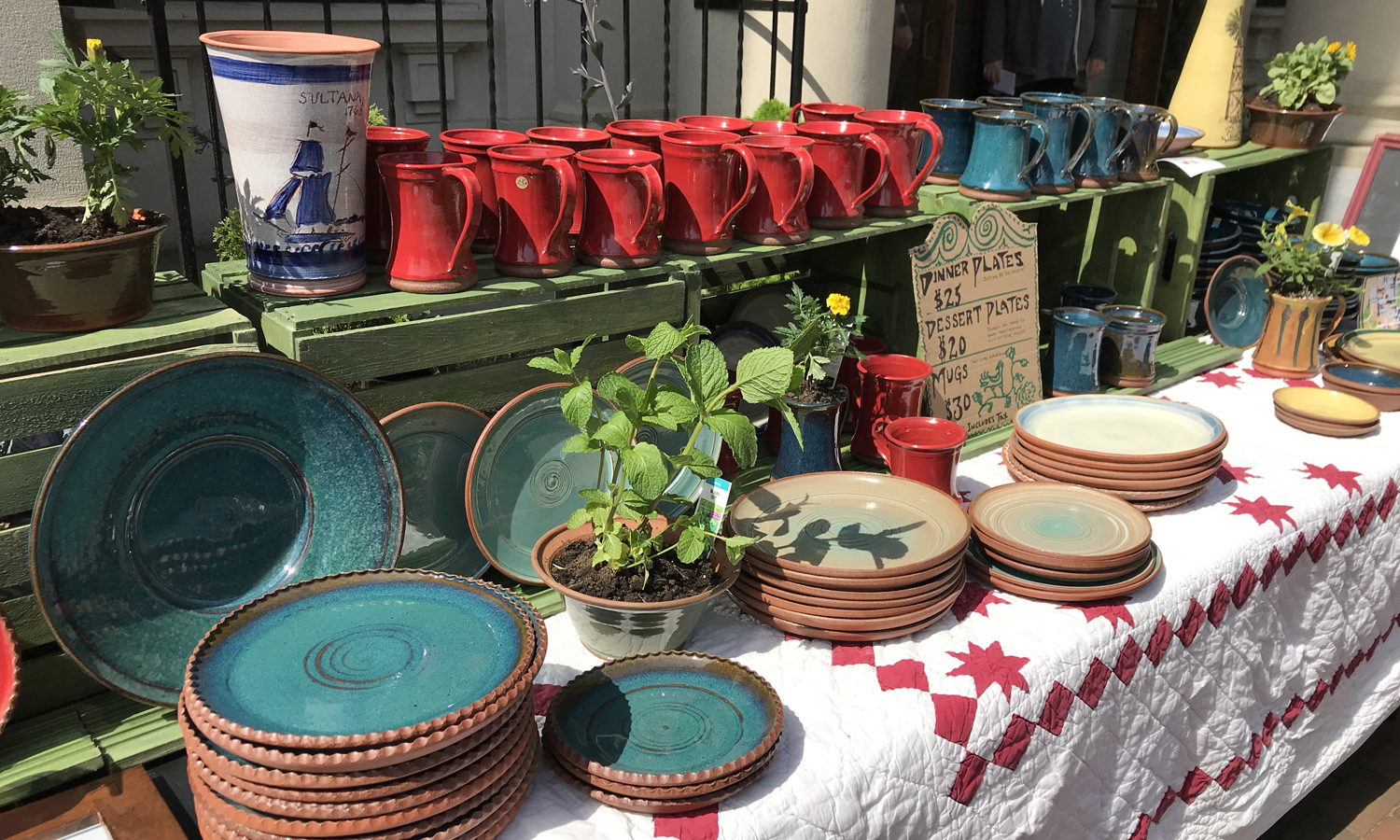 On Saturday mornings, High Street is closed and transformed into a weekly farmer's market. Vendors from across Kent County hawk fresh vegetables, meats, flowers, baked goods, and dairy products. 
Chestertown's regular shops offer a little something for everyone, too. Women might find a deal on a cute blouse or skirt at Mimi's Closet. Twigs and Teacups gift shop offers jewelry, collectibles and kid-friendly items.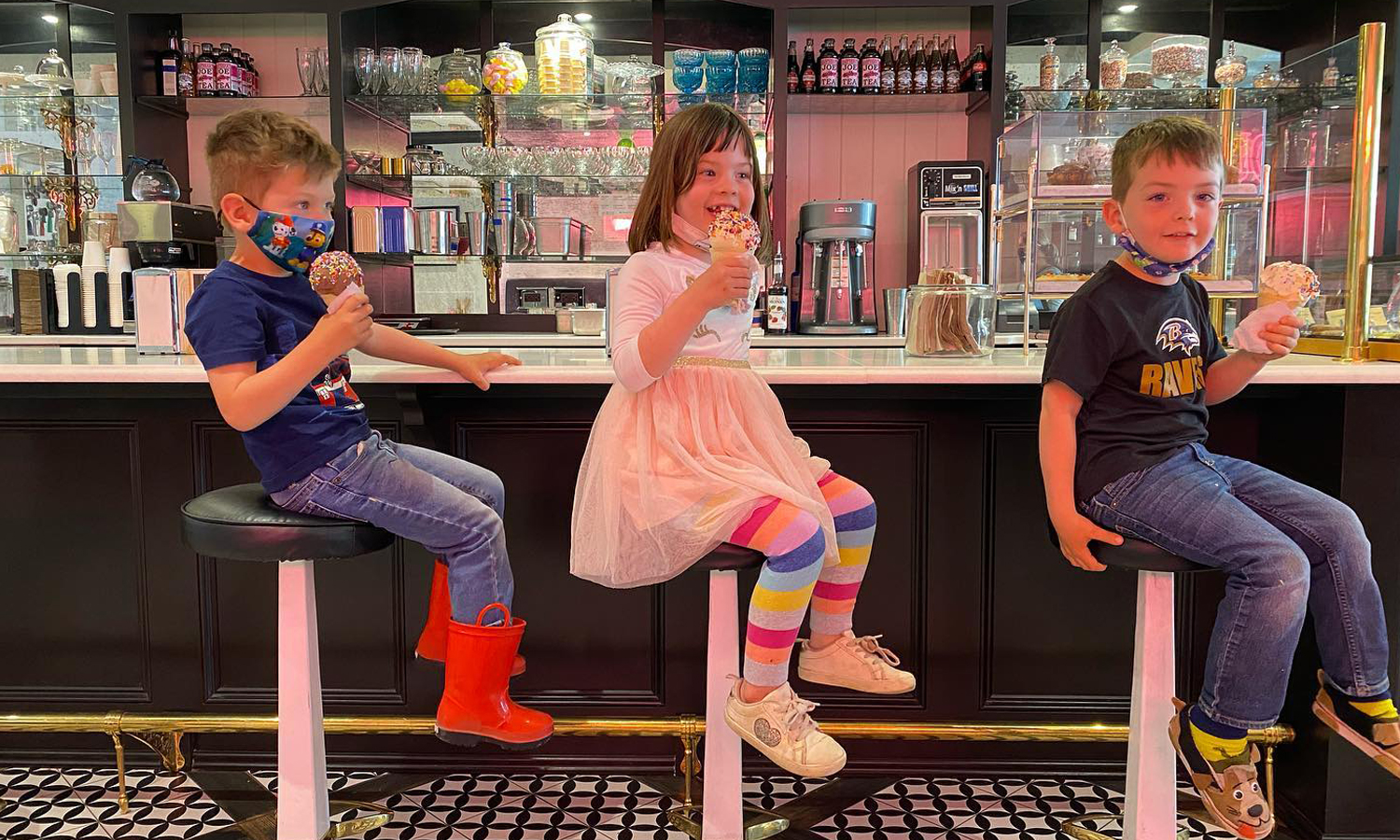 Readers can sneak away for a quiet interlude searching the used book stacks at The Bookplate. To recharge your batteries, try a breakfast bagel from Play It Again Sam's or grab a grilled cheese sandwich and a side of tater tots at Stam's Luncheonette. The aroma of coffee and pastries wafting from Evergrain Bread Company explains why there seems to be a non-stop line of customers waiting outside.
Flush with fascinating history and countless charms, Chestertown may be Maryland's most walkable destination.
---
Lead Photo: Maryland Office of Tourism
Tom Schaller is a political science professor at UMBC and freelance writer. He has travelled to more than 40 countries on all six inhabited continents. He can be reached at schaller67@gmail.com.