A Weekend Away With a Dash of Old Bay: 3 Bloody Mary Stops in Ocean City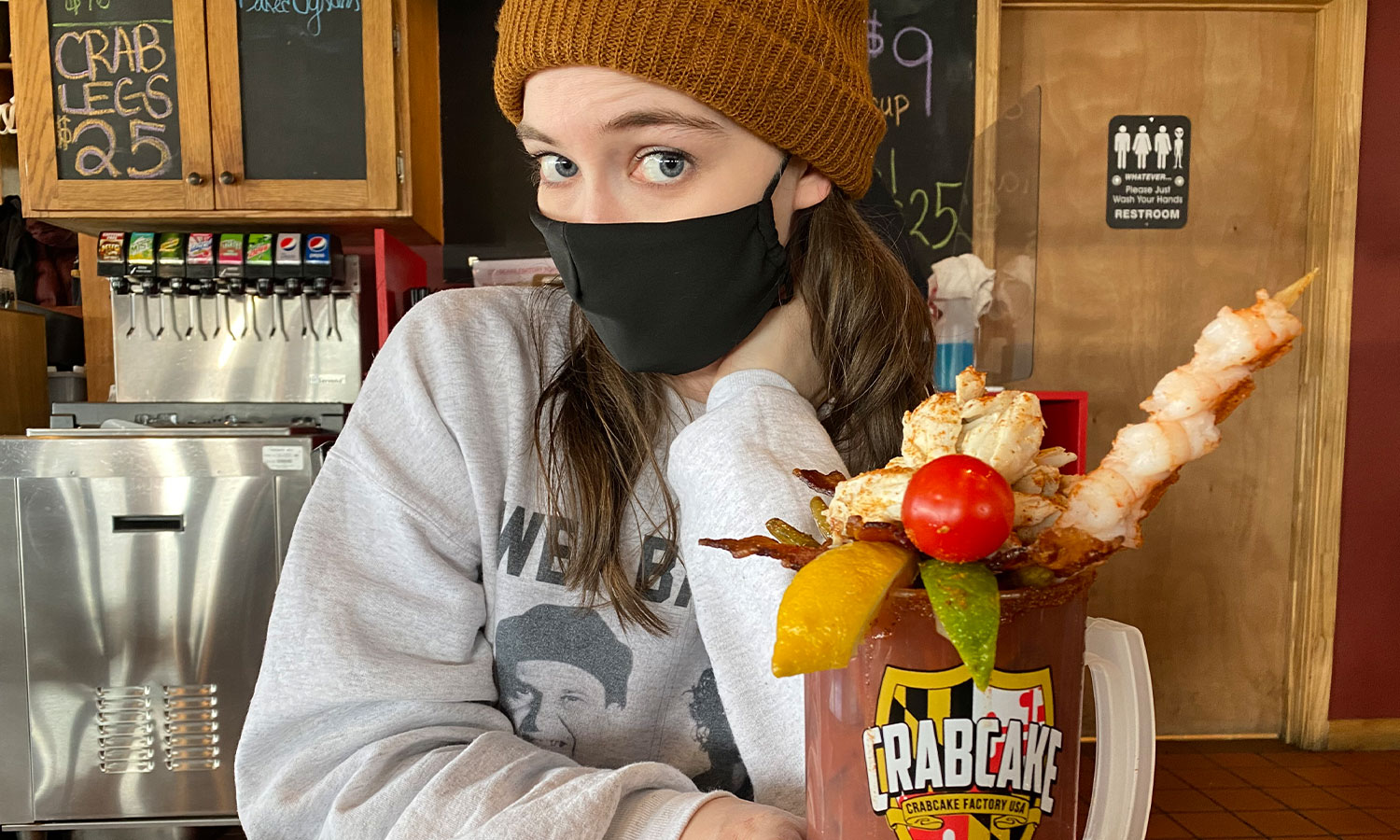 Ocean City was always a big part of my childhood. My family made it our annual vacation spot each summer, but we never braved the cold Eastern Shore in its off-season. In looking for more ways to spice up the remaining cooler months before the warm weather set in, I called on my friend Maren to partake in a characteristically un-winter activity: a Bloody Mary tour in OC.
The two of us have always taken any excuse for a getaway. Back in August, after travel restrictions were lifted, I had the crazy idea to drive to Mount Kisco, New York to try some mega milkshakes I'd been eyeing on Instagram. Before I knew it, we were in the car and had booked our Airbnb. 
This time was no different. We jumped at the chance of a spontaneous excursion and set out on a chilly Saturday morning to hit three spots in Ocean City that were said to make a mean Bloody Mary — The Original Crabcake Factory, Fager's Island, and Bad Monkey.
Our day began with three failed attempts at a breakfast stop before settling for Taco Bell's lunch menu and a sauce stain on my white sweatshirt. Cést la vie. 
We took I-695 S to I-97 S and headed for the Bay Bridge, making our way through small towns in Delaware including Millsboro, Dagsboro, and Frankford before entering Ocean City on the north side through Fenwick Island.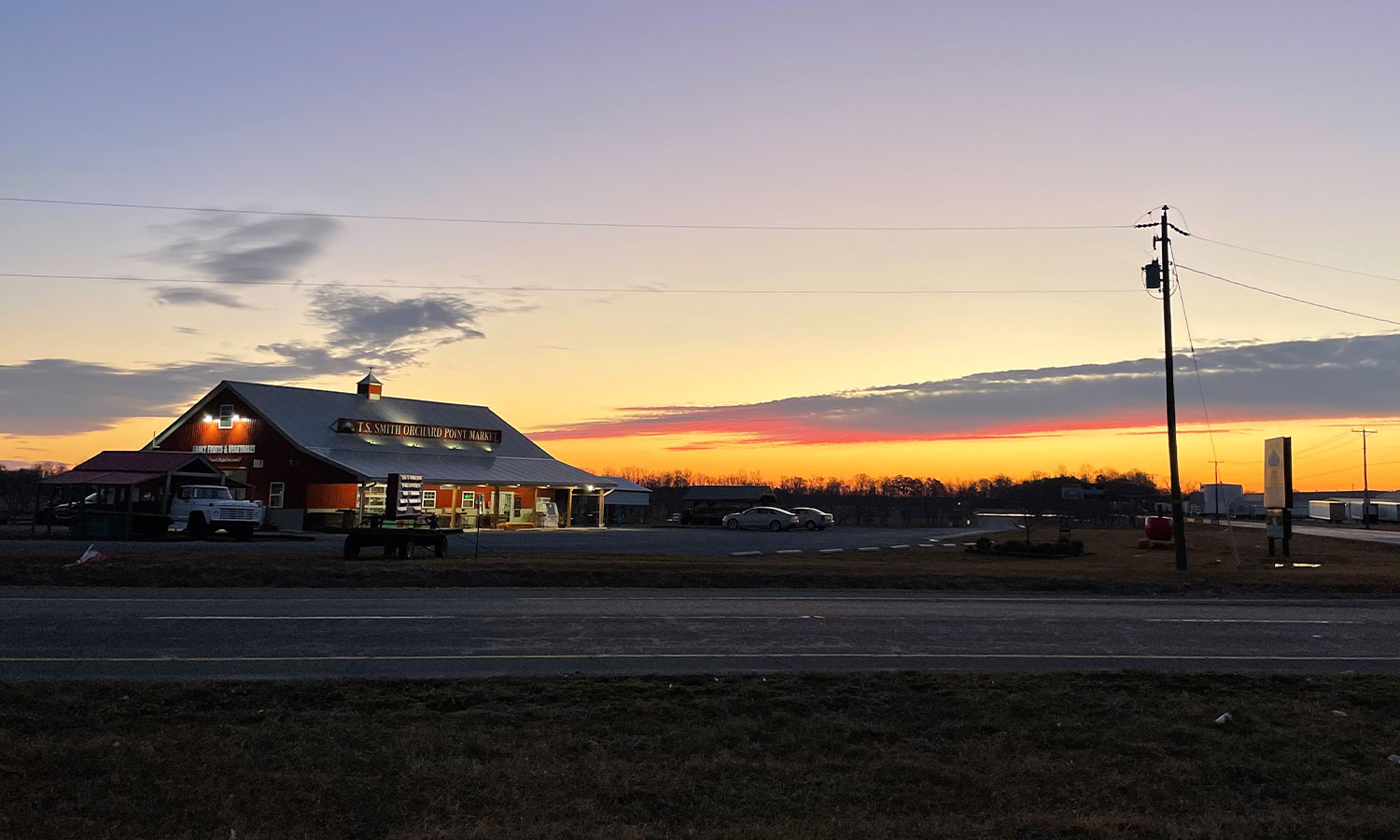 Notable stops: a photo op on DE-404 E near Sand Hill Road overlooking Marshyhope Creek, where we pulled over after noticing a woman taking a picture of the glittering ice-clad trees reflected in the water, and T.S. Smith Orchard Point Market, which drew us in off Redden Road with a sign for "Fancy Fruits & Vegetables." 
The market had fresh produce (cilantro, lettuce, cucumber, basil) grown in a hydroponics lab, which might be what made them fancy. We grabbed some snacks for the road and apple cider donuts to enjoy later.
After arriving in OC around 1:30 p.m., we stopped for a lunchtime Bloody at The Original Crabcake Factory, 12000 Coastal Highway. Its menu features nine "World Famous Bloody Marys" garnished with house-made "angry beans" and other combos of meat and seafood.
Maren got the Double Threat, garnished with crab and shrimp, and I, failing to notice the 32-ounce note next to the Triple Threat (same as the double, but with bacon too) was in for a surprise when it arrived at the table. The $50 concoction (including tax and tip) cost more than my dinner later that night but came with a free mug and was more than enough for a meal.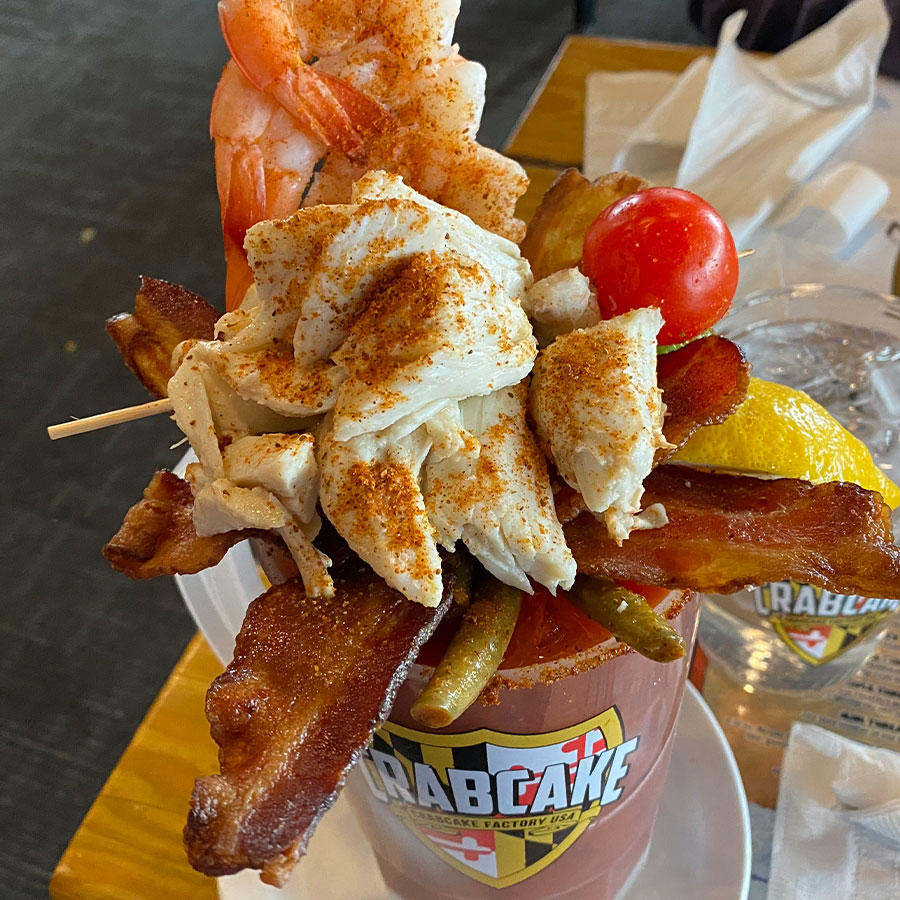 Both had a hearty flavor with a subtle but lingering spice, which made knocking these back easy. A+ for an aesthetic presentation! The food was top-notch.
With the sun receding (remember, our trip was in February), we settled into our oceanside Airbnb, the modern Bluewater Couples Getaway condo (not just for couples!) on 134th Street and took advantage of a cozy faux fire with some smores and cookie dough Keurig coffees while watching Sweet Home Alabama.
I'd always heard about the famous Fager's Island, 201 60th Street, so we headed there for dinner and drinks. I ordered an off-menu Bloody, which had no special infusions or gimmicks but was classically good. The Zing Zang mix was much spicier (in flavor and texture, but not in hotness) than our earlier Bloodys and was cut nicely with a squeeze of lemon and lime.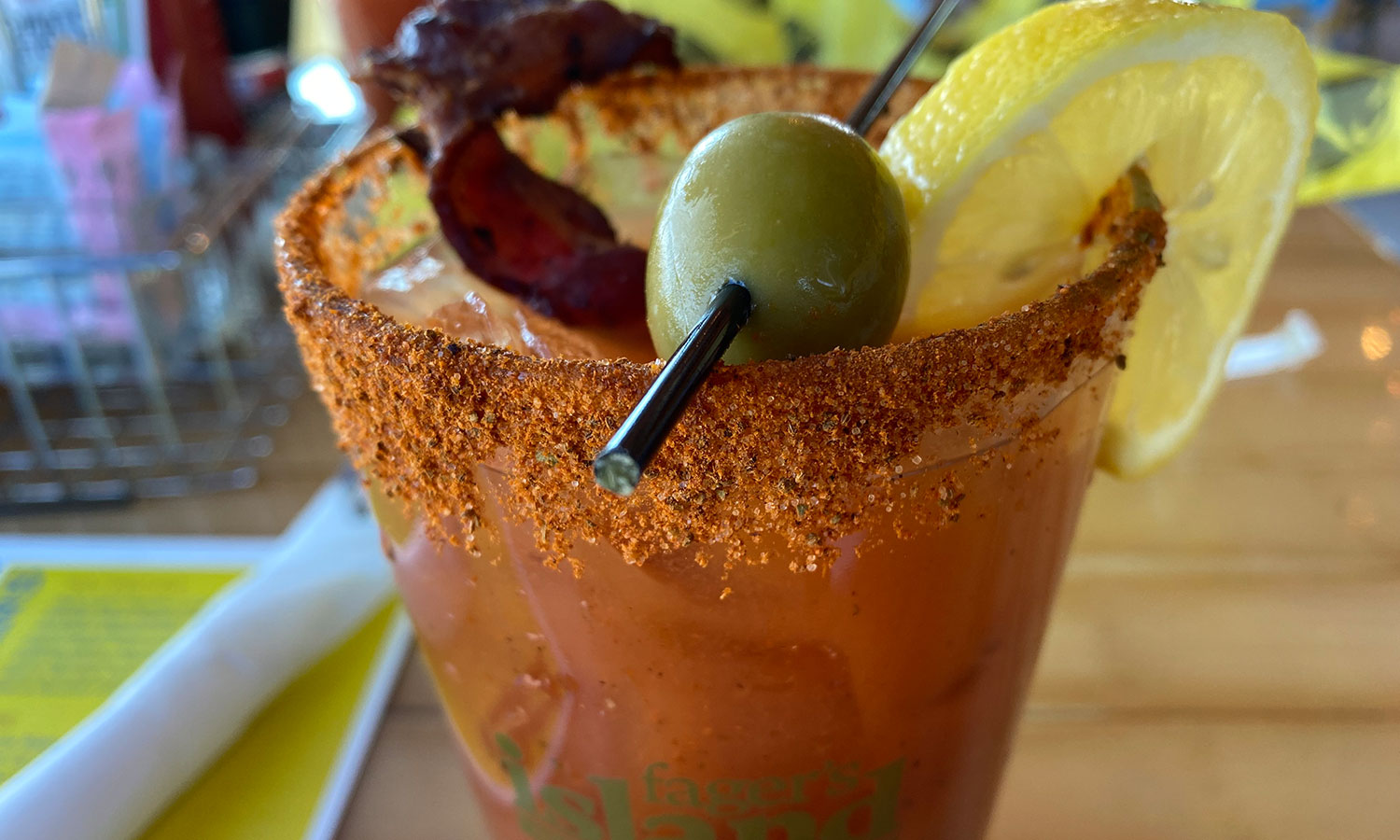 For dinner, we chose the lite fare menu — Maren had the lobster macaroni and I had the Kitchen Sink Burger, piled with mushrooms, lettuce, tomato, pickle, cheese, fried onions, and bacon, with divinely delicious island round fries, dusted with a red bell pepper spice mix. We split a strawberry shortcake for dessert.
Bellies full, we continued our movie night with Maid in Manhattan and the original Annie before calling it a night.
We awoke to a frigid 28 degrees and decided to head to the beach for obligatory "we were here" photos while enjoying yesterday's apple cider donuts as a pre-breakfast snack, but the seagulls had other ideas. We were nearly chased away before we stowed the unopened donut pack for safekeeping by a dune.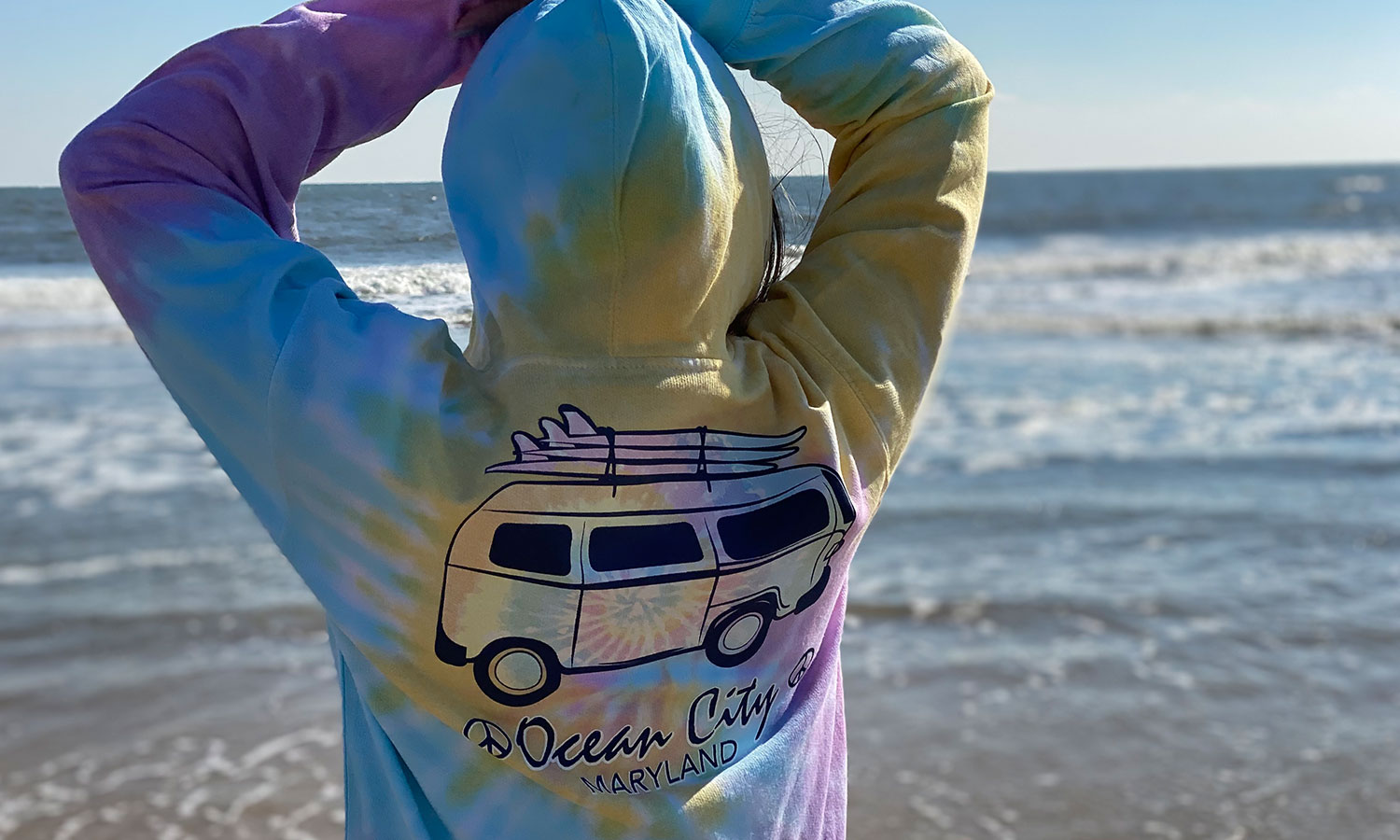 For breakfast and a final Bloody, we went to Bad Monkey West, 12902 Ocean Gateway. Owned by John Fager (who also owns Fager's Island), it's known for its complimentary cinnamon monkey bread made in-house from scratch every morning.
We both got the basil Bloody Mary, which was on special for $6.75 (normally, Bloodys are only 25 cents more), so these prices were a steal. Though we couldn't really taste the basil, it was a refreshing blend that again paired well with a squeeze of lemon, garnished with a slab of bacon and a thick Old Bay rim. It was not hot enough for Maren but perfect for me.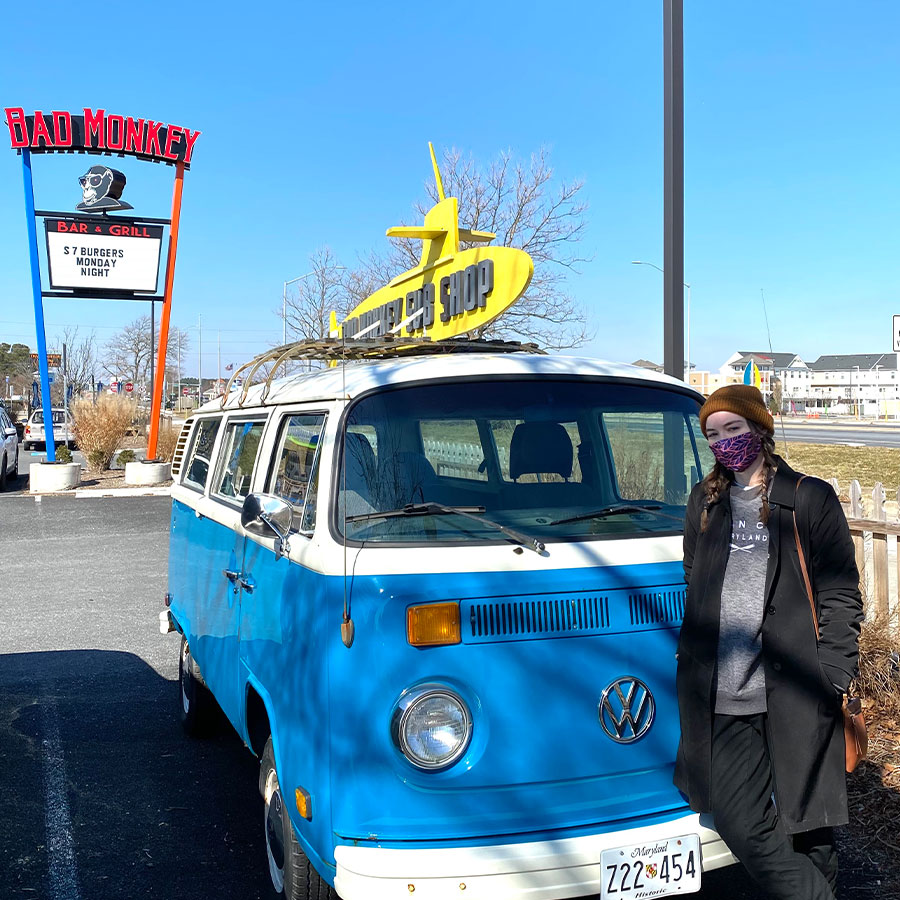 Maren had the Food For Thought avocado toast, and I had the Spinach, Feta, and Tomato omelette for eats. Tasty and satisfying.
With all the contestants in, I'd say the best overall was the Triple Threat at The Original Crabcake Factory. The best price goes to Bad Monkey and the most classic was Fager's. But they were all well-made and deserving of praise.
All in all, it wasn't a bad weekend to be at the beach. And it seemed others agreed — despite the cold, the restaurants drew in more hungry beachgoers (or locals) than we anticipated. I don't blame them. I'll take a cold day at the ocean over a boring one at home any day.
---
Lead Photo: Lindsay VanAsdalan
A Baltimore-bred journalist who takes great pride in her Old Bay, Natty Boh and that one football team, Lindsay C. VanAsdalan has always loved experiencing life through food, music and culture. And road trips have been a big part of that — so much so she made an entire magazine devoted to road trips for her senior project in college. When not writing, you can find her out at a concert (in safer times), trying the best new burger in town or snuggling cats.