Walk in Harriet Tubman's Footsteps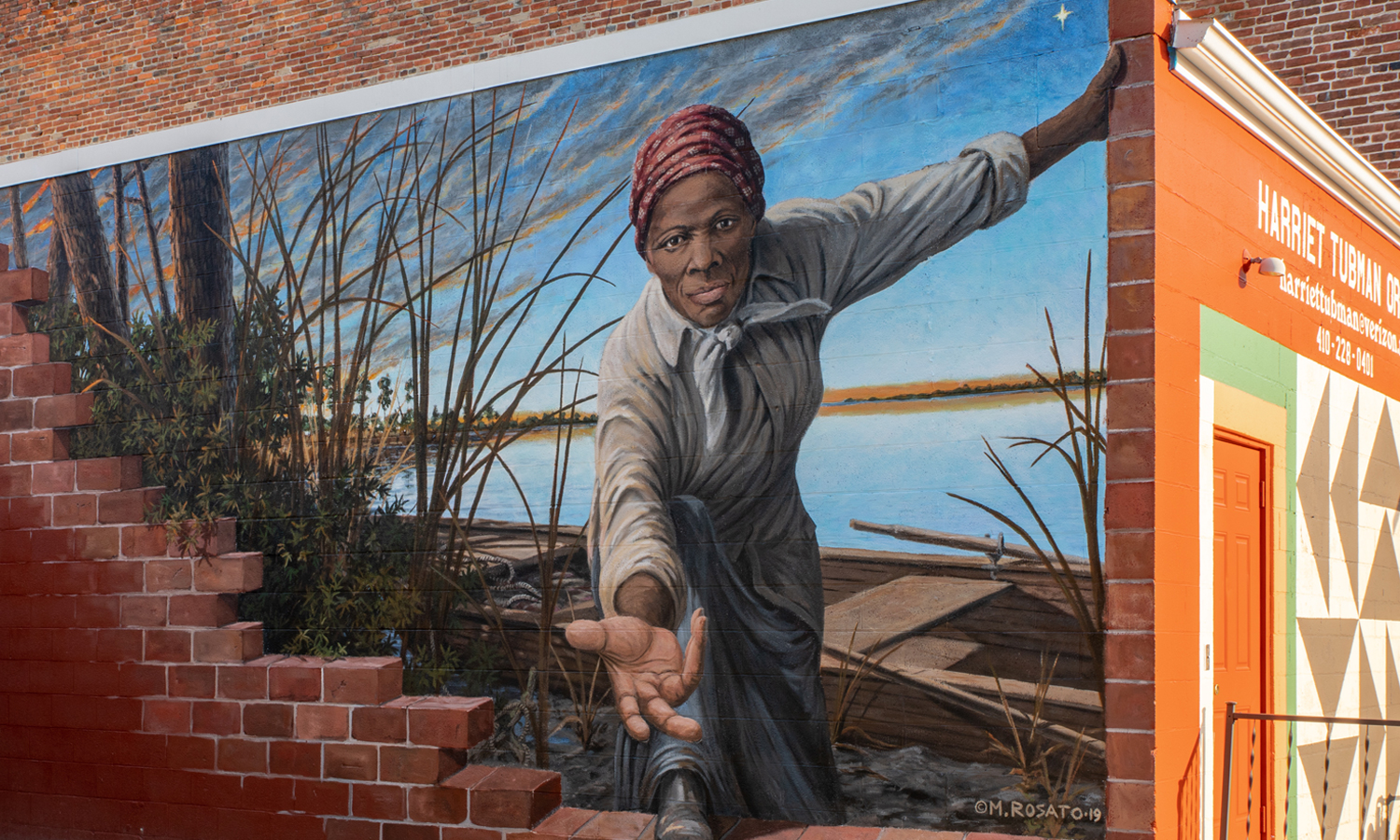 Visit sites significant to Harriet Tubman and the Underground Railroad; explore the entire byway at HarrietTubmanByway.org.
Start: Cambridge
Finish: Bucktown
Distance: 1 day, 5 stops, 12.8 miles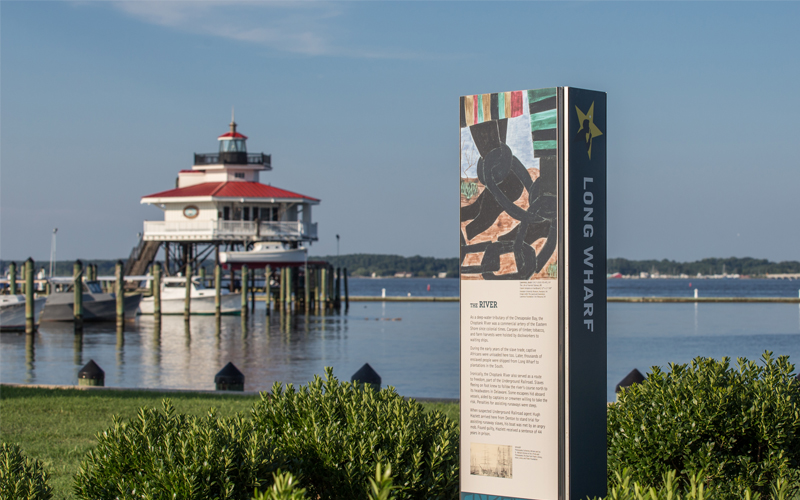 STOP 1
Long Wharf Park
1 High St, Cambridge, MD 21613
In the 18th century, when people, goods, and information traveled by water, Cambridge was a regional center for the slave trade. Ships from Africa and the West Indies brought kidnapped Africans and sold them along this waterfront, now known as Long Wharf, until the trans-Atlantic slave trade was outlawed in 1808. Harriet Tubman's grandmother, Modesty, may have arrived here from Africa.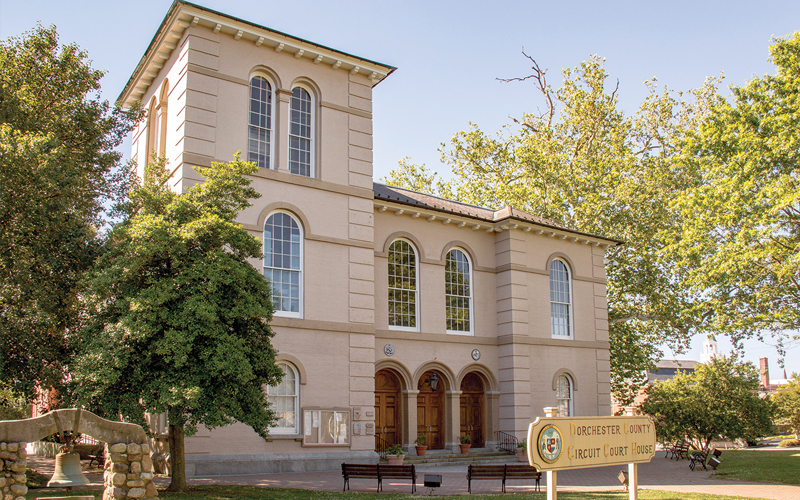 STOP 2
Dorchester County Courthouse
206 High St, Cambridge, MD 21613
In 1850, Harriet Tubman engineered an escape for her niece Kessiah and her two children from the slave auction block here. They went by boat to Baltimore, where Tubman met them and led them to Philadelphia. In 1857, Samuel Green, a free black preacher and Underground Railroad agent, was tried at this courthouse and sentenced to 10 years for owning a copy of the anti-slavery novel, Uncle Tom's Cabin.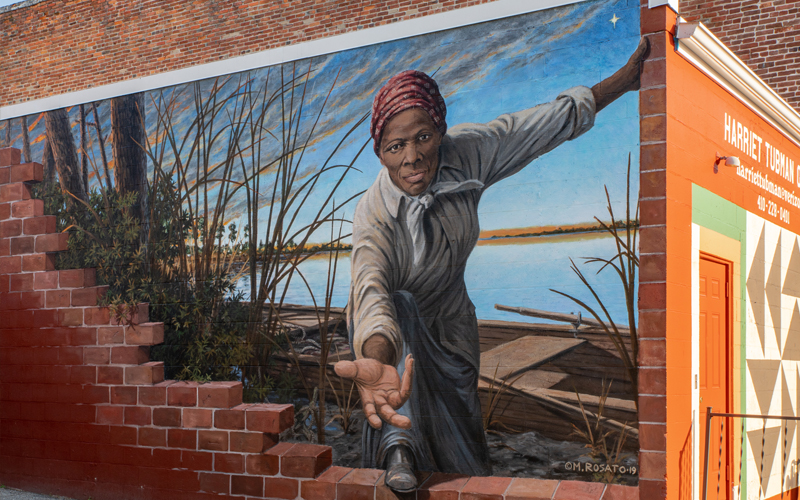 STOP 3
Harriet Tubman "Take My Hand" Mural
424 Race St, Cambridge, MD  21613
Exterior of Harriet Tubman Museum & Educational Center

The museum building features a powerful and moving mural of Harriet Tubman by local (and nationally known) artist Michael Rosato. The mural has drawn visitors from around the country. The volunteer-run museum is one of the oldest community organizations dedicated to the memory of Harriet Tubman, with the mission to preserve Tubman's connection to the local community and to help young people see Tubman as a role model.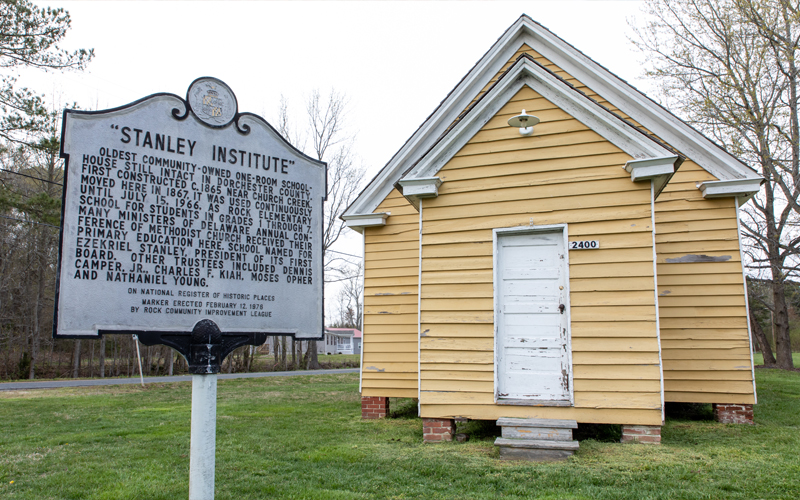 STOP 4
Stanley Institute
MD Route 16 and Bayly Rd, Cambridge, MD 21613
In October 1857, 44 enslaved people in two large groups escaped from farms near here. Five families carried 20 children with them. They eventually reached Canada with the help of black and white Underground Railroad agents. National newspapers called the escapes a "Stampede of Slaves." The building here, Stanley Institute, was a one-room schoolhouse, opened in 1867 after the Civil War and run by the local Black community.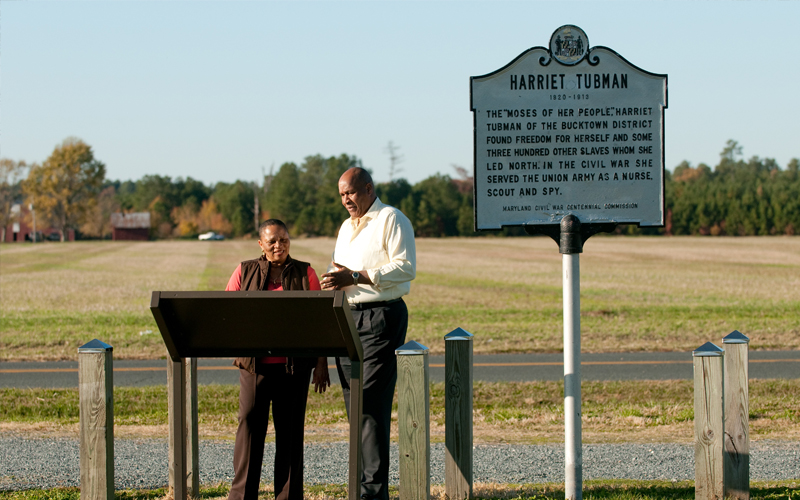 STOP 5
Brodess Farm
Greenbrier Road, Bucktown, MD 21613
This privately-owned property and nearby farms were where Harriet Tubman spent her early years. Tubman's enslaver, Edward Brodess, lived at this site. He moved Tubman's mother Rit and her children here after 1823. No trace remains of Brodess' original home that sat near the existing house at the end of the lane. Less than a mile east is Bucktown General Store, where Tubman was nearly killed as a young girl.
Visit Dorchester County is the destination marketing office for Dorchester, Maryland. For more information on road tripping to Dorchester, Maryland visit: visitdorchester.org