Crystal Grottoes Caverns: Maryland's Cave of Wonders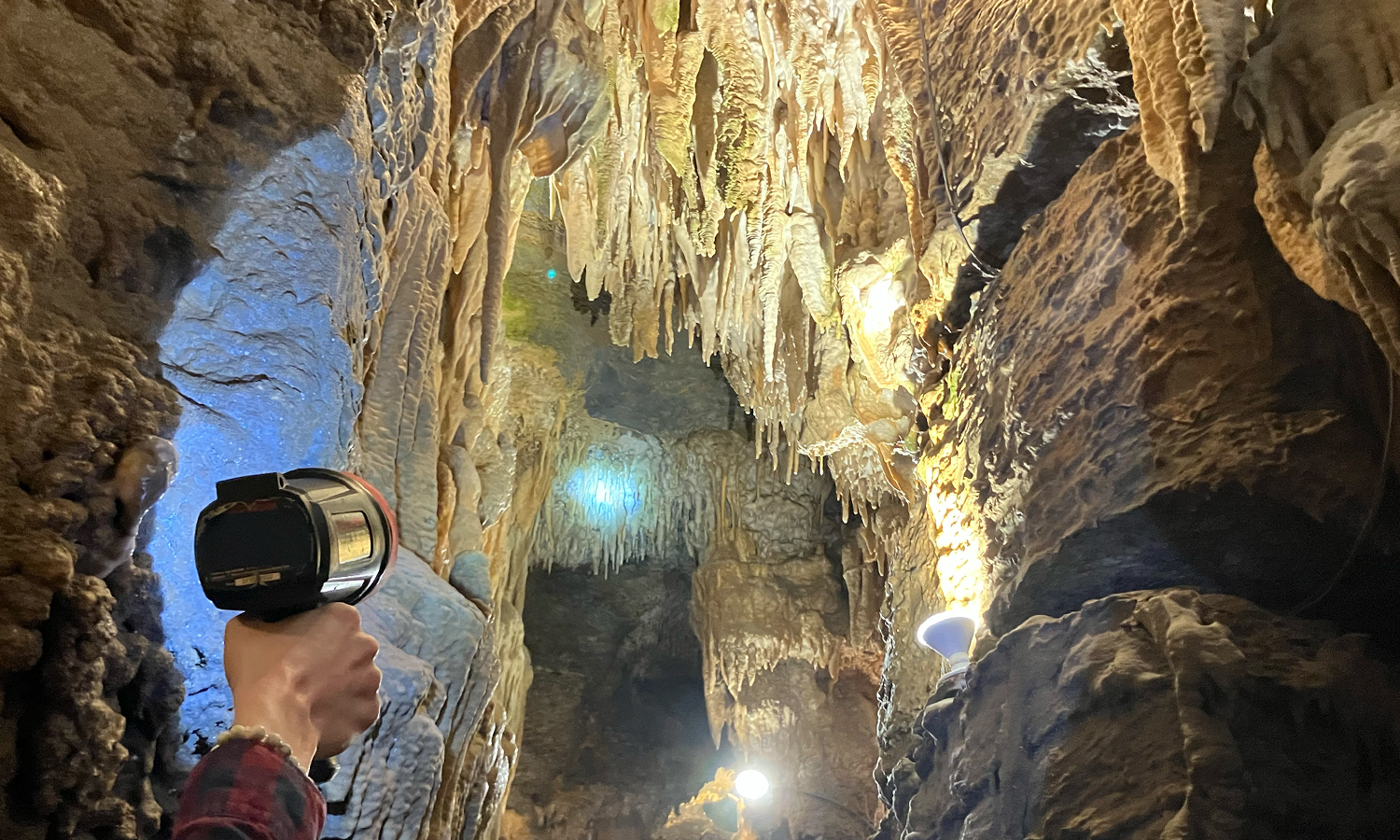 Crystal Grottoes Caverns is a Maryland destination my husband and I drive by all the time on our travels between Frederick and Washington County. We pass the sign and say, "We should go there sometime!" Well, on a recent Saturday with no plans in sight, that's what we decided to finally do. 
Though the forecast called for mid-90's temps, Trevor and I decided to suit up for a motorcycle ride on rolling back roads. We started our day in Frederick, heading west for the first tour of the day at Crystal Grottoes Caverns in Boonsboro—the only cave in Maryland open to the public! 
At 9 in the morning the sun was already beating down on our black riding gear, and we welcomed the shaded parking area at the caverns. Riding is a fast way to make new friends, which is exactly what we did when we parked next to another biker who was visiting the Caverns for the first time. 
After a brief rundown of what to expect from the gentlemen taking tickets, we began our descent into the cave. Right away the tour starts with a few mild warnings: hold the railing as you use the steep and uneven staircase, and watch your head because 5 feet and 4 inches is considered tall in the cave. Though we weren't in any real danger, the warnings certainly helped set the mood for an underground adventure. 
Inside the cave we were met with a wave of cool refreshing air–an incredibly appreciated perk after sweating to death in the sun just moments earlier. The cavern is about 54℉ year-round so no matter what time of year you visit it's either perfectly chilled or pleasantly warm.
As our group snaked through different "rooms," sometimes single file, we learned about the history of the Caverns, which were first discovered in 1920 because of a rare construction accident. They were opened to the public shortly after being discovered, and the owners continued to excavate and uncover portions of the cavern over the years.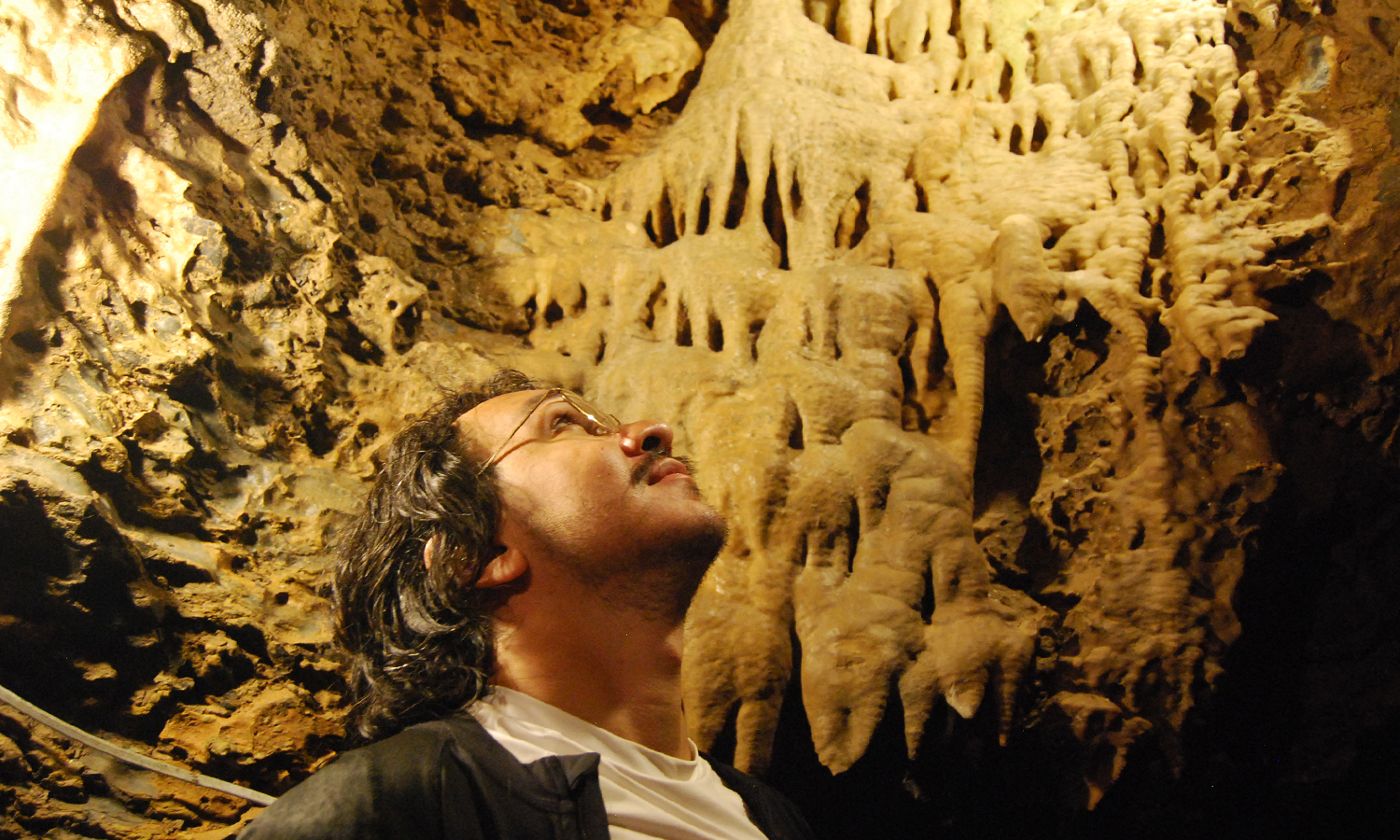 Right away you'll be schooled on the difference between stalactites and stalagmites, and then things start getting freaky with formations with names like blankets and drapery, soda straws, rimstone pools, and more. Make sure you have lunch plans for after the tour because you might get hungry after viewing the menu's worth of food formations: bacon strips, carrots, grapes, potato chips, and popcorn.
A word of warning for anyone who doesn't love small spaces: this isn't your typical National Parks tour with sweeping cathedral ceilings. While that type of cavern has its own unique charm, half the fun of exploring Crystal Grottoes Caverns winding pathways is skirting around wonky formations in our path and poking your head into dark corners to catch glimpses of unlit tunnels that seemed to go on forever.  There's a special surprise at the end of the tour which I won't spoil, but it's a unique experience you won't ever have outside of an underground cavern.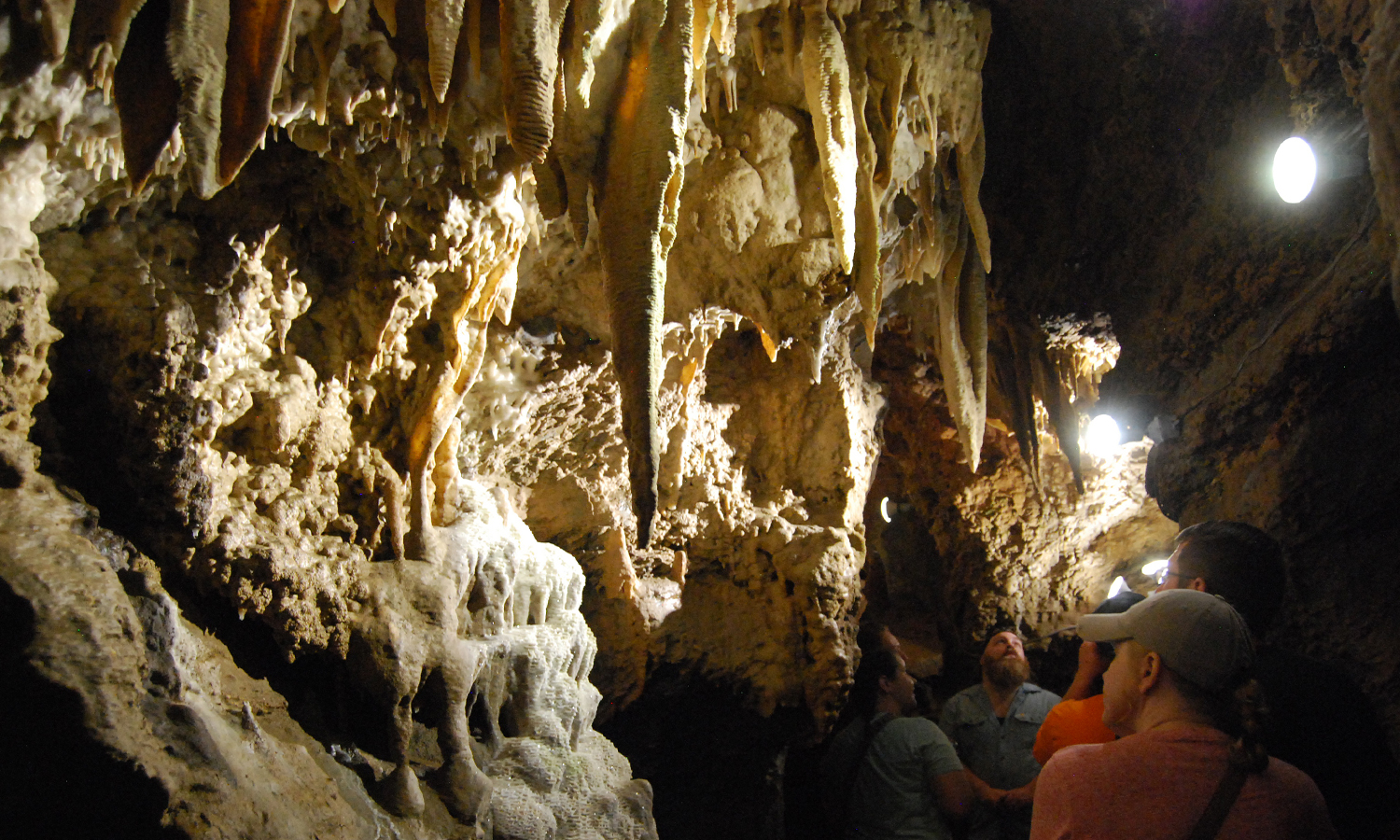 According to their website, Crystal Grottoes has "more formations per square foot than any cave known to man." I'll certainly take their word for it because our detailed tour covered a select section of the entire cave system. 
The tour wrapped up around the side of the building where the tour began, the structure being built from the limestone excavated from the caverns as they were expanded over the years. 
As the tour ended outside and we were hit with a wave of balmy summer air, we rubbed the condensation off our glasses, said goodbye to our wonderful tour leader (bring cash to tip your guide!), and hit the road. 
The caverns are a short drive from several great stops depending on how you want to spend the rest of your day. 
If you're in the mood for fresh baked treats, I recommend heading west to Sharpsburg for Burkholder's Baked Goods. You might even smell the shop before you see it! Located in a renovated garage in a neighborhood off the main road, Burkholder's is one of those delightful hiddens gems every road tripper seeks to stumble upon. Trevor and I chose a slice of cake to enjoy sitting next to our bikes and grabbed a bag of snickerdoodle cookies to pair with coffee at home. 
Antietam National Battlefield is just down the road from Burkholder's. Take a loop around the park and stop beside monuments to learn more about the battle.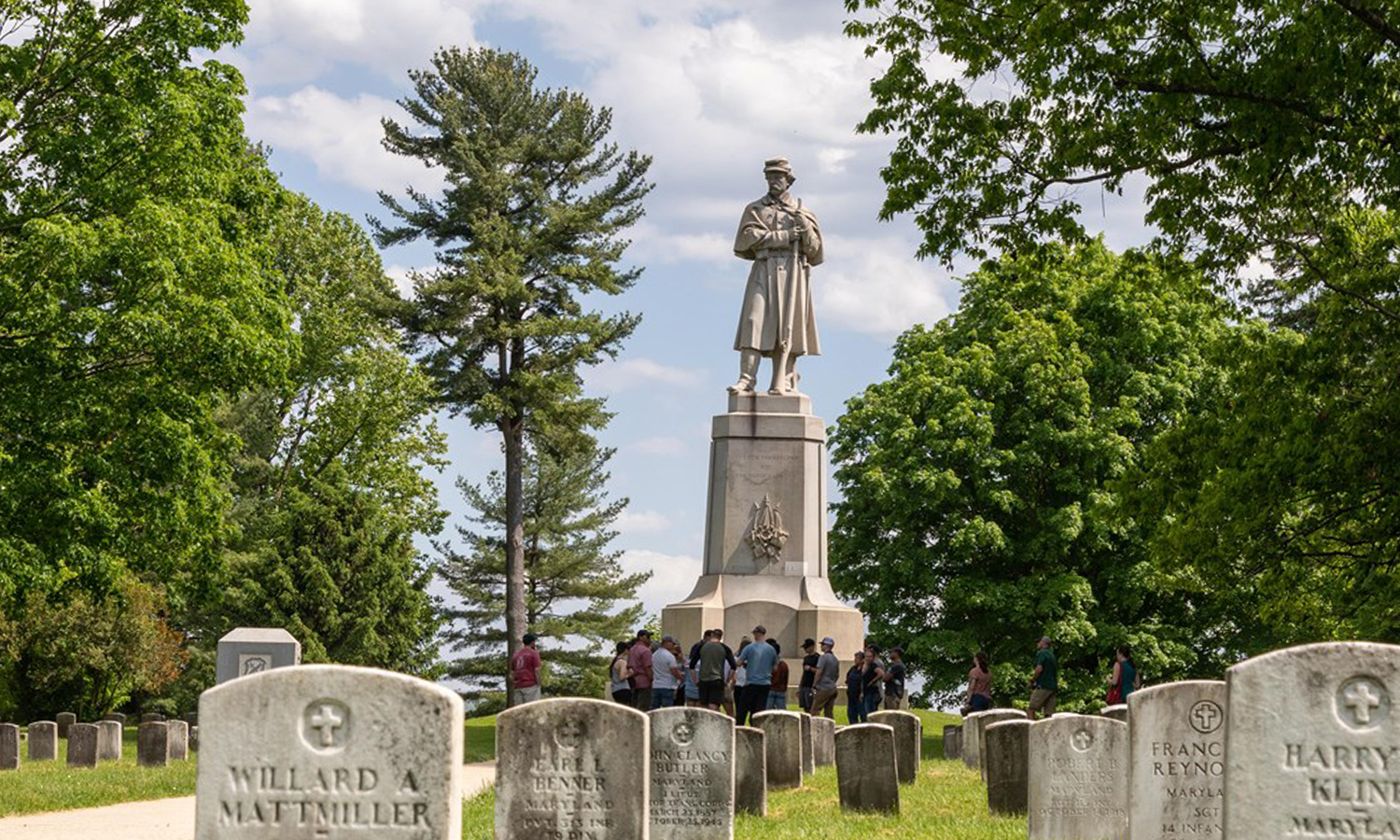 Our short tour took us up a ridge, where we parked and walked down to Burnside Bridge, a key location to the Union's advancement. 
Heading south or east from Crystal Grottoes? Stop by Meehan's Miniatures after your spelunking to browse rare, miniature, and bonsai plants. Even the road sign for the greenhouse is miniature, so keep your eyes peeled! The shop is visible from one side of the road.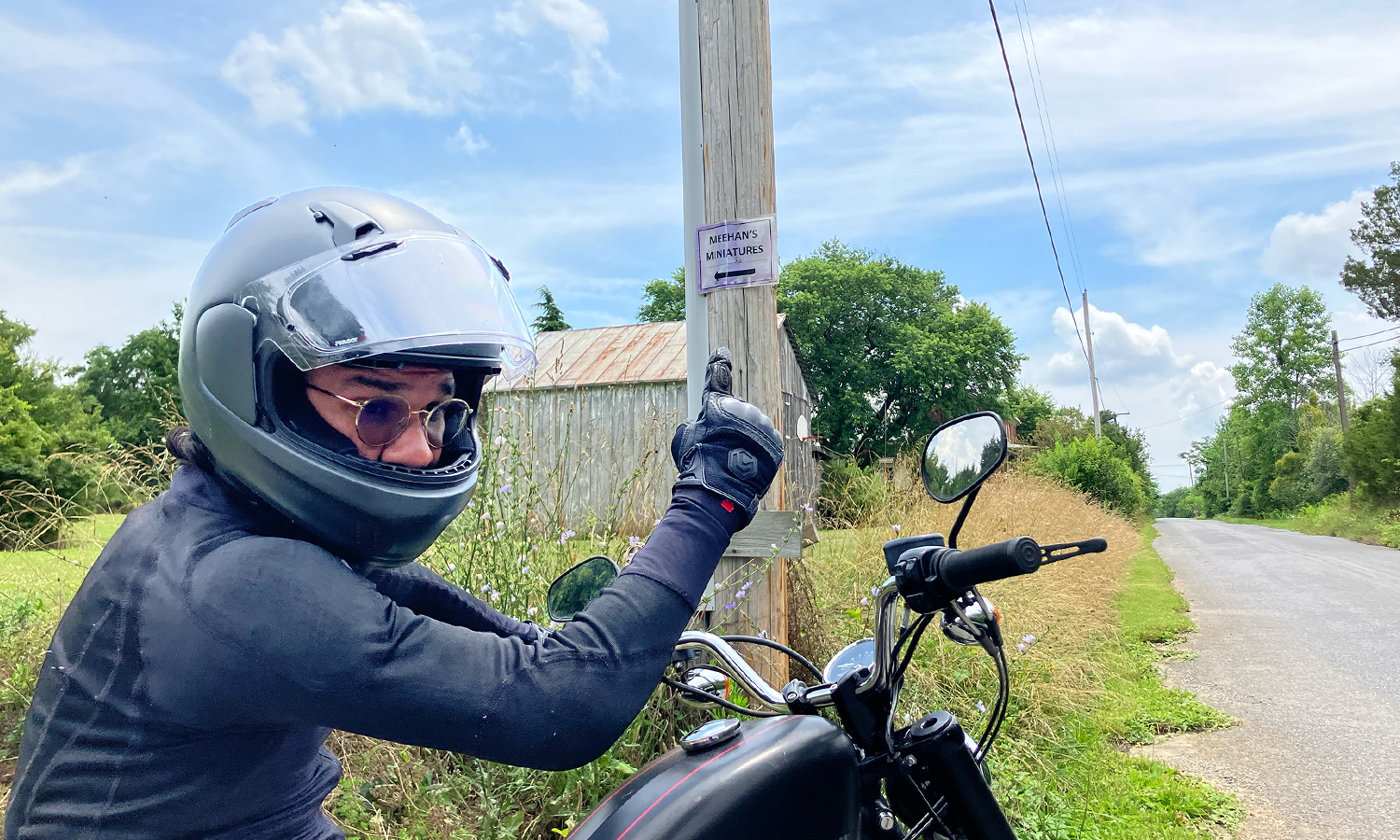 Don't have a green thumb? Check out their impressive variety of mini trees on display—my favorite of which was a tiny ginkgo with stunning regular-sized leaves.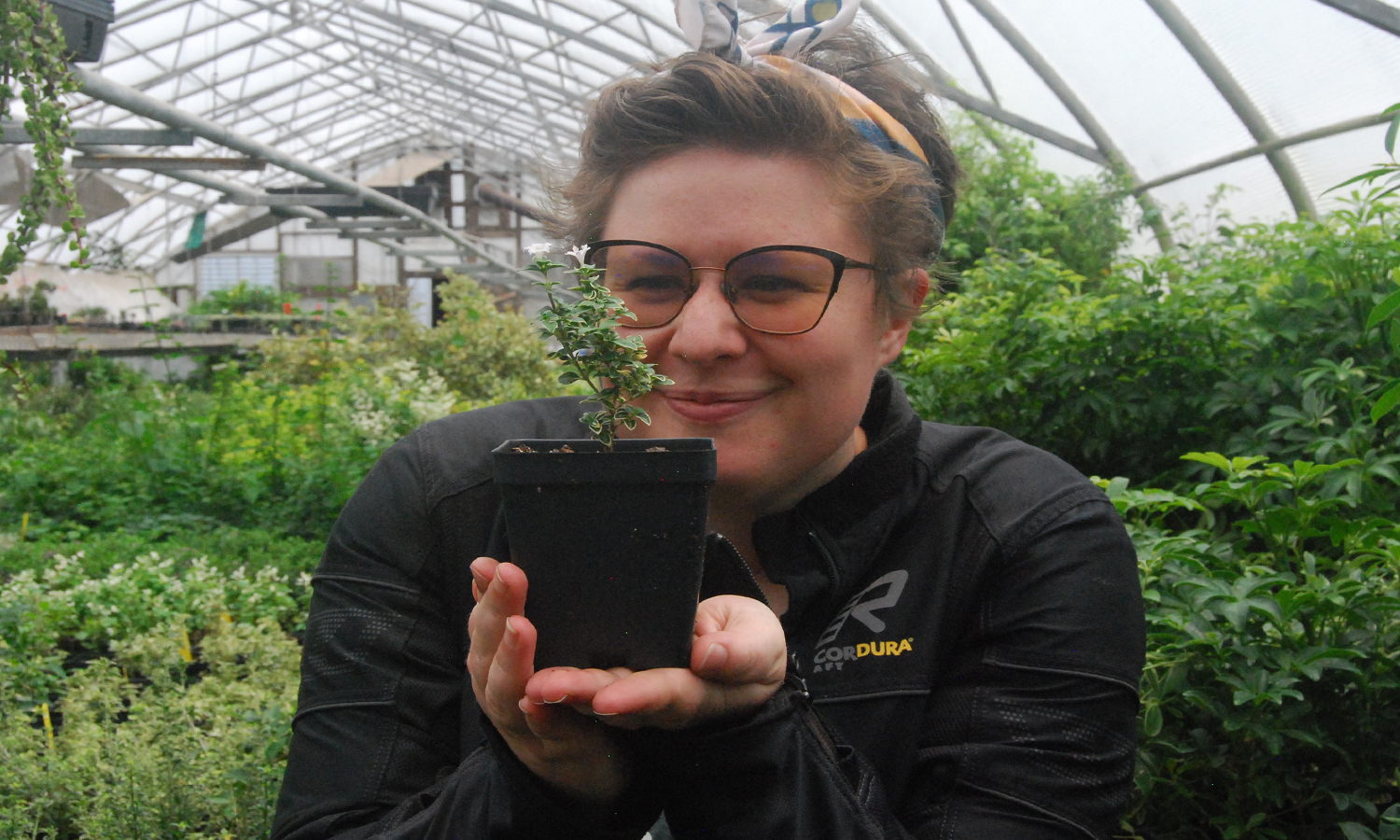 Our journey home took us east from Crystal Grottoes and right past Aleko's Village Cafe, located inside the Exxon Mobile station in Middletown. I recommend going when you're hungry—the souvlaki platter I ordered was almost two meals worth of food, and you're going to have a hard time choosing between the different kinds of baklava that they have available. 
After all the times we drove past Crystal Grottoes Caverns, I'm glad we finally stopped to explore this fascinating destination and the surrounding area. Sometimes the best adventures are just waiting for you to discover them!
---
Lead Photo: Katie Lomax
Katie Lomax splits her time between reading, writing, and riding her motorcycle when she's not working on her powerlifting progress. She's currently based in Frederick, MD, but has lived all over the country and continues to travel as much as possible. Follow her adventures on Instagram @skywardphoto.