Explore the Roots of Thanksgiving Foods in Maryland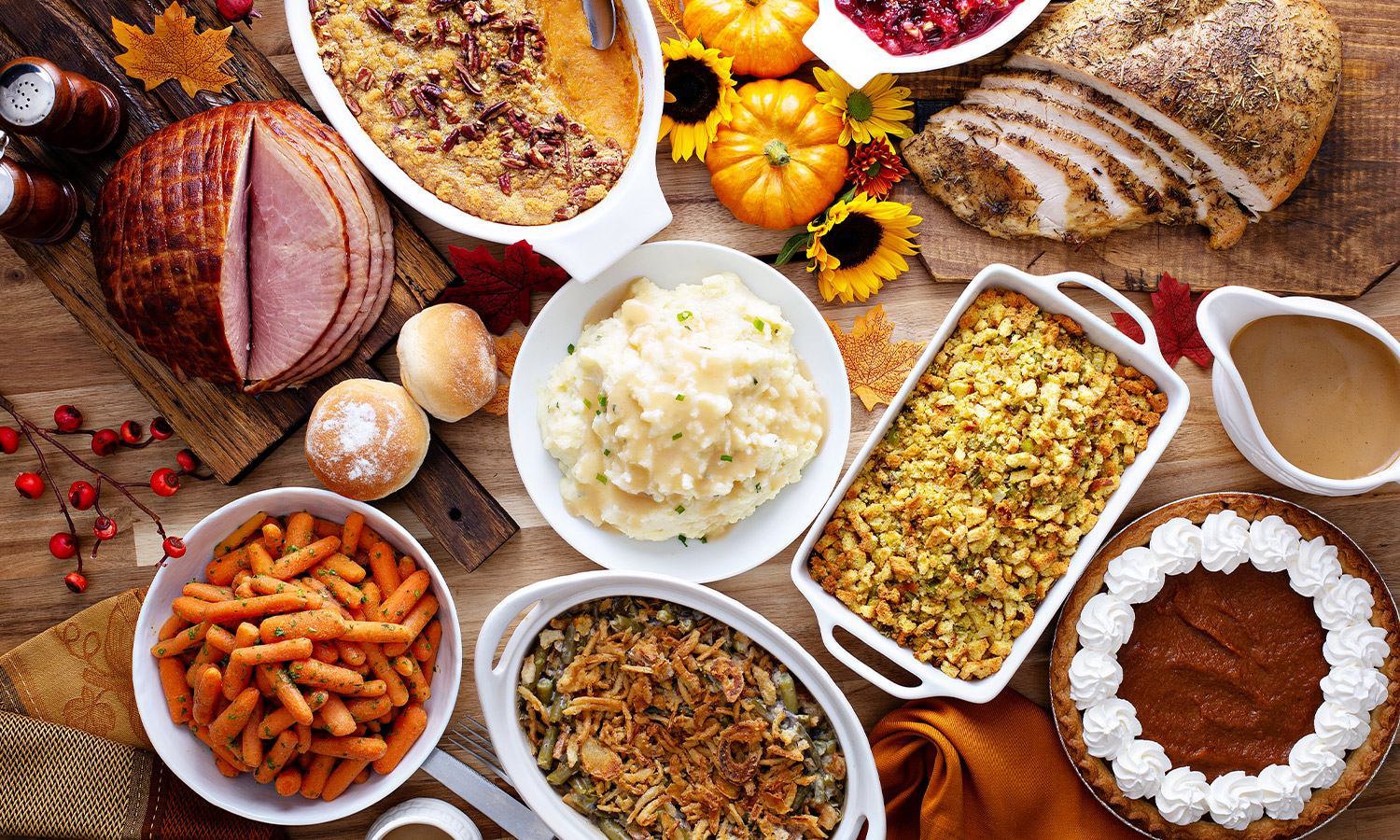 Thanksgiving holiday traditions abound in Maryland, and the state's food serves as a chronicle of its customs, people, and varied landscapes. Native local produce such as corn, bean, squash, wildfowl, oysters, and other seafood, shaped the diet of the region's Native American tribes, which were later combined with the food traditions of Maryland's European settlers and enslaved African Americans. More recent immigrants have also added their traditions to the Maryland menu which symbolizes the fundamental purpose of Thanksgiving, to show love by sharing time-honored foods with beloved family and friends.
Although popular history suggests that Thanksgiving has been an American tradition for centuries, Maryland did not adopt what was first considered just a New England holiday until 1842. Though the establishment of the holiday in Maryland was made over 20 years before Abraham Lincoln declared it an annual tradition in 1863, it took The Baltimore Sun newspaper years of lobbying to convince a governor to adopt the holiday. Success was reached in 1842 when Governor Thomas proclaimed that a state-sanctioned day of "thanksgiving, praise, and prayer" would occur on December 14, 1842. Though Maryland's earliest Thanksgiving celebrations were focused mainly on religious contemplation, food traditions quickly developed.
While turkey, stuffing, mashed potatoes, cranberries, corn, and pumpkin pie represent the classic American Thanksgiving meal, a Maryland Thanksgiving is marked by an array of traditions that set it apart from other states. A classic historic Maryland-inspired Thanksgiving dinner is best represented by the menu of the annual dinner at All Hallows Church in Davidsonville, Anne Arundel County. Maryland's Way, The Hammond-Harwood House Cook Book (Annapolis, 1963) declared the menu to date back to the late 19th century. It included some distinctly Maryland dishes such as old country ham, sauerkraut, oyster stew, sweet potatoes, and white potato pie. 
In addition to turkey, a Maryland Thanksgiving table often also includes some type of ham or fresh pork dish. Country ham is a classic Maryland dish and tastes great made into sandwiches with yeasty rolls or freshly baked Maryland beaten biscuits. However, in southern Maryland, another ham dish, St. Mary's Stuffed Ham, is considered a holiday essential. The stuffed ham is made of a corned (brined) but not smoked deboned ham that has been slit in many places. The bone cavity and slits are stuffed with a mixture of cabbage, kale, onions (often wild), mustard seed, celery seed, crushed red pepper, and black pepper. The ham is then wrapped in cheesecloth and boiled for about five hours. It is served cold in slices for sandwiches. This dish, believed to date to the 17th century, represents a fusion of both British and Afro-Caribbean origins given the presence of spicy hot red pepper. The use of spicy peppers was not common in the English diet until the 19th century; therefore, its inclusion is attributed to enslaved cooks. One theory suggests the dish was created by an enslaved cook held by Jesuits at St. Inigoes in St. Mary's County.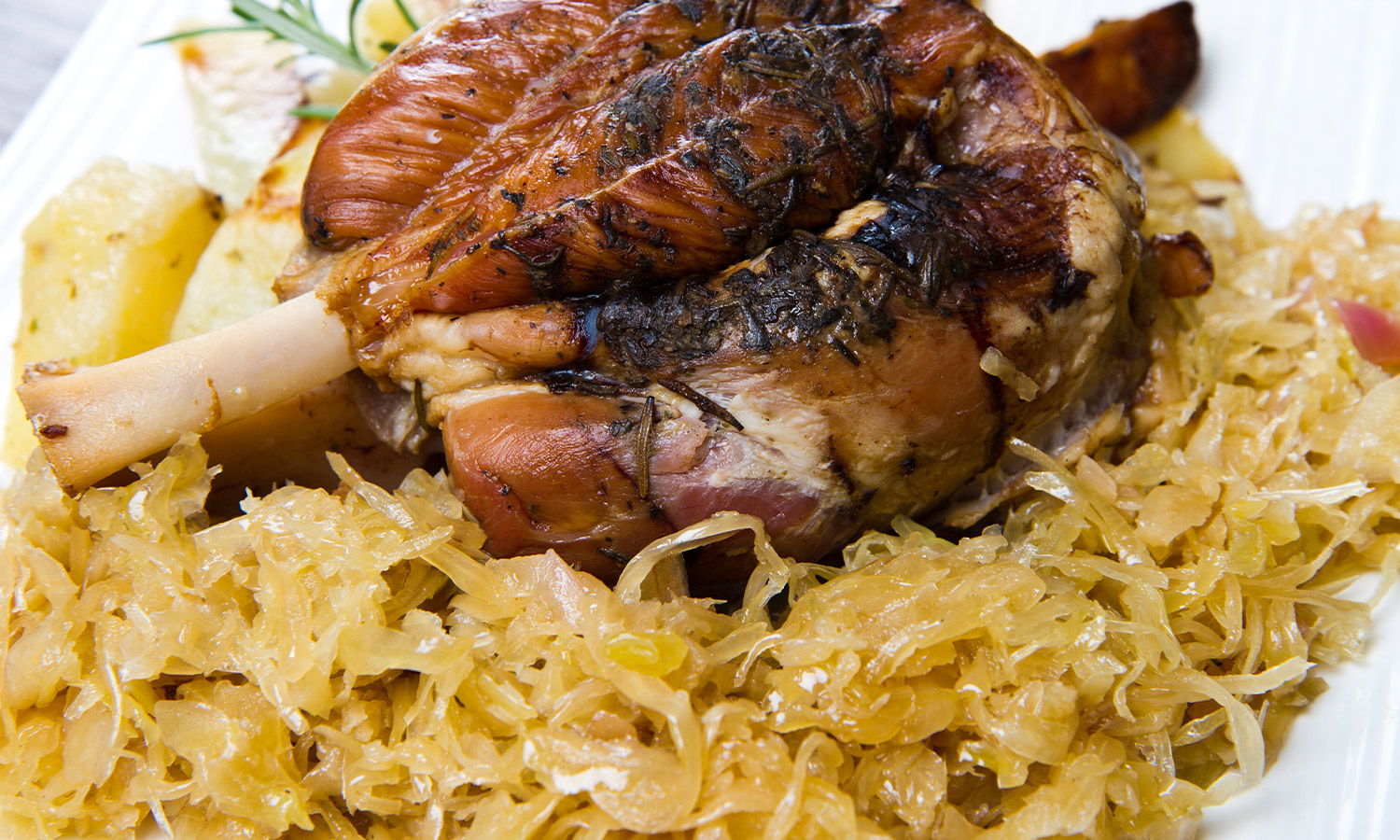 Likewise, Baltimoreans serve fresh pork with sauerkraut at Thanksgiving. This is definitely a unique tradition and one that makes historic sense. When Lincoln made Thanksgiving a national holiday in 1863, about one-fourth of Baltimore's population was German. One of Thanksgiving's social functions is to ease feelings of social dislocation felt by immigrants, and there is no better way to do that than to add an ethnic dish to an otherwise American meal. Sauerkraut on Baltimore Thanksgiving tables is now regularly served with turkey, with or without the pork, and represents a custom spread across cultures in the region. This illustrates the American ability to adapt and absorb ethnic cultural traditions. Similarly, more recent immigrants to Maryland, coming from southern and eastern Europe, Latin America, and Asia, have added aspects of their culinary traditions to Thanksgiving, thus enriching the menu by expanding the definition of American food.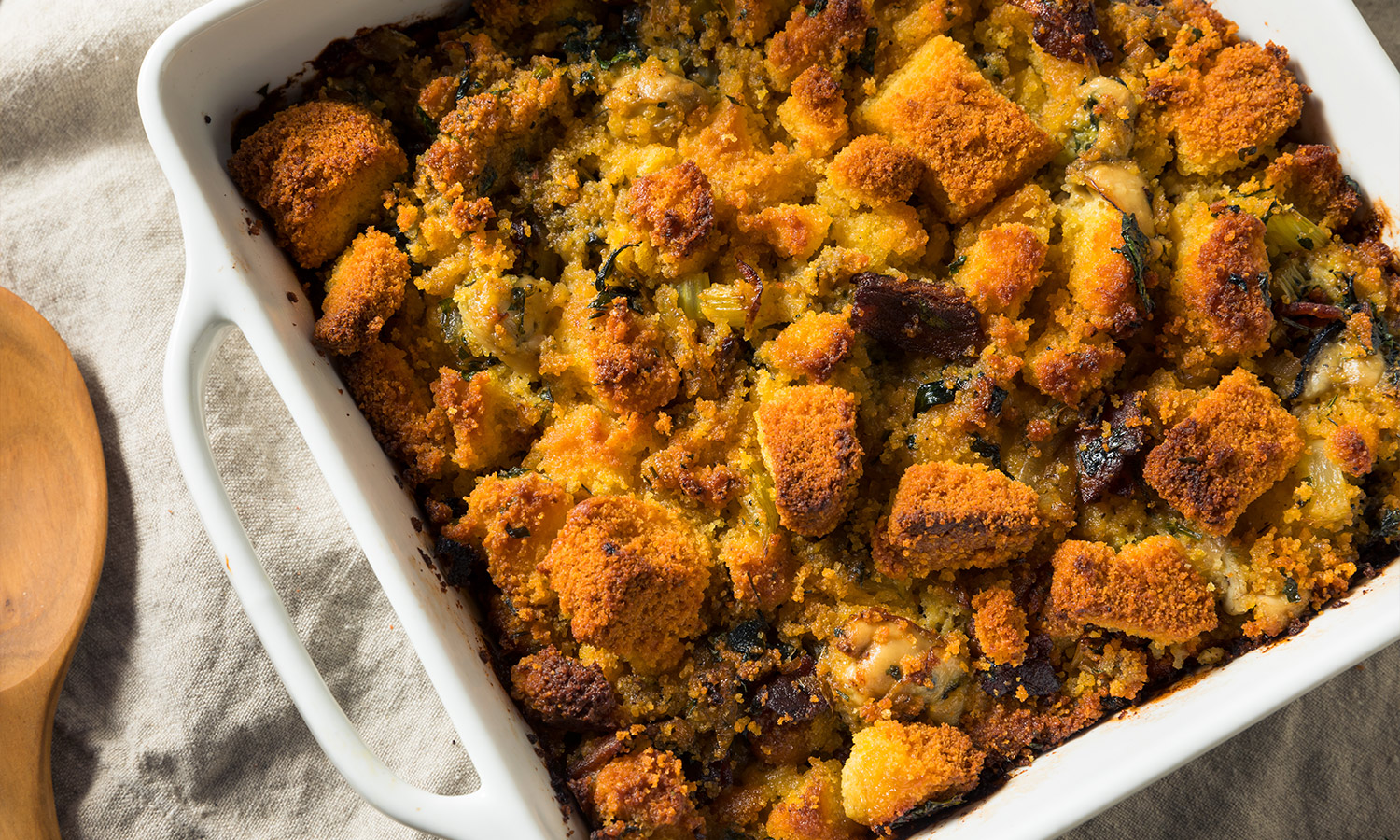 Chesapeake Bay oysters are also a must on many Maryland tables, including, oyster stew, oysters-on-the-half-shell, oysters Rockefeller, fried oysters, and, most commonly, oyster stuffing or dressing. Though not too popular today, other Chesapeake Bay staples at Thanksgiving were wildfowl, game, and terrapin. Of particular popularity well into the 20th century was canvasback duck, a Maryland delicacy notable for its sweet-tasting meat owing to its consumption of wild celery. 
A Maryland Thanksgiving would not be complete without some form of sweet potatoes on the table. The sweet potato is an important long-standing fixture in Maryland's history and culture, especially within the African American community. Food scholar, Michael Twitty notes sweet potatoes were vital elements of the Afro-Maryland diet and asserts that they were "second in importance to corn as a starch." Interestingly, evidence that they were stored in the floors of cabins is "a telltale sign in many parts of the Chesapeake of the presence of the enslaved." Due to the historical significance of the sweet potato within the African American community, sweet potato pie supplants pumpkin pie as the classic Thanksgiving dessert.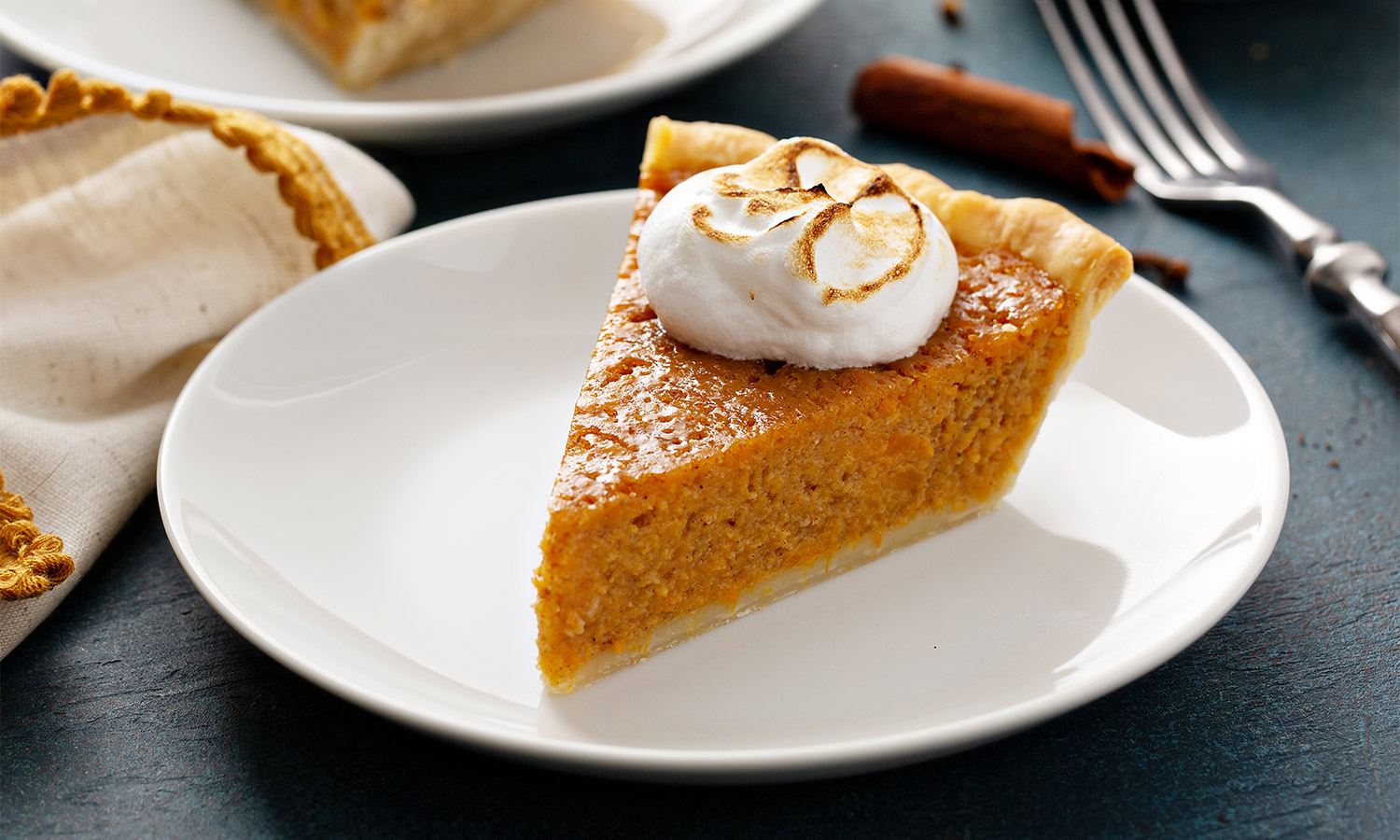 Romaine Summerville, the owner of Baltimore based restaurant Hands of Thelma Jeans Southern Style Cooking, offers another sweet potato dish, a casserole topped with marshmallows. According to Summerville, this dish is very popular at Thanksgiving, along with her scrumptious macaroni and cheese and collard greens. Summerville believes these recipes are "genetic" because she learned them by watching and imitating her mother, the eponymous Thelma Jean. Summerville's expertise in recreating her family's dishes perfectly encapsulates the principle intent of the Thanksgiving meal, an expression of love and tradition conveyed through food.
Another dessert that is peculiar to Maryland's Eastern Shore is white potato pie, a custard pie made of mashed white potatoes, eggs, milk/cream, sugar, and flavorings such as lemon and nutmeg. This pie likely dates back centuries and is rooted in 17th century English pastry customs. At the turn of the 20th century, these pies were such an important part of the Maryland folk food tradition that the state fair in Timonium devoted a whole category to them.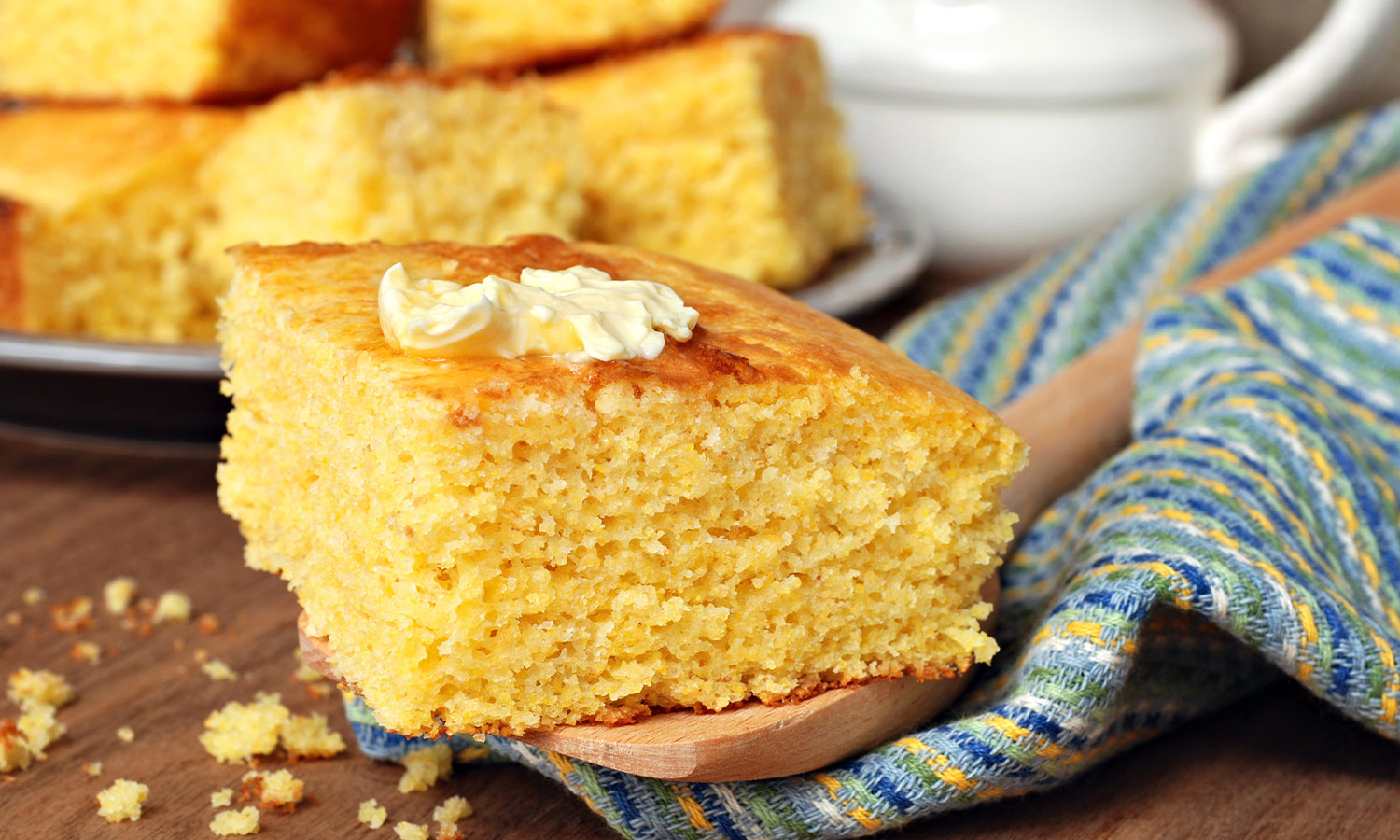 Of course, cornbread cannot be ignored. Though classic Maryland cornbread started out as an unsweetened bread meant to be dipped into savory soups or stews, it transformed over time into a much sweeter dish when sugar was added to the recipe. Last but not least, an Eastern Shore version of a sweet Maryland cornbread is wet cornbread, a variation of spoonbread or corn pone that is not just moist, but fluffy, rich, and to be honest, quite sinful.
Thanksgiving Food Road Trip Destinations
: 
Maryland's unique geography and abundant rich cultural traditions make it a fascinating place to celebrate Thanksgiving. No matter whether your family has been in Maryland for centuries, decades, years, months, or days, a wonderful way to feel connected to this great state is to add one of these classic and historic dishes to your Thanksgiving dinner menu alongside dishes particular to your family's traditional menu.
Stop by one of these restaurants and pick up a traditional dish to bring to Thanksgiving dinner, or, if you're coming from out of state, bring a taste of Maryland home with you.
(Note: Bear in mind Covid restrictions may alter hours of operation and menus, so please call before you go.)
Stuffed Ham in St. Mary's County
You can find stuffed ham at the following markets in St. Mary's County, each about 1¼ hours from Washington, DC:
Chaptico Market & Deli, est. 1965
25466 Maddox Rd., Chaptico, MD 20621
301-884-3308
Murphy's Town & Country Market, est. 1949
21270 Abell Rd., Avenue, MD 3131
301-769-3131
W.J. Dent & Sons, est. 1927 as Bailey's Store
44584 Tall Timbers Rd., Tall Timbers MD 20690
301-994-0772​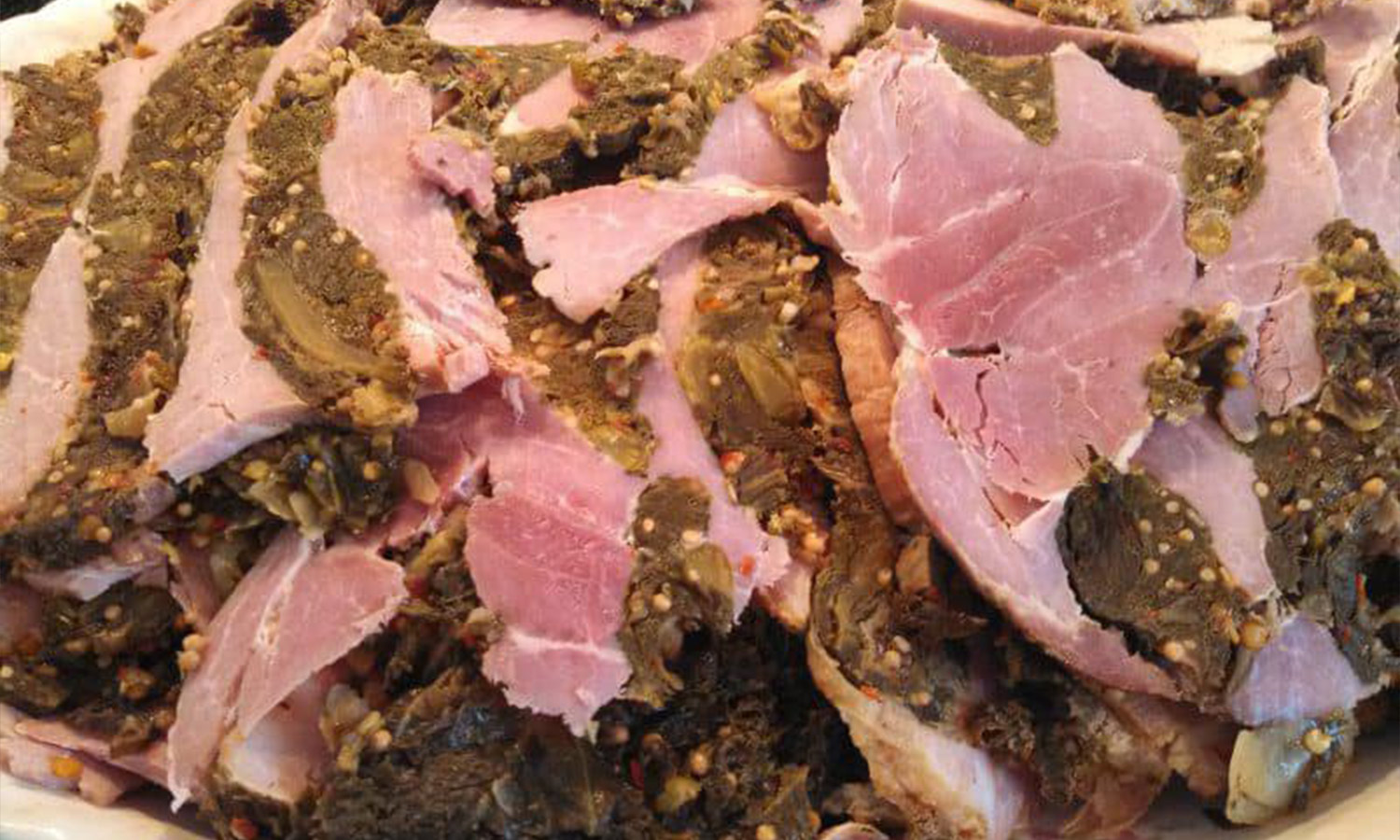 Wet Cornbread at Taylor's BBQ, Salisbury
720 E. College Ave., Salisbury, MD 21804
410-860-2972
A unique twist on this dish is available at Taylor's BBQ in Salisbury (about 40 minutes west of Ocean City). While the wet cornbread is available year-round, it's a big seller at Thanksgiving. According to Joey Calabrese, owner of Taylor's BBQ, the recipe they use is adapted from a recipe they inherited from when the restaurant was operated as Em-ing's BBQ. Calabrese also makes a dessert version called Cornbread Bites (a.k.a. Crack Bites by their loyal fans). These addictive bites are made by deep-frying small chunks of the wet cornbread and then coating them in a special shop-made icing. 

Sauerkraut, Stuffed Ham, and White Potato Pie at The Ugly Pig, Annapolis
1841 St Margarets Rd., Annapolis, MD 21409
410-571-3060
If 'from scratch' is important to you, visiting George Williams' deli cum butcher shop, The Ugly Pig, located less than ten minutes from downtown Annapolis in the St. Margaret's neighborhood, is a must. Williams is dedicated to providing his customers with dishes both steeped in Maryland history and sourced locally from Maryland farms.  Additionally, Williams makes an assortment of items from scratch. In addition to charcuterie, assorted meats, shop-made fluffy natural peanut butter, and shop-made mustard, here is a list of his best sellers for Thanksgiving:
Sauerkraut, shop-made with local cabbage using a traditional German recipe. This sauerkraut is perfect for serving with turkey (provided locally by Liberty Delight Farms, Reisterstown), or braising in pork (provided by Whistle Pig Hollow Farms, Reisterstown).

Though pork and sauerkraut is a favorite holiday meal in Maryland, The Ugly Pig sells Roast Pork and Sauerkraut Sandwiches, its most popular sandwich, all year. 

Maryland Stuffed Ham is sold for holidays made with shop-brined hams.

The Ugly Pig distinguishes itself further because they sell Maryland White Potato Pie for the holidays, something very hard to find prepared commercially nowadays.

Oyster Stuffing and Oyster Stew at Annapolis Seafood Market, Annapolis
1300 Forest Dr., Annapolis, MD 21403
410-269-5380
Annapolis Seafood Market is located about 40 minutes from either Baltimore or Washington, DC. Take a trip there to pick up an order of their oyster stuffing and oyster stew. Call-in orders are taken beginning 1-2 weeks before Thanksgiving. These dishes are prepared with fresh local oysters from Harris Seafood located just across the Bay Bridge in Grasonville on the Eastern Shore. According to shop manager, Patrick Flyntz, rockfish, dressed to be stuffed, is also very popular at Thanksgiving.

Collard Greens and Sweet Potato Casserole at Hands of Thelma Jeans Southern Style Cooking, Baltimore
6309 Sherwood Rd (Suite B), Baltimore MD, 21239
667-206-2952
Enjoy made-with-love soul food in downtown Baltimore at Thelma Jeans. Macaroni and cheese, sweet potato casserole, collard greens, and more are available this Thanksgiving season. 

Fried Oyster Salad at Elkridge Furnace Inn, Elkridge
5745 Furnace Ave., Elkridge, MD 21075
410-379-9336     
The Elkridge Furnace Inn, located in Howard Country along the Patapsco River about 15 minutes southwest from Baltimore or just under an hour from Washington, DC, is the oldest restaurant in the county. Originally owned by the Ellicott family, the current inn dates to c.1830. Chef and owner, Dan Wecker, offers upscale dining with a homestyle Maryland feel. For the holidays, try the inn's fried oyster salad and a host of other dishes on the menu made with in-house smoked ham from local pigs, duck, locally-grown red and blue corn grits, and their unique offering, Cream of Baltimore Soup, a recipe created in the 1970s by chef Debbie Crabtree of Crabtrees in Baltimore. This soup represents two of the colors on the Lords Baltimore crest: potato leek soup represents the white, and sweet potato curry crab soup represents the gold.

Classic Maryland Thanksgiving Recipes
If you're unable to travel to enjoy these delicious foods, wow your family by making traditional Maryland dishes yourself!
---
Lead Photo: Shutterstock
Joyce White developed her love for food history while working as a museum educator at various historic house museums and sites in New York, Pennsylvania, and Maryland. She has a B.A. from William Smith College, an M.A. in American Studies from Penn State University, and has studied food history with leaders in the field at various historic sites in England and the US, including training at the Barry Callebaut Chocolate Academy in Chicago. She offers a variety of programs, including "Dining in Colonial Maryland," "Early Maryland Spirited Drinks," and "An Early American Christmas." Learn more at atasteofhistory.net