National Harbor: A Perfect Quick Trip

"Thanksgiving" and "Road Trip" don't usually come to mind as two things that go together. Maybe because Thanksgiving seems to be the definitive hang-out-at-home holiday. While it's a massive travel day, Thanksgiving travel is typically a beeline home (or to the home of whoever is hosting the feast).

If you're cooped up for the week with guests in town or are guests yourselves, and you find yourself suddenly stricken with cabin fever, sick of leftovers for the 5th time in a row, you might be looking for a little afternoon getaway. Nothing too grand, mind you. Just a bit of a wander, a bit of a meal, some fresh air, and something different to see as you try and move your overstuffed, beached-whale bodies away from the five-hour Monopoly game threatening to ruin your relationship with cousins. 
May I suggest a mini Maryland Road Trip to National Harbor? Even with just two hours of street parking, this is enough time to enjoy a spontaneous outing to one of Maryland's flashier destinations. Recently, my son and I took a detour there after dropping out-of-town family off at the airport, and we had an unexpectedly delightful time.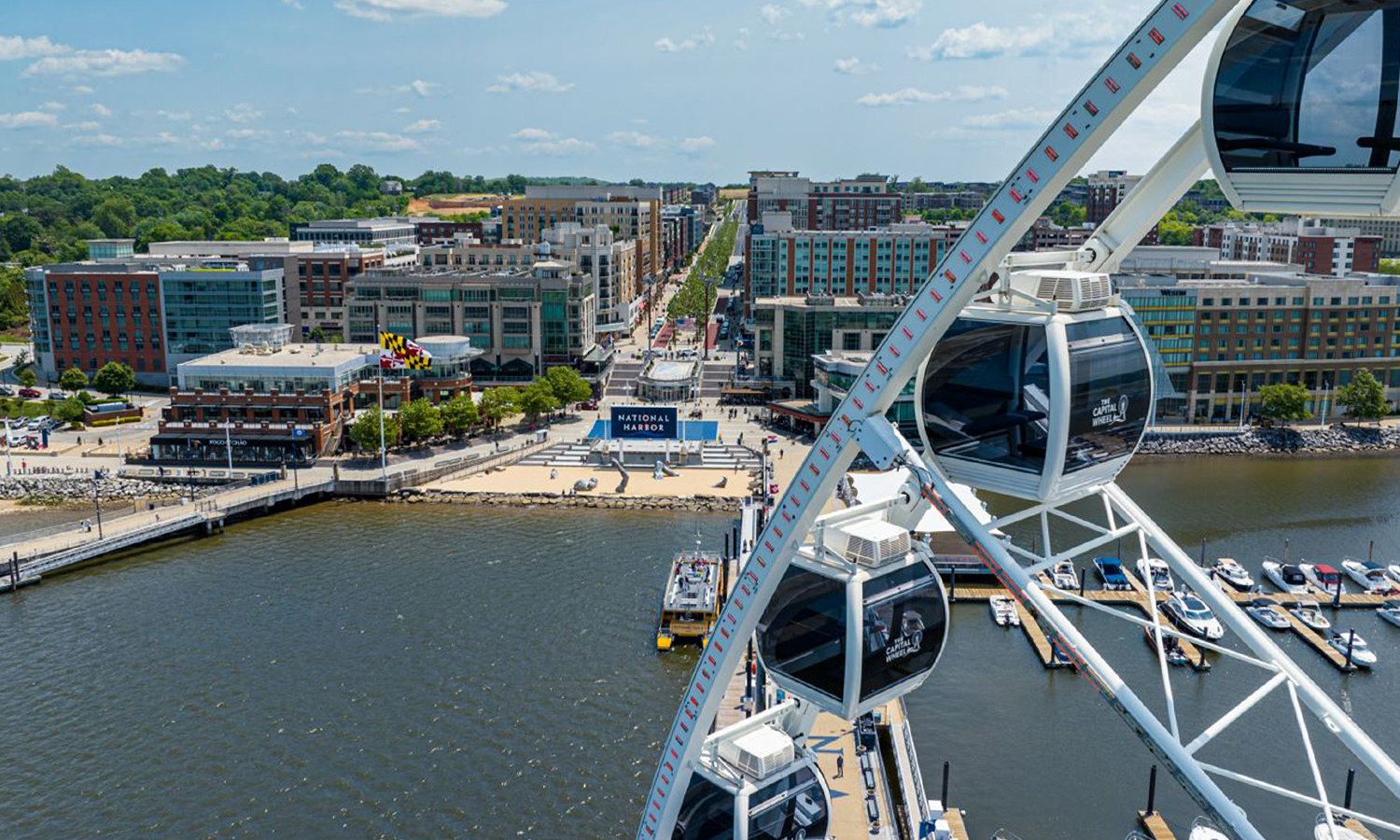 We rode the Capital Wheel, goofed around on the waterfront, wandered the shops on the promenade, and got ourselves a fancy hot cocoa and a new comic book. It was the ultimate father/son hangout. Ten out of ten, would do again! So, when you're itching to get out of the house this Thanksgiving, here's how to get the most out of a couple of hours at Maryland's National Harbor:
Eat
It may be that the last thing you want to do is sit down to a large meal, although at National Harbor, there are many scintillating dining options should you feel more than peckish for your cabin fever getaway. But if a light meal is more in order, perhaps to save room for another round of pumpkin pie later, a lobster roll at Mason's Famous Lobster Rolls might do the trick.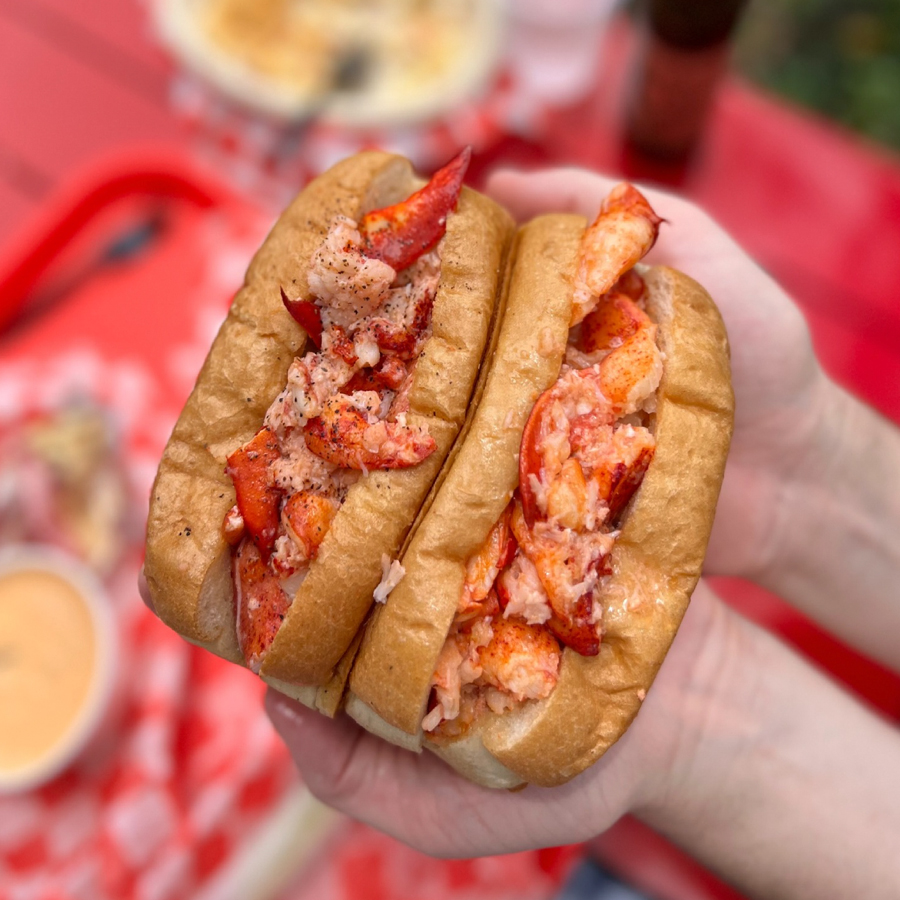 I'm partial to a shrimp roll myself—luckily, that's on their menu too, as is a nod to more regional fare like Maryland Crab Soup for your visiting out-of-towners to try in this otherwise distinctively New England joint.
Explore
If going to National Harbor isn't a regular outing, then experiencing The Capital Wheel feels almost requisite. And with fully enclosed, climate-controlled gondolas, it's a great experience even if there's a late November chill in the air, as there certainly would be 180 feet off the ground on any other Ferris wheel. But the view from that height and the wheel's middle-of-the-Potomac vantage point looking west to Virginia and north to Washington D.C. is as breathtaking as it is expansive.
An unexpected part of the fun in any stroll around National Harbor is the endless opportunities to pose for pics in front of public art and sculptures. There is an impressive 23 million dollars worth of public art installed at National Harbor, giving a lot to look at on your way from car to food to shop to wheel and everywhere in between. We especially enjoyed the statues along the promenade of American figures like Abraham Lincoln and Frederick Douglas, as well as the Maryland watermen industry murals on the steps down to the waterfront.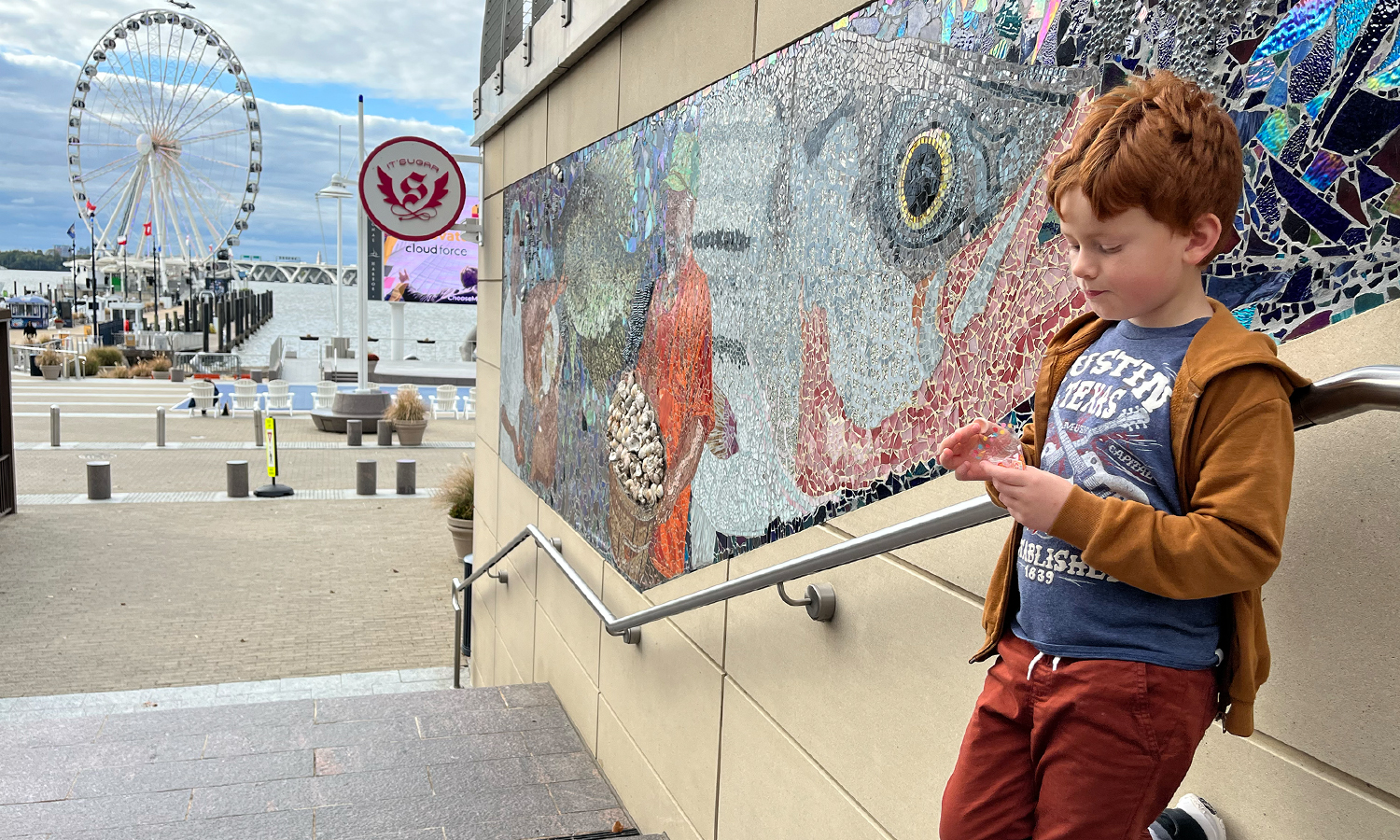 This is where we enjoyed our spoils of black licorice for me and gummy bears for my son that we scooped ourselves in the delightfully subversive candy extravaganza store IT'SUGAR underneath the Plaza Stage. The store's entrance looks out to National Harbor's sandy waterfront, where perhaps the most iconic picture-worthy sculpture, The Awakening, lies half buried in the sand.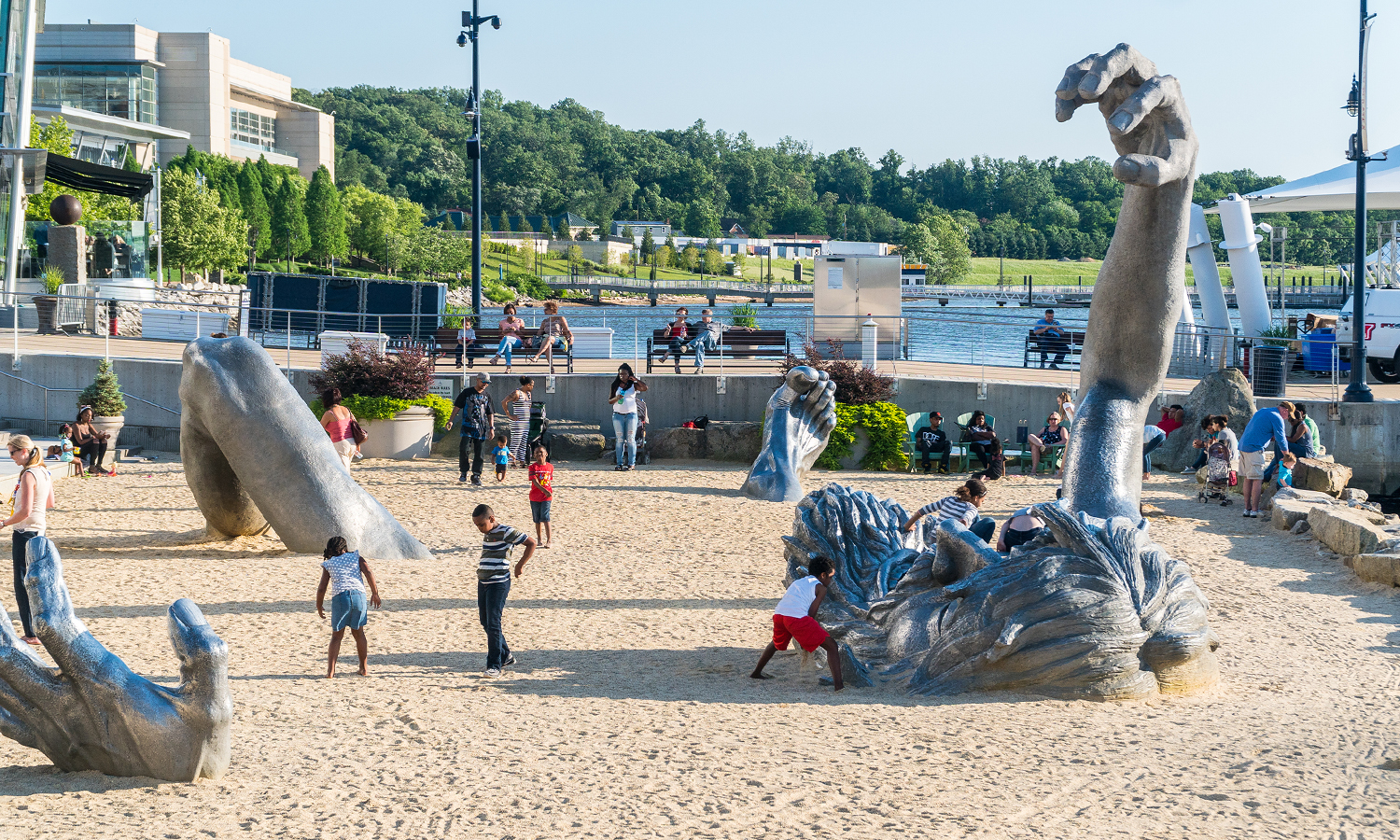 Some of the best finds, however, were in the shops along the promenade. We thought it appropriate to start our adventure with a warm cup of cocoa and coffee, but I got distracted by a bookstore. Whenever I travel anywhere, my favorite thing to find is a bookshop and a cafe. Luckily, at Mahogany Books & Cafe it's both! Featuring an emphasis on the literature and letters of the African Diaspora, Mahogany is a must stop for new and interesting reads. We left with our hot drinks in hand and a couple of books tucked under our arms for later.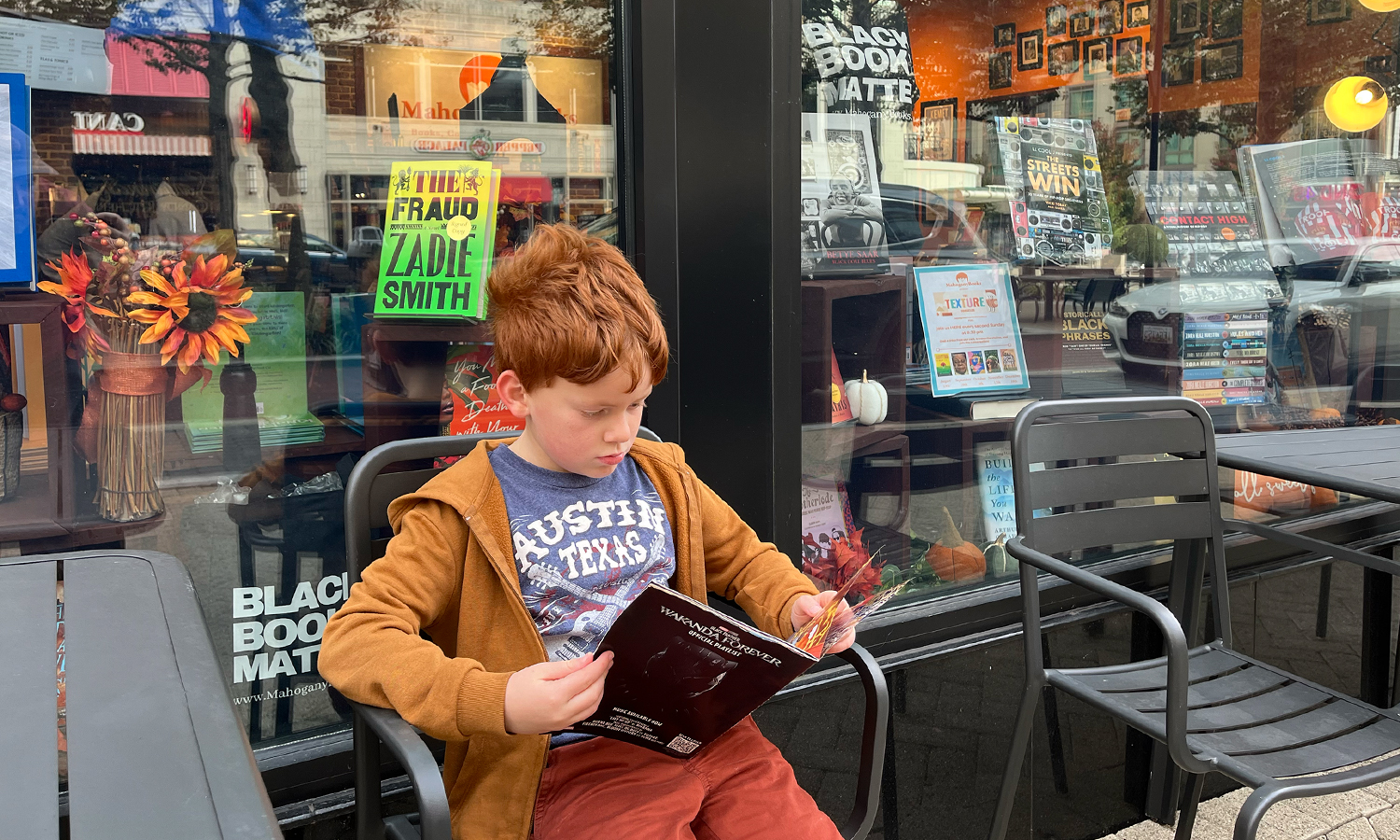 Next door, DC artist Josue Martinez is on marvelous display at Corinto Gallery, an art gallery/boutique where visitors can view and accessorize with Martinez's art. Grab a sweater with a greenback George Washington bust sporting a burglar's bandana of the DC flag (an artistic expression of Taxation without Representation) or a t-shirt with Teddy Roosevelt's famous grin but with all gold caps.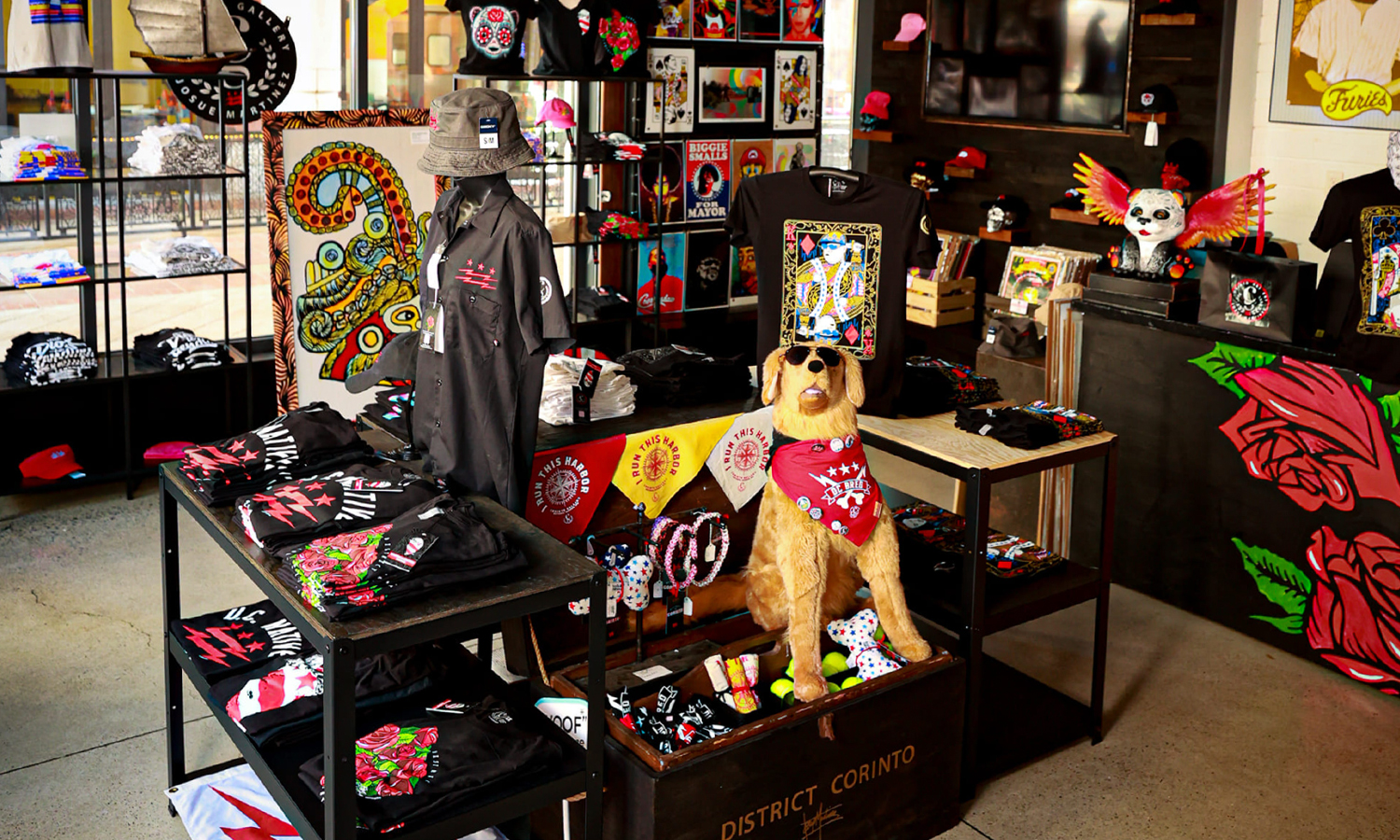 We left with a new toy for our dogs my son picked out, a plushie of none other than Camp Crystal Lake's beloved counselor, Jason Voorhees. 
There is so much more to do, eat, and see at National Harbor. Check out the Titanic Exhibition try your luck at Escapology Escape Rooms, or ICE!, the popular annual holiday event at Gaylord National.
---
Lead Photo Credit: Shutterstock.com
New to exploring Maryland, Joseph is always searching for that unexpected gem in unassuming places. From forgotten corners in big cities, to hidden historical markers in the middle of nowhere, he wants to find them all, and hit up every small town, museum, craft brewery and point of interest in between.