Honoring Black Americans Who Shaped Baltimore and Their Nation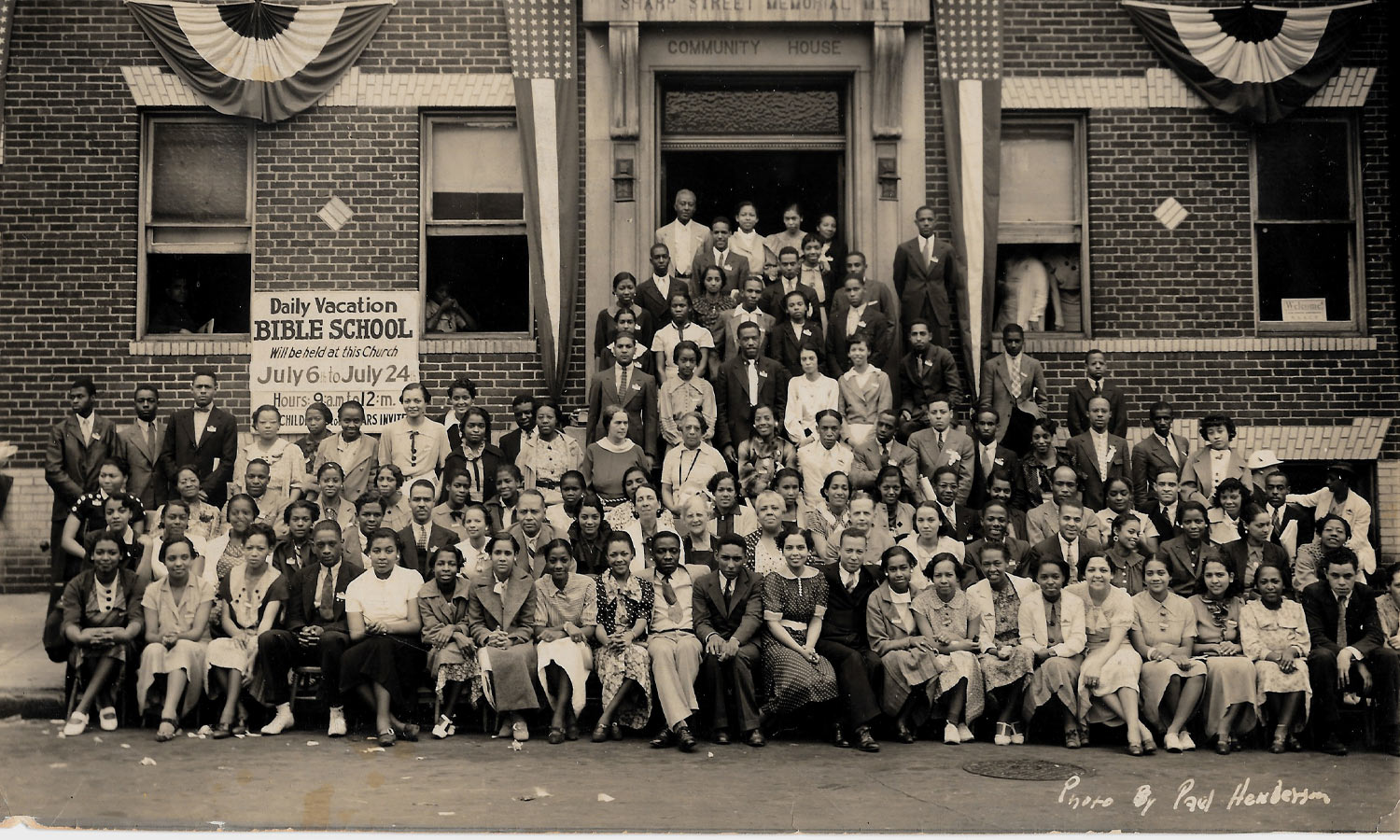 Baltimore, Maryland's largest city, has been the home to many prominent Black Americans who have left an indelible mark on the history of both their city and the nation through their hard work, talent, and fortitude. While many of their homes have been lost due to society's neglect in prioritizing them as important, multiple organizations are working to ensure these vital stories are not forgotten. Should your road trip to Maryland or route to another destination take you through the Baltimore area, here are some stops to explore!
Mary Elizabeth Lange: Seton Hill
After the Revolutionary War ended, Baltimore's population grew thanks to its deep-water port and bustling economy. An enclave of French-speaking Catholics settled in present-day Seton Hill, known then as Baltimore's French Quarter. Here Mary Elizabeth Lange found a home after fleeing from the revolution in present-day Haiti. 
Lange was a free, educated Black woman who began to educate Black children in her home, despite Maryland's law against educating slaves. In 1828, she and Sulpician Father James Joubert, S.S, formed the first Catholic school for Black students in America, and in 1829, she and three other women founded the Oblate Sisters of Providence, the first religious order for Black women, and took their vows to become nuns. Lange became the order's first mother superior. 
Visitors can tour her spiritual home at the Lower Chapel at St. Mary's on Paca Street, the center of Catholic religious life for the French Quarter neighborhood, now a museum. The convent is located off of Gun Road near Catonsville. 
While you are in the area:
Founded in 1782,

Lexington Market

is the oldest market in America. It is only a few blocks south of St. Mary's on Paca Street and features 100 food vendors.  

The historic

Mount Vernon Cultural District

is a few blocks east of Seton Hill. Featuring stately nineteenth-century homes, churches, and the nation's first monument to George Washington, you can grab a bite, shop, or take in a show in the cultural heart of Baltimore. 
Frederick Douglass and Isaac Myers: Fell's Point
As the eighteenth century progressed to the nineteenth, the slave trade grew rapidly at Fell's Point's port, which saw slaves transported between Maryland and the plantations down south. Frederick Douglass arrived at this port in 1826 as a slave being transferred from the Lloyd Plantation in Easton, MD, to a family who lived at the corner of Aliceanna and Durham Streets. Although this home no longer stands, the Frederick Douglass-Isaac Myers Maritime Park can be found right on the harbor and commemorates Douglass and Isaac Myers, a free Black man. 
Here visitors will learn about the role Black Americans played in the city's maritime industry and about Myers's role in founding the Chesapeake Railway and Dry Dock Company, a shipyard owned and operated by Black Americans. A large bust of Frederick Douglass provides a unique photo opp.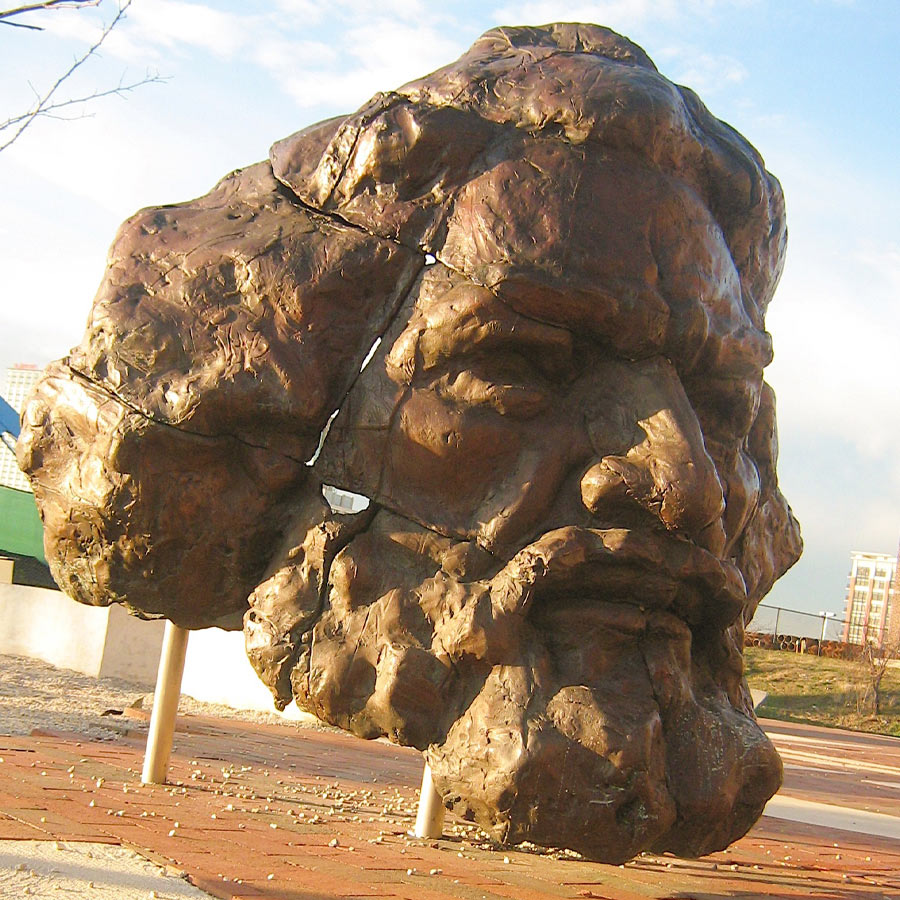 In the last years of his life, Douglass returned to Fell's Point, purchased land, and built five properties for Black Americans to rent, calling them "Douglass Place." He lived in the row at 524 S. Dallas Street, which is privately owned and periodically listed on sites like AirBNB (although not at the time of writing). 
While you are in the area:
Perched on the harbor,

Fell's Point

is one of Baltimore's oldest neighborhoods and still retains its mid-eighteenth century architecture and cobblestone streets, making it a charming place to explore. Grab a drink at

The Horse You Came in On Saloon

, the oldest saloon in Baltimore and Edgar Allan Poe's last stop before his mysterious death.
Blues and Jazz Greats: Pennsylvania Avenue
In the years between the World Wars, Pennsylvania Avenue was a mecca of rhythm, blues, and jazz that nurtured Baltimore natives Billie Holiday, Eubie Blake, and Cab Calloway. The nexus of Black culture in Baltimore, "The Avenue" boasted restaurants, nightclubs, and theaters, including the Royal Theater, which was a stop on the Chitlin' Circuit, a group of theaters safe for Black performers during segregation.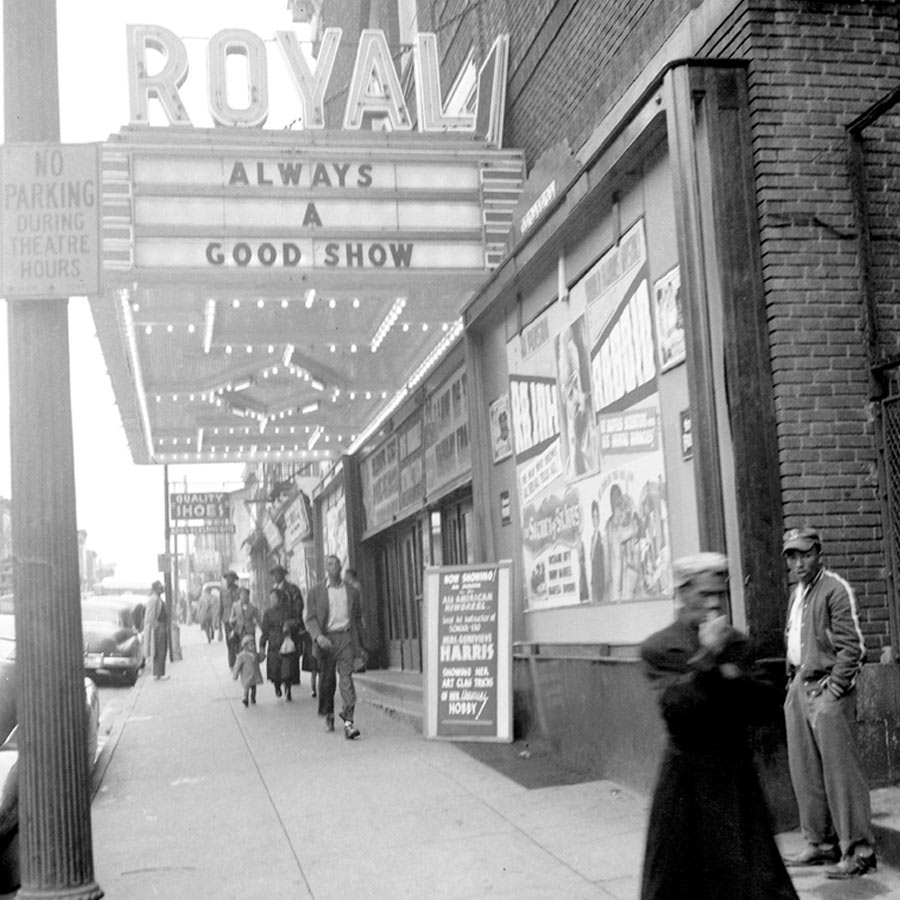 The Royal Theater was razed in 1971, but you can visit a commemorative marquee located at the corner of W. Lafayette and Pennsylvania Avenues. 
Billie Holiday, the influential jazz and swing singer, whose most popular hits were "Strange Fruit" and "God Bless the Child," grew up in east Baltimore. Her childhood home is still standing at 219 S. Durham Street, a privately-owned red brick row home ubiquitous around Baltimore. Her neighborhood, located in northern Fell's Point, has embraced the star with five "Lady Day" murals, a mosaic, and a dozen painted screens dotting the 200 block of S. Durham.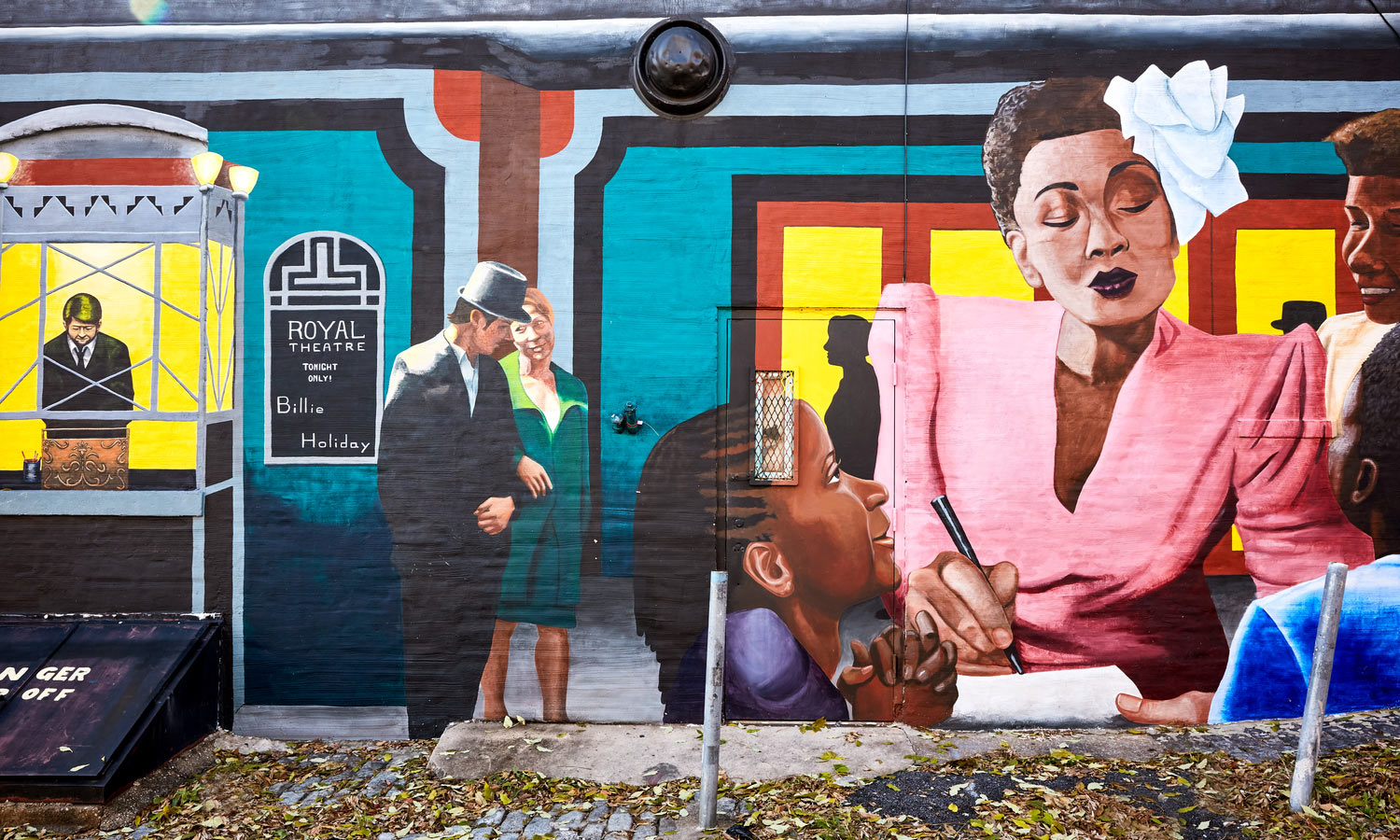 She spent time in many of the clubs along Pennsylvania Avenue as her career skyrocketed during the 1930s and 40s, and a statue of the singer can be found at 1400 Pennsylvania Avenue.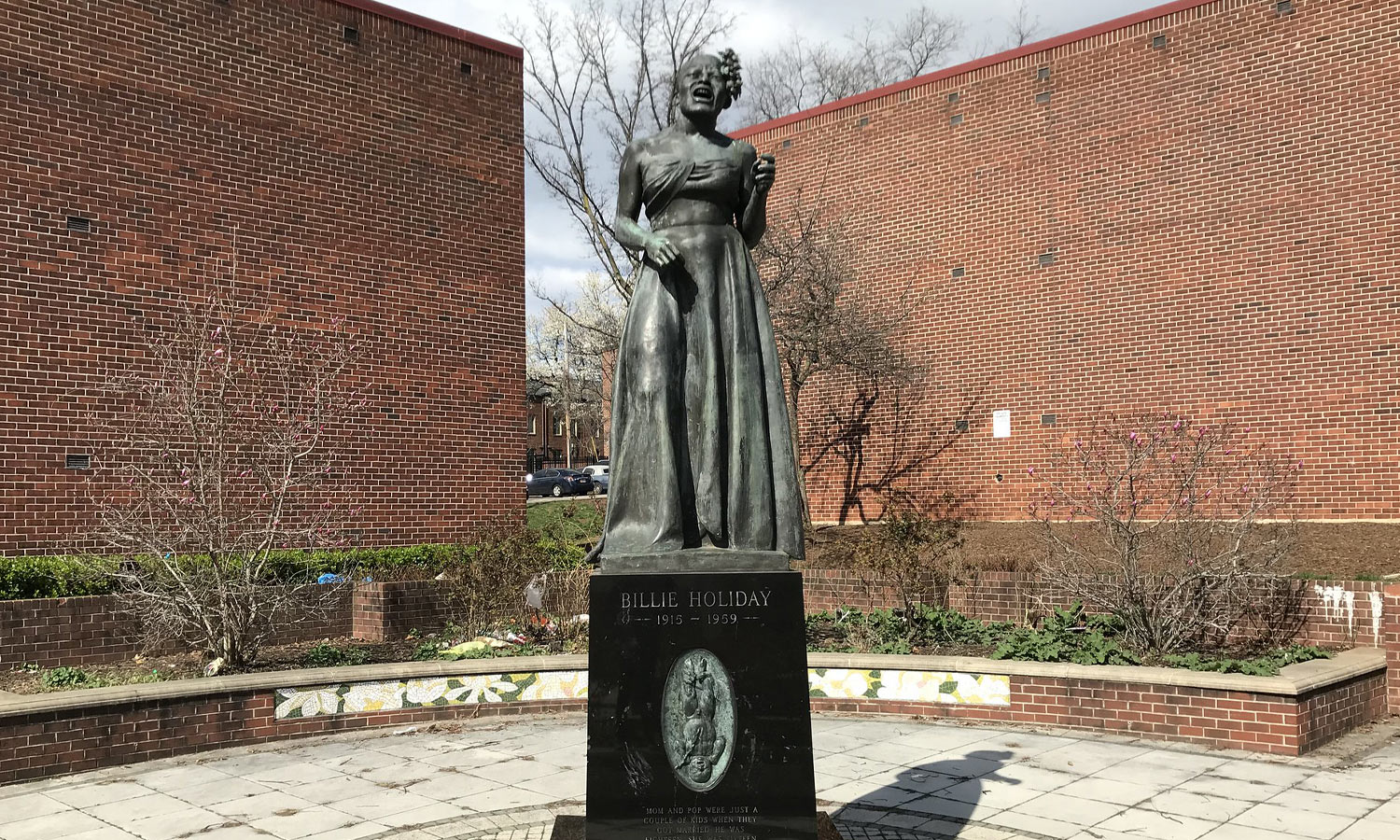 Composer, pianist, and lyricist Eubie Blake, also raised in Baltimore, was another regular on the Avenue's club circuit. Blake co-wrote the Broadway musical "Shuffle Along," which opened on the Great White Way in 1921 as the first show to incorporate Black American dance into musical theater. A pioneer of ragtime, his 75-year career saw him write over 100 songs, and he is credited with doing much to break down racial barriers in the music industry. In tribute to his prolific career, The Eubie Blake National Jazz Institute and Cultural Center (847 N. Howard St.) houses a performance space, art gallery, and classes in music and dance. 
The Hi-De-Ho Man of Jazz Cab Calloway moved to Baltimore at the age of 11 and began his music career under the neon lights of Pennsylvania Avenue. His 1931 hit "Minnie the Moocher" was the first single by a Black artist to sell one million copies. A jazz singer, bandleader, and actor, his musical influence is still felt today in hip hop and rock 'n' roll. Calloway's boyhood home at 2216 Druid Hill Avenue was razed amid protests in September 2020 and is the planned site of a park named in his honor.
Capturing the spirit of The Avenue's jazz age is a mural "Baltimore Uproar," created by Romare Bearden, a weekly editorial cartoonist for Baltimore's The Afro-American newspaper. Considered to be Bearden's most popular mosaic, it can be viewed at the Upton Metro Station (1702 Pennsylvania Ave.) 
Civil Rights Leaders: West Baltimore
Baltimore played a leading role in the Civil Rights movement throughout the twentieth century, with leaders working to integrate schools and overturn Jim Crow laws. Thurgood Marshall, a Baltimore native who eventually assumed a leading role on the national stage, started life in a traditional Baltimore rowhouse on Division Street, which still stands (1632 Division Street – privately owned). Denied admission due to his race to University of Maryland Law School, which was within walking distance of his home, he commuted instead to Howard University to obtain his law degree. He worked for the NAACP for 25 years, successfully arguing Brown vs. The Board of Education in front of the Supreme Court before joining that illustrious body himself as the nation's first Black Supreme Court Justice in 1967.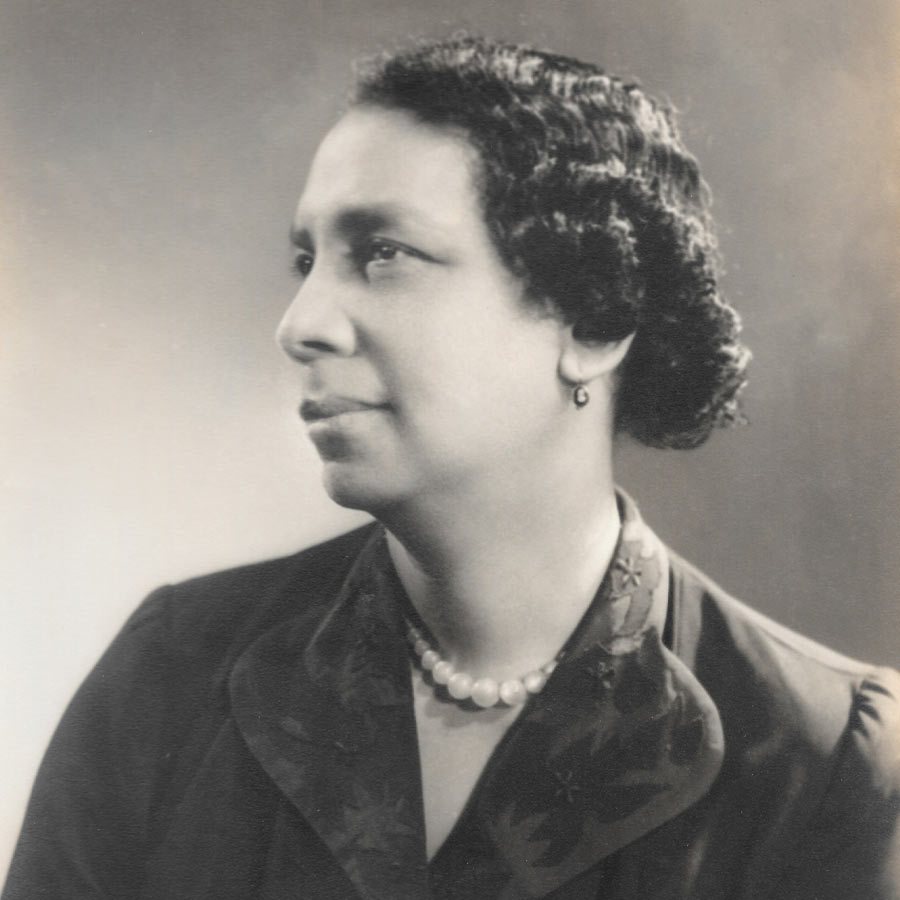 Marshall's neighbors in Baltimore, Lillie Carroll Jackson and her daughter Juanita Mitchell, also played a significant role in shaping the civil rights movement. Jackson led the Baltimore Chapter of the NAACP, where she piloted many techniques like picketing, sit-ins, and other nonviolent protests before they were rolled out nationwide. With her daughter, Juanita, she started the "Buy Where You Can Work" program that encouraged Black Americans to only shop where they could hold jobs. Jackson's home at 1320 Eutaw Place now houses the Lillie Carroll Jackson Civil Rights Museum. Juanita grew up to marry Clarence Mitchell, Jr., a civil rights leader in his own right, and they owned the Mitchell Family Law Office, which still stands boarded up at 1239 Druid Hill Avenue.
While you are in the area: 
Comprehensive Exploration of the Black American Experience
Visitors wishing to learn more about Black Americans in Maryland can visit The Reginald F. Lewis Museum of Maryland African American History and Culture. Located in the heart of the Inner Harbor of Baltimore, the Lewis features 13,000 square feet of artifacts, art, and history dating from 1748. The National Great Blacks in Wax Museum expands on that, featuring 150 life-sized, life-like figures, providing guests a unique way to come face to face with history makers from their native homelands to today.
Remember, some of these homes are now private residences. Please respect the homeowners' privacy by not trespassing or knocking on their doors.
---
Lead Photo: Delegates to the 27th Annual NAACP Conference in 1936. Photo taken at Sharp Street Memorial M.E. Church Community House, Baltimore. Photo credit: Photo by Paul Henderson, courtesy of Lillie Carroll Jackson Civil Rights Museum
Heidi Glatfelter Schlag is a marketer, history lover, and traveler who can often be found exploring museums, parks, small towns, and farms. She founded Culture-Link Communications, where she helps local nonprofits and small businesses build their brands. Heidi lives in Frederick, MD, with her husband and two dogs.