Key Lime Pie Or Bust: My Motorcycle Drive to Mandala Pies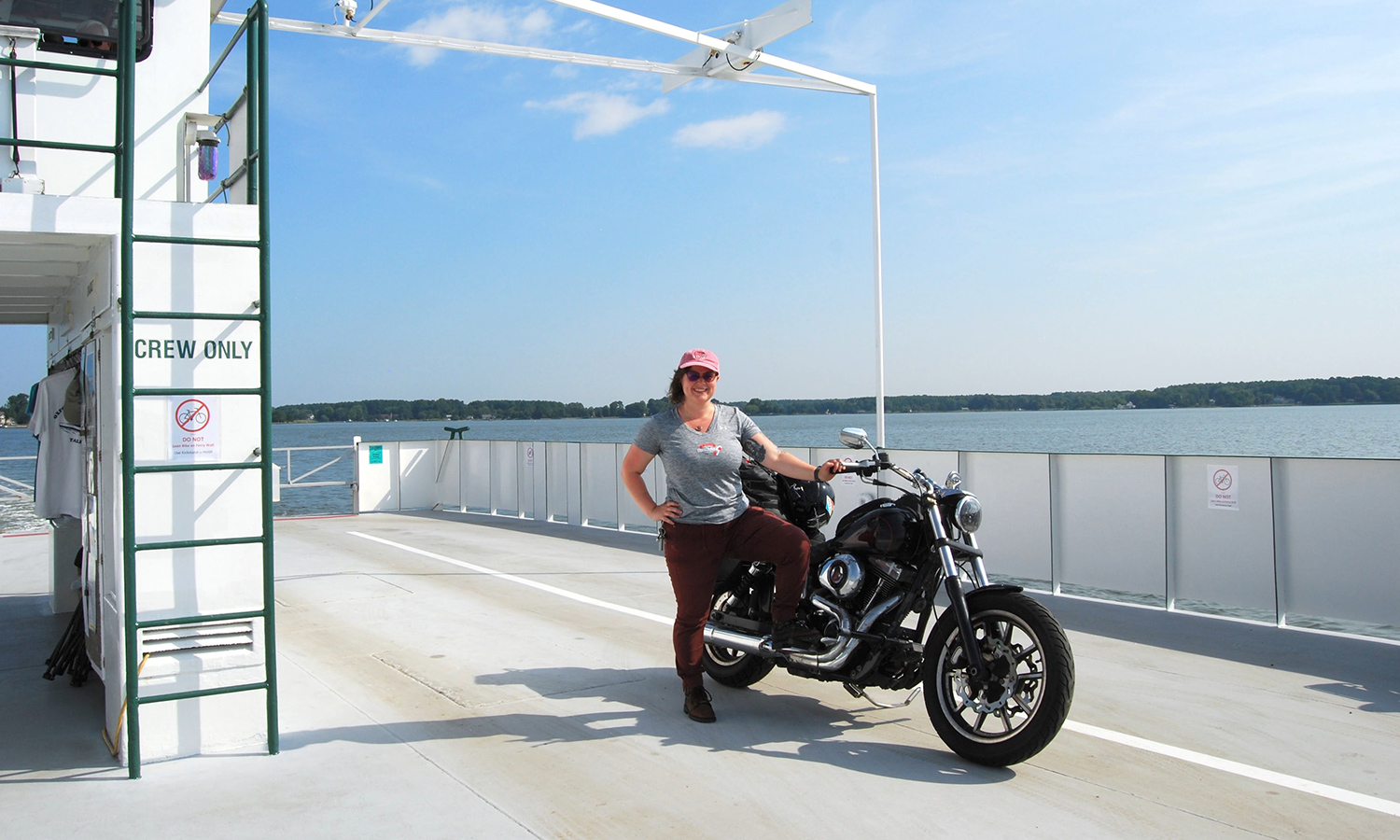 It's a running joke in the motorcycle community that every ride ends in ice cream or barbeque. I happily accept this stereotype and believe good food goes best with a fun ride. On this particular trip, my sights were set on Mandala Pies in Vienna. The challenge: ride from Frederick to the Eastern Shore on a summer Friday and avoid the infamous beach traffic to try a slice of their famed key lime pie. 
The first step in my plan was to stay with family in Stevensville the night before and avoid Bay Bridge traffic. Heading south, I hit up the original Rise Up Coffee Roasters location in St. Michaels. Their drive-thru setup is a great way to caffeinate on the go, and they were busy serving drivers, cyclists, and pedestrians when I rolled up. Since I don't have one of those handlebar cup holders they make for motorcycles, I used the "bike parking" between the two lanes and camped out on the picnic table with an iced coffee.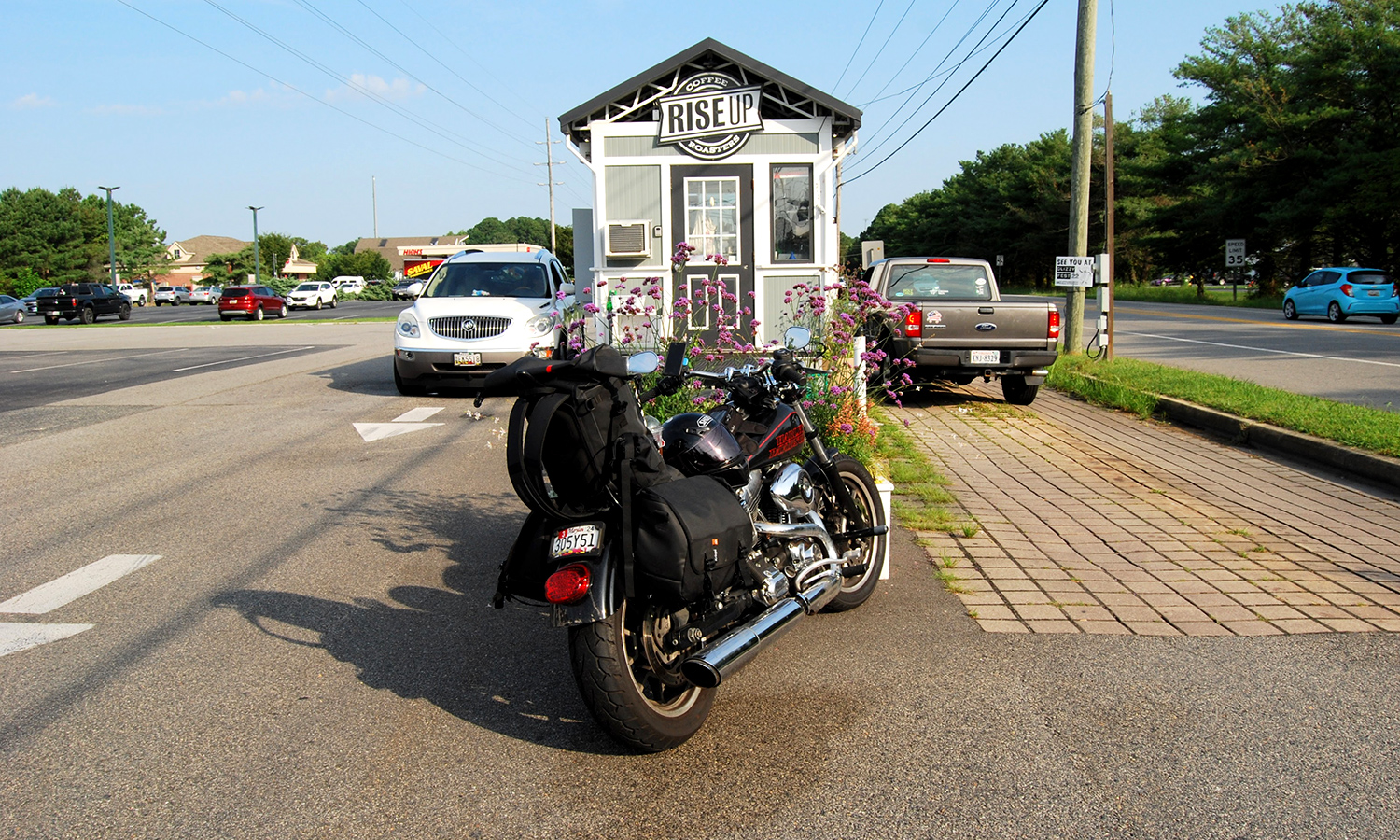 I subscribe to the motto, "it's about the journey, not the destination." So even though delicious pies were the end goal for this excursion, I still wanted to travel indirect back roads to avoid Rt. 50. In my search for a meandering route, I followed a winding farm road to the Oxford-Bellevue Ferry.
I arrived early for the 9 a.m. passage and spent the extra time hunting for seashells and chatting with two ladies taking their bicycles across the river for breakfast. Locals, commuters, and fishermen are the reason why this ferry route has been running for over 430 years, making it the oldest continuously running ferry in the U.S.
Thankfully the current boat, the Talbot, is made of steel and reliable enough to serve as a backup vehicle for the local Fire Department during nautical emergencies. I don't think I would have wanted to ride onto the previous Southside, whose dilapidated hull was retired and sunk to form an artificial reef for fish.
We docked in Oxford after a smooth sail across the river, and I rode off onto the main street—which was being torn up and repaved. The loose gravel and mud were tricky to navigate with my street tires, but getting to admire the picket fences covered in roses more than made up for it. 
After a quick breakfast of homemade pop tarts at the Oxford Social Cafe, I poked around the Treasure Chest and found postcards by Erick Sahler, who creates hand-pulled serigraphs of Eastern Shore locations. I always carry stamps with me because I love sending snail mail, and postcards are souvenirs that fit perfectly in my small tank bag.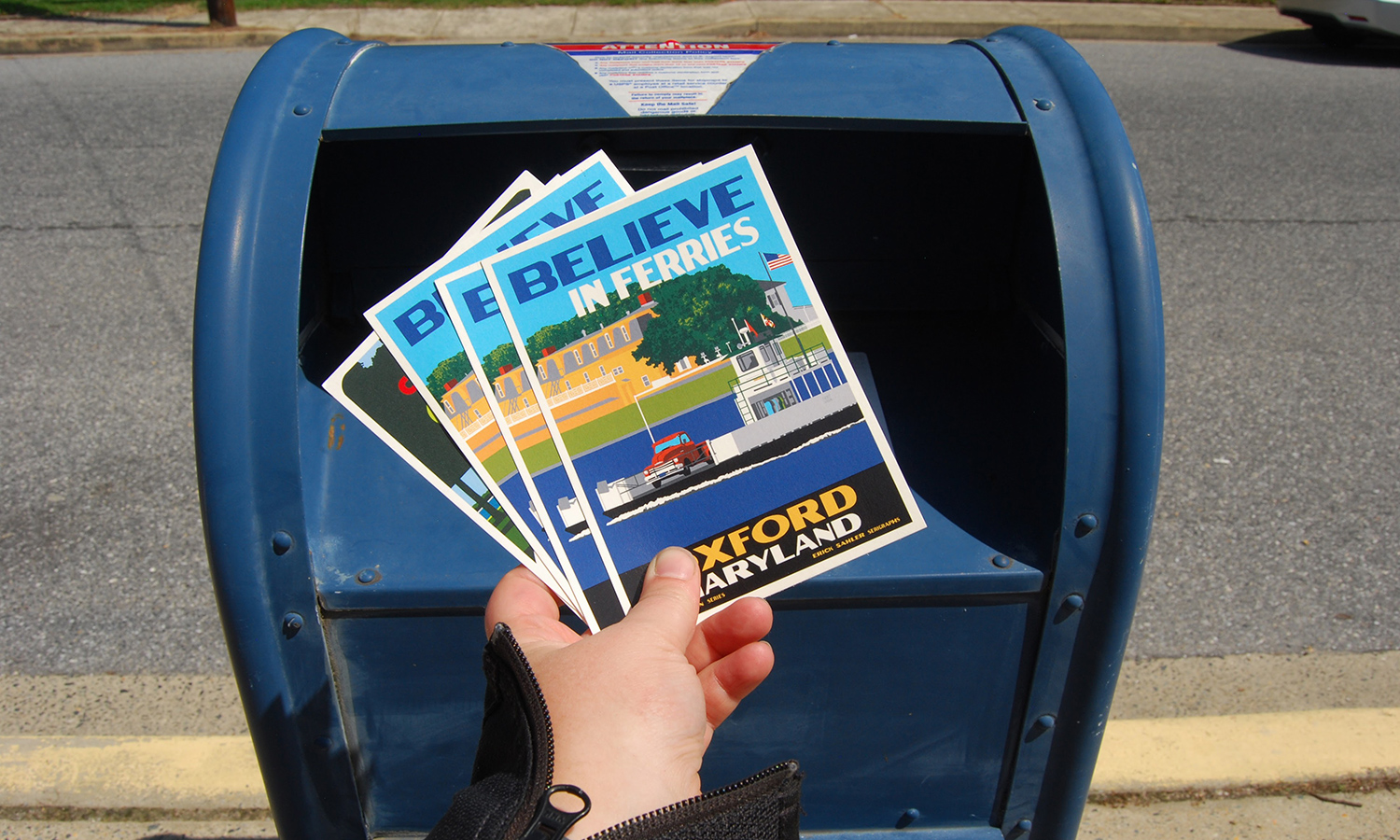 I could have spent all day at Mystery Loves Company Booksellers, poking around the well-organized shelves of the small town bookshop. If you have time, take a book to the riverside park and then finish up your day with dinner at capsize down the road.  
Pressing on towards pie, I made a quick detour for lunch at Emily's Produce, a 7th-generation family farm. No matter which direction you come from, you can't miss the car-sized watermelon or tomato directing you into the parking lot. 
I cannot stress this enough—bring a cooler with you. I shed a tear for all the local meat and cheese, produce, and fresh flowers I couldn't take with me.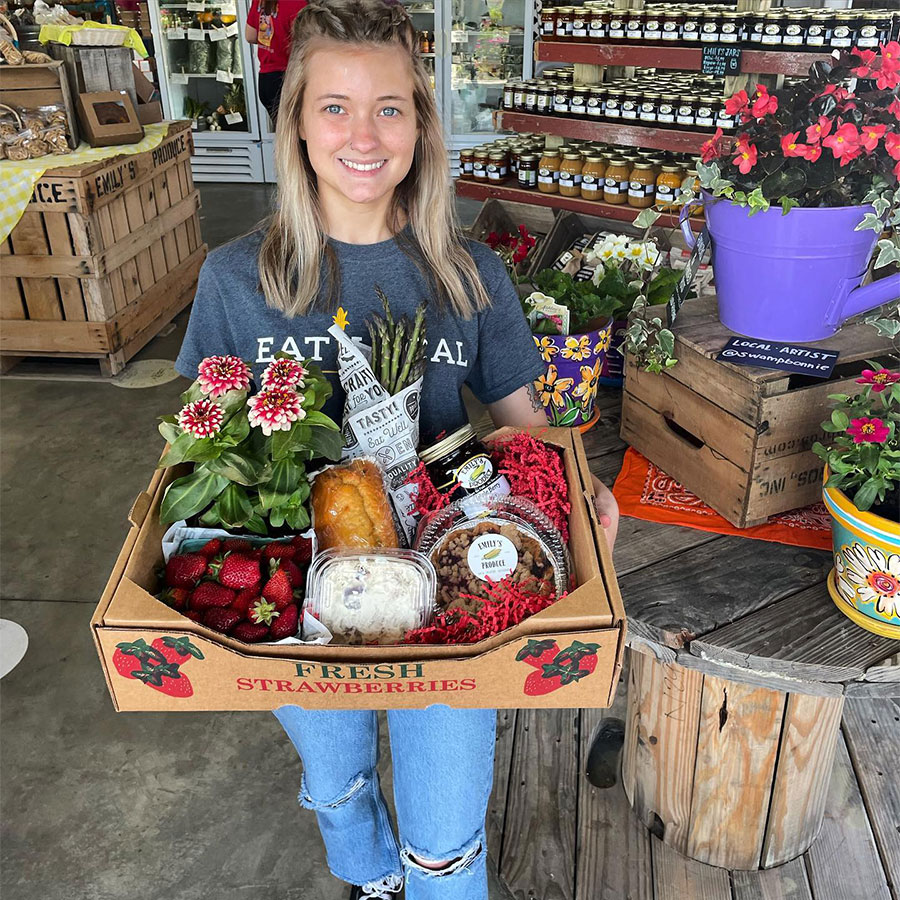 I did grab a few jars of bread and butter pickles, leaving room for pie later on, but I'm going to have to make a return visit for a bigger shopping trip. 
With Mandala Pies less than 30 minutes away, I didn't waste any time getting back on the road after a fantastic BLT lunch at Emily's. I first learned of Mandala Pies when I found their Race Through Historic Vienna 5K online. While reading their 'About' page on the website, I fell in love with their story and how invested they are in the community. They're also solar-powered, woman and veteran-owned, and have a tantalizing social media feed full of pie pictures.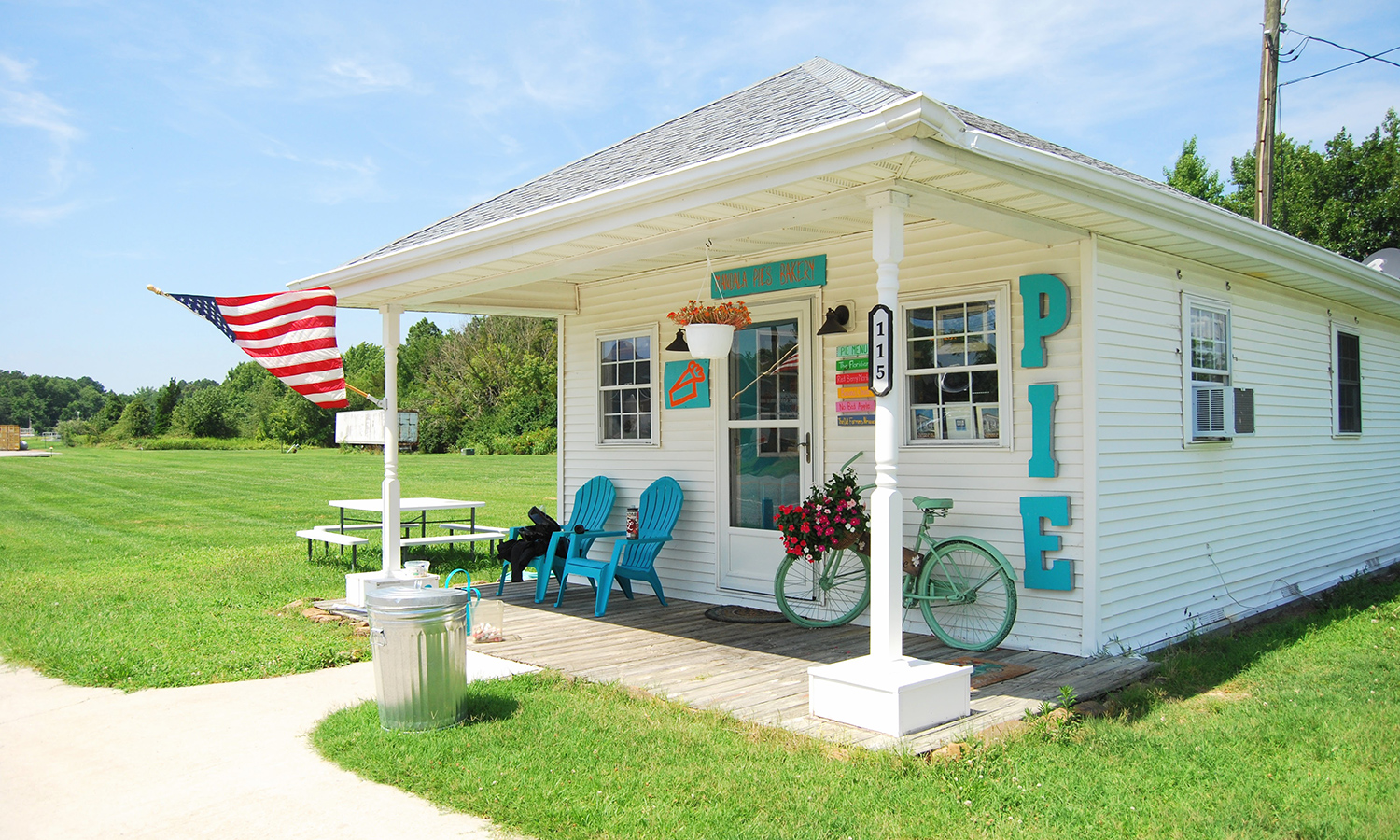 My excitement was building as I rolled into town, parked my bike, and stashed my gear on the front porch. Stepping into the shop, I was welcomed in by the manager prepping quiche behind the counter. 
The time had finally come to order. My main mission was to get a slice of The Floridian, their key lime pie, but the packed display case held too many other tempting options. Since there's no such thing as too much pie, I also got a piece of the Chocolate Checkmate. I had to go big before I went home.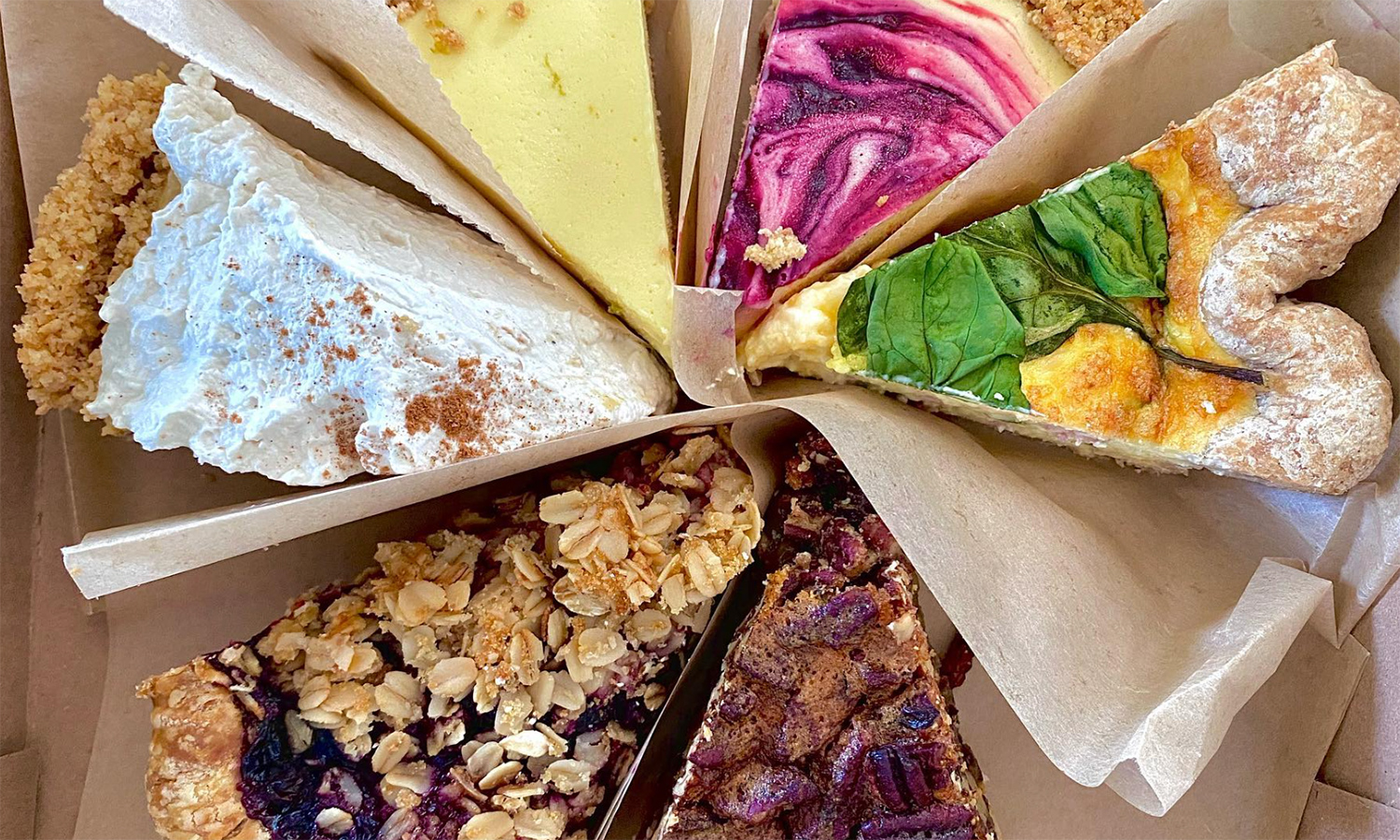 I've had a fair share of key lime pie on my travels, but this one takes the cake. The pleasantly tart filling was perfectly balanced with sweetness, and the consistency was smack between a lightweight mousse and custard. It managed to be both refreshing and satisfying on a hot summer afternoon. Plus, the graham cracker crust held together without crumbling everywhere, something I've never seen before. 
The combination of a warm breeze and comfy Adirondack chair on their shaded porch was the perfect recipe for a quick cat nap before heading back on the road with a saddlebag full of pie to share with my family and friends. 
---
Lead Photo: Katie Lomax
Katie Lomax splits her time between reading, writing, and riding her motorcycle when she's not working on her powerlifting progress. She's currently based in Frederick, MD, but has lived all over the country and continues to travel as much as possible. Follow her adventures on Instagram @skywardphoto.