The Road to Your Next Page Turner – 7 Independent Bookstores in Maryland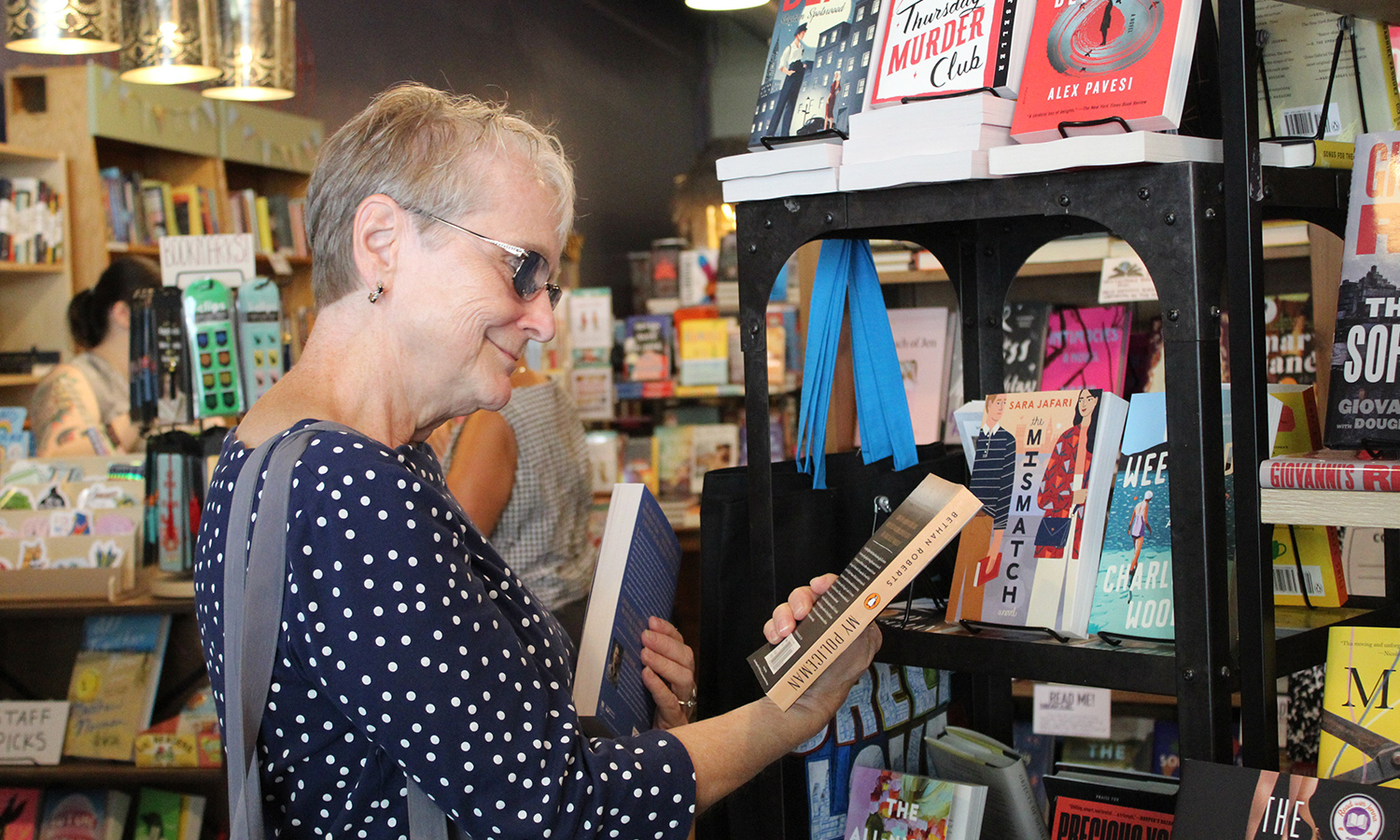 There is no doubt that books bind us together. What we read offers us new perspectives, entertainment, and the feeling that we are not alone. Independent bookstore owners suggest books with a passion, and it was the recurring theme of record after speaking with these seven charming, independent bookstores in Maryland. 
Browsing a well-curated and welcoming bookshop may, indeed, bring to mind one of Shakespeare's quotes: "Pleasure and action make the hours seem short." A good read always goes by way too fast, but these independently-owned bookstore owners are ready to place your next good read directly into your hands. Whether you're looking for a beach read, a gift for a reader, or a stack for your TBR (to-be-read) pile, you may want to take a drive to any one of these well-stocked, friendly bookstores. In the truest sense of Maryland Road Trips, we'll begin our trek in the western part of the state and head east.
Turn the Page Bookstore: Boonsboro, Maryland
If you're a fan of Nora Roberts and any of her books (there are over 200), then you will want to visit Boonsboro, Maryland, the author's home town. Turn the Page Bookstore is set in a pre-Civil War townhouse located just off The Square, and is run by Roberts' husband, Bruce Wilder. With an extensive collection of over 200 books written by Nora Roberts (and under her pen name J.D. Robb), you'll find her books as well as those by authors of all genres.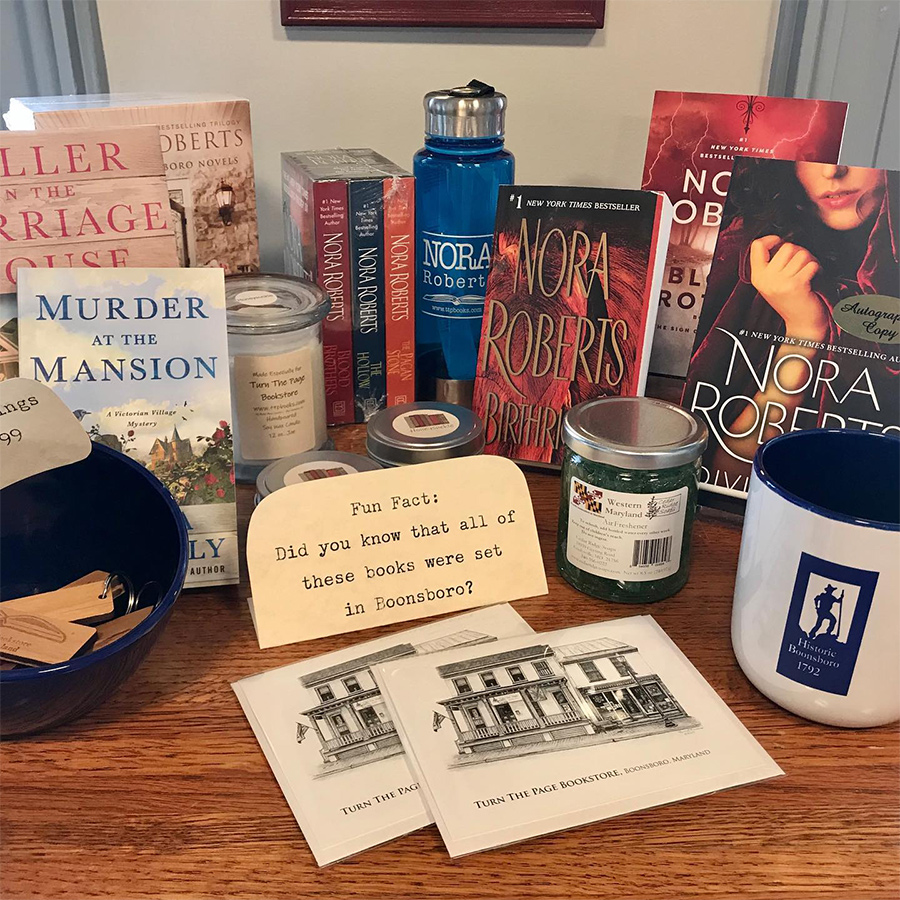 Get a drink from the coffee bar and stroll the different rooms of the bookstore. Or, if you're in need of a luxurious night away, you can do as my husband and I did—stay at the gorgeous Inn Boonsboro, built in 2009, and also owned by Nora Roberts. Turn the Page Bookstore also hosts events, and Roberts can often be found there signing books or talking to readers at her scheduled book talks or signings.
The Curious Iguana: Frederick, Maryland
"We wanted to create a bookstore where everyone feels comfortable," said Marlene England, owner of The Curious Iguana in downtown Frederick. The store opened in 2013 when locals yearned for a bookstore that suited people of all ages. The Curious Iguana has delivered just that. Set in a space on Market Street that dates back to the 1800s, this eclectic bookstore features a plethora of titles, creates events for adults and kids, and brings the community together. "Unlike ordering books online, if you tell me what you've read or enjoy reading, I can put six or seven titles right in your hand that I think you would really love," said England.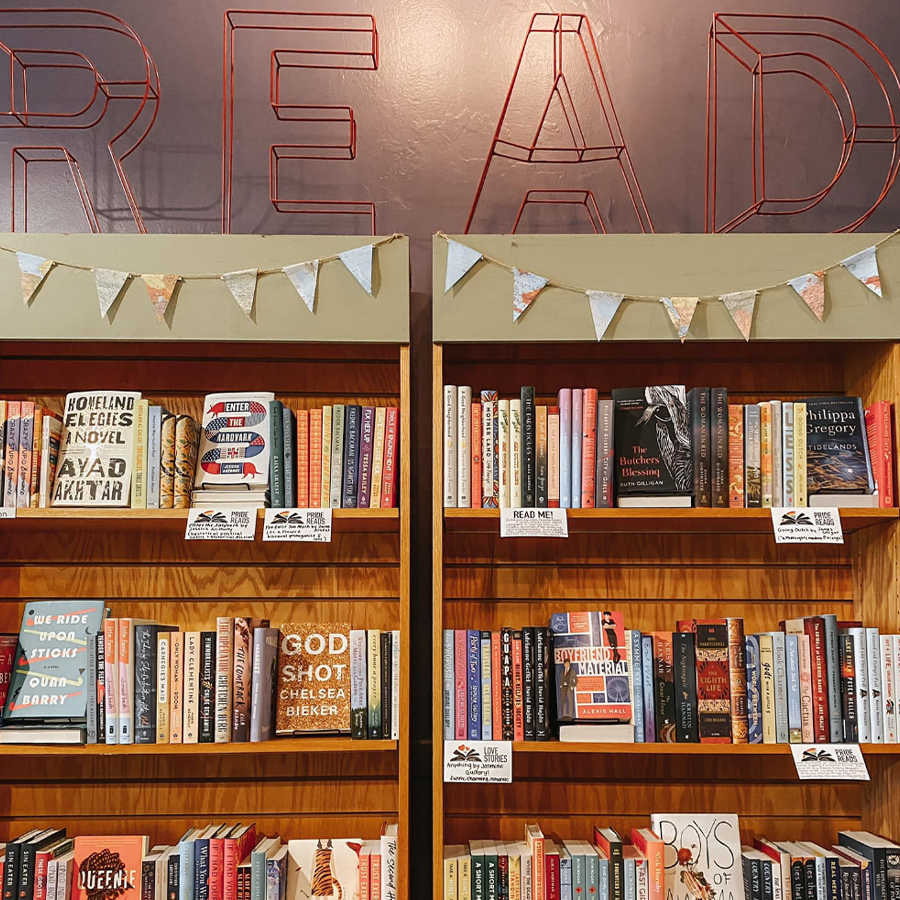 Charming window displays and bookish merchandise entice customers to come in and search for their next read. Marlene and her husband, Tom, also own the toy store on East Patrick Street called Dancing Bear Toys and Gifts, which was formerly located in the bookstore's current location and may have influenced the whimsy and charm customers love about The Curious Iguana. 
The Ivy Bookshop: Baltimore, Maryland
Known as Baltimore's Independent Literary Bookstore, The Ivy Bookshop recently moved to a new location in Mt. Washington. Owner Emma Synder felt the serendipitous pull to return to her Baltimore roots. "When I saw the new space, it felt magical," she said. Housed in a green stucco house with a front porch, covered patios, and gardens in the back, the bookstore is not only perfect for holding its cornucopia of events, but also for maintaining itself as a staple in the community.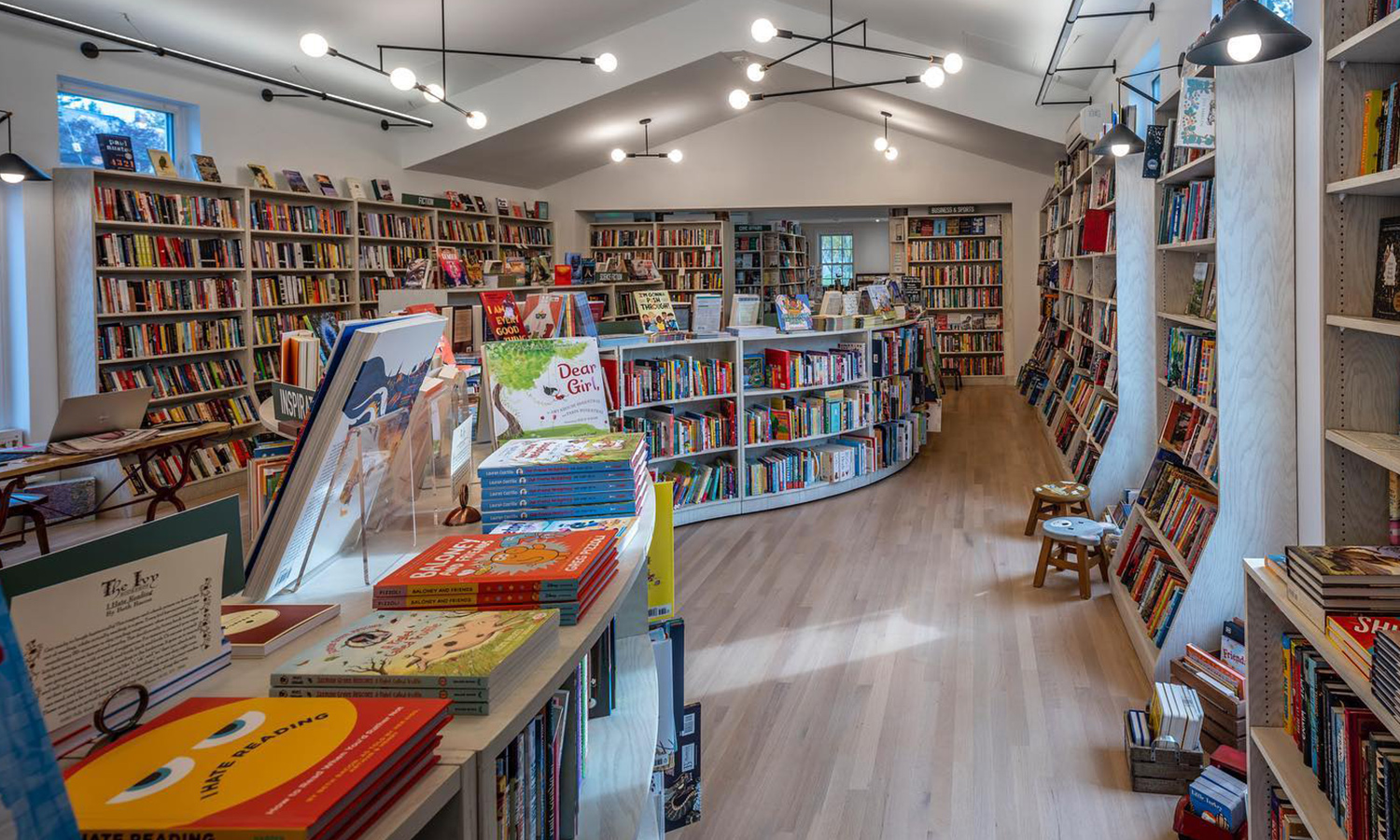 From open mic nights to author book signings to a recurring event called "The Stoop Storytelling Series," The Ivy's goal is to promote a love of reading. With a satellite store in the Charles Village Café called Bird in Hand with over 3,500 titles, The Ivy has a longstanding tradition of connecting readers to their favorite authors, hosting 150 author events each year. "Curating and arranging things people don't know they yet want" is Snyder's favorite aspect of being an independent bookstore owner.
Park Books & Literacy Lab: Severna Park, Maryland
Melody Wukitch decided to open a bookstore in Severna Park because she was tired of waiting for one to materialize. Park Books and Literacy Lab made its debut on May 1, 2021, even as the world continued to navigate a pandemic. A cozy bookstore in the hub of Severna Park, Wukitch's creativity can be seen throughout the store, from clouds on the ceiling in the kids' area, to the first line of books on the wall, to the curation of over 5,000 titles that Wukitch handpicks herself. The bookstore is becoming a hub of activity, with bestselling author signings and readings and the promotion of local authors.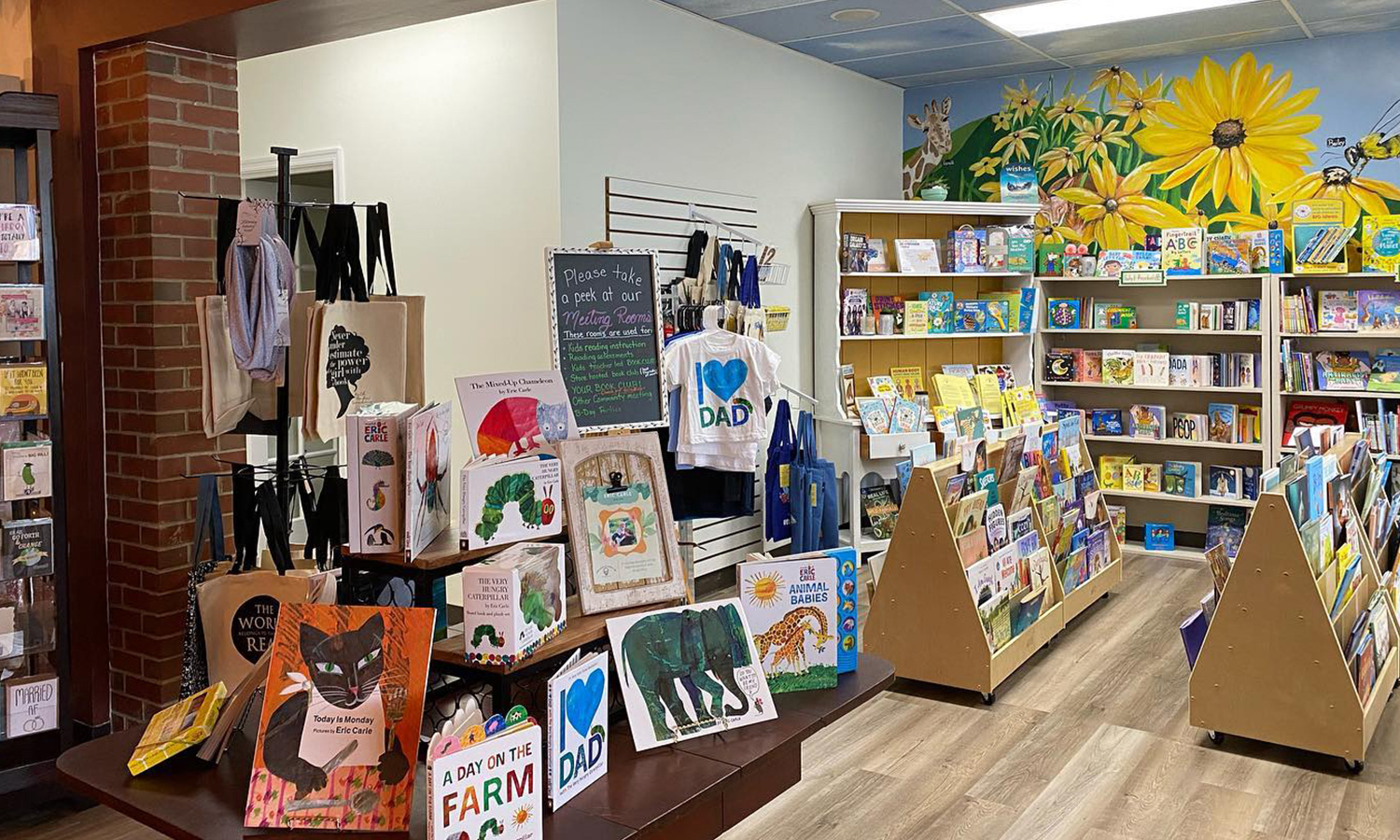 "I would like the bookstore to become so ingrained in the community and for it to be a place where people can come and meet," Wukitch said. Park Books also hosts readings for children by some of their favorite teachers, even in the summer months. The Literacy Lab offers tutoring as well as book clubs for kids. Wukitch says the best part is connecting with customers the old-fashioned way: with a good book and a smile.
Old Fox Books: Annapolis, MD
If you ask co-owners Janice Holmes and Virginia (Jinny) Amundson what is most special about Old Fox Books, they will tell you that it's not just the stories on the pages, but the stories that have been inscribed in books that they sell at their bookstore that makes their place unique. Just off the beaten path in historic Annapolis on Maryland Avenue, Old Fox Books specializes in used books. Holmes said that many of these previously owned books have etchings and detailed writings inside them and that "the creativity and seeing the inscriptions make the books touching."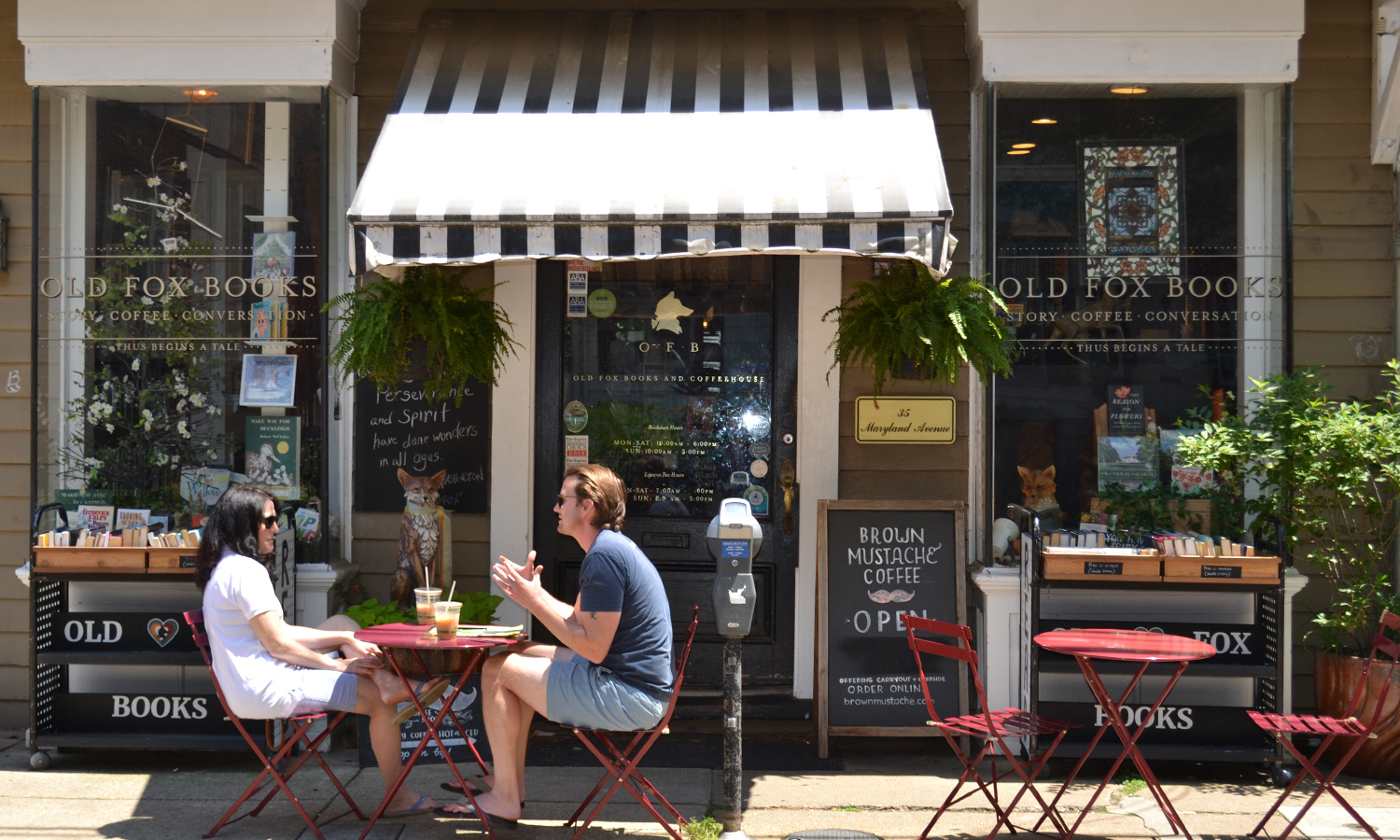 Committed to being a staple in the community, Old Fox Books also features a coffee bar inside that attracts locals and tourists who seek it out as a destination. Other special items include puzzles, "blind date night with a book" that they host with other local merchants that feature wine, fudge, and a surprise special book, as well as their annual holiday offering of B&E Trees Bourbon Aged Maple Syrup. The bookstore is an Annapolis gem with lots of unique touches. Both women enjoy the camaraderie Old Fox Books offers, and they relish sharing the well-kept, magical gardens out back with their readers. The duo also hosts book clubs and rent their space out to groups.
Mystery Loves Company: Oxford, MD
Fans of independent bookstores may recall a bookstore called Mystery Loves Company in Fells Point in Baltimore. Opened in 1991, the store left its location in Baltimore and relocated to Oxford, Maryland, in 2009 on the Eastern Shore. When owner Kathy Harig planted the bookstore in Oxford, she knew she had to be "more than a mystery bookstore." And that it is. "We evolved into covering local authors and local history, children's books and biographies, and tapping into residents' interests, such as finding books about Italy for a group of locals who were taking a course in Italian." Her collection of books is vast. Harig's quaint bookshop is located on Morris Street, which leads to Oxford's beachfront area called The Strand.
Locals and visitors alike enjoy strolling through Mystery Loves Company to find that perfect read. "What I love about Oxford is that residents bring their family and friends into the store, and typically say, 'This is my friend, Kathy.' The locals are enormously helpful, and they come to support local author signings and book releases."
The Greyhound: Berlin, MD
Chatting with bookstore owner Susan Wimbrow is like chatting with an old friend. She and her husband, Maury, opened their Berlin bookstore and fine arts gallery called The Greyhound in October of 2018. The elegant bookstore also happens to be housed in her late great-grandfather's home, which was built in 1895. "I love people, books, and art, so this was a way for us to do both," Wimbrow said. The fine arts gallery features artists from Berlin, and four artists are currently on display. The Wimbrows also love to promote Eastern Shore writers and host author signings, readings, and connect with local events in Berlin. They also host launch parties for authors and have three book clubs currently meeting, including an indie book club, a health and happiness book club, and a classics book club.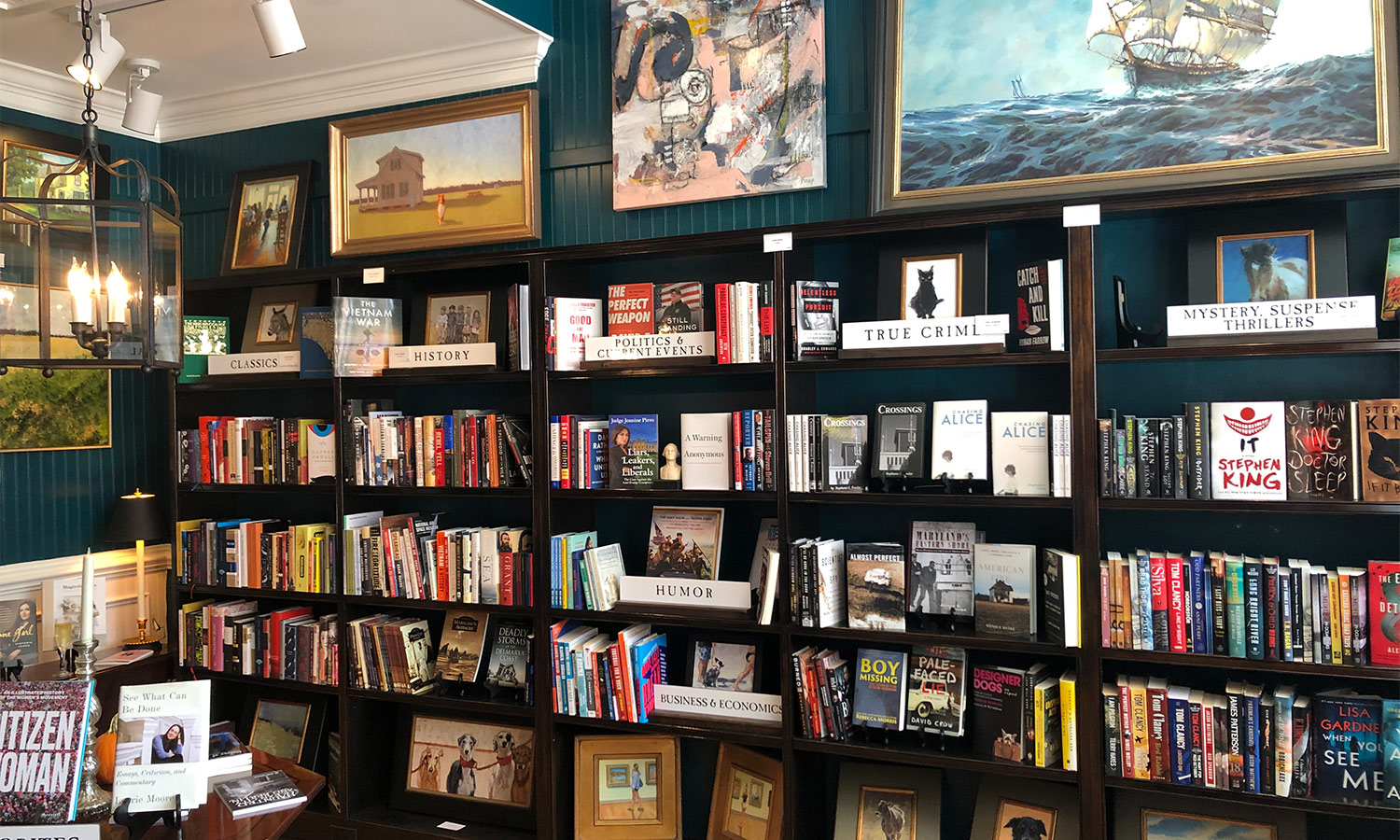 And while the town of Berlin is key in supporting The Greyhound, they also welcome beach-bound visitors, as the bookstore is only 10 miles from Ocean City. Additionally, Wimbrow recently published her first novel, "Death Is My Life," a fictionalized memoir that revolves around the murder and rape of her mother and her foray into the world of funeral service, an industry Susan worked in for 40 years. Whether it's a book or a piece of art, readers and those who appreciate art will enjoy visiting this sophisticated and friendly bookstore and art gallery.
---
Lead Photo: Lanie Swanhart
Stephanie Verni is an Adjunct Professor of Communication at Stevenson University and the author of seven novels. She has taught a variety of communication courses, and she especially loved teaching courses in travel writing. A true Marylander, she enjoys writing about the beauty of her state and incorporating Maryland locations into her books. When she's not writing, you can find her on her boat cruising the Severn River with her family. She's on Instagram at @stephanieverniwrites