Road Tripping Through Women's History on the Eastern Shore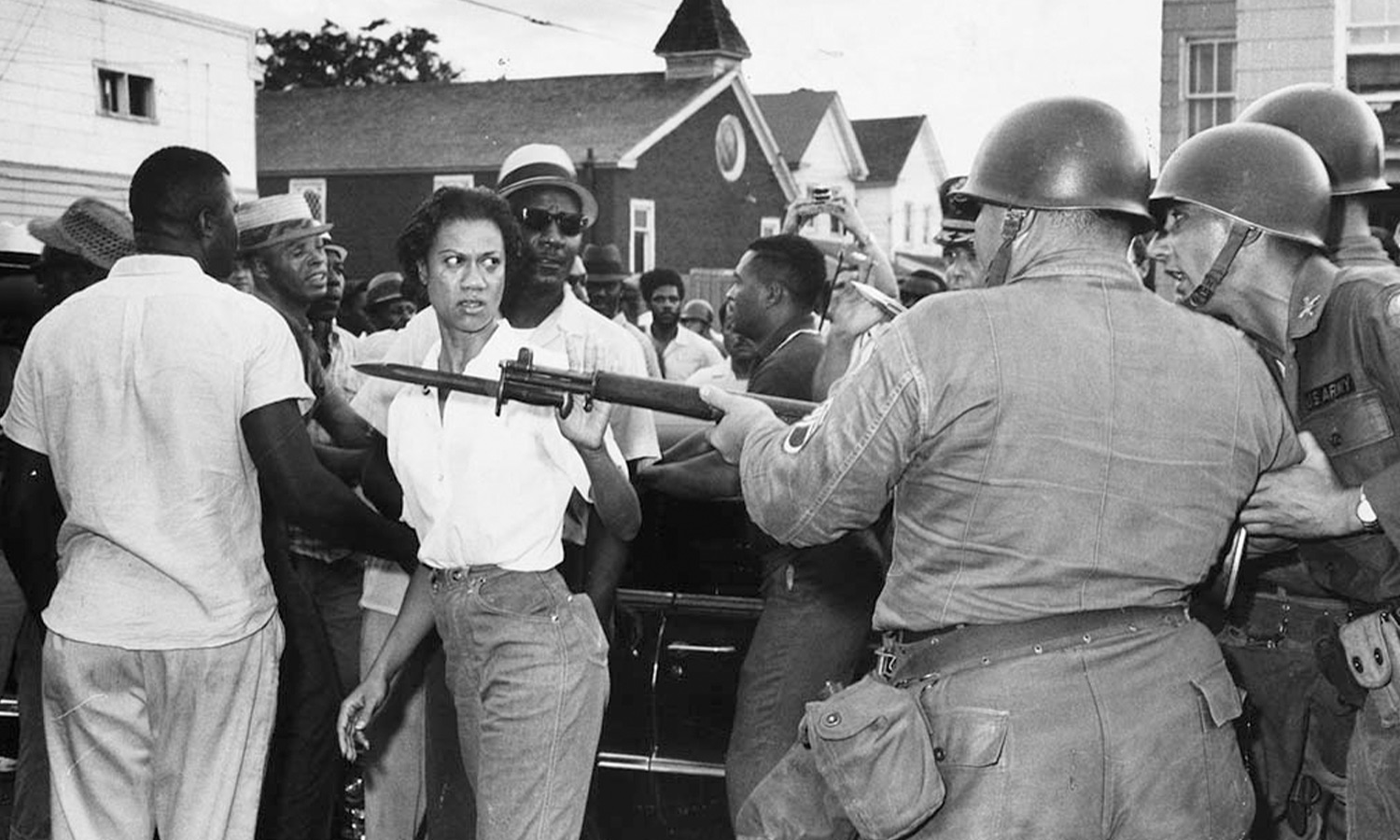 "Well-behaved women seldom make history."
You've seen it on memes, shirts, and bumper stickers. When historian Laurel Thatcher Ulrich coined this phrase, she wasn't advocating mischief, but it does seem true that the women who make history are the ones who do not conform to the stereotypes expected of them. To celebrate Women's History Month, we head to the Eastern Shore to explore some of the women of Maryland who dared to "misbehave" and make a difference.
Arguably the most famous female historical figure hailing from Maryland is the woman currently vying to replace Andrew Jackson on the $20 bill –  Underground Railroad conductor Harriet Tubman. Visitors to the Eastern Shore can explore the Harriet Tubman Scenic Byway, which covers 125 miles of landscape in Dorchester and Caroline Counties. The Byway will take you to 45 interpreted sites, traversing the land where Tubman lived and led the enslaved to freedom. The Byway's map and guide are quite comprehensive, so I won't repeat them here, except to say you will find the driving tour an educational, emotional experience.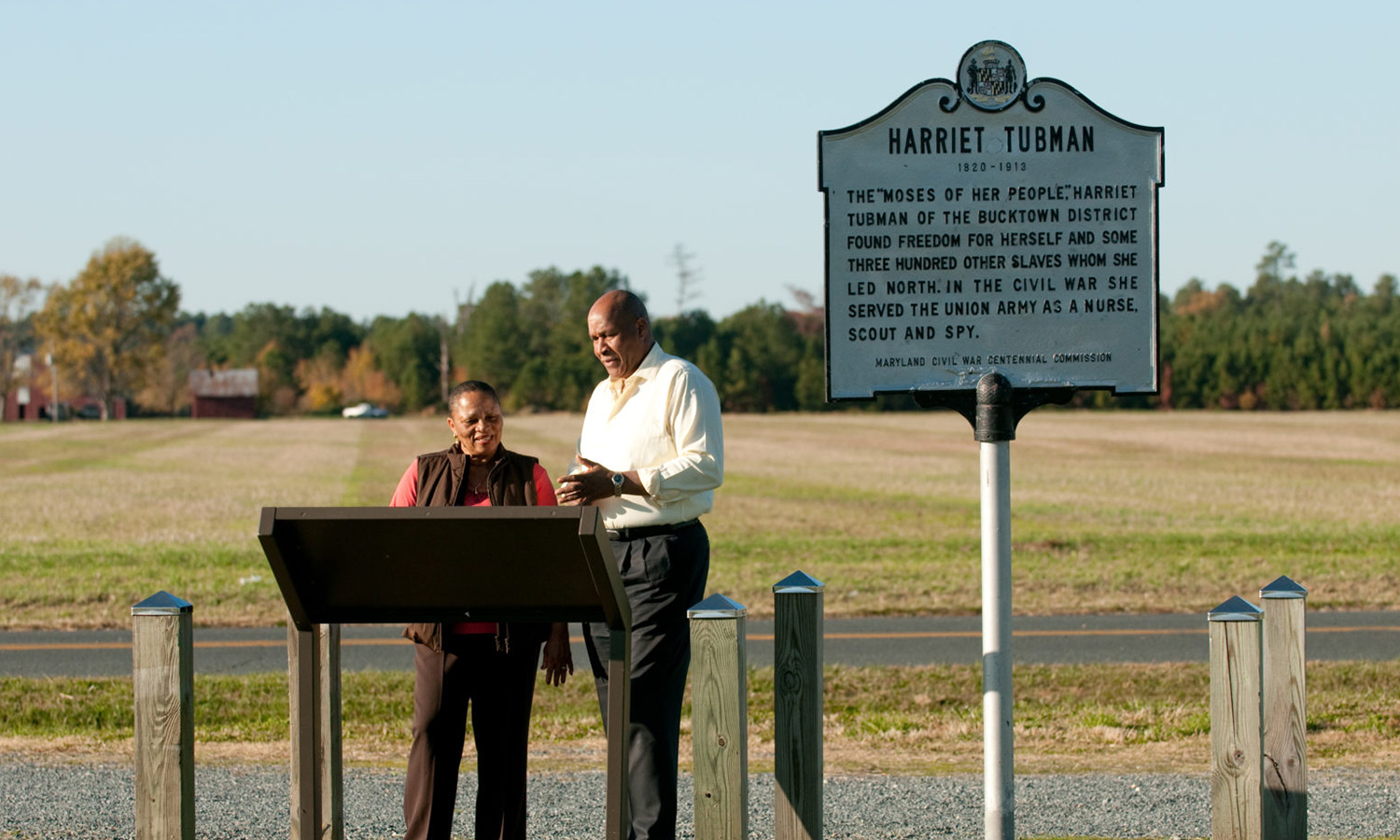 As you travel in Tubman's footsteps, you will also pass sites associated with other historic women, allowing you to celebrate over two centuries of women's history as you road trip across two counties on the Eastern Shore. You should be able to complete the following itinerary within a day, but plan an overnight trip if you want to visit all of the Tubman sites.
Start your journey at the Harriet Tubman Underground Railroad Visitor Center, located in the Dorchester County waterside community of Church Creek.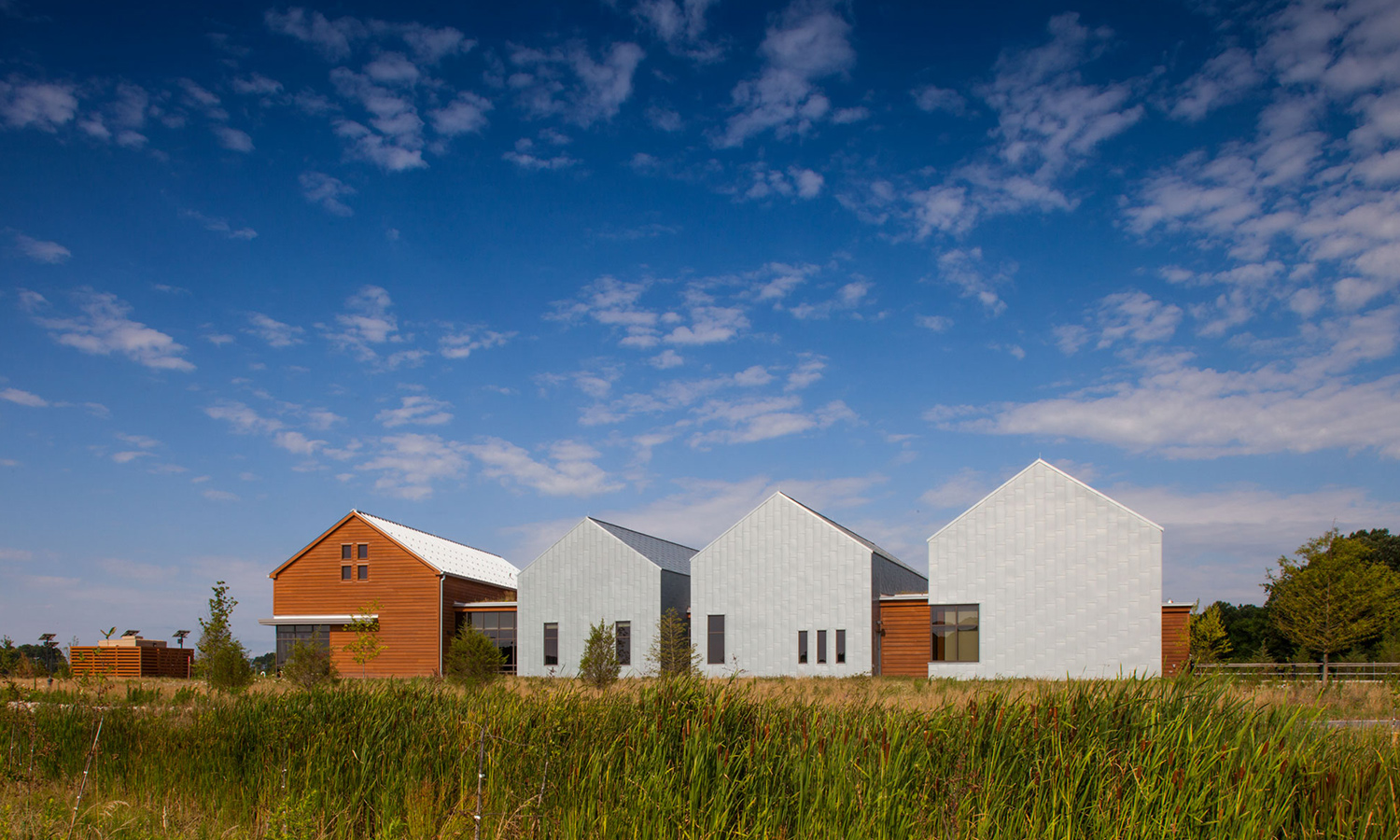 The town sits on Route 16, a pre-colonial Indian trail that eventually became a major route north for freedom seekers fleeing slavery, as it led them northeast from Taylor's Island into Caroline County, Delaware, and finally Philadelphia. While you are in Church Creek, a visit to Old Trinity Church is in order. Built in the mid-1600s, it is one of the oldest active churches in the nation still in its original form.
Buried in Trinity's graveyard is another remarkable Eastern Shore native, Anna Ella Carroll. She was the daughter of a Maryland governor and grew up on a tobacco plantation in Somerset County. Highly educated, she worked as a journalist in Baltimore before joining her father in Washington D.C as his assistant after his appointment as a Naval Officer.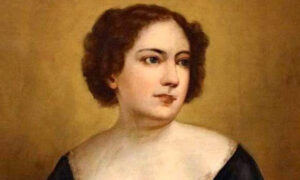 It was here that she became a political operative who wrote multiple pamphlets both defending Lincoln's actions and helping to keep Maryland from seceding during the Civil War.
A few miles north of Church Creek is Cambridge, Dorchester's county seat, where Annie Oakley lived from 1913-1917 after a successful career touring the world as a sharpshooter with Buffalo Bill's Wild West Show. She and her husband built a one-and-a-half story bungalow, which still stands today (28 Bellevue Avenue, Cambridge, privately owned), where she would stand on the porch roof to shoot ducks across the street over Hambrooks Bay.
Oakley is remembered not only for her career in show business but also for advocating for the empowerment and education of women. She allegedly taught 15,000 women to shoot, even proposing that President McKinley form a company of lady sharpshooters to fight in the Spanish-American War. (He declined.)
Civil rights activist Gloria Richardson Dandridge grew up in Cambridge, where her parents owned a grocery store in the Black section of town. As an adult, she became the head of the Cambridge Nonviolent Action Committee (CNAC), where she advocated for desegregation, as well as better housing, health care, jobs, and schools. What began as peaceful protests grew progressively more violent between 1961 and 1963, resulting in the Kennedy administration stepping in and negotiating the Treaty of Cambridge.
Although the CNAC boycotted the vote, the treaty laid the groundwork for the desegregation of schools and public facilities and is seen as an important step towards the 1964 Civil Rights Act.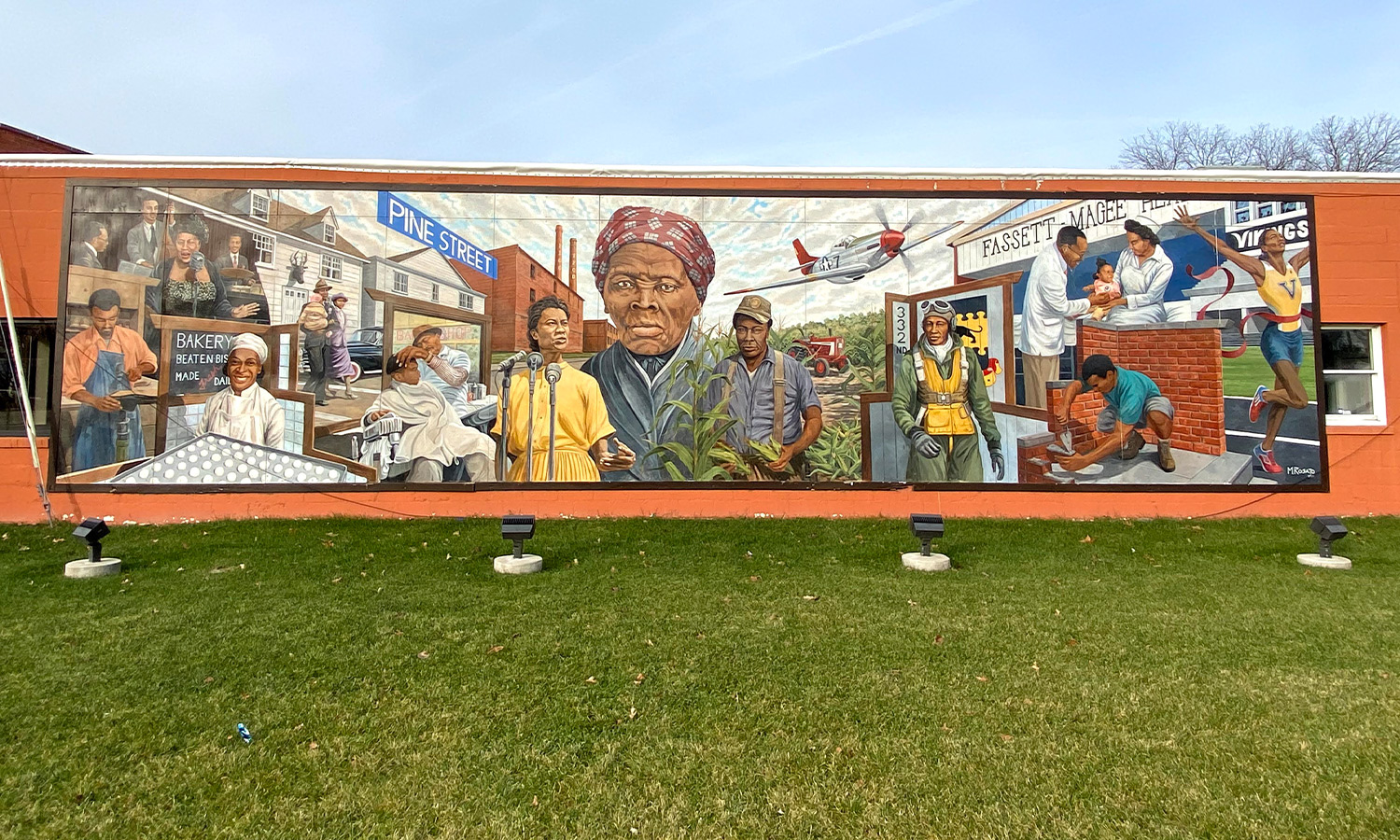 Richardson is depicted beside Tubman on a mural of African American heritage near the corner of Maryland Avenue and Route 50 in Cambridge, part of the Chesapeake Mural Trail.
Growing up in Cambridge at the same time as Dandridge was Bernice Frankel. Her father also owned a store, a high-end department store in the white section of Cambridge. The building that held P. Frankels still stands at 409 Race Street in Cambridge; formerly the Grand Opera Hall, it is now Craig's Drug Store. After being voted "wittiest girl" at her high school for her Mae West impression and a stint in the United States Marine Corps Women's Reserve during World War II, Bernice moved to New York City to begin her acting career on Broadway under the stage name Bea Arthur.
Bea made the transition to television in 1971, and her hilarious hijinks as Dorothy Zbornak with roommates Rose, Blanche, and Sophia in "The Golden Girls" are still enjoyed in syndication today. 
While you are in Cambridge, take the opportunity to enjoy this quaint town that offers a diverse selection of restaurants, boutiques, and areas to explore. Grab a copy of the Downtown Cambridge Walking Tour brochure for a closer look at the buildings in the historic district.
As you continue north on Route 16 and the Scenic Byway, you will enter the town of Preston in Caroline County. Here stands the Jacob and Hannah Leverton House (privately owned), a stop on the Underground Railroad, where the Quaker Levertons hid and aided runaway slaves. Although scant evidence exists on Hannah's role as an Underground Railroad conductor independent of her husband, women conductors were often the ones who provided the food, clothing, and medical aid to the runaways in their care, and they assumed as much risk as men did.
Evidence drawn from an interview with Harriet Tubman indicates that Hannah may have visited with Tubman in 1849 on the night she fled her Caroline County enslaver, providing her with safehouse locations along the route to Delaware. We also know that Hannah spoke out in support of the abolitionist movement at her Tuckahoe Neck Meeting House Quaker parish.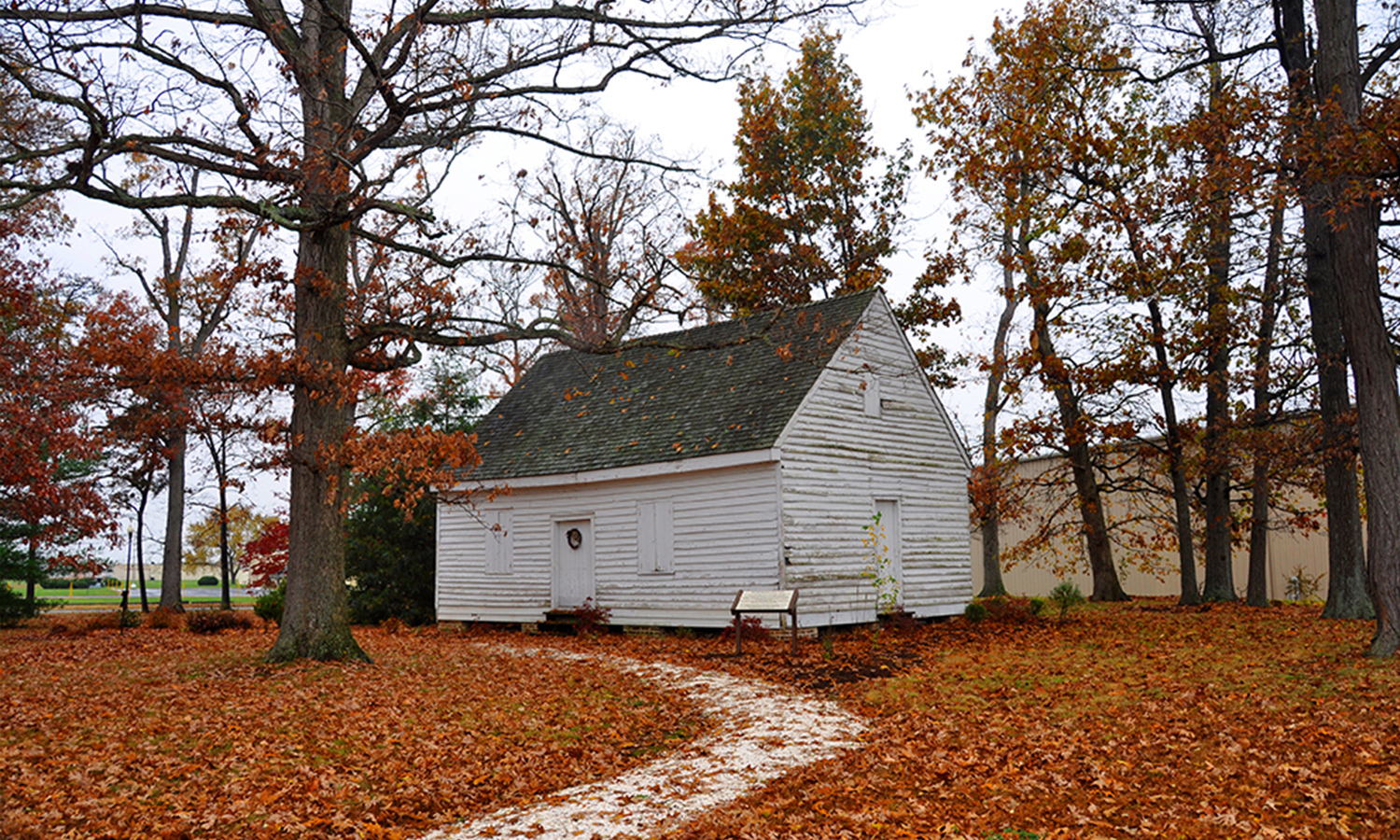 If you visit the Tuckahoe Neck Meeting House, you will be in Denton, the county seat of Caroline County. This historic town was built along the Choptank River in 1781. Today, a variety of well-preserved historic public buildings and homes, most dating from the late nineteenth and early twentieth centuries, nestle around the Courthouse Green. For lovers of historic homes, there are some beauties along South 5th Avenue. The circa 1861 farmhouse located at 608 South 5th is the childhood home of another history-making woman of the Eastern Shore: Sophie Kerr.
After growing up in Denton, Sophie Kerr made her way to New York City, where she became the managing editor of the Women's Home Companion, a monthly magazine. She wrote over 500 short stories, 23 novels, and the Broadway play "Big Hearted Herbert." Her work dealt with the gender and class issues prevalent at the beginning of the twentieth century, and she was recognized alongside Eleanor Roosevelt with an honorary degree from the Eastern Shore's Washington College in 1942. This university now annually presents the largest literary undergraduate prize in the country, the Sophie Kerr Prize, thanks to the endowment she left them in her will.
Denton is still in the heart of Tubman territory, so you can continue to explore her history in the area, or check out some other history-making females with the Caroline County Historical Society.
If you've had enough history for the day, Denton also has a variety of women-owned shops and art galleries, including Jan's Fourth Street Gallery and Joviality Gifts. Or you can head to Market Street Public House or Harry's on the Green for a bite and a brew. While you eat, be sure to reflect on the women you learned about today, and how different this world would be if they hadn't dared to break the rules. 
---
Lead Photo: Gloria Richardson and protestors facing National Guard troops, Cambridge, Maryland, ca. 1963. Photo Credit: Courtesy National Museum of African American History and Culture
Heidi Glatfelter Schlag is a marketer, history lover, and traveler who can often be found exploring museums, parks, small towns, and farms. She founded Culture-Link Communications, where she helps local nonprofits and small businesses build their brands. Heidi lives in Frederick, MD, with her husband and two dogs.