Westward Ho! on the C&O: a Canal Itinerary From Williamsport to Hancock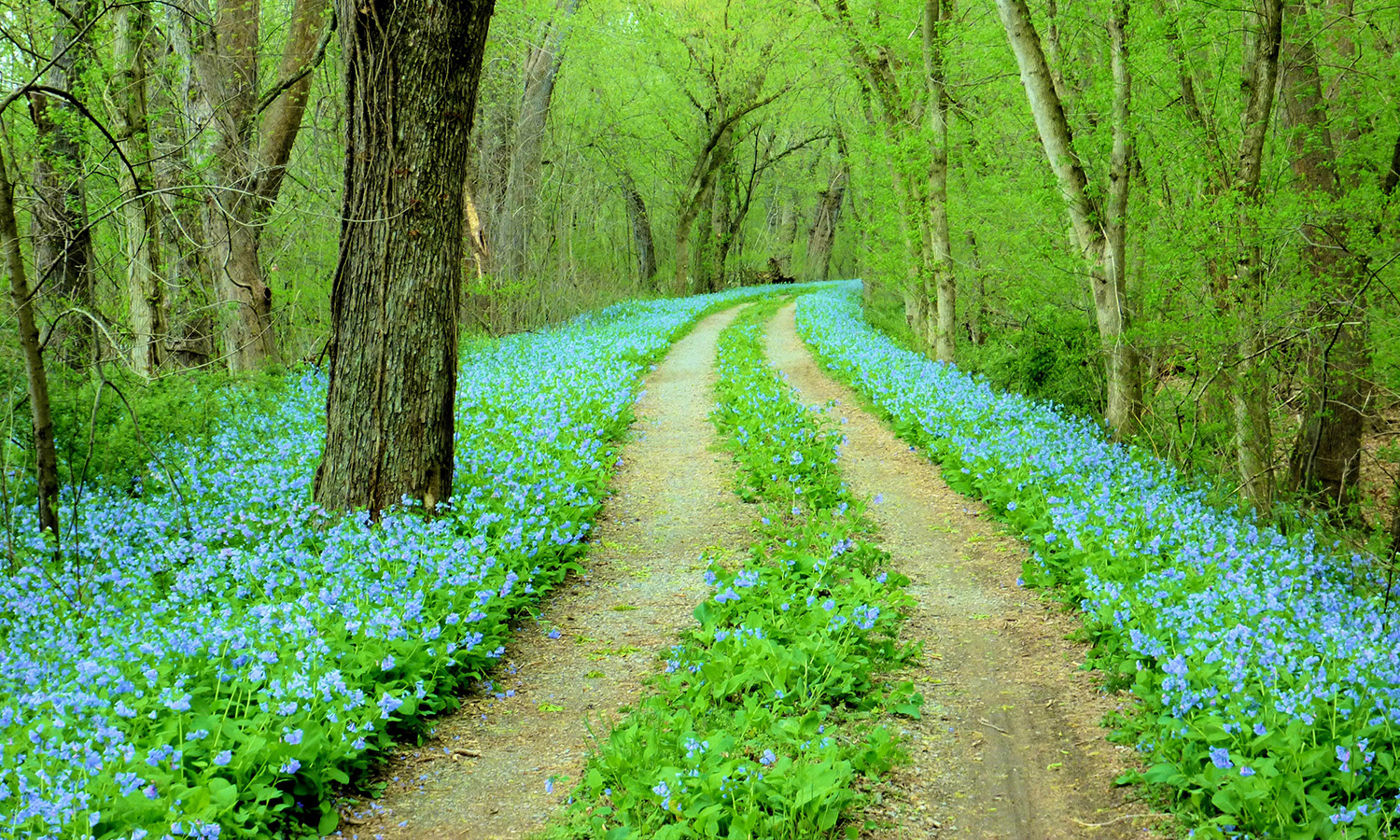 The warm spring air is beckoning you outside and it's time to get reacquainted with nature. Although spring in Maryland is glorious everywhere, it is worth a trip to the western portion of the C&O Canal to soak in the blankets of bluebells lining the towpath in April and May.
It's also the 50th anniversary of the C&O Canal National Historical Park joining the National Park Service, which means you can plan your trip around a variety of activities celebrating the anniversary.
The spine of the C&O Canal Park is its 184.5-mile-long "towpath" trail that roughly parallels the Potomac River from Georgetown, Washington, D.C. to Cumberland, MD. This itinerary will take you 30 miles on the towpath from Williamsport to Hancock, both Canal Towns in the heart of rural Washington County. Besides being a peaceful escape with forests lining the Potomac, this area also has a lot of Civil War history you can explore.
Depending on your endurance, a little planning is required before you set off. If you plan to thru-bike or thru-hike the 30-mile trip, arrange to park a car at each end or make arrangements for someone to drop you off and pick you up. Otherwise, you may want to tackle this as two separate out-and-back adventures from each town or as a road trip on the C&O Canal Scenic Byway.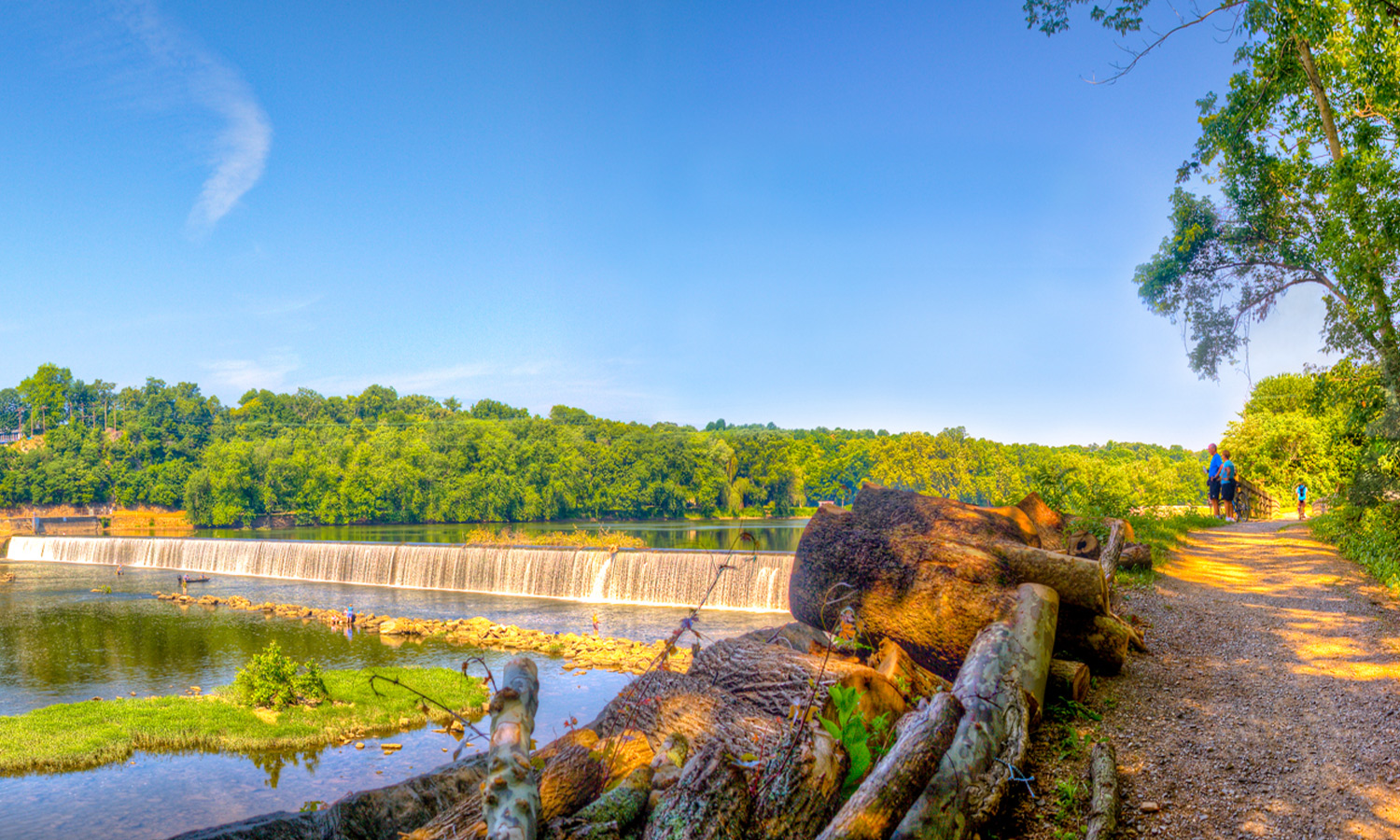 There are no towns accessible from the towpath between Williamsport and Hancock, so carry food and water with you. There are water pumps (and restrooms) at campgrounds along the way, but the water is not always potable, so you may wish to carry your favorite water purification method as well. The National Park Service periodically provides updates regarding water quality, so be sure to check ahead of time to know whether the water is potable.
The C&O Canal is flat, and although there is a slight uphill grade when traveling west, it is generally not noticeable. The benefit of traveling west is watching the mountains as you approach the Appalachians.
Williamsport (mile marker 99.6)
Williamsport is one of Maryland's 33 Main Street communities. Start your visit with a stroll around downtown and a slice of pizza at Tony's Pizzeria. Then head down to the Cushwa Basin, a small body of water that looks like a pond, but was used to load canal boats at the nearby Cushwa Warehouse during the 1835-1924 canal era. The basin was also one of the few places along the canal where a boat could turn around. Due to its advantageous location where the Conococheague Creek meets the Potomac, this town was an important crossroad for Native Americans, fur traders, and settlers in the eighteenth century. When the canal was extended to the town in 1835, warehouses, shipping firms, sawmills, and small factories popped up, and the town flourished.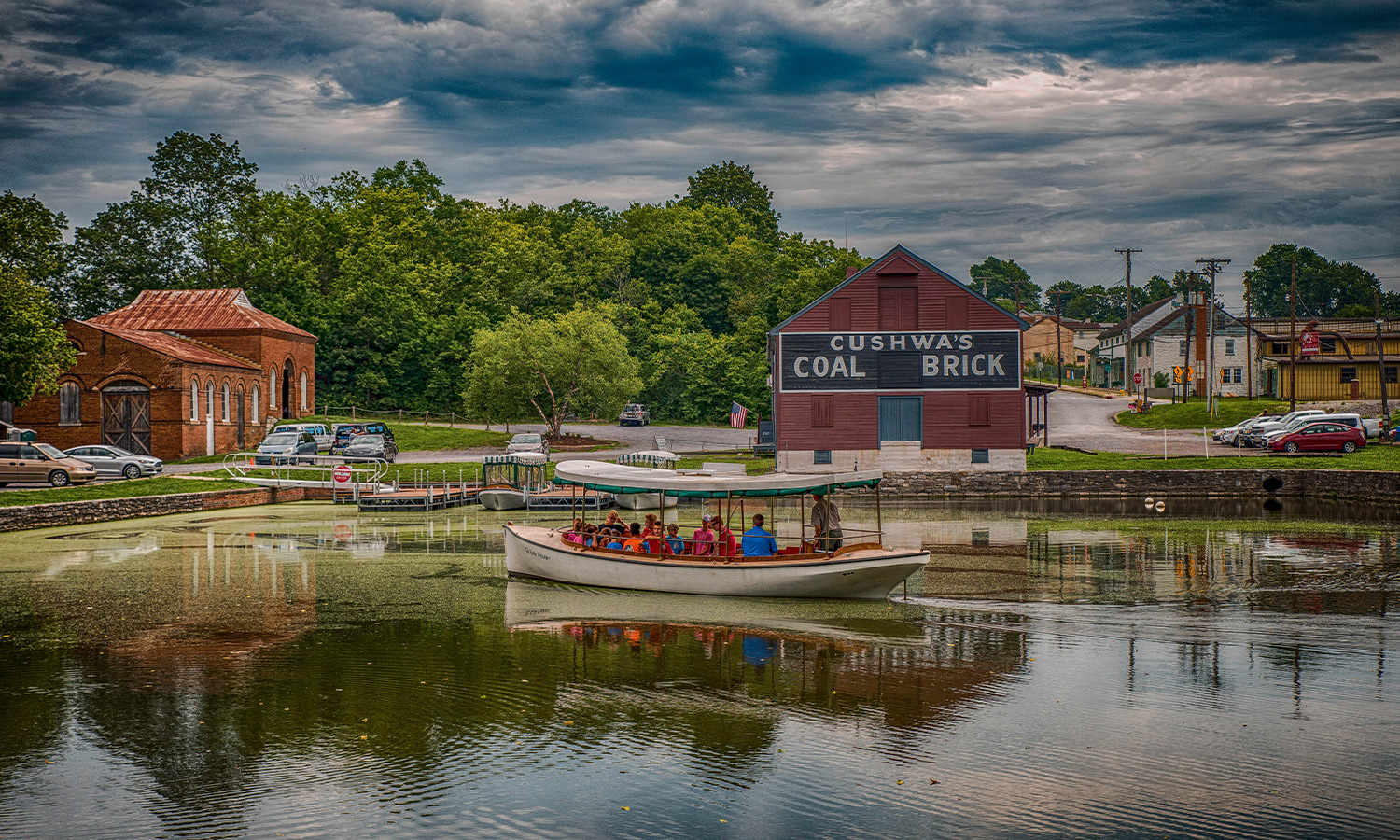 Today, you will find a C&O Canal visitor center housed in the warehouse, and during the summer months, you can take a boat ride across the watered aqueduct that was reconstructed in 2019. Williamsport has the largest collection of canal structures in America, with a lockhouse and adjacent lock, a Railroad Lift Bridge, and a Bollman Iron Truss bridge all within walking distance of the parking lot. Spend some time learning about the C&O Canal, which was built to move goods from the Ohio River valley to eastern markets. 
Heading West
Once you have finished exploring Williamsport, head west (upstream) on the C&O Canal's towpath, a gravel path once traversed by mules towing canal boats in the canal. Although the canal has water in it in Williamsport, it will be dry for the rest of your journey. You are setting out at mile marker 99.6; you can track your progress as you pass small wooden posts denoting every mile. You can also download the C&O Canal Explorer mobile app which will track your location via GPS and provide interpretive and wayfinding information as you travel.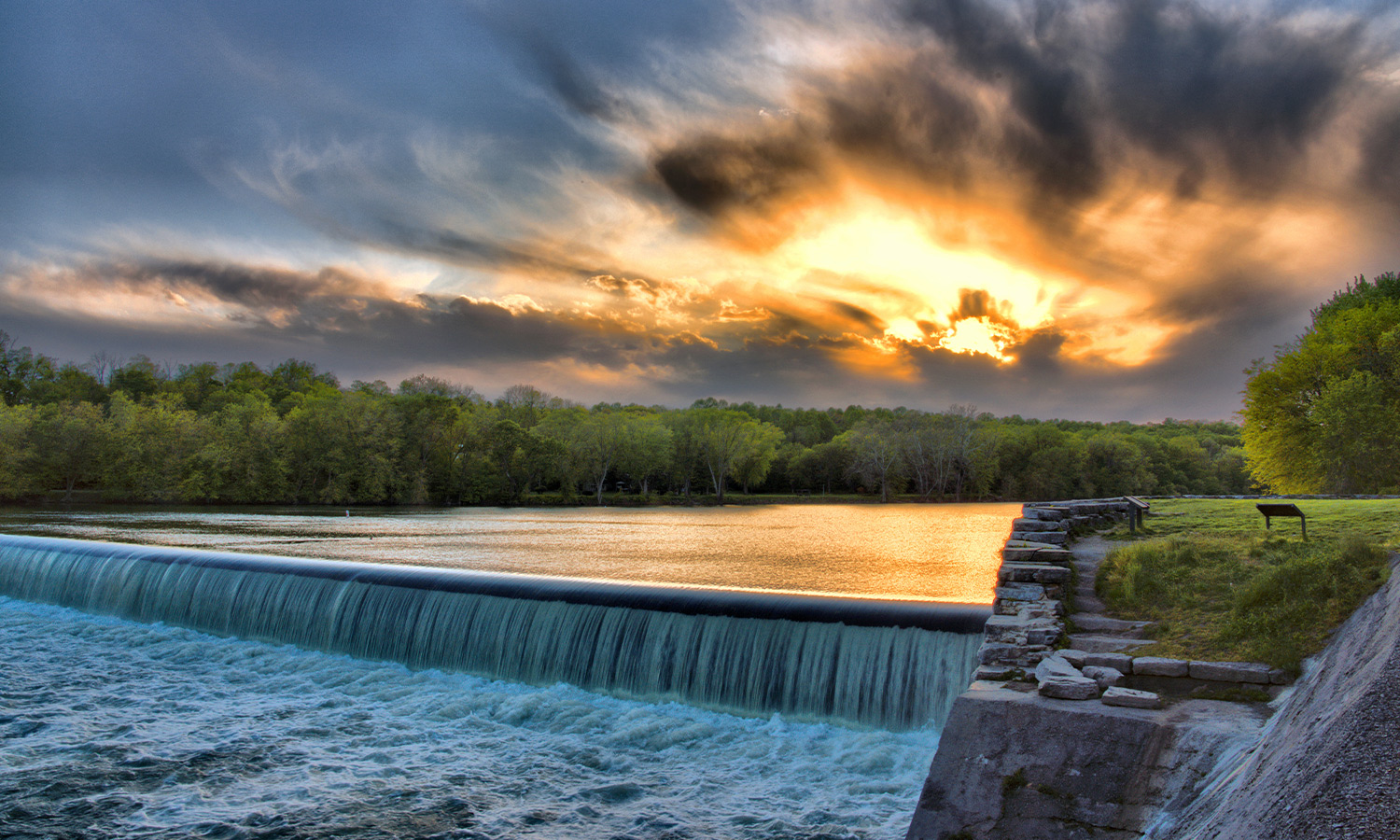 Dam 5 (mile marker 106.6)
As you approach mile marker 106.6, you will hear the deafening sound of water roaring over Dam 5. This dam was frequently a target for destruction by Stonewall Jackson and his forces during the Civil War. Today, an energy company harnesses this water power from the small brick building across the dam. 
Four Locks and Lockhouse 49 (mile markers 108.7 to 109)
Have you figured out what the stone structures nestled periodically in the canal are? These are the remnants of locks, like the one in Williamsport. The C&O Canal had 74 lift locks, which were used to raise or lower canal boats in the canal. This stretch of canal is known as Four Locks, with Locks 47, 48, 49, and 50 grouped together here. During the canal's heyday, this was a thriving, tight-knit community that had three stores/warehouses, a school, a watch house, and a mule barn.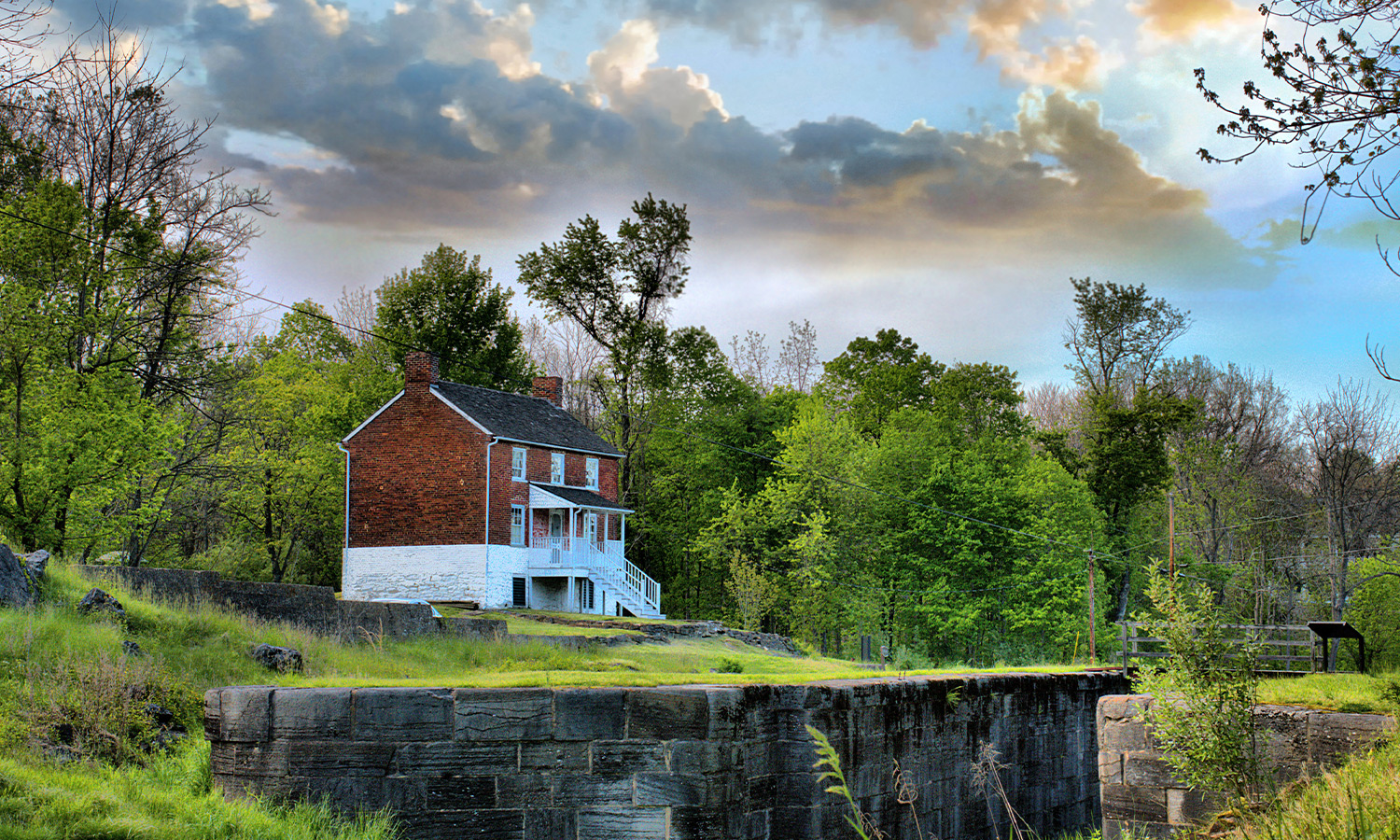 Several of these historic structures remain today, including Lockhouse 49, which has been rehabilitated and is open to guests for overnight stays as part of the C&O Canal Trust's Canal Quarters program. This would be a great place for an overnight on your 30-mile C&O Canal adventure.
Fort Frederick State Park (mile marker 112.4)
At mile marker 112.4, the towpath passes through Fort Frederick State Park, home to the only remaining stone fort from the French and Indian War. Built in 1756, the structure protected Maryland's frontier settlers during that conflict and was then used as a prison for British soldiers during the American Revolution. Union troops guarding the C&O Canal during the Civil War used the fort as a home base, as well. 
Bowles House (mile marker 123)
As you approach Hancock, you'll see the historic red-brick Bowles House overlooking Lock 52 and the Tonoloway Aqueduct. The home was built in 1785 by William Yates, 50 years before the C&O Canal was built right outside their door. Several other families lived there throughout the years, and now it serves as a visitor center for the C&O Canal National Historical Park. 
Hancock (mile marker 124)
Your westward journey ends in Hancock, nestled at the foot of the Appalachian Mountains, where it served as a stagecoach stop on the National Road in the first part of the nineteenth century. By the 1830s, the town was prospering with churches, banks, businesses, and homes springing up due to the flour and coal trade on the C&O Canal.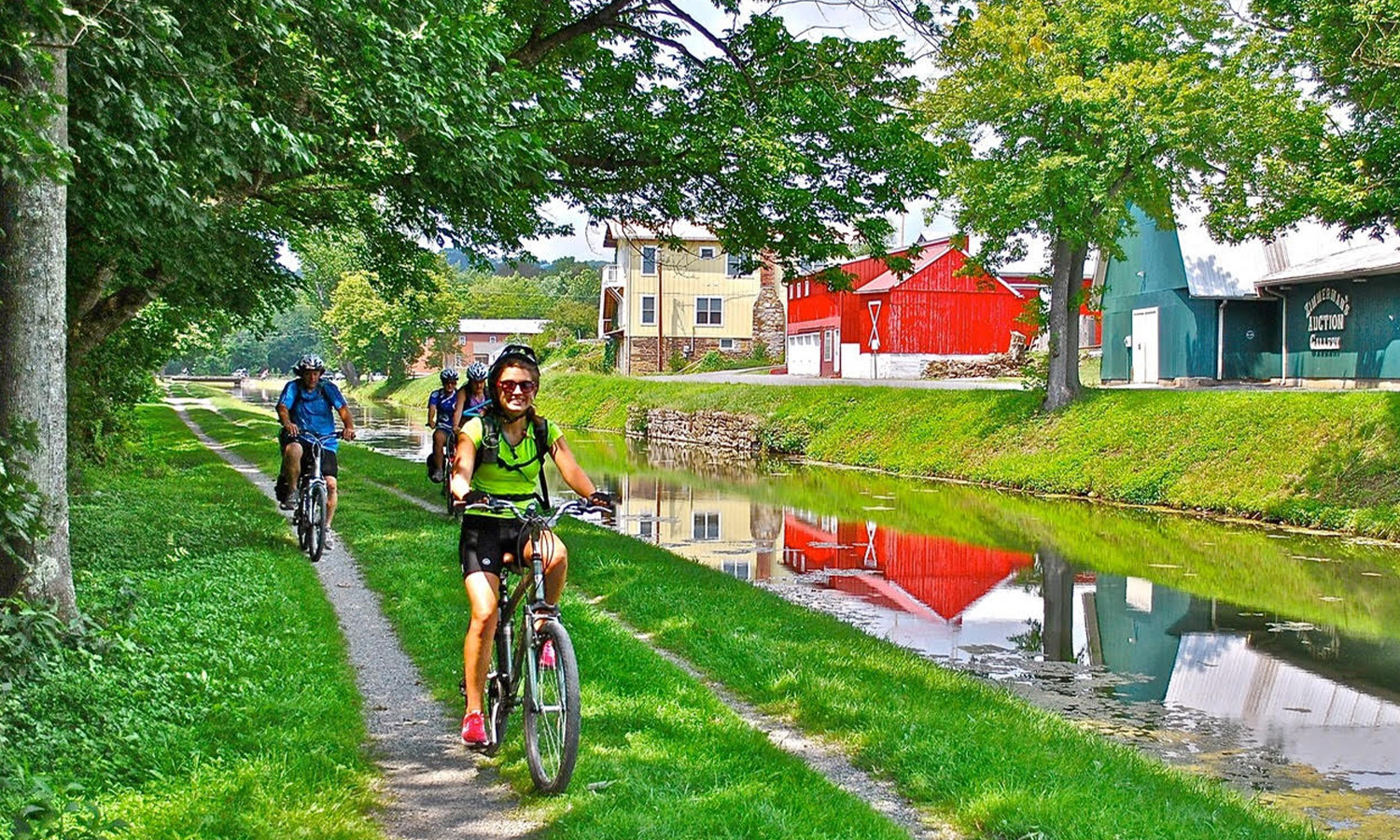 As the railroad pushed through and became the preferred route of transportation, the town lost much of its economic activity. Today, Hancock is one of ten Canal Towns and caters to recreational and heritage tourists. 
Before you get on Interstate 70 to head home, do yourself a favor and stop at the Blue Goose Market. Their bakery has an amazing assortment of pies, jellies and jams, local wine, craft beer, and gifts. To commemorate your journey, you can purchase a C&O Canal t-shirt online from Route One Apparel – a portion of the proceeds will benefit the preservation of C&O Canal, ensuring it will be here for many more years of adventure.
---
Lead Photo: MJ Clingan Photography
Heidi Glatfelter Schlag is the Director of Marketing and Communications for the C&O Canal Trust and a freelance consultant for nonprofits and museums. She has spent 20 years in nonprofit communications focused on using data-driven strategies to engage audiences and raise money in support of heritage and culture. She lives in Frederick with her husband and two dogs. She can be reached at schlag@canaltrust.org.